Movie News
Rodney Perkins reviews Zack Carlson & Bryan Connolly's DESTROY ALL MOVIES: A COMPLETE GUIDE TO PUNKS ON FILM!!!
Hey folks, Harry here with a treat from my fellow Fantastic Fest programmer, Rodney Perkins regarding our other Fantastic Fest programmer Zack Carlson (and Bryan Connolly)'s book, DESTROY ALL MOVIES: A COMPLETE GUIDE TO PUNKS ON FILM. So this is a fairly nepotistic affair - but no more so than when we tell you VERN has a new brilliant book - and while we here at AICN love our VERN, that never gets in the way of saying he is brilliant. Zack is brilliant in a separate and varying degree of madness... I can not wait to check out this unique film encyclopedia. Here's Rodney with the details: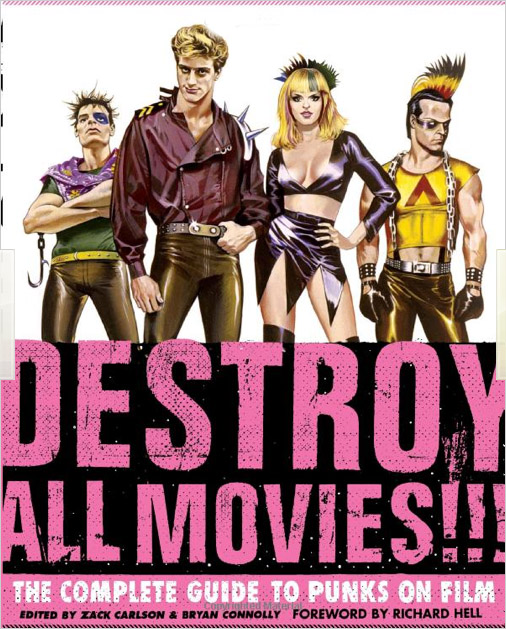 Disclosure: I have been friends with the creators of this book for a number of years. Every word of this review is my honest to goodness opinion. Most film books are dry academic treatises whose ultimate destiny is to sit unused on a college library shelf. Destroy All Movies: A Complete Guide to Punks on Film (Fantagraphics) is the antithesis of this musty stereotype. This massive punk rock movie encyclopedia is totally alive. It took the editors Zack Carlson and Bryan Connolly seven years to compile over 1,110 capsule reviews and dozens of interviews. Carlson and Connolly are joined by numerous contributors, but the writing styles are consistently funny and snappy. For example, Love Bites is described as the "best shot-on-video gay vampire comedy of 1998." The review of Lou Reed: Rock N Roll Heart ends with the following line: "The best part here --and what I what I wish the whole movie was-- is footage of [Lou] Reed eating pizza and playing an arcade game." The criteria for including a film in the book can be boiled down to this: if there is a punk in the narrative, it gets in. As a result, the coverage is all over the place. Well-known punk rock movies like Urgh! A Music War, Decline of the Western Civilization, Another State of Mind, and The Blank Generation, and Desperate Teenage Lovedolls are represented. More familiar films featuring punky characters like Road Warrior, Suburbia, Repo Man, Valley Girl, and Revenge of the Nerds are also included. Liquid Sky is in here, but so is Star Trek IV: The Voyage Home, Hook, and Ernest Saves Christmas. Pretty in Pink appears right after Predator 2. Earnest Saves Christmas precedes Escape from L.A. The book skips right over Death Wish to cover the three Death Wish follow-ups. Why? There were no punks in the original Death Wish movie. Hardliners might not appreciate the mix of bona fide punk rock movies and pop culture detritus, but the idiosyncratic choices are part of the book's appeal. Destroy All Movies is about the representation of punk rock in cinema so authenticity or overall quality is not a dividing line. The writers have their own opinions about content -- read the hilarious review for Punk Rock Summer Camp --, but the editors stubbornly tow the line about what films should be included. To provide some additional perspective, the editors and contributors interview original sources -- musicians, directors, producers, and actors -- to get their thoughts on the portrayal of punk rock in movies. The diverse list of interviewees include Ian MacKaye, Richard Hell (he also provides the foreword), Penelope Spheeris, Exene Cervenka, Nick Zedd, Allan Arkush, Allison Anders, Jon Gries, and numerous others. Even Kirk Thatcher -- the punk on the bus from Star Trek IV -- gets an interview. The quality of the discussions varies; there are some short-short interviews that probably couldn't have been dropped. The meatier discussions -- Ian MacKaye and Chris Pederson, and Richard Hell provide some smart sobering thoughts -- compensate for the cursory ones. Finally, it would be dumb not to discuss how great Destroy All Movies looks. Designer Jacob Covey did an excellent job here. The big bold cover, which features an iconic poster image from Class of 1984, makes the book stick out like a mohawk in a sea of crew cuts. The interior design is equally striking. The endpapers consist of full-color stills and poster art. The body of the text is in black-and-white with pink headers. Hundreds of photos in old-school halftones in black-and-white or pink are scattered throughout. In spite of the crazy color scheme, the text is easy to read. The only real complaint to be made about Destroy All Movies is that there is no index. However, what kind of bum would deride a book this essential for not having an index? Not me.