Movie News
Sensible Fanboy calls David Gordon Green's YOUR HIGHNESS - Genius!!! Spoilers Abound, Be Wary!
Hey folks, Harry here with an extremely spoiler heavy review - that I actually edited back a bit, simply because I very much feel that the end of a film should not be spoiled. Sadly, it has for me, though it does make me happy to know it will end awesome.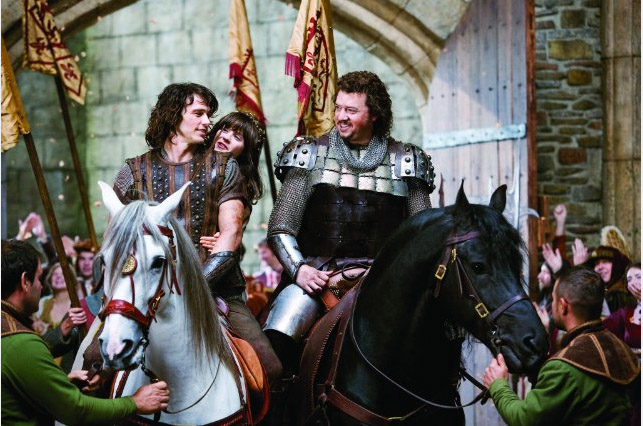 Hi Harry, (insert inept platitudes here) Before seeing the weak Due Date last weekend, my friend was chatted up by a gnarly old crow in the lobby (nothing new), but this time she was offering tickets to see something new, something that wasn't out for a while, that I hadn't heard of, called "Your Highness". Danny McBride in a medieval action comedy? Sold. The Empire in High Wycombe has never been so kind to me (apart from seeing BTTF in a 400 seat screen and being the only person there). I've been waiting for the influx of reviews to come in on AICN, but have seen nothing for a few days now, so I thought I'm chime in and let you know what I thought - from your post in March, it sounded like you were pretty excited for it. You should be. Ignore any (correct) British spelling. SPOILERS ABOUND. Good son James Franco comes home to his loser brother (McBride) and father, the king, from yet another quest, with a virgin bride (Zooey Deschanel) - attempts to get married, only for evil wizard Justin Theroux to break up the ceremony and steal back Zooey. Brothers team up to go get her back before she can be impregnated under the eclipse of the two moons and sire a dragon baby. Yeah. Ridiculous. Genius. The basic premise isn't anything new, so it won't shock you to learn that... (DELETED THE ENTIRE ENDING OF THE MOVIE TO PROTECT ALL EVEN WITH SPOILER WARNINGS!!!) I don't want to go in to a huge amount of detail, because I hate that kind of thing, but the things that stand out as being absolutely worth the ticket price were; 1) Pædo-Yoda-jellyfish-thing making McBride and Franco get him off. 2) Erect minotaur cock. 3) Said minotaur cock hung around McBride's neck as a trophy. 4) Copious amount of boob during Portman's introduction (sadly not Portman's). 5) Justin Theroux as the evil wizard - channeling Oldman's sadistic Zorg, albeit with a confused smile on his face - it works - it's just over the top enough. 6) The best delivered one-liner given to an extra in a long time. 7) Zooey Deschanel growling "Fuck me!". etc) Lots of one-liners that I don't want to spoil, because one of them is now part of my common parlance, and a very small man with no penis. It reminded me of a lot of 80's adventure movies, mixed with the best of the more modern breed of comedies, and dare I say it, some Monty Python thrown in for good measure. A pretty good mix that didn't drag at all. All the effects were present and correct in this print (I know there were some previews earlier in the year with un-finished stuff), and very good they were too - but I don't know how close this is to the final thing - release it today and I don't think anyone would complain. There were a few things that didn't sit quite right - the obvious un-scripted scenes weren't brilliant - I prefer naturally written dialogue to McBride waffling - it works to a degree, and if you get on with Eastbound & Down and Pineapple Express, it won't faze you. The mechanical bird sidekick was redundant too, and served no purpose what so ever - it felt like an in-joke that no-one understood. Being a pedant, the credits at the start were heavy-handed - a voice-over on top of illustrated imagery of an escape from angry midgets - it didn't leave me wanting to see that bit again. If they can trim down a few of these things (and really, it's not a lot at all), and keep in the over the top gore/nudity/cock, I think it's going to be received VERY well on release next year. If you use this, call me "Sensible Fanboy".