@@@@ What the #$%! is AICN COMICS: Q&@? @@@@
AICN COMICS: Q&@ is our new semi-weekly interview column where some of your favorite @$$Holes interview comic bookdom's biggest, brightest, newest, and oldest stars. Enjoy this latest in-depth interview filled with @$$y goodness and be sure to look for more AICN COMICS as we gaze into the future of comics every week with AICN COMICS: SPINNER RACK PREVIEWS every Monday and then join the rest of your favorite @$$Holes for their opinions on the weekly pull every Wednesday with AICN COMICS REVIEWS!


---

Ambush Bug intervening here for a quick sec. Before we start with the review I wanted to let folks know that I will be signing my new book, NANNY & HANK #1 tomorrow / Wednesday evening from 5-7pm at Graham Crackers Comics, at 2562 N Clark St in Lincoln Park in Chicago. Be sure to stop by and say hi and check out my new book. I'll also be signing some of my other books. It'd be great to meet some AICN-ers if you're in the area, so stop by, check out the comics, and say howdy! Find out more about this event here!
We now take you back to Lyzard's interview with writer David Hine!
---
Q's by Lyzard!
@'s by RYDER ON THE STORM's David Hine!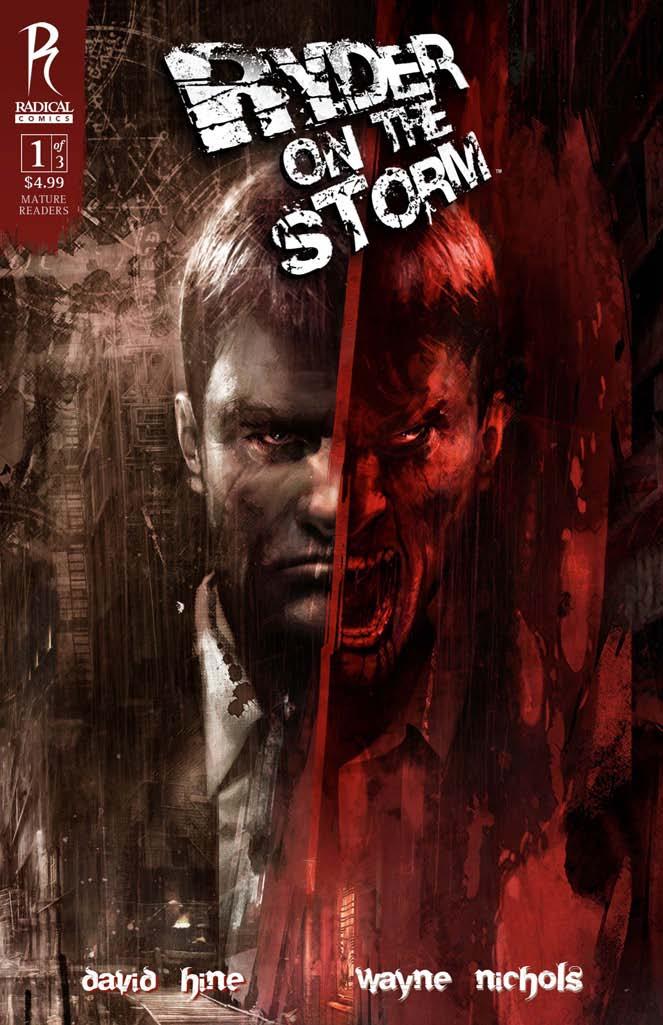 Lyzard here. David Hine is a prolific comic book writer. He has written for both big houses, Marvel and DC, along with working with numerous independent publishers. Coming out from Radical Comics is RYDER ON THE STORM, a horror noir comic that takes place in the not so distant future. I had the pleasure of interviewing Mr. Hine on both this project and several others of his newest ventures.
LYZARD: Can you give us a bit of a background of yourself? Like, how did you come to love comics in the first place and then decide to make it a career?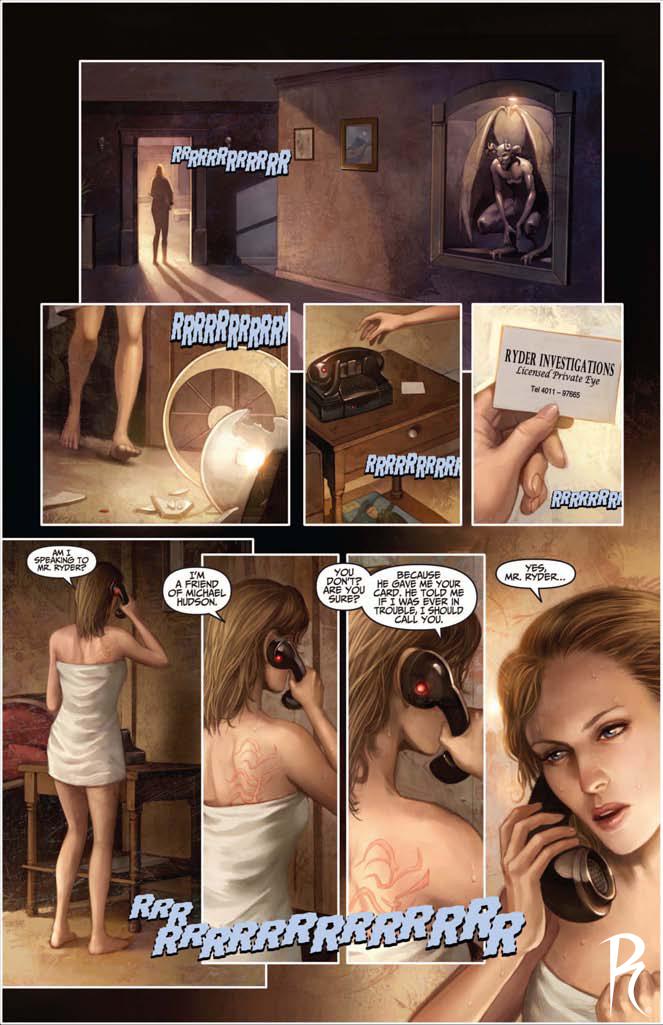 DAVID HINE (DH):
I've loved comics for as long as I can remember. One way or another I spent most of my childhood wandering in a fantasy world, fed by books, movies and comics. I grew up in England so the first comics I read were English weeklies, which were very fast-paced serials of 2, 4 or 6 pages. My early favorites were THE TRIGAN EMPIRE, a swords and rayguns adventure by the incredible Don Lawrence, HEROS OF THE SPARTAN (swords and sandals) and DAN DARE. The big revelation of my youth was stumbling across American comics. They were totally insane, so far removed from the fairly conventional adventure strips we had. The American style fed back into the UK comic scene in the form of 2000AD. After I left Art College, some of my earliest work was as an artist for 2000AD. I also did a lot of inking work for Marvel UK.
I had a long and varied career as a writer and illustrator for various British publications and as a commercial illustrator before I settled into writing full-time for the American market.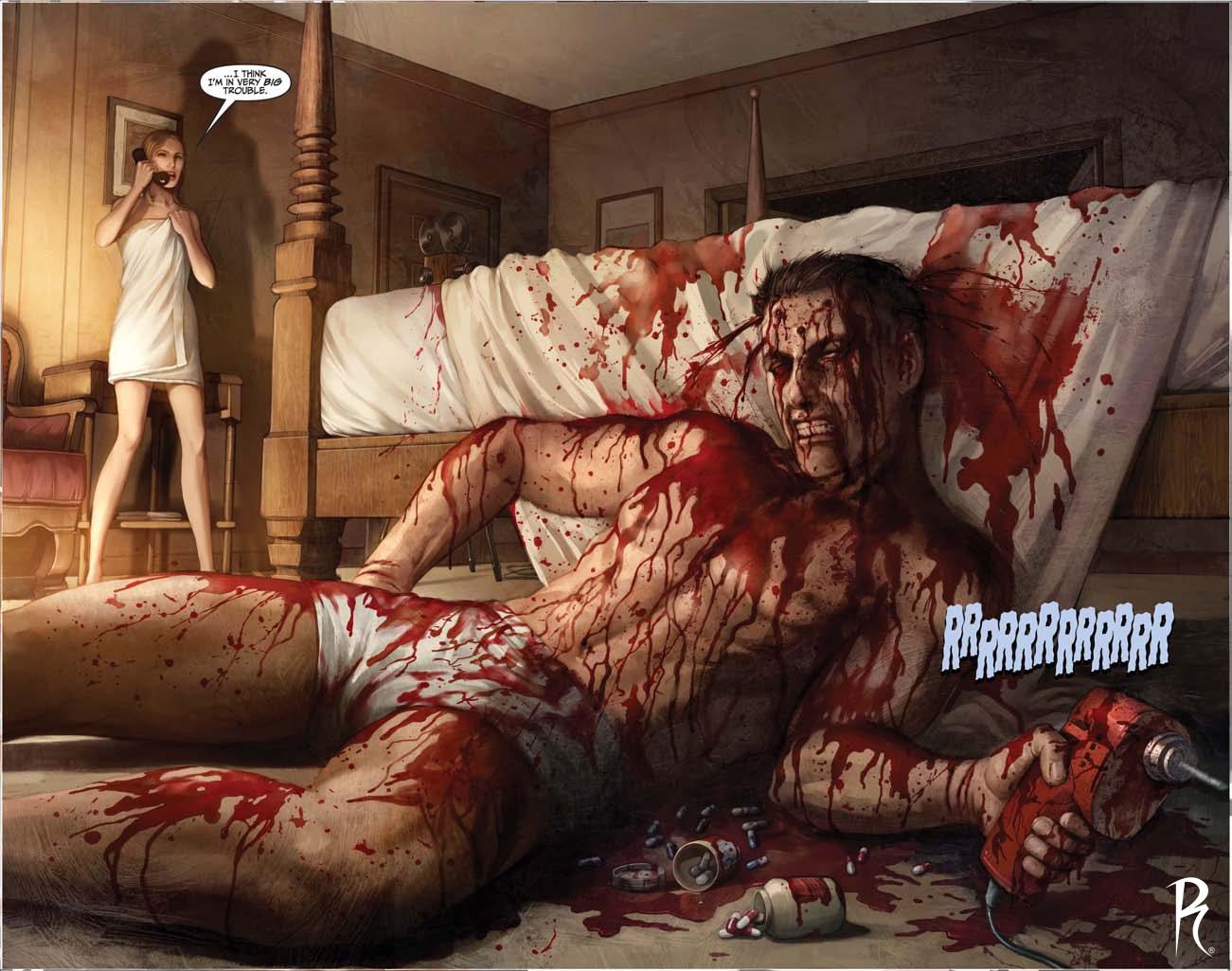 LYZARD: For those that do not know what RYDER ON THE STORM is, can you give a little plot summary?
DH:
The story is set in a parallel world that resembles the sort of retro future we saw in BLADE RUNNER and DARK CITY. Ryder is a private detective who gets involved in a death that could be a brutal murder or a really bizarre suicide. As he digs deeper he finds that there is something extremely dark and evil lurking under the surface of our unnamed city. He trawls the underworld of cage-fighting, S&M sex-clubs where gymnasts carve their own bodies while their screams are set to music, and Mudlarks who scavenge the canals and the sewers, where they encounter the embryonic offspring of a long-forgotten Daemon race.
LYZARD: Where did the idea for RYDER ON THE STORM come?
DH:
The bare bones of the idea – CHINATOWN meets Lovecraft, a noir thriller with demons – was presented to me and after that it was a mash-up of all the movies and books I talked about. I love playing with morally ambiguous characters and this series gave me the chance to do that.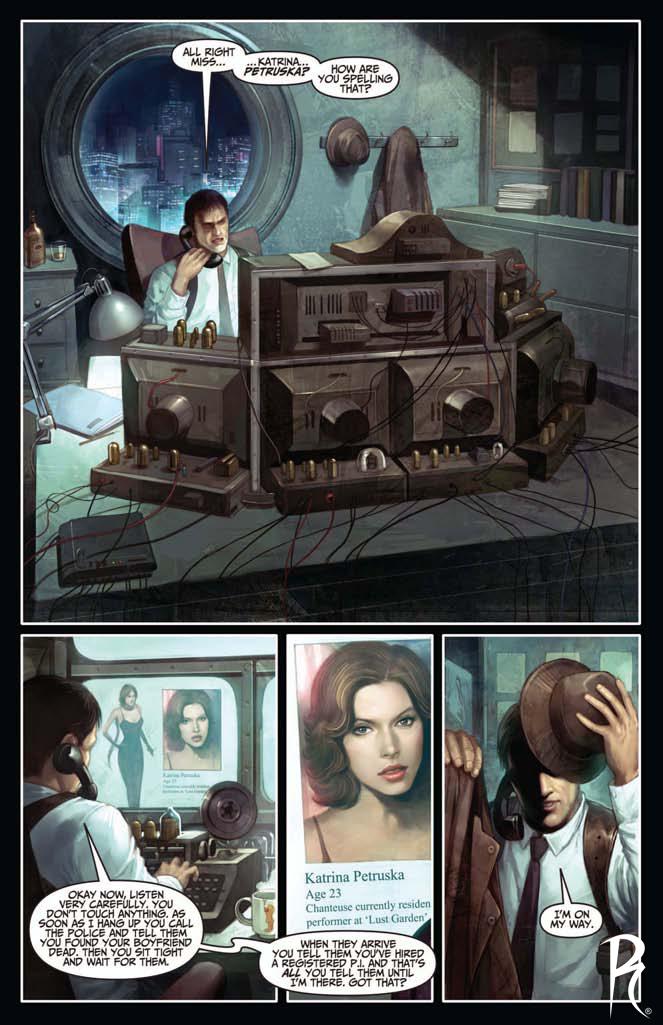 LYZARD: I would classify the comic book as horror noir. What were the horror influences on the book, and then what were some of the noir influences?
DH:
Everyone involved in this book is a big fan of Lovecraft and that theme of the evil that lurks beneath the surface of our civilization, coupled with legends of an ancient race of demons, is the backdrop against which we have set up a noirish whodunit. The movie CHINATOWN is a big influence and the works of Hammett and Chandler. Every Noir film I've ever seen has probably filtered into this book in some way, and I've seen a lot of noir films. TOUCH OF EVIL is my all-time favorite. I love the dark weirdness of David Lynch and Polanski's earl work, like REPULSION, THE TENANT and ROSEMARY'S BABY.
LYZARD: Which comics influenced RYDER ON THE STORM?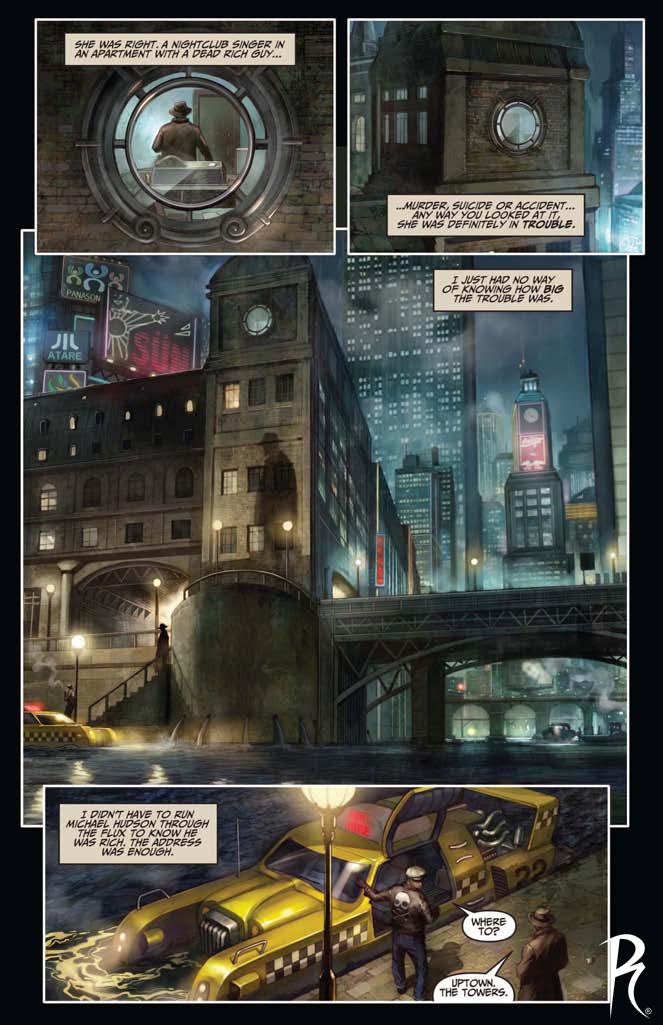 DH:
I honestly don't know. I've listed movies and books but there aren't any comics that spring to mind. Now I think about it, I suppose characters like The Mysterious Stranger who narrated the old Lee/Ditko mystery stories must have played a big part. There's rain and trenchcoats in RYDER and the Mysterious Stranger did a lot of hanging out in the shadows on rainy nights.
LYZARD: What is your writing process?
DH:
It varies. I'm working on a wide range of books from DETECTIVE COMICS, AZRAEL and THE SPIRIT for DC to my own THE BULLETPROOF COFFIN from Image, and the process is different for each. I'll usually start with an opening scene or a premise, which may be given to me by an editor or publisher. For RYDER the premise I was given was: In a parallel world a detective discovers that Daemons walk the Earth. Once I have a killer opening scene I'll usually jump to the end of the story. I always need to know where a story is going to end up. Once I have those two points I go back to the beginning, building a plot that will end with that climax. With the 48+-page Radical books, I'll then break the story down into three Acts, very much like a screenplay for a movie. It's not exactly the same, because you have to be aware that your readers are experiencing the story as three separate episodes, so you need to pace each issue with its own arc, climax and cliff hanger.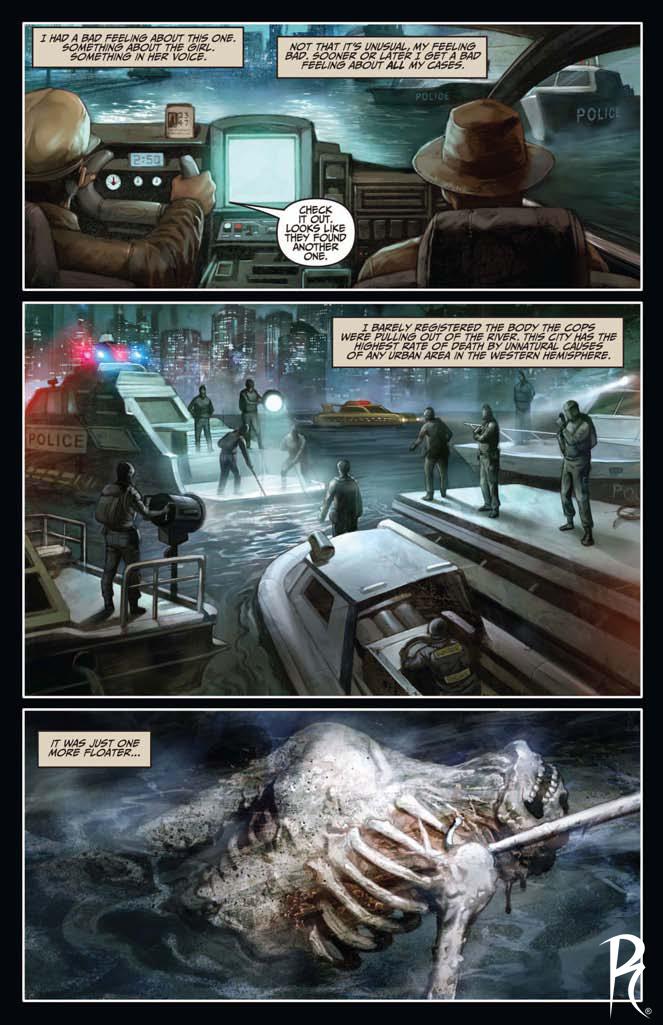 The next stage is to break down each book into key scenes that hit all the right beats, develop the characters and push the plot and sub-plots forward. Then I break the story down further into individual pages, always ending each page on a mini cliff-hanger. Pacing the story right is the most difficult of skills to acquire. These days I usually end up with the right amount of story for the issue, but occasionally you have to cut something or add a scene to make up the pages. With the whole story broken down I'll then usually write dialogue, or list the physical actions, breaking the page down into panels. Then final, the donkeywork of panel descriptions, making sure you convey the action and atmosphere clearly to the artist.
Along the way there is research to do - less so in a story like RYDER set in its own mythical world, but on some books the research can take a long time. I've been writing an arc of AZRAEL for DC that revolved around Christian mythology. I read at least half a dozen books for that and dipped into a dozen more. Then if you work on a character for DC or Marvel you also have to research the character's background and interactions with other characters. Given the complexity of the Marvel and DC universe that can be incredibly time consuming.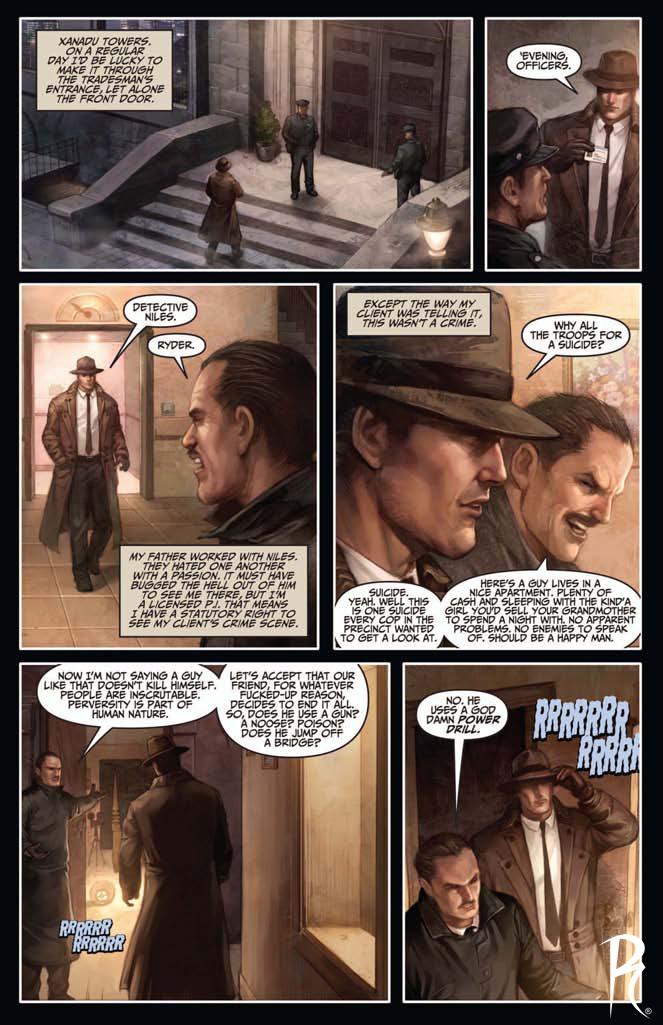 Radical books are all separate and self-contained, and that's a huge advantage. You can really loosen up and create your own environment.
LYZARD: What was the most difficult part in writing RYDER ON THE STORM?
DH:
I think to bring all the character arcs together to an emotional climax that worked for each of them. The plot is always the key. If you get it right the characters develop naturally in reaction to the events. You just have to make sure the plot has enough strands to work for all the characters without getting overly complex. I'm never entirely sure I've succeeded until I get the reader feedback.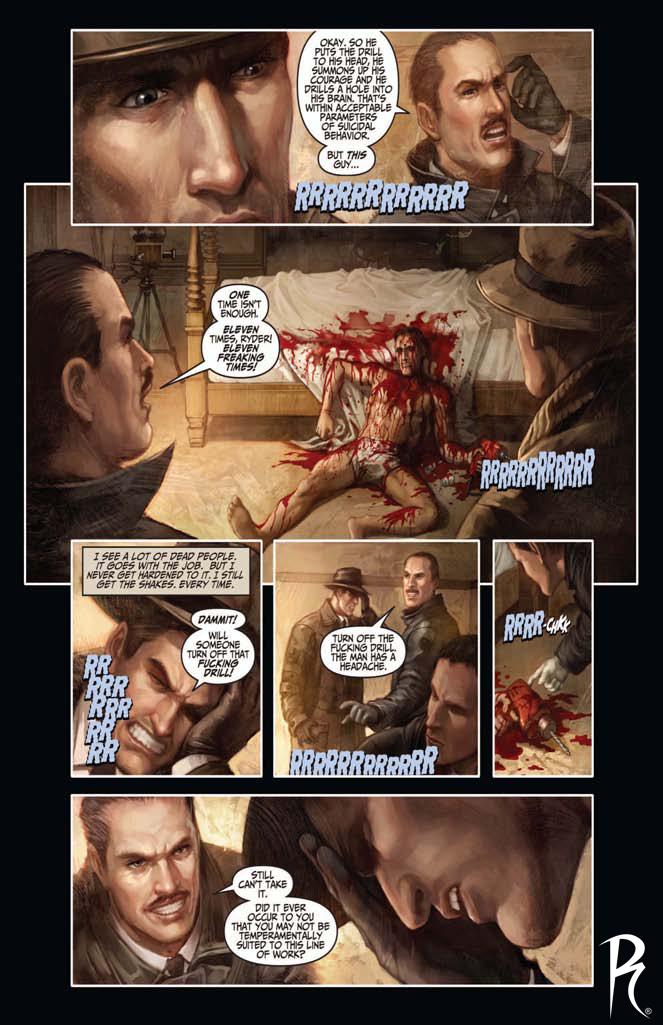 LYZARD: As the writer, did you get any input into the artistic style of the comic book?
DH:
Radical always involve me with the process of choosing an artist. Often there are a number of artists who will try out for any given book and I'll see a lot of samples. On FVZA I was able to bring in Roy Martinez, who is an artist I've worked with a couple of times before at Marvel. Radical brought in the digital color artists of Kinsun Loh's studio who have painted FVZA and RYDER ON THE STORM. I was very lucky there, because those guys are the best in the business. Color artists who really know how to draw, and that matters if you want well rendered art that is more than flashy effects.
LYZARD: Do you alter how much panel description you give depending on the comic and/or artist?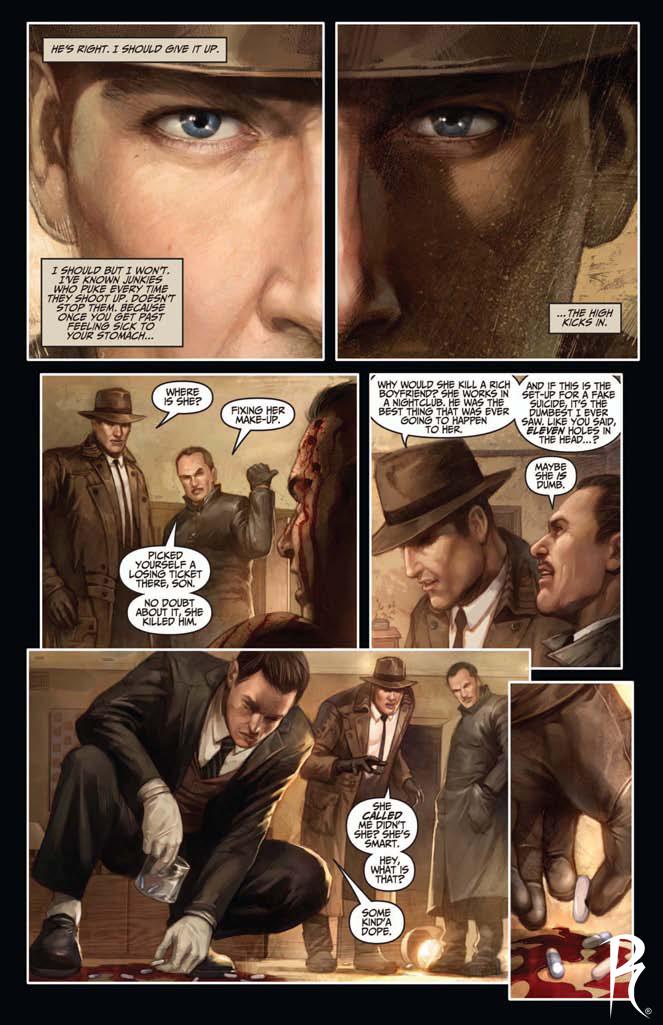 DH:
I tend to write more for an artist I've never worked with before. Sometimes I won't actually know who the artist is going to be. I loosen up for an artist like Frazer Irving, who I know personally. I think I write less for Moritat on THE SPIRIT because we know each other, although Frazer and Moritat might disagree there. I sometimes get a little too precise with my camera angles and background descriptions, but I always tell artists they are free to reject my ideas in favor of their own, provided the story is still told effectively. My loosest scripts are for THE BULLETPROOF COFFIN because Shaky Kane is co-creator, and we are so much on the same wavelength I know I can allow him a lot more spontaneity.
LYZARD: Who are some of your idols in the comic book world?
DH:
Jack Kirby, Steve Ditko, Will Eisner, Robert Crumb, Jim Steranko, Stan Lee, Grant Morrison, Darwyn Cooke, Jose Munoz, Jacques Tardi, Paul Gillon, The Hernandez brothers, Charles Burns. Seriously, I could go on for pages. So many great artists and writers.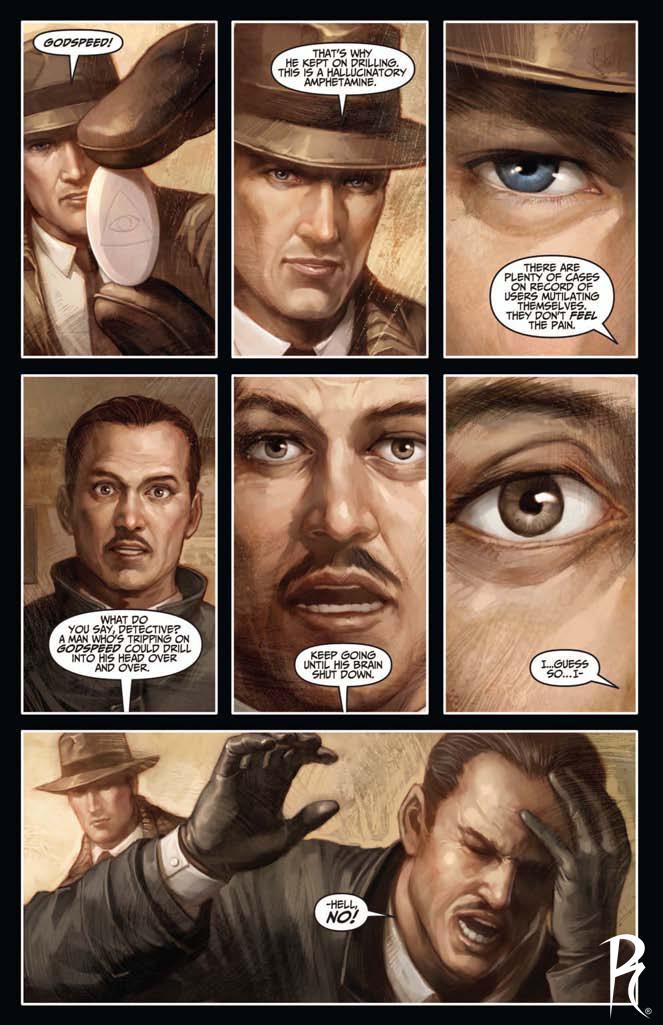 LYZARD: What would be your dream comic book job?
DH:
That's hard to say. I'm currently writing the comic that I have consistently placed at the top of my list of greats – THE SPIRIT. I'm not sure that it makes the dream job, because I'm always going to be in the shadow of Will Eisner. I'm certainly enjoying THE BULLETPROOF COFFIN more than anything I've ever done. Artist Shaky Kane and I get on really well and Image give us a totally free rein to create whatever lunacy we want. I do my best work when the editorial restraints are gone, so that book has been a dream to do. I've gotten to write a lot of the characters I once dreamed of working on – Daredevil, Spider-Man, Batman, Green Lantern and now The Spirit. There are a number of characters I would still like to have a crack at: The Creeper, Dr Strange, The Silver Surfer and the Human Eraser. The last one would only work if Shaky Kane was drawing it.
One day I hope to write another graphic novel like STRANGE EMBRACE. I approached that like a novel with no thought to an audience apart from myself, and little hope of finding a publisher. Art for its own sake would be my ultimate goal and I guess that would become the dream if it also went on to sell a million copies.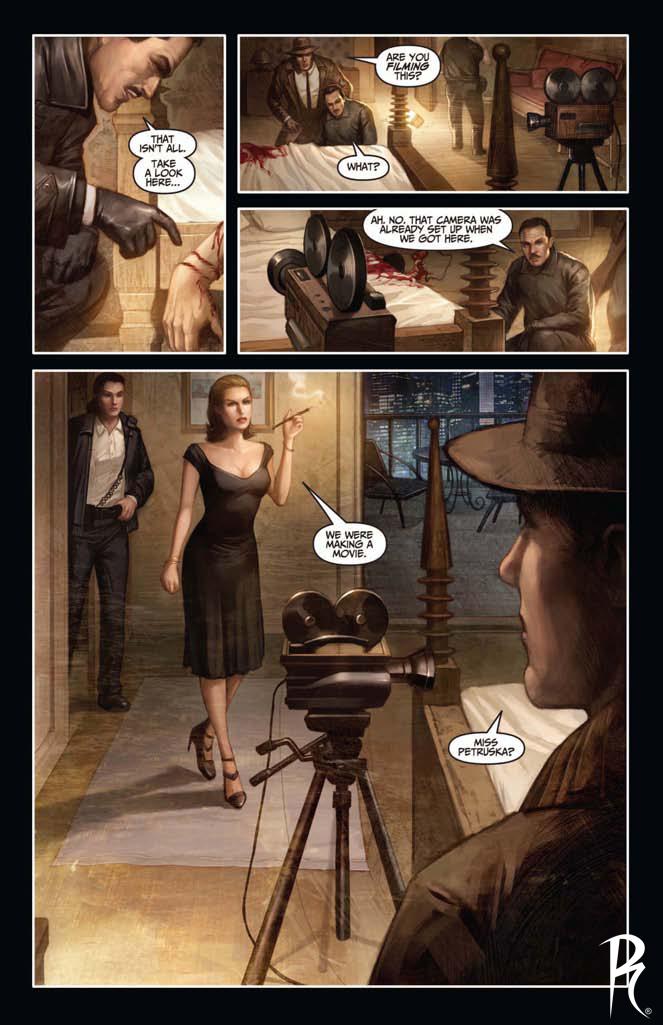 LYZARD: What is your favorite book/character in comics?
DH:
Yeesh! So many. Crumb's Mr Natural, ALACK SINNER by Munoz and Sampayo, Maggie from LOVE AND ROCKETS, Chester Brown's ED THE HAPPY CLOWN, Bizarro Superman, Eisner's version of THE SPIRIT and Dr Pyg from Morrison's BATMAN AND ROBIN. I also have a soft spot for THE COFFIN FLY, created by Shaky Kane for THE BULLETPROOF COFFIN.
LYZARD: What differences do you see between American and British comics nowadays?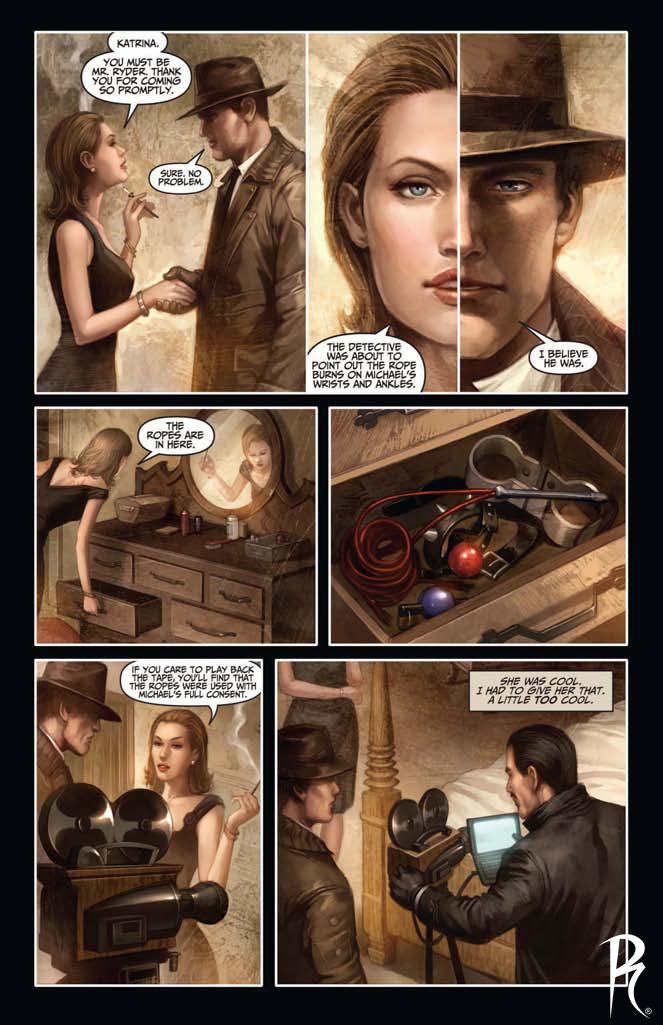 DH:
There are virtually no comics for teens and up in Britain today. Okay, we still have 2000AD, which has become an institution, and we have the newly launched CLiNT, but that's mostly reprinting strips that have already appeared in American formats. We do have graphic novels, notably those published by Self Made Hero. But mostly there's a hodge-podge of reprinted Marvel and DC comics, magazines with games, prose pieces and occasional short strips, and oddities like VIZ and BEANO. There's a healthy small press scene but no real mainstream longer-format comics like the monthly floppies in the USA. That's why most British creators are working for the US publishers.
LYZARD: Are there any other projects you want to promote right now?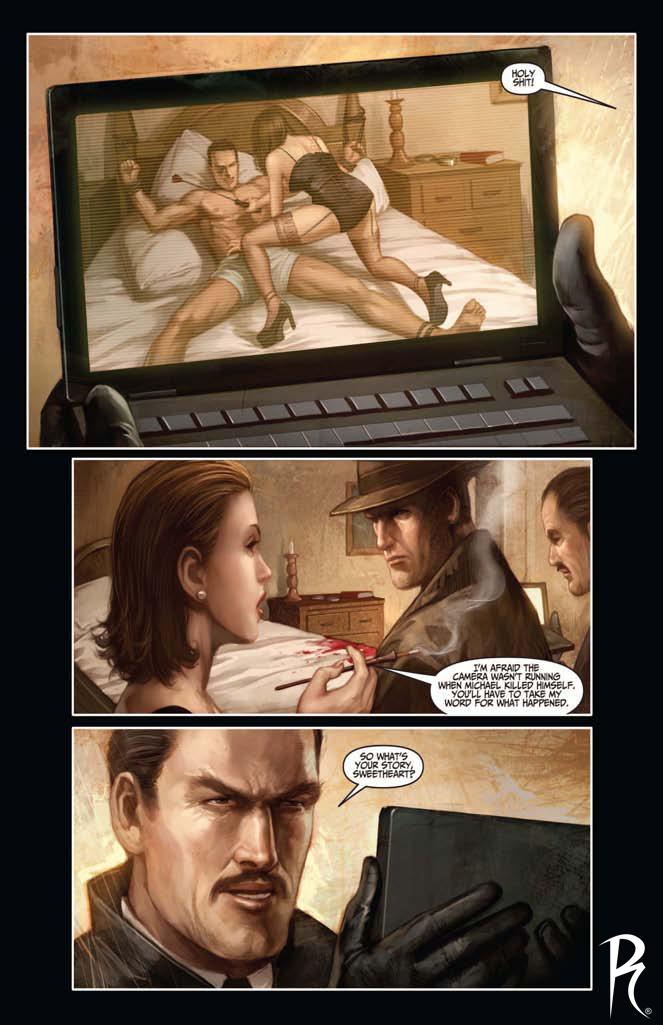 DH:
THE BULLETPROOF COFFIN is the book that means the most to me, now or any time. It's been a real labor of love for Shaky Kane and myself and has gotten a terrific reception from the readers. I've mentioned THE SPIRIT, ongoing from DC. AZRAEL is another ongoing DC comic that I really want to boost. The last arc with Guillem March on art and featuring a Vatican hit man with paranormal powers, has gone down very well. I'm halfway through a four-issue series of THE DARKNESS for Top Cow. That's fun too. We have the Four Horsemen of the Apocalypse possessing the bodies of four bikers and running riot in a small west coast town. We're literally raising Hell with that one. And there's the BATMAN and DETECTIVE annuals coming in December, linked to the BATMAN INC. event, which launches a new member of the Batman team, based in Paris. From Radical there's a new thriller in the works called HOLLOW POINT. We're about to launch a preview issue of that one.
LYZARD: I've been keeping up with THE DARKNESS: FOUR HORSEMEN storyline. Does the graphicness of the images match what you had in mind, or did you have a sicker, more grotesque idea for some of the punishments they bring to the townsfolk?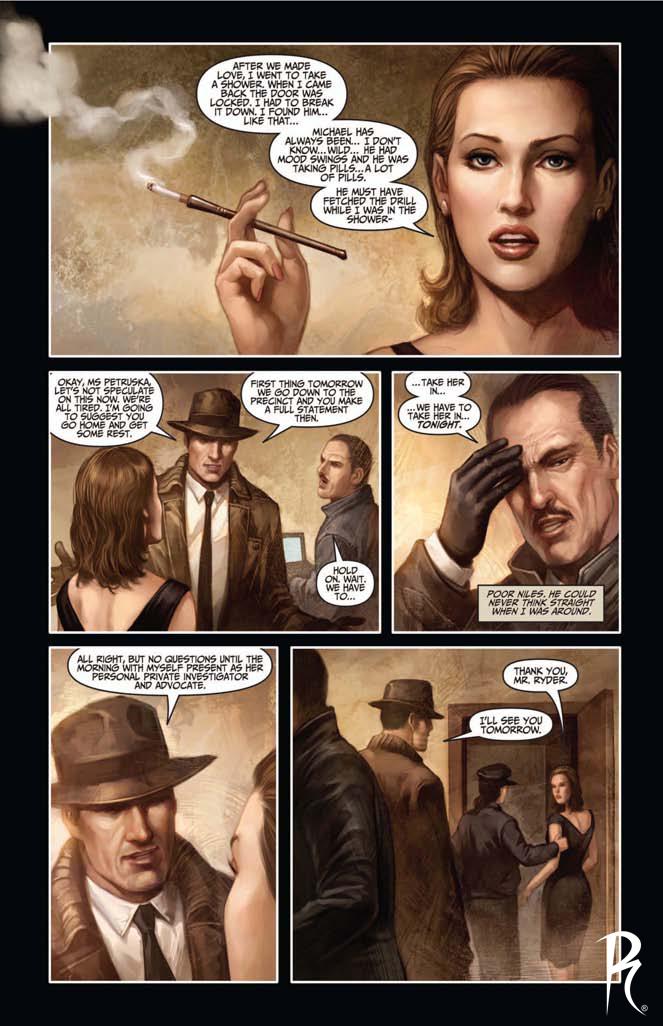 DH:
Could they be any sicker? Self-cannibalism and Elephantiasis are a couple of things that get me squirming uncomfortably, so that's why I put them in there. Jeff Wamester has done a great job on this book. He may have pulled back a little on some of the scenes but I like the clean way he has drawn it, applying a style that is close to animation or children's comics. It's something that European comics do a lot, drawing horror or explicit sex in a clean, open style more reminiscent of Tin Tin. It works. It takes the edge off and yet in a sense that conflict between style and content can make the horror more effective.
LYZARD: Because of my readings of THE DARKNESS: FOUR HORSEMEN, I have suggested that more comics should come with parental advisory, like what Marvel does, due to the graphic nature of some comics. Do you view this as a form of censorship?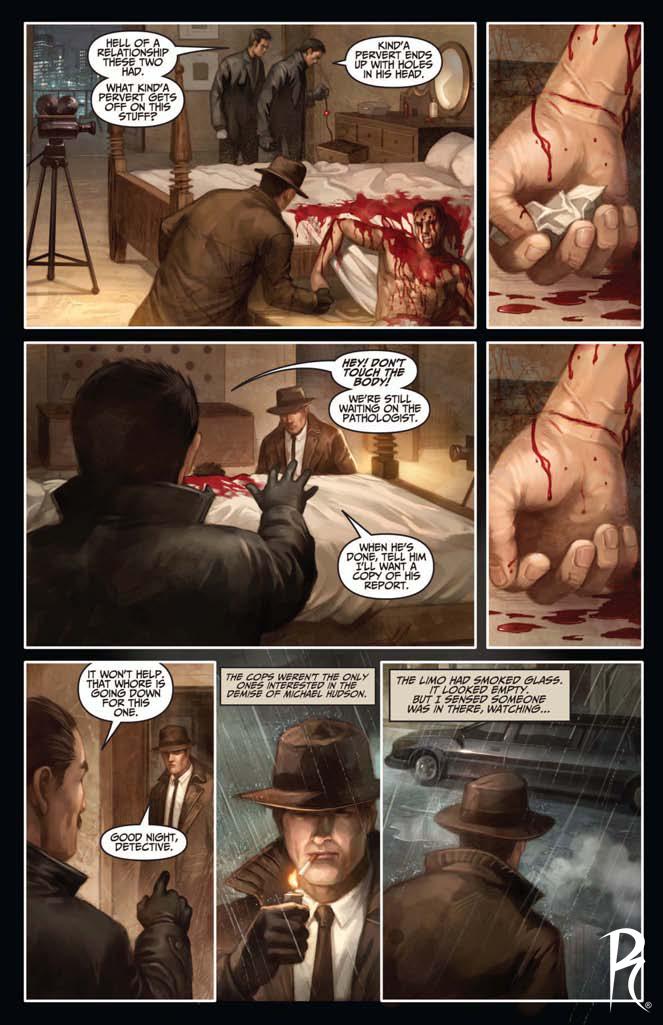 DH:
Specifically because of that comic? I'll take that as a compliment, I guess. It was certainly intended to be disturbing. It wouldn't bother me at all to put Parental Advisories on comics. It's fair enough for children and their parents to know that something may be inappropriate. And clearly a comic like THE DARKNESS or RYDER ON THE STORM isn't appropriate for a young kid. It's not censorship. Censorship is when a government body bans the sale of a book or comic, or a library removes books from its shelves. Publishers censor content sometimes because it isn't appropriate to their perceived readership. I find that annoying sometimes, but you have to be clear at the outset what the parameters for a publisher are going to be. Top Cow and Radical will allow a lot more than Marvel for instance.
LYZARD: In my experience with comics I feel that the envelope is pushed more in violence, not sex. Do you agree and if so why do you think this is?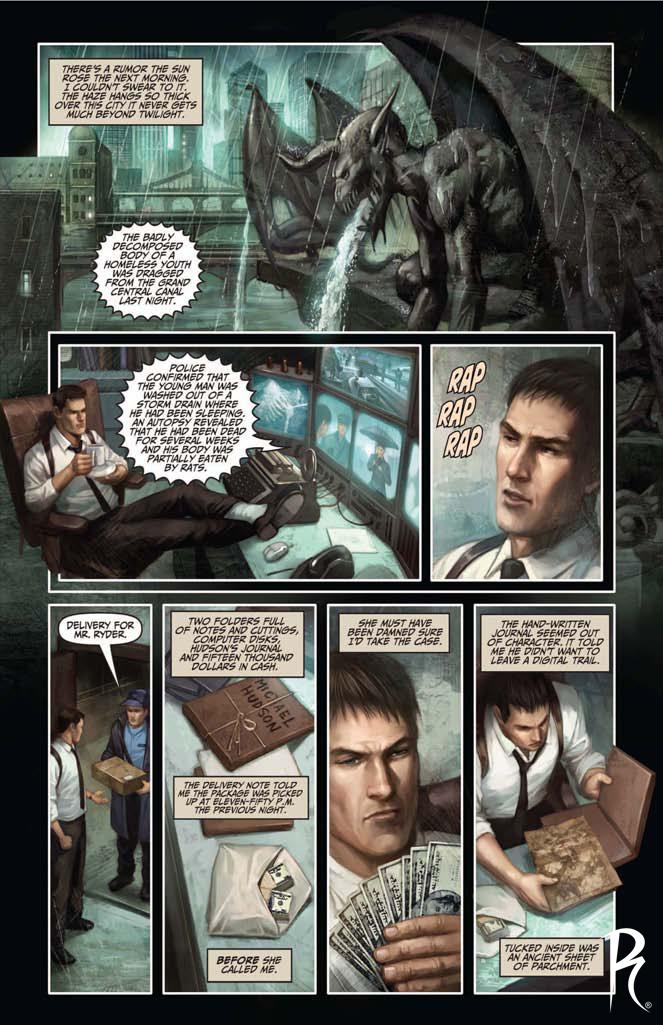 DH:
Absolutely. The USA is so squeamish about sex it seems laughable to anyone living in Europe. In Europe if a comic is intended for an adult audience there's no problem with an erect penis or whatever else you want to draw. It's lines on paper! The American obsession with the nipple is incomprehensible to me. It's strange that we seem to have gone backwards from the late sixties when the Underground Press was throwing inhibitions to the wind. Now we're back to draping hair or inappropriate articles of clothing over any offending protuberance, mammary or priapic. I have no explanation except to assume it's a religious thing. It's more sinful to fuck than to kill.
LYZARD: For those interested in breaking into the comic book world, what advice would you give them?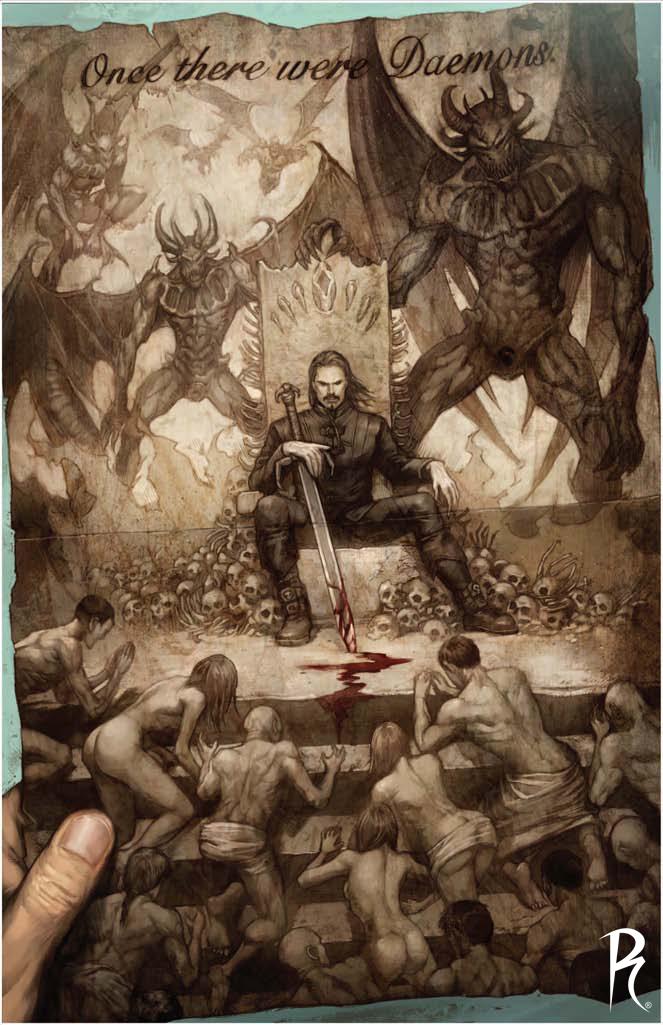 DH:
There's no secret to it. You have to self-publish, particularly if you're a writer, because there is no one who will read scripts or proposals from unpublished writers. You have to have a finished comic, if only to show you can actually do it. Nobody is interested in your great idea for a comic. No one wants to see your amazing pin-ups of Batman or Wolverine. At least, no one who counts. No one who can actually give you a job. They want to see comics. Sequential narratives with properly established settings, fully developed characters who interact, great dialogue, great figure drawing. A sense of drama and atmosphere in both words and images.
Then you have to be willing to take repeated rejections and come back for more, and most of all you have to keep working and improving until you are good enough. That's what it comes down to in the end. If you want to work for Marvel or DC, or Top Cow or Radical or any other publisher who actually pays, you have to be better than someone who is already working there. Or as Jason Aaron recently said: "Don't suck."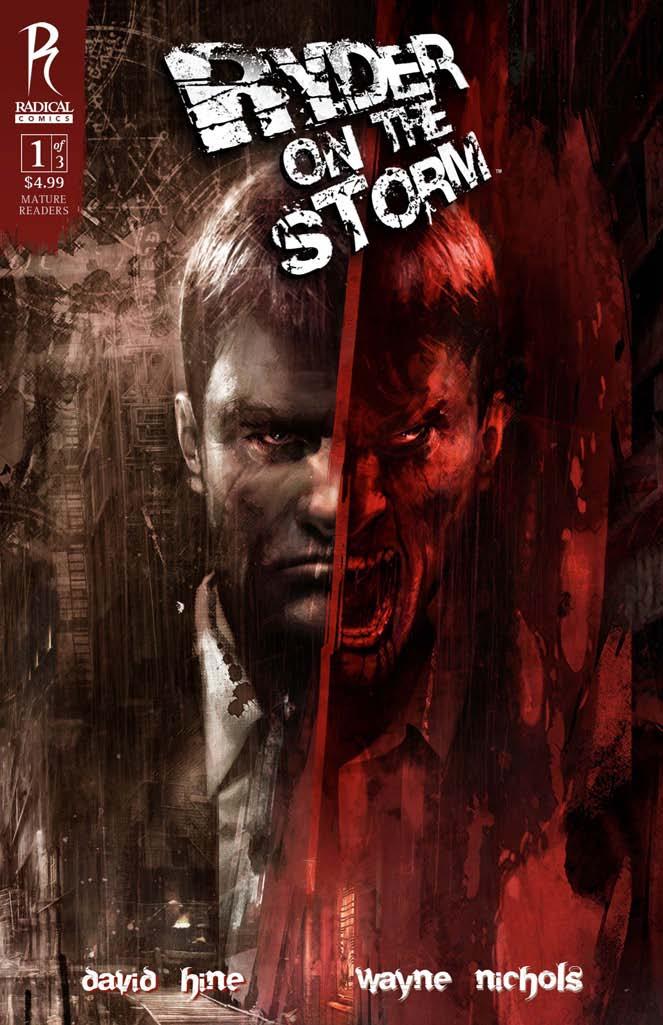 LYZARD: You can find RYDER ON THE STORM #1 in stores now and my review for it here. Thanks again to the gracious David Hine for his insightful answers.
Lyzard is actually Lyz Reblin, a film student at Chapman University. Lyz's love for comics stems from an internship at Dark Horse Entertainment as a freshman, which may explain why some of her favorite comic book writers are Gerard Way and Steve Niles. You can find her on Facebook, but only if you follow her band: Castle Town Convicts (possibly a Zelda reference?).
---
Editing, compiling, imaging, coding, logos & cat-wrangling by Ambush Bug Proofs, co-edits & common sense provided by Sleazy G
---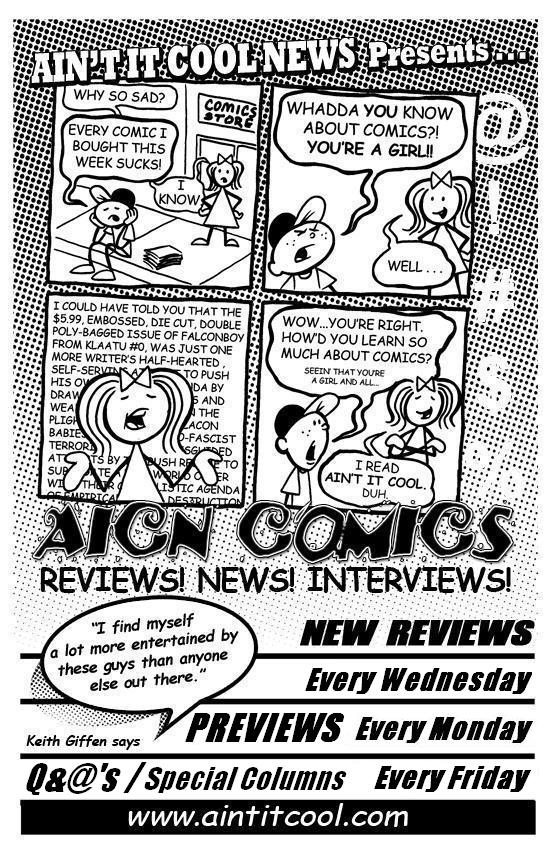 Ad by Prof. Challenger