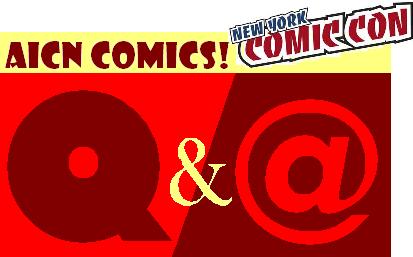 @@@@ What the #$%! is AICN COMICS: Q&@? @@@@
AICN COMICS: Q&@ is our interview column where some of your favorite @$$Holes interview comic bookdom's biggest, brightest, newest, and oldest stars. Enjoy this latest in-depth interview filled with @$$y goodness and be sure to look for more AICN COMICS as we gaze into the future of comics every week with AICN COMICS: SPINNER RACK PREVIEWS every Monday and then join the rest of your favorite @$$Holes for their opinions on the weekly pull every Wednesday with AICN COMICS REVIEWS!
---
Q's by Ambush Bug!
@'s by Zenescope President Joe Brusha!
Transcribed by Lyzard!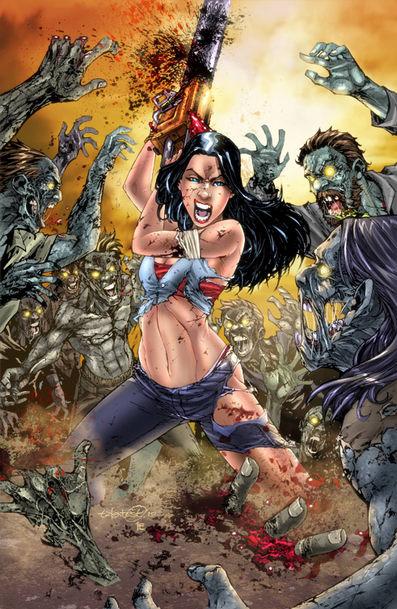 Hey folks, Ambush Bug here again with another interview from this year's New York Comic Con. Zenescope has made quite a name for itself in recent years with their WONDERLAND and GRIMM FAIRY TALES books and just recently with their NEVERLAND and CHARMED series (based on the TV show). I had a chance to chat with Zenescope President Joe Brusha on the second day of the con about all of the exciting things the company has in store for us. Here's what he had to say…
AMBUSH BUG (BUG): How's the con going for you so far?
JOE BRUSHA (JB):
It's going really well. There are tons of people here, no complaints. I'm pretty happy with it.
BUG: What announcements have you made so far, or will make here at the con?
JB:
We announced our new series: THE MONSTER HUNTER SURVIVAL GUIDE. We had Bigfoot here promoting it. That was pretty cool. That has gotten a lot of attention and photo ops with Bigfoot. You see a lot of Chewbaccas, but not Big Feet running around here. We have a new spin off series of GRIMM FAIRY TALES, going to be on going, called GRIMM MYTHS AND LEGENDS. So those are our two announcements for this show.
BUG: Tell me about some of the upcoming projects. I've noticed a lot of CHARMED posters around here. Do you want to talk about that?
JB:
Sure, CHARMED picks up where the TV series left off, so CHARMED Season 9. It's been received really well, we've been selling a lot of books, a lot of comic book fans and non-comic book fans just love the series, and so we're really excited for that. We have issue #2 or #3 out, and the first trade will be out in December, just in time for Christmas. So it's going really well for us.
BUG: In sake of continuity, do you guys have collaboration with people from the show?
JB:
Yes so the writer who is writing it, Paul Rudiltis, has written the CHARMED novels, the YA (Young Adult) novels, so he knows the CHARMED universe. I don't know much about CHARMED, my wife is really into it, my daughter. So that is how we got the idea for it. But he knows the universe like the back of his hand. He picked it up so well that I don't think there is any problem with continuity.
BUG: Have you heard any reactions for the actresses of CHARMED on how they are being depicted?
JB:
I mean it's all been pretty positive. A couple from Holly Marie Combs, I don't know if any of the others have tweeted about it. But they seem pretty happy about the way they look in the books. So I think Alyssa Milano had some good things to say about it.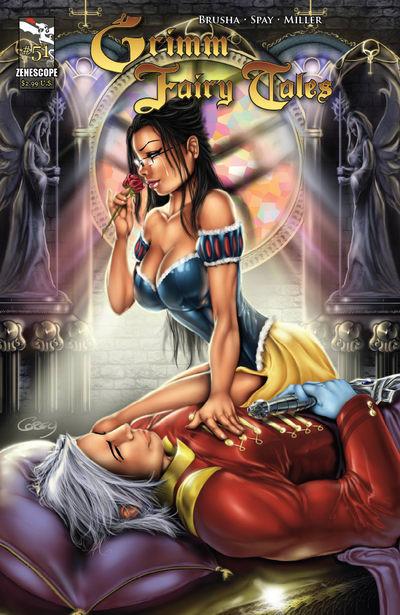 BUG: What about your other stuff like GRIMM FAIRY TALES?
JB:
GRIMM FAIRY TALES continues to be our flagship title. It still sells really well. It's evolved; we just had the 50th issue last month. That's a milestone for us. It was our best selling issue of the series, so our numbers just keep going up and we have a rabid fan base that we love and it's great.
BUG: It seems that your marketing scheme is to have hot girls on the cover to get people's attention, but once they get inside, they still have the hot girls, but also a pretty strong story. That's a really smart marketing scheme.
JB:
The comic book market I guess is mainly 18-34 year old males, they make up 90-95%, so you know you put something hot on the cover to get their attention so they pick it up. I know people say "don't judge a book by its cover," but a lot of people do. Our stories are strong enough and we've proven that it's more than just a flashy cover. We also have a strong female readership base. A lot of people have told us that their girlfriend went with them to the comic book store, saw our book, picked it up, and that hooked them into comics. So we are really proud of that, we want to get as many non-comic book readers to start reading comic books, convert them, as we can. That's one of our main goals.
BUG: Let's talk about NEVERLAND. That seems to be a really popular title with you guys too.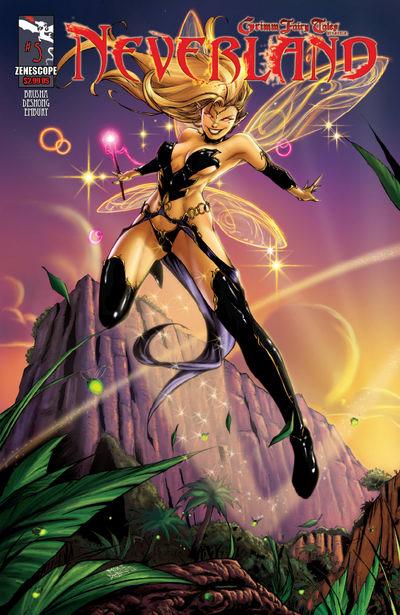 JB:
It goes back to the old formula, kind of get something that isn't licensed but people know it and then twist it and it's cool to mess with this characters that people know and reinvent them into different mythologies with them. It's a really solid title for us and people seem to like it.
BUG: Can you tell people who haven't read NEVERLAND what it's about?
JB:
Sure. It's a dark reimagining of Neverland. Peter Pan is the bad guy. He's this dark vampire-like creature, preying on kids and taking them to Neverland, and they don't come back once they go there. And Hook is, who in our book is called Nathan Cross, he's the good guy. So it's really flipped it around. He was taken to Neverland as a kid and now he's come back as an adult to save his two kids that are there.
BUG: What about some of your other titles? I see there is a SINBAD poster behind you.
JB:
We've done A THOUSAND AND ONE ARABIAN KNIGHTS: THE ADVENTURES OF SINBAD, just taken the popular character and tried to make him more edgy, kind of get that James Bond/Indiana Jones feel to him. That's been out for about a year now, we're up to issue #13. So again taking familiar characters and doing something new with them.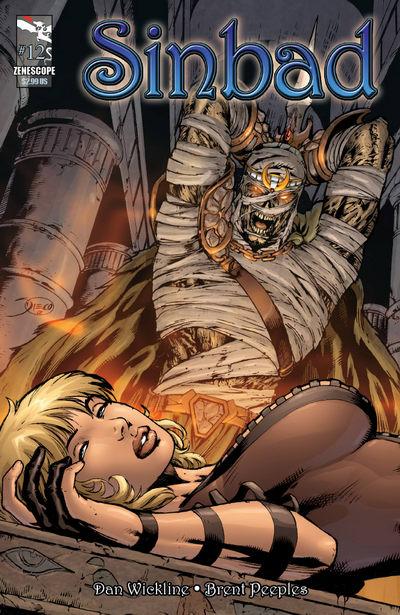 BUG: I've always talked to Raven every time I come here. He seems like one of your lead writers doing a lot of stuff. With WONDERLAND wrapping up, what else can you tell us about the WONDERLAND property?
JB:
We're thinking about doing a prequel to WONDERLAND, open on 2011 and Raven will write that, but we haven't fleshed that out yet. We originally conceived it as a trilogy but there are a lot of stories to tell, and if we can keep doing it and making them good we'll keep doing it. Raven is writing that. He's also writing the new GRIMM MYTHS AND LEGENDS series. We're excited about that. He's a great writer, but can be a knucklehead some of the time, nah he's a great guy. He's really talented and brings out a lot of ideas for us.
BUG: Are you doing any creator-owned stuff or focusing mainly on what you guys are working on?
JB:
We've actually done a couple creator-owned stuff. Raven actually brought us THE WAKING, a new zombie title that reinvents the genre. We'll look at creator-owned properties. It's not something we actively seek out, but maybe we'll start doing that because there are a lot of good properties out there. We've really focused on our own ideas up to this point because we can control it, we like to be in the driver seat on this stuff, but definitely open to creator-owned projects if they have top quality artwork and writing.
BUG: As far as GRIMM FAIRY TALES and WONDERLAND and NEVERLAND, any plans for a crossover?
JB:
You know actually, and this is Raven's brainchild again, next year we're going to do a crossover. We haven't really talked about it; we're keeping it very hush-hush. This is probably the first time we've talked about it. But we are definitely planning a crossover to all our main titles.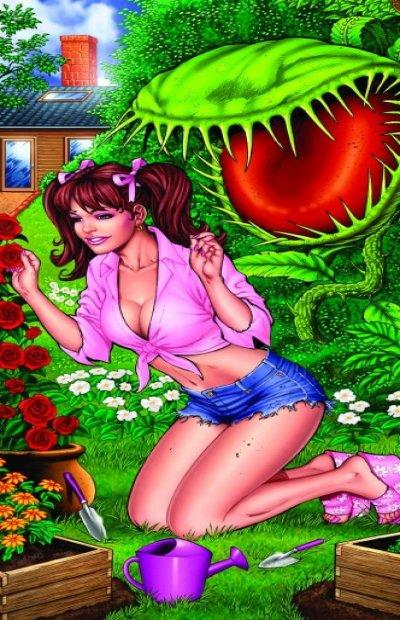 BUG: Thanks a lot for taking some time out to talk to me. I know you're really busy. You have a lot of people in front of your booth. Good luck at the rest of the con.
JB:
Thanks a lot; we appreciate the interview. Definitely check out THE MONSTER HUNTER SURVIVAL GUIDE, it's going to be a really good book, it's written by an actual monster hunter. It's going to be out at the end of this month, so hopefully we'll have it out by Halloween.
BUG: Will do. Thanks, Joe. Be sure to check out Zenescope's website for info on all of their titles.
Special thanks to Lyzard for transcribing this interview.
Ambush Bug is Mark L. Miller, original @$$Hole / wordslinger / reviewer / co-editor of AICN Comics for over nine years. Support a Bug by checking out his comics (click on the titles for purchasing info)! MUSCLES & FIGHTS VOL.3 & MUSCLES & FRIGHTS VOL.1. VINCENT PRICE PRESENTS: THE TINGLER #1 and #2 (interview, interview, preview, & review) VINCENT PRICE PRESENTS #20 WITCHFINDER GENERAL (preview, review, in stores now!) NANNY & HANK miniseries #1, #2, #3, and #4 (interview, interview, interview, preview, & review, in stores October 2010! Check out the NANNY & HANK Facebook Page!) Zenescope's upcoming WONDERLAND ANNUAL 2010 (in stores in October!) THE DEATHSPORT GAMES miniseries #1, #2, #3, and #4 (in September Previews Order #SEP 100860, in stores in November 2010! Check out THE DEATHSPORT GAMES Facebook Page!)
---
Editing, compiling, imaging, coding, logos & cat-wrangling by Ambush Bug Proofs, co-edits & common sense provided by Sleazy G
---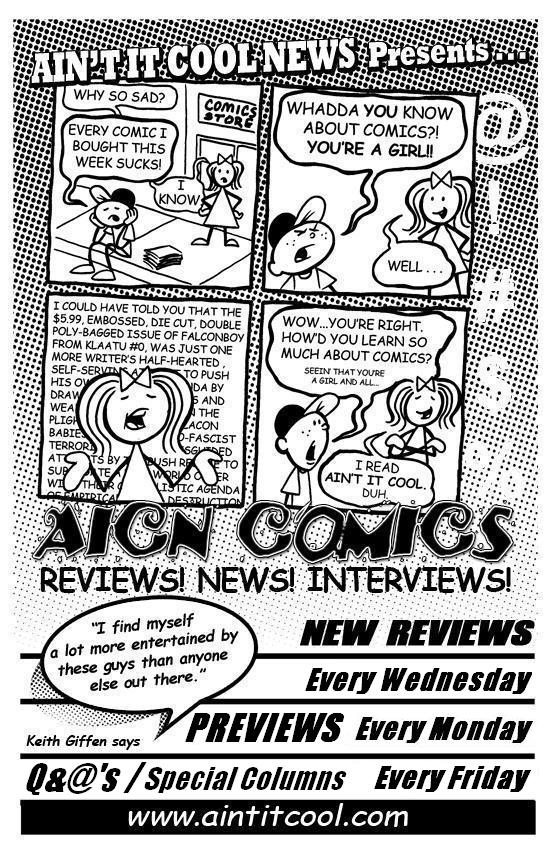 Ad by Prof. Challenger