Hola all. Massawyrm here. The very best science fiction is often just that: science fiction. More often than not, in this day and age, we associate the term more with horror movies and space opera than we do anything else, so much so that we often have to qualify it when it arrives in its purest, most downplayed form. While STAR TREK, STAR WARS and DISTRICT 9 are all in fact science fiction, none of them quite resemble the science so much as they resemble the fiction. And thus only the best among them ever really get to the heart of what science fiction does best – expose the human condition as we observe people placed into situations with moral quandaries we've never before considered, allowing us to then apply the revealed morality to our own lives and choices. NEVER LET ME GO is just such a story. One of the very many wonderful things about NEVER LET ME GO is just how subdued a science fiction film it is. In fact, for the first third of the film, you would hardly even think it was a science fiction film at all. Set in an alternate history in which the world made incredible medical breakthroughs in place of nuclear ones in the years after WWII, we have found a way to extend life expectancy beyond 100 years and deal with most terminal ailments. The downside is that the techniques involve growing cloned humans, raising them in controlled environments (boarding schools) and waiting for them to ripen into adulthood when they begin giving up their organs one at a time. The film is set in a very special boarding school in which something else is going on, something that may or may not affect the lives of three young friends – two young girls and a boy. It unfolds in very much the same manner as any other classic boarding school story. Youthful naivety, growing pains and young love are all explored within the confines of a rigidly regimented school, but when someone spoils the big secret, the school takes on an almost sinister turn as we watch the children grow into adulthood trying to accept their place in the world. It is a very human story that wants to ask the classic questions of what it is that makes us human and how far are we willing to go as a species to ensure long life for masses at the expense of a few. And it cuts so close to the bone that you can't help but see just how these ideas play into the society we have now. Mark Romanek has crafted a masterpiece, playing with themes that writers and directors have addressed since the time of Huxley, but is so simple and elegant in execution that it accomplishes everything it is aiming for without using a single piece of future tech. Based upon the novel by Kazuo Ishiguro (REMAINS OF THE DAY), the film is incredibly human, following a sweeping love story that ranges from pre-pubescent innocence to the last breaths of their lives. If you're looking for an adventure story about clones that make a break for it, try Michael Bay's version THE ISLAND or Robert Fiveson's PARTS: THE CLONUS HORROR. This isn't that movie. This is a heartbreaking, tear jerking drama about the ones who stick around, trying their best to fulfill their role in society. The film is split into three time periods, each serving as a different act of the film. The first third of the film revolves entirely around the childhood and offers the first hints of blossoming romance. The second act is the late teen years of the three leads, where we first meet the principle actors for which the roles will be most known for: Carey Mulligan, Keira Knightley and Andrew Garfield. Finally, the third act is the three characters as adults, wrestling with everything that befell them during their years together. Each act is shot through a different lens, given a different visual clarity to the periods. The earlier it is (further back for the narrator) the softer and hazier it is, while the current era is crisp - each detail sharp. It is little flourishes like this that make this such a lush and brilliantly executed film. NEVER LET ME GO is flawless, a perfect science fiction sendup, telling one of the best - and certainly the most profound - versions of this story ever set to screen. Romanek always holds back, refusing to try and play up either the time periods the film is set in or the type of technology that might exist alongside these radical medical breakthroughs. This isn't about that. He never winks at the camera or has fun with what's going on; he is forever serious, adding a level of pathos to every shot that showcases just how dreary and unlucky the lives of these people are. The Sword of Damocles is always over their head, and yet they try desperately to live despite that fact, always trying to come to grips with their fate, while simultaneously trying to stave it off just a little bit longer. But when all is said and done, the film isn't just about the ethics of the scenario; it is about mortality. Our own mortality. It is a film about the death we all have looming off in the distance and how we as individuals come to grips with it. The science fiction of it is just the spoonful of sugar that makes the medicine go down. This is perfect science fiction; this is a perfect film. As it stands, it is the very best film I've seen all year. It tore me up and broke me down, exposing the raw, tender humanity beneath the surface of an issue that many may have thought done to death. It is the best story of its kind ever told; bitter, cold and merciless to three characters you can't help but fall in love with. NEVER LET ME GO has Oscar-bait written all over it. Expect a Best Picture nod, Best Adapted Screenplay, Best Director and Best Actress for either (or both) Knightley and Mulligan (or supporting for either, depending on how the studio plays it.) Garfield might also be up for Best Actor himself. All three of the leads are stupendous, delivering beautiful, touching, broken performances that stretch years and each cover a wide range of emotions. If there is a better movie than this that comes out this year, we will be truly blessed. Do not miss this film.
Until next time friends, Massawyrm


Got something for the Wyrm? Mail it here.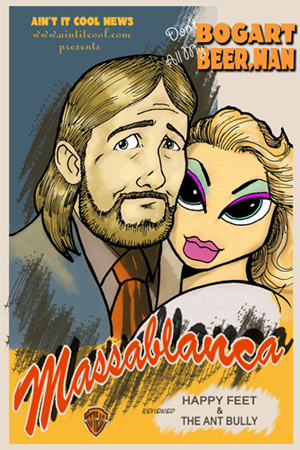 Or follow my further zany adventures on Twitter.