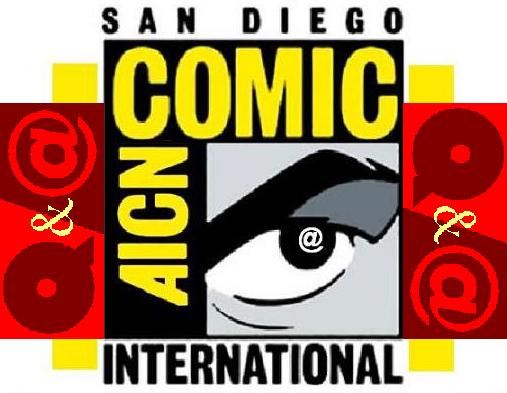 @@@@ What the #$%! is AICN COMICS: Q&@? @@@@
AICN COMICS: Q&@ is our new semi-weekly interview column where some of your favorite @$$Holes interview comic bookdom's biggest, brightest, newest, and oldest stars. Enjoy this latest in-depth interview filled with @$$y goodness and be sure to look for more AICN COMICS as we gaze into the future of comics every week with AICN COMICS: SPINNER RACK PREVIEWS every Monday and then join the rest of your favorite @$$Holes for their opinions on the weekly pull every Wednesday with AICN COMICS REVIEWS!
---
Q's by Ambush Bug!
@'s by Writer Robert Kirkman!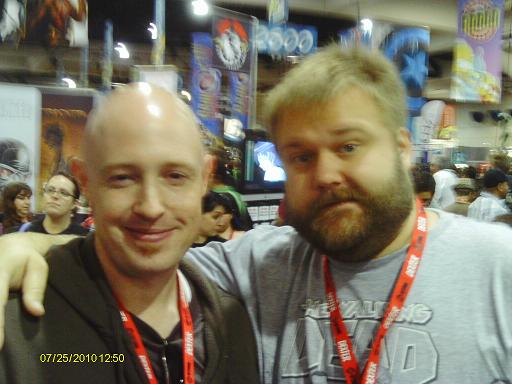 Hey folks, Ambush Bug here with my next to last interview from this year's San Diego Comic Con. At the con this year, everywhere you looked there was someone talking about or looking like they just walked off the set of THE WALKING DEAD. Everyone had THE WALKING DEAD fever. The footage leaked at the Con was fantastic and not only got those of us who have read the book from issue one excited, but it turned on a whole lot of new folks who had never heard of the book. Writer Robert Kirkman was the belle of the ball, busy with panels and signings all week, but he had a chance to sit down with me for a short interview to talk about the TV show, THE WALKING DEAD comic, and his new imprint Skybound at Image. Here's what Mr. Kirkman had to say…
AMBUSH BUG (BUG): OK, I'm here with Robert Kirkman at the Image booth, or the WALKING DEAD booth to be more specific, here at Comic Con. How's the con been for you so far?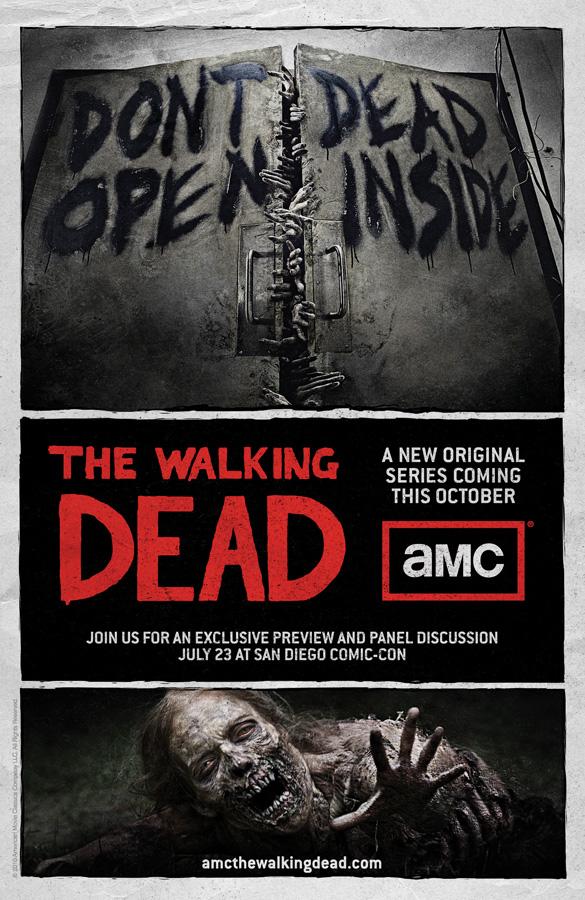 ROBERT KIRKMAN (RK):
It's been good. Things are going well. We are celebrating the show. They previewed some of the footage and people seem to be thrilled. So far, it's been a good show.
BUG: Yeah, I walked by THE WALKING DEAD TV show booth where they have the set and it looks fantastic. And the previews are amazing. Some of the panels really seem to be coming to life. What's it like seeing your book become this TV show?
RK:
It's really flattering to see our comic book become this big TV show. Charlie and I are thrilled. Tony is really happy. I'm just glad that fan reaction is so strong because Frank Darabont and AMC and everyone involved into the show have really poured their heart and soul into this thing. They've surrounded themselves with the best actors and crew and everyone is really busting ass down in Atlanta to make the best show possible. And it really shows. I'm glad the fan reaction is so positive.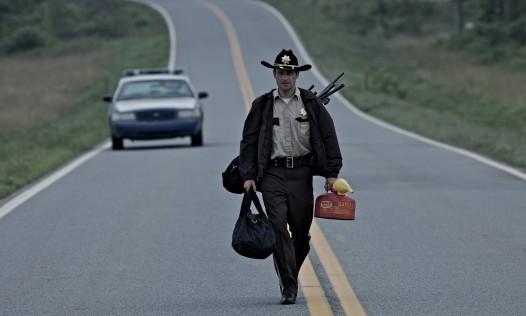 BUG: I know that as soon as the word came out that THE WALKING DEAD was going to be adapted and how and what channel it was going to be on everyone was excited, but I know I was kind of holding my breath to see actual footage before I got too excited. After seeing it, though, it seems to be done right with the right people. What were the reactions that you've heard from fans?
RK:
I've been kind of living in kind of a bubble here at the con with all of the panels and meetings and things. So I haven't really had a chance to talk with a lot of people yet. But when people come up to me, they don't really get into specifics. They just say "Hey it looks AWESEOME!" or "Hey it looks cool!" or "Hey I was at your panel and it was AWESOME!" and I don't know if they're talking about the footage or the comic or the panel, so I just say, "Heeeeyy thanks!" and give them a thumbs up, you know.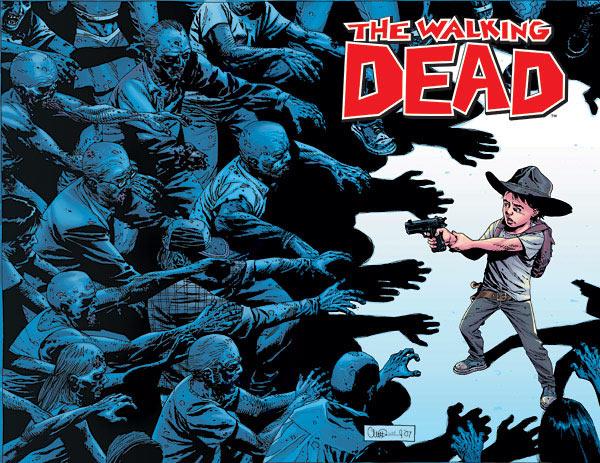 BUG: So let's talk about the comic. It's still going strong. I've loved it from Day One. It's one of the few comics that I cannot wait for trade. I have to buy the single issues. And every issue leaves you craving that next issue. What's your secret for keeping this wave going for..how many issues?
RK:
Seventy-five…
BUG: Yeah, for like seventy-five issues…how do you keep the issues so good from one month to the next?
RK:
I don't know…I mean, I try to treat the characters as if they are real people. Hopefully, I've got everyone invested in the characters. And I think that's the secret for a good book. Fill it full of characters that you either like or dislike and you care about seeing what happens to them. If I knew exactly what I was doing well with THE WALKING DEAD, I'd be able to replicate it better. And then you'd be talking to my secretary right now. (laughs) But I have fun. I enjoy doing the book and I plan on doing it for years and years. I think that the fact that I'm having a great time writing it translates to the book, so people have a great time reading it.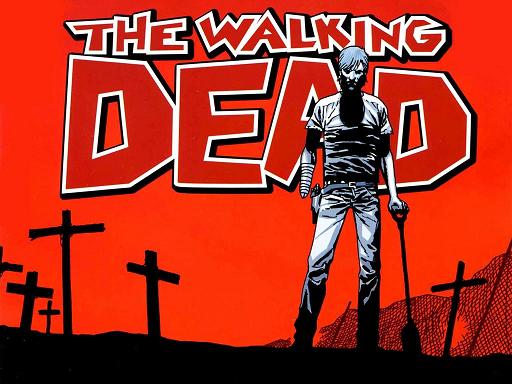 BUG: Was there any talk in the beginning to do anything in color or was it always going to be a black and white book?
RK:
Before I started the book, there was talk of color or black and white, but in the end we felt B&W was the best thing for it. I don't know if we'll do anything in color. I certainly won't ever decide to shift the book into color. I think that would be too jarring for the readers. So I think we'll keep it black and white.
BUG: Was there ever any discussion to make the TV show black and white?
RK:
Not internally. It's just not realistic to do something in black and white now. With people flipping through the channels and thinking that it's an old movie or something. Black and white would be so unusual on TV. It was never even considered.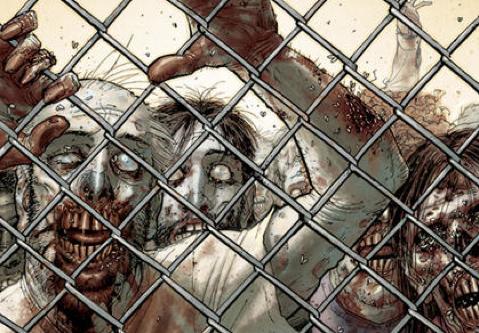 RK: So you're up to about issue seventy-five. Do you have a definite end for the series?
RK:
I certainly have a possible ending in mind. I know where the story is going for a good long time. I don't have a definite number like #439 is the last issue or anything like that. I'd like to go for as long as I possibly can. I'd like to get to at least #300 and if I still like what's going on, I'll keep going.
BUG: That's fantastic! About the story that's going on right now in THE WALKING DEAD, you said Rick was going to be going down a dark path from the beginning of the series. Have you stayed on that path or have things changed along the way?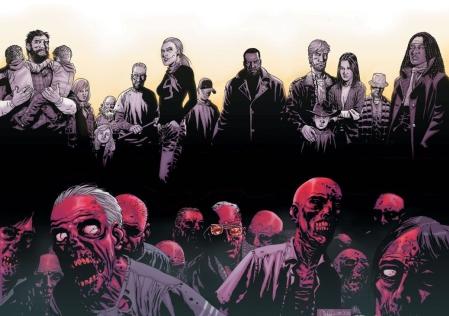 RK:
I can't say that I knew exactly everything that was going to happen to Rick when we first started out. But I knew that his character was going to kind of twist and become darker as time progressed. It's just the kind of world he lives in. I had a lot of the big stuff planned. But over the course of seventy-five issues, I've probably added three or four big horrible things that have happened to Rick. I don't know. It's fun to see a character go from this clean small town cop into this madman who will stop at nothing to keep his son safe. That was always part of the plan, but he might have been a little darker than what I had originally planned out.
BUG: Let's talk about your new endeavor, the new imprint you are starting up?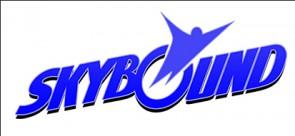 RK:
Yeah, I formed my own imprint called Skybound through Image comics. I'm going to be scouring the internet for self-starters. Guys that are putting books together that look awesome, but may need a little assistance in making them all they can be. A perfect example of this is the WITCH DOCTOR book by Brandon Seifert and Lukas Ketner. It's a book they've done 100% on their own and it's amazing. But we're taking it under our wing at Skybound and we've got it in the New York Times already and helping them out. We've got preview books here at the show. I'm going to try to work my magic a bit and have it reach the audience that I feel that they deserve. Moving forward, I'll be releasing more Skybound originals under the company banner. We're going to start small and we'll have a narrow focus on each project. I don't want to expand too fast, I just want to make sure the books get the attention they deserve. On top of that, all of my books will be Image Skybound imprinted now.
BUG: So the help that you're giving these books, is it purely on the PR level or will you provide editorial help as well?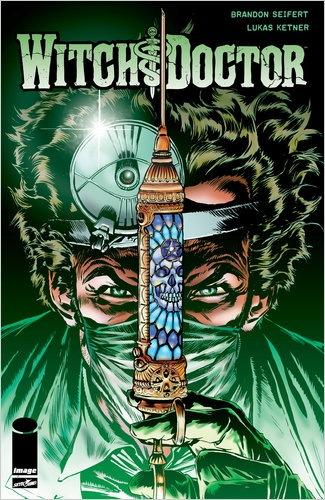 RK:
We will help with editorial if needed. Brandon and Lucas are so independent, that they don't really need the help. I'll take a look at scripts if they ask me to, but I'm not giving them editorial notes. I'll tell them what I think, but I'm not going to make them do changes because I like the purity of their creative vision. And aside from doing PR and editorial when necessary, we're also going to be handling their foreign rights and how to get it translated in different countries and published overseas. And then representing it in Hollywood and helping them out on that end.
BUG: I'm about to pick up a copy of WITCH DOCTOR myself over there when I'm done here. I can't wait to read that.
And I can't wait to see the TV series for THE WALKING DEAD. How much of the TV series have you seen so far?

RK:
It's funny, I've seen dailies up until the fourth episode. I got a cut of the pilot episode on Tuesday night and that's when I got here. And it's burning a hole in my pocket. I got through the first few minutes of it before I had to take off for Comic Con, but every day has been packed, so I haven't been able to sit down with it yet.
BUG: Well, thank you so much for taking the time to chat with me. I can't wait for the TV series. And best of luck with Skybound and all of your projects.
RK:
Cool, man. Thanks!
Ambush Bug is Mark L. Miller, original @$$Hole/wordslinger/reviewer/co-editor of AICN Comics for over nine years. Support a Bug by checking out his comics! MUSCLES & FIGHTS VOL.3 & MUSCLES & FRIGHTS VOL.1. VINCENT PRICE PRESENTS: THE TINGLER #1-2 (interview, interview, preview, & review) VINCENT PRICE PRESENTS #20 WITCHFINDER GENERAL (preview, review, in stores now!) NANNY & HANK miniseries (interview, interview, interview, preview, & review, still available to order in Previews Order #JUN10 0824, in stores Sept 2010!) Zenescope's upcoming WONDERLAND ANNUAL 2010 (in July Previews Order # JUL10 1200, in stores in September!) THE DEATHSPORT GAMES miniseries (in September Previews Order #SEP 100860, in stores in November 2010!)
---
---
Editing, compiling, imaging, coding, logos & cat-wrangling by Ambush Bug Proofs, co-edits & common sense provided by Sleazy G
---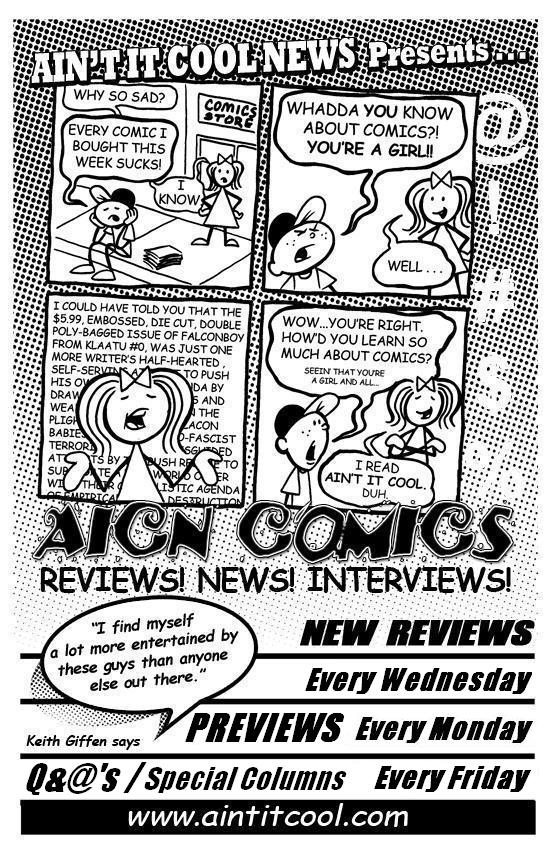 Ad by Prof. Challenger