Hola all. Massawyrm here. As many long time readers know, I'm a huge fan of Tony Scott's badass 2004 paternal revenge film MAN ON FIRE – a raw, seething tale of a man with nothing, who finds a reason to live again thanks to a little girl put in his charge, only to watch that girl kidnapped before his eyes, setting him on a mission to fuck up everyone who was ever even tangentially involved in her abduction. So I was absolutely tickled to see that the South Koreans took a stab at making their own version of the film by ratcheting up the violence, tension and overall menace of the story in the box office hit MAN FROM NOWHERE. Those familiar with MAN ON FIRE will recognize its structure almost immediately as it follows a similar track – almost beat for beat – laying down its own version of ass whopping against a similarly dark organization. The film focuses upon a dark stranger who the locals refer to as the "Pawnshop Ghost", a guy who rarely speaks and runs a low rent pawn business in the poor part of town. This man's neighbor is a junkie exotic dancer with a spunky but adorable 8-year-old daughter in dire need of a father figure. The little girl hounds the stranger to the point of nuisance, but as the film goes on, he can't help but be heartbroken by her situation, demeanor and desperate pleas for help. And when her mother crosses the wrong people, thugs show up to abduct the mother and daughter, right in front of this dark, brooding stranger who has tried very hard not to give a shit. Then, as the girl cries out for him to save her, he begins to realize just how important she's become to him. When he discovers she's been thrown into a pool of children whose organs are being harvested for the black market, he loses his shit and sets out to kill everyone who might be involved in the girl's abduction and subsequent harvesting. You can assume the kind of carnage that comes next. Unlike MAN ON FIRE, MAN FROM NOWHERE spends a good amount of time with the cops tracking both the organization committing the horrendous crimes as well as the movements and crimes of the stranger – whom they suspect of somehow being involved with the gang. As his motives begin to deviate wildly from the organizations, they become the source of our exposition into who this man is, why he is acting the way does and just how far he is willing to go. While this film feels an awful lot like its predecessor, there are a number of things that are wildly different about it, making it a very much worth seeking out. The violence for one is radically different. Denzel's menace was that he was incredibly smart and lured each man out separately before torturing the information out of him. The Pawnshop Ghost is more of an investigator who gets the information himself and gets into ruthless, bloody martial arts fights, gunfights and foot-chases that are more the style of Asian cinema than those with America sensibilities. It is positively furious, with a number of high octane, rapid fire, action set-pieces that never fail to deliver. Meanwhile, it has a dastardly sense of dark humor, the likes of which we've really begun to see come out of the post-Park South Korea. However, South Korean film has a tendency to run a little long, eschewing the shorthand American films have perfected and instead carefully developing and explaining everything that is happening. Even the very best South Korean films tend to leave American audiences wishing it had been trimmed by 10, 15 or even 20 minutes. MAN FROM NOWHERE is the first South Korean film in quite some time that I've seen that operates at a breakneck, relentless speed, never taking the time rest and allowing us to only briefly catch our breath before exploding again into fits of carefully orchestrated mayhem, martial arts and vicious revenge. Everything about this film works, especially its emotional through-line that makes you really care for this delightfully obnoxious little urchin and the detached stranger she clings to so desperately; it is surprising how well their few small, quiet moments together really make you want to watch him beat the living shit out of anyone who has touched so much as a hair on her head. MAN FROM NOWHERE gave me a broad smile about 20 minutes in and refused to wipe it from my face for the entirety of the runtime. It immediately became my very favorite film of the festival as well as one of my favorites of the year. Asian film fans and action fans in general owe it to themselves to seek this movie out at their earliest opportunity. An incredibly bad ass foray into paternal instinct revenge, this is one of those films that pays off again and again –eliciting 4 or 5 applause points from the audience for its audacity and inventiveness - and may well be the very best action film of the year. See this as soon as possible.
Until next time friends, Massawyrm


Got something for the Wyrm? Mail it here.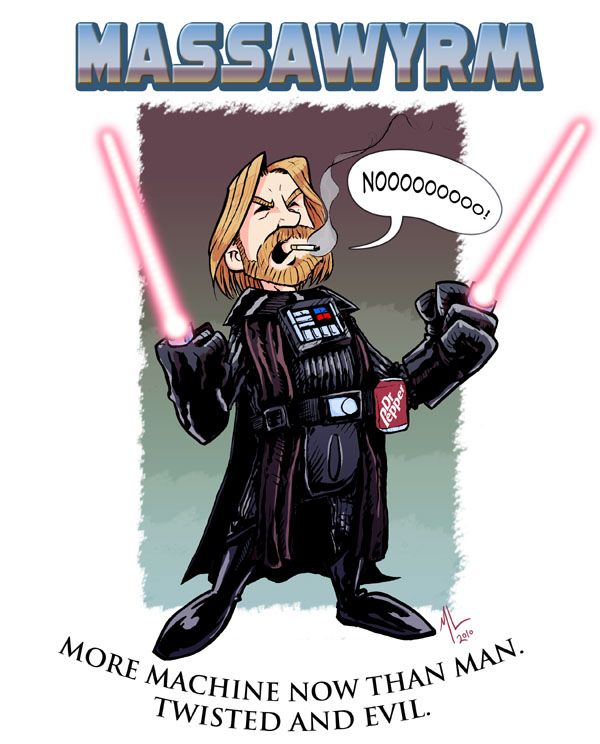 Or follow my further zany adventures on Twitter.