@@@@ What the #$%! is AICN COMICS: Q&@? @@@@
AICN COMICS: Q&@ is our new semi-weekly interview column where some of your favorite @$$Holes interview comic bookdom's biggest, brightest, newest, and oldest stars. Enjoy this latest in-depth interview filled with @$$y goodness and be sure to look for more AICN COMICS as we gaze into the future of comics every week with AICN COMICS: SPINNER RACK PREVIEWS every Monday and then join the rest of your favorite @$$Holes for their opinions on the weekly pull every Wednesday with AICN COMICS REVIEWS!
---
Q's by Elston Gunn!
@'s by MORNING GLORIES Writer Nick Spencer & Artist Joe Eisma!
Elston Gunn here. Last month, Image Comics proudly announced the same-day sellout of the first issue of Nick Spencer's MORNING GLORIES, with art by Joe Eisma and covers by Rodin Esquejo.
The story centers on six gifted but disquieted new students at Morning Glory Academy, where they find themselves trapped while desperately seeking answers in a place where bad things lurk beneath its surface.
IGN called it "one of the most engrossing first issues in recent memory," while Comic Book Resources said "it bucks the usual trends for books like this… [Spencer's] writing is fearless."
Two weeks ago, Image proudly announced the same-day sellout of the issue's second printing.
It's good creepy fun (putting the "ACK!" in... um... "Ackademy"). And if it only gets better, Morning Glory Academy could graduate with honors and join the ranks of other unsettling genre campuses such as Smallville High, Sunnydale High and Hogwarts.
The third printing of MORNING GLORIES #1 will be available the same day as issue #2, September 15.
Nick and Joe took time to answer some questions for AICN.
ELSTON GUNN (EG): Nick, you've said the story came to you really quickly. What was the first basic idea you had in your head, where did it come from and how did it grow into MORNING GLORIES?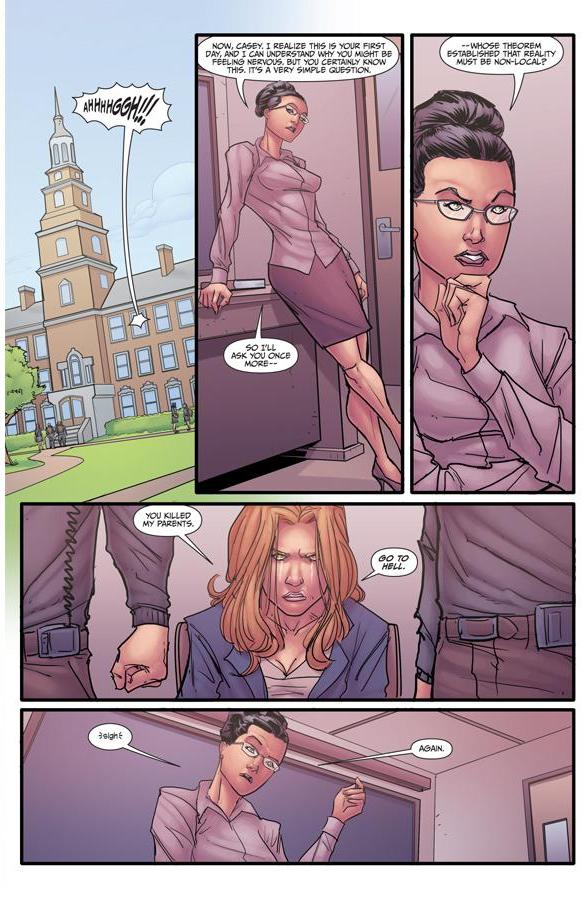 NICK SPENCER (NS):
It was a pretty surreal experience, like nothing I've had before or since. I had the idea and knocked out pretty much all of the first issue script in one night. It was just like some kind of light bulb turned on, and I could barely type fast enough to get it all out. The characters all came pretty full formed and alive. And more than just that first script and the cast, but the entire idea behind the book and where it was all going. I don't even know what came first exactly; I can just say it all tumbled out pretty suddenly.
EG: When I first read about MORNING GLORIES earlier this summer, it was described as "RUNAWAYS meets LOST." Joe, you've said the films of Alfred Hitchcock and Akira Kurosawa have also influenced your approach to MORNING GLORIES. It's interesting that in a climate where films are made from comics, you are turning to films for visual reference.
JOE EISMA (JE):
Film is definitely a major influence for me, since I studied it in college, but I can't discount the comics that I've read that made an impression on me. A major one is Marvel's RUNAWAYS, with art by Adrian Alphona. He perfectly captured each character, and made them actually look like teenagers, not like 20-somethings playing a teenager on a teen TV drama. I'm also a huge fan of the classic NEW MUTANTS series from the '80s, and that's influenced my approach to drawing the cast and the various locations in the book.
EG: How did the two of you meet? Describe your collaborative process.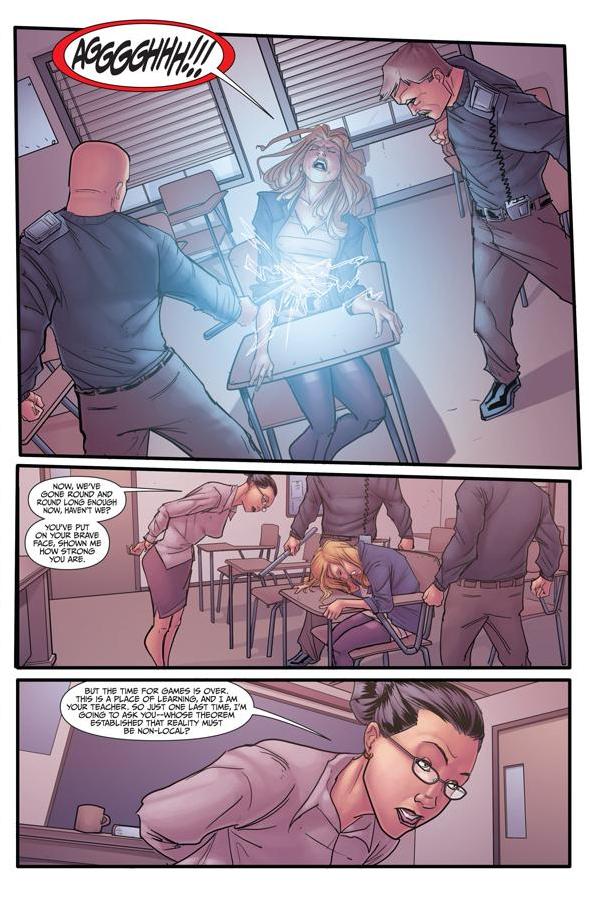 JE:
We met on Jinxworld, which is Brian Michael Bendis' message board. He contacted me and pitched me MORNING GLORIES, and I loved it! The rest, they say, is history. We work really well -- I'll get the script from Nick, and I'll send him a batch of layouts for him to look over and approve. He may have notes regarding locations or new designs from Rodin. He gives me a lot of leeway with layouts, letting me play around with different types of shots and setups. Once we work those out, I draw the finished pages and send them to our colorist, Alex Sollazzo.
NS:
Joe's a dream to work with. We have very similar visual imaginations, I think, so it's shocking sometimes how close the layouts are to what I saw in my mind's eye while scripting it. He's a storyteller first and foremost, so I know I can trust him and keep the scripts nice and loose for him to build from. And as we go on, we're constantly building shorthand -- there are certain mannerisms of the characters, like Hunter scratching the back of his head or Ike looking away wistfully, for instance, where when I put that down in the script, Joe knows exactly what that means in terms of that part of the conversation.
EG: How far in advance are you plotting the story? Do you have the first 12 or 24 issues mapped out? Does it get complicated to develop one issue while fine-tuning another?
NS:
I've got some very basic plot points mapped out for a very long time, certainly past the first 12. I tend to view the book in three 25-issue "seasons," and I know what happens in each of those, where they go, and how it all ends. Now, those good at math will notice that's 75 issues in total, and obviously that's an absurdly ambitious endpoint that very few books get to. So, part of my job is having that structure set, but also keeping it loose and contractible enough that if market realities or other factors interfere, we can adjust to that. Thankfully, the early response has been pretty amazing, so hopefully we can tell this story the best possible way and as we originally intended.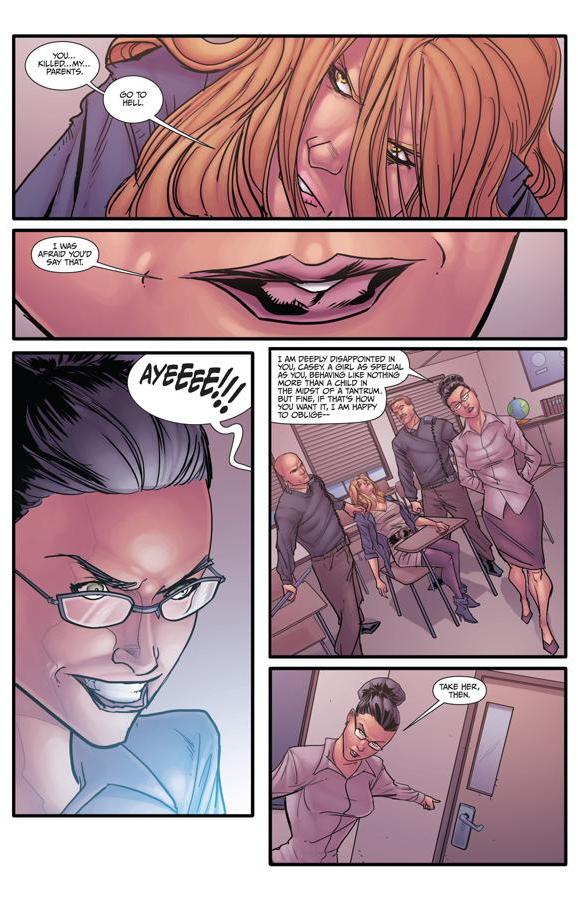 JE:
Art-wise, I'm drawing the fourth issue and should have it wrapped up in a little over a week. You definitely live with the issues in all their different stages, approving colors and letters long after the line art is done.
EG: How do you work out things like the architecture and layout of the school? When you think about an iconic place such as Xavier's School for Gifted Youngsters, for example, you kind of have an idea of where everything is located. Is this something you're conscious of?
JE:
I have a 3D model of the school that I keep handy for exterior shots. Interior-wise, there are a lot of underground passageways and catacombs in this school, like the one at the end of the first issue. The school itself has all the appearances of being normal, until you start getting underneath it. Then, you discover all sorts of mind-bending aspects to it.
EG: Working with a large cast of characters like this, did you work on character biographies and traits for yourselves to help distinguish everyone? What is the development work like?
JE:
Early on, Nick would send me summaries on each of the characters, just so I could get a feel for them, and that they'd each have a distinct personality. We've chatted a lot since starting this about who these kids are, and how they deal with these insane situations they're put in. I feel I know these characters enough to know exactly how they'd look in the background or how they'd react during conversations.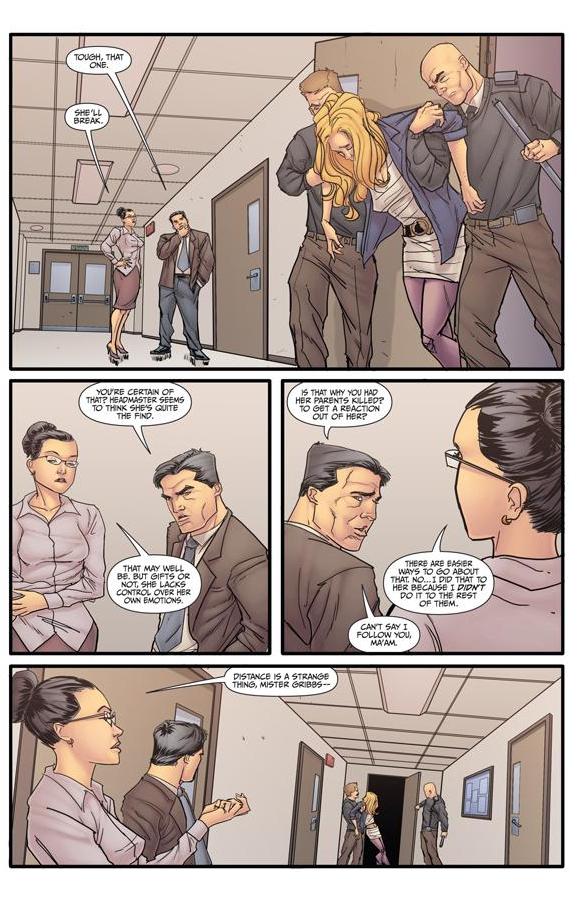 NS:
To me, all that kind of stuff just comes out of having strong, well-defined characters. If that comes across in the story, the visual aspects should flow easily from there. Joe is a pro at that kind of stuff. I like to think we both have a lot of love for these characters, and if you have that, it's easy to start seeing them three-dimensionally and getting a feel for their expressions, their mannerisms, their reactions, all those things.
EG: Without spoiling too much, what kind of things are you going to explore with this series?
NS:
Thematically -- and I think this is the first time I've said this anywhere, so those looking for hints of what's coming might want to pay close attention to this part -- this book is at its core very much about the way we view the world and the infamous "way things work" when we're young. Beyond that, once we're past this initial arc -- which is their big first conflict with the Academy and sets up a lot of the key points of the mystery -- we'll start really digging into these characters, see more of their pasts and what brought them here, and get to know them as individuals a lot better. That's something I'm looking forward to.
JE:
Visually, I'd like to expand the tapestry of this book and throw in a lot of detailed locations. The story does allow me to play around with different types of locales and it's fun to transport the reader there.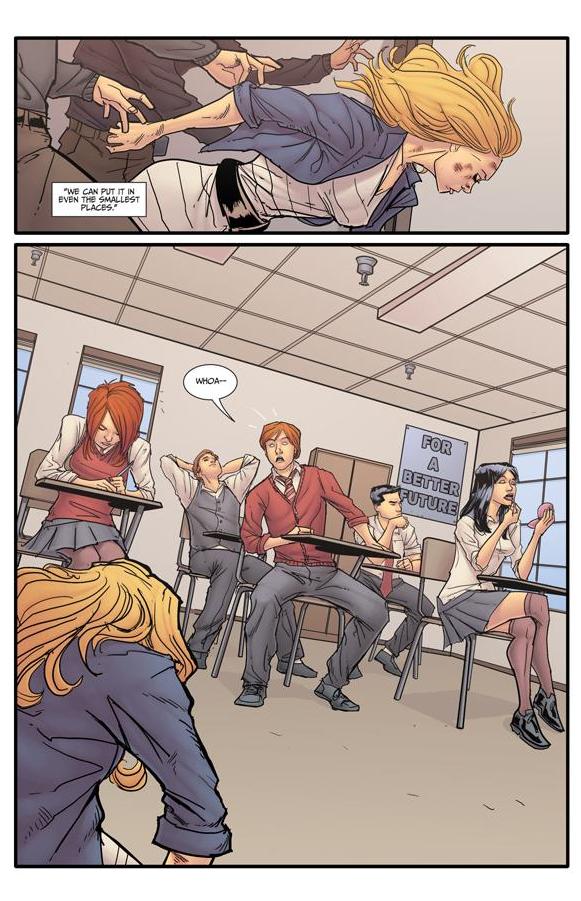 EG: The first issue ends powerfully, forcing you to pick up the second issue. Should we expect a trend?
JE:
Definitely. If there's one thing Nick excels at, it's writing a gripping cliffhanger!
NS:
Yeah, that was a very important component to the series, ending most of the issues on a huge, shocking 'WTF?' moment. It's one of those places where we really show the LOST influence. I don't think we take all that much from that show in terms of the concept or the characters, but more some of the storytelling tricks and the way they handled emotional beats. Certainly LOST didn't invent cliffhanger endings, but there was something special about their approach -- almost every time you saw that logo explode onto the screen at the end of the episode, you wanted to scream at your TV and watch the next episode immediately. And that's exactly how we want people to feel when they hit that last page of MORNING GLORIES.
EG: This is the first ongoing series for both of you. What has been the biggest lesson learned thus far?
NS:
No issue is just another issue. In each and every one, you have to drive the story forward in some way and make the reader want to come back for more. You have to make them all count.
JE:
For me, it's been a learning experience in keeping a vigorous schedule, while still trying to raise the bar artistically. I want each issue to be better looking than the last, and I've had to learn how to do that but not fall behind.
EG: Do you feel any pressure now after the success of the first issue and how that may affect your approach to MORNING GLORIES months from now? I realize you need to focus on the task at hand, but it must lurk in the back of your mind to an extent. How have your lives changed this last month?
NS:
Ha, yeah. First issues are like first dates -- just because you had a good one doesn't mean you should read too much into it. All you can do is make issue the best it can be and keep telling your story. You have to shut the outside stuff out and follow your instincts. I think as long as you care about your characters and have a passion for the story you're trying to tell, that shows in the work and in the end, that's what resonates with readers. I'm confident that if we keep it up, this book can hold on to and grow its audience. It seems to be striking a chord with people so far, so we just try to keep doing what we're doing.
JE:
Yeah, I definitely feel like we need to keep this momentum going, and not let our readers down. I was completely taken by surprise by the response to this book and I don't want to squander it. My life really hasn't changed too much, though I am getting invited to more signings and conventions now!
EG: What are you reading right now? What excites you every time you go to your comic shop? Conversely, what are your concerns about the future of the industry?
JE:
In the last year or so, I've really started to read a lot of manga, and it's affecting how I approach my own art. Specifically, Naoki Urasawa's PLUTO and 20th CENTURY BOYS have made a huge impact on me. These series have incredibly detailed art and phenomenal storytelling; I'm sad that I hadn't discovered these works sooner! Other than that, I'm loving AMERICAN VAMPIRE, JOE THE BARBARIAN, THE UNWRITTEN & THE UMBRELLA ACADEMY.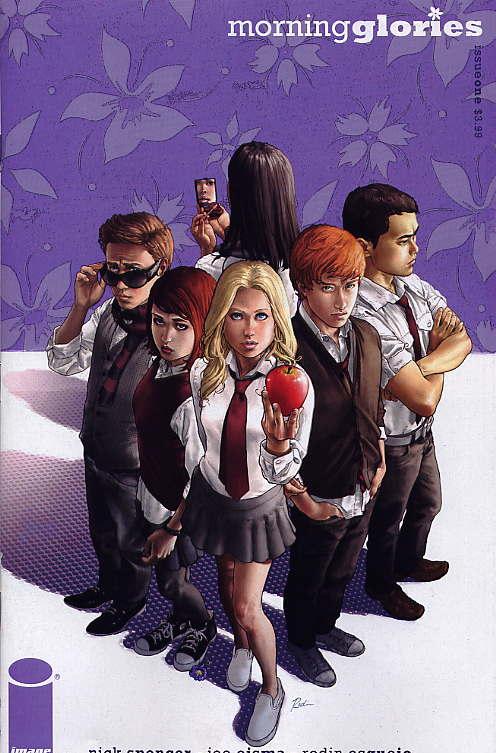 As to the future of comics, like any creator, I'm concerned with piracy, and how it'll affect comics long-term. Comics really are in the same boat that the music industry was years ago when downloading became huge. I think important steps are being taken by folks like Comixology, but time will tell if it will help stem the tide.
NS:
Lots of great stuff out there right now... I'm loving JOE THE BARBARIAN and THE UNWRITTEN as well. Morrison's BATMAN & ROBIN is probably the best "superhero" book I'm reading. All of Hickman's Marvel work is amazing -- SHIELD, especially. Fraction's INVINCIBLE IRON MAN is doing some really cool, brave things right now. Paul Cornell's Lex Luthor story in ACTION COMICS is a lot of fun. I'll read any book with Brian Bendis' name on it, and SCARLET has blown me away so far. Same goes for Brian Wood -- DV8 is a real thrill for me right now. Moon and Ba just wrapped a freaking masterpiece in DAYTRIPPER. So yeah, lot of good things on the list right now.
Beyond that, like Joe mentioned, the growth of digital is the big thing I'm keeping my eye on. I'm really pleased we were able to get the first issue of MORNING GLORIES up and available via the Image Comics app and Comixology as quickly as we did. I'm personally very excited about the potential new audience we can reach through these platforms and pretty optimistic about the future comics thanks to them.
EG: What other projects are you working on? Nick, what's the status of the EXISTENCE 2.0 movie?
NS:
Things are moving along great on the EXISTENCE 2.0 movie front. Not a whole lot I can talk about yet, but some very nice positive movement and some exceptionally talented folks involved who are dedicated to getting it made and getting it done right. As for what I'm working on, my first Jimmy Olsen co-feature in ACTION COMICS drops this month, and in November my first DC ongoing, T.H.U.N.D.E.R. AGENTS kicks off and I couldn't be more excited about both of those. Beyond that, there are some big announcements coming at NYCC -- 2011 is going to be a big year, lots of amazing stuff on the way.
JE:
I just wrapped up a backup series in the new DYNAMO 5 series, called "Notorious." It's a street-level superhero story, so it's a much different kind of beast than MORNING GLORIES. Lots of fun stuff to draw -- fighting, explosions, gore, mafia intrigue. If the response to the titular character is good, there may be more, but other than that, MORNING GLORIES is my focus.
EG: Look for the third printing of MORNING GLORIES #1 plus the second issue to be released from Image Comics tomorrow!
---
Editing, compiling, imaging, coding, logos & cat-wrangling by Ambush Bug Proofs, co-edits & common sense provided by Sleazy G
---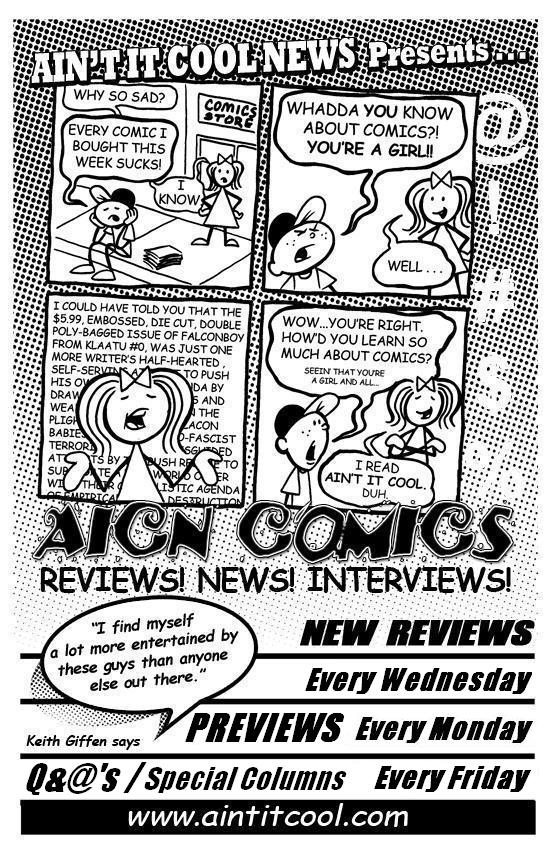 Ad by Prof. Challenger