@@@@ What the #$%! is AICN COMICS: Q&@? @@@@
AICN COMICS: Q&@ is our new semi-weekly interview column where some of your favorite @$$Holes interview comic bookdom's biggest, brightest, newest, and oldest stars. Enjoy this latest in-depth interview filled with @$$y goodness and be sure to look for more AICN COMICS as we gaze into the future of comics every week with AICN COMICS: SPINNER RACK PREVIEWS every Monday and then join the rest of your favorite @$$Holes for their opinions on the weekly pull every Wednesday with AICN COMICS REVIEWS!
---
Q's by Ambush Bug!
@'s by Daniel Burwen from COGNITO COMICS!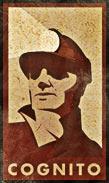 Hey folks, Ambush Bug with another interview from deep in the bowels of this year's San Diego Comic Con. This is our tenth of fifteen interviews I did at this year's San Diego Comic Con. This time around, I bring you a discussion I had with the folks behind Cognito Comics, a new comic company with bold plans for comics. Daniel Burwen (founder) and Katie Edmonds (producer) were able to show me their new comics on the iPad and it was some really fantastic stuff. The stuff they are doing with digital comics is pretty exciting with moving panels and methods of visual storytelling that play with time and space in the panel, influencing how you read and experience the story. Here's what Daniel had to say as we stood in the Main Hall of the convention center.
AMBUSH BUG (BUG): Hi--I'm glad I was able to catch up with you guys. Can you identify yourselves for the readers and tell me a little bit about what part you play at COGNITO COMICS?
DANIEL BURWEN (DB):
Sure, I'm Daniel Burwen and this is my producer Katie Edmonds and we're from Cognito Comics. I'm the founder. I started the company in 2008 and we're here at Comic Con to talk to you about what we're doing.
BUG: So tell me a little bit about the mission statement of Cognito Comics.
DB:
Yeah, my background is commercial video games. I used to work at Activision and after working on TONY HAWK 8, I kinda figured that large scale video games were not what I wanted to be doing with my life. I wanted to be doing something with a little more social merit and try to change people's lives in a more positive way. And I got the idea of doing a graphic novel about socio-political issues in early 2008. I met Stephen Kinzer at that time. He's a well known journalist who published a book called ALL THE SHAH'S MEN. I met him by luck at a book signing and pitched him on the spot. He said, "That sounds great! Let's do it!" I was really surprised. And I've been working on that ever since.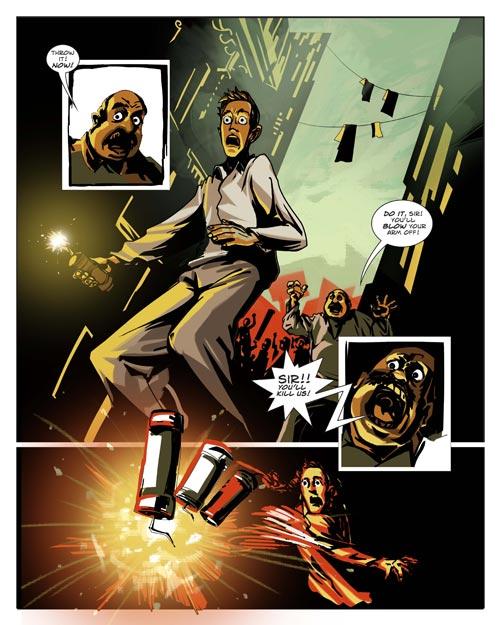 BUG: So what was the next step for you guys?
DB:
Well, we started writing a script. I partnered with a friend of mine, Mike De Seve. His background is in animated features; directing and writing. And it took us two years to write a script. Even though we were working with a journalist, we did a ton of research on our own. We went to all of these original sources. We didn't do an adaptation of his book. We decided to take the same story and tell it our way with really lush graphics and really flesh it out to be a narrative piece. We are calling it narrative non-fiction. It's all historically accurate, but we're trying to recreate these characters in our book from history as they actually were. Actually thinking, acting, speaking as much as possible as their true selves.
BUG: And what time in history does this story take place in?
DB:
So OPERATION: AJAX goes from early 1940's through 1953, through World War II and then into the rise of Communism and how it effected the United States and Britain. They stage a coup against Iran to overthrow Iran's democratically elected Prime Minister. That is our story.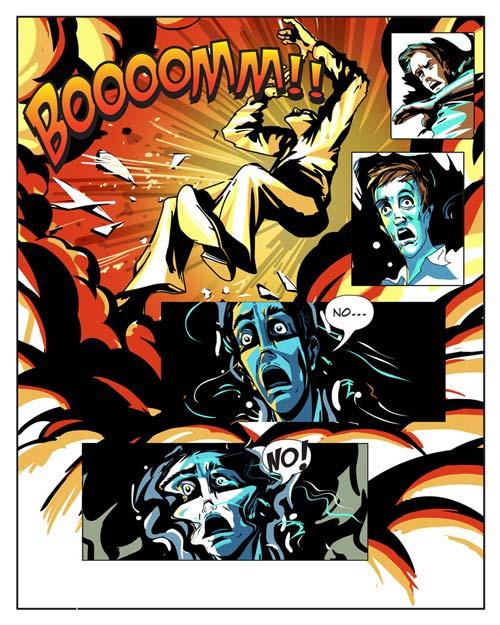 BUG: So do you have some artwork for this? Can I see it?
DB:
Absolutely.
BUG: I'll give the readers my instant reaction here.
DB:
So sort of a side note, we are doing a printed book. That was our original plan. But just as we were about to start production of the book, the iPad was announced and being that it's historical and it draws from actual documents and photos the papers from the coup, the original plan, have been released. So you can read the actual dossier that originally outlines how to overthrow Iran's government. There's a detailed list like a shopping list. Like Step One: Bribe these guys. Step Two: Bomb this guy's house and pick up milk on the way home. It's really surreal. And we wanted to have all of these in the book like an index. But when the iPad came out, we were like "Oh my god, we can weave this right into the story, into the book and it can be seamless and accessible and totally awesome." What a great tool to learn about history. So that was the original mission.
What I have here is a super-early build. We're partnered with a company called Tall Chair Inc. from the San Francisco area. They are a developer and a publisher of iPhone applications and they're developing our software and Cognito is providing the content. Stephen Kinzer is editing and writing a preface to each chapter of our story. And a funny thing is that this is about the oil discovery in Iran and giving the backstory of that company and later that company became BP after the coup. So there are some interesting intersections with current events going on in this story.
(Editor's note: At this point in the interview, Daniel showed me some of his upcoming comic on his iPad. What impressed me the most was not only the quality of the art, but the attention to how a person reads comics. The technology they used really guided your eye across the page and manipulated the way the story inside the panel unfolded. Word balloons appeared in order, focus shifted from foreground to background, panel sizes shrunk and grew, all at a touch on the screen. In recent years, I've had the opportunity to see a lot of versions of new technology applied to the comic book reading experience from webcomics to motion comics to illustrated comics. This technology from Cognito was definitely far and above all of those in terms of reader interaction and advanced storytelling techniques. Be sure to check out some samples of the features I was shown at Cognito Comics' website.)
DB:
I was really inspired by the motion comics for the WATCHMEN. I really liked the way they did that one. When I saw the motion comics, I could understand why people who were the real fans of comics would be turned off by that because it was more like watching a film rather than reading a book. I wanted to find a happy medium with Cognito. I really got to appreciate the synching up of image and text when I watched them as little movies on my phone. So what can I do with the iPad to keep it like a book? So I decided to advance the animation by triggering it with swipes or touches. So you are in control of how fast the story is being consumed.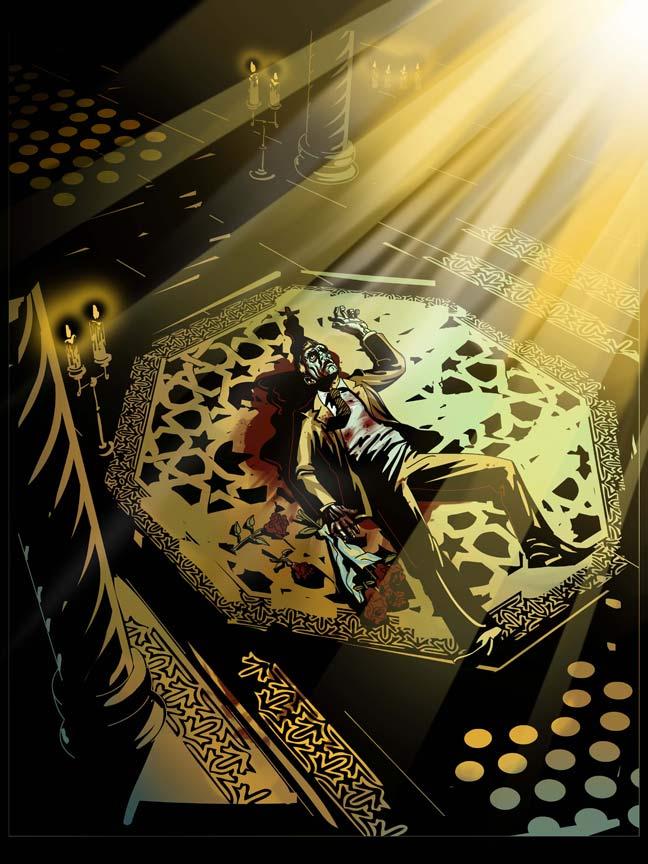 (Daniel swipes the screen a few times.)
BUG: Aww, very cool!
DB:
And then at any moment we have extra features that are embedded into the image. You can tap on a specific image and get information about a time and place. So all of our characters are researched and we tried to make them as close as possible to their likenesses. Winston Churchill will look like Winston Churchill and so on and so forth. You can see where we have our image and the image from a photograph that it was referenced from. These images compliment each other in the reading experience.
BUG: I really like that. You really are making this an interactive experience.
DB:
Yeah. The story centers on a historically fictitious narrator who is an amalgamation of a few C.I.A. agents whose names were blacked out or redacted in the original papers. So we take a bit of license with who that person was and that person serves as a narrator to take you through the story. So we have a young man at 24 fresh out of Yale into the C.I.A. and have him recount these experiences as this agent. And he asks himself if his involvement in this coup is good or bad. We try not to be too direct with the judgments. We try to tell the story as it happened and you be the judge. He's our messenger of the story.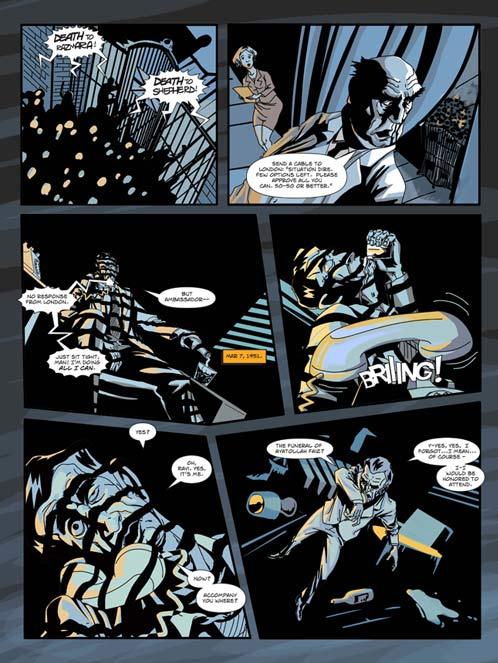 BUG: Will there be sound added to this too?
DB:
We thought about adding sound. It's technically a challenge and right now we are focusing on the core functionality. I don't think it's necessarily required to enjoy the story. But it could be a really cool addition. But since you control the pace of how you read the story, it would be challenging to make that work.
I'll show you the printed pages next. The art is being created for print on sort of a parallel pipeline. So you can see the difference between a printed comic book page and a submersive reading experience and how they contrast each other.
BUG: This looks great. There's a 3-D aspect to it. The images aren't all happening at once. You're in control of how the story plays out. That's a power a lot of the motion comics out there don't grant the reader.
DB:
Absolutely; as a fan of comics, and I'm not a writer and I'm not an illustrator, but my artistic contribution to this project as an artist is to design the motion side of it. I want to make this as emotionally impactful as possible. I have a sort of short attention span when it comes to comics. I see the whole page at once and my eye goes everywhere. And I flip through it as fast as I can when I'm in the store and I don't really get to appreciate the love and care that goes into making comics. So my hope is to slow it down and make the story hit people with more emotional power.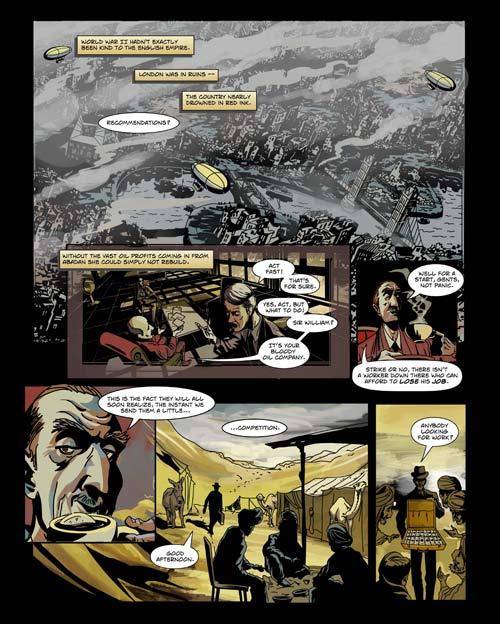 BUG: So who is the artist for this project?
DB:
We actually have a team. That was another challenge for us. The traditional comics model wasn't really a fit for us. I love the concept of giving the artist complete ownership over what they are creating, but you're also tied to what that person's ability to produce at a certain speed. On top of that, these pages are more complicated that your typical flat pages. Everything is layered. So we go through a process. We have a storyboard artist and his name is Sergio Paez who comes from the film industry. So he plots out the sequences and those later get penciled out and then inked by my art director Mike De Seve and then we have a team in Bulgaria who fleshes it out. Then we paint it in Photoshop and bring it into Flash to mock it up.
BUG: I've seen comics like these with a historical aspect to them being used in high schools, and libraries, and other academic institutions. It seems like this would be a hit in places like that.
DB:
I think so. Just as an aside, I'm new to the iPad. It's a new experience for me and now I use it more than I use my laptop. I think that where technology is going; kids and teens are going to be having iPads for the classroom to download books, do assignments. It's just cost effective to pay a couple hundred bucks for an iPad instead of paying a couple hundred for books each semester. So I think there's a tremendous amount of potential here. We are just seeing the beginning of technology here as far as technology as a learning tool.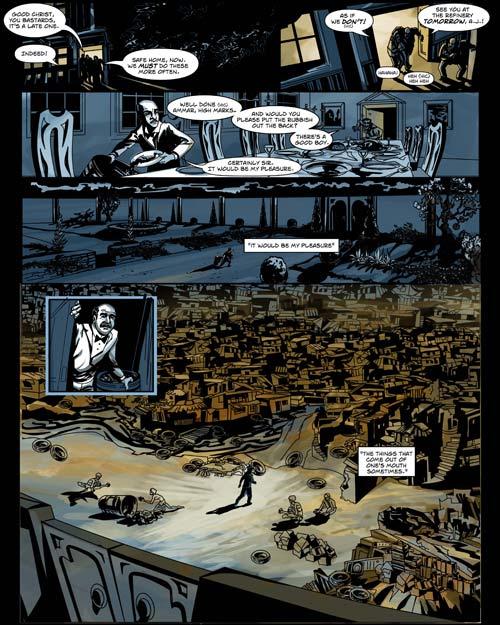 BUG: I really like the way you keep things interesting. This is not a dry boring story. There are captions, word balloons, action. It's not like you are just vomiting facts. I've read so many bio comics and history comics that reads like a point by point checklist and that to me is boring. This isn't.
DB:
Yeah, the point is to have the reader be engaged in the story, otherwise, what's the point, you know?
BUG: So when is this story going to be available?
DB:
We are planning on a 3rd or 4th Quarter release through the Apple Store.
BUG: So around Christmas?
DB:
Yeah. Tall Chair Inc. is developing a piece of software called the Active Reader and that's what this is based on. The idea being that this prologue is free and then each accompanying chapter, there are eight chapters and each is $1.99. Or you can purchase the entire book in one go and then you'll get the issues as they become available in printed comic form for the price of a regular comic book.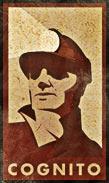 BUG: So is the printed version coming out at the same time?
DB:
The printed book is probably going to be coming out toward the end of the release. We are trying to develop and release as quickly as possible.
BUG: This sounds really great. I'm really impressed with all of the new designs and techniques you are developing for graphic storytelling for new technology. Thanks so much for taking the time to talk with me. Congratulations, it's a fantastic looking project.
DB:
Thank you!
BUG: Be sure to look for OPERATION: AJAX from Cognito Comics when it comes out later in the year. They are definitely doing some revolutionary comics like you've never seen before.
Ambush Bug is Mark L. Miller, original @$$Hole / wordslinger / reviewer / co-editor of AICN Comics for over nine years. Support a Bug by checking out his comics! MUSCLES & FIGHTS VOL.3 & MUSCLES & FRIGHTS VOL.1. VINCENT PRICE PRESENTS: THE TINGLER #1-2 (interview, interview, preview, & review) VINCENT PRICE PRESENTS #20 WITCHFINDER GENERAL (preview, review, in stores Aug 25th!) NANNY & HANK miniseries (interview, interview, interview, preview, & review, available in Previews Order #JUN10 0824, in stores Sept 1st!) Zenescope's upcoming WONDERLAND ANNUAL 2010 (in July Previews Order # JUL10 1200, in stores in September!) ROGER CORMAN PRESENTS DEATHSPORT miniseries (in September Previews Order #SEP 100860, in stores in November!)
---
---
Editing, compiling, imaging, coding, logos & cat-wrangling by Ambush Bug Proofs, co-edits & common sense provided by Sleazy G
---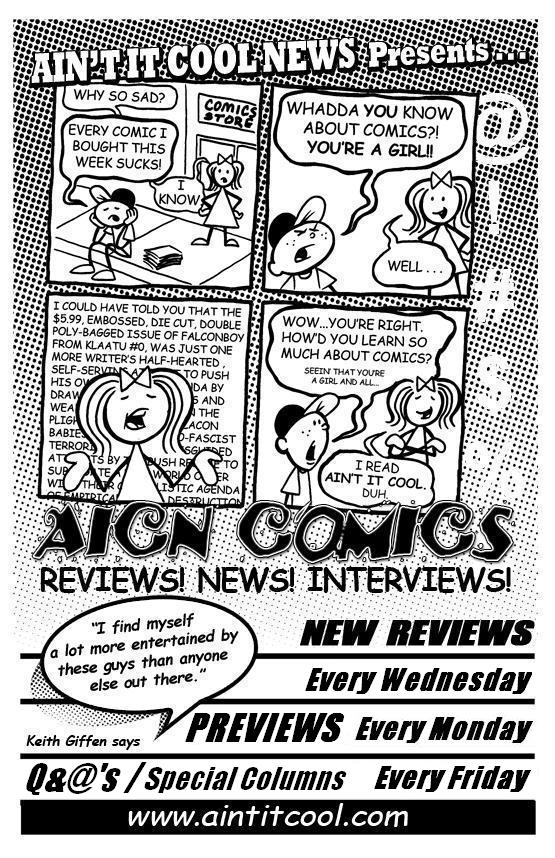 Ad by Prof. Challenger