@@@@ What the #$%! is AICN COMICS: Q&@? @@@@
AICN COMICS: Q&@ is our new semi-weekly interview column where some of your favorite @$$Holes interview comic bookdom's biggest, brightest, newest, and oldest stars. Enjoy this latest in-depth interview filled with @$$y goodness and be sure to look for more AICN COMICS as we gaze into the future of comics every week with AICN COMICS: SPINNER RACK PREVIEWS every Monday and then join the rest of your favorite @$$Holes for their opinions on the weekly pull every Wednesday with AICN COMICS REVIEWS!
---
Q's by Ambush Bug!
@'s by STARKWEATHER: IMMORTAL writer David A. Rodriguez!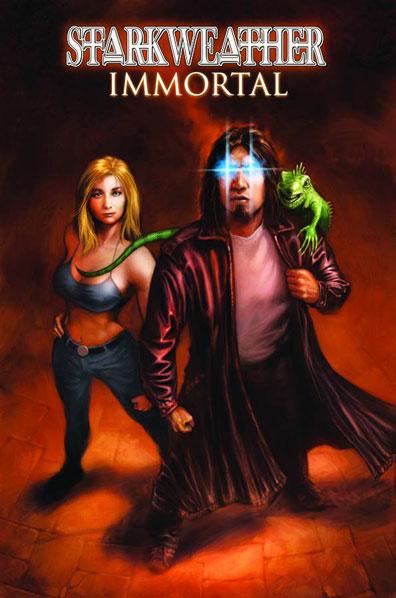 Hey folks, Ambush Bug here with another Q&@ that originated at this year's San Diego Comic Con. While I'm still chugging through all of the interviews I did at the con, here's an interview I set up at the con. I ran into David A. Rodriguez at the Archaia booth this year in San Diego and after chatting for a bit, David realized I was running around like a head with my chicken cut off at the con, so he suggested we do the interview after the con. He said his new hardcover graphic novel, STARKWEATHER: IMMORTAL, would be out in September and thinking that I'd be totally finished with the interviews I'd gathered at SDCC by then, I said it'd be no problem. Little did I know I'd still be working on catching up with all of the interviews at the con. So while I tap away on the last six SDCC interviews, check out what David A. Rodriguez had to say about STARKWEATHER: IMMORTAL…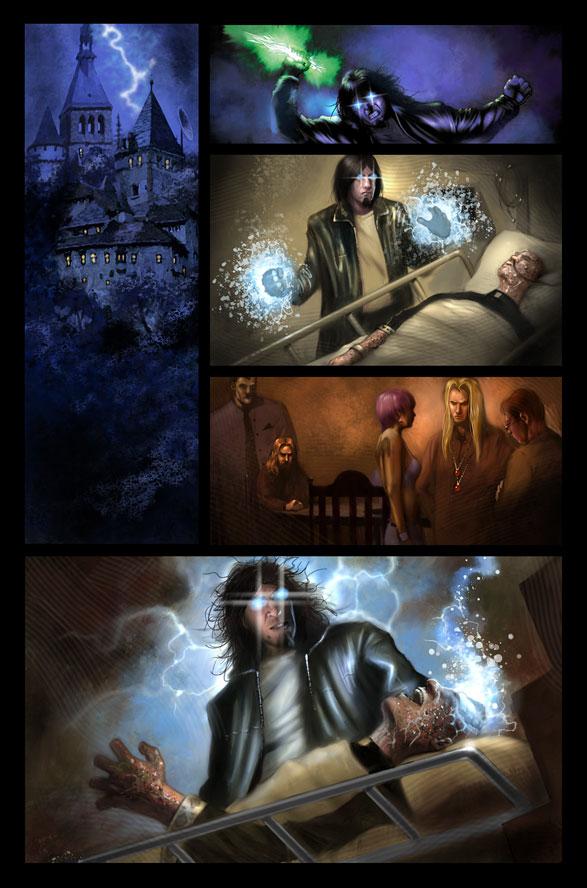 AMBUSH BUG (BUG): So tell me a little about STARKWEATHER: IMMORTAL.
DAVID A. RODRIGUEZ (DAR):
STARKWEATHER: IMMORTAL is a story about modern day witches. The premise of the book is that during the Last Supper, Christ divided his power into 13 parts, keeping a small portion for himself and giving the rest to his followers, who became known as the Divine Blood. He charges his followers to go out into the world and continue his work. Before Christ dies, he passes on his immortality to a nasty Roman soldier and also assigns a group of warrior priests (Knights Templar) to protect the Divine Blood.
The Templars resent their assignment and plot against the people they are supposed to protect and a war erupts between the two factions. This fight was so catastrophic that it sent the world tumbling into the Dark Ages. By the time the world recovers, we have forgotten all about the Divine Blood and the Templars have twisted the source of their power to convince the world that the Divine Blood are actually of evil origin…or "witches". Worse, the Templars developed an ability to both detect and suppress magic, which they utilize to hunt the witches into near extinction.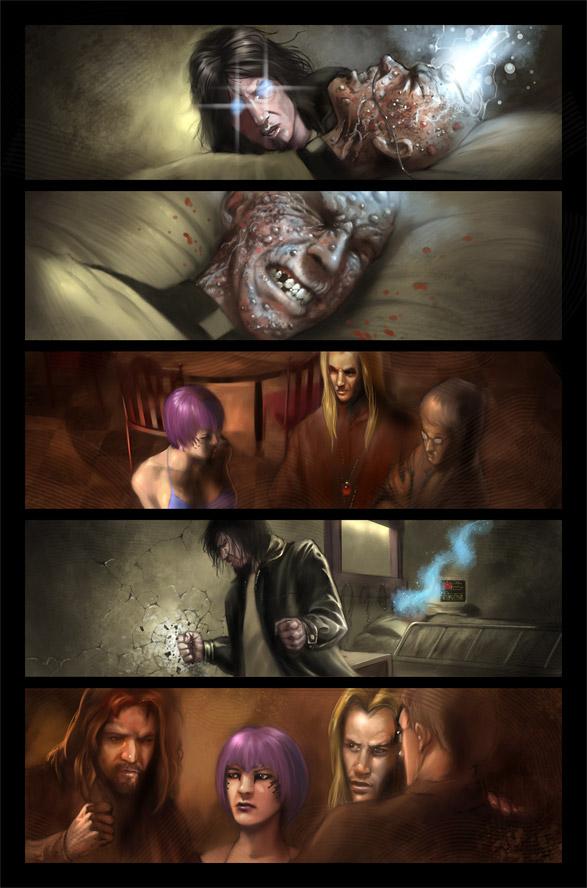 Years later, Alex Starkweather is born. He manifests his power at an extremely young age, killing a group of Templars. His father and the other Coven leaders realize that Alex could be the key to winning this war but they need to keep him alive long enough to be able to control his power. So, they perform a ritual that severs Alex's ability to do magic and makes him forget who he was but has the unforeseen side effect of making him incredibly unmotivated. 15 years later, Alex is still in hiding, completely unaware of his past but the magical lobotomy is starting to wear off…with catastrophic results. So he is immediately on the run with both Templars and Witches fighting over him. I think that was more than a little bit. There's even more after that if you read the book!
When I decided I wanted to re-launch STARKWEATHER, my original idea was to do an anthology book with stories written by 5 different authors, each showcasing a different supporting character from STARKWEATHER. It would then be followed by the new series.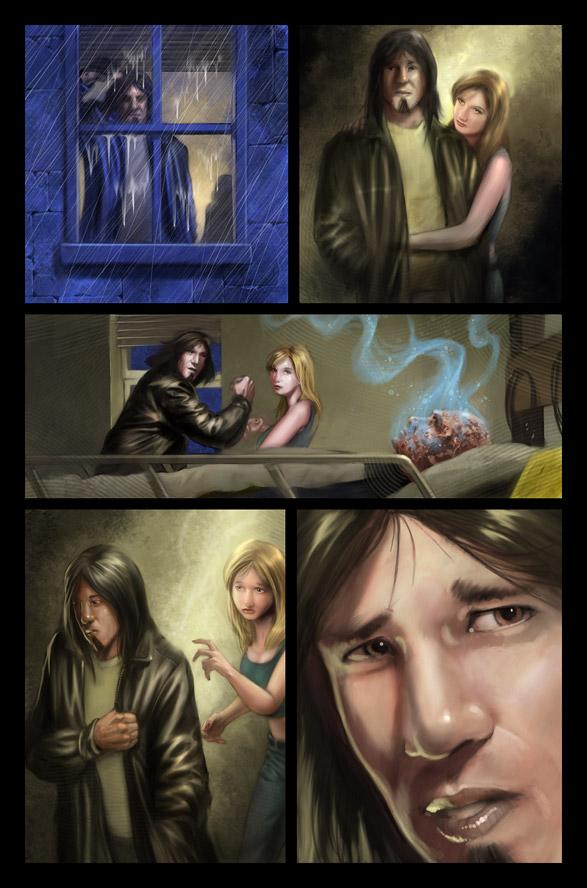 I sent Mr. Anthony a request about being one of these 5 authors (on a whim really, I never considered that he'd reply.) His fantasy novels were some of the first I read in my teens and I devoured everything he'd written, my favorite of course being the INCARNATIONS OF IMMORTALITY series. When he agreed to participate I think I called everyone I knew to tell them. I even called some people I didn't know and they were pretty excited too.
I sent him the graphic novel and he even did a short review of the book on his blog and decided to contribute a short story based on Cartaphilus (the Roman Soldier who stabbed Christ). But as far as directing goes, he asked for more than I gave. I really couldn't bring myself to direct Piers Freaking Anthony. I just nodded and smiled and held the printed short story like the Ark of the Covenant. Lucky for me though, he was diligent about sticking to the presented mythos and also about giving me freedom to adapt that story for a comic presentation. He was a pleasure to work with and I can't say enough good things about him.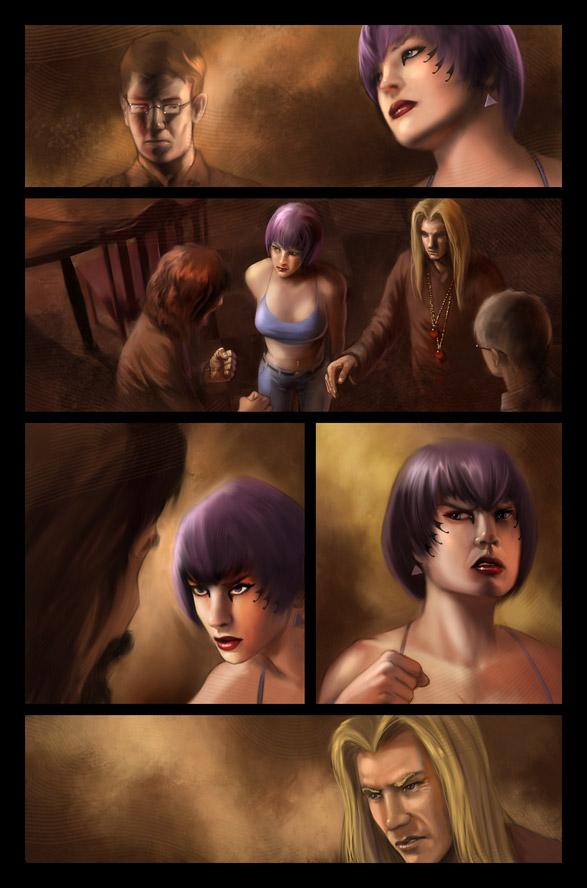 BUG: So how in depth is the STARKWEATHER series planned to be, given that it follows a history of thousands of years?
DAR:
The original series, STARKWEATHER: LEGACY, was released about 4 years ago through Arcana. STARKWEATHER: LEGACY started in the middle of Alex's story, where he already knew about his history and his abilities (though still lacking control). With IMMORTAL, I wanted to go back and tell his origin and fill in the blanks that were introduced in the LEGACY miniseries. As far as the size of the concept, before the series even started, I spent a great deal of time building the world and mythology. It was important to me that I understood all of the individual factions in this world and how their goals conflicted with each other. I was pretty OCD about it. All of the primary and secondary characters had to be placed properly for it to work. And there's a lot of them. I even wrote an origin for the lizard familiar! But it does make it easier to go forward when you know where everyone has been.
BUG: Who is the artist for STARKWEATHER: IMMORTAL? How did you come about teaming with him for this book?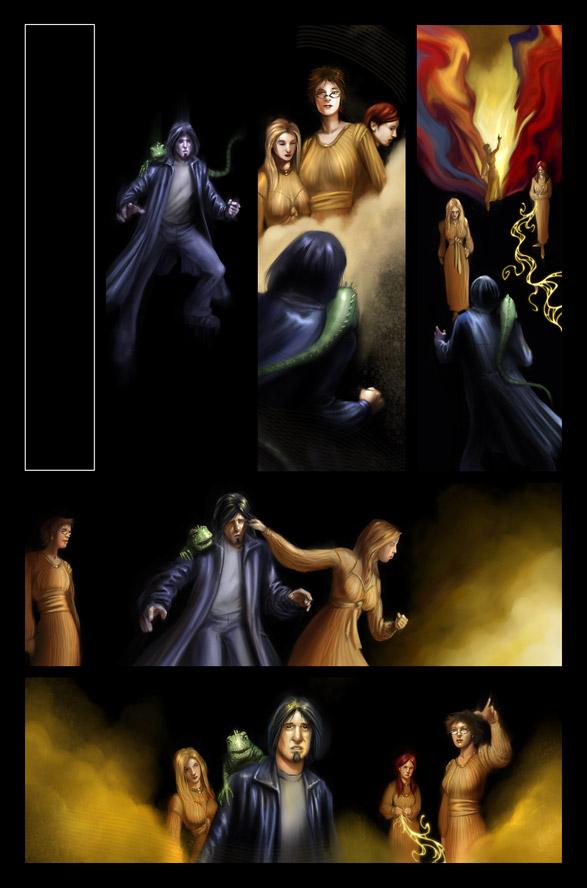 DAR:
Our artist is the awesome fantasy illustrator/painter
Patrick McEvoy.
And he has been amazing on this project. The way I found him was kind of not that exciting a story though. Once Piers Anthony's story was delivered, I decided I wanted to go with a more fantasy illustrated style rather than contemporary comic book. So I placed an ad on an RPG art forum and received several responses and Patrick and I just clicked right away. He defined STARKWEATHER in a way I didn't think was possible and has achieved a unique blend of real world and supernatural elements. We've become collaborators and pals which has made the process way more fun than it would have been otherwise. He also saved me from John Wayne Airport the first time we met in person … so I'm indebted to him forever.
BUG: Were there any surprises for you when you saw the art bringing your words to life for the first time?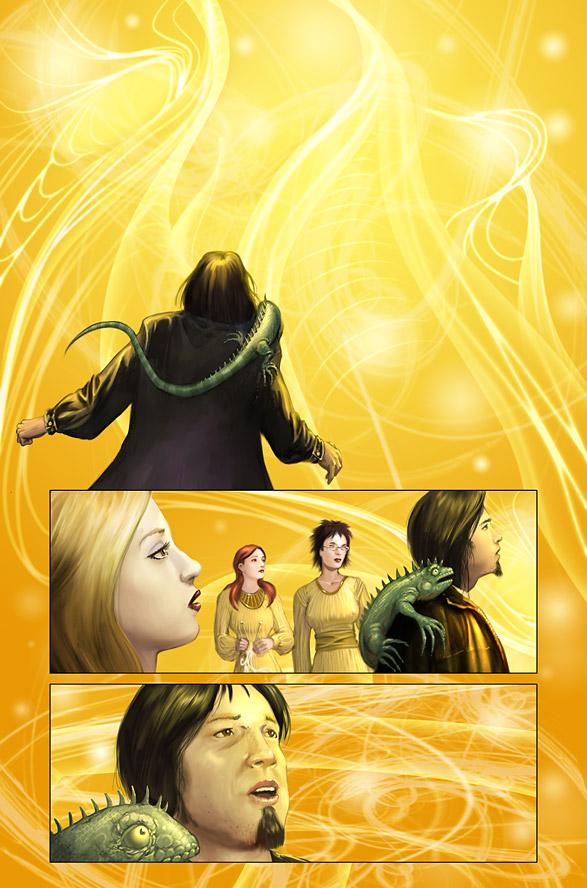 DAR:
The original series was done in a traditional comic book style. When Patrick started delivering these gorgeously painted pages it brought a realism to the series that I couldn't have predicted. He also does a lot of subtle things with color that you don't notice at first, but he developed a visual language for all parts of the story. Dream sequences, magic, flashbacks--it all has rules and he adds incredible depth to the visuals.
BUG: What's it been like working with Archaia on this project?
DAR:
It has been really exceptional. Archaia is really committed to creating a strong presence for all of their projects and in creating the highest quality books just from a production standpoint. Our hardcovers are just beautiful and they showcase them as such. I think anyone who has been to C2E2 or SDCC can testify to that. Our booth was always packed with people and they work really hard at getting as many books as possible in reader's hands. But they have also let us tell the story we wanted without editorial directives. That part has been very positive.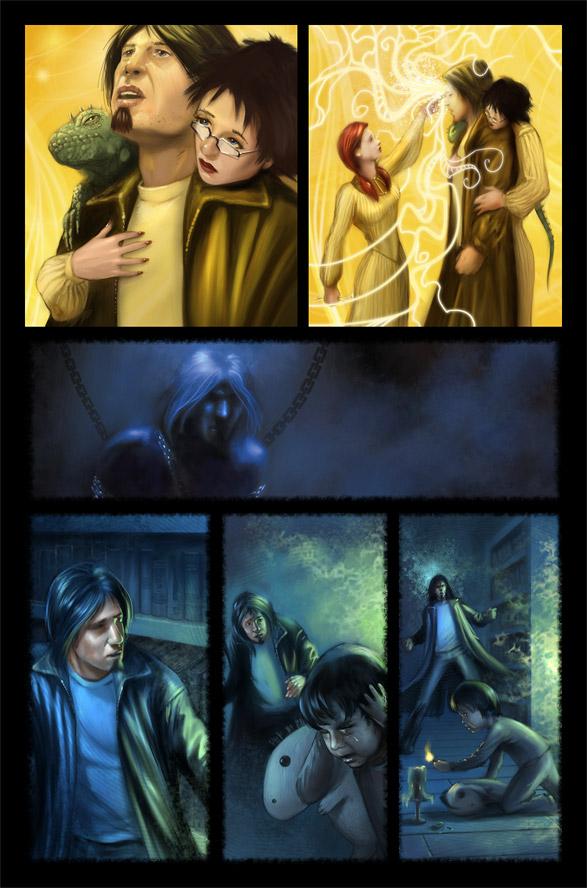 BUG: Archaia seems to be moving more toward releasing graphic novels than single issues. Did this shift affect the way STARKWEATHER was written and presented?
STARKWEATHER was originally planned as a 5 issue series. We had reached the third issue when the Archaia restructuring happened. I think we actually suggested to Mark that we go straight to the hardcover rather than try and re-pitch the series after such a long hiatus. I think it's a good direction for Archaia. It does take longer to get a product out there, but I've found that it's actually easier to get someone to try out a complete story than to risk spending money on a single issue or two that might never get finished. I guess that's the indie curse but for us it helped make the story a single seamless narrative. I think it worked out well.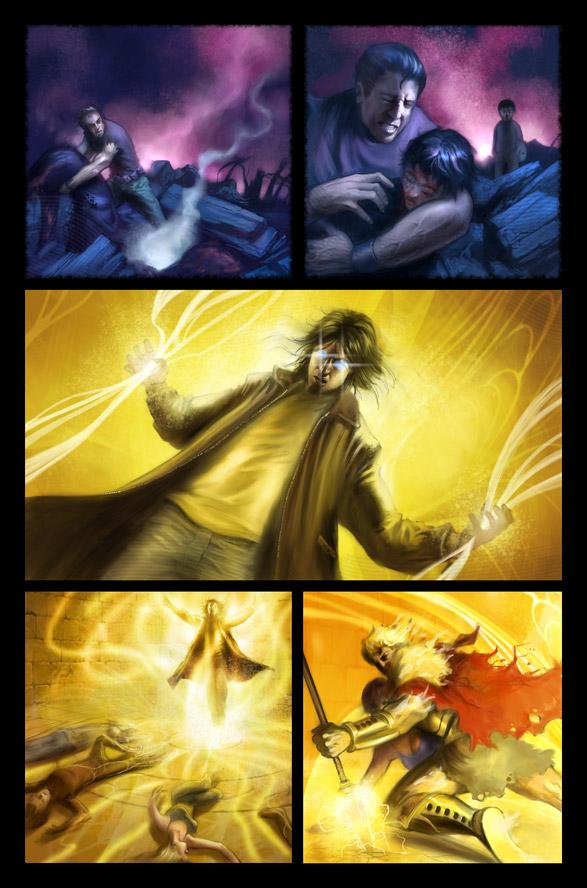 BUG: Do you have any other projects coming up?
DAR:
There are projects in discussion but nothing concrete yet. I am continually working on the webcomic SHADOWGIRLS with artist Dave Reynolds. We describe it as "H.P. Lovecraft meets the Gilmore Girls" and we are early in the second "Season" right now. It's a full color/full page comic that updates
MWF.
It has a very different artstyle but is still that real world/supernatural theme that is in STARKWEATHER. Patrick keeps himself busy with all sorts of stuff, but his
Ninja Mountain
podcast is great for artists.
BUG: So last chance, why should folks check out STARKWEATHER: IMMORTAL and when can they pick it up in stores?
DAR:
STARKWEATHER: IMMORTAL is in stores as of September 1st! It is more than 140 pages of full color, painted art. It contains the original as written short story by Piers Anthony (only place this exists!), it has magic, witches, secret societies, alternate religious history, immortal Roman soldiers, quests for redemption, some romance… AND a belligerent talking lizard. It's a modern fantasy adventure that has what I hope to be "real" characters that people feel they can relate to. I'm excited to finally see it complete.
BUG: Thanks for taking the time to answer my questions.
DAR:
Thanks for the interview Bug, it was great talking to you!
BUG: You too, Dave. Be sure to check out STARKWEATHER: IMMORTAL in stores tomorrow from Archaia!
Ambush Bug is Mark L. Miller, original @$$Hole / wordslinger / reviewer / co-editor of AICN Comics for over nine years. Support a Bug by checking out his comics! MUSCLES & FIGHTS VOL.3 & MUSCLES & FRIGHTS VOL.1. VINCENT PRICE PRESENTS: THE TINGLER #1-2 (interview, interview, preview, & review) VINCENT PRICE PRESENTS #20 WITCHFINDER GENERAL (preview, review, in stores Aug 25th!) NANNY & HANK miniseries (interview, interview, interview, preview, & review, available in Previews Order #JUN10 0824, in stores Sept 1st!) Zenescope's upcoming WONDERLAND ANNUAL 2010 (in July Previews Order # JUL10 1200, in stores in September!) ROGER CORMAN PRESENTS DEATHSPORT miniseries (in September Previews Order #SEP 100860, in stores in November!)
---
---
Editing, compiling, imaging, coding, logos & cat-wrangling by Ambush Bug Proofs, co-edits & common sense provided by Sleazy G
---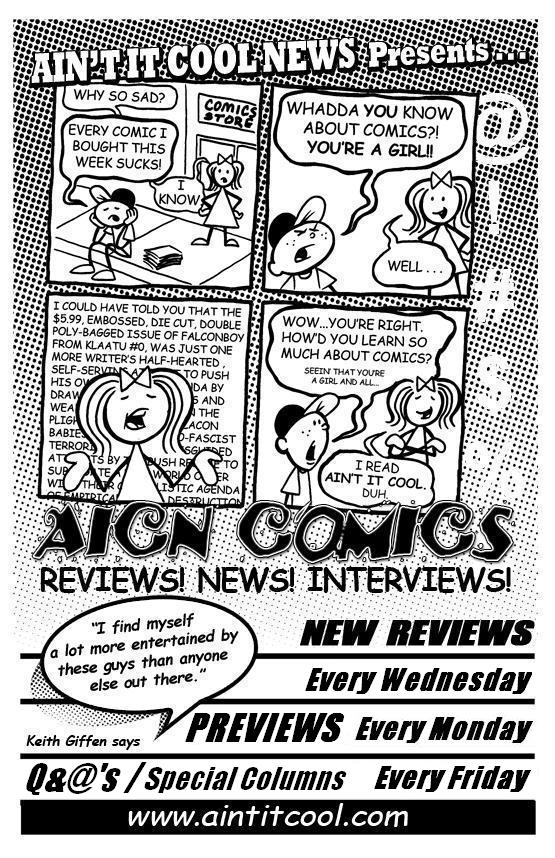 Ad by Prof. Challenger