Hola all. Massawyrm here. THE LAST EXORCISM is not a film that derives its power from a clever new idea or an ingrained, always palpable fear. In fact, its power doesn't come from its horror elements at all. If I were to explain to you in basic detail the nature of this story and its twists, it's not very likely that it would interest you outright; in all likelihood you might shrug it off as rather been-there-done-that. And you would be all the lesser for it. No, THE LAST EXORCISM isn't a film you see for its ideas – it is a film you see for its execution. Everything that works in this film begins and ends there. What impressed me most was that this film is comprised of two different film conventions I'm really not much of a fan of – the first being that it is a Faux-cumentary, the second being a spoiler that I won't divulge here – but it was strong enough of a narrative to not only get me past my dislike of those conventions, but forced me to fully embrace what they were doing with them. Personally, I find the Faux-cumentary style to be a cheap convention that allows your characters to simply tell the audience directly how they're feeling rather than exposing that through their actions or cleverly written dialog. THE LAST EXORCIST skirts that weakness by instead making our protagonist a professional liar and offering a number of characters who refuse to be interviewed directly on camera. The film chronicles the intended last exorcism of Cotton, a southern, protestant preacher and complete huckster when it comes to exorcisms. He's a con artist and after hearing one too many stories about insane preachers killing children during exorcisms instead sets out to expose the whole business as a fraud. And that's when we meet "the possessed". From that point on, the film is a steady stream of plot twists, freakish set pieces and genuine drama – all of it perfectly conveyed by the actors. The fate of this film rests very much in the hands of its lead, Patrick Fabian's Cotton – a smiling, good old boy preacher who is far more shine and polish than he is holy man - and its "possessed" subject, Ashley Bell's sheltered farm girl Nell Sweetzer. Both actors give incredible yet subtle performances that make what could have easily been a run of the mill scare fest into a rich tapestry of intrigue. Something is happening at the Sweetzer farm, but the film plays its hand close to the chest, and keeps you guessing as it puts its characters through the emotional wringer. But it is the work of director Daniel Stamm that carries this across the finish line. This couldn't be further from an Eli Roth horror project if it tried. Unlike Eli's previous films (as a director) which are very much about showing EVERYTHING, Stamm succeeds more with what he doesn't show. It is a quiet, subdued film playing with big ideas but never feeling the need to revel in gore to make it scary. Rather than the gritty, over the top madness of something like the HOSTEL films, this is about scaring you with what you think you might be seeing, rather than what you actually are. And when it comes to its stunner of a conclusion, you begin to realize that what you may have seen throughout may not have been what it appears to be at all. And that's when the discussions begin. This is a film that doesn't just want you to discuss it; it demands that you discuss it. After our screening, three very solid theories popped in various discussions, as people began to unravel the complex combination of lies, stagecraft and the supernatural. Make no mistake – this is no run of the mill horror one off. It is the very model of what a PG-13 horror film should be: scary because of its execution, not because of its body count. Spooky, solid and well worth checking out, I strongly recommend checking this out at your earliest opportunity.
Until next time friends, Massawyrm


Got something for the Wyrm? Mail it here.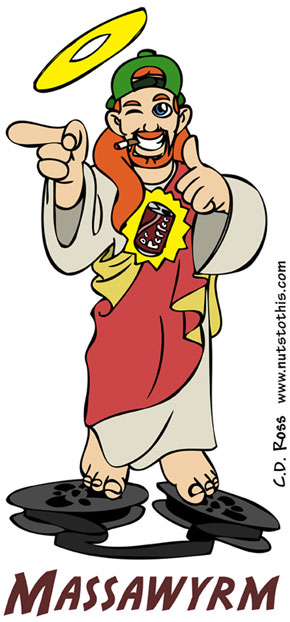 Or follow my further zany adventures on Twitter.