Hola all. Massawyrm here. At first glance, GOING THE DISTANCE appears to be a traditional, goofball Drew Barrymore romantic comedy with all of the traditional trimmings. At this point in her career, I don't think there is a comedian left - short of Saint Patton himself - that hasn't had their chance at hooking up with Drew on film, so seeing it happen with Justin Long seems like a no brainer. But much like THE BREAK-UP and 500 DAYS OF SUMMER before it, it aspires to be something slightly more than your run of the mill comedy, reaching deeper into the realm of the real to mine some genuine comedic gems. This is a film that doesn't use its set-up to generate comedy, but rather uses comedy to dull the pain of its all too real set-up. The film is entirely about the very real struggles and strains of a long distance relationship. My wife and I (who watched the film together) found ourselves reminded of the year we spent apart early in our relationship – and it nailed it at every turn. The conversation after the film stretched from how we coped differently than Long and Barrymore to how we coped EXACTLY like the separated lovers. In fact, if this film has any problems connecting with an audience at all, it will be to those who just don't get the emotional punch of what's happening and instead are looking for more zany comedy than this film has to offer. Director Nanette Burstein, who up until now exclusively made documentaries (THE KID STAYS IN THE PICTURE and AMERICAN TEEN), gives the entire film a very real sense of authenticity. When Long and Barrymore fall in love, there is no questioning why – unlike most rom-coms it has nothing to do with the two simply being the best looking people in the film, but rather with genuine chemistry. It's not just a few lines of dialog and a successful meet-cute – it is that both characters think and act alike. They have tremendous amounts in common. As characters, they are truly perfect for one another. So when they are separated, you understand entirely why these two need to stay together and overcome the hardships of long distance. Most interesting about the film was how much it played up the uncertainty of things. In most rom-coms, gainfully employed protagonists are always very secure in their jobs – they're not just good at their jobs, they're often the very best at their jobs. This success often leads them to be workaholics, explaining their aptitude at chasing off the opposite sex. If that's not the case, then the work environment simply serves as a backdrop for friendly banter about the characters romantic life (or lack thereof). Instead, GOING THE DISTANCE juggles the uncertainty of a romantic relationship with the uncertainty of employment. While Justin Long has a job that he hates, he keeps it because he loves living in New York and working for a record label. Barrymore has an intern gig and wants nothing more than to get a permanent position as a journalist for her prestigious paper, but that's not even close to a sure thing in this environment. When chances are offered on both fronts, the characters are forced into the very real dilemma of sacrificing one maybe for another. But when the film isn't busy tackling the serious subtleties of the long distance love affair, it gets right to being funny as all hell. This isn't a film about stupid people getting into outlandish situations – it's about above average people getting into ridiculous everyday situations. The banter is quick and witty, peppered with astute observations on the silliness of the human condition, while occasionally going wild with Galifianakis-esque levels of absurdist behavior. There are plenty of subtle callbacks, many of which will fly right over the heads of oblivious viewers but will hit its target audience square in the chest. Make no mistake, this is not a sugar-coated rom-com; it is something of a bitter pill served with a spoonful of sugar. Every complaint about this film is likely to center upon that. It is a well-made wine in a field full of soda pop, but when an audience is hoping for a Pepsi, they're apt to be disappointed with a Coppola Chardonnay. While there are plenty of popcorn moments to be had, the soul of the film is a tad darker than the usual audiences of these films are gunning for – while the audience that should see it might just write it off as mainstream pap. I enjoyed this film quite a bit. It's smart humor and careful attention to the intricacies of the relationship pay off in an incredibly satisfying way. If you're the type of person who enjoys an off-kilter rom-com that plays outside the usual conventions, than this is a film you should certainly check out; I think you'll find it well worth your time.
Until next time friends, Massawyrm


Got something for the Wyrm? Mail it here.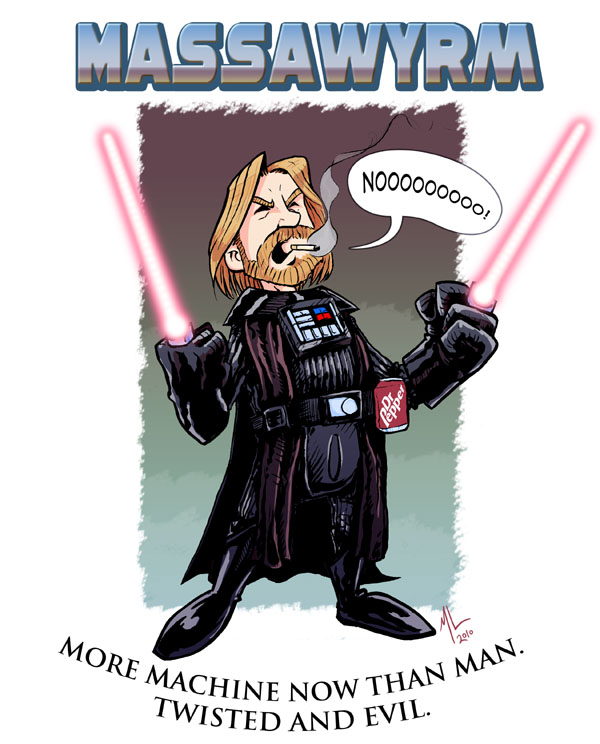 Or follow my further zany adventures on Twitter.