@@@@ What the #$%! is AICN COMICS: Q&@? @@@@
AICN COMICS: Q&@ is our new semi-weekly interview column where some of your favorite @$$Holes interview comic bookdom's biggest, brightest, newest, and oldest stars. Enjoy this latest in-depth interview filled with @$$y goodness and be sure to look for more AICN COMICS as we gaze into the future of comics every week with AICN COMICS: SPINNER RACK PREVIEWS every Monday and then join the rest of your favorite @$$Holes for their opinions on the weekly pull every Wednesday with AICN COMICS REVIEWS!
---
Q's by Ambush Bug!
@'s by HYBRID BASTARDS' Tom Pinchuk!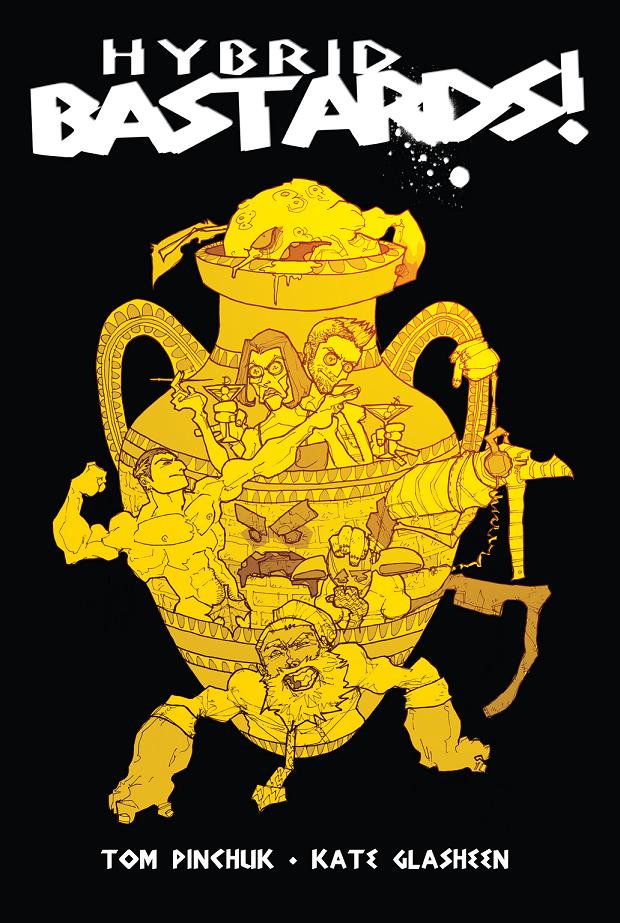 Hey folks, Ambush Bug here with the ninth of fifteen interviews I conducted from this year's San Diego Comic Con. This time around we chat with the writer of Archaia's HYBRID BASTARDS, Tom Pinchuk. I reviewed the book a while back, but because of some restructuring at Archaia, the book was delayed a bit and it's finally being released. Here's what Tom had to say about a comic book as original as it is offbeat, HYBRID BASTARDS…
AMBUSH BUG (BUG): I first found out about HYBRID BASTARDS last year and reviewed it in its early stages on AICN, but the book wasn't released until now. What kind of changes have occurred in the interim?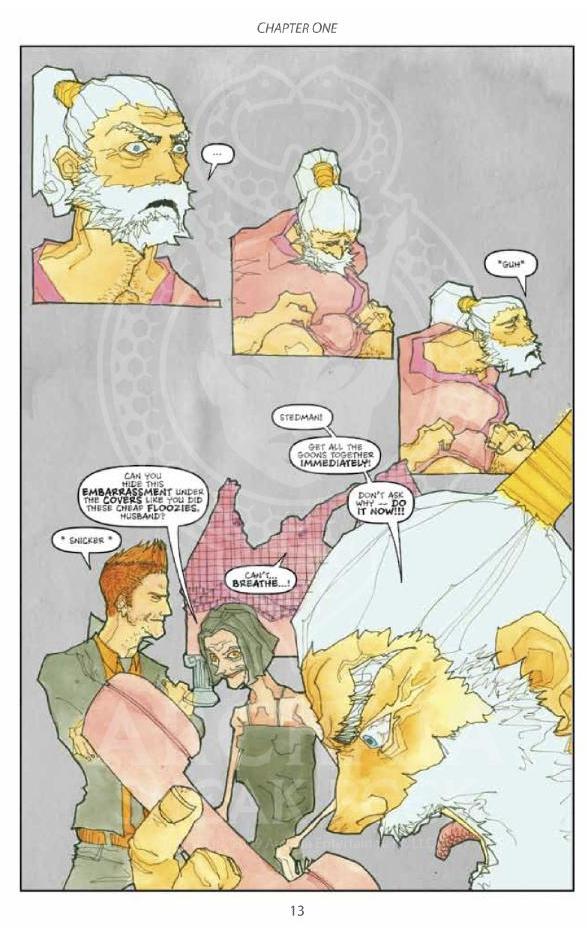 TOM PINCHUK (TP):
The funny thing is that you actually reviewed it when was it more in the middle stages. The original issues came out around the beginning of '08, right before Archaia went through a restructuring and publishing freeze. Those times seem almost as "another age" to me, now.
The script hasn't changed at all since the beginning, but everything else has gotten retouched for the hardcover. Kate Glasheen, the artist, was never really pleased with how the lettering and the image transfer turned out the first time around, so she actually re-scanned every page for a new lettering job by Shawn Depasquale in this edition. It's akin to a film print's audio and picture getting re-mastered for a special edition DVD. The lines are more crisp, the colors are more vibrant and the lettering's got a lot more style and personality. And, of course, you've got to have bonus features. We got the chance to add two back-up comics. One explores the Bastards' family tree and the other's an entirely new story about a research lab getting revenge on the common cold.
BUG: So you did the whole Lucas thing already to the book.
TP:
You should've seen all the kids with the "Cotton Shot First" t-shirts at Comic Con...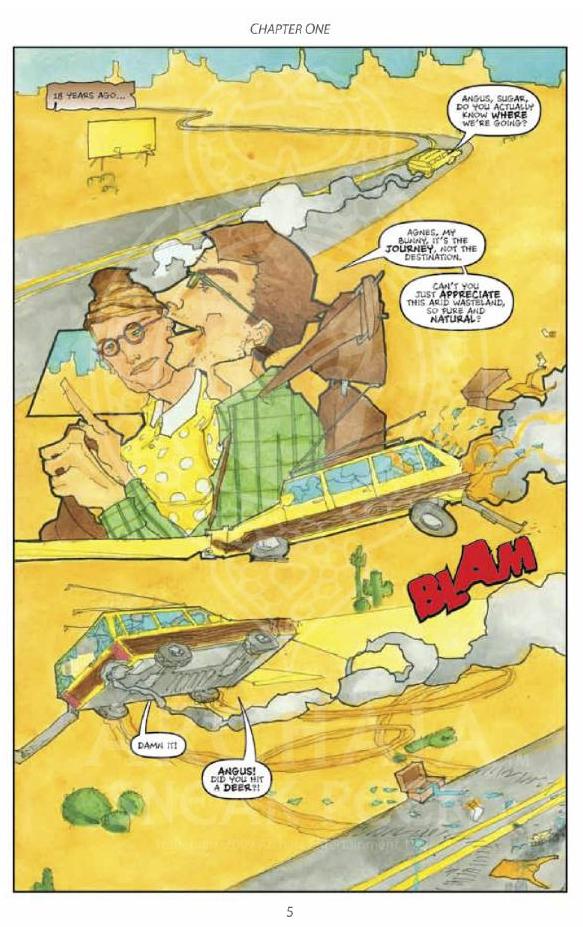 BUG: Hah! At C2E2, you had a pretty amazing way of describing HYBRID BASTARDS and why folks should check it out. Is there any way you could share with the AICN readers some of that description?
TP:
Oh yeah, I forgot you were at our C2E2 panel. As you saw, I studied at the Ultimate Warrior university of promos. Text isn't quite going to do my "sell" as much justice as hearing it in person would, but anyway...
HYBRID BASTARDS! is about creatures born in a practical joke of mythic proportions. One night, the Greek god Zeus gets duped into being ferociously attracted to inanimate objects. For one mindless night, he sows his seed into cars, walls, laundry and basically everything else you can think of. Because he's a god, these things get pregnant and they give birth. When the unholy offspring come of age, they want what all children want - - their Daddy's love. But he's disgusted by them, he wants 'em swept under the rug like so much dust, and there lies the battle of wills, the fractured family drama.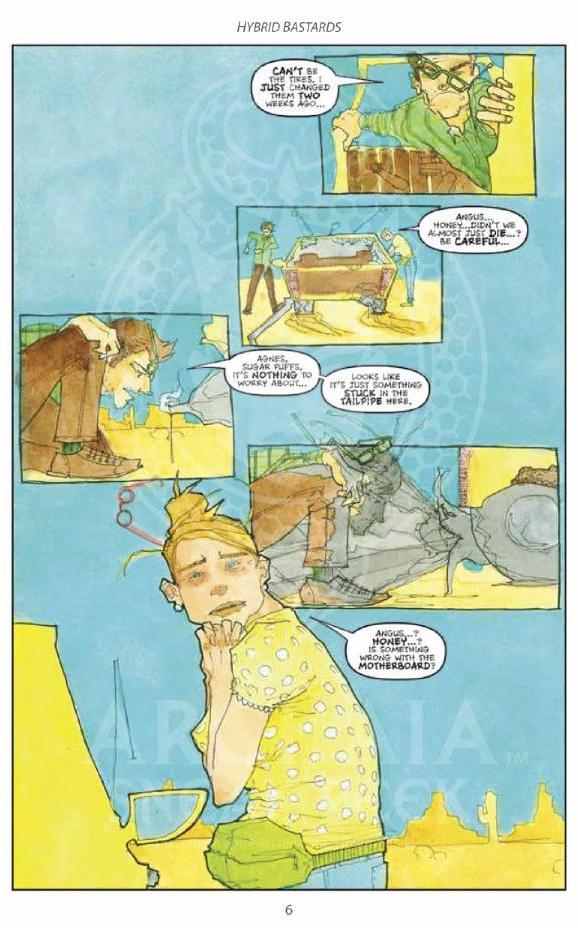 As crazy as that sounds, that's only the beginning. The madness escalates from page to page, from panel to panel. I tell people that reading this comic is going to blow their minds so bad, their brains will be all over the ceiling.
BUG: So it seems like you're a fan of Greek myths. It's such a great universe to play with, especially Zeus' philandering which is a common theme in a lot of myths. What about Greek Mythology attracted you to make such a story?
TP:
As a kid, I watched censored versions of the Greco-Roman myths in things like JASON & THE ARGONUATS and JIM HENSON'S THE STORYTELLER, so I got real rude awakening when I read the uncensored versions in high school Latin. As I always say, I don't think we actually took too many creative liberties with the source material, because there is all kinds of incest, bestiality and twisted conceptions in the original stories. In particular, there were all the stories of Zeus assuming guises to hide his dalliances with mortal maidens from Hera. He'd turn into a swan or a golden shower, and so on, which really makes you snicker when you're 14. Actually, it'll make you snicker at any age, so I figured that was all fertile ground, if you'll excuse the pun, for a story like this.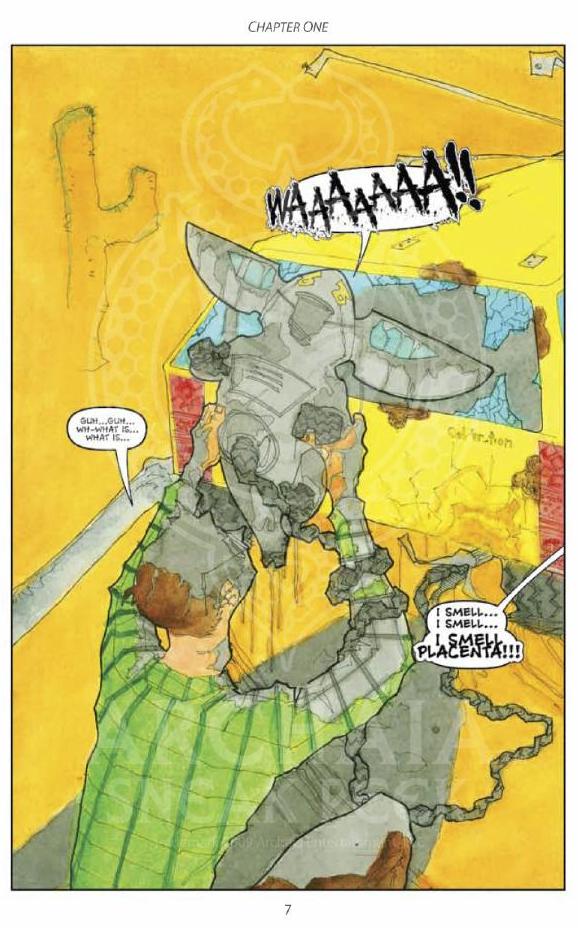 As it went along, I was also tickled by the idea of using the structure of classical Greek tragedies like THE ORESTEIA trilogy for this ridiculous story about sock puppets and wall monsters. The Greco-Roman myths are the pillars of Western literature, of course, so there's a lot to draw from...and a lot to make fun of.
BUG: So let's talk a little more about the characters, the Hybrids a little more specifically. Who's your favorite of the bunch to write?
TP:
Cotton, the mess of laundry. Hands down. Mainly because he's such a jerk. It was a lot of fun to write an absurd character in such an absurd situation who has really no sense of humor about it. He doesn't identify himself as a hybrid bastard. He's got better things to do than get dragged down into this nonsense by these idiots. And, especially for the court room drama portions, I enjoyed making him so serious about being a lawyer...when he's a sock puppet the whole time.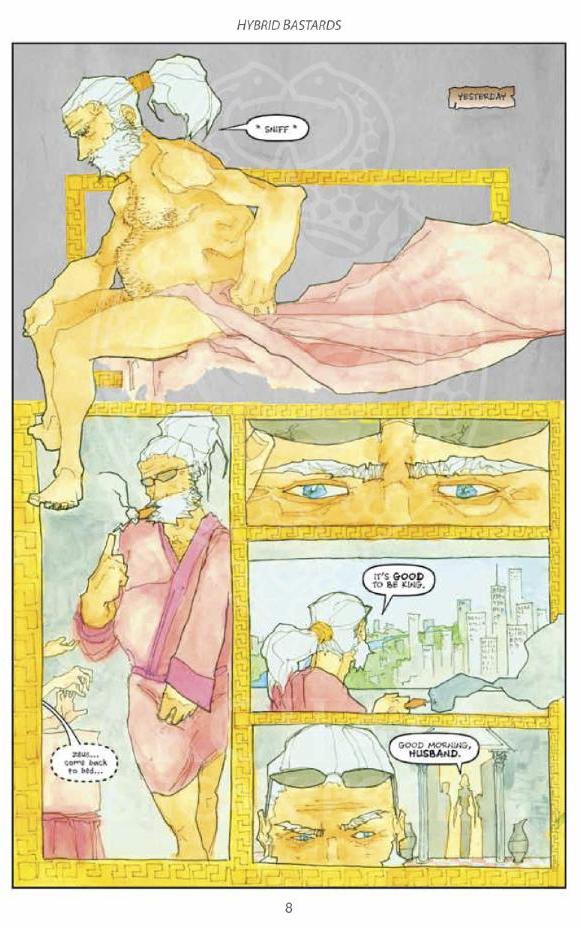 The way Kate drew him made me like him even more. The green color scheme, the slinky body language, the reptilian features, the rooster-like wattle, the near constant sneer...he's got the most memorable look of the gang.
BUG: Let's talk about Kate's work on this project. Her style has such an influence on the tone of the book. How did you guys come together on this project and how did you work together as the project developed?
TP:
Kate and I have an unusual "secret origin." She's actually my godparents' daughter (which makes her my godsister? I don't know.) Oddly enough, even though I've known her folks all my life, I'd never actually met her until we were in our 20s, since I've moved around a lot. It almost sounds like something you'd come up with for a story, honestly. One day my mom comes up to me and says, "You know, Mrs. Glasheen's daughter, Kate, is trying to get into comics too. You ought to talk to her." Which was flabbergasting in itself. As I'm sure a lot of fans can relate, my comics life had always been separate from my family life, so it's been very surreal to have my own little crossover here as those worlds merge.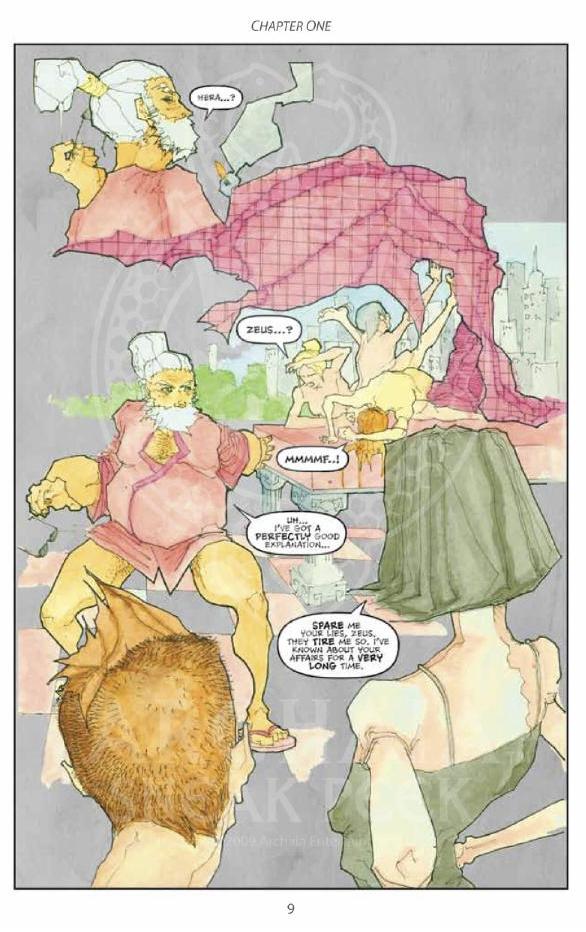 Anyway, we hit it off really well. She'd just gotten out of the Pratt Institute and had been trying to get into kid's books, but I managed to lure her to dark side of comics. She comes from more of a fine arts background and I quickly realized that doing full-script - - specifying the number of panels and so on - - was really stifling to her particular working style. Plus, I think it made the book a little too planned when it needed to feel free and uninhibited. So I started using Marvel script, which gave her a lot of leeway to make the layouts works of art in themselves. It also fostered a better sense of collaboration that fit this story. I'd come up with something I thought was too crazy to top, she'd come back with a page that, sure enough, topped it in insanity and that, in turn, gave me new ideas for the dialogue. Call it creative brinkmanship.
BUG: So did Kate have a lot to do with the design of the characters or was it a collaborative effort between the two of you?
TP:
I did some sketches of most of the characters early on, put they were really only starting points. Kate took them and made them infinitely more interesting. It was sort of like I lent her my beat-up old DeLorean and she came back to me with a time machine outfitted with a flux capacitor, Mr. Fusion and airborne capability.
BUG: Sounds like you two meeting at this point in your lives was density...I mean, destiny! (Sorry, had to keep going with the BACK TO THE FUTURE references).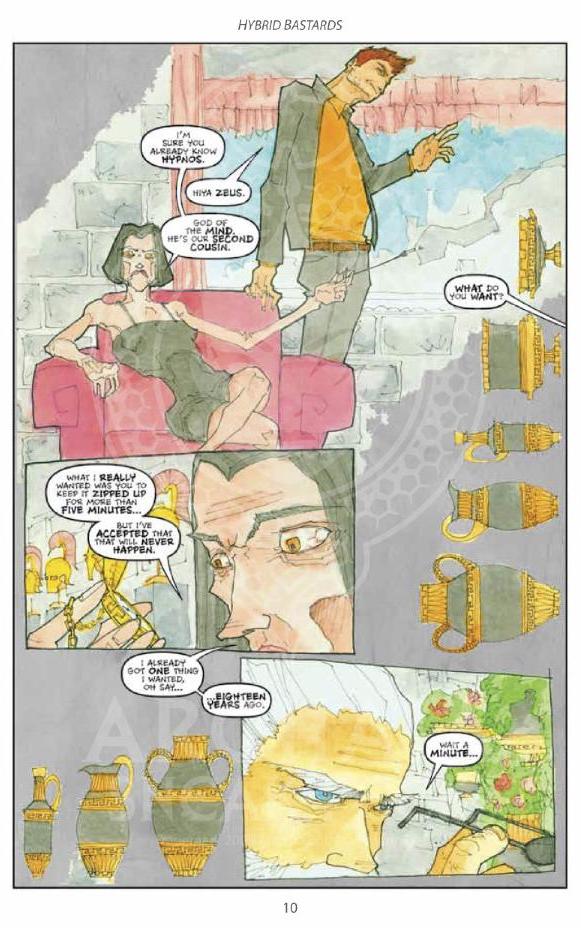 TP:
I suppose I should also add that I HATE manure. I actually do. I used to have to shovels piles of the stuff at this ranch. The smell's never left my mind.
BUG: Speaking of the future, with such a varied cast of freaks in HYBRID BASTARDS, one would think that this book has a lot of potential for some sequels...
TP:
There's certainly plenty of potential for follow-ups. During the interim, I actually worked out an outline for a sequel called EVIL HYBRID BASTARDS! You see glimpses of some new characters from that in the family tree back-up. However, I think a lot of creators fall into the trap of counting their chickens before they're hatched and winding up with some egg on their faces - - that is, leaving loose ends in the story on the expectation that they'll tie them up in sequels that they then never end up getting to do. How many times have you seen something presented as "the first in a planned trilogy" and the trilogy never materializes? As a fan, I know I've felt cheated.
To that end, HYBRID BASTARDS! would be very easy to follow up, but it's still self-contained. This could be the final word on the bastards and Kate and I would both be satisfied, because we put everything we wanted to do in there. We didn't hold back on anything. Nobody's going to read this and feel like they've been gypped into reading a long prologue. Kate and I currently have other irons in the fire, but if we get the chance to revisit these characters some day, I know we're going to absolutely relish it.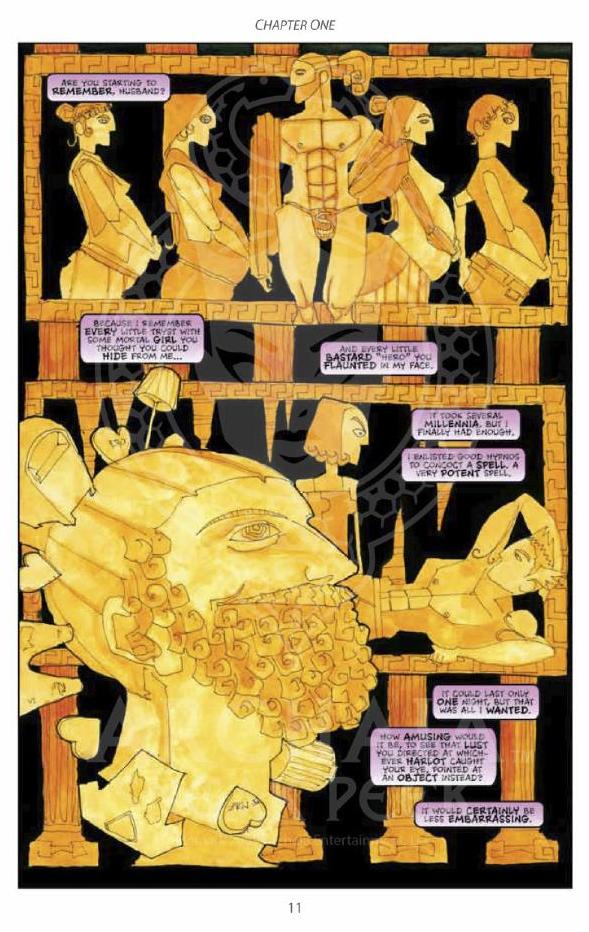 BUG: It seems that the more independent comics industry is leaning more toward publishing trades and original graphic novels. Seems Archaia is moving toward that. Was HYBRID BASTARDS originally conceived as a miniseries or was it always going to be a graphic novel? Did you find the original graphic novel approach more freeing in terms of how much you could put into the book compared to the 22 page constrictions of single issue comics?
TP:
It was originally a miniseries, yeah. We got two issues out before the restructuring and, by the time everything had settled, we figured that so much time had passed that it'd be best to skip to the trade. So the issues become chapters, but it's otherwise the same.
My next comic, UNIMAGINABLE, is at Arcana Studios and they're also opting to release it as OGN instead of serializing it. We planned it as three issue mini-series, but the format change is fine by me. That's really the way the wind is blowing across all entertainment. These days, how many people opt to wait for the seasonal box set instead of watching individual episodes on TV?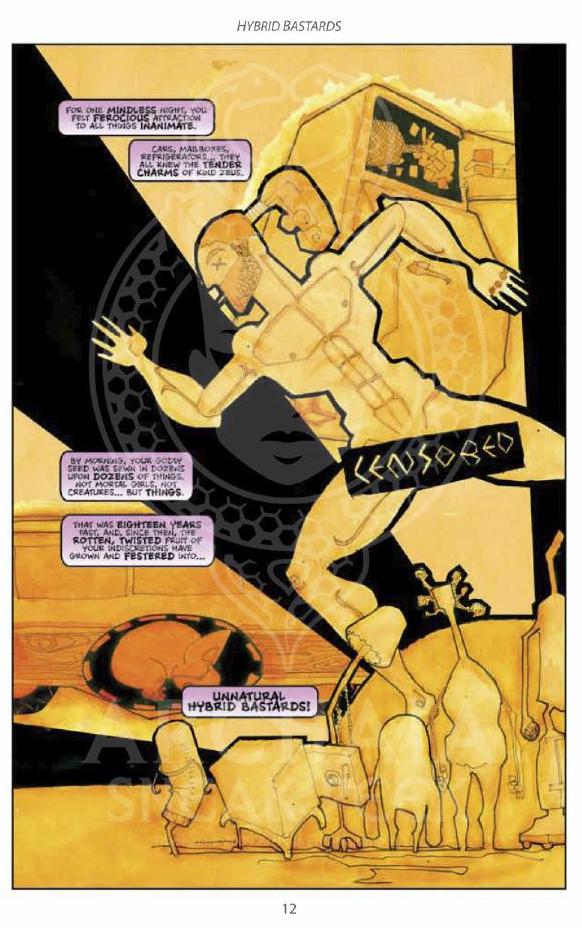 As to one format being freer than the other... I don't really have enough experience to compare. I've yet to write something that's intended as an OGN. Creatively speaking, an obvious advantage of putting an OGN out is that you get to treat the story holistically as opposed to releasing it in parts while it's in progress (which doesn't allow you to go back and revise the beginning to fit ideas you came up with while doing the ending, et cetera.) At the same time, I wonder if softened space considerations will make creators less disciplined about pacing. Space is always the enemy in comics, as they say, and my concern would be that, without the constant reminder of issue breaks, you might forget to keep things concise when they really need to be. You might miss some fat that needs to be cut.
BUG: Yeah, I feel the same way. These days the way some comics read as padded for trade anyway, it may be a good thing and read better if creators paid attention to the story as a whole instead of installments and may be a more satisfying experience for the reader too.
So before we wrap things up, you've got one last chance to convince readers to seek out HYBRID BASTARDS. Go for it...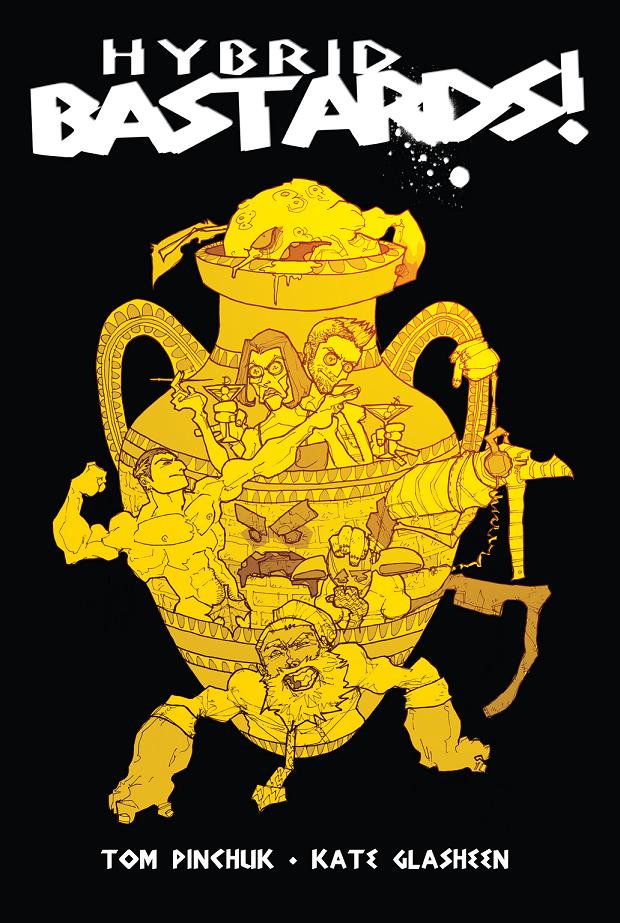 TP:
If you're looking for a comic that's genuinely unpredictable, that's so unique it defies categorization, that doesn't fit into any box, that gloriously smashes the high-brow and the low-brow together, that escalates in insanity all the way from panel one to the titanically twisted final splash page...then HYBRID BASTARDS! is for you.
I've made every reader a bold guarantee - - they will not find a stranger comic than this in any corner of this whole wide world - - and not one's called me out on that in all the years I've been promoting it. This comic will give you a charge that starts in your tail bone and shoots all the way up your spine until it ignites your hair into a furious blaze. It'll force you to divide your life into two eras: before reading it.... and after.
What more convincing could you need?
BUG: Well, I'm convinced. Thanks, Tom.
TP:
Thanks. I really appreciate it.
BUG: Look for HYBRID BASTARDS available now from Archaia!
Ambush Bug is Mark L. Miller, original @$$Hole/wordslinger/reviewer/co-editor of AICN Comics for over nine years. Check out his ComicSpace page for his entries the MUSCLES & FIGHTS VOL.3 & MUSCLES & FRIGHTS VOL.1 anthologies. Bug was interviewed here & here (about AICN Comics) & here & here (on VINCENT PRICE PRESENTS: THE TINGLER #1-2). Bug's latest comic is VINCENT PRICE PRESENTS #20: WITCHFINDER GENERAL (available in June's Previews Order # JUN10 0825) on sale in late August. Bug was also interviewed here & here about his upcoming original vampire miniseries NANNY & HANK (available in June's Previews Order #JUN10 0824) due out in late August. Bug also has a 10 pg story in Zenescope's upcoming WONDERLAND ANNUAL 2010 (in July Previews Order # JUL10 1200). Support a Bug by checking out his comics!
---
---
Editing, compiling, imaging, coding, logos & cat-wrangling by Ambush Bug Proofs, co-edits & common sense provided by Sleazy G
---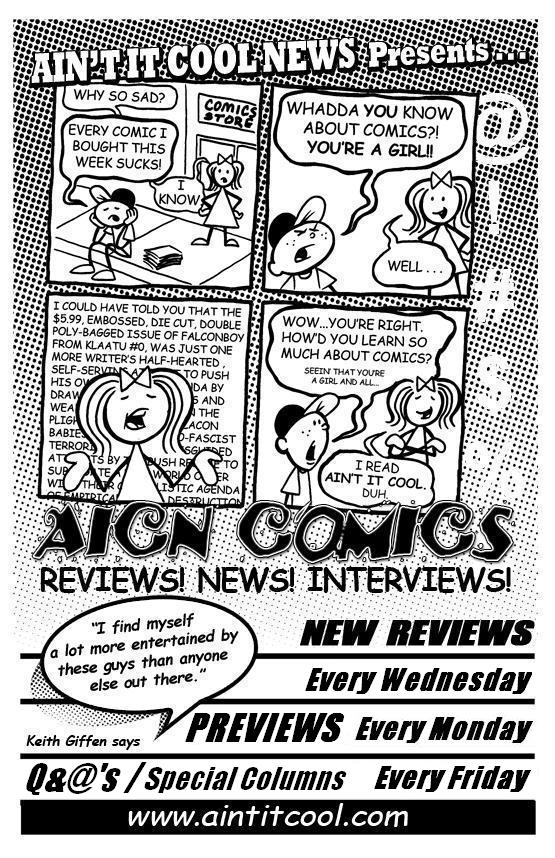 Ad by Prof. Challenger