Animation and Anime
Eastern Hemisphere Tag Team - Anime-AICN-Downunder: The Art of Hayao Miyazaki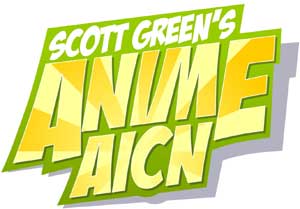 Logo handmade by
Bannister
Column by
Scott Green
Hey, Scott Green here, thrilled to be able to present AICN-Downunder's Latauro with a great survey of Hayao Miyazaki art books (available in North America by Viz). I'll note that there is anime that you can only get in English via Australian release, of which Studio4C's artistic statement Genius Party is of particular significance.
Hi, all. Scott Green's letting me crash his Anime column today, in what must surely be the most significant synergy between anime and Australia since the ill-fated CROCODILE DUNDEE MEETS UROTSUKIDOJI. (Paul Hogan and tentacle rape, it turns out, is not a pleasant mix.)
I'm here because Madman Entertainment here in Australia has sent me review copies of the new Hayao Miyazaki "The Art Of..." books, which examine, in great detail, most of the films Miyazaki has directed. They've been around for a while, but with four new ones out last month, it seemed like a good excuse to look over the series as a whole. Unfortunately, I can't show you any of the images within the books -- and it's the extraordinary artwork which will compel you to pick them up -- so you'll have to let my words create the images in your mind. Like with that Paul Hogan/tentacle rape suggestion in the first paragraph. Haven't been able to get that out of your head, have you?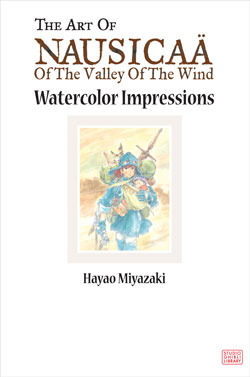 THE ART OF NAUSICAA OF THE VALLEY OF THE WIND
I'm not terribly familiar with NAUSICAA, having only seen it once several years ago, albeit in a beautiful film print at The Astor. Long-lost memories of the film came flooding back with the astonishingly-gorgeous illustrations in this book. It's not the first to be published, but I want to do these using the chronology of the films.
The first ninety odd pages are devoted to the art that Miyazaki did for the original manga comic. The massive double-paged spreads displays the art, usually spilling onto both pages, with all relevant details in the bottom corner and a running commentary by Miyazaki in the top corner. His comments are a fascinating insight into the mind of someone who I've often thought of as the classic elusive genius, and they range from insightful to hilariously curt (ie: a simple "I don't even remember this one"). The second section of the book is devoted to concept art and storyboards for the film, and both the illustrations and the accompanying commentary goes into more detail. The final section delves into the motifs that inspired NAUSICAA; it's basically the contents of Miyazaki's bottom drawer, and it's fascinating to see what was discarded and what was kept.
I've often said that no filmmaker has a more tactile tense of place than Miyazaki, and I think a lot of that comes down to the understated sound effects he employs. But that sense is still very present in static drawings, every one of which I'd be happy to stick in a frame and put on the wall. That there are two hundred pages of them is nothing if not gloriously overwhelming.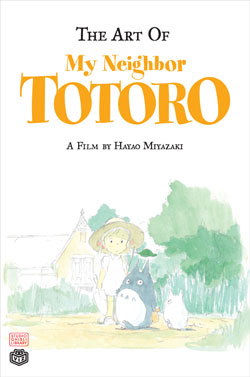 THE ART OF MY NEIGHBOR TOTORO
TOTORO is possibly my favourite of Miyazaki's films, and an even clearer glimpse than NAUSICAA into the types of story he would eventually tell.
The book begins with pencil sketches and watercolours, and compares the initial art to the final images used in the film. That sense of place is even more intense here, as the book gives you the chance to linger longingly on landscape and character details. The running commentary from Miyazaki and art direction supervisor Kazuo Oga is insightful, and discusses the process without ever getting overly technical. How they manage to make blighted power lines look gorgeous is a mystery. And yes, I'm getting effusive, but I dare you to try looking at this book without spewing hyperbolic adjectives.
The book ends with an article taken from 1987/1988 about "Totoro Studio", serialised at the time in Animage magazine. It's a nice way to end the book, a snapshot of what it was like to observe Miyazaki at work before so many (myself included) deified him.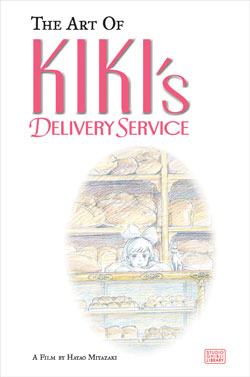 THE ART OF KIKI'S DELIVERY SERVICE
TOTORO's biggest contender for my favourite Miyazaki film is KIKI'S DELIVERY SERVICE (original language version -- I hate the English one!). I like how each of these books seems to be taking on a different format depending on what's required for the individual film. This book kicks off with a few articles about the origins of KIKI and how the story developed from the original book. There's some terrific detail about character development and colour temperatures, which is very, very clear. And the reason you know it was clear is that I managed to understand it.
After the articles, the book kicks into gear with an array of pencil sketches and watercolours contrasted against the final cels and accompanied with commentary from Miyazaki and other animators. The complexity of emotion given to Kiki and how her youth and innocence informs her expressions is very eye-opening. For both Kiki and the reader. My favourite part, however, is the design of the town of Corico, and Miyazaki describes how the city is the Japanese idea of what a European city looks like.
The third part of the book delves into the animation process: the camera work, the lighting and the techniques. The book ends with an illustrated screenplay, which is surprising in itself given such a thing could be released on its own. To find it as an additional extra in a book like this is more than a bit cool.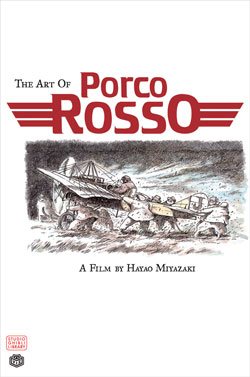 THE ART OF PORCO ROSSO
PORCO ROSSO is actually one of the few Ghibli films I've not yet seen, which is bad for my standing as a film geek, but good in this context so I can judge at least one book without my preconceptions of the film overwhelming my opinion. The book kicks off with look at what inspired the story, with articles and reprinted pages of the original comic. There's the two page concept of the film, and a lot of the usual concept pencil and watercolour work.
The character designs are amazing, and take up a good portion of the book. Half-way in, I'm desperate to see PORCO as soon as possible. Of particular interest is the extreme detail on how they designed the classic fighter planes featured in the film. As usual, my favourite part is the vistas, the lush backgrounds and detailed places that should exist in real life, but currently only live inside Miyazaki's head. If there is any cheap real estate going in his frontal lobe, please let me know.
There are some gorgeous illustrations that apparently take place over the final moments of the film, but I skimmed these so as not to be spoiled. There's a great section about the publicity for the film, including all the original posters. Then, as with KIKI, the book features illustrated screenplay. As much as I prefer his films in Japanese, I am grateful that the the script itself is in English! Most impressive is a translated comic by Miyazaki called "The Age of the Flying Boat" featuring Porco himself. Whether this is the comic the film is based on, or a spinoff, I don't know, but it's brilliant.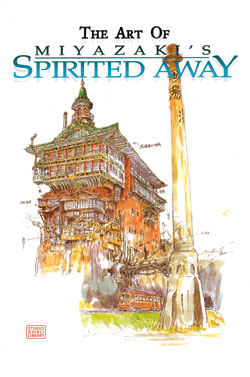 THE ART OF SPIRITED AWAY
Destined to be remembered as Miyazaki's crowning achievement, and certainly the film that alerted the wider public to the genius of the man, SPIRITED AWAY is done justice to perfectly in this book. Of course, this doesn't come as a huge surprise to me given how great the first four books were.
At this stage, I'm just repeating what I said earlier: lots of great concept art, both polished and sketched. Even having gone through four books already, this one is no less awe-inspiring. This is probably the best book yet, partly due to the imaginative surrealism that Miyazaki's quasi-"Alice In Wonderland" adaptation offers. The combination of gorgeous real-world locations and impossible creatures makes this an appropriately-dense book. There's less room for running commentary here, but this is made up for towards the end of the book, with some incredibly detailed pieces describing Miyazaki's "policy for digital", which includes utilising all the benefits of CG without letting it inform the look of the film. As a result, the descriptions of how the computers were used to complement the traditional animation is fascinating and very different from what has come earlier.
The book ends with the complete screenplay for SPIRITED AWAY in English. This is not illustrated, but with the amount of detail on offer throughout the book, the accompanying storyboards are hardly missed.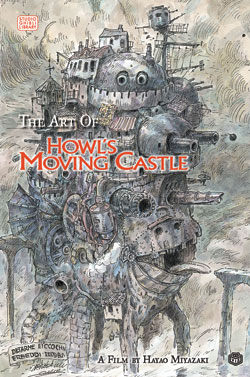 THE ART OF HOWL'S MOVING CASTLE
Despite the use of CGI, there's something about this film that always felt handmade. As such, the original concept art displayed here feels like the final product, an alternate angle on the film we saw. Seeing so much concept art remains fascinating, particularly the least-detailed sketches that only give the roughest idea of what the frame will look like.
There are some interesting contributions from other key crewmembers, and as much as I'm loving all the detail from Miyazaki himself, it's good to read other takes. HOWL'S is many things, but it's also the culmination of all the experience Ghibli has had creating mind-blowing countryside. The double-paged spreads of the original artwork are predictably gorgeous. Astonishing is how the castle itself was designed, with detailed looks at how each individual element was created and then fit together like a puzzle. Given the way the castle moves, this is not very surprising, but still very cool to see.
There's a real sense that the animation is being pushed with every film, with more risks and more ambition as the confidence grows. It's also interesting to pick up on running themes throughout the films: the bird creature that Howl feels very reminiscent of the artwork that the character Ursula paints in KIKI'S DELIVERY SERVICE. It's the sort of detail you can pick up on by the detail examination that books like these allow.
There's even more detail on the CGI processes used by Ghibli, advancements that are reflected in the book. Concluding the package is the complete screenplay for the film.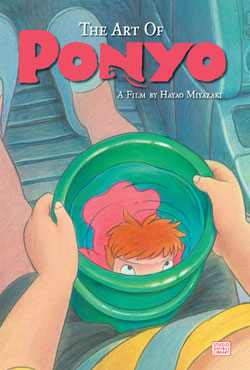 THE ART OF PONYO
In my reviews of PONYO (which, thanks to DVD double-dips and top ten lists, now number four on AICN alone), I commented on how much PONYO feels more like a throwback to his simpler TOTORO-style films. This is not to bely the scale of, say, a massive world-destroying sea battle, but the stakes always feel more important than that: like TOTORO, it feels like everything hinges on the relationship between two kids.
Perhaps because this is the most recent of the films, "The Art of Ponyo" feels like it has a lot more material to work with. The previous books haven't been lacking, but you do sense there is more stuff crammed into this one.
More stuff is good. There are the rough pencil sketches, the watercolours, the detailed paintings, and the final framed, all wall-worthy. The PONYO book is probably the best in terms of comparing initial sketches through the design phases to the final frame. It also ends with a complete script, and it always surprises me that it's not based on a classic children's storybook. Every time I see it, I want to go out and find that non-existent book, but this Art Of book does plenty to sate that desire.
If you have the money to drop on all seven of these books, I can't think of a better way to spend it. However, if you just want to pick up the book of your favourite Miyazaki film, any one of these will satisfy. I'm really hoping that we get a couple more for PRINCESS MONONOKE and LAPUTA, because those feel like the notable exceptions. These are extraordinary books I cannot recommend highly enough.
+ Expand All

Aug. 20, 2010, 12:25 p.m. CST

by Edited_Out

Aug. 20, 2010, 12:28 p.m. CST

by Edited_Out

Thanks for these reviews--Hayao Miyazaki is a master of his craft.

Aug. 20, 2010, 1:16 p.m. CST

by Rameses

Didn't do it for me.I love all the others and Spirited Away is a masterpiece,but Howl's just lost the plot.

Aug. 20, 2010, 2:03 p.m. CST

by CurlySue

I want to own these books.

Aug. 20, 2010, 2:52 p.m. CST

by Le Vicious Fishus

Also CASTLE IN THE SKY would be nice. Anyone want to buy some of these for me? I'm about to turn 40...<BR><BR>Please?

Aug. 20, 2010, 2:53 p.m. CST

by Le Vicious Fishus

Aug. 20, 2010, 2:58 p.m. CST

by gun_will_travel

from Castle in the Sky. Oh yeah, except Disney already did this and called it "Atlantis."

Aug. 20, 2010, 4:09 p.m. CST

by Dharma4

Aug. 20, 2010, 5:08 p.m. CST

by skimn

Those eyes looking up from the crotch area? Maybe I've seen one porn too many...

Aug. 20, 2010, 5:24 p.m. CST

by Dennis_Moore

and panty shots of little girls.

Aug. 20, 2010, 5:52 p.m. CST

by wampa 1

...but it sure smells good!

Aug. 20, 2010, 6:56 p.m. CST

by MiTior

Great reviews, I have the spirited away and howls moving castle. I'm now looking forward for the others

Aug. 20, 2010, 7:48 p.m. CST

by zacUpquark

I first saw it in '84 at Worlcon in LA, in Japaneese with no subtitles. It held a room full of non-Japaneese speakers spellbound. His other films are wonderful, but as a sci-fi guy, Nausicaa tops 'em all.

Porco Rosso is the best one, IMO !!! =)see it....

Aug. 20, 2010, 8:53 p.m. CST

by veritasses

One of the few in any medium who deserves that title.

Aug. 20, 2010, 10:08 p.m. CST

by Nasty In The Pasty

Aug. 20, 2010, 11:47 p.m. CST

by UltraTron

Say it isn't so!!! Walt Disney would never have approved of embracing such technology.

Aug. 21, 2010, 1:42 a.m. CST

by Player01

They are awesome. Then again, I've been to the Ghibli museum in Tokyo and that was awesome too!

Aug. 21, 2010, 4:56 a.m. CST

by zxcvbnm1988

welcome to: http://www.betterwholesaler.us The website wholesale for many kinds of fashion shoes, like the nike,jordan,prada, also including the jeans,shirts,bags,hat and the decorations. All the products are free shipping, and the the price is competitive, and also can accept the paypal payment.,after the payment, can ship within short time. free shipping competitive price any size available accept the paypal 90X Extreme Fitness System ONLY ONLY 42$$$$$$$ jordan shoes $32 90X Extreme Fitness System ONLY ONLY 42$$$$$$$ nike shox $32 Christan Audigier bikini $23 Ed Hardy Bikini $23 Smful short_t-shirt_woman $15 ed hardy short_tank_woman $16 Sandal $32 christian louboutin $80 Sunglass $15 COACH_Necklace $27 handbag $33 AF tank woman $17 puma slipper woman $30 90X Extreme Fitness System ONLY ONLY 42$$$$$$$ http://www.betterwholesaler.us

Aug. 21, 2010, 11:08 a.m. CST

by susankq1111

I strongly recommend ______ B l a c k w h i t e C u p i d * C o m ______ to you where I just found my interracial boyfriend! You know it is a great place to meet black men and beautiful women. What's kind of relationship do you want? ;)

Aug. 21, 2010, 12:33 p.m. CST

by MiTior

Aug. 21, 2010, 12:38 p.m. CST

by MiTior

Aug. 21, 2010, 12:52 p.m. CST

by Subtitles_Off

Great film. Period.<P>That is all.

Aug. 21, 2010, 10:37 p.m. CST

by xuebi

Hello. My friend URL: http://www.Yahcc.us The new update, a large hot FREE sHIPPING WE ACCEPT PYAPAL PAYMENT YOU MUST NOT MISS IT!!! thank you !!!

Aug. 22, 2010, 3:44 p.m. CST

by BoStrike1

How on earth has it come to pass that this film is almost never mentioned in articles/conversations about Miyazaki? I just don't get it. Even if the somewhat disjointed closing act keeps it from having the pollish of Spirited/Kiki/Totoro, the score alone should make up for this. I just find it strange how completely this film seems to be in the shadow of some of his other (less well made) films like Howls, Castle and Ponyo.