I am – Hercules!!
A terrible laughtrack sitcom from Lew Morton (who wrote "Walk Hard" with Judd Apatow), "Big Lake" is about a disgraced Wall Street wunderkind who takes up residence on his parents' Pennsylvania couch after he accidentally wipes out their retirement fund along with his employer's solvency. It stars Chris Gethard, who plays a clerk in "The Other Guys," as well as SNL vets Horatio Sanz and Chris Parnell. It's horrible, like "Til Death"/"Brothers" horrible, awkward and poorly acted and a tonal mishmash. The kind of sitcom that tries to milk laughs by putting cuss words in the mouths of old people. It makes one wonder how "Walk Hard" would have turned out without Apatow's involvement.
The New York Times says:
… starts at the bottom after the beating is over and most of the fun is long gone. … Broadly limned, "Big Lake" works neither as a satire — and it stops trying after the delivery of Josh's back story — nor as an adventure in surrealist comedy, and it is tough to watch the strain for eccentricity. …
The Los Angeles Times says:
… You don't really feel for any of these characters, but you're not supposed to. They are pawns to advance jokes. … what sold me on the pilot was the moment when 14-year-old Dylan Blue, as Gethard's beyond-the-law kid brother, revealed his dark side, and his gun; I was a little frightened. …
The Pittsburgh Post-Gazette says:
… The show's tone slips between sitcom cheese and push-the-envelope absurdity. … The laugh track is one of the least enthusiastic I've ever heard, sometimes with good reason. Some of the dialogue is old-school corny. … Maybe the show is trying to send up sitcom conventions even as it embraces them? Or maybe I'm giving "Big Lake" too much credit.
The Boston Herald says:
… Many of the jokes are non sequitur riffs that turn into endurance tests. The cast seems to be aware of it. In the closing credits, which consists of outtakes funnier than the episodes, Rush listens as Gethard finally winds up his monologue and then says, "I wanna go home." She's kidding. Maybe. Even the laugh track, which starts out as something out of a '70s sitcom, seems to give up. When you're bored on automated tape, that's a sure sign the material is all dried up.
The Boston Globe says:
… just a flat traditional sitcom built around lazy, repetitive jokes and audience cackles. It's just bad … doesn't much bother with the issues wound into its premise, going instead for gags we've seen in countless mediocre sitcoms across the decades. Norman Lear it ain't.
The Hollywood Reporter says:
… With this much bad acting and writing, this body of water should be declared a Superfund site.… just sit back and wait for "Lake" to finish swirling and go gurgle gurgle down the drain, making room for something that's actually funny. …
Variety says:
… isn't merely bad. It's "Wow, how did that happen given who's involved?" bad. … Beyond the marquee producer names Comedy Central is promoting, the real disappointment is that writer Lew Morton ("Walk Hard: The Dewey Cox Story") and director Don Scardino ("30 Rock") helped birth this mess, which is overplayed and obvious (except perhaps for Gethard's dismally uninteresting straight man) on every level. …
10 p.m. Tuesday. Comedy Central.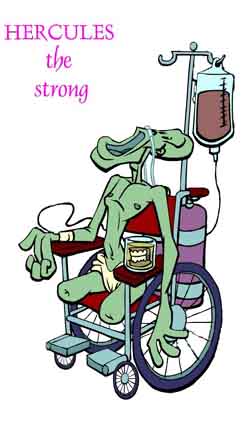 Follow Herc on Twitter!!
Follow Evil Herc on Twitter!!

$11.67 Blu BOURNE!!
Kubrick's Masterpiece In Blu: $8.49!!