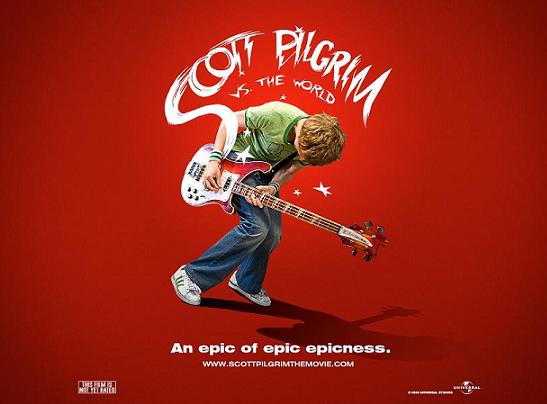 Vroom Socko Sees SCOTT PILGRIM VS THE WORLD With Oni Press!!!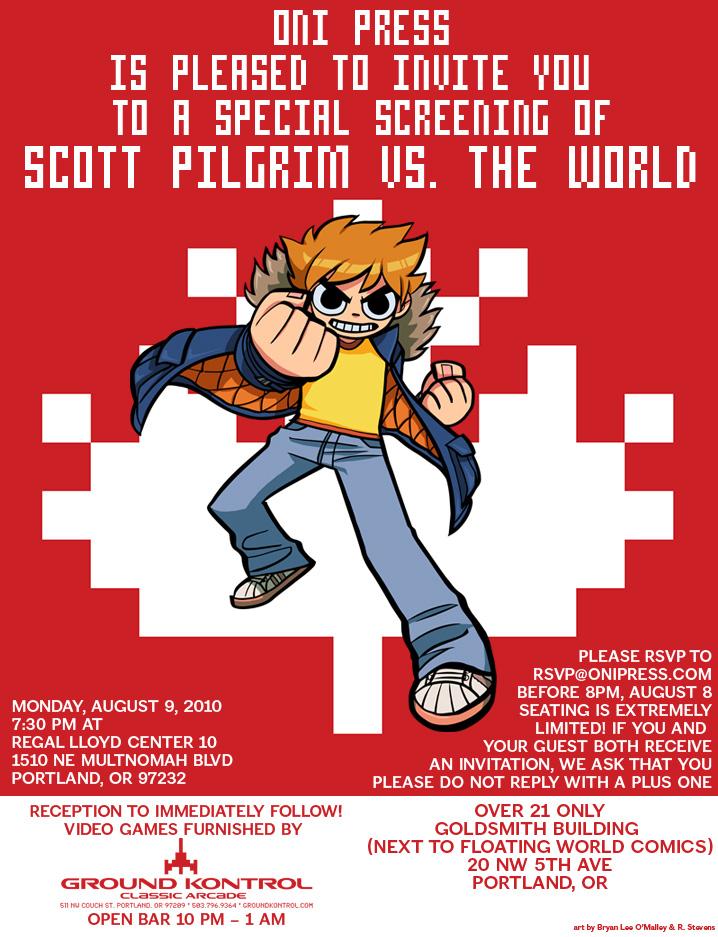 Hey, Vroom Socko here, and last night I saw SCOTT PILGRIM VS. THE WORLD. Now, if you're just interested in my thoughts on the movie the Talkbackers are already sick of, scroll down to the standard review header. Forgive me, but I have to gush about the screening itself. It wasn't just a screening, it was a party, and Oni Press publisher Joe Nozemack was the host. Not just at the theater: there was an after party downtown, complete with a host of classic arcade machines provided by Ground Kontrol. This included a digital projector running Street Fighter, which resulted in an impromptu round robin tournament. The only thing that topped that was the crowd that Oni Press had invited to this private showing.
Portland is the biggest comics town west of the Mississippi, and the people in attendance proved that. I saw seats filled with the likes of Jamie Rich, Joëlle Jones, Paul Tobin and Colleen Coover, Mike Allred, Greg Rucka and Jen Van Meter, James Lucas Jones, Kurt Busiek... I'm not sure, but I think I spotted Matt Wagner sitting in the back. Folks, this is the crowd to see a comic book movie with. A general audience may, may cheer when they see Edgar Wright's credit on screen. A Comic Con crowd would cheer Bryan Lee O'Malley's credit. This audience cheered Joe Nozemack's credit. Try and find an audience where that would happen. What my pathetic ass was doing there, I haven't a clue. Apparently, the people at Oni Press like my reviews.
But you're here for my thoughts on the movie itself, not idle gossip. So without further adieu:
---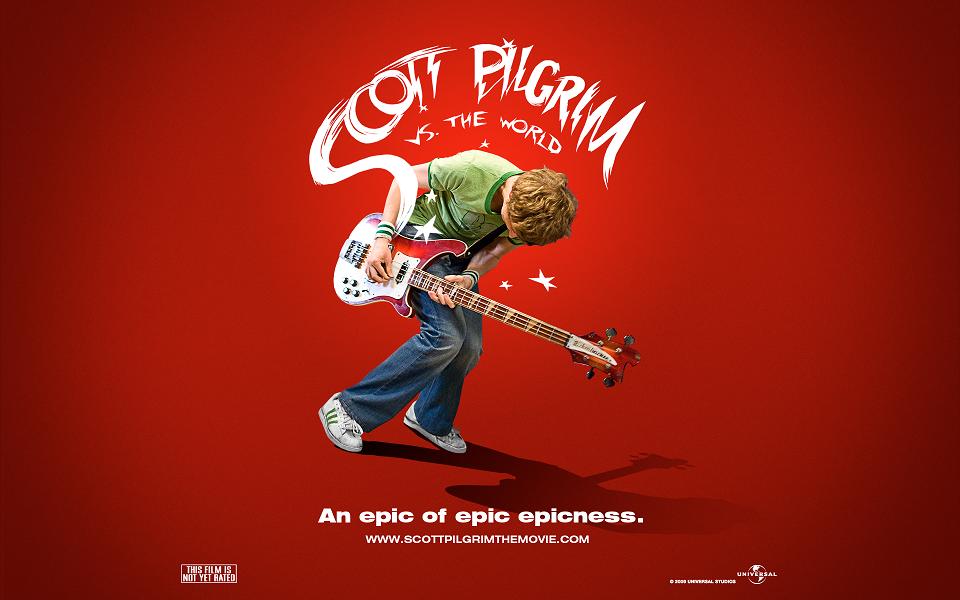 SCOTT PILGRIM VS. THE WORLD
Michael Bacall and Edgar Wright: Writers Edgar Wright: Director Universal Pictures: Distributor Vroom Socko: Don't talk to me about grammar!
Caveat: Going into this, I was a huge SCOTT PILGRIM fan, as seen in
my recent review of book six.
(For those keeping score, the series settled into my Top Ten at #8, in between Lee and Kirby's FF and PREACHER.) I was also a
massive
Edgar Wright fan, and this had me mildly concerned. You see, SCOTT PILGRIM is a twenty something romance filled with music, comic book, video game and general pop culture references. As is the first big success that Edgar Wright had. So as I took my seat, I couldn't help wondering, "Is this going to play out like SPACED in Canada?"
I needn't have worried. Sure, there were a couple of bits that had a SPACED vibe: the SEINFELD reference for one, the running gag involving Scott's hat for another. (It didn't hurt that the hat looked like something that Tim would wear.) Fortunately, these jokes worked in the context of the film. I wasn't thinking "That's like something out of SPACED!" while I was watching, mainly because I was too busy laughing my ass off. Getting a laugh wins out over other considerations.
Now, for those of you who are visiting Ain't It Cool for the first time in your life, SCOTT PILGRIM VS. THE WORLD is centered on the titular Scott Pilgrim (Michael Cera.) He's the bass player of the Toronto based band Sex Bob-Omb, along with guitarist Steven Stills (Mark Webber) and drummer Kim Pine (Alison Pill.) He doesn't have a day job, but he does have a 17 year old girlfriend called Knives Chau (Ellen Wong.) Then one night, a strange woman appears in his dream, then shows up in real life. This woman, one Ramona Flowers (Mary Elizabeth Winstead,) ends up having a night on the town with Scott. This puts Scott on the radar of Ramona's seven Evil Ex Boyfriends, who each challenge Scott in turn in single combat to the death.
I have to admit that I'm not a big fan of Michael Cera, although I hold no dislike for him either. I've only really seen him in JUNO, where he was solid if not very memorable, and SUPERBAD, where he was funny but overshadowed by Period Pants and McLovin. Sorry to those who venerate the show, but this does mean I haven't watched ARRESTED DEVELOPMENT. Sorry, but Will Arnett makes me break out in hives. Anyway, here Cera has to carry the bulk of the film on his shoulders, and he does a damn good job. He's convincing not only as a likable doofus, but also as a skilled, cunning fighter, and as a bit of a sad sack who manages to grow into a self-confident heroic figure. He and Mary Elizabeth Winstead also play off of each other rather well, particularly during their first date. There's an innocent charm to these scenes that was romantic as anything.
The funniest part of the movie though is easily Scott's gay roommate Wallace Wells (Kieran Culkin) It's almost impossible to describe, but seeing him stumble drunkenly into his apartment, collapse face first into bed, then texting while asleep is comedy the likes of which not put to film since the death of Harpo Marx. There's also Ellen Wong, who IS Knives Chau. Her scenes just sparkle. She has an eagerness, along with a straight up cuteness that is inherently watchable. Not to mention the fun when she picks up her namesakes and starts to kick ass. Hell, she makes Hit Girl look like a little kid.
Then there are the flashback moments, where Ramona talks about how she met her various Ex's. These scenes are essentially cut straight from the books, motion comic-stlye. Some of you may disagree, but I adore O'Malley's artwork, and seeing it on a 60 foot wide screen is a delight.
The only part that really doesn't work for me is Envy Adams (Brie Larson) Nothing against Ms. Larson, but the character feels too flat. Also, she's built up as this unspeakable horror throughout the first half of the movie, shows up alongside the Third Evil Ex, then disappears and isn't heard from again. There's not really a full sense of completion to her part of the story. Also, two of the Ex's, the Twins to be specific, are incredibly short-changed in comparison to the other Ex's. I'd have liked to have gotten into their heads at least a little bit, since they're some of the more cerebral villains in the book.
This is not to say that I wanted a SCOTT PILGRIM movie that is slavishly devoted to the books. That way lies Chris Columbus directed HARRY POTTER films. In fact, one of my favorite moments in the film is the payoff to the extra life gag, which is nothing like how the moment plays out in the book. In point of fact, I think the movie uses the conceit
better
than the book does. Then there's the confrontation that Scott has with his dark side, which took a turn I was not expecting, and had me in stitches.
And really that's the important thing: this movie is funny. Richly funny. Romantically, charmingly, sweetly AND violently funny. Is it the best movie of the year? No. That's still INCEPTION (Based on what I've seen, at any rate). But SCOTT PILGRIM
is
the most entertaining movie of the year. In fact, if I may reveal a small secret, there was a screening at the end of July that I also managed to attend. That makes this the only movie this year I've seen in the theater twice. And I plan to finally pay to see it a third time this weekend. You should do the same.
Vroom Socko, also known as Aaron Button, is a Portland, Oregon native who loves comics, movies, and the Portland Timbers. He doesn't make it over to Ground Kontrol as often as he'd like, but when he does you can usually find him playing the DOCTOR WHO pinball machine.
---
Editing, compiling, imaging, coding, logos & cat-wrangling by Ambush Bug Proofs, co-edits & common sense provided by Sleazy G
---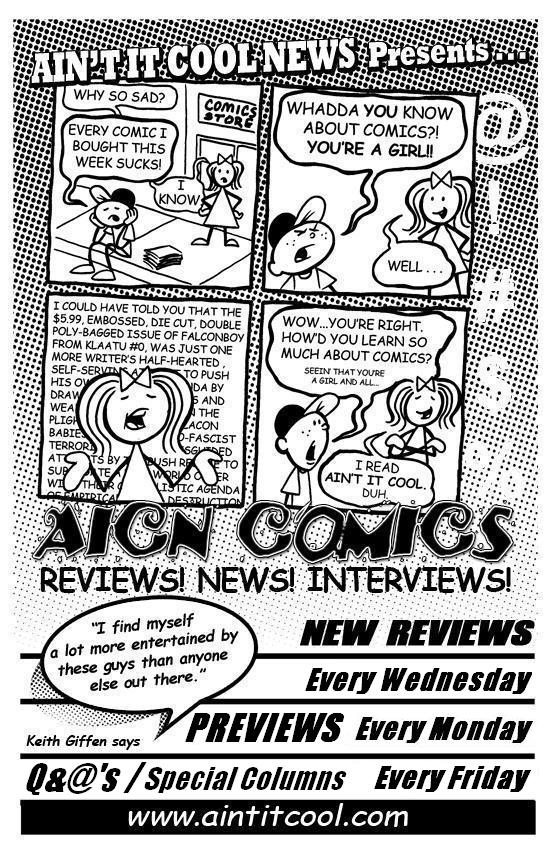 Ad by Prof. Challenger