Hola all. Massawyrm here. You know, when I hear people joke and sneer about pretty boy Zac Efron, I can't help but think back to ten years ago. Remember when we used to joke about that Australian kid Heath Ledger? Or a few years before that when that kid from the last season of GROWING PAINS was doing drug induced Shakespeare and TITANIC? Or the beefcake from COOL WORLD before that? Or a few years earlier still when we joked about that 21 JUMPSTREET kid that we always giggled about getting eaten by a mattress in A NIGHTMARE ON ELM STREET? Yeah. Good times. We joke an awful lot about pretty boys. We're also wrong about them enough to give me pause when I start to hear *so much* groaning. Now, I'm not saying Efron is decidedly in the same camp with the aforementioned powerhouses, but he could be. He's got the looks. The kid's got enough charisma to carry him through even mediocre films and come out on the other side as the best part of them. And he's definitely got chops. He was solid in last year's criminally underseen ME AND ORSON WELLES, but was pretty much smoked by the incredible performance of Christian McKay – who arguably had the much more interesting role. Here Efron gets to push his chops a bit further playing the conflicted – and strange – young title character, CHARLIE ST. CLOUD. Make no mistake, this isn't high art. It's a warm, fuzzy TWILIGHT ZONE episode, written and directed to appeal specifically to Twi-moms and their daughters. And it works. It is very effective at what it does, telling an interesting, emotional story that tugs occasionally upon cliché that will make the men in the audience groan as the women they're with swoon. Charlie is a winner. Best in his class at sailboat racing, he's earned a scholarship to Stanford and the hearts of many of his female classmates. He's got a little brother he thinks the world of, and makes a deal with him that every day, at sundown, they'll meet for baseball practice. Then Charlie and his brother both die in a car crash – but Charlie gets resuscitated. Guess who now possesses the ability to see and speak with the dead? What sold this movie for me is that it flashes forward five years. They skip all of the hullabaloo of this kind of story and turn our winner into the town weirdo. He's blown his whole ride to become the groundskeeper at a cemetery so he can play catch with his brother every day. Everyone in town thinks he's a freak – which he actually is – and then someone with an intense crush on him in high school comes back to town after becoming a renowned racer in her own right. You see where this is going? Sure you do. But the ride is enjoyable enough. Efron carries the film from beginning to end. There's enough emotion in the script to keep his character interesting, but not so much that it gets silly. My only genuine problem with the film is a tiny quibble about a major twist. I don't want to spoil it, but I will say this: if you plan on including a twist we've seen in another film, you should probably avoid using one of the actors from that film, no matter how good he or she may actually be. It's a twist I was hoping wasn't the case – but only because I liked it so much in another, arguably more likable film. Fortunately for CHARLIE ST. CLOUD, not as many people have seen said film, so they might not see the final turn coming. To its credit, the film comes up with a perfectly reasonable explanation (cinematically speaking) for the twist – something the previous entry hadn't. I enjoyed the film, but have to say honestly that as big a baby as I can be for an emotionally charged film like this, it didn't moisten my eyes in the slightest – no matter how hard it tried. I felt connected, but not truly invested enough to feel a twinge of tears. That didn't stop a number of audience members, but it didn't manage to get *me*. When all is said and done, CHARLIE ST. CLOUD is a good film. It's adorable, sweet and a perfectly harmless date movie. Overall, it will most likely be one of Efron's forgotten films, adored by some of his more devoted fans but ignored by everyone else. I'm really liking what I see out of Efron. If he can grab hold of a few risky roles – his 12 MONKEYS or DARK KNIGHT or DEAD MAN – he might be able to pull out of his pretty boy phase and move into the level of respect he seems to be working towards achieving. This won't do it, but it will make his fanbase swoon a bit more. And frankly, you could do a lot worse. If you have a date this weekend, and you want to set a romantic tone, I'd mark this down as the pick to do the trick. Until next time friends, Massawyrm

Got something for the Wyrm? Mail it here.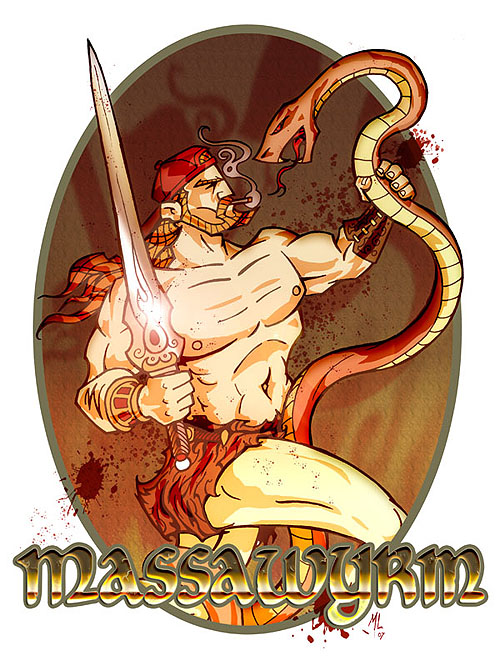 Or follow my further zany adventures on Twitter.