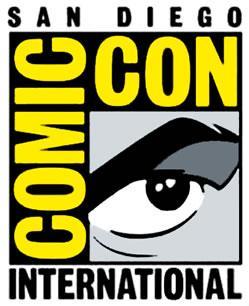 Hey folks, Ambush Bug here. So I finally arrived in San Diego yesterday after a grueling airport experience. I'm about to head in, but I wanted to remind everyone about my panel later today before I go. Much like last year where I hosted a chat about comics and horror with some fantastically talented chaps, I've teamed up with producer Peter Katz again to put together a panel full of horror's up and coming voices. We're calling it "Horror Filmmakers Discuss the Art of Fear" and we're going to see what it takes to make horror in today's Hollywood. Slated to be on the panel are:
Kevin Grevioux (Co-writer/actor of UNDERWORLD and creator of I, FRANKENSTEIN) Dan Myrick (Co-writer/Co-director of THE BLAIR WITCH PROJECT) Todd Farmer (Scriptwriter of MY BLOODY VALENTINE remake) Adam Gierasch (NIGHT OF THE DEMONS remake director and co-writer) Jace Anderson (Co-writer of NIGHT OF THE DEMONS remake) Steven C. Miller (Director of AUTOMATON TRANSFUSION & SCREAM OF THE BANSHEE) Ben Ketai (Scriptwriter / director of DARK DAYS: 30 DAYS OF NIGHT 2) And just added, Darren Lynn Bousman (director of the upcoming MOTHER'S DAY remake and SAW 2).
I want to invite all who are attending the comic con to stop by the Marriott Hotel in the Marriott Hall 2. It is right next door to the Convention Center (at the Hall A end). The address is 333 W Harbor Dr, San Diego, CA 92101. This panel will take place on Thursday, July 22 at 4:00pm-5:00pm. The event will be filmed and pics a plenty will be snapped. So come dressed in your favorite horror get up and I'll post them here on AICN!
My buddy and fellow @$$Hole superhero and I will be at the con all week, so drop us a line if you want us to stop by your booth, give us free schwag, or just shoot the merde about comics over beers and unhealthy food. I'll be reporting all week from San Diego, so look for updates starting tomorrow. So if you can't make it, I'll give you the next best thing by reporting all that I see, hear, smell, and drink while at the con. Hope to see you all there!
Ambush Bug is Mark L. Miller, original @$$Hole / wordslinger / reviewer / co-editor of AICN Comics for over nine years. Check out his ComicSpace page for his entries in Cream City Comics' MUSCLES & FIGHTS VOL.3 and MUSCLES & FRIGHTS VOL.1 anthologies. Bug was interviewed here & here (about AICN Comics) and here & here (on his VINCENT PRICE PRESENTS: THE TINGLER comics). Bug's latest comic is VINCENT PRICE PRESENTS #21: WITCHFINDER GENERAL (available in May's Previews Order # MAY100828) on sale in July. Fanboy Radio recently interviewed Bug about it here. Bug was also interviewed here & here about his upcoming original vampire miniseries NANNY & HANK (available in June's Previews Order #JUN100824) due out in August.