Hola all. Massawyrm here. For quite some time I've argued that no one, short of Gore Verbinski, was ever going to make a great video game movie. And I've gotten mail for years about that from many of the diehard video game fans out there, arguing the contrary, clapping as loud as they can with hopes of keeping that little Tinkerbell alive. Video games are just structured differently from movies, but often borrow very heavily from television and film, and turning them into films is often effectively adapting one film from an adaptation of another. And often a lot gets lost in the translation, not unlike babelfish poetry. There have been a few noble attempts, but mostly nothing but a field littered with cinematic catastrophes. As of this writing, no one has actually made a great video game movie. But now someone has at least made a good one. PRINCE OF PERSIA: SANDS OF TIME is the very model of a summer blockbuster: fast paced, pretty and loud. The lead is beefy and handsome, the romantic interest dazzling and almost impossibly beautiful. And there is a whole lot of interesting action, interrupted occasionally by surprise performances from top notch character actors. But there is little, if any, substance. It is good old fashioned Jerry Bruckheimer cotton candy entertainment; sure it's tasty, but it evaporates on your tongue the moment you touch it. The film suffers from one, sad, crippling flaw that is unfortunately inescapable. Adapted from the video game of the same name, the filmmakers borrowed the game's most interesting element – a dagger that acts like GALAXY QUEST's Omega-13, giving the hero a gigantic reset button that allows him to take back a short amount of time and repair a single mistake (or two.) While this sounds like a great idea to build a movie around, it also serves to undercut the primary tension of the film. How are we supposed to feel emotionally connected to anything that happens when, no matter how tragic the event, the sands of time can be swept back and all the wrongs can be undone? This creates an enormous disconnect as characters die, but we never feel like it is forever – even if it is. There's always this lingering feeling that our hero could undo it at any time. While this concept is fun to play around with and creates some visually arresting scenes, it ultimately leads to the film's hollow feel and leaves the audience wanting. Fortunately, everything else in the movie fires on all cylinders. Were it not for the aforementioned disconnect, this might have had a chance at being something fairly substantial. Gyllenhaal and Arterton absolutely smolder together. Their chemistry is undeniable and their snappy dialog gives this a very classic, romantic adventure feel not unlike the old Errol Flynn films. Jake Gyllenhaal nails the honorable rogue hero role in a way I don't think many had him pegged for. He's spent so much of his career brooding on screen, that I personally didn't think any amount of sit-ups or glistening body oil could transform him into an action hero – but instead he turned on the charisma and gave off this very Kurt Russell/Harrison Ford-like vibe unlike anything I've seen out of the modern crop of actors. He's incredibly likable with an ability to take even the stiffest piece of dialog and make it sing. Similarly, this is a career making role for Gemma Arterton, who while noted for her beauty before, has never been allowed so much leeway to command the screen as she was and does here. Throw in a fun performance by Alfred Molina as an unscrupulous, Middle Eastern Tea Party/Right Winger parody (that will certainly turn heads while simultaneously getting laughs), and a nice turn by Ben Kingsley and you have everything you need for a good old fashioned, Bruckheimer summer blockbuster. The action is goofy but fun, the effects are interesting and at times stunning and everything pulls together nicely to keep you thoroughly entertained while occasionally even laughing. Of course, you can make a successful drinking game out of people uttering the phrase "Prince of Persia", and the film's conceit really does eradicate a few of the bold choices the story makes, so when all is said and done, this proves to be another fun, but forgettable, night at the summer cinema. If this movie remembered for anything, it will be for making A-listers out of its stars. Outside of that, Bruckheimer haters will hate on it and families will flock to it. Worth a watch, but nothing you'll be heartbroken for having missed.
Until next time friends, Massawyrm


Got something for the Wyrm? Mail it here.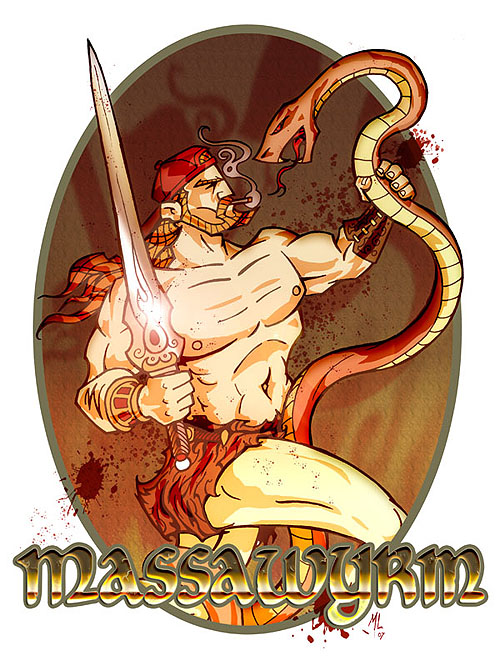 Or follow my further zany adventures on Twitter.