@@@@ What the #$%! is AICN COMICS: Q&@? @@@@
AICN COMICS: Q&@ is our new semi-weekly interview column where some of your favorite @$$Holes interview comic bookdom's biggest, brightest, newest, and oldest stars. Enjoy this latest in-depth interview filled with @$$y goodness and be sure to look for more AICN COMICS as we gaze into the future of comics every week with AICN COMICS: SPINNER RACK PREVIEWS every Monday and then join the rest of your favorite @$$Holes for their opinions on the weekly pull every Wednesday with AICN COMICS REVIEWS!
---
Q's by Ambush Bug!
@'s by WEDNESDAY COMICS' Jimmy Palmiotti!
Hey guys, Ambush Bug here with a Q&@ with one of comic bookdom's top talents, Jimmy Palmiotti. The hardcover collection of WEDNESDAY COMICS is coming out tomorrow and Mr. Palmiotti had a chance to talk about the book and his contribution to it. Check out what Mr. Palmiotti had to say…
AMBUSH BUG (BUG): Can you tell me a little bit about how you came to do your WEDNESDAY COMICS section of the book?
JIMMY PALMIOTTI (JP):
It all came about when the editor of the project, Mark Chiarello, gave Amanda and I a call and he explained the project and asked if we would like to do something for it. To tell the truth, it was quite an intimidating phone call to receive, especially after he went down the list of people involved in the project. I never thought I would be writing a story in a book that featured the work of Neil Gaiman, Joe Kubert, Paul Pope, Michael Allred, Kyle Baker and so on...it was a dream come true for me, and I got to work with my favorite artist as well...Amanda Conner.
BUG: Why'd you choose Supergirl for your contribution? Had you written the character before?
JP:
I had written Supergirl with my writing partner Justin Gray on issue 12, so I was familiar with her. The Idea of working on Supergirl came from Mark and I took my cues from Amanda. For me, I was willing to work on any character she was interested in illustrating. When Mark mentioned Supergirl, I brought up an idea I had for a while involving solar flares and how they would effect the Superman family of character's powers. Amanda mentioned that she wanted to include Streaky and Krypto in the story and we took it from there. We wanted to keep Supergirl a teenager, which we thought was important to the story as well as the idea that kids might be reading the book as well.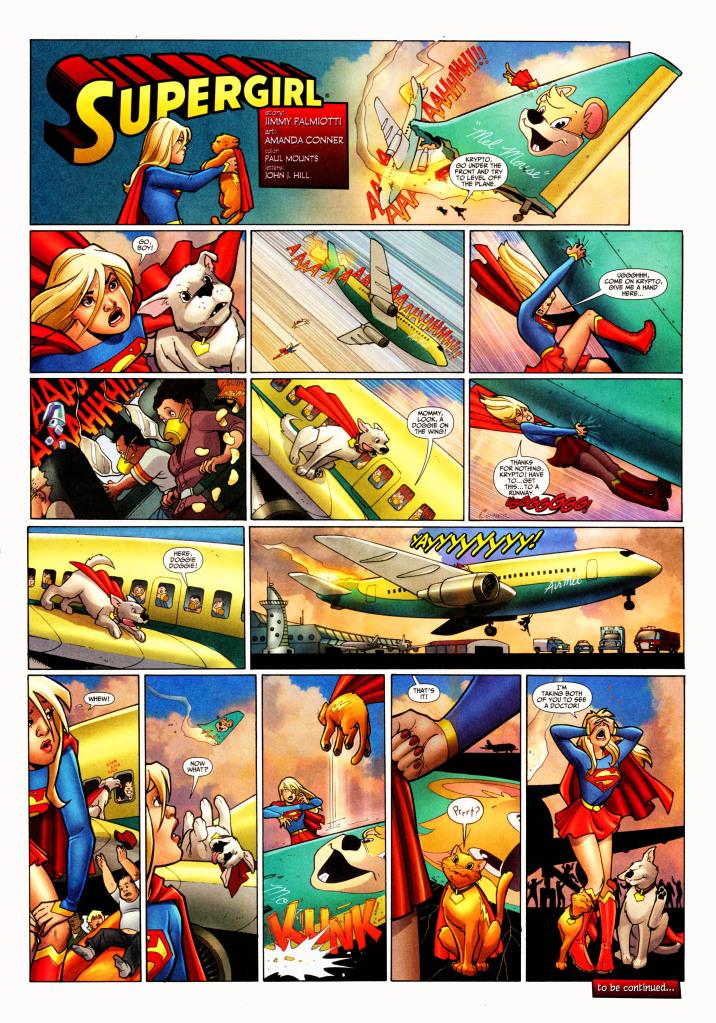 BUG: Was it difficult to structure a story to play out in one-page increments?
JP:
It was the first time I had written like this, so I was trying to figure out a way where if you only had read one page, you would get a full scene and idea...and at the same time, I wanted to make sure the reader had something that would pull him back to the strip and make them want to check out the next weeks installment. Amanda made all of this easy because she is such a natural storyteller...she understood what I was going for and was able to find just the right mix of panel breakdown and delivery. The best example of that is on the pages where Aquaman is a guest star. Her pacing and story instincts are always dead on.
BUG: DC ran a pretty big risk with WEDNESDAY COMICS. What did you think of the idea of doing a comic in a one-page newspaper format when you first heard of it?
JP:
I'm all for trying out new things and if it came from anyone other than Mark, I would have been a little skeptical that it could be pulled off correctly. When I first heard of the project, I thought it was an interesting idea, but I never dreamed it would come out this well. Looking back, it's obvious that in a way it was never a big risk in my eyes because of the talent involved.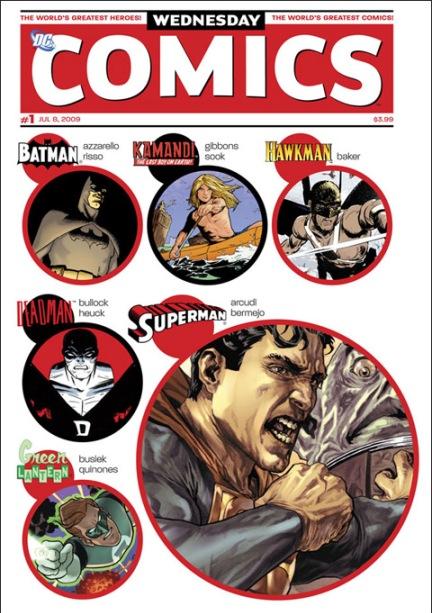 BUG: Now that it was a hit, are there plans for another WEDNESDAY COMICS and are you planning on contributing?
JP:
I am out of that loop but if we were asked to do it again, Amanda and I would in a heartbeat. There was nothing more fun than seeing all the families at the conventions and being told how much they loved the project.
One of the coolest things D.C. did was run photos of people reading WEDNESDAY COMICS with their kids on the online site.
Everything about this project was pure fun.
BUG: If you could choose a character you'd like to WED COMIC-ify, which would it be?
JP:
I always work with the artist's needs, so if I were teamed up again with Amanda, we would probably do something a little different, because we would want to mix it up. If I were not working with her, I would pitch a Jonah Hex strip featuring the art of Jordi Bernet. I think having a serialized western is a natural fit.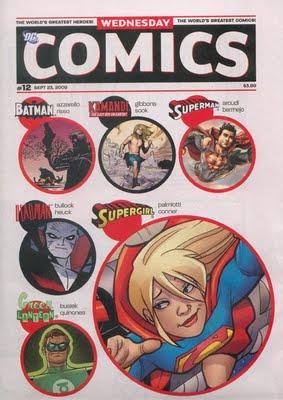 BUG: Have you seen the Hardcover Trade of all of the WEDNESDAY COMICS? What'd you think of it?
JP:
I have the hardcover right next to me and it's taking up half of my desk. It's a monster of a book that features some of the greatest artwork I have ever seen, so yes, I think it's just amazing. Its one of those perfect gift items you can give to just about anyone of any age...the work inside is timeless. The extras, as well, are really cool. I love seeing the sketches and breakdown of artists, and as well, the extra strips included that didn't make it to print really round out this bargain book. I will be giving a lot of these to people for birthdays and the holidays. I am really proud to be a part of this.
BUG: Is there anything else you'd like to pimp while you have the mic?
JP:
Well, I know I must sound like a broken record, but I would like to remind everyone to give JONAH HEX a shot. Its out the first week of every month and features an amazing guest artist each and every issue. Other than that, I would also like to mention RANDOM ACTS OF VIOLENCE, out from Image, and TIME BOMB from Radical Comics featuring the amazing art of Paul Gulacy. For the trade book lovers, I strongly suggest you give the first POWERGIRL trade collection a shot. I better stop now before the home shopping network calls.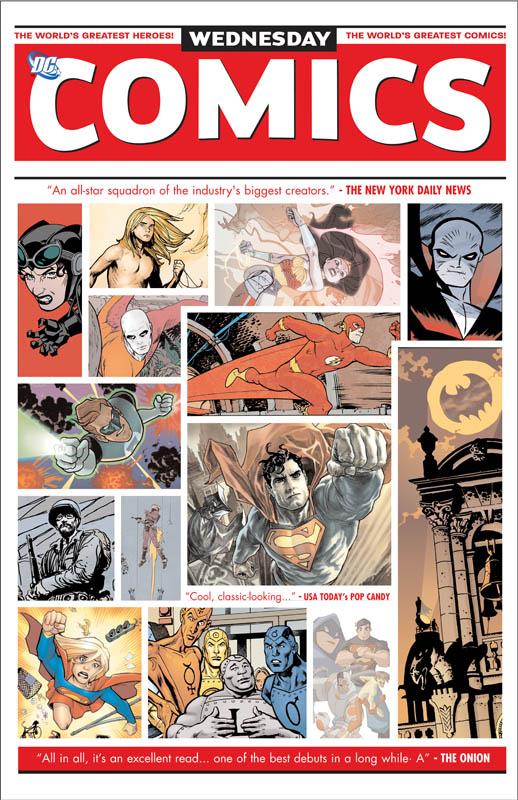 BUG: Last chance: why should everyone save their pennies to pick up the WEDNESDAY COMICS Hardcover Trade Paperback this week when it hits the stands?
JP:
Well, for those people who didn't feel like picking up the weekly because of size and storage and so on, you now officially have no excuse. Sure it's huge, but where else are you going to find this much talent between two covers? The packaging is brilliant, the printing beautiful and the price is dead on. You have no excuse not to buy this.
BUG: Sounds cool. So be sure to check out the beautiful hardcover edition of WEDNESDAY COMICS when it hits the shelves tomorrow!
Ambush Bug is Mark L. Miller, reviewer and co-editor of AICN Comics for over eight years and one of the original @$$holes. Check out his comic book shorts from Cream City Comics' MUSCLES & FIGHTS VOL.3 and MUSCLES & FRIGHTS VOL.1 on his ComicSpace page. Bug was interviewed here and here at Cream City Comics and here and here about his comic from Bluewater Comics, VINCENT PRICE PRESENTS: THE TINGLER #1-2. Look for more comics from Bug in 2010, including ROGER CORMAN PRESENTS DEATHSPORT in July, and the just announced vampire miniseries NANNY & HANK in August (and check out Jazma Online's new interview with Bug about NANNY & HANK here). Bug's latest comic is VINCENT PRICE PRESENTS #21: WITCHFINDER GENERAL on sale July 2010. Fanboy Radio recently interviewed Bug about it here. Order VINCENT PRICE PRESENTS #21 in May's Diamond Catalog order # MAY10 0828.
---
Editing, compiling, imaging, coding, logos & cat-wrangling by Ambush Bug Proofs, co-edits & common sense provided by Sleazy G
---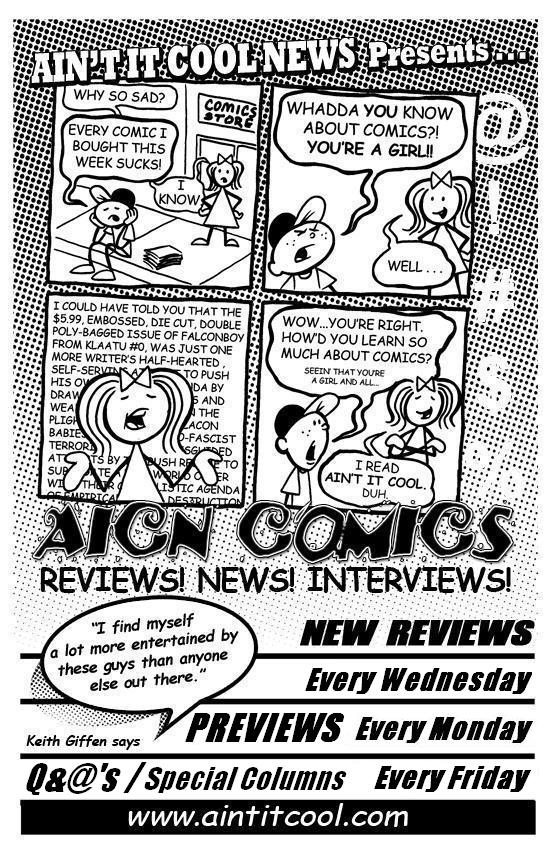 Ad by Prof. Challenger