@@@@ What the #$%! is AICN COMICS: Q&@? @@@@
AICN COMICS: Q&@ is our new semi-weekly interview column where some of your favorite @$$Holes interview comic bookdom's biggest, brightest, newest, and oldest stars. Enjoy this latest in-depth interview filled with @$$y goodness and be sure to look for more AICN COMICS as we gaze into the future of comics every week with AICN COMICS: SPINNER RACK PREVIEWS every Monday and then join the rest of your favorite @$$Holes for their opinions on the weekly pull every Wednesday with AICN COMICS REVIEWS!
---
Q's by Ambush Bug!
@'s by HAWKEYE & MOCKINGBIRD Writer Jim McCann!
Hey folks, Ambush Bug here with another AICN COMICS Q&@. One of my favorite miniseries of last year was NEW AVENGERS: THE REUNION when Jim McCann reteamed Hawkeye (then in Ronin garb) and his estranged wife Mockingbird back together again and let the sparks fly. Now Jim is giving us a follow-up ongoing series featuring the pair and he was kind enough to answer a few questions about it below…
AMBUSH BUG (BUG): So Jim, tell me a little bit about your new series, HAWKEYE & MOCKINGBIRD. Something about the title suggests Hawkeye and Mockingbird are in it...
JIM MCCANN (JM):
That they are! Clint Barton is back, in purple & blue, and sporting a bad @$$ bow & some mighty cool new trick arrows. And by his side is his lady love Bobbi Morse, a.k.a. Mockingbird, who is getting back to her spy roots. Together they are taking down big bads and major international threats…all the while seeing if they can actually make it as a couple who can be together on the battlefield AND the in the bedroom. Oh, and it's ongoing, so look for LOTS of twists and turns, now that we have the room to take these characters on a long & wild ride…and the audience along with them!
BUG: How does this fit in with your miniseries NEW AVENGERS: REUNION from last year?
JM:
It picks up threads from that mini--they are still figuring out this "dating" thing, something they never did since they eloped within days of meeting the first time around, then split up, then tried to make it work, then split again, then she got replaced by a Skrull, he thought she died, then he died, and then they both came back. So, yeah, issues. They've got 'em! They also have the WCA, which she put together in that mini. And then it's picking up on things they have been through during DARK REIGN and SIEGE.
All of that said, the awesome thing about these two is that they've gone through all this, but this book is their chance to start anew, so readers who have followed them for 20+ years will love it but it's not daunting or impenetrable to new readers who want to know what all the buzz is about!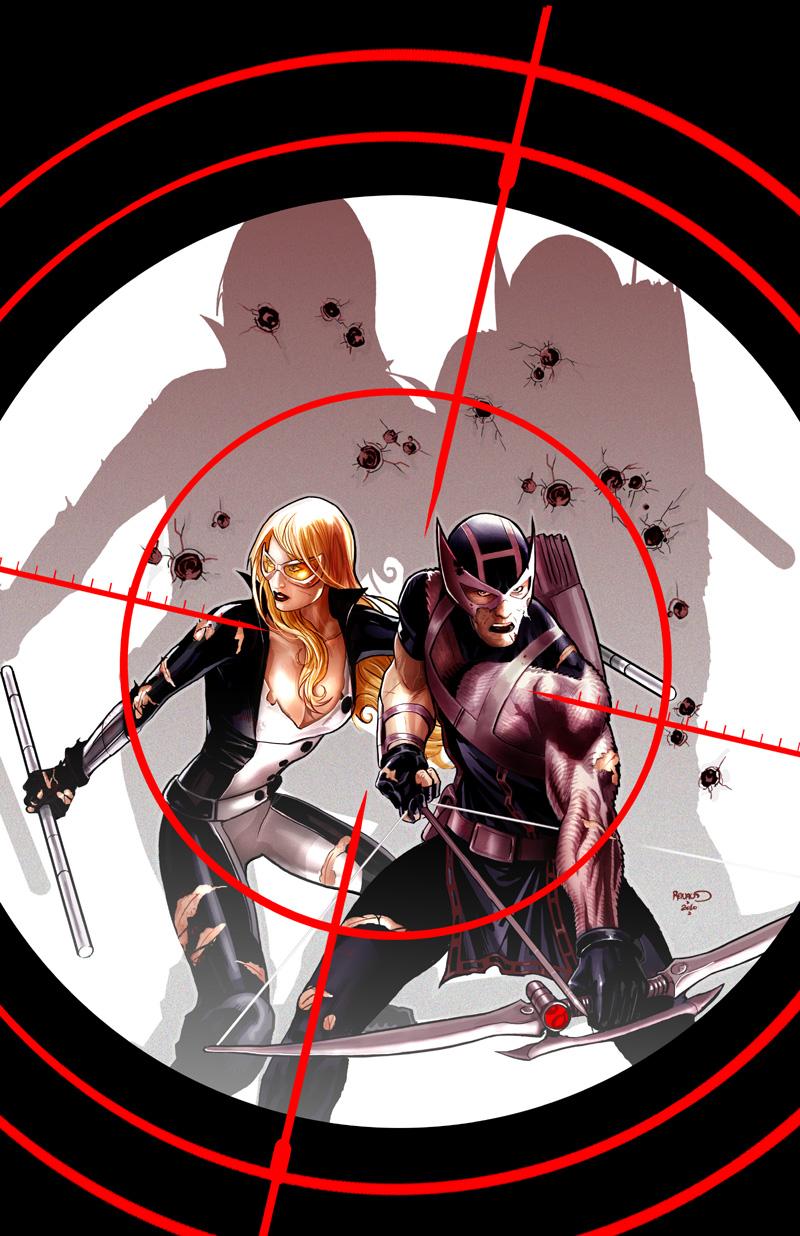 BUG: Looks like Clint is wearing his old Hawkeye costume here. Awesome to see! Was it important for you to have him back in the purple togs again?
JM:
Yes he is and I am so happy about it. Hawkeye has long been one of my all-time favorites. When I was on staff at Marvel, within my first week or so, I read the script for AVENGERS #502 (where Hawkeye died…apparently). I was as devastated as the readers were. And then we got Clint Barton back, but Clint had to find his place in the world, thus the Ronin identity. By the time I got to him in THE REUNION, Clint had started to find himself, was using a bow & arrow, but still wasn't ready to reclaim that Hawkeye persona. I think what Clint has learned in all of this journey is that he IS Hawkeye. It's not a persona or a costume--it's him. And he is the best at what he does when he is Hawkeye.
Now in the HEROIC AGE, he gets to show the world why he is the greatest marksman, the snarkiest Avenger, and the only guy who can make purple look that cool!
BUG: With this being an ongoing, will Hawkeye and Mockingbird be taking part in the big cosmic brouhaha coming up on the horizon as the next big Marvel event or will it be a self contained series?
JM:
No, we're all settling into our families and titles after SIEGE. . It's self-contained but we're still part of the Avengers family. The cosmic stuff (THANOS IMPERATIVE...check it out- it's going to blow your mind) is its own thing. Our book is staying on Earth. It's hard to shoot arrows in space. Besides, there is a LOT to keep Hawkeye & Mockingbird's hands full here.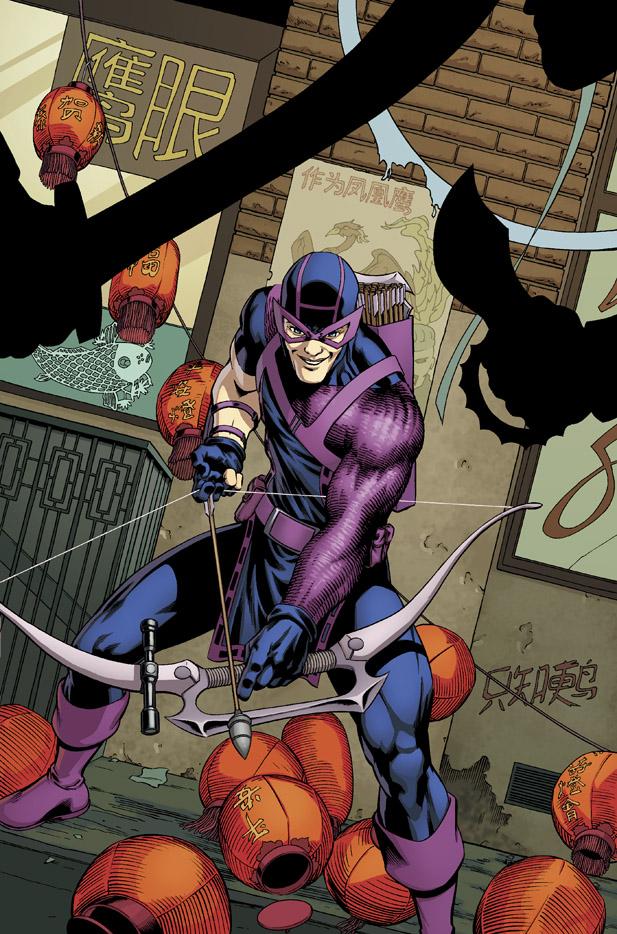 BUG: The W.C.A. shows up in this series. But it's not the West Coast Avengers. What does W.C.A. stand for and what's it all about?
JM:
The W.C.A. is started by Mockingbird. She was the co-founder of the original West Coast Avengers, and this time she's taken those initials that mean "family" to her, basically, and applied it to today's world and her mission--the World Counterterrorism Agency. This is an organization that is still forming, with Bobbi as the leader. You'll learn in the first issue their mission statement, where they operate, and how they stay in operation.
BUG: So who's on the W.C.A.?
JM:
Mockingbird, Hawkeye (who is used to leading a team, not following Bobbi's orders, which makes THAT fun), former S.H.I.E.L.D. agents who were abducted by Skrulls and came back to no more S.H.I.E.L.D.--you'll learn a lot more about them as the series goes on. Oh, and Dominic Fortune. Who he is and how he relates to Dominic Fortune that was last seen in his 60s or so is a mystery that will unfold.
BUG: The new Phantom Rider looks a bit different than I remember. What's his...her...this character's story?
JM:
Ah-ah, that would be spilling. In the first issue you will learn WHO the new Phantom Rider is and in the second you will learn HOW the new Phantom Rider is who it is. And paired with Hawkeye & Mockingbird's old nemesis Crossfire, who has seen an upgrade in weapons and bad-@$$ery, you will see WHY this deadly dup are the perfect foils for our heroes.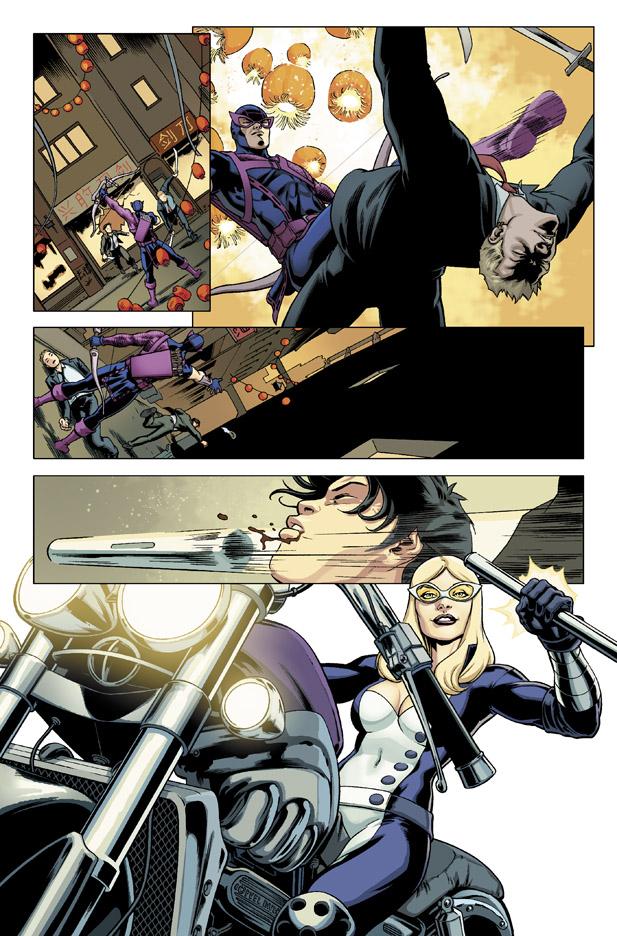 BUG: And Dominic Fortune. He looks a bit older than depicted in the recent DOMINIC FORTUNE miniseries. Wassup wit dat?
JM:
Again, that would be telling. You'll learn his role in the W.C.A. in the first issue, but his story is just unfolding, and it is central to Hawkeye & Mockingbird's in more ways than one.
BUG: Who's going to be the big bad for H&M in this series?
JM:
We've got the Phantom Rider and Crossfire up first, and they are pretty bad! Crossfire is the first foe our duo faced together and Phantom Rider is the only person who successfully destroyed them. Together, they spell life-changing threat for Hawkeye and Mockingbird. After that is top-secret, and things I am VERY excited to build to are coming--some vipers in their midst, pasts catching up to them, and maybe a certain evil robot or two.
BUG: You showed me some sketches at C2E2 of the art for HAWKEYE & MOCKINGBIRD and it looks fantastic. What's it like working with the artist for this series?
JM:
It's like the perfect marriage. David Lopez was my partner in crime for THE REUNION, and he has been waiting an entire year to get back to these characters. He's worked up some new tricks for them, designed an incredible HQ, and given them some pretty sick moves. Having worked together, we have developed a short hand. He knows what I'm going after in the script and then laughs and vaults over my head with his incredible pencils! He and Alvaro Lopez, our inker, know these characters inside and out and they are doing an amazing job of bringing the words on the page to life. Nathan Fairbairn has joined us as the colorist and together with our editor Bill Rosemann and assistant editor Rachel Pinnelas, team HAWKEYE & MOCKINGBIRD is ready to provide the most dynamic and explosive comic in the HEROIC AGE…no, make that of ANY comic. Yeah, I said it!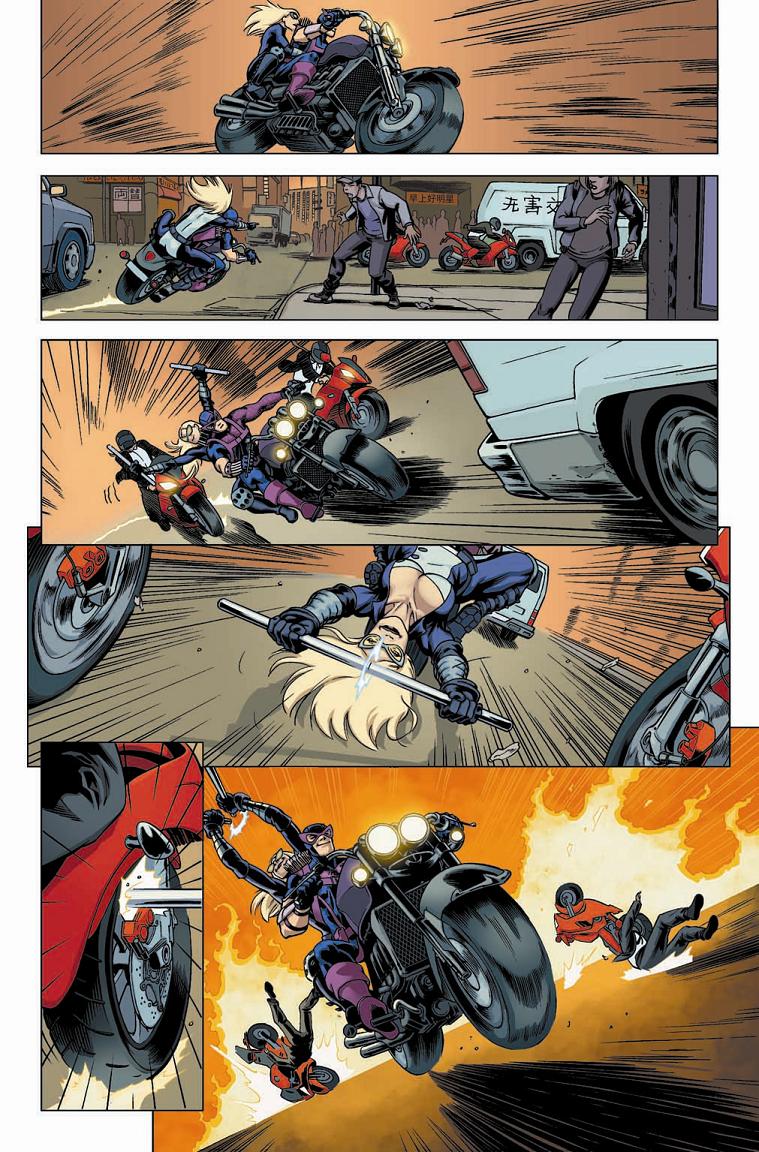 BUG: This one's for the Talkbackers at AICN Comics. Will we be seeing Hawkeye showing off his barbecueing skills in this series?
JM:
Hawkeye may be the one on the barbecue in this first arc! We waste no time with frying pans, they are smack in the fire from page 1. But IF things calm down, this new W.C.A. will need to experience his world-famous BBQ.
BUG: Looking at your upcoming projects, you've got some awesome ones coming up. First, we've got HAWKEYE & MOCKINGBIRD, two of my all time favorites. And you also have a DAZZLER one-shot coming out. And it looks to be Disco Dazzler! What can you tell me about this special?
JM:
DAZZLER #1 is a one-shot that is a NECROSHA aftermath issue. As people may know, I am a huge fan of the character and this is my chance to take her and try to define her, or start to define her, for today. In doing that, a character needs family and an arch-rival I feel, and in Mortis, a.k.a. Lois London (her half-sister who was in Selene's gang of killers in NECROSHA), she has both. Not only will Dazzler get to fight the demon that her half-sister has become, she'll also be facing a lot of her old baddies--perhaps you've heard of a few of them? Enchantress. Dr. Doom. Rogue. How?! You'll have to read it to find out. And in the midst of this madness, she'll have to fight her own worst enemy--herself. It's part all-out melee and part Luke going into the tree in Dagobah.
If you have ever wondered why this character has such a vocal and loyal fanbase and what makes her so popular, check this issue out on May 26th!
BUG: What else are you working on at Marvel these days?
JM:
It's a secret! Honestly, I am doing a few things here and there--most of which I can't talk about quite yet. I just left staff at Marvel after 6 years, so I am just ramping up my full time writing career. You'll hear news soon, though!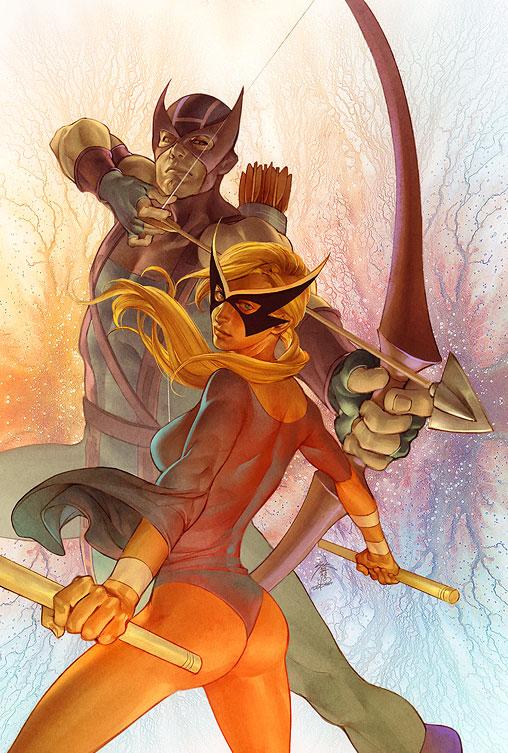 BUG: Anything else you want to pimp while you have the floor?
JM:
In October, I have my first OGN (original graphic novel) called RETURN OF THE DAPPER MEN, published by Archaia (the folks who bring you MOUSE GUARD, TUMOR, THE KILLER, FRAGGLE ROCK, DARK CRYSTAL…yeah, those guys!). My co-creator & artist is Janet Lee, an incredible gallery artist who I have been friends with for years. This is her first time working in sequentials and to say you've never seen a book like this would be an understatement. The story is a fairy tale, in the vein of classics like "Peter Pan" and "Alice in Wonderland", with a dash of Maurice Sendak and Shel Silverstein, some steampunk thrown in, and a touch of Clockwork Universe Theory. Oh, and 314 of the dapperest-looking identical men you'll ever meet. Who are they and why have they returned? Well, that's a whole different interview. Let's dive into that as we get closer, deal? (
BUG NOTE: I've seen pages of this OGN and this book has some of the most amazing art I've ever seen, be sure to check this one out!!!
)
BUG: Deal. Last chance, why should everyone save their pennies to buy HAWKEYE & MOCKINGBIRD and when does the book come out?
JM:
Because you love these characters! Because you love comics! Because you love everything cool and you will want to know what everyone is talking about on June 3rd when the book hits! Seriously, if you love spies, arrows, battle-staves, strong characters, evil villains, incredible visuals, and huge cliffhangers month in and month out, then HAWKEYE & MOCKINGBIRD is your book!
BUG: Thanks, Jim. And best of luck with HAWKEYE & MOCKINGBIRD!
Ambush Bug is Mark L. Miller, reviewer and co-editor of AICN Comics for over eight years and one of the original @$$holes. Check out his comic book shorts from Cream City Comics' MUSCLES & FIGHTS VOL.3 and MUSCLES & FRIGHTS VOL.1 on his ComicSpace page. Bug was interviewed here and here at Cream City Comics and here and here about his comic from Bluewater Comics, VINCENT PRICE PRESENTS: THE TINGLER #1-2. Look for more comics from Bug in 2010, including ROGER CORMAN PRESENTS DEATHSPORT in July, and the just announced vampire miniseries NANNY & HANK in August (and check out Jazma Online's new interview with Bug about NANNY & HANK here). Bug's latest comic is VINCENT PRICE PRESENTS #21: WITCHFINDER GENERAL on sale July 2010. Fanboy Radio recently interviewed Bug about it here. Order VINCENT PRICE PRESENTS #21 in May's Diamond Catalog order # MAY10 0828.
---
Editing, compiling, imaging, coding, logos & cat-wrangling by Ambush Bug Proofs, co-edits & common sense provided by Sleazy G
---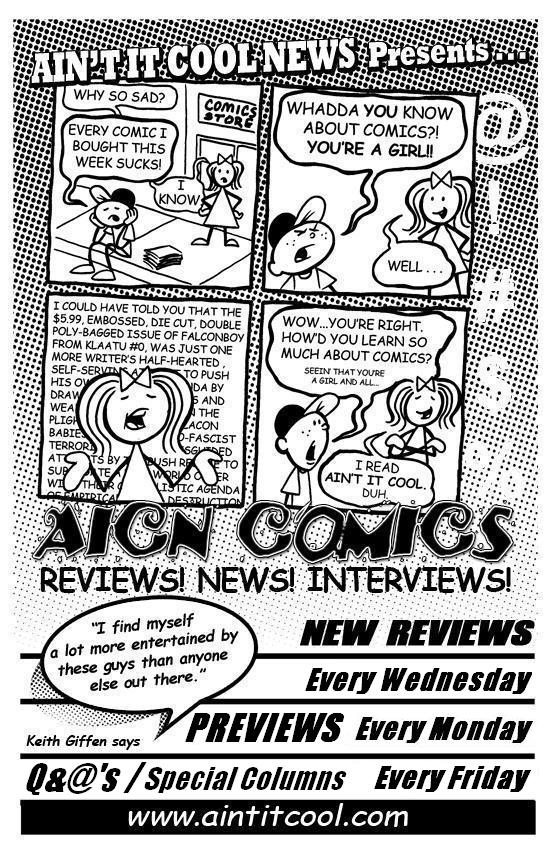 Ad by Prof. Challenger