@@@@ What the #$%! is AICN COMICS: Q&@? @@@@
AICN COMICS: Q&@ is our new semi-weekly interview column where some of your favorite @$$Holes interview comic bookdom's biggest, brightest, newest, and oldest stars. Enjoy this latest in-depth interview filled with @$$y goodness and be sure to look for more AICN COMICS as we gaze into the future of comics every week with AICN COMICS: SPINNER RACK PREVIEWS every Monday and then join the rest of your favorite @$$Holes for their opinions on the weekly pull every Wednesday with AICN COMICS REVIEWS!
---
Q's by Ambush Bug!
@'s by DV8: GODS & MONSTERS' Brian Wood & Rebekah Isaacs!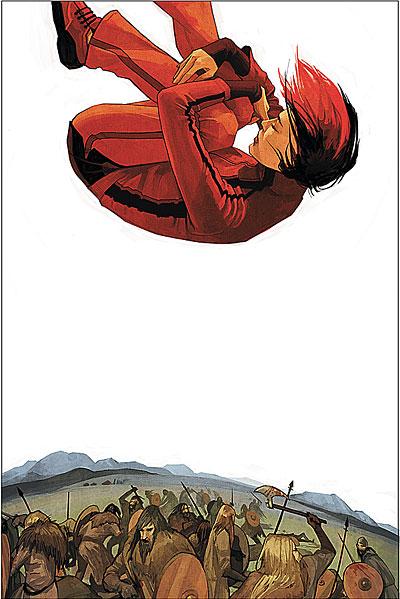 Hey folks, Ambush Bug here with another Q&@ with a pair of creators working on the new DV8: GODS & MONSTERS 8 issue miniseries: writer Brian Wood (who you may know from his smash hit Vertigo series DMZ and NORTHLANDERS, and his phenomenal work on his series LOCAL) and artist Rebekah Isaacs (who has worked on HACK/SLASH and SHEENA). I had a chance to talk with them about DV8, which hit the stands last week. Here's what the pair had to say…
AMBUSH BUG (BUG): For someone like me who knows next to nothing about DV8, can you fill us in about what the comic is all about?
BRIAN WOOD (BW):
Putting into the broadest terms possible, DV8 was/is a team of superpowered teenagers who are the black sheep of the larger superhero community within the Wildstorm Comics universe. They were lab creations, designed to be "bad", to be used by their handlers for a variety of black ops, assassinations, thefts, and so on. They were notable for not only being horrible, but for being horrible to each other. They have incredibly toxic relationships with each other that run both hot and cold, depending. All this means you can get some really interesting stories out of them. These characters are the epitome of conflict.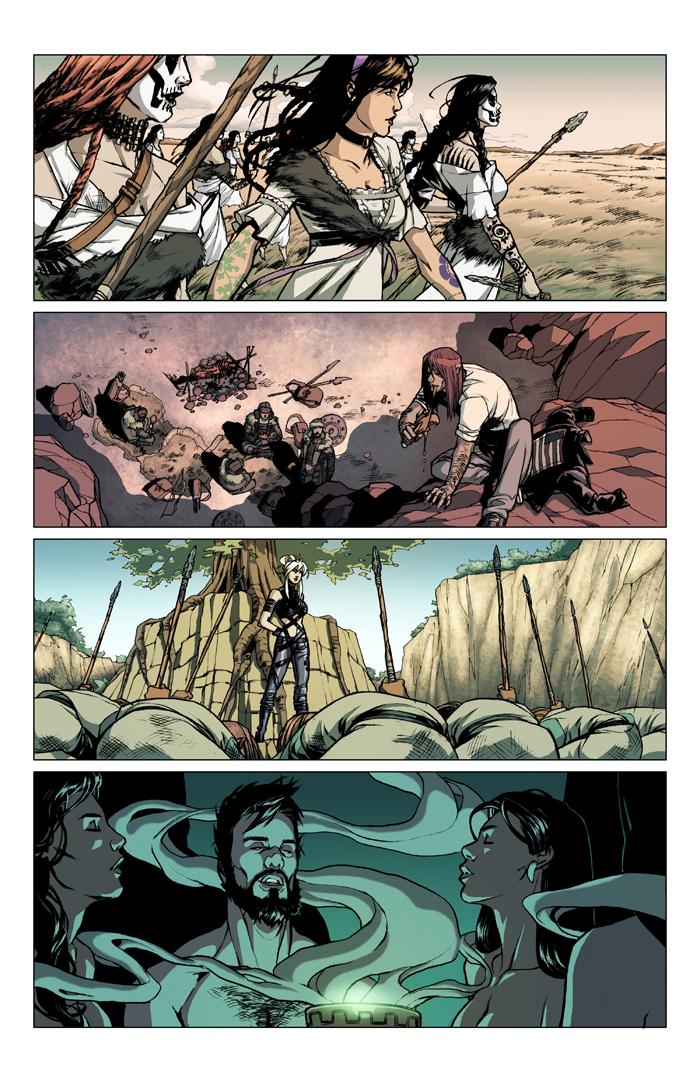 BUG: So tell me a little about your arc, DV8: GODS AND MONSTERS?
BW:
This story aims to take these characters and place them into a situation that is 100% guaranteed to bring out the worst in them. Straight away in the first issue we see they've been dumped into a Stone Age world, with native humanoids who, quite naturally, view the arrival of brightly clad super-powered kids literally falling from the sky as their gods. Have you seen that great Sean Connery film "The Man Who Would Be King"? The urge to play the part can be overwhelming. The DV8 characters - dysfunctional teenagers - are essentially offered this chance to be worshipped. And feared.
The big question that will unfold over the course of the eight issue is: why were they placed in this world? For some of them, answering this question becomes their mission. For others, they're just content to enjoy the ride.
BUG: What about DV8 attracted you to this book in particular?
REBEKAH ISAACS (RI):
For my part, I didn't start reading comics seriously until college, so I hadn't heard of the series until I got the job offer. So what really attracted me to the project was working with Brian. DMZ was one of the first ongoings I read from the start, so I was kind of in disbelief when I got a Facebook friend request from Brian before the first email about the project. I thought it was someone playing a prank or someone with coincidentally the same name!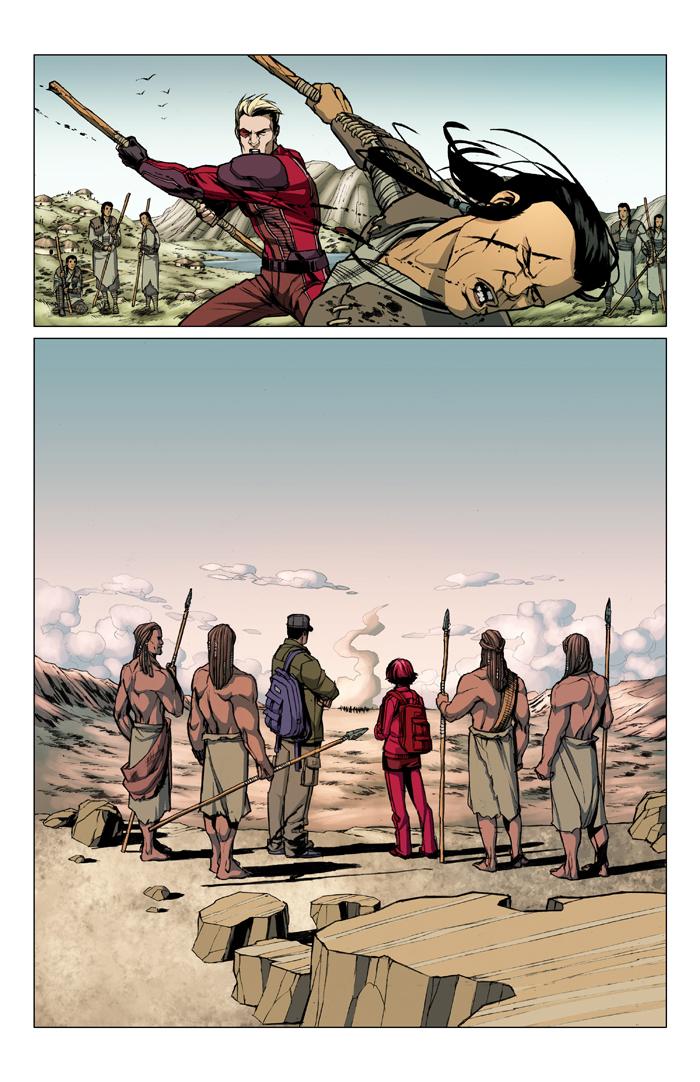 BW:
Like I said, the complexity of the characters is extremely appealing as a writer. Each of them comes with loads of built-in conflict, contradiction, and drama. As super-powered beings, their powers are very primal in nature. They can bring heat and cold, pleasure and pain, they can grow big and turn hard as rock. One of them, her power is the possession of multiple personalities. I find all of these to be quite clever manifestations of what being a teenager can actually be like.
BUG: Brian, were there any adjustements that had to be made to your writing style switching from the more mature themes of your Vertigo series NORTHLANDERS and DMZ to a book like DV8?
BW:
I think the only change I made was that I couldn't swear. Theme-wise, I didn't alter my approach at all. It was kind of a change of pace, though, to write a book with a cast of eight. I'd never really done that before.
BUG: So it's been almost ten years since we've seen DV8 in their own series. Where have they been all these years?
BW:
I don't know! I mean, I know what happens in the original series, but that series ended in 1999 and remains mostly out of print. That's far enough in the past that I felt like I could let it be and bring the book back with a new story that introduces the cast as they were when they were first introduced by Warren Ellis. I had to walk a line between honoring the old stories and making an accessible new series that isn't handicapped by continuity the average reader can't reference.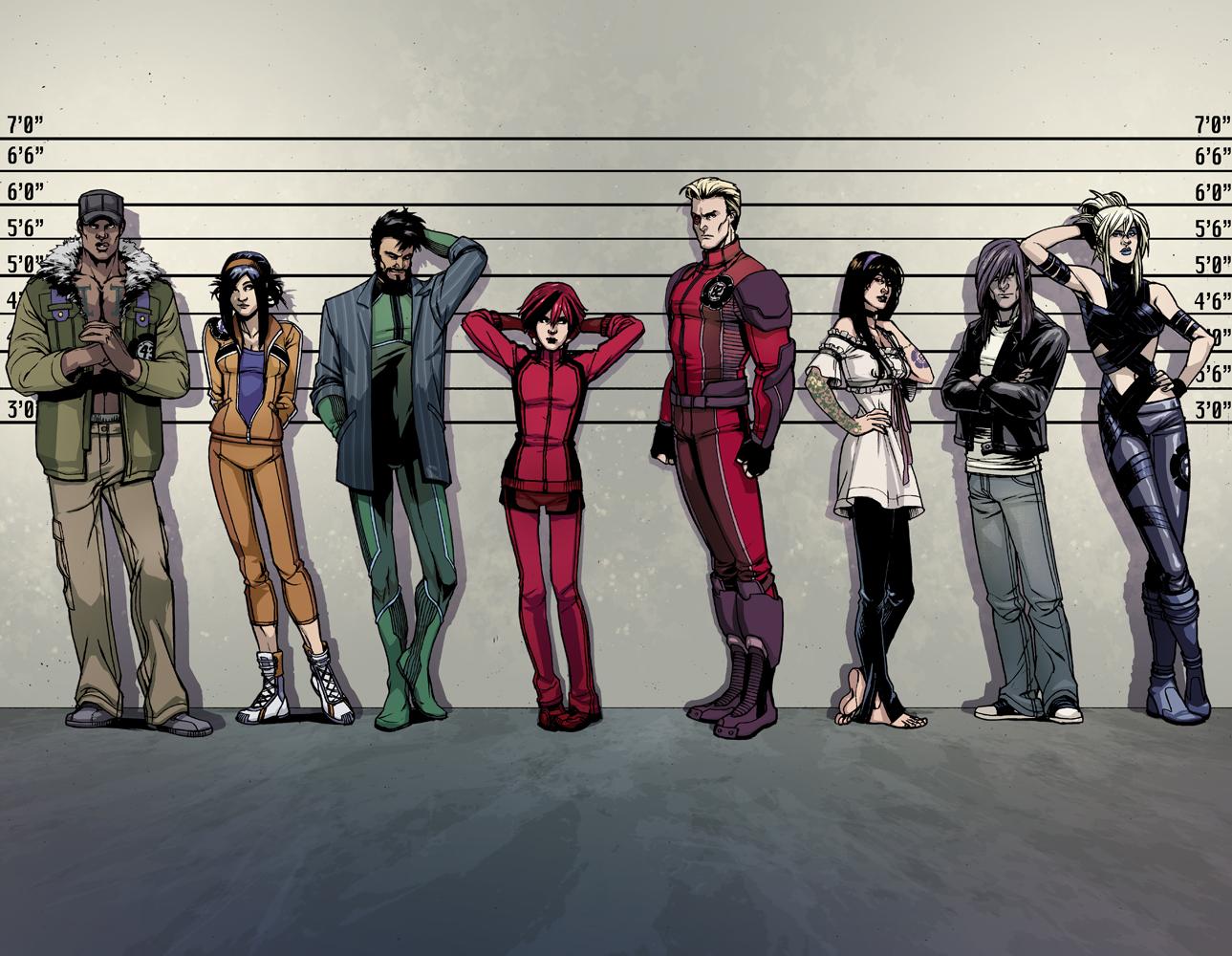 RI:
Definitely not forgotten. I've been amazed at the fan response from the announcements; I definitely didn't expect so much excitement and anticipation for characters from a series cancelled so long ago! They obviously had a serious hold on the people who read it.
BUG: Rebekah, what's it like working with Brian and Wildstorm?
RI:
Fantastic. Brian has an amazing sensibility for describing the mood or feeling of what he wants without dictating; as an artist himself, he trusts in the capability of other artists to make creative choices, but when he does see places where I could make a more effective choice in my storytelling, he's direct in his suggestions and I've learned a ton from his ideas. Ben Abernathy and the WildStorm team have been unbelievably supportive. When I was trying to break in, I always imagined editorial staff would be all about business 24/7 and pushing that perceived assembly line to its limit, but working with these guys has been like working with a group of good friends, and they have been supporting this book all the way and putting every effort into making it amazing.
BUG: Rebekah, what projects prepared you for taking on DV8? What else have you worked on?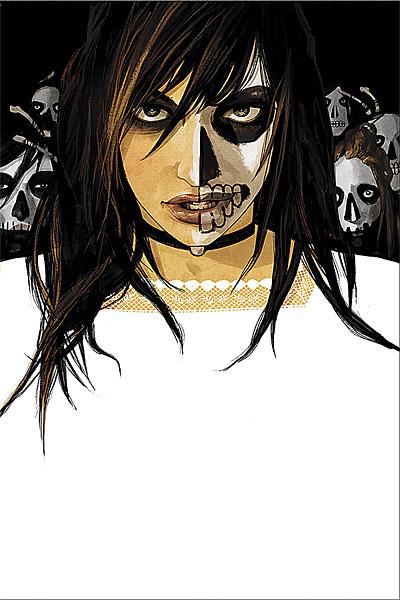 RI:
I've only been working professionally since late 2007, so I feel like every page I've done since then has been a stepping stone to this, and that I'm still coming into my style with every issue. I started as a fill-in artist on HACK/SLASH, then did DRAFTED and some SHEENA issues for Devil's Due as well. My work still wasn't quite polished enough for Marvel or DC at that point, but in the meantime I did some pages for indy writer David Murphy, and that work got me my first mainstream work at NYCC 08. The DV8 offer came out of that con, but I also got a Ms. Marvel fill-in that I completed before starting on #1.
BUG: Was it intimidating to take on this team of misfit characters that were written by Warren Ellis?
RI:
Definitely, especially considering I was following after Ramos' early work, and he's basically a legend now!
BW:
Warren Ellis may not have created them, but he sure as hell defined them as they are now. I know Warren, I've known him my entire career, and we've worked together a couple times, first with GENERATION X at Marvel and then a little bit with GLOBAL FREQUENCY. He doesn't scare me!
What was intimidating, though, was resuscitating this series that, as it turns out, has a pretty hardcore fanbase. I'm used to creating my own books, answerable only to myself. This has the potential to be quite a humbling experience.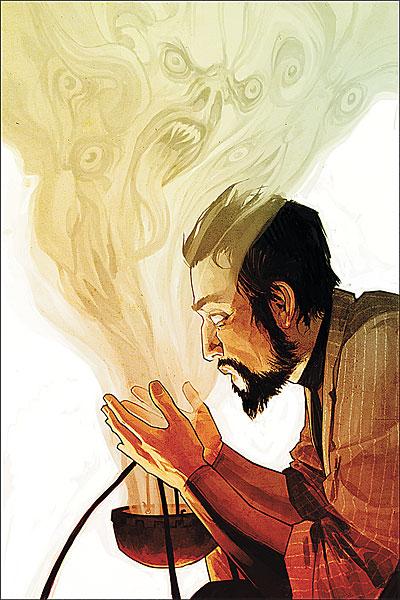 BUG: What can we expect to see in upcoming issues of this series?
BW:
Some really interesting character studies, how each DV8 kid copes with this massive, massive thing that's been put on their shoulders. It's a huge test of maturity, really, to see just how much this absolute power will corrupt them. The second issue is a favorite of mine, focusing on the character Bliss, who can give you fifty orgasms with a simple touch, should she want to. She falls in with a group of female warriors.
RI:
All the things you would expect from these characters: sex, drugs, violence, and destruction, mixed with some really amazing character studies. You might not expect to be able to feel sympathetic the so-called "bad kids" of the WS universe, but, not surprisingly, Brian makes it work.
BUG: Brian, what's next for you after this book?
BW:
Just my usual workload: the ongoing DMZ and NORTHLANDERS, concluding the new DEMO miniseries, starting up the second round of THE NEW YORK FOUR. And of course I'm talking to WildStorm about what to do next for them.
BUG: Rebekah, how about you?
RI:
A looooooong nap and a creator-owned project with my boyfriend Jon Price.
BUG: Last chance, why should folks go out and pick up DV8: GODS & MONSTERS #1 in stores right now?
RI:
It's totally unexpected. I was blown away when I first read the #1 script and series synopsis, and I think readers will be, too!
BW:
My big appeal is to people who don't, for whatever reason, read WildStorm comics. This is a low risk opportunity to try something new that doesn't require a big foreknowledge or buy-in into a larger storyline or universe. Read the first two or three issues...I don't approach the genre of superheroes the same way as most of my peers, so this'll be something new for you.
BUG: Thanks for answering these questions. Look for DV8: GODS & MONSTERS in stores now!
Ambush Bug is Mark L. Miller, reviewer and co-editor of AICN Comics for over eight years and one of the original @$$holes. Check out his comic book shorts from Cream City Comics' MUSCLES & FIGHTS VOL.3 and MUSCLES & FRIGHTS VOL.1 on his ComicSpace page. Bug was interviewed here and here at Cream City Comics and here and here about his comic from Bluewater Comics, VINCENT PRICE PRESENTS: THE TINGLER #1-2. Look for more comics from Bug in 2010, including ROGER CORMAN PRESENTS DEATHSPORT in July, and the just announced vampire miniseries NANNY & HANK in August (and check out Jazma Online's new interview with Bug about NANNY & HANK here). Bug's latest comic is VINCENT PRICE PRESENTS #20: WITCHFINDER GENERAL on sale July 2010. Fanboy Radio recently interviewed Bug about it here. Order VINCENT PRICE PRESENTS #20 in May's Diamond Catalog order # MAY10 0828.
---
Editing, compiling, imaging, coding, logos & cat-wrangling by Ambush Bug Proofs, co-edits & common sense provided by Sleazy G
---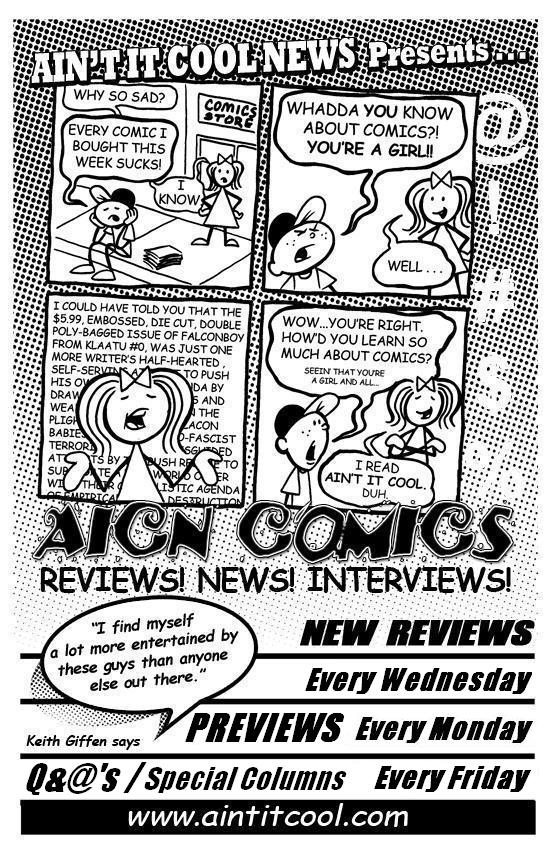 Ad by Prof. Challenger