@@@@ What the #$%! is AICN COMICS: Q&@? @@@@
AICN COMICS: Q&@ is our new semi-weekly interview column where some of your favorite @$$Holes interview comic bookdom's biggest, brightest, newest, and oldest stars. Enjoy this latest in-depth interview filled with @$$y goodness and be sure to look for more AICN COMICS as we gaze into the future of comics every week with AICN COMICS: SPINNER RACK PREVIEWS every Monday and then join the rest of your favorite @$$Holes for their opinions on the weekly pull every Wednesday with AICN COMICS REVIEWS!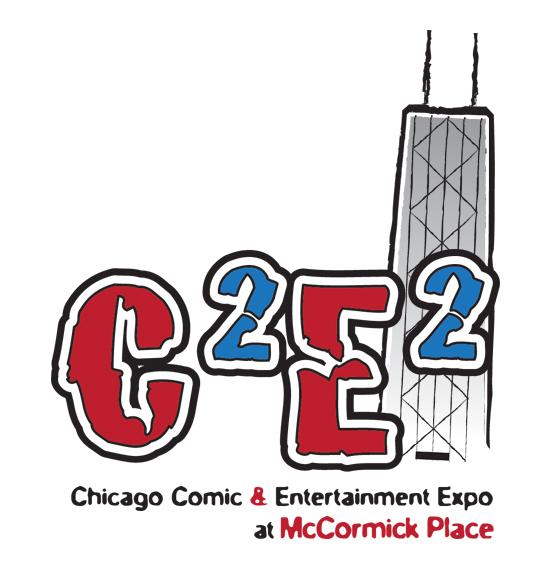 ---
Q's by Ambush Bug
@'s by HACK/SLASH's Tim Seeley!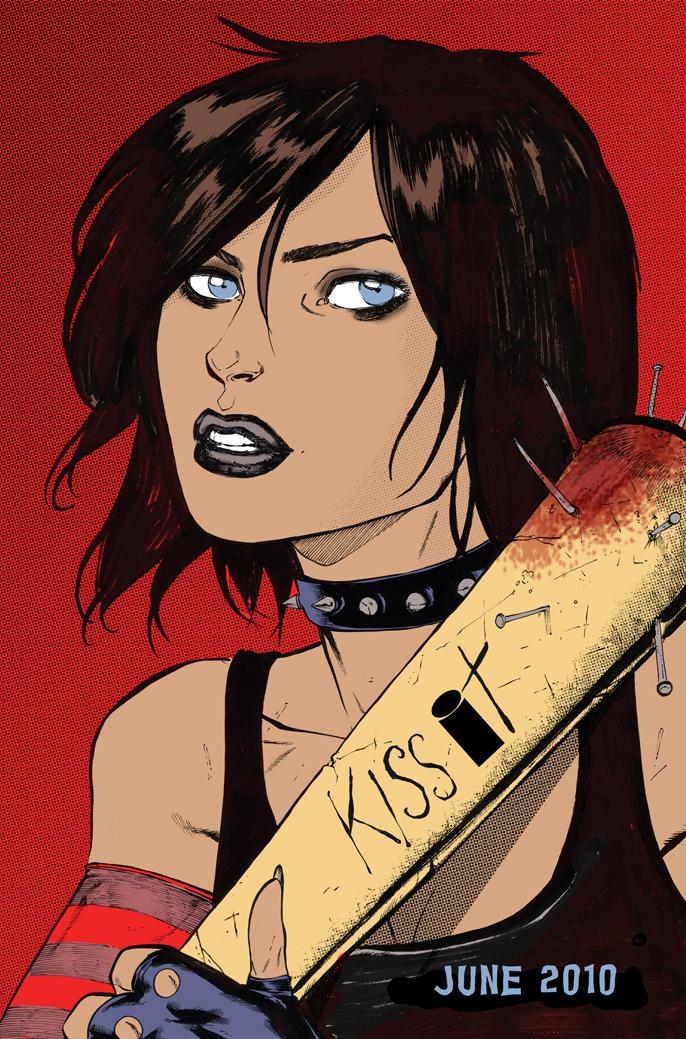 Hey all, Ambush Bug here. When the news hit that Tim Seeley signed with Image to move his hit comic HACK/SLASH over to their company from Devil's Due, I emailed Tim to see if he'd be interested in talking about the move and what's in store for his serial killer killers book. Tim was in my Horror Comics & Film panel last year at SDCC and was one of the reasons that panel was such a success. Here's what Tim had to say about HACK/SLASH's move to Image.
AMBUSH BUG (BUG): So HACK/SLASH is making the move from Devil's Due to Image. Can you talk to us a little bit about your decision to make the move?
TIM SEELEY (TS):
It wasn't an easy decision, as I'm a pretty loyal, puppy like guy. But, eventually it was obvious that DDP's money issues were going to affect me being able to put HACK/SLASH out, and my ability to ensure the creators on the book were paid. I had worked with Image on LOADED BIBLE and COLT NOBLE and really liked working with them, so this seemed like the best way to get the book out, my people paid, and to work with people I like. Except for Robert Kirkman.
BUG: For the folks out there who may not be familiar with HACK/SLASH, can you tell us a little bit about the comic?
TS:
HACK/SLASH is an action/horror comic set in a world which is basically made up of all the tropes of slasher movies. Cassie is a girl who survived an attack by a slasher, so she now hunts them down with her partner, a big bastard named Vlad. It's got a fair amount of laughs, and the occasional sexy-time.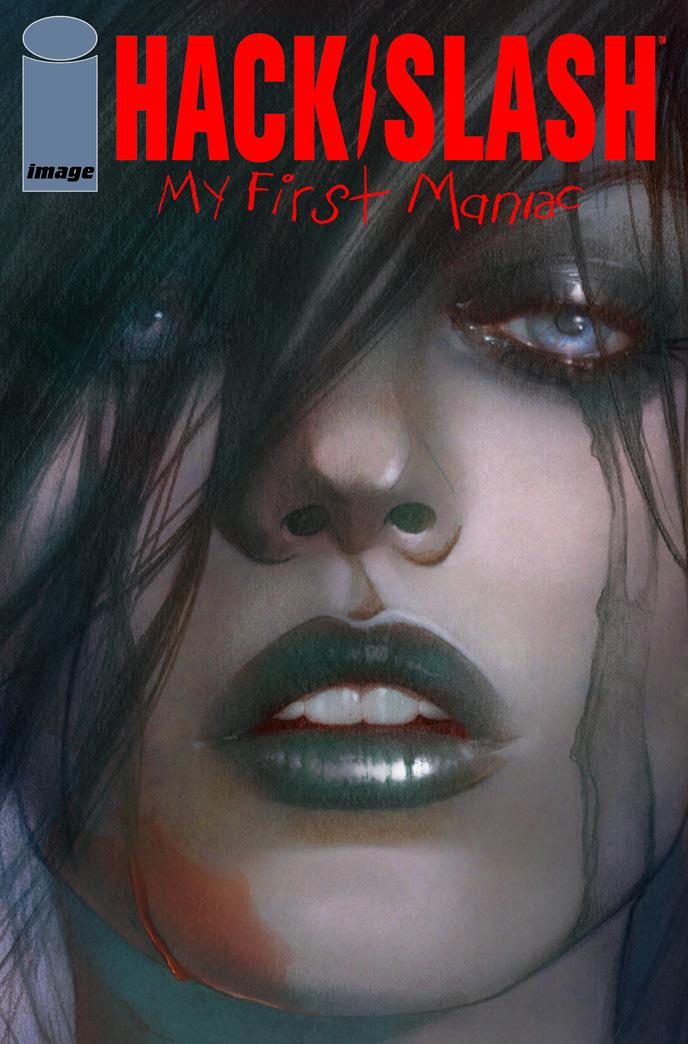 BUG: There have been a lot of rumors swirling around the websites about Devil's Due; reports of unpaid creators and a lot of other crazy things going on over there. But you stuck with the company for quite a long time. Can you tell us a little about your time with the company?
TS:
Well, Josh Blaylock and DDP broke me INTO the business of comics. Josh and I had known each other through cons and such, and when he got the rights to G.I.Joe, he offered me a job as a sort of editor/staff artist. I moved to Chicago just for the job, and I had a great time working there for six years. Once DDP lost the G.I.Joe rights, things started to get difficult financially, and the company fell on some hard times. I left the staff job to do freelance for other companies, but I kept H/S there as long as I could. I think the people who work there are good shits and they're doing what they can.
BUG: Do you think you'll ever work on any projects with Devil's Due in the future?
TS:
Sure. I think it might be awhile before they have the ability to do the kind of projects I'd want to work on, but I'm open to the possibility.
BUG; What is it about Image that appealed to you to make it the new home for your baby, HACK/SLASH?
TS:
The nostalgia and affection for the Image name and company doesn't hurt. And I just find that, philosophically, Image matches me the best. I also really like the guys who run the show...Eric Stephenson, Joe Keatinge..they're great guys. And, if you look at Image's line up, there's AMAZING books there...I HAVE to be in that awesome group.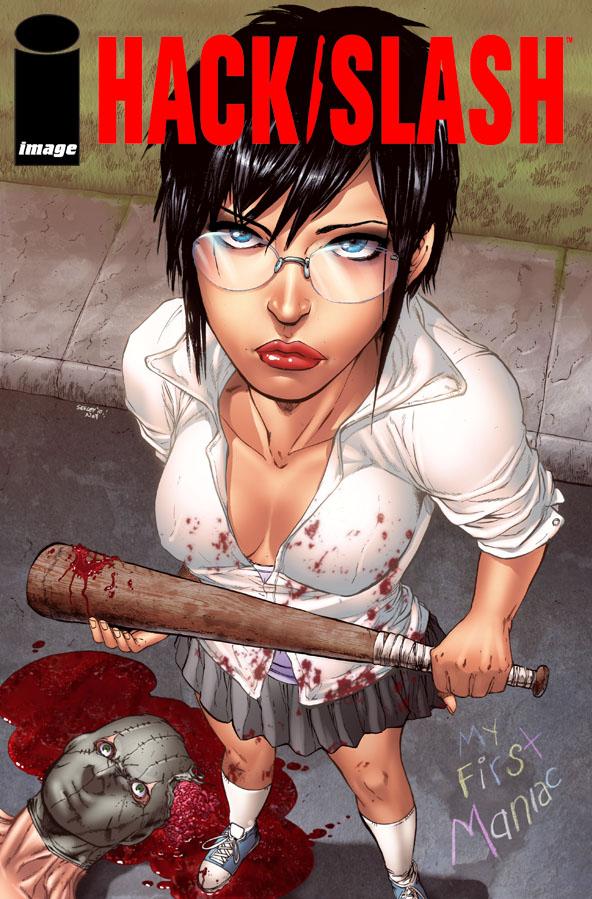 BUG: How is Image's HACK/SLASH going to be different from Devil's Due's HACK/SLASH?
TS:
Hopefully, not terribly. I think I've found the voice of the book, and I intend to keep at that shit!
BUG: What do you have coming up for HACK/SLASH in the next few months?
TS:
We'll finish off our run at DDP, and start at Image with the highly accessible 'CASSIE: YEAR ONE" mini MY FIRST MANIAC. That 4 issue mini will give us an untold story of Cassie's past; her first encounter with a slasher other than her mom, and it's a really creeepy, fun story with great art by my most recent H/S art team, Dan Leister and Mark Englert.
BUG: I see you recently helped out on art chores for Marvel with REALM OF KINGS: INHUMANS. Are there any more plans of you doing more art based work for Marvel?
TS:
Absolutely. Drawing is really my day job, so you'll see me doing stuff whenever I can for Marvel and DC.
BUG: HACK/SLASH was optioned to be made into a film a while back. Are there any new developments with this?
TS:
It' still happening. I know,weird, right? But, apparently slow and steady wins the race or something.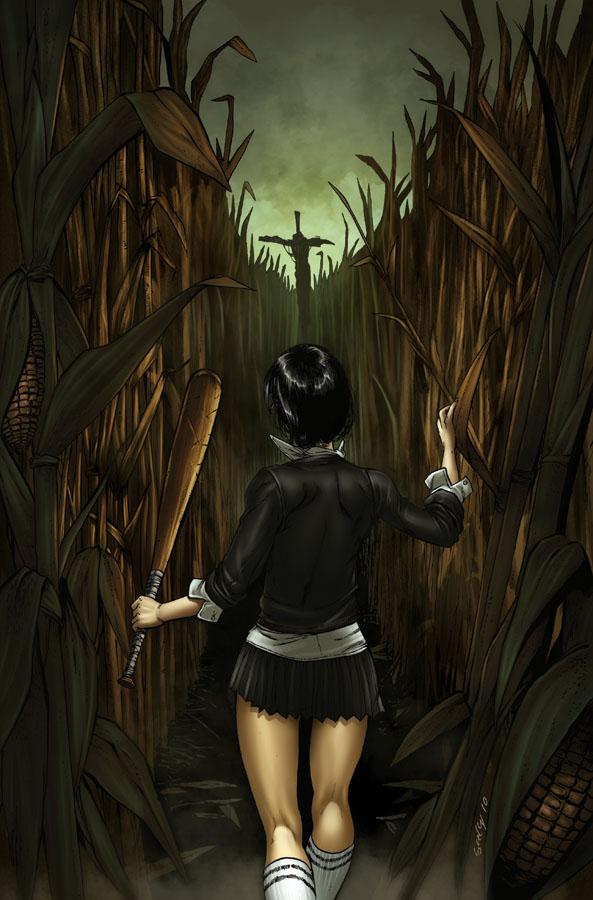 BUG: Will the move from Devil's Due to Image effect any plans for HACK/SLASH the movie?
TS:
Nope, not at all. Comics and movies are nice and separate, so I could put the book out on toilet paper at a rest stop in Rhode Island and it wouldn't affect the film version.
BUG: You have a panel going on this weekend for C2E2 about your motion comic for LOADED BIBLE (an awesome book, by the way). Can you tell me a little bit about your involvement in the creation of this book?
TS:
Thanks! LOADED BIBLE is a comic I wrote and that Image published. Halo-8 and Matt Pizzolo signed on to produce an "animated comic book" version!
BUG: Are we going to be getting more LOADED BIBLE any time soon?
TS:
I'm working with some talented guys in Italy to co-produce a new story. For whatever reason LOADED BIBLE did well in Italy. Proximity to the Pope or something. ;)
BUG: What other projects do you have going on at the moment?
TS:
I'm working on a werewolf story called WILD GAME with my H/S movie producing buddy, Daniel Alter. I'm writing it, and we're just kinda kicking it around to see if people are in the market for a good, dark, original werewolf epic.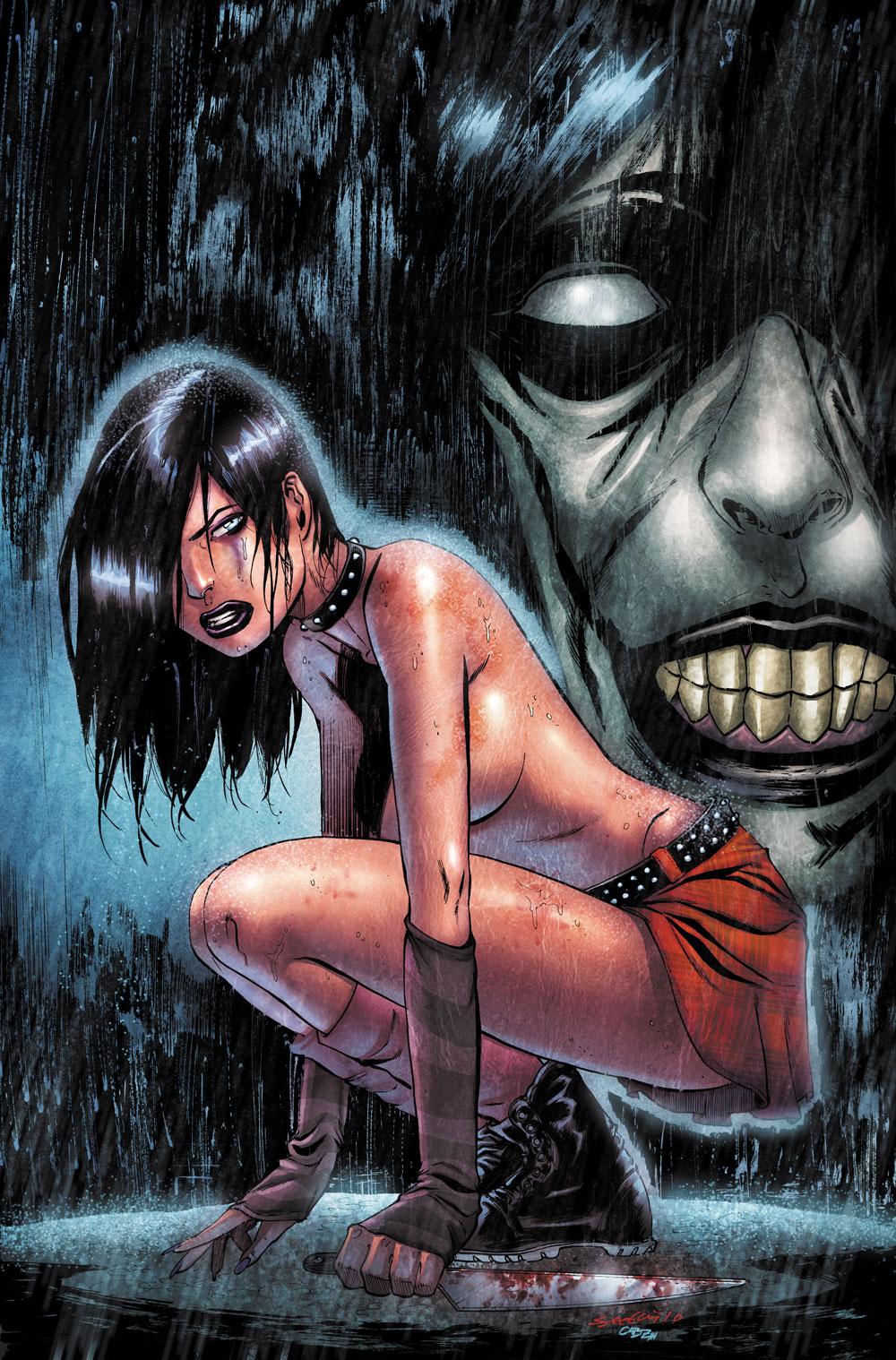 BUG: Back to HACK/SLASH. Are we going to be seeing any more famous slashers in the future in this book as we have in the past like Chucky and Herbert West?
TS:
It's always a possibility. The downside with those is that they involve other people and their rules, so sometimes it's harder to use those characters instead of just making somethin' new. But, I have ideas for a number of characters, so I'll keep at it.
BUG: Last chance, why should folks check out HACK/SLASH with the brand spankin' new Image logo on the cover and when can they pick it up?
TS:
HACK/SLASH: MY FIRST MANIAC will be in stores in June, but if you're interested, as always, it's best to let your comic store retailer know now. I think MFM will give people--horror fans, comics fans, girls and boys, a chance to try out HACK/SLASH with a fresh entry point, and a cool story I've been dyin' to tell. All that, and boobies too!
BUG: Hooray for boobies! I always say. Thanks, Tim, for taking the time out to answer these questions and look for HACK/SLASH from Image in June!
Ambush Bug is Mark L. Miller, reviewer and co-editor of AICN Comics for over eight years and one of the original @$$holes. Check out his comic book shorts from Cream City Comics' MUSCLES & FIGHTS VOL.3 and MUSCLES & FRIGHTS VOL.1 on his ComicSpace page. Bug was interviewed here and here at Cream City Comics and here and here about his comic from Bluewater Comics, VINCENT PRICE PRESENTS: THE TINGLER #1-2. Look for more comics from Bug in 2010, including ROGER CORMAN PRESENTS DEATHSPORT in July, and the just announced vampire miniseries NANNY & HANK in August (and check out Jazma Online's new interview with Bug about NANNY & HANK here). Bug's latest comic is VINCENT PRICE PRESENTS #16: WITCHFINDER GENERAL on sale July 2010. Fanboy Radio recently interviewed Bug about it here.
---
Editing, compiling, imaging, coding, logos & cat-wrangling by Ambush Bug Proofs, co-edits & common sense provided by Sleazy G
---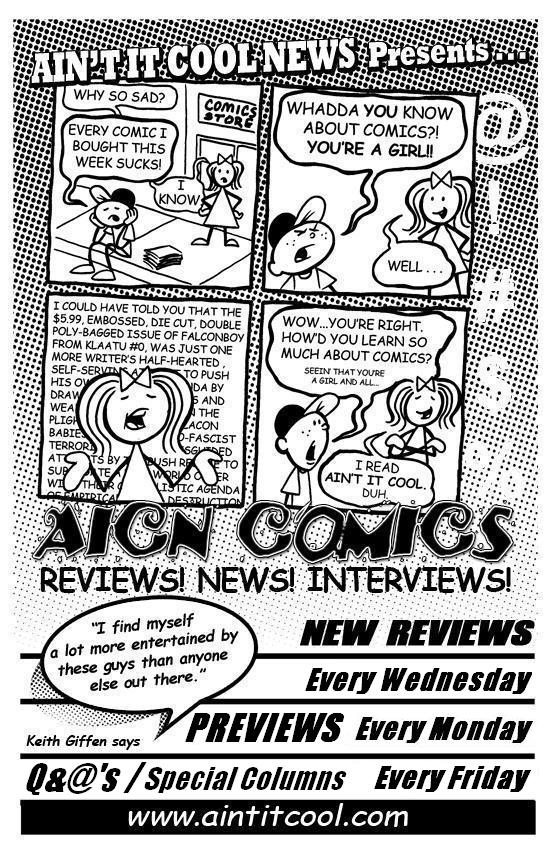 Ad by Prof. Challenger