Comics
AICN COMICS PREVIEWS Indie Comics: BATTLE AMONGST THE STARS! ALADDIN! INCORRUPTIBLE! YOUNGBLOOD! & MORE + WWE Contest Winner!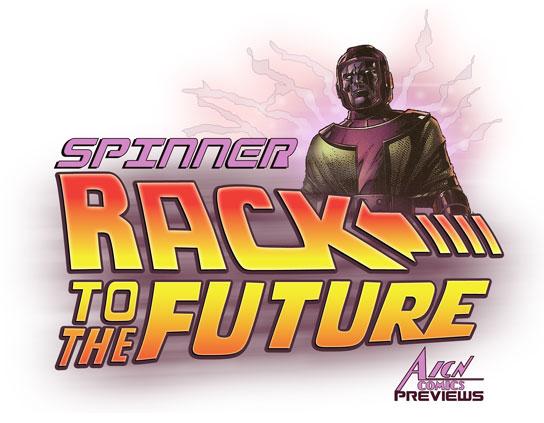 @@@@ What the #$%! is AICN COMICS: SPINNER RACK PREVIEWS? @@@@
AICN COMICS: SPINNER RACK PREVIEWS is our new weekly one-stop shop for previews of comics coming out in the upcoming week. Click on the pics below to gaze into the near future to read these extra special previews of comics varying from the heart of the mainstream to the tip of the edge of the fringe.
Be sure to look for more AICN COMICS as the rest of your favorite @$$Holes lend their opinions on their weekly pull every Wednesday with AICN COMICS REVIEWS and then more @$$y goodness can be found in our semi-regular interview column AICN COMICS: Q&@ now on Fridays!


---

Before we get into the previews, a couple of things.
First off, friend of the @$$Holes and uber-cool artist to LUKE CAGE NOIR, Shawn Martinbrough did an interview with Reginald Hudlin about his upcoming Marvel gig and revealed some good info about his past film work. Follow the link here to read the entire story.


---

And we're happy to announce the winner of our WWE HEROES Contest from last week. Congratulations, Charles Mitchell who not only had the coolest wrestler name, Los Enfermos Mentales, but the best wrestler move; flying crossbody off the top rope, but i also use my opponent's own finisher against them…and as an added bonus, he supplied a pic of himself in full Lucha Libre regalia. Congrats to Charles and thanks to all who participated. WWE HEROES #1 from Titan Books is in stores now!
And now, on with the previews…
---
Today on the Spinner Rack!
---
---
INCORRUPTIBLE #4 Written by Mark Waid Drawn by Jean Diaz Publisher: BOOM! Studios In stores this week!
---
THE CHAIR OGN Writer: Peter Simeti Art: Kevin Christensen Publisher: Alterna Comics Ask your store to order from Diamond Order Code: JUN083610
---
ALADDIN: LEGACY OF THE LOST #2 Writer: Ian Edginton Art: Patrick Reilly & Stjepan Sejic Publisher: Radical Comics In stores this week!
---
COWBOY NINJA VIKING #5 Writer: AJ Lieberman Art: Riley Rossmo Publisher: Image Comics In stores this week!
---
GRIMM FAIRY TALES #46 Writer; Joe Brusha Art: John Toledo Publisher: Zenescope Entertainment In stores April 7th!
---
GRUNTS TPB Vol. 1 Contributors: Kevin Grevioux, Christopher E. Long, Dwight MacPherson, Howard Wong, Marc Bernardin/Adam Freeman, Mike Bullock, Jimmie Robinson, Rob M. Worley, the @$$holes own Ryan McLelland and many more! Publisher: Arcana Studios In stores in May!
---
A HOME FOR MR. EASTER TPB By Brooke Allen Publisher: NBM Comics Lit In stores in April!
---
ROBOTIKA: FOR A FEW RUBLES MORE Hardcover Vol.2 By David Moran & Alex Sheikman Publisher: Archaia In stores this week!
---
DO ANDROIDS DREAM OF ELECTRIC SHEEP? #10 Written by Philip K. Dick Drawn by Tony Parker Publisher: BOOM! Studios In stores this week!
---
IMAGE FIRSTS: YOUNGBLOOD #1 Writers: Rob Liefeld & Joe Casey Art: Rob Liefeld Publisher: Image Comics In stores this week!
---
BATTLE AMONGST THE STARS #1 Writer: Martin Fisher Art: Ben Hansen Publisher: Bluewater Comics In stores this week!

---
Editing, compiling, imaging, coding, logos & cat-wrangling by Ambush Bug Proofs, co-edits & common sense provided by Sleazy G
---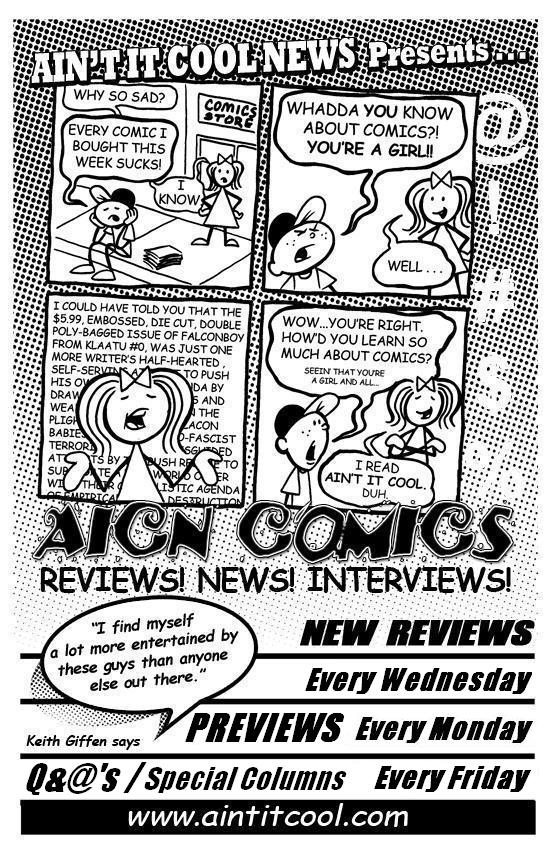 Ad by Prof. Challenger