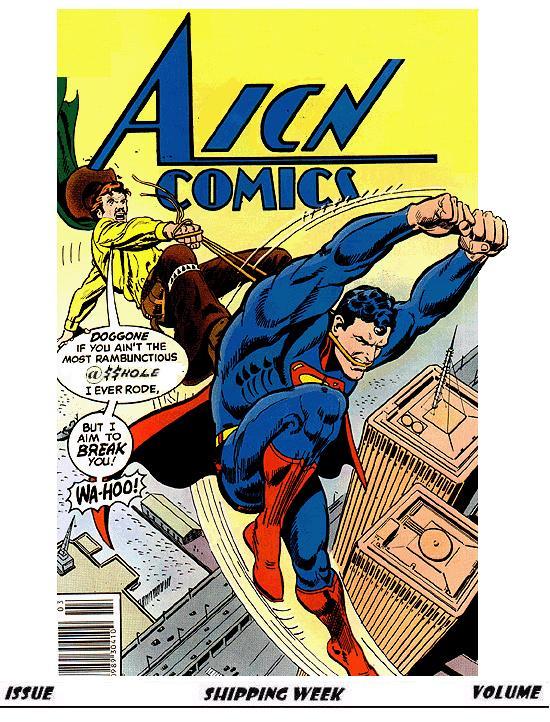 ---
The Pull List (Click title to go directly to the review) Q&@ with WWE HEROES' Keith Champagne WWE HEROES: RISE OF THE FIRST BORN #1 AMERICAN VAMPIRE #1 IRREDEEMABLE #12 PUNISHER: BUTTERFLY #1 One-Shot BATMAN #697 DAYS MISSING Hardcover GN GUARDIANS OF THE GALAXY #24 BATMAN & ROBIN: BATMAN REBORN HC Deluxe Edition Big Eyes For the Cape Guy presents Indie Jones presents… CHEAP SHOTS!
---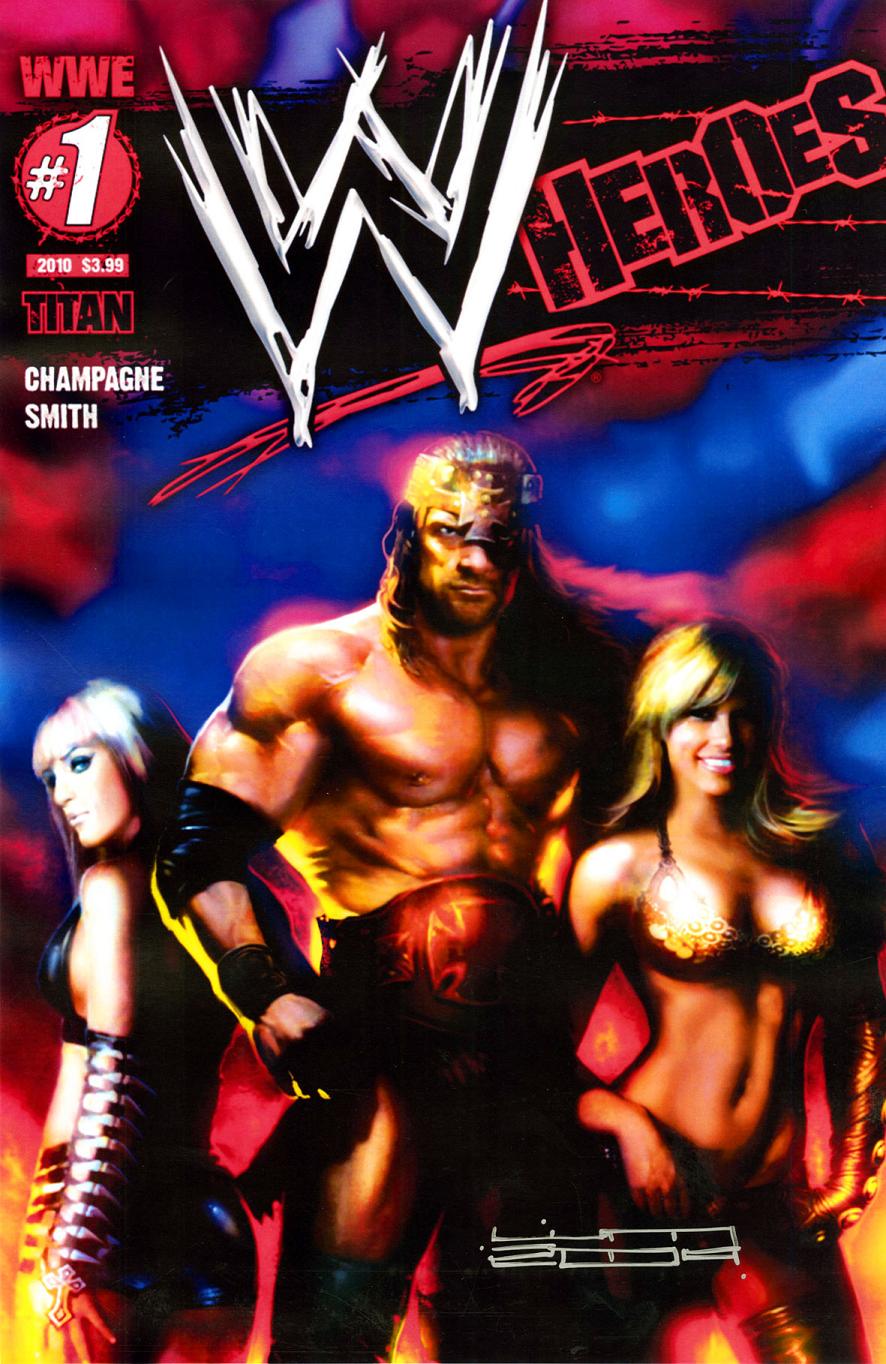 Hey folks, Ambush Bug here with a special Q&@ starting off a three day Q&@ binge we'll have for you this week. Tomorrow, we have Jon Goldwater from Archie Comics talking with Optimous Douche about their upcoming collaboration with Stan Lee called SUPER SEVEN. Then on Friday we'll have a lengthy chat between our own Squashua and the one and only John Romita Jr. about everything from KICK-ASS to being Hunk of the Month at Marvel back in the day. But first, today, we have a chat with writer Keith Champagne about his upcoming comic WWE HEROES. And before we get into the interview, don't forget that we have a contest going on this week from the cool folks at Titan Books who were nice enough to offer up a special edition of WWE HEROES #1, autographed by awesome artist Liam Sharp and framed to one lucky reader of this column. Now to get it, you've got to do a bit of work…but not too much. All you have to do is send me an email with your complete name, complete address and what your wrestling name & signature wrestling move would be if you were a WWE Wrestler. The email that makes my belly jiggle the most will get the prize. I'll announce the winner in this Monday's AICN COMICS SPINNER RACK PREVIEWS column. Check out a video preview of the book below! The book is in stores March 23rd. Best of luck!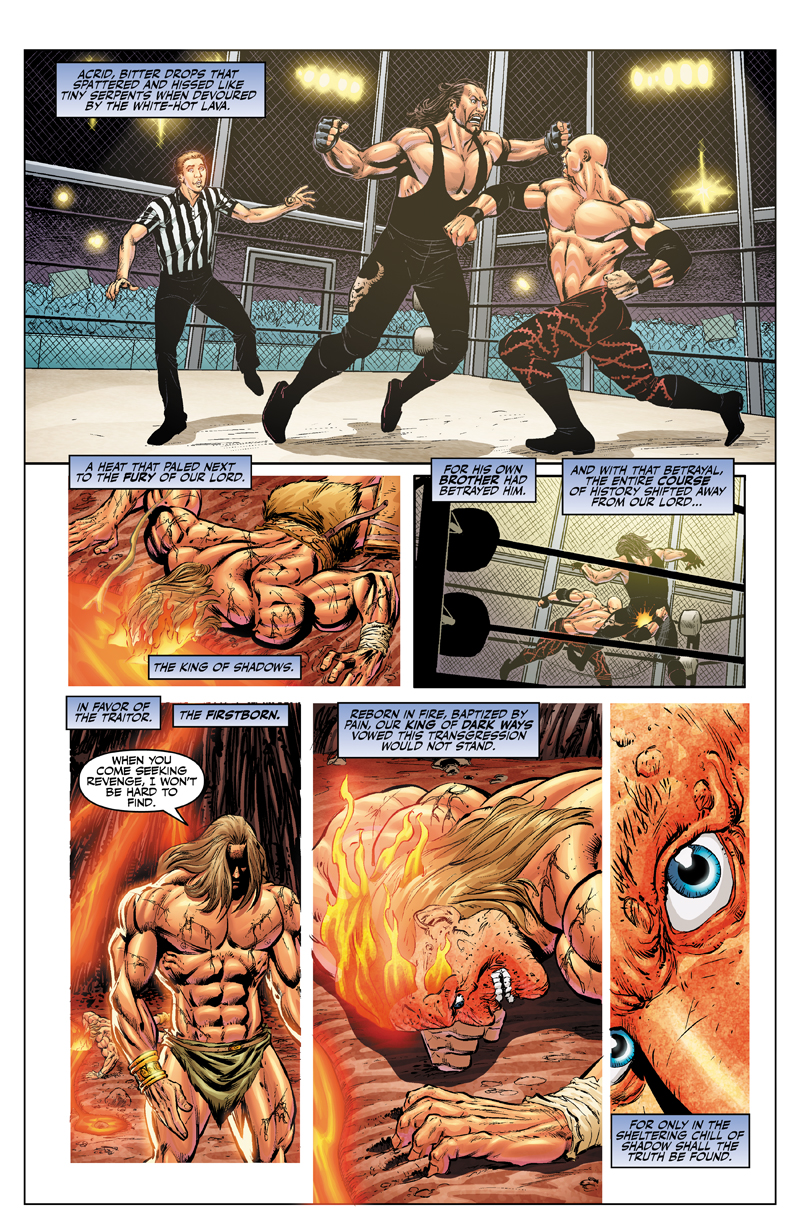 Here's what Keith had to say…
AMBUSH BUG (BUG): So how did you get the gig to write WWE HEROES?
KEITH CHAMPAGNE (KC):
It wasn't easy. I actually accepted the gig when it was first offered without realizing the gauntlet I would have to run in order to prove my worth to my editor, Ned.
In short order, I had to defeat Triple H in an arm wrestling match and beat Vince at Chess. Little did Ned know that I'm the world arm wrestling, battle chess champion. The rest is history.
BUG: Are you a wrestling fan?
KC:
I can't imagine anyone writing a book like this without being a wrestling fan first. There are two kinds of people in the world: those who love wrestling and those who don't get it. My dad raised me the right way.
BUG: One of my favorite all time Superstars is Rowdy Roddy Piper. Do you have an all time favorite WWE Superstar?
KC:
You should enjoy the first series then, which features the Legendary Scot in a supporting role!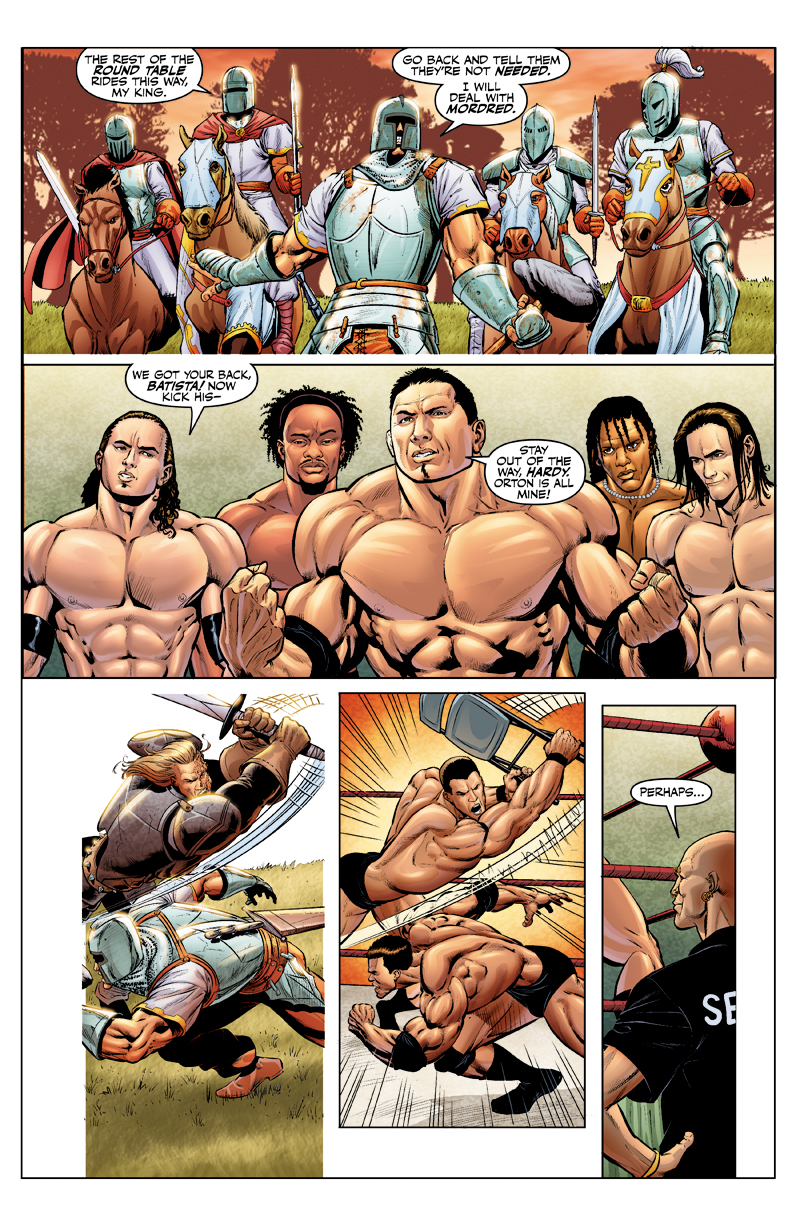 My all-time favorite superstar is Andre The Giant. He was such a great, larger than life figure when I was young, who didn't love Andre? As far as workers go, I'm a big fan of Ric Flair, Ricky Steamboat, Randy Savage...there are too many to even name. As far as personalities go, The Rock and Stone Cold are damn hard to beat.
BUG: It appears that this book is going to take the WWE Superstars out of the ring and place them into all kinds of bizarre adventures. What can we expect to see in upcoming issues of this book?
KC:
It only appears bizarre from the outside looking in. Don't get me wrong, we're definitely taking the WWE roster on some unexpected adventures but hopefully, they're set up in a way that makes sense in the context of this universe we've built.
Expect to see zombies. Were-Jaguar Creatures. Interfamilial battles. An eternal war. Love lost. And lots and lots of bodyslams. For a sneak peek check out our cool trailer:
here.
BUG: You've done larger than life characters in your phenomenal THE MIGHTY miniseries, but this series is a whole different monster where you're writing about real life people. Did you talk with some of the WWE Superstars starring in WWE HEROES about their roles in this book?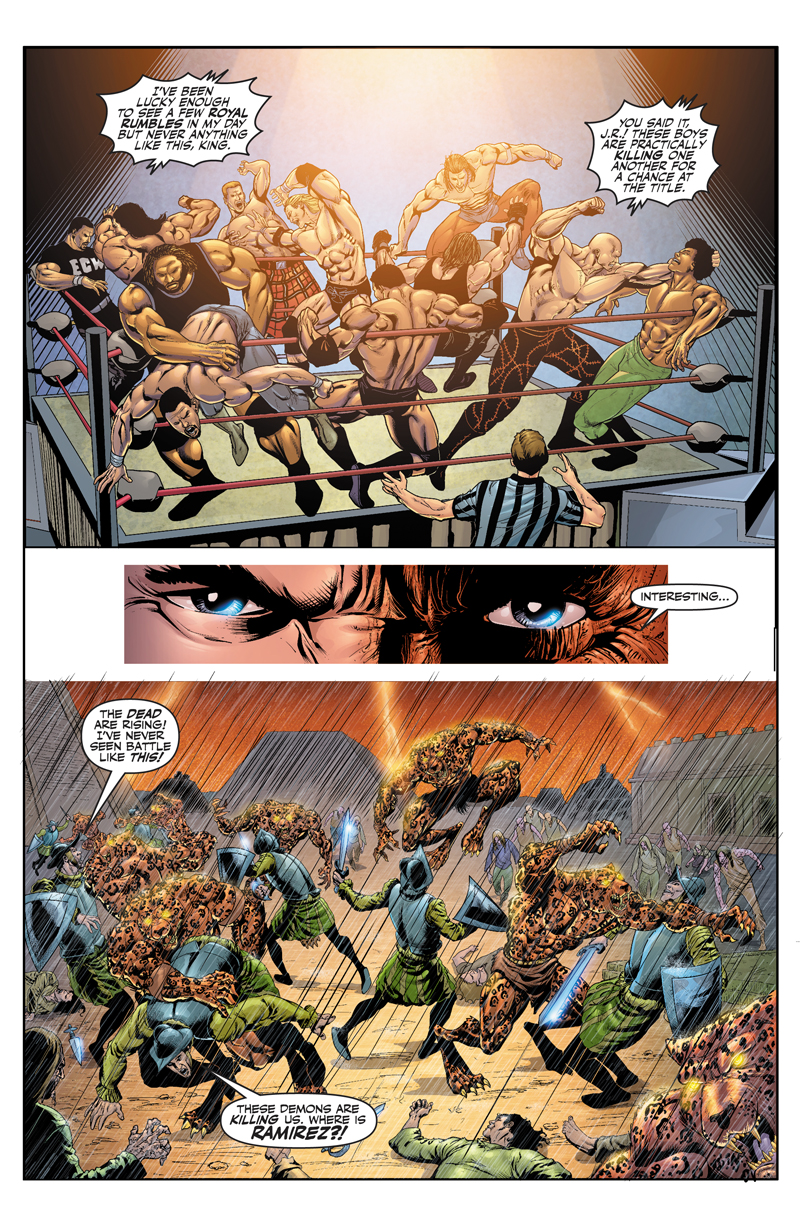 KC:
Hey, thanks for the mention of THE MIGHTY!
No, I haven't spoken with any of the WWE Superstars. The nature of the beast is that the comic is a very different animal than the TV and house shows.
BUG: One would think that with the over the top personalities in the WWE, it would be pretty easy to translate that to the printed page. Is that true? What was the most challenging aspect of writing this one?
KC:
This is a very tricky comic to write because of the track record that wrestling comics have of being really stupid. Portraying those "over the top" personalities in a comic, it's pretty easy to have them rub the wrong way. So I took the approach of telling a story about the people who play those characters getting caught up in something much larger than they could have imagined when they woke up this morning and put their boots on.
We're trying to tell a real story here that features WWE Superstars and, in its own way, it's a pretty ambitious challenge.
From a nuts and bolts aspect, the most challenging aspect for me is just keeping track of the roster of WWE Superstars we're using. We try to stay focused on a core group but there are so many peripheral superstars that pop in and out, it takes extra effort to keep it from becoming a battle royale for who gets the most face time.
I'm also very aware that if I call for twenty WWE Superstars to be featured on a page that Andy has to draw twenty WWE Superstars, likenesses and all. This is not an easy job on any level. So I try to be very conscious of not working him to the bone while still giving everybody their moments.
BUG: Fans of wrestling are some of the most die hard fans out there. How are you dealing with the pressure to do their favorite WWE Superstars justice in this book?
KC:
I'm writing it out of love. I can't control what people think of it so I don't worry about that. I just write it as true to what I like as possible and hope people can relate.
BUG: If you were a WWE Superstar, what would your name be and what would be your signature move?
KC:
I would call myself The Drunk Gynecologist. You really don't want to know what my finishing move would be but it's safe to say I'd get the death penalty for it.
BUG: Bwah! Thanks for taking the time to answer these questions.
Ambush Bug is Mark L. Miller, reviewer and co-editor of AICN Comics for over eight years and one of the original @$$holes. Check out his comic book shorts from Cream City Comics' MUSCLES & FIGHTS VOL.3 and MUSCLES & FRIGHTS VOL.1 on his ComicSpace page. Bug was interviewed here and here at Cream City Comics and here and here about his comic from Bluewater Comics, VINCENT PRICE PRESENTS: THE TINGLER #1-2. Look for more comics from Bug in 2010, including ROGER CORMAN PRESENTS DEATHSPORT in July, and the just announced vampire miniseries NANNY & HANK in August (and check out Jazma Online's new interview with Bug about NANNY & HANK here). Bug's latest comic is VINCENT PRICE PRESENTS #16: WITCHFINDER GENERAL on sale July 2010. Fanboy Radio recently interviewed Bug about it here.
And now, a review of issue #1 of WWE HEROES which is in stores today!
---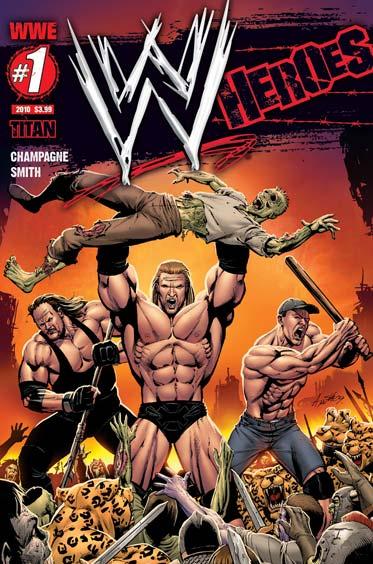 WWE HEROES: RISE OF THE FIRST BORN #1
Writer: Keith Champagne Art: Andy Smith Publisher: Titan Books Reviewer: Mr. Pasty
The boys over at World Wrestling Entertainment (WWE) have decided to further expand the wrestling universe by bringing their top stars to the pages of an ongoing comic book series titled HEROES. And as you would expect, the book mirrors the current televised product in that guys like John Cena, Triple H, Randy Orton and The Undertaker get most of the attention. So what is a WWE comic book supposed to be? Well, that's a good question. It really can be about anything – just like the scripted storylines that millions of fans tune in to see every week on TV. I guess there is no right or wrong direction, just a right and a wrong way to handle the characters.
The good news is that HEROES gets it right. As a wrestling fan from the late 1980's, I've seen a lot of promising talent fall by the wayside because they just couldn't sell the product. I knew wrestling was "fake," but I never once thought of Ted DiBiase as anything other than a millionaire or Doink as anything other than a demented clown. If you don't believe in the character, then how can you expect me to? That's why HEROES is successful right out of the gate. It tells the story of two gods (and brothers) at war with each other across many decades. They fight, they die, they are reborn. Eventually these two troublemakers end up making their way to present day Wrestlemania for one last stand. Preposterous? Of course. But no more preposterous than a grown man who dresses like a bat to solve crimes or a big breasted Amazonian who flies an invisible jet.
The WWE is basically a live action comic anyway so this is hardly a risky endeavor. But can this be considered a "good" comic book? The narrative is tight, the story is well paced and the art? Well, WWE wrestlers are larger than life and Smith draws them to suit. I can't say for sure how much people who don't follow wrestling will enjoy this but it's certainly not required. Then again people who have nothing vested in the WWE will have no interest in buying this so I guess it's a moot point. That's unfortunate, because WWE HEROES is a fun read and worthy comic book – with or without the license. It's just an added bonus for wrestling fans who should enjoy, as I did, another storyline involving their favorite WWE superstars.
Web heads who can't get enough of Mr. Pasty's word vomit are encouraged to watch him operate as Nostradumbass over at here. MMAmania.com. Love, hate and Mafia Wars requests should be directed here.
---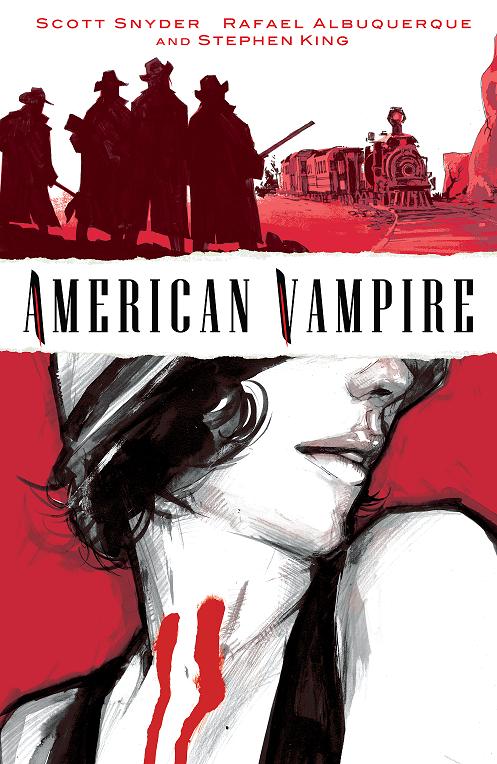 AMERICAN VAMPIRE #1
Written by: Scott Snyder (story 1) and Stephen King (story 2) Art by: Rafael Albuquerque Published by: Vertigo / DC Comics Reviewed by: Irish Rican
  What more can one say about Stephen King? The man is a horror genius. Luckily his transition to comics moves very smoothly and King shows off his panel work here in the first issue of AMERICAN VAMPIRE.
The vampires here are rugged, tough, and, as you can tell by the title, American. Both stories harkens back to older days. Scott Snyder's story is told during those days of jazz and speakeasies while King's story is told back in the Old West. Each story is sixteen pages told over five issues so this first issue is but a short welcome into both worlds.
Stephen King shines. He fully enjoys ten gallon hats and six shooters, but anyone who has read the DARK TOWER series already knows that. Luckily everything here is truly original and has no feel to anything King has already done previous. Joined with Rafael Albuquerque, who provides the artwork for both stories, King weaves the dirty tale of a man who is more dangerous then anything a cowboy can bring out. The story finishes almost as quickly as it begins thanks to the format but it will wet your beak enough to get that second issue based on King's story alone.
So Scott Snyder is faced with having to co-write a book with a living legend. I'm glad that task didn't fall to me, I'd be too worried that my story might suck ass compared to the master of horror. Lucky for Snyder that his tale actually reads quite well and is a stark comparison to King's story. It's actually an enjoyable tale because it's a world where violence isn't prevalent like it is in the Old West. It's old school studio system Los Angeles where everyone was just trying to "make it." Pearl is trying to make it, stuck in the background of films and working at night just to make ends meet. Of course as a beautiful woman does she catches the eye of someone...and that someone is probably going to be the wrong person.
I wish the book had a bigger page count because you are through both stories so quickly. It leaves you begging for more which is probably what DC wants from you. AMERICAN VAMPIRE is full of amazing dialogue and great characterization, simply an amazing book that begs to be picked up. Just when you thought you knew Stephen King he goes out and impresses the hell out of you once again. Do not miss out on this book.
Ryan McLelland AKA Irish Rican has worked in movies and comics journalism for the past several years before joining the @$$holes here at AICN. Ryan's comic work has already graced comic shelves with Arcana's PHILLY, WISE INTELLIGENCE, UPTOWN GIRL, and THE SENTINELS ANTHOLOGY. He rarely updates his blog but when he does it can be read at www.eyewannabe.com. Ryan's new webcomic Mobile Estates can be found at www.mobileestatescomic.com.
---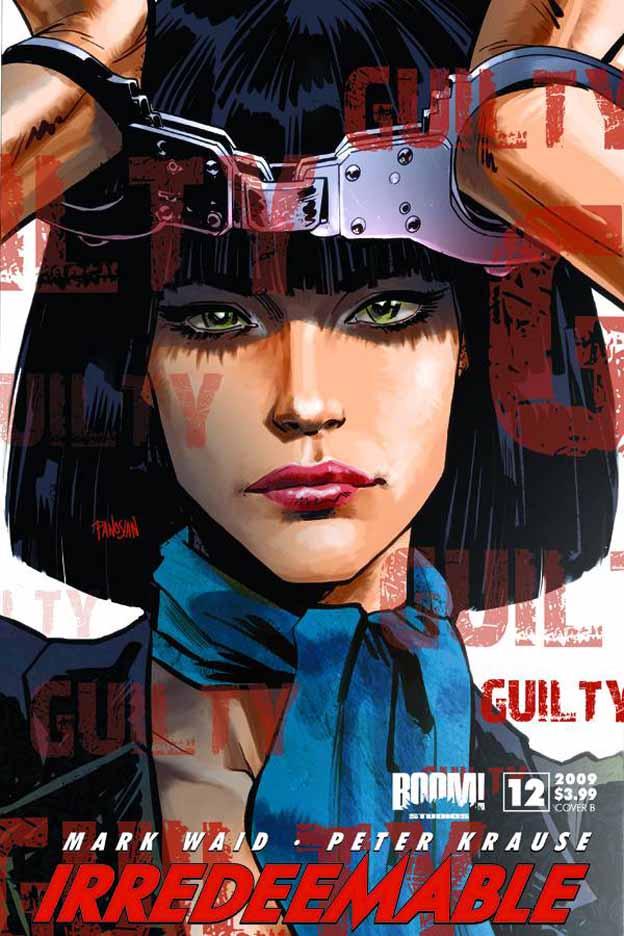 IRREDEEMABLE #12
Writer: Mark Waid Artists: Peter Krause and Diego Barreto Published by: BOOM! Studios Reviewed by: BottleImp
IRREDEEMABLE had the perfect first issue. Superheroes on the run as the Superman-like Plutonian was hunting them down, the Plutonian's former allies searching desperately for a way to survive an angry god. The next few issues were also good, but the initial intensity began to ebb. The artwork became noticeably sloppier, the plot began losing momentum, and before long this series that had been at the top of my "must read" list had slipped halfway to the bottom. Though there have been a few moments in subsequent issues that briefly piqued my interest, and a slight improvement in the artwork with the addition of Barreto's cleaner drawing style, IRREDEEMABLE has fallen from being an edge-of-your-seat thriller to a sit-back-and-relax costume drama.
When we come right down to the heart of the matter, the reason that this series has failed to live up to its potential to "wow" me is because I just don't care about the characters. Sure, I'm curious about what's going to happen and mildly interested in the various backstories, but there's no intensity to these emotions—instead, IRREDEEMABLE is only able to instill a kind of intellectual, almost clinical interest in me as a reader. Consider the events in this issue: Bette Noir (who seems to be a Black Canary-type heroine) is forced to confess to her teammates (one of whom is also her husband, and is at this time bleeding to death) that not only did she sleep with the Plutonian, in doing so she learned of the hero-turned-villain's one weakness, and was the only one of the Paradigm (think Justice league) who could have stopped the Plutonian before his killing spree went global. But because she was ashamed and afraid of her friends' reactions, Bette kept this information to herself, and thus feels responsible for the millions of deaths that she may have been able to prevent. All delivered tearfully, and in extra-large, boldface italics. You wanna know what my reaction was?
"Hm."
It all comes down to character. I give Waid props for throwing the reader right into the middle of the shitstorm and creating a great hook with the first few issues of this series, but the downside of this method is that the reader hits the ground running with a bunch of strangers. Granted, Waid has been parceling out bits and pieces of the supporting cast more and more in recent issues, but I still feel as though the Paradigm are little more than cardboard cutouts that, in some cases, fall into superhero archetypes without adding anything new or interesting to those archetypes. And then there are those characters that the reader still knows next to nothing about. Like Samsara, the Indian kid who I'm pretty sure is dead, and the Plutonian's Lex Luthor, Modeus. Modeus is apparently hiding out in Samsara's body (so does that mean he's some sort of shapeshifter, or can he possess people, or what?), and currently tagging along with the Plutonian as he revisits his past. Here's where it gets a little weird: I thought that the Plutonian was the one who had killed Samsara…yet he doesn't find it odd that his deceased sidekick is up and about?
Herein lies another problem that I have with this series. The initial premise was that the Plutonian turned from Good to Evil (that's right, big G and big E). But as IRREDEEMABLE has progressed, it seems more and more that the Plutonian has turned from Good to Bat-Fuck Crazy. Killing millions of innocent people, dressing up a super-villainess like Bette Noir and using her like some kind of creepy, Buffalo Bill sex doll, flash-frying his foster parents and leaving their mentally-retarded son alive and alone so that he can slowly starve to death…these aren't the calculated acts of a villain; it's not as if the Plutonian gains anything from these atrocities. These are acts of insanity. I'm not saying that a villain can't be insane—lord knows that I can't dismiss Batman's entire rogues gallery—but in shifting the Plutonian from a man who made a conscious shift in his moral standing to become Evil to a nutjob out for petty revenge, IRREDEEMABLE's hook lost its sharp edge.
The unfortunate thing is that IRREDEEMABLE has the potential to be really, really good. Why is that unfortunate? Because the hope of this unfulfilled potential finally being realized keeps making me plunk down my money month after month, when I would be better off spending my cash elsewhere.
When released from his Bottle, the Imp takes the form of Stephen Andrade, an artist/illustrator/pirate monkey painter from the Northeast. You can see some of his artwork here. He's given up comics more times than he can remember. But every time he thinks he's out, they pull him back in.
---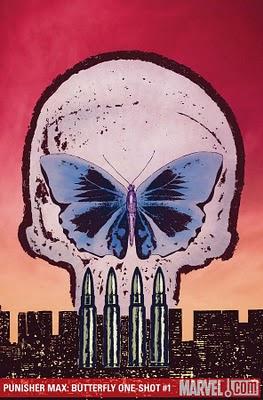 PUNISHER: BUTTERFLY #1 One-Shot
Writer: Valerie D'Orazio Artist: Laurence Campbell Publisher: Marvel MAX Reviewer: William
First off I continue to love what Marvel is doing with these Punisher one-shots. Again they realize that not everyone out there is going to enjoy reading Frank Castle as a walking Frankenstein, so they incorporate these one-shots to keep those Punisher fans happy. They certainly learned their lesson from their last huge Punisher fiasco (cough, cough, Frank Castle as some avenging angel, cough, cough).
With this particular one-shot, after reading it I'm still not quite certain whether I liked it or not. For beginners I'd like to get the big 1000 lb Elephant out of the way by stating ***SPOILERS SPOILERS SPOILERS……….Frank is only in this one-shot for TWO whole pages………SPOILERS SPOILERS SPOILERS****. I was quite surprised to see Marvel take that risk with this one-shot, and I'm certain that many readers out might feel royally ripped off after paying $4.99 for this issue. (The whole $4.99 is another thing. Please Marvel, no more $5 comics. It's bad enough DC is charging $3.99 for some of their regular comics, thanks to stupid preview inserts that nobody really wants to read in the first place. Don't try to one-up them on this Marvel).
What I didn't like was the fact that I never really cared about the newest character introduced within the Marvel mythos, codenamed Butterfly. To sum it up she's the latest for-hire assassin that happens to cross Castle's path during her day-to-day lifestyle. Written by the sometimes controversial Valerie D'Orazio, she paints Butterfly as a double-life leading lesbian lover who just so happens to want to write about her mob experiences to her publisher. She runs into problems when both her mob boss refuses to let her do such a thing (for obvious risk of pulling back the curtains on their lifestyles), and when her editor calls her out on her own weak writing. Anyone who's followed Valerie's semi-biographical blog knows that if any of this sounds familiar, it's only because she's mimicking her own trials and tribulations within the comic book/writing world. While it's somewhat fascinating to read on a blog, it doesn't necessarily pan out to much of a success within the Punisher world. Sure Valerie tries to spice things up by having the main character become a lesbian (in an assassination world usually filled with gruff-looking men), or by having her swear so many cuss words (including the atomic C word) left and right, but it all seems so forced. Like those people you see at Starbucks who have to show everyone that their Apple laptop is open to CNN.com while wearing those chic 50's glasses, it all seems so forced. Plus there's no real redemption on Butterfly's part. Valerie portrays her as a victim of faulty circumstances, the nurture forming her rather than the nature. But the way Valerie has her act seems childish and spoiled. Was I supposed to feel sorry for her by the end of story? Was it all supposed to come across as some form of Greek tragedy? If it was then Valerie should have input some more redeemable factors on Butterfly's part. I can see this working if it were perhaps a two part issue, because then Valerie could've incorporated more of a personality within Butterfly, and certainly could've involved more of Castle in her life. Otherwise the whole thing seems promising but frustrating.
The artwork by Laurence is okay. I'm not the biggest fan of gritty, filtered artwork. I like realism in my superheroes, but this is way too much in my opinion.
I recommend this one-shot if you're a fan of the Punisher, as it remains a good (not great) but frustrating tale by Valerie D'Orazio. But be warned that it may not live up to your usual Punisher expectations.
---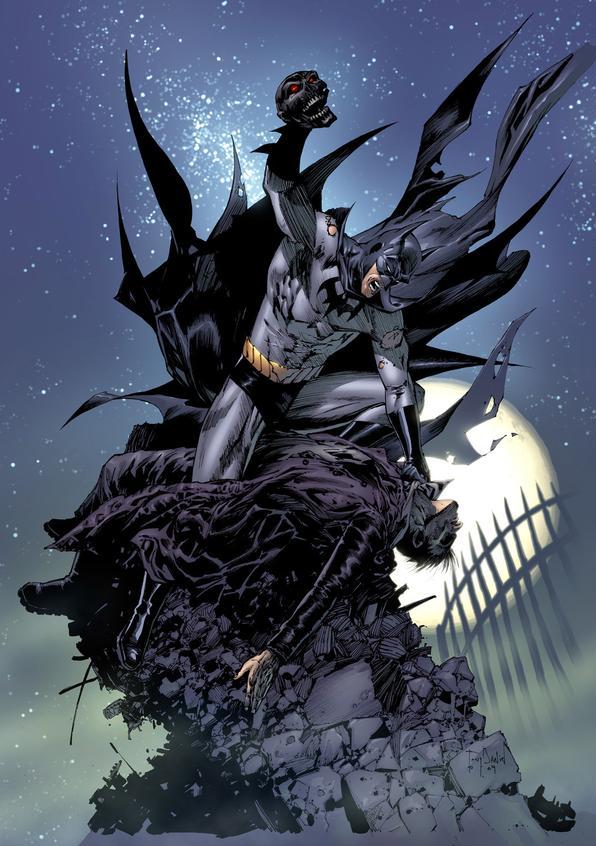 BATMAN #697
Writer & Artist: Tony Daniel Publisher: DC Comics Reviewer: KletusCasady
Batman has a pretty good track record when it comes to comics books. In my humble opinion I'd say Batman is good probably about 70% of the time. Not great but good, I'd say Batman is great about 30 to 35% (of the 70%) of the time no matter who is writing it (I did not do ANY math equations to come up with this but I did think really hard about it while my roommate was playing Mac Dre really loud when I was trying to sleep). I'd say this issue falls in the pretty damn good area (about 45% of the 70 awww to hell with it!). Tony Daniel has found a voice and a place for Dick Grayson and I'm loving every minute of it. There are a few really essential elements to any Batman story that make his stories pop. Action, good internal dialog, detective work, cool Batman poses and Batman kicking ass to get answers. Now I realize I may have let a few out but I'm running on no sleep so please forgive me. Tony Daniel delivers all these elements and more in this issue.
BATMAN (weirdly enough) is the best of the Batman books right now. BATMAN has been a lot better since Morrison left because everything feels more grounded. I liked "Batman R.I.P." up to a certain point and then I was like "what the fuck is going on?!?!? …Martha Wayne's a crack whore, Thomas Wayne is pimp and Batman strung out on heroin…am I high or is G. Morrison?!? Basically R.I.P. was a RIP off (see what I did there?); If I pick up a book that has any character with R.I.P. in the title next to their name they better die in their OWN BOOK. I actually had Batman's "death" spoiled for me by my Diamond representative, when I called to place a reorder she asked in panicked voice "Did you hear what happened? They killed Batman," I was so pissed; I mean no spoiler alert, nothing and its not like we EVER talk comics. Whew…I'm out of breath…sorry about that but this no sleep thing is killing me.
The best thing about Tony Daniel's Batman is its back to basics approach: Batman stopping criminals with a cool mystery hanging over the story. By the way, if you think you know who the Black Mask is…think again (I was wrong so all of you HAVE to be wrong too!). I found myself not really missing Bruce Wayne because at this point I almost know what Bruce would/could do in a given situation. With Dick, however, we are unsure if he's fit to fill the cape & cowl and that makes Batman's adventures new and unpredictable. Grayson's Batman makes mistakes, cracks jokes and while he may not enjoy the fact that he has to be Batman, he's starting to understand that he CAN actually do it. I also love that Tony Daniel doesn't just make Dick Grayson fight like Bruce Wayne, He fights like Dick Grayson (this difference in fighting styles was touched on in Hush…I know I know you HATE Loeb) with more acrobatic aerial moves and an overall just smoother prettier style. The internal dialog in Tony Daniel's Batman is spot on. The last set of internal dialog in this issue is a great closure to the growing uncertainty Dick had taking up his mentor's mantle. It's not as gruff and straightforward as Bruce's but you can see his influence seeping into Dick's psyche when he's behind the mask.
I've liked Tony Daniels' art ever since they rebooted the Teen Titans with a guy you may or may not have heard of Geoff Johns???? (anyone…no..ok). His artwork changed for the better after One Year Later and it's even improved since Batman R.I.P. The improvement I can easily put my finger on is that his art looks more kinetic. Everything on his pages just flows and by that I mean everything moves in all the right places; from the smoke over the city to Batman's cape everything just flows and fits together well. My only complaint (which they seemed to clear up in this issue) was that every time the panels focused on someone who wasn't in a costume, the artwork looked really muddy and almost had a blurry quality to it and I'm not sure if it was how the book was printed or the coloring but everything looks good now. Another awesome quality about Tony Daniels' art is his homage to other previous Batman artists. In Battle for the Cowl there was a sequence when Tim was fighting Jason Todd and there were some awesome Jim Aparo faces (second favorite Batman artist to Jim Lee) and in this issue, there's a sequence that's totally Frank Miller-ish and its great. You don't really see too many artists do that sort of thing (noticeably) unless it's on a cover and they pretty much have just redrawn a famous cover. Also, there isn't any Damien in this issue so for all you Damien haters, this Batman comic has the least illegitimate assassin child exposure of nearly all of the other Batbooks. All of the issues in this story arc could be read as single issues and I think you could enjoy them as much as I enjoyed this issue but reading them together obviously gives the reader a better scope of what's going on. In Battle for the Cowl the stakes were high, and I like that Tony Daniel has made the threats seem important and not some throwaway issue until Bruce comes back (I'm looking at you, Judd). If you want to see Batman back to basics, at his finest with stellar art and not a story that makes you want to give yourself a drug test after reading, this issue is for you.
---
DAYS MISSING Hardcover GN
Writers: Phil Hester, David Hine, Ian Edington & Matz Artists: Frazer Irving, Chris Burnham, Lee Moder & Hugo Petrus Publisher: Archaia/Roddenberry Reviewer: Optimous Douche
It's masterfully crafted tomes like DAYS MISSING that make me seriously question the only religion I have ever prescribed to: the church of Wednesday floppies. Seriously, I didn't read one other book yet this week; I just couldn't. Once exposed to the high-gloss presentation and exceptional sci-fi, religious and historical trappings of DAYS MISSING, the bar was set so high that my standard pulls simply couldn't measure up. God…Yaweh…Shakari….for eternity man (and women once they were allowed to read) have developed constructs of a guiding force that shepherds us to our ultimate state of being. Few religions can come to consensus on what that state might be, but it still hasn't stopped us from finding solace and comfort in the intangible. DAYS MISSING takes a different approach to this guiding force, an approach that if it transcended from fiction to faith I believe would finally quell the endless debate between evolutionists and creationists alike.
"The Steward", DAYS MISSING'S protagonist, is essentially God. However, this is not a portrayal of God by our traditional standards. Instead of being responsible for all forms of creation, both big and small, The Steward actually created nothing. The Steward simply is and always has been. He awoke with the universe, and has walked the earth through all epochs of time. Imagine if you will, God is merely guiding our societal development while our physical form can still be attributed to a lemur accidentally fucking a fish several billion years ago. But what truly intrigued me most about DAYS MISSING is the fact that all of our flights of imagination and fiction have actually occurred. They were merely erased and left as wisps of memory in our collective imaginations, based on the judicious weighing of pros and cons by the omnipresent Steward. The Steward is able to collapse time, essentially hitting the reset button on pivotal days in our maturation to "enlightened beings" until he feels we are ready.
Remember the pandemic scares of the past five years, where the world seemed to be on the cusp of a breakout that would kill millions? Well, each one did. SARS…Ebola…Avian Flu…you name it, they killed all of us except a select few, until The Steward intervened. Chapter one opens with The Steward at ground zero of a new outbreak in Africa that makes victims bleed out of their eyes, ass, pores and every other porthole on the human form. While The Steward is looking to thwart the outbreak, he laments his station in life and gives readers some much needed exposition. See, none of this is really about the concept of folding time; as with Star Trek, the science stuff is merely the driver to explore the larger questions of humanity. What differentiates the Steward from other omnipotent characters like Marvel's The Watcher, is that The Steward is connected to humanity. Even though he is immortal and blessed with this fantastic ability to hit reset on existence, he still asks the same questions we do about the universe and seeks to find kindred spirits. Top of my of my list is how at one point he was banking on the dinosaurs to become the planet's top life-form. On the day the big asteroid hits earth he tries to fold time to no avail. And we learn that some things are even beyond the control of Gods. Then he finds the footprints of a new three toed mammal…I never saw a millennia of inevitable solitude so beautifully displayed. Yes, that was all just chapter one.
I've shuddered at Victorian settings ever since I acted in Tom Stoppard's "Arcadia." Once my flashback convulsions subsided I was thoroughly engrossed in the chapter two's tale of a young Mary Shelley on a weekend retreat at the home of a recluse scientist who believes he can reanimate the dead. And yes, reanimate the dead he does. That is until The Steward decides we are not yet ready to pull back the black curtain of death and sees what lies behind it. The memory of this day that never happened lingers though and we are left with the novel "Frankenstein."
The remaining chapters continue similar explorations. Remember that billion dollar atom smasher that was built in Europe a few years ago? Well, it looks like it might actually have a purpose other than draining billions from the EU coffers. Have you ever wondered how Cortez actually took over the new world? Well, he didn't have help, but let's just say he didn't get it right on the first try. The final chapter explores what would happen if machines could really think. It also sets the stage for a real protagonist in the story. The Steward is being watched by someone…more…omnipotenter????
I'm not going to pick favorites here. Generally when different creative teams switch off between chapters the result is a ride more herky-jerky than a Sunday drive in Chitty-chitty-bang-bang. This is simply not the case with DAYS MISSING. While each chapter differed in tonality and art presentation, it all seemed to fit. The story about CERN is clean and Spartan, the Cortez chapter is gritty, shrouded with dark muddy lines in the art…so on and so on. I generally don't extend congratulations to editors, but Rob Levin deserves a patented Optimous Douche Reach Around™ for the cohesion he brought to this title.
I love a universe with endless possibilities and DAYS MISSING fits that bill. What other wonders has the Steward cock-blocked from existence with his fantastic powers? I see tales of Gene Roddenberry actually discovering the secrets to warp drive, or perhaps a story focused on exploring what events from the Bible actually happened. Could Moses have been the first mutant? All questions for tomorrow; for today I will simply be content with what is, over what could be.
Optimous is lonely and needs friends. Even virtual ones will fill the gaping hole, join him on Facebook or he will cry like a newborn kitten.
---
GUARDIANS OF THE GALAXY #24
Writers: Dan Abnett & Andy Lanning Penciler: Wes Craig Inker: Serge LaPointe Published by: Marvel Comics Reviewed by: BottleImp
What is Cool?
Cool is many things to many people. To some, Cool is Wolverine. Cool is Batman.
Cool is year-long, company-wide crossovers penned by today's hottest writers. But to me, Wolverine hasn't been Cool since he started appearing in more than one title every month. Batman's Coolness fluctuates in inverse proportion to the amount of cash DC is trying to squeeze out of him. And if you're taking a whole year (or more) to tell your grand, earthshaking event story, I lost interest after the first two months. Let me tell you my definition of Cool.
Cool is GUARDIANS OF THE GALAXY.
Cool is a comic that combines action, intrigue, humor, drama, and what the hell, let's just toss a little H.P. Lovecraft in the mix while we're at it. Cool is all these elements blending seamlessly every issue.
Cool is a rag-tag bunch of Marvel's fringiest characters putting a mean hurt on an army of religious zealots.
Cool is a cute, furry, talking raccoon with a big-ass gun. On a related note, Cool is a cute, telepathic Russian dog blasting his enemies' minds apart with his psychic powers.
Cool is Major Victory, aka Vance Astrovik—a character who has never, ever been Cool. But Abnett, Lanning and Craig found a way.
Cool is Wes Craig's artwork. Not just the stylization of his figures and faces (which I'll grant may need a while to grow on you); Craig is a master of dynamic composition. Every line is important; every curve is a guide for your eyes to flow from element to element; each viewing angle is chosen to enhance the action and emotion of the written words. I first noticed Craig's work on DC's TANGENT: SUPERMAN'S REIGN miniseries, and his art has only gotten better with each new issue of GOTG. And that is Cool.
Cool is bringing Adam Warlock back to his Starlin roots with the current Magus storyline, imbuing interest once again into a character that Marvel pretty much ran into the ground back in the 1990s with the whole Infinity Gauntlet crap.
Cool is the promise of Thanos being Cool once more (see above comment re: Infinity Gauntlet).
Cool is Abnett and Lanning and their obvious love for Marvel's publication history. Cool is how rather than ignoring the goofier characters and concepts that have been shunted into the cobwebby corners of the Marvel Universe, Abnett and Lanning embrace and celebrate these oddballs. Rocket Raccoon? The Micronauts' Bug? A living tree from Planet X?
"I AM GROOT." Now that's Cool.
Cool is a title that is written without irony or winking at the audience from behind the curtain. Cool is old-school Marvel stories told in the Mighty Marvel Manner. Cool is a series that can be read by young and old alike, without either group needing to do backstory research on Wikipedia to figure out the plot. Cool is the most fun comic book I've read in years.
Cool is GUARDIANS OF THE GALAXY.
---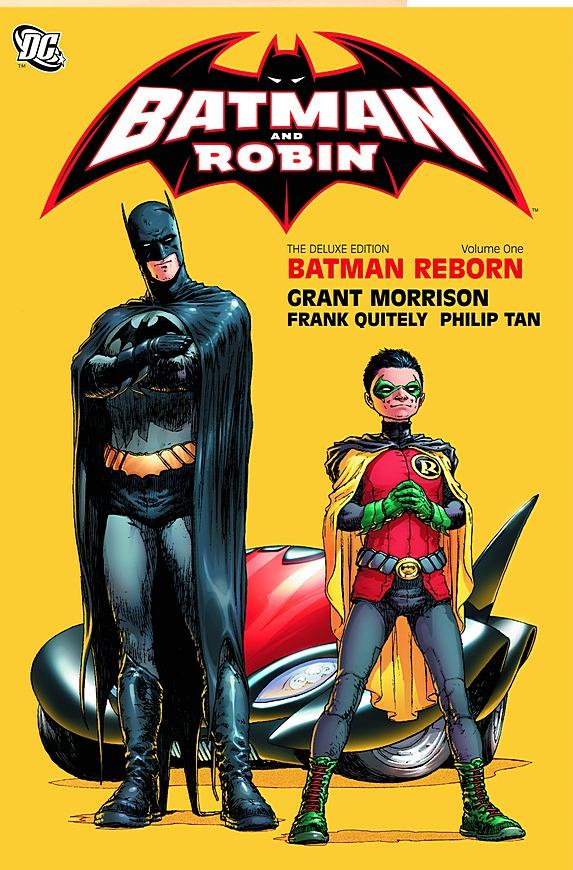 BATMAN & ROBIN: BATMAN REBORN HC Deluxe Edition
Written by: Grant Morrison Art by: Frank Quietly Published by: DC Comics Reviewed by: Irish Rican
I was not a fan of Batman R.I.P. After that and Final Crisis I thought I was over Grant Morrison completely. That was until BATMAN & ROBIN hit shelves and brought me back to caring about Batman. With Dick Grayson behind the mask and Damian Wayne as Robin a new dynamic was at play making this a very interesting duo.
The first six issues saw them battle a circus of freaks and Jason Todd's Red Hood. It was a truly well done story which felt completely fresh and original. Teamed once again with Frank Quitely, Morrison really did an exceptional job.
The hardcover brings together those first six issues but what really led me to review the edition was the extras. With Quitely's artwork there is some great discussions and looks at the character redesigns as well the creation of the new characters. I actually found these descriptions more interesting then the characters themselves.
Also here are the covers and what the thought process was behind them. Whether it was an homage to a cover from the 1930s or a truly spectacular cover that flipped over was an off look of THE KILLING JOKE I saw a lot of time and effort put into something that I never really paid attention to. Covers are meant to entice readers but I was picking up the book regardless. Having this guided tour through the thought process and creation on paper of the new Batman world really was a pleasure. The whole thing made an extraordinary book even better and this hardcover collection really is a welcome addition to any bookshelf.
---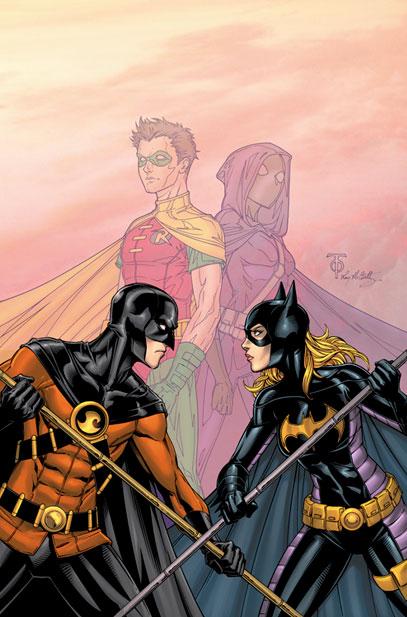 RED ROBIN #10 DC Comics
I read issues 8-10 of this book this week and man was it a fun block of reading. Chris Yost isn't doing anything flashy with this title. He's just delivering solid action and adventure. Much like Dixon's classic run with Tim Drake, Yost is relying on action and character to fuel this book and it's been running on high octane. Though Vicki Vale's sudden interest in the well being of Tim feels somewhat pushed, everything else works well in this book, especially the inclusion of Lucius Fox's daughter as a love interest. Toss ex-girlfriend Spoiler/now Batgirl into the mix and you've got some old school young hero angst going. This is simply a fun title. Those who like bells and whistles instead of solid storytelling may be poo pooing it, but it's solid for those who like thrills and the characters doing the thrilling. -
Ambush Bug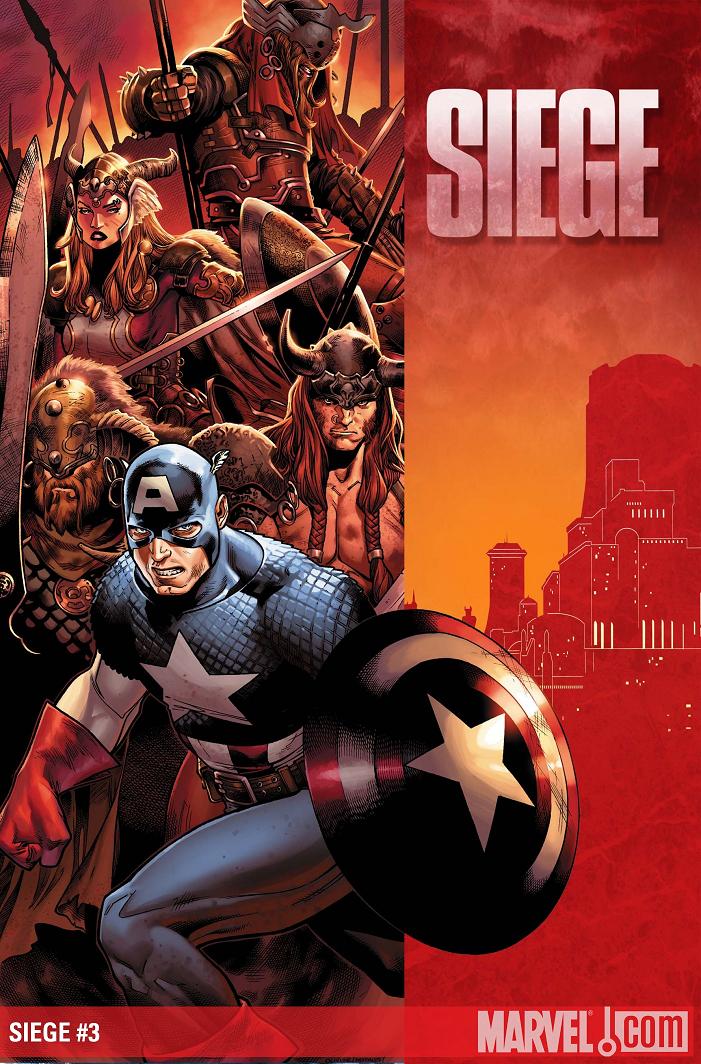 SIEGE #3 Marvel Comics
Marvel's antidote for event fatigue pays off in this issue where just about everything and anything happens. Was the build-up to this miniseries overwrought and tedious? Yes, but now that this mini and especially this issue is here, the payoff is more than satisfying. Like a good crossover in the past, tons of shit happens in this issue. Shit that will make for some cool stories later on, but right now, it makes for some fantastic wide-screen epic comic booking. I won't go into too much detail, but one reveal in particular drops huge and resounding. We all knew it was coming, but the shock of the scene in question exceeds all expectations with horrific glee. Coipel shines like a TWILIGHT vampire in this sequence and pretty much the whole book. Other companies should take note of this miniseries. Four issues of solid storytelling and much needed get to the pointed-ness. Though the adverts to four spin off books toward the end is a bit stomach turning, the book itself is an example of how to do an event right. -
Ambush Bug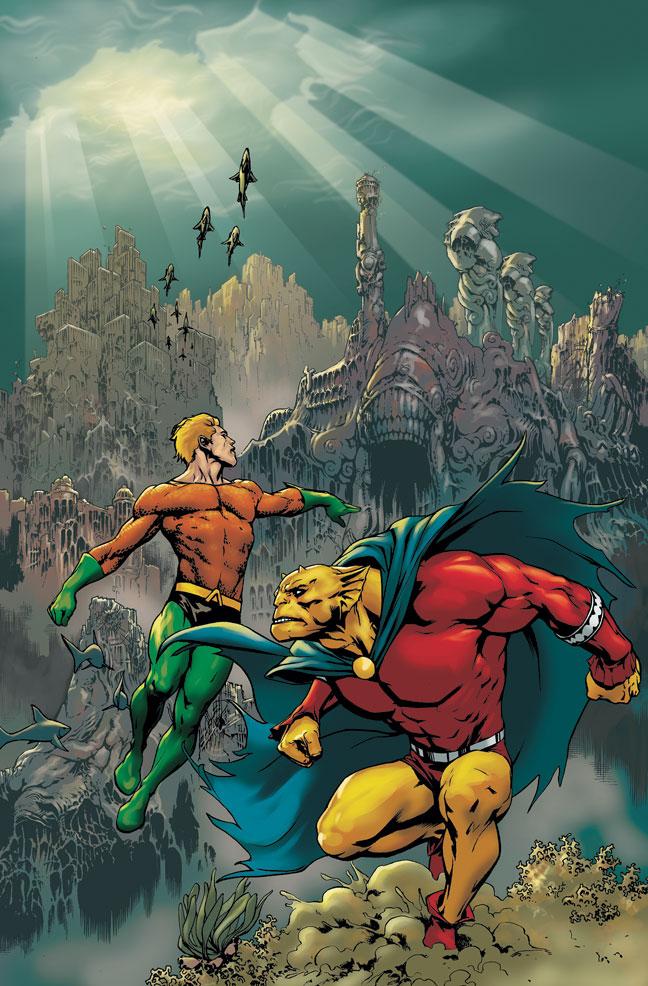 THE BRAVE AND THE BOLD #32 DC Comics
This is probably my favorite comic of the week and may be in contention for my favorite single issue of the year. Offbeat pairings of heroes is what this title is all about. But seeing Aquaman and the Demon on the cover even made me do a double take at how crazy it was. But JMS does what he does best: tell rock solid stories. And JMS is at his strongest in these done in ones. It only makes sense, as JMS explains it, that if an army from hell would try to break into the Earth's dimension, they would use the earth's water to do so. "The way some people give birth under water to minimize the trauma and make the process easier." So is this an origin story about how Aquaman and the Demon Etrigan meet for the first time and discover this hellish birth attempt? No, and that's what makes this issue so damn cool. It relies on the rich history of DC, pulling back a curtain to a scenario that has been going on for years. Aquaman reveals that he made a pact with the Demon long ago and that the legions of hell have attempted to do this over and over, only to be thwarted by this unlikely duo. The story itself is a mystery, starting with a man caught frantically digging up a grave and attempting to explain his actions. The way this issue unfolds is effortless and proof of why JMS is one of the best storytellers we have out there today. B&B is a damn fine read any old month, but this has got to be my favorite issue to date. -
Ambush Bug
---
Editing, compiling, imaging, coding, logos & cat-wrangling by Ambush Bug Proofs, co-edits & common sense provided by Sleazy G
---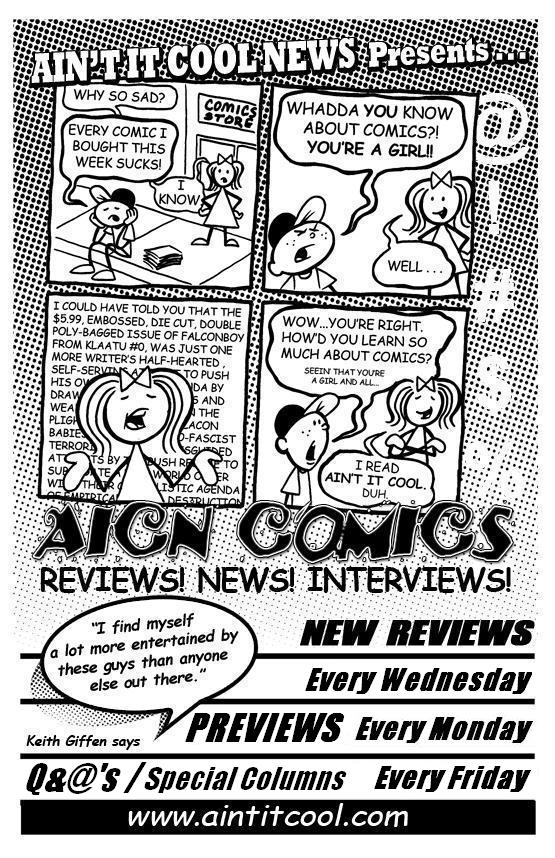 Ad by Prof. Challenger
Remember, if you have a comic book you'd like one of the @$$holes to take a look at, click on your favorite reviewer's link and drop us an email.
Check out the @$$oles' ComicSpace AICN Comics page here for an archive and more @$$y goodness.