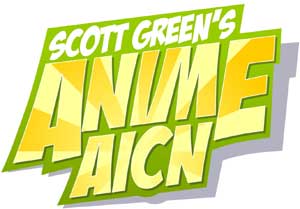 Logo handmade by
Bannister
Column by
Scott Green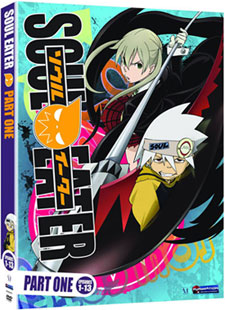 Anime Spotlight: Soul Eater Part One (Episodes 1-13) Released by FUNimation
A number of reviewers are not only predicting that Soul Eater will be the next series to seize the interest of a large slice of anime watchers, but also saying that its not undeserving of that attention. I certainly didn't find any reason for disagreement. It's the Spike Spiegel of anime series. It's not a new type. Few elements are original. But, it is sleek and magnetic. While my personal tastes veer more towards adult characters and themes, there's no denying that this is superlatively fun anime. Soul Eater is Bones' (producers of Cowboy Bebop: Knockin' on Heaven's Door, RahXephon, Ouran High School Host Club) spiritual successor to Fullmetal Alchemist. Series composition work was undertaken by Akatsuki Yamatoya, a writer on FMA, as well as other shonen works Naruto, Gintama, Zatch Ball, Ultimate MUSCLE and Digimon. It's a high production adaptation of a manga series from Shonen Gangan, Square Enix's anthology that spawned Alchemist, that despite its name (shonen, being for a male audience), has a solid track record of broad appeal. And, like Fullmetal Alchemist, Bones had to depart from the ongoing manga's plot course in the latter part of the series to make the story work.

There's little original in Soul Eater. Comparisons are unavoidable, perhaps even invited. Yet, it brings these together and presents them with enough slick enthusiasm that it can be embraced as its own. More than aping its popular predecessors, it's bringing together a genre Galapagos. Taking advantage of the unrealistic qualities of shonen action, it gathers incongruously arranged known elements from elsewhere and mutates them to fit into its environment. Like a laundry list of anime/manga over the last decade, Soul Eater involves shinigami/death gods (Bleach and Death Note being the must mention, top tier of that crowd). This time, the death gods have a magical school set up in Nevada. On the Tim Burton-esque campus of the Death Weapon Meister Academy (honestly, this one is just absurd macabre, like marzipan decorations on a Halloween cake, but there are definite nods to Burton in the design of Soul Eater), where students are paired off into groups of a weapon "meister" and a person who transforms into the weapon. Souls of evil doers are collected by these meister/weapon pair in order to prevent the corrupted from turning into dangerously malevolent "kishin".

Over the course of a three episode prologue, Soul Eater introduces its heroes. There's Maka Albarn and her scythe partner Soul Eater. She has father issues. Her dad, Death Scythe, a significant figure at DWMC, dotes on her, but also compulsively chases women such that the family is in the midst of an acrimonious divorce. Beyond that, think Hermoine Granger with bo staff skills. With her witchy meets British public school robes and studious nature, there's little question that Harry Potter was an inspiration. Appropriating trends from prior stories serves Soul Eater well in many respects. Not so much in the case of Maka's strained relationship with her father. Hammering jokes that were already hammered in previous anime is one of Soul Eater's rare bad habits. The anime plays the philanderer who gets slapped around and bemoans the consequences of his actions in a way that conforms to a decades long anime/manga lineage of jokes about characters like City Hunter's Ryo Saeba. Juvenile humor is one thing, and Soul Eater has plenty of that. That's fine in and of itself, but some of it is repeating old jokes (Maka's flat chest being another of these gags) with no discernable thought on how to adapt them for the characters, audience or time. In those cases, I wished the series could have been a bit more inventive. Maka's Hermione-ness works far better. Though occasionally more juvenile than he's like to let on, Her partner/foil, Soul is a real guy in training - a stoic, cool, risk taker. It's a noteworthy dimension of the new normal for shonen that the guy is now literally in the hands of the awkward girl. Compared to the days of Fist of the North Star, in which the lead is already the best at what they do on page one, having leads who are students rather than authorities is a distinction. Soul Eater follows that movement a step further. Maka is the chief agent and point of view in the series, and while Soul might be a natural action hero, she isn't. Thanks to her intelligence and study (and extra-sensory perception), she fully understands the scope of the danger into which she flings herself and Soul. Make no mistake; she is in the middle of the action. This isn't lob fireballs or dart in and take a swing style of fighting. The first episode finds her ducking and sticking and twisting in a deadly dance with demonic Jack the Ripper. A few episodes later, Rasputin is on her card. Yet, her instincts are not to get in and exchange blows. The notion that Maka's fear and hesitancy is based on an understanding on what she's gotten herself into is one area in which Soul Eater has a fresh an interesting handle on the shonen action formula. While the series is not entirely constructed around this struggle with understandable, human caution, it does add an involving dimension to the spectacle.

There are two other, secondary sets of meister/weapons central to Soul Eater. There's meister Black Star and weapon Tsubaki Nakatsukasa. Black Star is basically Naruto with blue hair. He's a loud, boisterous ninja whose assassination arts are inhibited by a need to proclaim his presence. As in the tradition of "I'll be the best!" shonen, he's certain that he's destined to be the greatest, a "star" above all others. And, like Naruto, in a bit of a spoiler with little consequence for knowing... he's intently focused on transcending an inherited identity for which he is reviled. And, like Naruto, though he is a perennial underachiever in standardized assignments, he is gifted with exceptional power. His partner offers a smart twist on the long suffering female companion. Tsubaki is Japanese for the camellia flower. It's pointed out that the camellia doesn't have much of a scent. As a weapon, Tsubaki can become an array of ninja gear, including a chain and sickle, a short sword, a throwing star or a smoke bomb. As that metaphor might suggest, she's exceedingly adaptable. Though she does express some frustration with Black Star's stubborn antics, she's staggeringly patient. And, Tsubaki serves to illustrate what the anime does right about the handling of its characters. The character is given a motivation and not just a function. Here, for the most part, characters act the way they do for a reason. These aren't necessarily new, but they're not exhausted either. For example, if the old unrequited love number is in play, I haven't seen it, blocked it out, or just don't remember it. This is what good anime does well. It finds exciting ways to present empathetic characters. In this case, Soul Eater makes a quiet girl who turns into ninja weapons interesting.

The third group has so far been less prominent than the first two, but they're worth mentioning because there was a bit of a genre leap to get them here, and because I imagine that they'll be some people's favorite. Death the Kid is the son of Soul Eater's Grim Reaper Dumbledore. As such, he's granted certain dispensations. He doesn't need to attend the DWMA. And, he has two weapons: the Thompson Sisters, Liz and Patty, Brooklyn based street criminal, who now transform into Kid's pair of pistols. (Props to Soul Eater for doing this, and having the persona-in weapons moments feature the characters naked, without it coming off as creepy) So, with the pistol in each hand, Death the Kid has plenty of the heroic bloodshed/bullet ballet cache. In theory, he's a skilled, efficient elite. In practice, his obsession with the aesthetic of symmetry is enough to render him incapable of all other thought or action. Liz has none of Tsubaki's patience and Patty is giddy to an almost scarily pathological extend. Though Soul Eater is not without its serious bits, it does know how to maximize the extravagance of a place in which the night sky is illuminated by a crescent man of the moon that drools blood. A two gun Kid, posing and weeping about proper ratios is the perfect agent of such a place. Soul Eater manga creator Atsushi Okubo has noted the influence of Akira Toriyama's Dr Slump. (A comedy series in which robot girl Arale plays with the outlandish, often pop-culture inspired denizens of Penguin village). That same statement is made by many of the 00's top shonen manga creators. As in Toriyama's own Dragon Ball, devotees like Naruto's Masashi Kishimoto have tended to leave behind the anything-can-happen giddiness of Dr Slump in favor of consternation and clashes of super powers, as their works develop. Soul Eater might fall victim to that trap, but at least in its early going, it's deftly juggled the fight set pieces with gleeful oddity.

There's a random bit of animation that encapsulates my feelings on Soul Eater. It's about one second long. It's in the opening credits, and in anime, those openings are almost a separate production from the work itself, and probably shouldn't be held for or against the larger series. But, I'll cheat. Medusa, a black hooded snaky woman, does a bit of drunken fairy kung fu. It's complex, fluid and dynamic, yet choreographed such that there is a sense that it's not just random flailing. Bad-ass and looking good doing it. That bit of slick animation wets my anticipation for the fight scenes. And, the anime delivers. The more action animation I see in Soul Eater, the more excited I am to see the rest. Soul Eater is produced by Bones, the people behind Sword of the Stranger. The more time passes and more that I remember the fights scenes and not the plot of that movie, the more I'm impressed and the more it resisters in my head as Bone's action calling card. YouTube is littered with videos in which some fan chained a slew of impressive anime martial exchanges. Sword of the Stranger's symphonic choreography often earns it a prominent spot on the list. Cowboy Bebop: Knockin on Heaven's door's sustained battery often make it too. As does the Ed versus Greed mano y mano in Fullmetal Alchemist . If there's a studio that could make claims to a lion's share of anime's best fight scenes of the 00's, it would be Bones. Sadly, there's no Masahiro Ando (Sword of the Stranger, a bunch of the Spike versus Vincent fight) here, but Soul Eater does feature some Yutaka Nakamura (a bunch of Ed versus Greed, the Full Alchemist movie's monster Gluttony, the scene from Blood: the Last Vampire in which the base guard gets gobbled, the Escaflowne movie's airship sword fight, a bunch of Sword of the Stranger's final duel).

Director Takuya Igarashi isn't the person you'd necessarily expect to helm a top shonen anime. If Igarashi has had a specialty, it's been shoujo/magical girl works, with a resume that includes Ouran High School, Ojamajo Doremi (Magical Do Re Mi), Ashita no Nadja (orphan girl searching for mother) and episode directing duties on Sailor Moon. Yet, working with Bones arsonal of animators Igarashi nails a brand of action that offers both anime's unbounded spectacle and the sense that a person, or a least a representation of a person, is actually performing the action. Like the unreality that allows Soul Eater to collect Harry Potter, ninja and pistol opera heroes for its leads, Soul Eater embraces the unreality that allows a girl swinging a stick to air tackle a 300 pound troll or a yojimbo (nicely named Mifune) casting a couple dozen swords onto the battle field to swap though in mid-combat. Yeah, human muscles and joints could never accomplished it, but if you're embrace suspicion of disbelief and apply some logic, Soul Eater shows what can be done with the quick, dexterous, powerful combatants afforded. While the particulars vary with the animators involved from one fight to another, the engagements are consistently good, excellent or classic. Quick perspective and aspect shifts capturing the heated confusion of battle are balance with sustained wide shots getting the range of motion. Clever ideas (wheeled office chair-fu) are woven in with familiar ones done well (anime standards like parrying a stream then cutting through it), while non-fight moments are similarly favored with enthusiastic animation.

Comparing Soul Eater to Fullmetal Alchemist, it's the perfect "same, but different" work. Here are starkly different characters and situations, adapted with the same mind set by some of the same staff. It's not redefining the business, but it is doing what an anime of its type should do, exceedingly well. I recently sketched out a list of anime to recommended to lapsed anime fans. I was thinking along the lines of my peers, older fans who watched anime in the days between Ghost in the Shell, Ninja Scroll and Serial Experiments Lain. But, it's occurred to me that there are probably plenty of lapsed anime watchers from the Cartoon Network crowd. People who are tired of Naruto, who never got on board with One Piece. And, I can understand how those folks developed their fatigue. I've watched exactly one episode of Naruto in recent years. I enjoy One Piece, but haven't made time for it in a while. I've never gotten into the Bleach anime. That isn't to say that I don't like that brand of anime. It's that I haven't created space for it in a while. Because I enjoyed the first Fullmetal Alchemist series (haven't seen any of the now running remake), and because I enjoyed the snipped that I'd seen, I went into Soul Eater with positive expectations. Now, it didn't speak to a mature audience the way that I value in anime (because of the rarity of such). It didn't revolutionize the form in a way that anime regularly requires. And, it didn't offer the most clever ideas in anime of late (Durarara shows a Celtic headless horsewoman having nightmares). Soul Eater was however, the most fun I've had watching anime in quite a stretch. Going through the mental filing cabinet, it's probably a couple years back before I hit anime that contends with how much I enjoyed Soul Eater's fight scenes.