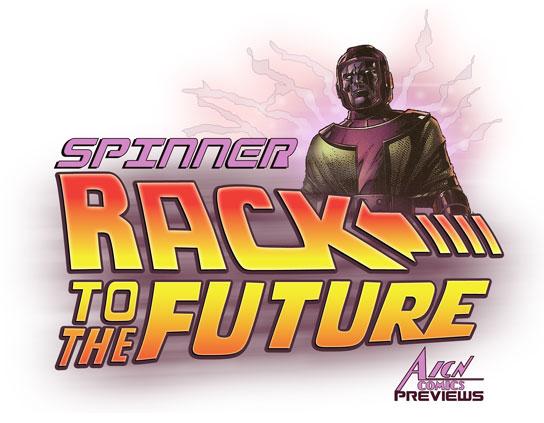 @@@@ What the #$%! is AICN COMICS: SPINNER RACK PREVIEWS? @@@@
AICN COMICS: SPINNER RACK PREVIEWS is our new weekly one-stop shop for previews of comics coming out in the upcoming week. Click on the pics below to gaze into the near future to read these extra special previews of comics varying from the heart of the mainstream to the tip of the edge of the fringe.
Be sure to look for more AICN COMICS as the rest of your favorite @$$Holes lend their opinions on their weekly pull every Wednesday with AICN COMICS REVIEWS and then more @$$y goodness can be found in our semi-regular interview column AICN COMICS: Q&@ now on Fridays!
Hey folks, Ambush Bug here. Before we get into this week's peeks into the future, I wanted to let you all know about a contest Dare Comics is running, giving fans a chance to draw The Hunter from Adam Hamdy's THE HUNTER hit miniseries. The deadline is March 31st. Be sure to follow this link to find out more about it.
---
Today on the Spinner Rack!
---
---
---
GI JOE #15 Writer: Chuck Dixon Art: Robert Atkins IDW Publishing In stores this week!
---
GRIMM FAIRY TALES Vol. 7 Writer: Joe Brusha & Ralph Tedesco Art: Various Publisher: Zenescope Entertainment In stores this week!<
---
CHEW #9 Writer: John Layman Art: Rob Guillory Publisher: Image Comics In stores now!
---
VINCENT PRICE PRESENTS #16 Writer: Nick Lyons Art: Juan Tomajok Publisher: Bluewater Comics In stores in March 24th!

---

STARSTRUCK #7 Writer: Elaine Lee Art: Michael Wm. Kaluta, Charles Vess & Lee Moyer Publisher: IDW Publishing In stores this week!

---

ESCAPE FROM WONDERLAND #5 Writer: Raven Gregory Art: Spay & Ruffino Publisher: Zenescope Entertainment In stores this week!<

---

FORGETLESS #3 Writer: Nick Spencer Art: W. Scott Forbes & Marley Zarcone Publisher: Image Comics In stores this week!

---

WRATH OF THE TITANS Vol 1 TPB Writers: Darren G. Davis & Scott Davis Art: Nadir Balan & Jason Metcalf Publisher: Bluewater Comics In stores in March!

---

DEAD AHEAD #3 (of 3) Story Clark Castillo & Mel Smith Art: Alex Nino & Moose Baumann Publisher: Image Comics In stores this week!

---

SAM KEITH SKETCHBOOK Vol. 1 By Sam Keith Publisher: IDW Publishing In stores this week!

---

POLITICAL POWER: BILL CLINTON #1 Writer: Robert Schnakenberg Art: David McNeil Publisher: Bluewater Comics In stores in March 17th!

---

And finally, we have a Youtube preview of a new book from Scar Comics by Gary Young and Dave Hitchcock called MADAM SAMURAI. The preview is produced by Gael McLaughlin and edited by Andrij Evans. Check out the HD trailer!







---

Editing, compiling, imaging, coding, logos & cat-wrangling by Ambush Bug Proofs, co-edits & common sense provided by Sleazy G




---

Ad by Prof. Challenger