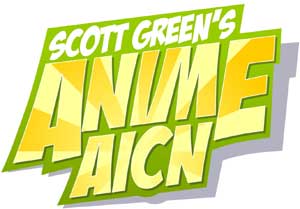 Logo handmade by
Bannister
Column by
Scott Green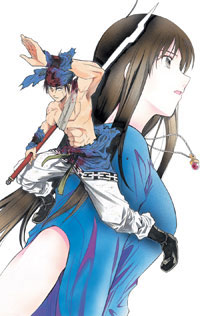 Manga Spotlight: Rampage Volume One by Yunosuke Yoshinaga Released by CMX
Romance of the Three Kingdoms, written by Luo Guanzhong in the 14th century, is a Chinese historical novel based on the tribulations of the Han Dynasty between 169 and 280CE. As with Suikoden/All Men Are Brothers/Outlaws of the Marsh and Saiyuki/Journey to the West, the Chinese epic has spawned a host of Japanese pop media. Risqué fighting series IkkiTousen/Battle Vixens is based on Romance of the Three Kingdoms. Mitsuteru Yokoyama, creator of the seminal giant robot anime Tetsujin 28, adapted Romance of the Three Kings between 1971 and 1986, and this can be seen in the anime tribute to his body of work, Giant Robo. Romance of the Three Kingdoms also provided the basis for Toei's Dynasty Warrior video game series, in which various historical/semi-historical characters rush into the late Han period's battles. From Wikipedia The order of events in a full Musou game follows the events depicted in Romance of the Three Kingdoms, with allowances made for non-canon results (e.g. the player's army winning a battle it lost in actual history). A typical order of events in a Musou Mode game for a character from either of the Three Kingdoms Suppress the Yellow Turban Rebellion Defeat Dong Zhuo's forces Defeat other warlords (eg: Yuan Shao, Liu Biao, Lü Bu) except the founders of the Three Kingdoms Defeat one of the two rival kingdoms Defeat the last rival kingdom Rampage might as well be Dynasty Warriors - the manga. The Yellow Turban Rebellion, in which peasants revolt under the guidance of Taoist mystic Zhang Jiao is the back drop for the opening of Romance of the Three Kingdoms, Dynasty Warriors and Rampage. In Rampage, one of those soldiers who is slaughtered on mass in Dynasty Warriors desperately happens into some mystical artifacts, with which he becomes the person turning the tide of battle, at terrible personal cost. The soldier in question is Zhang Fei, destined to become one of the great warriors and generals of the epic, with critical roles in a number its significant battles, including Red Cliff, the subject of the recent John Woo movie. This Dynasty Warriors as manga formula effectively cross pollinates army smashing action and historical fiction. There's an officer who kills bears with his oversized stone mace, and the manga provides a kinetic fight with the manga's antihero trading spear thrusts with the mace's swings. At the same time, there's plenty of context. Romance of the Three Kingdoms is a terribly complex work, with almost a thousand characters. Rampage doesn't go that deep, but it is still constantly peppered with footnotes concerning terminology and details on the various factions involved. The two aspects complement each other well. Having Romance of the Three Kingdoms to spin-off of is like having the Arthurian lends, but even more built out than even what history has done to that cycle. It's Star Wars, plus all of the extended universe material packed in. If you want action set in a thoroughly constructed situation, you can't ask for more. At the same time, in the midst of all this, Rampage is on the verge of moving too quickly for the details to register. While it does introduce and even explain all the needed concepts, if you're unfamiliar and trying to process all of that new information, the rapid presentation and development of the lead could be too much. Rampage ran in FlexComix Blood. That's a borderline shounen/seinen anthology, so maybe Rampage's content gets vicious later. However, in comparison to other manga, the "Explicit Content" warning and mature rating don't seem entirely necessary. It opens with the graphic aftermath of a massacre. People get arrows through the neck, spears into the chest, and sputter plenty of blood, but it's more in line with the nastier bits of what you'll see in shonen manga than Gantz or Berserk. Similarly, there are bits of nudity that do sexualize various scenes, but it is of the type that endeavors to hide various parts of the human anatomy. What sets Rampage a bit apart is that the manga is surprisingly equal opportunity in this regard. It presents plenty of bondage-y imagery, but applies that to male as well as female characters. While woman might get held up at spear point and poked in the cleavage, a vision will show a shirtless guy, bound and blindfold by snakes. That presumably points to some of Rampage's broad appeal. It would make understanding the material easier, but affection for Romance of the Three Kingdoms or the pop media franchises that it inspired is not needed to enjoy Rampage. Though the manga wasn't a hotly anticipated release, it should not be overlooked, especially by those with a taste for action deeply entrenched in a well realized setting. There are historical fiction action manga that I would have like to see released in North America before Rampage. T. Hasegawa's Napoleon - Lion's Era, Hitoshi Iwaaki's (Parayste) Historie - the story of Alexander the Great's general Eumenes and Makoto Yukimura's (Planetes) Vinland Saga to name a few. It's not a crowded platform for manga, especially manga released in North America and Rampage certainly leverages it effectively.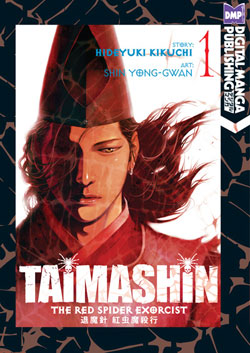 Manga Spotlight: Taimashin: The Red Spider Exorcist Story by Hideyuki Kikuchi Art by Shin Yong-Gwan Released by DMP
This stuff is Wicked City-rific. If you watched Ninja Scroll and the horror action anime movies/direct to video works that marked anime's North American presence in the "Not for Kids!" days, Yoshiaki Kawajiri should be a familiar name. Trading in quick, often brutal, regularly sexualized violence and supernatural naughtiness, he was attached to a host of favorites back when anime was "violent porn." Kawajiri's prominence isn't unearned. He certainly honed that material to a sharp edge. That said, there's a notion/assumption that he originated it that isn't quite true. There's the ero guro (erotic grotesque) tradition that dates back to Japan's Taisho era (1912 -1926), the emblem of which is the sensational case of Sada Abe, a woman who strangled and castrated her lover then carried around his organ in her handbag. But, more to the point, there's Hideyuki Kikuchi, one of the pioneers of the light novel form, whose work included genre mash-up Vampire Hunter D, and a range of pulpy prose, such as the basis for Kawajiri movies like Wicked City. The mouths where they shouldn't be. The saliva and ooze. Much of the extravagance of that anime found its basis in Kikuchi's writing. Taimashin: The Red Spider Exorcist is driven by spectacle, rather than story or character. It opens in Seoul in the year 200x. An attractive young, Japanese office lady wanders through the late night crowds of Dongdaemun Market. Despite the bustle, Megumi finds herself alone in a blackened alley. A crone appears, and demands 10,000 ($110, if exchange rates aren't too bad) to save Megumi from pursuers. Though initially incredulous, Megumi gives in. And, soon after handing over the money, an eclectic group of menacing folks close in: a towering heavy, an extensively tattooed man in tattered clothes, a couple harsh looking business men, an old man leaning on a cane. Then, there's the ring leader... a busty woman with plenty of cleavage, leather outfit and a whip and her hand. Megumi runs and finds herself in a strange pavilion... a theatre, built around a blossoming cherry tree, with a mural of yokai hags devouring women center stage. Megumi's savior, dressed in the Heian robes, begins a Noh dance. This stranger, presumably an onmyoji mystic is the titular exorcist Akamushi. These adversaries pull out wolf embossed pistols and reveal neighborhood consuming mouths attached to their hands (a variation on Vampire Hunter D's symbiot), and our anti-hero redirects the force back on the attackers before entangling them. Taimashin: The Red Spider Exorcist is campy and obvious. Megumi flirts dangerously close to being the horror movie victim, though maybe she has too much fool's luck for anything really bad to happen to her. She has a bouncy energy that is half oblivious to the danger. Chapter title illustrations show her rollerblading to work. She sings theme songs. She's regularly given the "super deformed" cartoon distortion. "Was everything from last night a dream? Did I drink too much? ... I've still got time. I'll go see my boyfriend, Ryouji." Beyond paying the crone for protection, the extent of her agency over the course of the volume is picking up an umbrella to cave in the heads of zombified coworkers. "...well, they're weak...! No, I'm strong... this power doesn't feel like it's my own. But... now I can beat them! Okay, ladies, time for some batting practice!" This lasts for about a page beyond the lady in leather shows up with a knife. Megumi does get a stab into her opponent's cleavage, but her offensive doesn't last. Meanwhile, her ally is strikingly from a prior era and a bit sinister; more Dracula than Father Merrin. While the nature of the character's intentions hasn't been spelled out, the mystery is less intriguing than prospect of seeing her carry out his hidden agenda. So far, there's little to suggest that it matters as to whether one feels chilled by Megumi's circumstances. Kikuchi does do dread and does do gothic. However, the driving focus of Taimashin seems to be the spectacle of nasty creatures meeting to do nasty things to each other in the dark, while regularly bothering Megumi. It might be of some small comfort that she doesn't, or has yet to, come in for treatment as harsh as Wicked City's Makie. Yet, while this isn't a Toshio Maeda (Urotsukidoji: Legend of the Overfiend) manga by a long stretch, Megumi does bathe in a hot spring, and while naked, she does get attacked by a\ her leather clad pal, using a bat/snake/whip. And, if you've seen a Kawajiri movie or two, you can guess how chummy that gets. Taimashin might be rated 16+:young adult, but I've seen less salacious manga shrink wrapped. Rather than horror, think supernatural action with an extravaganza of exploitation sleaze and you'll have a good idea of the engine of Taimashin: The Red Spider Exorcist. Enjoy it ironically or enjoy it for the transgressive thrill, there's plenty to get a kick out of in Taimashin.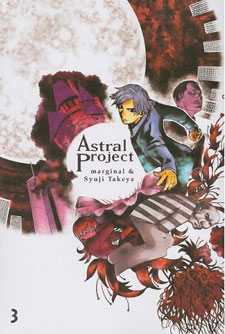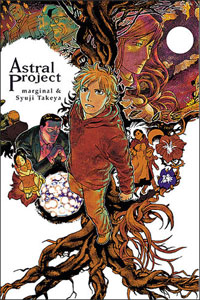 Manga Spotlight: Astral Project Volumes 3 and 4 by maginal and Syuji Takeya Released by CMX
If Philip K Dick hung out with otaku, this is the manga he'd write. Part of its uncompromising social critique is the not particularly complimentary notion that geek endeavors have cooked the heads of the socially isolated. Factor in a labyrinthine narrative, and it's a miracle that the manga was licensed for release in North America. Presumably, the chief reason that it did get licensed is that it is from Marginal aka Garon Tsuchiya, writer of Old Boy. Hollywood adaptations of Asian media generally don't interest me. I neither get excited nor upset. I figure I'm not going to be the one to take the bullet on watching or reviewing them. If they're praised (The Departed), I'll check them out. If they're panned (Dragon Ball: Evolution), I'll take a pass. The Steven Spielberg/Will Smith Oldboy project was an exception. I have some degree of respect for the director and actor, but what really excited me was the opportunity to see another adaptation of the Oldboy manga. Park Chan-wook's version is stunning. I'm not going to criticize what he did with the material. It was a decidedly Park Chan-wook approach to the story, and Park Chan-wook's vision is not Garon Tsuchiya's vision. Garon Tsuchiya built a maze in which a man emerged from ten years of being imprisoned for unknown reasons and began a noir investigation of his own past. It was genre convoluted into knots. Even the solution to the mystery differs in Garon Tsuchiya and Park Chan-wook's versions. As such, the prospective of a second chance to see a film spawned by the source material intrigued me. Like Old Boy, Astral Project follows a disoriented investigator. Its lead, Masahiko, is a young man alienated from his parents, making a living by driving call girls for the yakuza. Typical diversions hold little interest for him. He has few social or material attachments, living it a bare apartment, apparently interacting with few people outside his occupation. He's an outsider. Not in some flamboyant sense, but in the sense that he doesn't program the ring tone on his phone or otherwise follow proscribed behavioral patterns. The one person that Masahiko cared about was his older sister, and with her death, he's called to a sort of action. Returning to his parent's home, he removes a CD from her room and finds that when he plays it, his consciousness departs from his body. In the astral world he meets fellow out of body travelers: a homeless man named Zampano who received a head injury during an assault and Misa, a young woman scraping by in near financial and emotion destitution. And he meets unhuman presences: Slimey - a Lovecraftian horror from the mind of a failed game developer, and a Francis Bacon painting reproduced on the cover of a modern art book, come to life. In the material world, he's suddenly the object of the attention of his sister's self described "frigid" female friend, a man who might have been his sister's lover and might have entered into a suicide pact with her, and a collector of esoteric music who might be acting has a proxy for larger interests. Like his Oldboy, Marginal's takes a genre template and fills in the space with a densely woven study. Anime and manga regularly taps on the idea of alienation. It's one of early Naruto's greatest strengths. Astral Project, takes an outsider respective and takes his search for truth, and uses him as a proxy to offer a diagnosis of how modern people relate to the world. The mystery becomes less about the circumstances of Masahiko's sister's death and the strange CD that she left behind than about reading into the implications of how matters got to the way they are. Astral Project is only four volumes, but over that span, Masahiko is bombarded with advice from a span of parties, both earthly and unearthly, hitting him with metaphysics, dark bits of history from the Vietnam Wars and sociology from the lives of Eurasian nomads to Japan's Heian period. Astral Project does explain many of its references and allusions. One that gets a double page spread illustration, but little articulated context is the role of prowrestling in post war Japan. During the occupation, America worked to reshape Japanese society into a capitalist democracy. Two things that that occupation left Japan with were televisions installed in public locations and a need for self identity. The two complemented each other to produce famed pro-wrestler Rikidozan, a Japanese hero who could face down seemingly overpowering foreign opponents. Astral Project posits that with phenomena like Rikidozan, pop culture became the lynchpin of society, an evolution that produced the idea of "Cool Japan," soft power through global interest in intellectual property and an "otaku-dominated present." Astral Project's thesis is not complementary of society in general and it's not complementary of geeks in specific. Astral Project ran in Comic Beam, which did run Emma, a maid comic, if a smart one. It's been the home of Atsushi Kaneko's Bambi and Her Pink Gun and Soil, as well as Junko Miznuo's Fancy Gigolo Pelu. In other words, this is a magazine that is a bit outside the mainstream, and a bit outside of prime geek territory. It isn't making these comments to the otaku readers of magazines like Dengeki Daioh or Comic Flapper. Painted as socially impaired, fantasy sex criminals, those folks come in for a beating here. But that is one piece in an abrasive assessment of modern society. Masahiko's search for the circumstances of his sister death's leads into a mapping of a spiritual dark age. Though those obsessed with escapist fantasies take it on the chin, the broader spectrum of anyone who uses modern technology on a daily basis fits into the prognosis of a species whose ability to process information is atrophying. "Pleasure... carnivals, sexual urges, they all have a beginning and end... but computer addiction doesn't." My concept of "bookshelf manga" has never caught on, but that's not going to stop me from evangelizing it. Most manga is written as disposable entertainment, and doesn't transcend that. Even for a compelling title like Tsubasa: RESERVoir CHRoNiCLE or Fullmetal Alchemist, to name a couple of best sellers, are they really works you'll want to read five or ten years from now? Then, there are works that rise to the level of literature, the Dickensian serials of Naoki Urasawa, Osamu Tezuka's serious explorations like Ode to Kirihito or Town of Evening Calm. Astral Project is written as pulp. It's not set up as some ornate classic. I don't think I'd slot it into the "bookshelf manga" category. And yet, this is manga to keep around. I've used "novelistic" to describe manga before, generally to denote developing works that run for a stretch, generally as opposed to the short story like reach. Here, Garon Tsuchiya/marginal has the relatively tight parameters of four volumes to work with. I imagine that unlike manga that run based on a complex formula of popularity, authorial willingness and editorial edict, this four volume length was defined ahead of time. And, marginal fills that space with convolutions. Astral Project can be understood after one reading, but it is like the kind of novel that you reread to ensure you that truly on the same wave length as the author. It is a unique manga, that fans of narrative that doubles as social critique should make a point to seek out.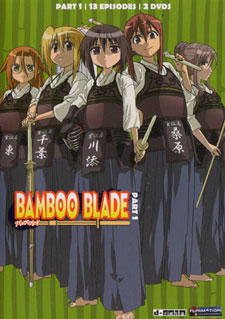 Anime Spotlight: Bamboo Blade Part One Released by FUNimation
Bambloo Blade's vanguard characters Tamaki Kawazoe grew up the only daughter of an instructor at a highly regarded kendo dojo - kendo being a sport/martial art based on traditional sword fighting in which armored competitors fence with bamboo shinai - hence the series' name. Tama's mother died when she was young, and though her father was caring, he was traditionally minded. As such, she was apparently raised with little social or emotional guidance. Hitting high school, she opted to return home after school to watch anime rather than connect to peer. Her school does have a kendo team. With a bet, the team's sad sack coach Toraji Ishida is suddenly prompted to do some recruiting. Trading on Tama's anime and tokusatsu (Power Rangers) informed spirit of justice, Ishida and the team's hammy captain Kirino Chiba press Tama onto the team. Sooner or later the group adds Miyako Miyazaki, aka Miya-Miya - a girl with a traditional sweetness who finds that hitting people with a kendo sword appeals to her not-quite well hidden sadistic side, Sayako Kuwahara - a tall girl prone to quitting the team due to her somewhat diffused energies, and Satori Azuma, a skilled kendo practitioner reluctant to join the team due to its potential impact on her shatter brained challenged academic endeavors.

It's Azumanga Daioh with swords. While there is a real attention to the sport, the anime is more about the characters and how their personalities play out outside class and other formal endeavors that it is about the competition. I didn't think I was going to like Bamboo Blade. It was a DVD I put on out of curiosity, fully prepared to turn it off and put it away after an episode. The manga ran in Square Enix's Young GanGan, the biweekly seinen arm of the GanGan line (home of Fullmetal Alchemist, Soul Eater). , GanGan manga tends to interest both genders more than other anthologies, and manga illustrator Aguri Igarashi is a women. Yet, Young GanGan runs Black God (cute girl boxing super natural/powered adversaries), Saki (cute girls playing mahjong), Sumomomo Momomo (cute girl martial artists heiress) and Shikabane Hime (sortof cute girl undead, armed with automatic weapons) - all for a male audience.

I'm not sure who coined the term "moe blob," teenage girls whose bodies might as well be comprised of baby fat, but it's what I thought of when getting a thumbnail view of Bamboo Blade. The description of Tama. Pictures of the tentative child/freshman. Even the pictures of the team in their rounds kendo chest plates... it all seemed to be very non-threatening 2D girlfriend territory. There's a much talked about manga/anime called K-On! The manga has been licensed for release in North America later this year. The anime, from recent otaku favorite Kyoto Animation ( Melancholy of Haruhi Suzumiya, Kanon, Clannad, Lucky Star), hasn't. Again, it's a cute girl seinen title. A girl learns to play the guitar and evolves her school's light music into a rock band. It might be absolutely brilliant, but with its sledgehammer "moe blob" aesthetic and chippy voice, I couldn't sit through its opening sequence. My fear was that that was what I'd get with Bamboo Blade.

To my own surprise, I really liked Bamboo Blade. I have reservations about the widely praised Azumanga Daioh, and I'll debate anyone who suggests that the fact that it was written for a male readership doesn't have an important effect on the work, but I am a fan of the inclusively chummy comedy of a circle of girl friends in high school's moments in-between studies and tests. I do think that the Azumanga Daioh appeal applies to Bamboo Blade, even if Azumanga Daioh's subjects didn't apply themselves to any afterschool activities and Bamboo Blade is specifically about an extracurricular endeavors. All of Bambloo Blade's characters are sufficiently likable or enjoyable to watch; even the immature Tama. It's the opportunity to sit in on a group of friends and laughing with/at them. I could be wrong, but, my impression of kendo is that it is linear and decisively quick. It doesn't seem like an ideal spectator sport or one whose pacing is suited for this sort of story. Sports anime can be made out of kendo. Sports anime has been made out of kendo, as well as go, chess/shoji and even bread baking. Bamboo Blade has some ideas on how to do it, such as switching the helmet's mask to translucent to see the girls' faces at dramatic moments. Competition does factor into Bamboo Blade, and it does attach some stakes. Yet, while most sports anime/manga are more about the character than the sports, most develop more anticipation for the sporting event and spend more time in it than Bamboo Blade. Bamboo Blade has a well defined notion of kendo and characters who have spent time doing it have solid notions concerning that sport. There's a physical presence with the talk of sweat, sword grips and blisters. And, there is a conceptual presence, as when the coach emphatically states that in kendo, there are no flukes. More than that, the endeavor serves to bring together a diverse mix of characters from different grades and of different personality types, and it serves to provoke and reveal these personalities. The characters and kendo click together so well that when the anime deviates from the trappings of the sport it feels off course. There are decent bits in which the coaches parents tell him to grow up. Tama's relationship with her traditional minded father is kind of interesting. That said, when the characters aren't practicing kendo or acting in directly in way directly related to kendo, that's when Bamboo Blade is prone to trip up as it rolls out outlandish jokes.

Part of the formula for this young cute girls for an older, male audience field of anime/manga is nostalgia. What underscores Azumanga Daioh and Bamboo Blade is nostalgia for transitory things that mattered but which were beyond the purpose of the phase of life - high school as a stage towards college, college as a stage towards a career. There is a notion that this time with peers ends. Bamboo Blade references how few seniors (third year students in Japan) spend time on the team because of the need to apply themselves to college entrance exams. It's what we want to remember fondly, and it's finite. Preferring more mature character types, Bamboo Blade's cast did little for me. They were suitably amusing, but dangerously close to the types that prompt me to shut off anime, or not watch it at all. History interests me. Nostalgia doesn't. And yet, that hook did endear Bamboo Blade to me. It reminded me of my days on my high school wrestling team. The coach philosophizing. The stupid things done while driving to meets. Bamboo Blade struck me as a superderformed caricature of the high school sports experience. I put Bamboo Blade into the DVD player expecting that the DVD would not be in for long. To my surprise, I finished the set with a desire to see the second half.
Upcoming in North America (and Other English Speaking Territories)
AnimEigo With its license expirment, AnimEigo's release of magic girlfriend anime series Oh My Goddess! goes out of print on 2/28/2010 CMX

NADESHIKO CLUB VOL. 1 Advance-solicited; on sale June 9 5" x 7.375" 192 pg, B&W, $9.99 US TEEN Written and illustrated by Miku Sakamoto CMX. After getting dumped by her boyfriend for not being feminine enough, Reo decides to take matters into her own hands. She enrolls in the Home Economics club to brush up on her domestic side, but gets the shock of her life to find out all of the members are male! Their reputation for being hardcore precedes them and her first month in the club is nothing short of a military style boot camp. Will Reo be able to make the grade?

APOTHECARIUS ARGENTUM VOL. 9 Advance-solicited; on sale June 9 5" x 7.375" 192 pg, B&W, $9.99 US TEEN Written and illustrated by Tomomi Yamashita

RAMPAGE VOL. 2 Advance-solicited; on sale June 23 5.5" x 8" 194 pg, B&W, $12.99 US

DEKA KYOSHI VOL. 3 Advance-solicited; on sale June 16 5" x 7.375" 162 pg, B&W, $9.99 US TEEN PLUS Written and illustrated by Tamio Baba

A TALE OF AN UNKNOWN COUNTRY VOL. 3 Advance-solicited; on sale June 23 5" x 7.375" 192 pg, B&W, $9.99 US EVERYONE Written and illustrated by Natsuna Kawase

TENJHO TENGE VOL. 19 Advance-solicited; on sale June 9 5" x 7.375" 184 pg, B&W, $9.99 US MATURE Written and illustrated by Oh! great

VENUS IN LOVE VOL. 9 Advance-solicited; on sale June 30 5" x 7.375" 208 pg, B&W, $9.99 US TEEN Written and illustrated by Yuki Nakaji Dark Horse

CARDCAPTOR SAKURA OMNIBUS VOLUME 1 CLAMP (W/A) On sale July 14 b&w, 576 pages $19.99 TPB, 5 3/4? x 8 1/4? Fourth grader Sakura Kinomoto finds a strange book in her father's library—a book made by the wizard Clow to store dangerous spirits sealed within a set of magical cards. But when Sakura opens it up, there is nothing left inside but Kero-chan, the book's cute little guardian beast . . . who informs Sakura that since the Clow cards seem to have escaped while he was asleep, it's now her job to capture them!

DEVIL #4 (of 4) Torajiro Kishi (W/A) and Madhouse Studios (W/A) On sale May 19 FC, 24 pages $3.50 Miniseries Humanity is on the brink of extinction. Or so the Devils would have you believe. A freakish virus is infecting people, "evolving" them into vampire-like Devils, who see themselves as the new apex of the earth's food chain. One of these Devils, the recently turned Nishioka, is on a mission. If he succeeds, he could free the most dangerous threat to humanity—the beautiful and vicious Mariko. But is Nishioka's love for Mariko a strength, or the key to his undoing? An original, Western-style comic from manga artist Torajiro Kishi (Maka Maka) and blockbuster anime studio Madhouse (Trigun, Paprika, Ninja Scroll).

GantzV12 Hiroya Oku (W/A) On sale July 28 b&w, 224 pages $12.99 TPB, 5 1/8? x 7 1/4? Dinosaurs, terrorism, and blood—Gantz doesn't let up one bit as it climbs into its second "season" of cryptic, frenetic, sexy, and violent storytelling. This time, there's a guy who's a fanatic about the Gantz phenomenon, to the point where he tries to get himself inserted into the alien-hunting game. The question is: will he succeed? The only way to be part of the Gantz universe is to die first. How far is one man willing to go in order to join Kei in pursuit of this temporary role as a universal god-cop? And once you're there, how do you kill all those dinosaurs? Confusing? The answers are in Gantz Volume 12.

THE KUROSAGI CORPSE DELIVERY SERVICE VOLUME 11 Eiji Otsuka (W) and Housui Yamazaki (A) On sale July 28 b&w, 232 pages $10.99 TPB, 5? x 7? Paint it black! Designer Bunpei Yorifuji darkens the iconic cover design in honor of the sinister Class Cutter in Kurosagi's longest story since volume 2, inspired by one of the most infamous Japanese crimes of recent years. Can a girl who committed a brutal murder in grade school ever truly return to society . . . and why does Sasayama insist on dragging the Corpse Delivery Service into it?

USAGI YOJIMBO VOLUME 24: RETURN OF THE BLACK SOUL Stan Sakai (W/A) On sale July 14 b&w, 192 pages $16.99 TPB, 6? x 9? On sale July 28 b&w, 192 pages $59.99 HC, 6? x 9? For years, as Miyamoto Usagi has wandered the countryside, an unseen, malevolent entity has been tracing his steps. Thought dead since the events of Grasscutter, the demon Jei—the Black Soul—has been inhabiting the body of the swordswoman Inazuma, intent on destroying the evil he claims to see in Usagi! Meanwhile, Boss Bakuchi, shamed by his inability to avenge his son's death, doubles the bounty on the killer—Inazuma. The money brings out scores of bounty hunters, unaware that they are merely a flock of sparrows intent on bringing down an eagle. The hunt for Inazuma also draws Usagi, hunters Gen and Stray Dog, and a mysterious stranger name Discotek Blog of the North Star notes that Discotek revealed their first, 36 episodes set of Fist of the North Star is scheduled to be released in June

FUNimation FUNimation Entertainment today announced that it has acquired home entertainment, theatrical, broadcast, digital and merchandise rights to the26 episode action comedy space western "Trigun" from FlyingDog, Inc. Based on the manga series created by Yasuhiro Nightow, the anime is directed by Satoshi Nishimura. FUNimation Entertainment will release the series on DVD in Fall 2010.

*

FUNimation also announced the English cast "Dragon Ball Z Kai." In "Dragon Ball Z Kai" the Dragon Ball Z story is retold to more closely follow creator Akira Toriyama's original tale about a brave young warrior named Goku. A project personally overseen by Toriyama, "Dragon Ball Z Kai" has been re-edited and re-made using the latest in digital technology. The new series also features renewed soundtracks and a re-recording of the series by key members of the original voice cast. New cast members: Gohan – Colleen Clinkenbeard Bulma – Monica Rial Narrator – Doc Morgan Chiaotzu and Puar – Brina Palencia FUNimation Entertainment will begin releasing the series on DVD and Blu-ray starting with Part One on May 18, 2010. Manga Entertainment Manga Entertainment will be dropping the price of the special edition release of Hayao Miyazaki directed Castle of Cagliostro to $19.97. The disc features an intereview with influencial animation director Yasuo Otsuka. Manga Entertainment (UK) Fullmetal Alchemist: Brotherhood Episodes episodes 1-13 will be released on DVD on 23rd August, and stream online. Sengoku Basara (Samurai Kings) episodes 1-11 will be released on DVD on 4th October, and also stream online. New live action licenses include Kamui Gaiden to be released on DVD and Blu-ray on 2nd August, and hopefully theatrically in June, as well as DVD titles Chanbara Striptease and Tokyo Gore School. NIS America Game publisher NIS America will be entering the aime marker with licenses "Toradora!", "Persona -trinity soul-", "Pandora Hearts", and "Our Home's Fox Deity" (Wagaya no Oinarisama.) Initially a selected number of titles will be released on a scheduled basis and will expand its offerings over time. Like its video game offerings, anime titles will be available with collector's items. Shout! Factory Shout! Factory will begin releasing remastered editions of the Showa era incarnation of turtle kaiju Gamera with Gamera, The Giant Monster – Special Edition on DVD May 18, 2010 ($19.93). The disc will feature the movie in its unedited original version, with English subtitles — in anamorphic widescreen from an all-new HD master. The DVD includes a 12-page booklet with an essay by director Noriaki Yuasa, a photo gallery, trailers and more. The classic Gamera was directed Noriaki Yuasa, who helmed all seven of the original Gamera entries in the Showa era series between 1965 and 1971, and stars Eiji Funakoshi (Fires On The Plain), Harumi Kiritachi, Junichiro Yamashiko and Jutaro Hojo (Wrath of Daimajin). The subsequent franchise was more kid-friendly (yet ironically bloodier) than Godzilla, who became less menacing and more cuddly himself during the Sixties. The Gamera series was creative in the monstrous nemeses that it pitted against the towering turtle, the most famous being the flying, pointy-headed Gyaos, who was resurrected for the successful trio of movies in the Heisei-era series between 1995 and 1999. Created by the same company who brought Zatoichi to the screen, Daiei Studios' titanic terrapin is the only true rival to Toho's King Of The Monsters, able to hold his own at the box office and secure a place in the hearts of kaiju eiga (Japanese monster movie) fans around the world. The original films have woefully been underrepresented on DVD, a especially release featuring the authentic Japanese versions. VIZ Media VIZ Media, LLC (VIZ Media) will release shojo manga CACTUS'S SECRET on March 2nd. The new series, by Nana Haruta, will be published under the Shojo Beat imprint, is rated 'T' for Teens, and will carry an MSRP of $9.99 U.S. / $12.99 CAN. Miku Yamada has a longtime crush on classmate Kyohei Fujioka. But no matter how many times she tries to show him how she feels, clueless Kyohei just doesn't get it. Frustrated, Miku gives up on him, only to have him start calling her "Cactus" for being prickly when he's around. In the opening volume, Miku decides to try telling Kyohei her feelings by giving him chocolates for Valentine's Day. But Kyohei, unaware that he's the object of her affection, offers himself up as a practice partner for her love confession. Can Miku get through to him that he's the one she loves?

*

Following its Japanese release of February 24, Chiaki Kuriyama (Battle Royale, Kill Bill, The Sky Crawlers) Gundam theme song single will be released in the United States and Canada on March

*

Not anime, but of note, the creators of the Oscar-nominated animated short, Madame Tutli-Putli, return with the adaptation of Higglety Pigglety Pop! or There Must Be More to Life based on the book by Maurice Sendak produced by Spike Jonze, Vincent Landay and Marcy Page.

Higglety Pigglety Pop! or There Must Be More to Life will be featured as an exclusive short on the Where the Wild Things Are Warner Home Video Blu-ray out March 2. On February 28, the film will have its world premiere at the Festival International du Film pour Enfants de Montréal (Montreal Children's International Film Festival) followed by a special presentation with the directors and the puppeteers. The NFB will distribute a DVD scheduled for summer 2010.
Event News
The MIT/Harvard Cool Japan research project and the MIT Comparative Media Studies program will be presenting the New England premiere of the anime feature film "Summer Wars" (2009, Director Mamoru HOSODA, Madhouse / Kadokawa) March 1, 2010 (Mon.) at 7:00. The director and producer of the film, both based in Japan, will be present at the screening and will participate in a Q/A/discussion after the film. The event is free and open to the public. "SUMMER WARS" (2009, Kadokawa / Madhouse, Japan) March 1, 2010 (Mon.) 7:00 - 9:30pm Room 26-100, MIT New England Premiere Screening 35mm print, Japanese voices, English subtitles The film explores the drama of high school romance, hackers in virtual worlds, the complexities of extended families, and the potentials of our hyper-connected present. Suitable for all ages but aimed at teens and adults, the film is a wonderful example of recent anime virtuosity by Japan's hottest young director. Director Hosoda's previous film, "The Girl Who Leapt Through Time" (2006), won many prizes including the Japan Academy Award for Best Animated Film.

*

Additional screenings of the Oscar Nominated Secret of Kells have added to the NYCIFF's schedule, to be shown at New York IFC Center Saturday and Sunday March 6 and 7 at 10:50am and 12:35pm. Tickets can be ordered here.

*

New York's Japan Society will be presenting Mad, Bad… & Dangerous to Know: Three Untamed Beauties March 31-April 18 At the opposite end of the stereotype of docile Japanese women—heroic good mothers, chaste daughters and hardworking faithful wives—actresses Ayako Wakao, Mariko Okada and Meiko Kaji embodied the transgression of limits, breaking rules, flouting norms and generally upsetting everyone. This series explores the idea of unconventional beauty that these spellbinding actresses created through an unparalleled body of films. Both Wakao and Okada were muses and inspiration for two major film directors, Yasuzo Masumura and Kiju (Yoshishige) Yoshida, respectively, while Kaji navigated between filmmakers, a wild card of Japanese cinema at the time. Put together, their films delineate what one could call an aesthetic of "convulsive beauty" (André Breton).

*

ChibiChibiCon, Saturday, February 20, 2010 at the Evergreen State College, Olympia, Washington will be showing retrospectives of the works of Katsuhiro Otomo, Mamoru Oshii, and Satoshi Kon

*

LA Cinefamily will be presenting Jerry Beck's Animation Tuesdays: Scope-A-Toons Tuesday, March 2nd | 8:00pm

For ladies who want it wider and guys who like it longer, this month our resident animation historian Jerry Beck will screen a collection of classic cartoons from the 1950s which were made in various anamorphic widescreen formats. The majority of these cartoons have not been projected in their original screen ratios since their first release –- and will include Disney's Oscar-winning Toot Whistle Plunk and Boom and Terrytoons' classic Juggler of Our Lady (narrated by Boris Karloff, designed by R.O. Blechman.) Rarely seen on the big screen, Jerry will expand your animated horizons in CinemaScope, MetroScope, TotalVision and SuperPanaoramaUltraScope! A once in a lifetime presentation -- Mr. Magoo, Tom & Jerry, Donald Duck, will never look the same!

*

Pop Japan Travel has announced a new "All Dolled Up" Gothic-Lolita fashion tour, scheduled for April 1 until April 10. The cost of the tour includes all accommodations, round trip airfare to Japan from Los Angeles, dinner with famous fashion designer AYA at the Christon Cafe, a trip to the Alamode Market, transportation, professional bilingual tour guides, entrance fees to all activities, and a customized guidebook created exclusively for the tour.

*

Final Fantasy composer Nobuo Uematsu will be a guest at this year's Anime Boston (April 2-4). Additional, new guest announcements include voice actors Josh Grelle (Kenichi Shirahama in Kenichi: The Mightiest Disciple, Haka in the Duel segemnt of Lego:Legends), Clarine Harp (Kaede in Negima, Miss Katz in Shin chan, Asagi in Witchblade and Laura in RIN ~Daughters of Mnemosyne~ ), Christopher Smith (Ishidate and Shuura in Naruto, Kittan in Gurren Lagann) and J. Michael Tatum (Kyoya Otori in Ouran High School Host Club, Doumeki in XXXHolic ) as well as artists Bob and Emily DeJesus

*

Yoshitaka Amano (Vampire Hunter D, Final Fantasy) will be at the February 20 opening of solo exhibition "Deva Loka: Los Angeles" at LeBasse Projects in Culver City, CA

*

Baltimore's Otakon 2010 has added voice actors Maile Flanagan and Vic Mignogna to its guest list

*

New York's Center for Book Arts will be presenting a exhibition of alt manga anthology Garo, April 14, 2010 - June 26, 2010

Organized by Ryan Holmberg, Assistant Art Professor, Writer "Garo Manga, 1964-1973" will be an exhibition focused around the renowned manga (Japanese comics) journal Garo during the period of its greatest aesthetic experimentation and political commitment. Garo is well-known amongst comic enthusiasts and historians of postwar Japanese culture both for its challenging of formal and thematic conventions within the field of comics as well as for its engagement with the main political issues of the day, from rightwing incursions into national education policy to Japanese involvement in the Vietnam War. This exhibition presents the work and development of Garo during this seminal period. The core of the exhibition will be each and every issue of Garo, from its first issue in September 1964 to its 120th issue in December 1973. Most of the issues will either be shelved serially on a book shelf roughly 8 feet from the floor or, alternately and perhaps preferably, each issue mounted serially upon the wall with their covers facing outward. Exhibition cases will be used to display a number of individual Garo volumes open, showing representative moments in the history of the magazine and the work of important artists. In other exhibition cases, supplementary materials will be exhibited, including direct precursors to Garo, a selection of important Garo issues from later periods, other journals inspired by Garo (including Tezuka Osamu's COM), and issues of Manga-shugi (Manga-ism), a small but important magazine of manga criticism, much of which focused on the work of Garo.

*

Wasabi Anime will be hosting anime events, including contests, cosplay, panels and viewings , at Ancient City Con, July 10th-11th, 2010 at the Hyatt Regency Jacksonville Riverfront. Lansing, MI's Shuto Con will be hosting "The Wasabi Animusical IV: A New Hope" during the 2011 Event.

*

Pittsburgh's ToonSeum has planned an Akira for Spring 2010. In a unique approach to increasing the scope of the Akira exhibition, the ToonSeum is reaching out directly to this devout fan-base for assistance. In an attempt to raise the funds needed to ensure the exhibit's success, the ToonSeum is asking Akira enthusiasts to pledge sponsorship through Kickstarter.com, a new website that raises funding for unique projects. For more information, see here
Upcoming in Japan
Spring anime season chart Promos Senko no Night Raid - historical espionage set in 1931 in Shanghai Isshoni Sleeping ~ Sleeping With Hinako - obstensibly sleeping habbit self helf King of Thorns - the manga of which was released in North America by Tokyopop Eiga Precure All-Stars DX 2: Kibou no Hikari ~ Rainbow Jewel wo Mamore! Eve no Jikan - movie edit xxxHOLiC Rou Ichiban Ushiro no Daimao Fujoshi no Hinkaku OVA Welcome to the Space Show Anime Beyond first time director Hiromasa Yonebayashi's Karigurashi no Arrietty/Arrietty the Borrower, Ghibli plans to produce the work of a "young director" in 2011

*

Josei manga Kuragehime (Jellyfish Princess) will be adapted into anime for Noitamina, an anime programing block that endeavors to offers anime for non-traditional anime fan audiences. The Akiko Higashimura series follows a jellyfish obsessed young woman living in an apartment complex with a fashion concious man in drag.

*

A slate of new projects based on the real robot war franchise Armored Trooper Votoms have been announced - Armored Trooper Votoms Case;Irvine and VOTOMS Finder — on Wednesday. Creator Ryousuke Takahashi will be overseeing. Shisho Igarashi (Sora no Otoshimono storyboarder) is directing Case;Irvine, while Atsushi Shigeta (Armored Trooper Votoms: Pailsen Files, Mobile Suit Gundam Wing animation director) is directing Votoms Finder. Original mechanical designer Kunio Okawara returns for Votoms Case;Irvine with new character designer Hirokazu Hisayuki (My-Otome, My-HiME, Future GPX Cyber Formula Saga) and scriptwriter Takuya Sato (Fate/stay night, NieA_7, Strawberry Marshmallow). For Votoms Finder, Junichi Hayama (Be-Bop-Highschool, JoJo's Bizarre Adventure: Phantom Blood, Shin Kyuseishu Densetsu Hokuto no Ken: Toki-den) is designing the characters, and Mayori Sekijima (Saber Marionette J, Star Ocean EX, Jyushin Enbu - Hero Tales) is writing the script.

*

The Mobile Suit Gundam 00 anime movie will open in Japan this September

*

Monster Rock will air animated shorts based on Galileo Galilei

*

Union Cho is produced an anime film based on Eleanor Farjeon's The King's Daughter Cries for the Moon, titled the Moon – Tsuki ga Hoshii to Ojousama ga Naita

*

7th Animax Award winning "Shoka" (Calligrapher) will premiere on Japan's AnimaxM anime channel on March 27. The Makoto Yamada (You're Under Arrest, Code Geass: Lelouch of the Rebellion) directed Production I.G work follows the role of the "Way of the Paper Drawing" in an Edo era conflict. Kenji Kawai (Ghost in the Shell films, Death Note films, Eden of The East) scores the soundtrack.

*

Via ANN Iyasakado Film is producing a Sock Monkey Loves You movie.

*

Staffing has been revealed for the Madhouse produced anime adaptation of Daisuke Sato and Shoji Sato's Highschool of the Dead. Tetsuro Araki (Death Note) will direct, based on a Yosuke Kuroda (Gundam 00, Honey to Clover) with Tanaka Masayoshi (Toradora!) character design. The manga will be coming back for the conclusion to "Shopping Mall" story in Dragon Age # 04 (On sale March 9) and Dragon Age # 05 (On sale April 9)

*

Tecmo gambling character Rio will be getting her own anime. Manga Action sci-fi Alive - Saishu Shinka teki Shonen is coming to an end. The manga is being released in North America by Del Rey. An anime TV series had been announced but never materialized

*

Mitsuteru Yokoyama's (Tetsujin 28) psychic/giant robot Babel II will be revived in Akita Shoten's Young Champion. The Babel III anime OVA was released in North America and characters and mecha from Babel II were integrated into the Giant Robo OVA.

*

Mitsuru Adachi is ending baseball manga Cross Game

*

Jin Kobayashi (School Rumble) will be launching a new manga series Bessatsu Shonen Magazine this year.

*

Yuuki Ohta will be adapting anime Time of Eve/Eve no Jikan into manga for Young Gangan

*

via News Paradise, new manga scheduled to appear in Morning includes Naoki Serizawa's (Saru Lock) medical work Migita No Lucifer, scheduled to begin in Morning # 13 (On sale February 25). Higashimura Akiko's (Himawari) Omo or Naitemasu, about a beautiful girl who wants to be ugly, scheduled for Morning # 14 (On sale March 4) military/political writer Kaiji Kawaguchi (Author of Zipang)'s unnamed new work, scheduled for Morning # 15 (On sale March 11).

*

Kaoru Mori will have a new chapter of Shirley, spin-off of well regarded maid manga Emma, in Fellows! # 10 (On sale April 15).

*

Hiro Mashima (Fairy Tail) will launch a new project in Shounen Rival.

*

Miwa Ueda (Peach Girl Author) will begin a new series called Pre ? Mari in the Betsufure # 04 (On sale March 13). Live Action Classic boxing manga Ashita no Joe starring Tomohisa Yamashita (Ikebukuro West Gate Park, Kurosagi) of the idol group NEWS .

*

Doraemon co-creator Fujiko Fujio A's Kaibutsu-kun is being adapted into live action with Arashi band member Satoshi Ohno as the lead

*

The live adaptation of Harold Sakuishi's rock manga Beck opens in Japan September 4th.
Cool Figures News...
FUNimation Entertainment announced the signing of multi-year, national licensing agreements with toy manufacturer Shocker Toys LLP, to produced figures based on Soul Eater, Fullmetal Alchemist: Brotherhood, Dragon Ball Z and One Piece. Shocker Toys has the rights to develop, manufacture, market and sell designer figures called "Mallows" based on characters from the four series. Mallows is a new toy line created by Shocker Toys and comprised of 5" marshmallow themed figures. The figures feature up to 10 points of movement and up to 7 interchangeable parts. Mallows are available themed or in blank, black or white, do-it-yourself versions.

*

Kotobukiya has announced the release of Lost Planet 2™ PVC Action Figures from Capcom's upcoming new action game Lost Planet 2 which is scheduled to be released on May 20, 2010 in Japan and May 18, 2010 in North America and Europe. Kotobukiya Lost Planet 2 Action Figures are developed by the Kotobukiya staff and support of Mr. Jun Takeuchi, who is the producer of Lost Planet 2 and served as the producer for Onimusha 3 and Lost Planet and chief producer for Resident Evil® 5 in the past, and other CAPCOM's development team members. GTF-11 DRIO / PTX-140R HARDBALLER $39.99 - due SPRING 2010 PVC Action Figure - 140mm(DRIO) 150mm(HARDBALLER) 1/35 SCALE

(c)CAPCOM CO., LTD. 2010 ALL RIGHTS RESERVED. GTF-11SR DRIO SR / PTX-140 HARDBALLER $39.99 - due SPRING 2010 PVC Action Figure - 140mm(DRIO) 150mm(HARDBALLER) 1/35 SCALE

(c)CAPCOM CO., LTD. 2010 ALL RIGHTS RESERVED.

*

Yamato USA is now offering the fifth piece in the Fantasy Figure Gallery, Monica's Axe, based on art by Boris Vallejo and sculpted by Tobe of HEAVY GAUGE

New Yamato USA released include Creators' Labo #022: Tsukasa Bullet – Sound Pretty Inspired by the works of character designer Jun Tsukasa (Senogoku Cannon/Blade), the 11.80" PVC statue features the sculpting talent of Kang Yong of Cerberus Project TM Creators' Labo #024: Tsukasa Bullet – Compact Hog The second in a series of PVC statues based on the original illustrations of TSUKASA JUN (a.k.a. Tsukasa Bullet), this 7.25" (kneeling) figure is sculpted by G.O. (Cerberus Project TM) Shipping July / August 2010.

Story! Image! Figure! EX: Sumaga – Oki Kiki, Demonized 8.25" PVC statue, based on the eroge / hentai video game SUMAGA (Star Mine Girl) by Nitro, sculpted by French Doll (Cerberus Project TM) Shipping July / August 2010.

*

2010's Wonderfest recent took place. Photos of the figures can be seen CollectionDX's coverage - and the more anime girl side of things at Anime: Collection DX Anime Vice's coverage

*

For fans of Gundam's battleships, Cosmo Fleet Collection Act 3 Vol. Gundam Zeta Reissue A look at Tamashii's Robot Figures
The Business
Publishers Weekly looks at Diamond's ordering threshold, a year later On January 16th, 2009, Diamond announced a policy change that would have a huge impact on the comics market: the threshold for orders on new products was bumped up from $1500 to $2500, and fewer items would be relisted after their initial offering. The effect of the change was to not only reduce the number of low selling products that Diamond carries in its massive catalog but it to limit the number of new and unusual works from small presses

*

Retailer Brian Hibbs surveyed bookscan's 2009 numbers Once again, the largest section of titles, by far. In 2009, Manga continues to dominate with 451 spots (out of 750) on the charts for 4.4 million pieces (58% of the Top 750), and $41.1 million in retail dollars (44%). Here's a year-to-year comparison chart for the Top 750: Year - # of placing titles - Unit sales - Dollar sales 2003 - 447 - 3,361,966 - $34,368,409 2004 - 518- 4,603,558 - $45,069,684 2005 - 594 - 5,691,425 - $53,922,514 2006 - 575 - 6,705,624 - $61,097,050 2007 - 575 - 6,837,355 - $61,927,238 2008 - 514 - 5,624,101 - $53,033,579 2009 - 451 - 4,414,705 - $41,068,604 Despite still being the dominant "kind" of comic on the BookScan charts, manga is down massively in 2009 – posting the second lowest numbers in the seven years charted. If manga continues to decline as it has, 2010 could be lower than 2003.

*

Imagi International Holdings Ltd. has laid off over 300 staffers and close the Hong Kong Imagi Animation Studio (TMNT, Astro Boy, planned Gatchaman) in a move "to further preserve its limited liquidity and shareholder value." Imagi also owes some HK$36 million ($4.6 million) in back pay to the 350 employees it laid off, Hong Kong's Apple Daily newspaper reported on Tuesday, citing labor organizers working with the former employees.

*

The Disappearance of Haruhi ranked 7th in the box office in its opening weekend. Canned Dogs offered some comparitive numbers One Piece Strong World Average 5,520,000 yen per screen Total 188 screens 818,738 watched Total 1,038,439,600 yen Average 1,268 yen per person Evangelion 2.0 Average 4,270,000 yen per screen Total 120 screens 354,852 watched Total 512,182,000 yen Average 1,443 yen per person Haruhi disappearance Average 3,700,000 yen per screen Total 24 screens 60,306 watched Total 89,010,100 yen Average 1,476 yen per person Evangelion 1.0 Average 3,340,000 yen per screen Total 84 screens 236,158 watched Total 280,424,200 yen Average 1,187 yen per person Summer Wars Average 1,000,000 yen per screen Total 127 screens 109,250 watched Total 127,538,200 yen Average 1,167 yen per person Gurren Lagann movie 2 Average 990,000 yen per screen Total 28 screens 18,000 watched Total 27