Hey folks, count your blessings, it seems the old man is 'winded'. I tell ya it's a delayed reaction to all that fun he's been having with his cloned minions of Rebecca Gayheart and Betty White. Hey... he's old... he's eccentric... and... well, that's all the excuses I'm making for Moriarty...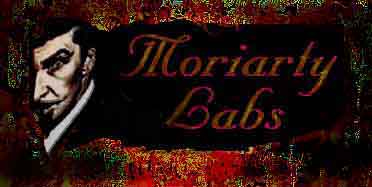 Hey, Head Geek...
"Moriarty" here.
I'm desperately afraid to look at my power bill right now. I think The Moriarty Labs is running on full capacity right now, with several major experiments in the works at once. Starting Wednesday and running through Friday, I'm going to be running a batch of interviews with the principals from Dreamworks' brilliant AMERICAN BEAUTY. You can expect Thora Birch, Mena Suvari, and Wes Bentley tomorrow, Kevin Spacey and Annette Bening on Thursday, and the gifted and gracious Sam Mendes on Friday. The film opens on Wednesday in New York and Los Angeles and everyone else gets it for the weekend. I'm excited about the conversations we had about the film, and I hope you'll all enjoy them.
Right now, I've got Santana's SUPERNATURAL cranked, and I find myself playing track five over and over again. I can't help myself. Maybe it's the number of times I've seen the "Smooth" video now, maybe it's that insanely catchy chorus... at any rate, this song should be classified a Schedule I controlled substance. It's helping me relax enough to shoot off what may stand as one of the shortest RUMBLINGS ever, just a few pointed thoughts and observations.
I spent the weekend with Bob Zmuda's book that I mentioned last week, both hurrying through it and trying to savor every word. It's a wonderful read, and it's my favorite portrait of Andy Kaufman offered so far. Zmuda seems very happy with Jim Carrey in the book, with the actor contributing a backword that has to be held up to a mirror to be read. The book manages to be funny, sad, and angry without ever once being anything less than fascinating. Along with the recent MR. MIKE by Dennis Perrin, a scathingly funny look at the regrettably short life of Michael O' Donoghue, this book is invaluable not just as a look at someone's life, but also as a collection of their work. There's Kaufman material in this book that I've never heard before, that I suspect has been private to Zmuda all the way up till now. There's genius at every turn, with some inspired private material like fake arguments between Zmuda and Kaufman on airplanes, or the first appearance of Tony Clifton, or the real truth about that notorious FRIDAYS appearance. The descriptions of the bits are surprisingly free of self-congratulations. Zmuda is confident the stuff was funny, and doesn't have to over-explain it. Since I also finally saw the MAN ON THE MOON trailer this weekend, I'm really dying to see the film now. Jim has caught some of the most amazing nuances of Andy in just the initial footage we're seeing. Only Forman can drop this particular ball, and I don't see that one happening. I'm also anxious to hear REM's first full length film score. I've been a fan of these guys since I knew them as a local band in Georgia (where we were hiding the Labs during the '80s), and I think it should be rewarding to hear them take this next step as musicians. Hope, anyway.
I've also finally seen the trailer for Universal's THE BONE COLLECTOR, a film I saw and didn't really think enough of to review. I can't believe how much venom that trailer drew out of me, though. I thought I was indifferent to the picture. I mean, both Angelina Jolie and Denzel Washington do credible work, bringing as much movie star charisma as they can to bear on this rather slight adaptation of Jeffrey Deaver's already-wafer-thin novel. Jolie, in particular, brings a strange balance of strength and vulnerability to her role. She's an action hero just waiting for a strong vehicle (*cough* TOMB RAIDER *cough*) to showcase her. Denzel could be electric reading the phone book. Even with the addition of the can't-miss, always-brilliant Luis Guzman (seriously... one of my favorite guys working right now... makes me smile every single time I see him), the earthy presence of Queen Latifah, and the ever-intense Michael Rooker, all the fireworks the cast generates can't cover that this is a limp, lifeless piece of work from one end to the other. There's not a single bit of genuine suspense generated by the script, and there's not a real note of human interaction in the cookie-cutter script. Phillip Noyce continues fearlessly on his quest to prove that he barely knows one end of the camera from the other, and he isn't afraid to bore the audience senseless here, a bold choice that may not fully pay off. If you can't guess the identity of the film's killer within the first fifteen minutes of the movie, you probably haven't ever, EVER seen a Hollywood thriller. This makes dreck like KISS THE GIRLS seem fresh and innovative.
Now, this is going to take a moment to work its way back around to serial killer thrillers, but follow me on this. As I write about BONE COLLECTOR and everything that's wrong with it, I am reminded that this past weekend, Sylvester Stallone made some rather revealing comments about how he feels in the context of the marketplace right now. He's bitter about what happened after COP LAND, angry about Harvey Weinstein trying to force him to do a RAMBO 4 even after promising to work Sly into different types of films, and hurt over being treated like "driftwood" in town. I wonder how much of this is due to his first look at THE OUTPOST. I had several henchmen who saw the film this week, and I have yet to hear anything that would even indicate the film is salvageable. Still, all of them said it didn't seem to be Stallone's fault, that he seemed to be giving it everything he had. So what is Stallone supposed to do? Run back to ROCKY 6? Make more formula pictures and hope something clicks?
Here's where we get back to thrillers. You see, Stallone's attached to one that could break the mold and be something genuinely special. It's character driven, it's smart, it's scary in places, and the ending is one of uncompromised darkness. It's the kind of film that NIGHTHAWKS almost is, a grim police thriller that depends on the people more than the pyrotechnics. It's more like SE7EN than anything Sly's ever done, more LA CONFIDENTIAL than COBRA. It's called SUSPECT ZERO, and the draft I read by Zak Penn is a killer... pun intended.
There's two characters here of equal power, and if Stallone has the balls to play O'Ryan, he could open another chapter in his career. The film's arguable lead is actually an Agent Mackelway, a new guy trying to make his bones at the FBI who stumbles across something at the scene of a murder that proves that the victim was actually a serial killer. Only Mackelway seems concerned with finding out how the monster ended up dead, and his efforts seem to uncover someone who is killing the killers, hunting the hunters, and shutting down some of the worst predators working. The shadowy vigilante, O'Ryan, is a fascinating character, the kind of supporting turn that would allow an actor to look amazing.
I don't actually know which role Stallone's attached to. I also can't vouch for the current shape of the script, which may be under rewrites by none other than Ben Affleck (?!), but I'm going to dig further into this one. If it's handled properly by Universal, this is the perfect sister piece to their in-development adaptation of Thomas Harris' HANNIBAL. Speaking of which, I hope that whatever Harris' new ending to the film is that was trumpeted so loudly last week manages to shock and inflame audiences as successfully as the book did, but in a whole new way.
Keeping in the spirit of edgy performance humor, I'd like to take a moment to make special note of one of the best performances I've seen recently. It was by director Spike Jonze, who is also fantastic in the upcoming THREE KINGS. It wasn't in a film that he gave this performance, though... it was during last week's otherwise-painful MTV Music Video Awards. During the entire night, Spike stayed in character as "Richard," the choreographer of the Torrence Dance Group and co-director of Fatboy Slim's "Praise You" video. This guy continues to amaze me with his incredible wit and inventiveness, and I'm dying to see BEING JOHN MALKOVICH, which is riding some outstanding buzz post-Venice.
I hope you've all read the FIGHT CLUB report that went up today here by our spy, the Bosnian Witch Doctor. It's a cogent, well-written advance look at the film I've been babbling about to any and everyone within earshot for weeks now, and it is in such stark contrast to Alexander Walker's shockingly conservative attack on the film that Harry linked to that it has to excite the curiousity of any reader. How can two people be so far apart on such a volatile film? How in the hell is it going to hit general audiences? And is the film going to set off an even more intense storm of controversy than this year's earlier poster boy for Hollywood reform, THE MATRIX?
I say hell, yes. I also say that it's all going to be for the wrong reasons. When you read Walker's review, it's about him more than it's about the movie. He's read so much into the imagery of the film, projected so many intentions onto Fincher, that the review actually just reveals much of what makes the critic tick. I think that's going to happen a lot. FIGHT CLUB the novel and FIGHT CLUB the script are blank slates on which one must draw their own complex moral reactions. If the film manages to pull the same trick off, then you're going to learn a lot about the inner lives of critics as the reviews roll in.
If you're interested in what the author of the book thinks about the movie and about the notion that there are real fight clubs starting to pop up around the country, then go to www.latimes.com and run a search for FIGHT CLUB. Click on the article called "I Made Most Of It Up, Honest" by Chuck Palahniuk, and enjoy a taste of one of the most distinct and honest voices in modern fiction. I reread the book last week, and I recently devoured his second novel SURVIVOR. Now I'm dying to get my hands on INVISIBLE MONSTERS, because this guy speaks to me on a very primal level. He's rapidly racing up to join John Irving, Paul Theroux, David Gerrold, and Neal Stephenson as a favorite working author. I say we should all sit back and enjoy the firestorm of controversy that is about to erupt. It's going to be highly, highly entertaining, both inside the theater and out.
And with that, I am afraid I must let you go. I feel remiss... we've barely begun to chat... but this week demands it. Watch for the interviews, and we'll talk again Tuesday. Until then...
"Moriarty" out.