---
What's SHOOT THE MESSENGER?
Well, AICN COMICS: SHOOT THE MESSENGER is your weekly one stop shop for comic book -EWS. What's comic book –EWS? Well, it's our hodge podge of everything not reviews here at AICN Comics. Sure you can find out the @$$Holes' critical opinions of your favorite books every Wednesday at AICN Comics. But here, you'll find special reports such as previews, interviews, special features, and occasionally news gathered here from our online brethren at Newsarama, CBR, Wizard, etc. Sure those guys are the best at reporting news as it breaks. Click on the links for the original stories. This column cuts the crap to run down all the vital information for those of you who don't follow it as it comes in, and serves it all up with that special ingredient of @$$y goodness.
---
Mr. pasty chats with THE GUILD's Felicia Day!
Mr. Pasty here. Most Internet gaming geeks keep their digital obsessions and Online alter egos hidden behind a veil of complex computer code. Felicia Day, creator of THE GUILD web series and spin-off comic book from Dark Horse Comics, wears it like a badge of honor. It was that obsession, coupled with her background in performing arts that compelled Ms. Day to create an outlet for her addiction to the gaming underworld that would ultimately find its home -- where else? The Internet. I recently had the good fortune to chew the fat with the stunning cyber beauty while she dished the dirt on her wildly successful web show, the genesis of THE GUILD graphic novel and a whole lot more.
MR PASTY (MP): Talk us through the creation of THE GUILD. Was this something that had been rattling around in the creative sub-conscious for a while? Or were you sitting on the couch one day and "bing!" floating light bulb over your head?
FELICIA DAY (FD):
Chronic boredom led me to start playing WORLD OF WARCRAFT. I was in a hardcore Raven Guild and it started to bleed over and take over my life back in the early days. I was addicted to games like PUZZLE PIRATE and DIABLO and other incidents in college where I got hooked on games. I had a group of women where we would meet and say what we did every weekend, that's where I met my producer and every week I would say I played video games. It got to the point where I had to quit cold turkey and I needed time to fill up my day. I was an actress but I didn't work all the time, so I started writing and gaming was what I knew. At the time it wasn't totally mainstream so my producer suggested we write for the Web where most of the audience would be anyway, so we shot the first couple of episodes on our own money but then we stopped because we didn't have the time or money but when we put up PayPal button, people gave us money to keep THE GUILD going the entire first season.
MP: What motivated you to commit so much time and effort to this project in the beginning? I'm sure you weren't expecting it to become such a phenomenon as you were wrapping up Season One.
FD:
I said to myself "Let's get off our butts and make something happen instead of waiting to get something handed to us." I created the character of Codex with my acting in the back of my mind and eventually taking it to television and making a show, but after I finished the second season of THE GUILD it was so much more gratifying than anything I've ever done, interacting with the audience and it just morphed into this presence. Just the process of making and putting out episodes was so rewarding for us.
MP: When they presented you with the idea for a Dark Horse comic based on THE GUILD, was there a feeling of like "Wow, we made it," or have you just filed it under "progression" and continued to plow full steam ahead?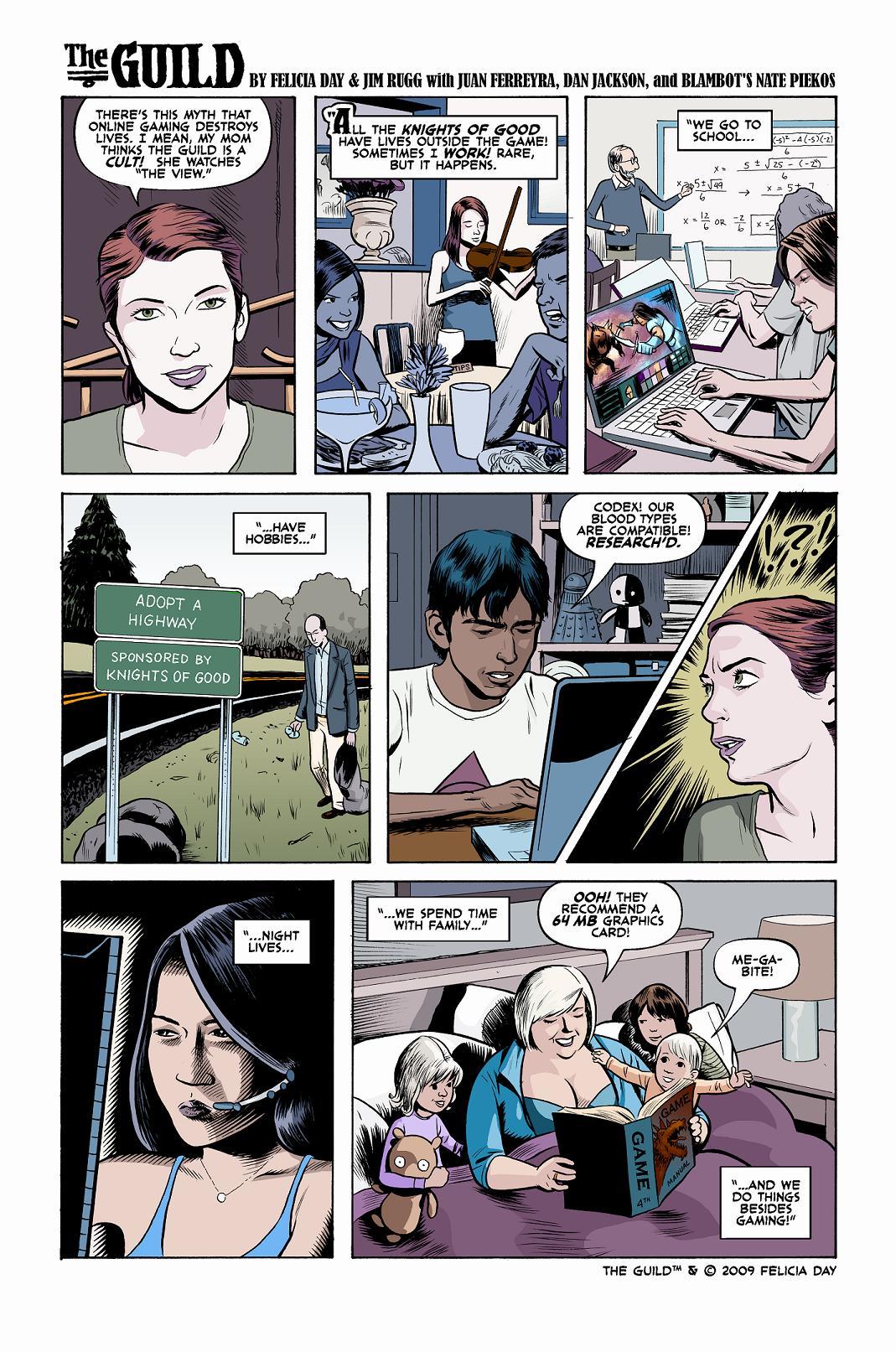 FD:
This has been hard earned, every step of the way we've just been building on the hard work and it's all just been relative as far as the amount of recognition that will satisfy you. If we never had anything but the 550 people that first supported us, it would have been enough for me. When I first did DR. HORRIBLE at Comic Con I met Scott Allie who works closely with Joss Whedon and after a couple of months he floated the idea of putting a comic out based on the show. I was kind of reluctant because I wasn't exactly a comic aficionado but I spent a few months reading more comics and graphic novels trying to see maybe "Hey, is this something I can bring my story to," and after doing some reading I understood this was an art form. It clicked on how I could do it and I contacted Scott but it was six months before it was something I wanted to do and I was really excited about going forward.
MP: How do you plan to make THE GUILD comic book different from the web show? FD: The cool thing about the comic is we can focus on the intricacies of the game which we don't do in the show and create a FRINGE or OFFICE scenario for geeks and have a fantasy world and invent or spoof things that all games do and see THE GUILD in a different light. I'm trying to go in and have fun, no expectations, three issues that encompass THE GUILD outside the storyline of the web show, completely different so they don't overlap. Comics are very visual and there is little room for dialogue which was an adjustment since I like my characters to talk a lot! I'm getting used to the rules of graphic novels and working within the parameters but in the end my goal is to have fun with it like I do the show.

MP: Is THE GUILD still just one aspect of your career or has it become the primary focus?
FD: THE GUILD is my life now, me and my producer Kim work 24/7 on this show, it's just gotten so big and we don't have a large staff but essentially we're either in pre or post production, plus I write all the episodes and on top of that I have the comic.

MP: With your background in acting, specifically your stint on BUFFY THE VAMPIRE SLAYER, has THE GUILD led to more opportunities in acting?
FD: All the work I've done has actually gotten me less time to act. THE GUILD is very time consuming. There is no crossover appeal. That was a big adjustment. I was expecting to get more work but I feel lucky that I can wake up and do something I love every day.

MP: Talk about how THE GUILD has changed your life outside of the show. Getting mobbed at the supermarket yet?
FD: People are either very excited to meet you or they have no opinion whatsoever. I'm very not-famous when I walk around LA, which is fine with me. I can feel free to not comb my hair any day of the week. When I go to a convention? Not so much...

MP: Speaking of the conventions ... I'm sure putting yourself out there on the Web can't be all wine and roses, especially since the Internet is like the Wild West when it comes to personal opinions.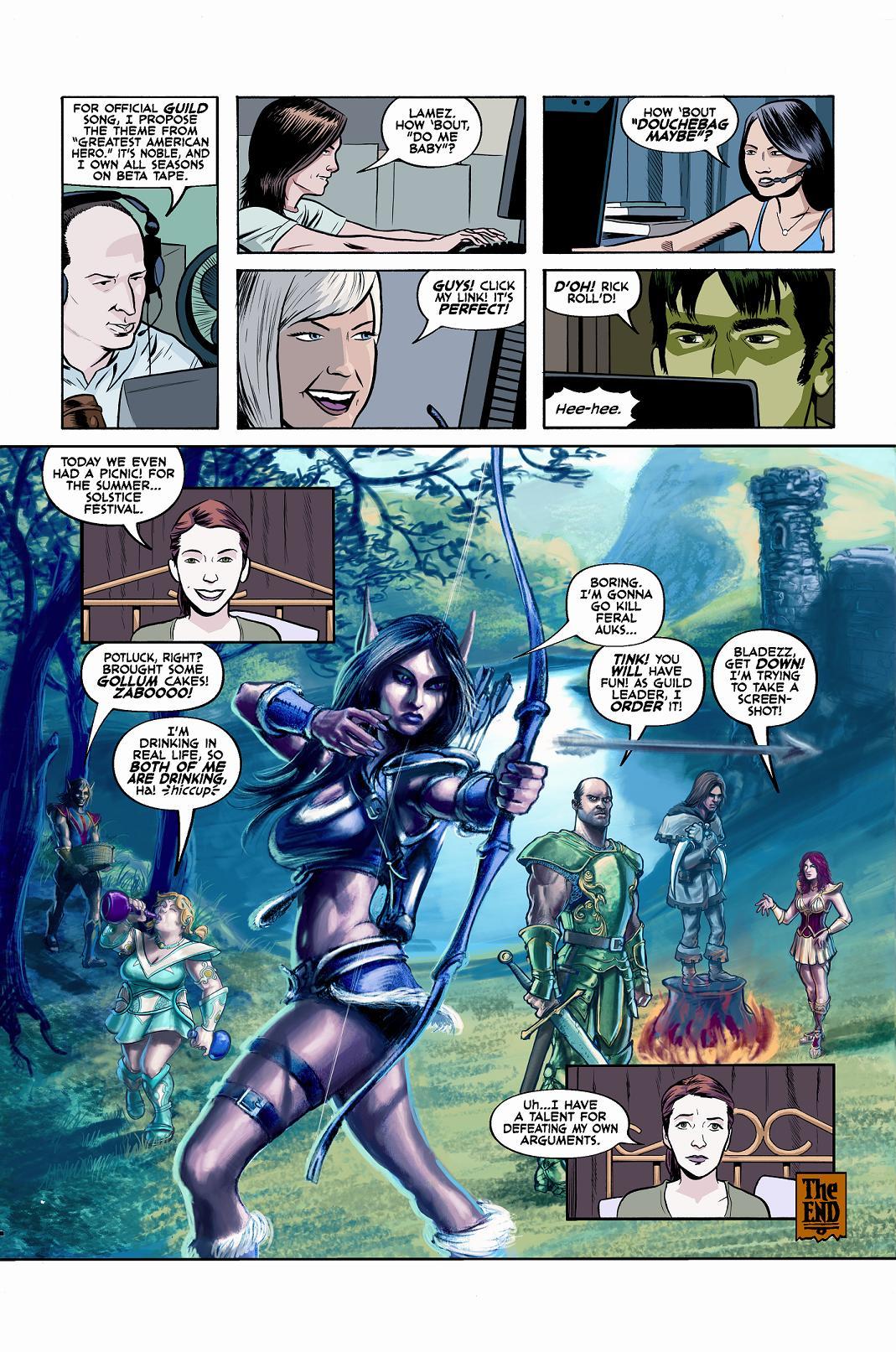 FD: The threads after our music video were wounding, you can have 1,000 compliments and one "meh" and that's the one that gets you. You gotta keep track of your universe or people will point out your flaws, but it's a compliment that people know the characters and the world that well.

MP: How has your approach to THE GUILD changed from a creative standpoint now that your regular audience has increased tenfold?
FD: The more popular it gets, the more pressure there is to try and top the last thing, to try and please people. In the beginning it was easy, there were no expectations and we have to try and get back to that, where I can just make myself laugh. I don't ever want to be bored.

MP: Have you reached a point now where you're writing a particular show and thinking of how the fans might react? Has success influenced your creative process?
FD: People are upset that THE GUILD'S falling apart in Season Three and they want to go back to the way things were, but you're doing your job as a storyteller if you get an emotional response out of your fans. It's not by committee and that's why so many films in Hollywood are no good, they're not a person's life or vision ... like when the Internet blew up in a rage after the Dr. Horrible webisode death.

MP: I'm sure it's not an exaggeration to suggest THE GUILD has changed your life. Where do you go from here?
FD: The life of an actor is every disempowering, you're either dirt or you're a God which is probably why so many actors go nuts when they make it. I have control over my life for the first time, I can do something on my own and my hard work will be reflected in the success of THE GUILD. It's hard to wait for permission to create stuff and now with the Internet I don't have to do that. This is just a fantastic time to make things, the barriers are down and when people get inspired by THE GUILD, I really feel proud of the things I done. If I have to retire next year at least I've done something really fulfilling.

MP: See what all the talk is about! Check out THE GUILD in action over at watchtheguild.com.
Web heads who can't get enough of Mr. Pasty's word vomit are encouraged to watch him operate as Nostradumbass over at here. MMAmania.com. Love, hate and Mafia Wars requests should be directed here.
---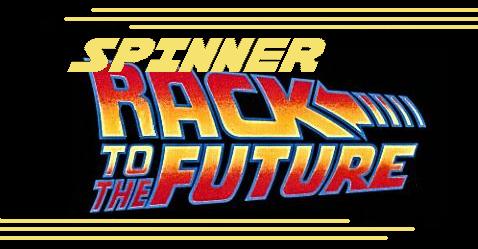 Hey folks, Ambush Bug back again with heaping helping of previews! Check out these books dropping this week at a comic shoppe near you!
---
FARSCAPE #1 Writer: Rockne S. O'Bannon, Keith DeCandido Art: Will Sliney Publisher: BOOM! Studios In stores this week!
---
INVINCIBLE #68 Writer: ROBERT KIRKMAN Art & cover: RYAN OTTLEY & FCO PLASCENCIA Publisher: Image Comics In stores this week!
---
THUNDERBOLTS #138 WRITER: Jeff Parker PENCILS: Francesco Mattina Publisher: Marvel Comics In stores this week!

---
WASTELAND BOOK 5: TALES OF THE UNINVITED Writer: Antony Johnston Artists: Chris Mitten, Carla Speed McNeil, Chuck BB, and Joe Infurnari Cover: Ben Templesmith Publisher: Oni Press In stores this week!
---
COWBOY NINJA VIKING #2 Writer: AJ LIEBERMAN Art & cover: RILEY ROSSMO Publisher: Image Comics In stores this week!
---
INCREDIBLE HULK #604 Writer: Greg Pak Art: Ariel Olivetti, Giuseppe Camuncoli, Cam Smith Publisher: Marvel Comics In stores this week!
---
MICKEY MOUSE & FRIENDS #297 Writen by Stefano Ambrosio Art: Marco Ghiglione Publisher: BOOM! Studios In stores this week!
---
CYBERFORCE/HUNTER-KILLER #3 Writer: Mark Waid Art: Kenneth Rocafort Covers: Rocafort, Whilce Portacio Publisher: Top Cow In stores this week!
---
PUNISHER #11 Writer: Rick Remender Art: Tony Moore Publisher: Marvel Comics In stores this week!
---
Editing, compiling, imaging, coding, logos & cat-wrangling by Ambush Bug Proofs, co-edits & common sense provided by Sleazy G
---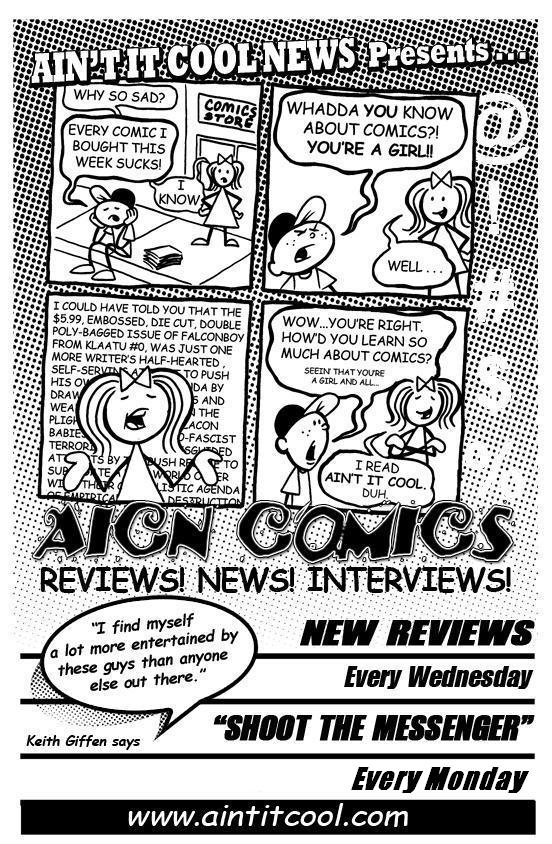 Ad by Prof. Challenger