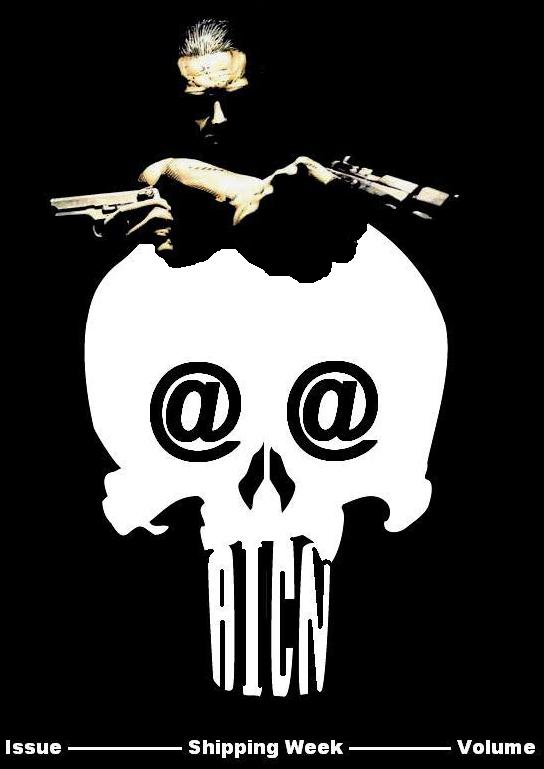 ---
The Pull List (Click title to go directly to the review) Contest Winner Review: HEADS ON AND WE SHOOT: THE MAKING OF WHERE THE WILD THINGS ARE ULTIMATE COMICS AVENGERS #3 QUEEN SONJA #1 JENNIFER LOVE HEWITT'S MUSIC BOX #1 X-FACTOR #50 PETER & MAX Novel Indie Jones presents… CHEAP SHOTS!
---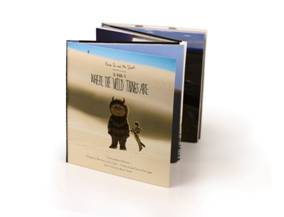 CONTEST WINNER REVIEW!
HEADS ON AND WE SHOOT: THE MAKING OF WHERE THE WILD THINGS ARE
Editor: McSweeney's Editorial Publisher: Harper Collins Guest Reviewer/Contest Winner: Richard R. Curran-Kelley
"The night Max wore his wolf suit and made mischief of one kind and another…." Whenever I think of WHERE THE WILD THINGS ARE that first of 10 sentences instantly springs to mind. This is a book that I read countless times to my three sons as they grew and I can still recite most of it by heart (including the lines that my boys came up with for the pages with no dialogue). So I looked forward to the movie with delight and not a little fear, first watching the trailers as they appeared on line and then finally seeing the movie on the day it opened. I was extremely pleased by an adaptation that transformed a remarkable children's book into a movie that was the book and at the same time was so much more.
Imagine, then, my delight in receiving HEADS ON AND WE SHOOT: THE MAKING OF WHERE THE WILD THINGS ARE. The book presents in fascinating detail the movie's journey through preproduction, production, and post-production (each its own bound section of the book) in a an engaging and entertaining fashion.
I found the preproduction section to be especially engrossing. Jonze and Eggars detail how they developed the script and more importantly how they worked with Maurice Sendak to get his blessing for what they planned . Sendak provides his own insights about the process and reveals that, though he had disagreements with Jonze about some of the changes (the decision to have Max depart from an actual beach rather than having the forest grow in his room), he was satisfied that the film was true to the book while being its own story.
As a new member of the cast and crew is introduced, we are provided with a picture, a quote, a bio, pictures of the tolls of the trade and finally photos of the severed hands that used the tools. I found these 2 page spreads engaging and enjoyed seeing what the various people chose to represent their work on this film whether it be Spike Jonze's couch, Sendak's old style LP or Katherine Keener's paw print to represent her dogs. The severed hands were a nice touch that reminds you that this film is about wild things who at any moment could "eat you up."
One of the most fascinating things that emerges through all three sections is how much of a wild thing Jonze is thorough out the filming. It seems that every member of the cast and crew has a story of how Jonze would wrestle, throw things, or otherwise engage in whatever behavior he felt was necessary to get the shots and performance that he wanted.
The book is of course richly illustrated with photographs detailing the process of developing the wild thing suits (animatronic heads were too heavy for the suit actors, they decided on CGI for the wild things' faces), set design and filming some of the most difficult scenes. The photos are augmented with marginal notes in the same script used in the movie credits that gives the book the feel of a much loved book that you make notes in whenever you re-read it.
As someone who always stays and watches the credits, it was especially rewarding to see a yearbook style spread of the entire crew posing with items that pertained to their role in the helping feel the movie. I enjoyed finally getting to see the faces of the talented people who make the magic possible but rarely get the credit they deserve.
I thoroughly enjoyed reading the book and especially liked the reminiscences that were framed as conversations from various members of the cast, crew and production staff. It was a fascinating look into the world behind the camera that helped me appreciate the movie even more and made me want to be a part of making something that obviously inspired those involved. This book has already earned a place of honor on my coffee table after I get it back from my 16-year-old son who is devouring this latest foray into where the wild things are with the same gusto he displayed when we would read the original book together back when he still wanted me to read him bedtime stories.
---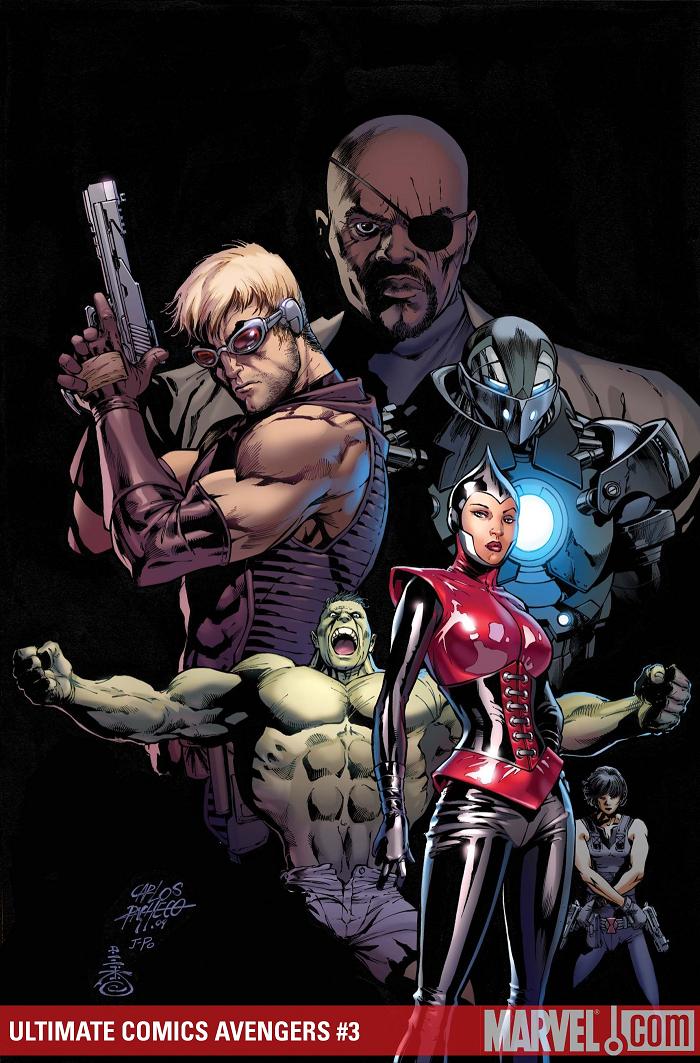 ULTIMATE COMICS AVENGERS #3
Writer: Mark Millar Artist: Carlos Pacheco Publisher: Ultimate Marvel Reviewer: steverodgers
Mark Millar and Bryan Hitch's first two installments of ULTIMATES—especially the first volume—were comic books done right, mostly courtesy of Hitch drawing out of his mind with cinematic, balls-to-the-wall super-hero action, massive throw downs and quippy comments. Sure, some of the heroes acted like dicks (I'm talking to you, Pym), but it was Ultimate-y, so it didn't really matter, and I'm always happy when Cap is kicking the crap out of some no-good Nazi aliens. Presumably, I was pretty geeked up for Millar and Pacheco's ULTIMATE COMICS AVENGERS, but I was apprehensive about the lack of Hitch. After the first three issues I can say it hasn't hit the same heights as ULTIMATES 1 and 2, but it's a pretty damn good read and totally batshit insane.
I didn't read the Loeb/Mad ULTIMATES, so even though I might be missing some context, (like why Hawkeye dresses like he's in a boy band now) it hasn't seemed to stop my enjoyment. Turns out Captain America had a kid with his galpal Gail in some downtime during the Big One, and after he was presumed dead those dickhead bureaucrats down at State decided to force Gail to give up the kid and raise him in a lab to become a super soldier. On paper this sounds like a bang-up idea, but the boy just ain't right, he loses his mind at 18, kills everyone in his facility, carves his face up to look like the Red Skull (kids…) and becomes a killer for hire. Cap finds out, yells something like "Ultimate no more!" and heads off to find him.
Carol Danvers, the new and apparently lazy head of S.H.I.E.L.D has too much on her plate right now (not a multi-tasker) and decides that only one man can find Cap, so she brings back Nick Fury (now with both arms) who puts together a group of psychos, including Stark's straightedge but insane older brother Gregory (who dresses like Tom Wolfe ); War Machine (who we see destroying a village of civilians); the Red Wasp (who slaughters some dim assassins); and, best of all, Nerd Hulk (who we see with his brain sliced open getting a personality transfer). Hawkeye says in a quiet understatement, "I don't like it… we need a guy we can control on a mission like this." There is no one on this mission that is controllable, of course; it's a cadre of super-powered lunatics.
Essentially you have all the elements that make up an ULTIMATES comic, only with less subtlety and build up; ULTIMATE COMICS AVENGERS cuts to the chase and gets right to the punching. Pancheco's is art is excellent, and though it doesn't have the epic-movie feel and realistic grit that Hitch brought to the table, it reads exactly like what it is—a comic book. ULTIMATE COMICS AVENGERS might be ULTIMATES-light, but it still has Cap keeping America safe by punching everyone he can find squarely in the face, and that will get my $3.99 every time. Hey, what can I say, I like comic books.
---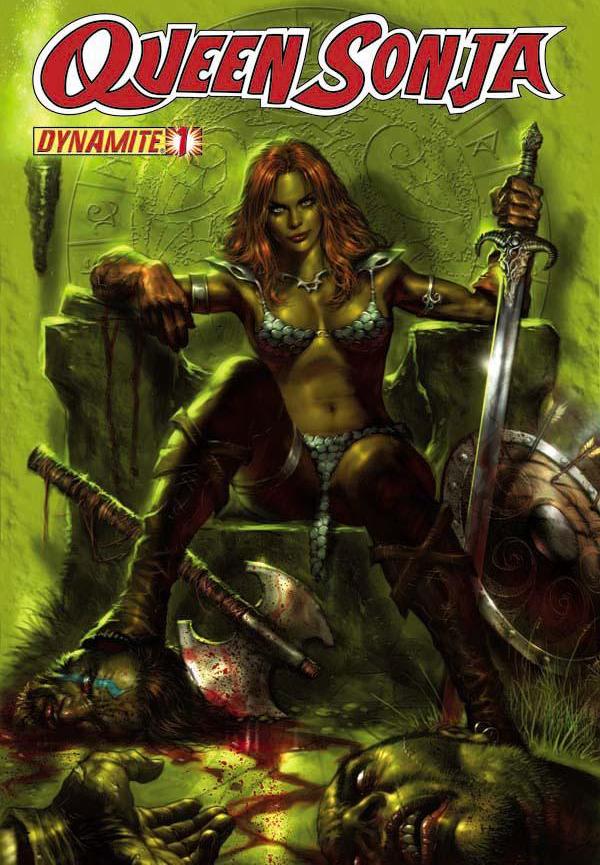 QUEEN SONJA #1
Red Sonja is back and this time she's been promoted to Queen. How did this lovely redhead find her way to the throne? Well, it certainly wasn't by the popular vote. Sonja hacked and slashed her way into royalty and not only has she returned, so has artist Mel Rubi. Aside from his work on X-MEN, PREDATOR and DR. STRANGE, Rubi also had a brief run with RED SONJA in 2005 and proves in QUEEN SONJA that he probably should have never left.
I won't pretend that I'm not buying this book for some good old fashioned T&A, because I am. But like the RED SONJA series, this book is more than just a pretty face. While the writing is serviceable and the pacing is standard fare, this book tells its true story through images that are delectably grotesque. And ain't that what comics are all about? Forget all that trendy subtext and introspect. Sometimes I want just a few lines to keep me in the loop and then BAM: giant swords and giant tits. Now, if you can manage to take your eyes off Sonja's radical body for a few pages you'll find an amazing number of details that on the surface may seem like throwaway filler, but in actuality are plot devices that deepen the mystery. I also like that QUEEN SONJA is not told in chronological order but instead works backwards to reveal clues without blowing its wad.
Having said that, it's not unfair to suggest this book will give you literary blue balls. It may abandon some trends, but it unfortunately embraces a few others. Variant covers were cute for a while, but now it's just annoying. Pick a great cover and run with it instead of watering down the impact of the best choice with a few that shouldn't have made the cut. It's like this alternate-ending phenomenon in movies. You're not Edward Packard. Pick a fucking ending and go with it. Speaking of endings, QUEEN SONJA'S comes way too fast. I know, I know, I'm praising a book that's light on dialogue and heavy on paint and then slamming it for being too short and not having enough material to hit the page count. In that case I must direct you to Pasty Principle #47: I'm paying for the book despite my ability to download the free torrent, therefore I have a right to criticize it as I see fit.
I was worried about the new direction of the series. I had faith in the handling of the SONJA character, but Dynamite Entertainment has a track record of fucking up so many other books like the dreadful MAN WITH NO NAME series and the laugh-out-loud train wreck that is ATHENA. I'll smash them when they're wrong and praise them when they're right -- and this book is done right. Pop culture has embraced the Fonzie-inspired phrase "jump the sharks" and that was a concern of mine when I saw Sonja sluttily draped over the throne but rest assured, Sonja hasn't jumped the sharks. Sonja is the shark.
Final Word: It's too short and has too many covers, but I still bought the damn thing anyway. The fact that its shortcomings didn't stop a cheapskate like me from buying it is a testament to the ongoing quality of the SONJA series. Give it a look.
Web heads who can't get enough of Mr. Pasty's word vomit are encouraged to watch him operate as Nostradumbass over at here. MMAmania.com. Love, hate and Mafia Wars requests should be directed here.
---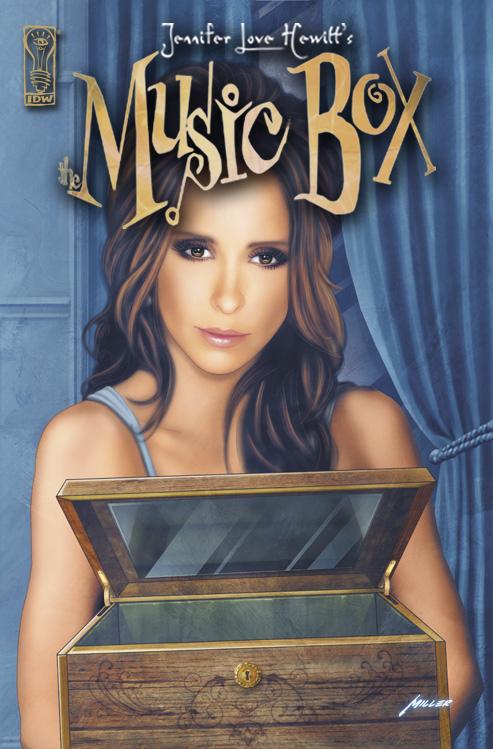 JENNIFER LOVE HEWITT'S MUSIC BOX #1
Created by: Jennifer Love Hewitt Written by: Scott Lobdell Artwork by: Michael Gaydos Published by: IDW Publishing Reviewed by: BottleImp
If you had ever told me that one day I would plunk down four bucks for a comic book that was emblazoned with the name "Jennifer Love Hewitt," I would have punched you in the back of the head. Then I would have run, because you're much bigger than I am. Actually, the only thing that made me pick this issue up from the stands and glance through it WAS the fact that it bore the name of this actress who seemed about as far removed from the world of comics as is possible. This intriguing mystery, combined with the overall good impression that I got from Gaydos' art, led to me parting with said money and bringing the comic home.
Here's the comic in a nutshell: Detective Oliver Kulpalski finds a music box in his precinct's evidence room. The box is bagged, but bears no written information about where it came from or to which case the box is connected. Detective Kulpalski swipes the box from evidence and brings it home. He opens it, and the music brings him visions of future calamities. He is then able to prevent these calamities from occurring. Then the music box begins to drive the detective insane. It all ends in tragedy, and the music box is once again filed away in the evidence room. The End.
If my summation of MUSIC BOX reads as bland or colorless, that's only because the story really has no life to it. I get the concept, the music box drives people to insanity, blah blah blah…it's nothing that hasn't already been done before. Tolkien's One Ring, Lovecraft's "Necronomicon" (and its precursor in Chambers' "The King in Yellow")… literature and film are full of the "cursed object" plots. So MUSIC BOX right away loses points for originality. Additional points must be taken away due to Lobdell's "tell, not show" style of writing. For example, here's the text from page 15, where the detective shoots someone in the park: "The music box has given him everything he's ever wanted—to make a difference. And all it has asked for in exchange…is his sanity." Maybe the blame needs to be equally parceled out to Gaydos here, because the artwork that accompanies this passage shows the detective and a body floating in the fountain, but the details are so vague that one can't tell if the victim was in fact a criminal or just an innocent bystander. It looks like it's wearing some sort of bulky belt, but is that supposed to be an important detail? I sure as hell don't know. I generally like Michael Gaydos' work, but here the art and the words are just not meshing together well.
Ultimately, MUSIC BOX reads as a sort of a TWILIGHT ZONE pastiche—which may work fine for a one-shot story, but is this really going to be an ongoing series? Though a part of me is interested to see if this series will be able to develop into anything other than a "possession of the month" title, a much larger part of me doesn't care enough to invest any more money into it.
And now, if I may briefly rant…
What the hell is going on with celebrities "creating" or "producing" comic books? How much are they actually contributing to the process, given that every time I've seen a title with the name of some television actor or musician plastered across the cover I open the comic to see that said celebrity is uncredited as contributing to writing, artwork or even the editing of the comic book that he or she "created"? The cynical side of me (which comprises about 93%) thinks that these celebrities are using the comic book medium as a way to develop their own projects, garner some buzz, then turn them into movie or television deals. And it is my opinion that comic book companies are publishing this stuff not because they believe in the product, but because they believe that the name recognition will boost sales. I hope I'm not right, because that would mean that publishers are no longer concerned with making compelling stories, but see their industry as solely a money machine, looking for the next big deal rather than concentrating on putting out material that exists purely as its own entity, with no thought given to multi-million dollar film adaptation.
In short, I'm betting that MUSIC BOX "creator" Jennifer Love Hewitt is hoping for a vehicle out of all this. After all, GHOST WHISPERER can't last forever, and there's only so much that plastic surgery can do.
End rant.
When released from his Bottle, the Imp takes the form of Stephen Andrade, an artist/illustrator/pirate monkey painter from the Northeast. You can see some of his artwork athere. He's given up comics more times than he can remember. But every time he thinks he's out, they pull him back in.
---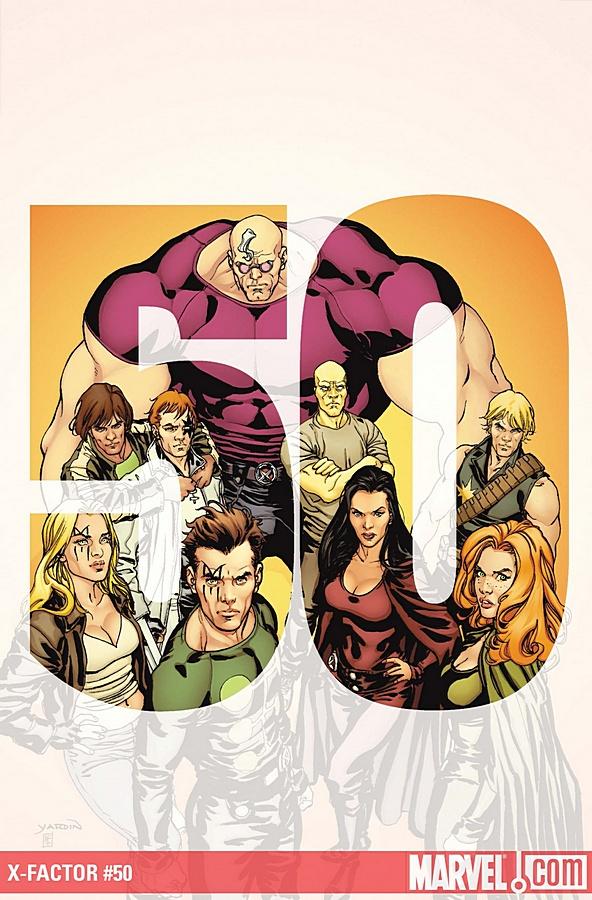 X-FACTOR #50
Writer: Peter David Artist: DeLandro Publisher: Marvel Comics Reviewer: Optimous Douche
I've been married to X-FACTOR since the early 90s for one simple reason: this is the one mainstream title that not only seems content to live on the fringes of the Marvel universe, but thrives as a result of this solitary continuity confinement. Sure, there have been the few editorially mandated forays into crossover events (see SECRET INVASION), but thankfully those times have been few and far between. This unfettered story oasis has left David the freedom to tell stories about mutant adults who not only try to save the world but, just like all of us normal adults, save themselves from the world. Basically, you don't need to be a fan of mutants to be a fan of X-FACTOR. For anyone that has shunned this title because you need heroes in spandex instead of blue jeans, it's time to put your prejudices aside and pick up this latest story-run exploring X-FACTOR's "Days of Future Past" the minute it comes out in trade. Seriously, if you've never read X-FACTOR before, don't buy this issue, you will be very very confused.
However, for those that are familiar with the concepts of fetal absorption and inter-dimensional gay love, issue 50 offers closure to the epically long and equally enjoyable Summers Rebellion. With more reveals than Vanessa Hudgens' camera phone, David once again uses his trademark wit coupled with the element of surprise to answer questions not only specific to X-FACTOR, but also the conundrum wrapped in a riddle that started years ago in HOUSE OF M: just who the hell is Layla Miller?
Actually, when you take a step back from the page, the Summers Rebellion wasn't even the real story here. It was a fun diversion, but there's a reason I kept calling it "Days of X-FACTOR's Future Past." Marvel, and more specifically mutant fans, have traversed the dystopian future many times before. The real story behind X-FACTOR has always been the relationship between Multiple Man and the once little girl, now full on hottie, that "knows stuff" Layla Miller.
This isn't to take away from the Summers Rebellion; the invention of Ruby Summers, daughter of Scott Summers and Emma Frost, was a great addition to the stable of future mutant babies. Likewise the twists and turns of 80 years past tomorrow were enjoyable as well. Want to know what happened to that Madrox dupe Forge hurtled into the time stream over a year ago? You got it: turns out just like Vyger from "Star Trek", what was once simple can evolve to great heights given enough space and time. Were you wondering where Falcone's hard-on against mutants stemmed from? Issue fifty gives you insight into a little boy that had everything taken from him by mutants and wants retribution. Also, I give David credit for one line in particular that breaks the fourth wall invoking a "brand new day" once all of the mutants are gone.
However, it all goes back to Layla for me, who in the final pages of the main story finally reveals what her true power is, and I'll tell you now, she is way more than just a girl that "knows stuff." I would say more, but true fans of X-FACTOR will want to read it for themselves.
This is the first issue in a long time where I felt the extra dollar price bump was justified and DC would be wise to take note. When I asked Dan Didio at Wizard World to justify how a book was deemed worthy of the $2.99 versus $3.99 price tag, I was assured that "the higher price books have more content." As we all have learned, this extra content is usually a preview of an upcoming book, generally having nothing to do with the story or title you're holding in your hands. Also, this extra story is shoehorned into every single book DC puts out that month. This is not extra content; it's called an advertisement, just like those horrid "stay off drugs" PSAs. With X-FACTOR 50, not only is the main story longer than the standard, but you get a back-up story specific to this book that resets the team back to a state of "normality."
Great story – great dialogue – and great art. Happy 50th guys, it has been a true pleasure.
When Optimous Douche isn't reading comics and misspelling the names of 80's icons, he "transforms" into a corporate communications guru. "What if the whole world had superpowers? Find out in the pages of Optimous' original book AVERAGE JOE. Read the first full issue on Optimous' New Blog and see original sketches by fellow @$$hole Bottleimp. If you are a publisher or can help these guys get AVERAGE JOE up, up, and on the shelves in any way, drop Optimous a line."
---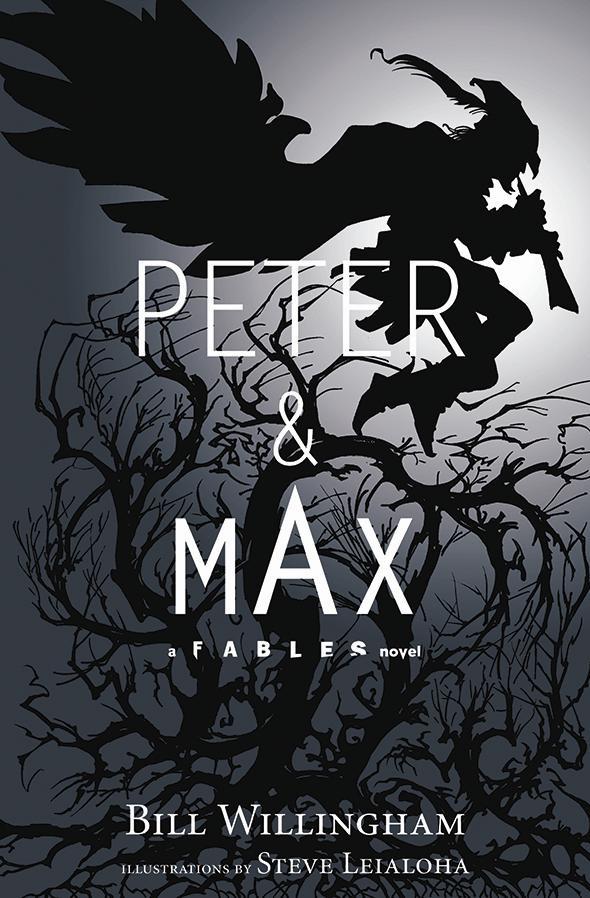 PETER & MAX Novel
By Bill Willingham Illustations by Steve Leialoha Publisher: DC Vertigo Guest Reviewer: Richard R. Curran-Kelley
I have been a fan of FABLES since I picked up the first issue one Wednesday 7 years ago and was confronted with the mystery of who killed Rose Red, so naturally when I heard that Bill Willingham had written a FABLES novel I was excited and intrigued. I became even more intrigued when I found out that the novel took place in continuity, but focused on two Fables who, so far, had not played a part in the series.
The book starts off with a quick run down of who the Fables are, where they came from and even why they call themselves Fables. It is the perfect primer for any newcomer and so concisely explains the basics that we readers have been gleaning since 2002 that it could be a perfect intro for any of the graphic novels.
The center of the story is the 2 Piper brothers, Peter and Max. Peter Piper is much more than the simple pickled pepper eater of rhyme and this is mainly his story as the book starts with him in modern times realizing that his final confrontation with Max, the Pied Piper of Hamelin, is now upon us. The modern portions of the book allow us to see Peter interact with some of the Fables we are accustomed to seeing such as Rose Red, Bigby (the two share a history and have not necessarily let bygones be bygones), Beast and Frau Totenkinder who has a history with Max.
As Peter makes his way toward his final meeting with Max, Willingham fills in the backstory of both characters from their time as members of a traveling minstrel family through their first encounter with the Adversary's invading armies which leads to their estrangement and sets them on the path to their first confrontation. Peter's story is entwined with that of Bo Peep, while Max follows a path that will not permit any reconciliation with his brother.
The tale is as engaging as any we have seen in the regular series or graphic novels, and Peter, like Jack before him, is any Peter from fairy tale or rhyme. Bear in mind that the stories we get here in the mundie world are but pale reflections of the real events in the Homelands and you find yourself realizing that despite his peaceful nature, Peter is a badass. Max is no less dangerous, but he did not resonate quite so true as Peter. Max is indeed a challenging villain, but his reasons for turning out the way he did seem so destined that he does not have quite the depth that one would hope for.
The illustrations by Steve Leialoha enhance the story as his work is easily recognizable from his work on the series. His illustrations instantly transport the reader into the familiar Fables world and help set the mood for the story. The real highlight of his work is the epilogue which tells in comic format an untold tale of the final war against the empire. The story is only 8 pages long, but I hope to see it colored and collected in a future trade collection.
I found the book to be entertaining to the point that I would love to see Peter show up in the monthly. Willingham has made him a character that would be a great addition to the regular cast and has fortunately written this novel so that it, unlike almost all of the other comic book novels out, fits solidly into the world he brings to us every 30 days. Read this book and let the music take you to the homelands and beyond.
---
Ambush Bugback again with a boatload of fun indie books you may want to check out when the taste of the mainstream gets a bit stale. Check em out! Up first we've got an indie from Mr. pasty, then I ring in with a pair of cool indie books.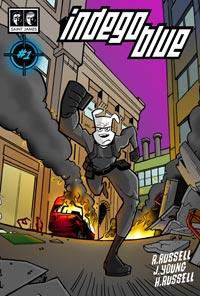 INDEGO BLUE: OLD MEMORIES, YOUNG HOPES #1 St. James
I hope the powerhouse publishers are paying attention to what's happening over at St. James. The gang that brought us the brilliantly developed EX OCCULTUS is back with INDEGO BLUE, an astonishing tale about gene splicing gone awry and the terrified higher-ups that have been charged with eradicating the half-breed menace it's responsible for creating. St. James continues to lay the blueprint for comic book success in the way it delivers familiar themes in a fresh and intriguing light with artwork that isn't overly obsessed with itself. This isn't about how many pin-ups you can fit inside a book; it's about telling a story in a way that respects the narrative. Why is this so hard for the big guys to understand? Maybe it's ego, maybe it's control, or maybe they lost their way somewhere along the line and forgot how to have fun. Like the movie DISTRICT 9, INDEGO BLUE presents a society populated by both humans and non-humans. It's pretty cut and dry. But what happens when you end up with something that's a little bit of both? Are they victims? Are they villains? INDEGO BLUE doesn't say for sure (yet), but I for one am really looking forward to finding out. –
Mr. Pasty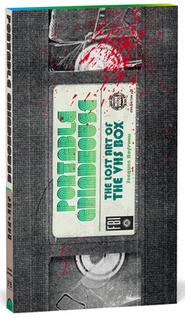 PORTABLE GRINDHOUSE: THE LOST ART OF THE VHS BOX Fantagraphics Books
If you're a child of the late seventies/early eighties as I am, PORTABLE GRINDHOUSE is a must have. I used to beg my mom every week to take me to the TV store/video store amalgam just so I could ogle at all of the amazing video boxes. Of course, I leaned toward the horror section. At first, I wasn't allowed to see them, but after massive amounts of begging and pleading, my mom gave in. One by one, I tried to rent them all, no matter how cheesy the cover. And as I got through the entire section it was time for me to start over again and see them all again. Flipping through this book which collects the front and back covers of some extremely obscure films from that era sent out a wave of nostalgia that nearly knocked me on my @$$. The thing is, I've rented a lot of these movies and haven't seen these covers in years. SLITHIS! ORCA THE KILLER WHALE! COLOR ME BLOOD RED! SLASHDANCE! ONE ARMED EXECUTIONER! ILSA: SHE WOLF OF THE SS! STUNT ROCK! STUNT ROCK!!!! I saw fucking STUNT ROCK! I can't believe STUNT ROCK is in this book! I guarantee if you remember the birth of the video store, before Blockbuster Video edged all of the mom and pop shops out of business, you will love this book as much as I did. Thanks, Jacques Boyreau, for compiling this amazing collection of nostalgic blasts from the past! I'd love to see more in future volumes of this book! -
Ambush Bug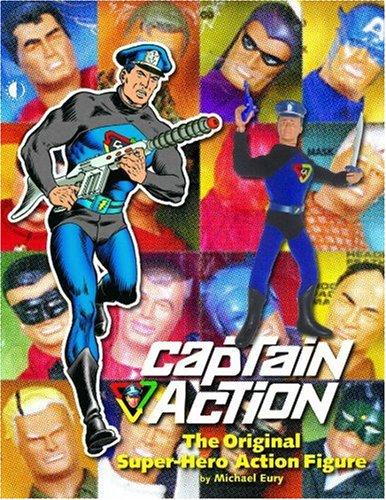 CAPTAIN ACTION: THE ORIGINAL SUPER-HERO ACTION FIGURE HC TwoMorrows
Though the figure first appeared before my time, I heard bits and pieces about Captain Action through the years. But it wasn't until checking out this thorough retrospective on the long and varied life of the property that I realized how big the figure used to be. Action was a sort of every-hero toy, equipped with costumes that transformed your one figure into many, from Batman to Tonto to Nick Fury to the Phantom. Apparently existing before people sued for copyright infringement, Captain Action was a comic company crossover figure. The books gives copious amounts of pictures showing every incarnation of the good Captain along with his sidekick, Action Boy, and his gals, the Super Queens (this was the olden days, folks. Something tells me the Super Queens would be an entirely different action figure these days). I loved looking at all of the different variations of the figure. It was especially fun to check out all of the different accessories that came with the toys. And how can you not love Action's arch-nemesis Dr. Evil and his wicked retro energy medallion! The book also charts Captain Action's adventures in comic books too. The guy was drawn by some of the greats like Gil Kane, Wally Wood, and Jim Shooter. This is a great book that shed some light on a toy line I wasn't familiar with, but from all of the cool toys shown in this book, I wish I was. Michael Eury has done a marvelous job of squeezing every bit of info you'd ever want to read about Captain Action into one amazing book. -
Ambush Bug
Ambush Bug is Mark L. Miller, reviewer and co-editor of AICN Comics for over eight years and one of the original @$$holes. Check out his comic book shorts from Cream City Comics' MUSCLES & FIGHTS VOL.3 and MUSCLES & FRIGHTS VOL.1 on his ComicSpace page. Bug was interviewed here and here at Cream City Comics and here and here about his latest comic from Bluewater Comics, VINCENT PRICE PRESENTS: THE TINGLER #1-2. Look for more comics from Bug in 2010 from Bluewater, including VINCENT PRICE PRESENTS WITCHFINDER GENERAL, ROGER CORMAN PRESENTS DEATHSPORT, and the just announced vampire miniseries NANNY & HANK..
---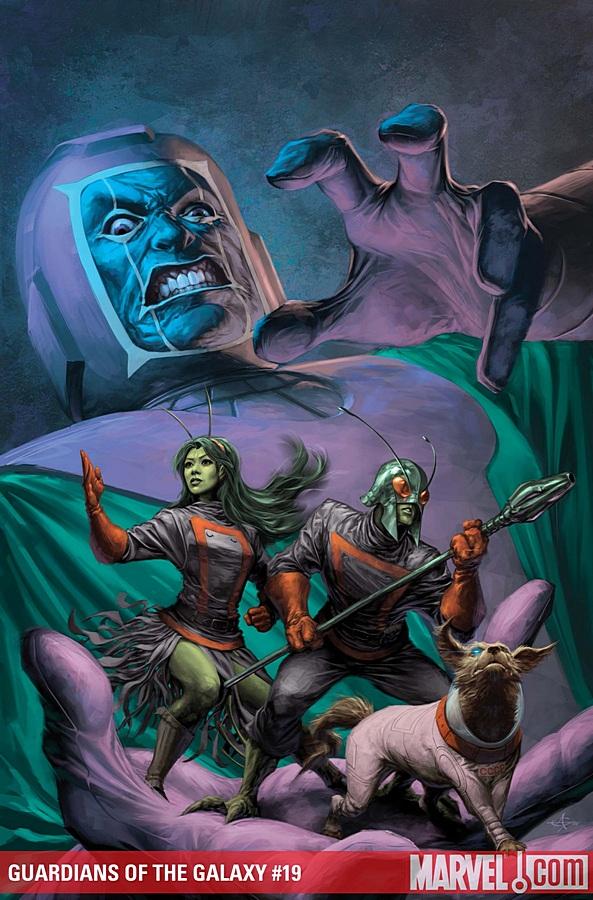 GUARDIANS OF THE GALAXY #19 Marvel Comics
You know what's great about using B-List characters? Pretty much anything can (and in this issue, does) happen. Abnett and Lanning are cementing their position as Marvel's top writers with every consecutive month, and this month's resolution of the GOTG timeline crisis does not disappoint. Action, drama, pathos, a great cameo by Kang the Conqueror, and all drawn with great energy and sense of dynamism by Wesley Craig, who's becoming one of my favorite "cartoony" (i.e. not rendering every single fold, wrinkle or hair) artists. This issue is a great one for aspiring comic artists to check out, just to see how you can make a flat page covered with static images as lively as any motion picture. And it's got a telepathic Russian dog—bonus! –
Imp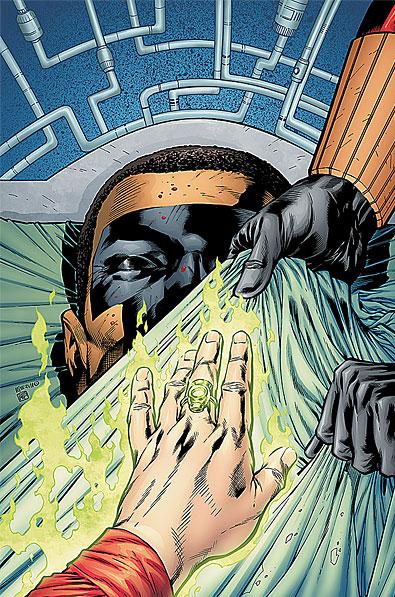 JUSTICE SOCIETY OF AMERICA #32 DC Comics
This title is still humming along nicely courtesy of Sturges' and Willingham's multilayered mystery, the friction amongst the JSA members, and the unrelenting assault upon the team by a slew of DC's third-tier villains. Once again, I'm just happy that JSA has moved away from the happy-lovey-hugfest that tainted the end of Geoff Johns' run and come back to the fold of superhero action. Jesus Merino also pushes this title to a new standard with his detailed yet never overly-busy art. My only beef is that the new Dr. Fate got dropped into this title without as much as a word of who he was, and I had to resort to Wikipedia to read up on the new Kent Nelson. Sometimes I pine for the good old days of heavy plot and character exposition… -
Imp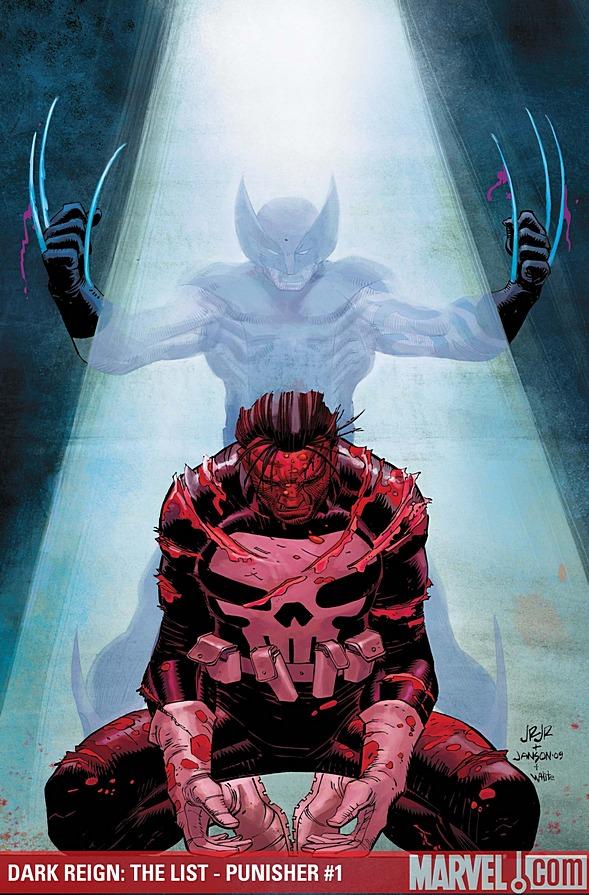 PUNISHER: THE LIST #1 Marvel Comics
Can't end the week without mentioning the single biggest holy shit moment of the week; namely ****SPOILER****The dismembering of Frank Castle by Wolvie Junior. Now, I know this reeks of stunt storytelling where sure you have a status quo shaking event happen only to have the character return to the status quo before you have to flip your mattress. But I can't help but admire the sheer kick-@$$ery Remender adds to this issue. From start to finish, Frank goes down fighting. ****END SPOILER**** This is one issue where I didn't know what to expect and once I read it, I couldn't believe it. It takes a lot to surprise this Bug, but this issue did it to me. Even with JRJR's clunky art and awkward panels, this issue was one of my favorite issues from Marvel this year. -
Ambush Bug
---
Editing, compiling, imaging, coding, logos & cat-wrangling by Ambush Bug Proofs, co-edits & common sense provided by Sleazy G
---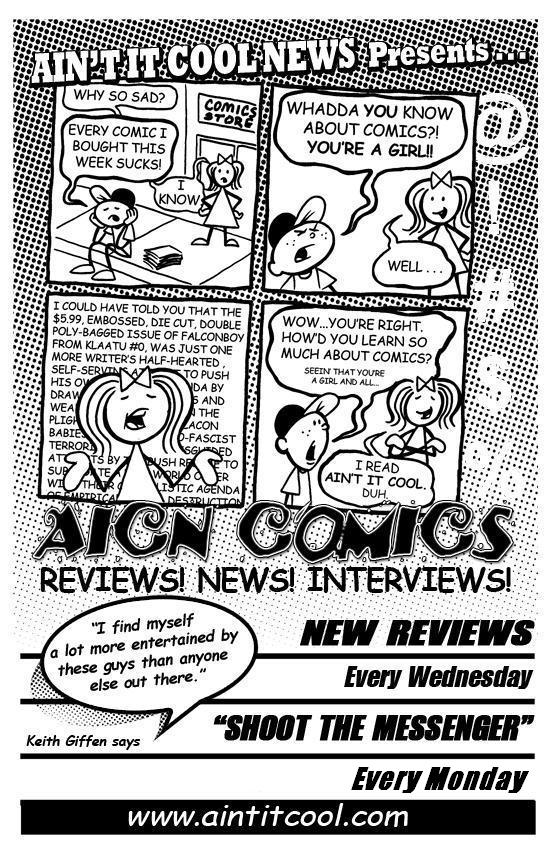 Ad by Prof. Challenger
Remember, if you have a comic book you'd like one of the @$$holes to take a look at, click on your favorite reviewer's link and drop us an email.
Check out the @$$oles' ComicSpace AICN Comics page here for an archive and more @$$y goodness.