Hey folks, Harry here with Moriarty's Eleventh Hour edition of the Rumblings he's become so well known for. It is my belief that the bug that caused AICN to be down a few days was in actuality caused by Moriarty just so his Tuesday column would be pushed to Thursday... the day after THE GREEN MILE screening in Scottsdale, Arizona (Come on you Arizona Readers.... How was it?) so he could rant and rave about it right up top. I have to say I am heh... happy as a jaybird with the buzz that came out of that screening which seemed to back up the prediction I made over a year and a half ago that this was the frontrunner for this year's Oscars... Heh... If that actually comes to pass... I wonder what sort of odds Vegas would have given me a year and a half ago and exactly what my pay off for a $10 wager would've been. Hmmmmm.... Bet I wouldn't even be given odds. Sigh.... Well, enough of me... on to the old man.... He's nearly dead already!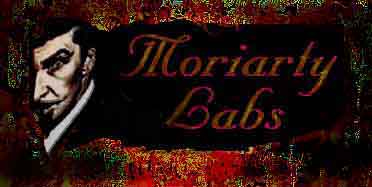 Hey, Head Geek...
"Moriarty" here.
First, a gigantic "congratulations" goes out to Frank Darabont and all the good people working on THE GREEN MILE for their wildly successful Arizona test screening of the film. Clocking in at around three hours, the film scored a phenomenal 94 out of 100 overall, and there's a chance they won't bother test screening it again. This definitely looks to be a case where a great script plus a great cast plus a great director equals (shock!) a great film. If I have to send a team of henchmen over to Castle Rock to get a peek at the film, I will, because the anticipation is killing me.
Second, what with all the server issues, it turned into a very long weekend at the Moriarty Labs. With the upcoming Labor Day weekend, I'm afraid the henchmen are going to get spoiled and think every weekend should be four days long. I'm ordering extra taser guns and genital cuffs to help maintain order when reality hits them. I'm often amazed at how far off your perception of something can be from the reality of it. Take THE 13TH WARRIOR, for example. It sat on a shelf at Disney F O R E V E R before they finally dumped it last weekend. Man, they played hide-and-seek with it all the way up to the last minute, showing it to no critics, moving the weekend twice in two months, until finally there was another John McTiernan film that actually came out first, and then -- and only then -- they dropped it into theaters, a stinker just waiting to play out.
Except... it's not, really. It's not the world's smartest film, but it sure does move. And there's some really stirring imagery throughout. And when the action kicks in, it's suitably bonecrunching that I thought I got my money's worth. I saw it at Hollywood's El Capitan, the Disney showcase theater, and they had the film cranked to a half-full late show on Saturday night. No matter what failings I thought the film had narratively, it made up for it as a blood-soaked fantasy adventure. True, it doesn't approach the heights of John Milius' glorious CONAN THE BARBARIAN, the film that is still the standard bearer in my mind, and, true, it doesn't aim for the heights of Peter Jackson's LORD OF THE RINGS. Doesn't matter. Somewhere, between what McTiernan shot and what Crichton reshot, there's a visceral, thrilling ride. In hindsight, there are story problems so profound as to render the film ridiculous, but during the two hours I was watching, I bought into the world. I think Banderas is at his best when freed from the limitations of English. He's a silent movie star in the best sense of that term, and this is one of those roles that exploits that perfectly.
I liked how the Vikings teased him, calling him "little brother" and calling his horse a "dog." I liked McTiernan's Viking-to-English transition trick, almost as much as I enjoyed it when he did it in RED OCTOBER. I thought the film was lean, never strayed from its central story, and I appreciated that. The production design, the almost-right Jerry Goldsmith score... it all worked while I was watching it. And if the film evaporates in memory... if those holes become more pronounced upon inspection... well, so what? It was the last weekend of August. It was a film delayed by two years. I'm thankful for what simple pleasure I took from it.
As pleased as I was by that film, I'm equally disappointed to see that Albert Brooks continues to simply spew vile at others upon release of arguably the worst film he's been involved in, THE MUSE. The film's worst quality is its lack of satiric focus. Who is Albert making fun of in the film? Studio executives? His character? The filmmakers who rely on a muse instead of themselves? The filmmakers who are so desperate they would even believe in a muse to begin with? The system that doesn't value older filmmakers and their experience? A system that would value an idea as crappy as his "Jim Carrey owns an aquarium" idea that saves him in the film?
One of Brooks' current targets is apparent, since he continues to beat up Adam Sandler in interviews. In a much-quoted interview with the TORONTO GLOBE AND MAIL, Brooks announced (tongue seemingly in cheek) that he plans to make a film that will lampoon the current trend of gross comedies. He specifically bags on Adam Sandler and Ben Stiller in the article, seeming to forget that Stiller's TV show was one of the best comedy shows of the decade or that FLIRTING WITH DISASTER was exactly the kind of savage social comedy Brooks used to be renowned for. He says he would call the film THE BIG DUMB STUPID MOVIE. This is the best Brooks can come up with? This is a man who wrote scenes that not only supported but demanded dialogue like, "I have seen the future... AND IT IS A BALD-HEADED MAN FROM NEW YORK!" This is a man that set the bar for verbal acid wit in film. And now he's reduced to falling down with food on his face and throwing stones at other comics. This weekend's sure-to-be precipitous drop for THE MUSE at the box-office should remind Albert that fixing the state of the art in film comedy should start with one's own pictures. Give us something as good as your best again, Albert, and the box-office will be there. You're not giving the Farrellys credit for the level of sophistication under their silliness. If anything, they're making it safe for smart humor at the box-office again. Try it... you'll see.
I told you last week about how new AICN contributor FreeRide had tunneled into Miramax. Turns out he's been working with one of my henchman, a pituitary case named Mongo, to widen the tunnel network. On Friday night, they accidentally dug right into the Paramount back lot, connecting their tunnel with the subway "entrances" on the New York street set. I went to inspect their work and found myself right in the middle of a night shoot for the new Kevin Williamson series WASTELAND. The Professor is fond of the salmon dish craft service was offering, so I stayed to have a look around and meet some of the key cast members of the show. In the end, the key to any show's success is how connected an audience feels with a cast. A great show runner like Joss Whedon or Chris Carter is invaluable, but the audience isn't inviting them into their homes each week. It's Duchovny and Anderson or Gellar, Hannigan, and Brendon they're inviting in. It's Mulder and Scully and it's Buffy and the Scooby Gang.
That being the case, there's a good chance WASTELAND could connect, because this is a likeable cast. Rebecca Gayheart has been paying dues for a while now. Anyone who suffered through either URBAN LEGEND or JAWBREAKER can vouch for the fact that she's the best thing about either one. Hell, I saw a music video recently where she was a waitress at a small town diner where she showed real chops, actually turning in a performance despite it being without dialogue and less than four minutes. She's a charismatic center for a show, and that was only made more obvious because the sequence I watched them shooting had her playing opposite Jeffrey D. Sams.
Now, a lot of news outlets have been playing up Sams as a late addition to the cast, pointing to pressure from the NAACP as reason for his character's creation. The shame about slanting the coverage that way is it misses the real story about Sams. This guy is George Clooney right before ER. If you've seen him in supporting roles in WAITING TO EXHALE or SOUL FOOD, or in the TNT film HOPE that Goldie Hawn directed last year, then you know what kind of charisma he brings to a project. He's also the king of the short-run TV series. Since 1993, and including this one, he's been on five series now. His best one, in my opinion, was last year's CUPID, but he's had standout moments on each of the shows. Now he's finally being featured on a show that a network is fully behind, and believe me... ABC is behind this show. All you have to do is look at the way this cast is dressed. Look at the way they're promoting them. Dan Montgomery is playing one of this season's big buzz characters, and the show also benefits from the presence of KILLING MRS. TINGLE's Marisa Coughlin. Love the film or hate it, TINGLE was a showcase for her. She didn't have to carry the film the way Katie Holmes did, and that means she won't get blamed for the film's underperformance.
As far as the criticism that Williamson's star is on the wane, I'd say that's not true when it comes to television. DAWSON'S CREEK isn't my cup of tea, but it's been a hell of a launching pad in a brief time, and it's still performing well. WASTELAND is aimed squarely at an older audience, one that's going to need a new guilty-pleasure soapy weekly habit now that MELROSE PLACE has closed its doors.
At the beginning of the week, I went with Mongo on another excursion over to Miramax, where I was surprised to bump into Martin Landau in the lobby. There was a fair amount of activity around the screening room, so I had Mongo clear us a path to a front row seat for whatever it was they were showing. Sometimes it's fun to see a film with no advance warning, knowing less than nothing. Sometimes films hit you harder that way. I know I value my BLAIR WITCH experience, seeing it in a room with ten friends at 2:00 in the morning months before the buzz began. I also now value my first viewing of an indy that you should be hearing a lot about next year as it finds a home and gets rolled out to fests and theaters. The film is SHOE SHINE BOYS, and it's a winner.
Turns out that Martin Landau is one of the film's executive producers, along with Spencer Proffer and Rich Abramson. The picture was produced by Evie Willis, and was written, directed, and edited by Mikki Allen Willis. If Willis isn't familiar to you, don't panic. He wasn't familiar to me, either. He's a former acting teacher who taught in NY and LA for six years. The two stars of this film were both students of his. The only thing I knew about this particular film before walking in was that Quentin Tarantino saw the film recently and had a strong reaction to it. I can understand why. In tone, this plays like Quentin's original draft of NATURAL BORN KILLERS, back before Oliver Stone got a hold of it.
That's not to say the stories are similar. They're not. There are common themes and ideas, though, foremost of which is the idea that fame is a drug in America, and the one which can be most destructive. The film stars Darren Geare as Matt and R.J. Knoll as Eddy. The title refers to a garage band the two were once part of. They're old friends with familiar roles. Matt's the guy who has a million bad ideas, and Eddy is the guy who listens to them. As the film begins, Matt has the mother of all bad ideas: in order to get on TV, they're going to ambush the woman who is running the Olympic torch, then put it out with a fire extinguisher and grab it from her. Instead, the Olympic runner, one Sue Sue Robinson (played with a bruised dignity by C.C. Ruffin) fights back, refusing to let go of the torch. Matt and Eddy grab her and take her back to Eddy's parents house, where they have four days to figure out what to do. As they watch the coverage on TV of the case and they make disastrous occasional contact with the outside world, Matt and Eddy unravel completely, documenting it all so that there will be some record of their acts. After all, if there's no video, you can't be on TV, can you?
I thought the best thing about the film is its willingness to try anything. It plays a little long right now, and there's some side notes, some diversions in the film that could be tightened up. That's minor cosmetic stuff, though. I know the film is being screened for distributors all over town in the next week or so, and I'm excited to see who picks it up. It definitely deserves to find a release. There's some affecting material here, particularly in showing the ruined lives on the fringe of fame. Matt's mother is shown in flashback and in the present, and she's a broken, spacey woman, a casualty of chasing fame her whole life with no real talent to back it up. She's a haunting presence, and the film's wicked comic edge is tempered by the reality of these moments. It's what makes the film really work where so many media-conscious indies fail. The film comments on the way the dream is formed, and it does assign some blame to the people who peddle fame, but Willis keeps his eye on the people in his story. By doing so, he keeps it affecting, emotionally involving.
There's a couple of "celebrity" cameos in the film, one of which works brilliantly, and one of which becomes a bit distracting when it's returned to more than once. Rudy Ray Moore, the one and only Dolemite, shows up in the film as Matt's godfather. Matt speaks of his memories of the set of HUMAN TORNADO. When Moore talks about his relationship to Matt, I can say without a hint of irony or sarcasm that it's the best he's been on screen. Moore is the perfect guy for this cameo. You can't make up a Rudy Ray Moore. You can't make up this guy's career, or his act. He's better than fiction, and I thought it was a great sequence. Hank Nasiff is also used in the film in a supporting role, and I thought it was far less successful in the end. For those of you who don't listen to or watch any version of Howard Stern's tv show, Hank is more commonly known as "the Angry Drunken Dwarf," a name that is entirely accurate. His first appearance in this film was funny, but there's an extended appearance later that literally stops the film dead at the halfway point. It's the only time in the film where director Willis didn't feel like he was in control of the chaos.
I know that this film is going to play at the Santa Monica Film Festival on September 16 at Laemmle's Monica 4Plex at 9 PM. Beyond that, I don't know when you'll get a chance to see it. Hopefully someone is going to see the film and snap it up. It's not a big picture, but it makes the most of its limited budget. Director of Photography Frank Suffert shot the film on DV, Hi-8, beta cam, Super 16 and 35mm, and it's all used well, never feeling like a mish-mash. Instead, it's all clear, communicative, exciting. It's one of those go-for-broke debut pictures that is always invigorating to stumble across, and it holds a lot of promise for Willis' next venture.
One of the new things I saw this weekend was a teaser poster for Brian De Palma's March release MISSION TO MARS. Maybe I should write that as MISSION 2 MARS, or just M2M, like the logo on the poster reads. It's a pretty striking design, and I have to admit -- M2M has a great pedigree if you're just looking at it on paper. I am, and always have been, a big De Palma fan. Yeah, he makes missteps, and some of them are astonishing in sheer scale, but when he puts it together, I think he's one of the wittiest stylists around. Working from a script that was originated by Jim and John Thomas (PREDATOR) and rewritten by big-time script doctors Nick Kazan and Ted Tally, De Palma's got a solid cast of character actors here. It's almost like an APOLLO 13 -- Don Cheadle, Kim Delaney, Elise Neal, Jerry O'Connell, Tim Robbins, and Gary Sinise. I guess if I were De Palma, I'd just be concerned that the whole M2M might get confused with the decidely De Palma-less MI2, which is finally wrapping up with some American location work. Woo and company have been pushing themselves to free up Tom Cruise for MINORITY REPORT, but I've had reports now from three different sources that he shouldn't bother. Word is that script problems have finally killed the Fox/DreamWorks picture, and that the teams who have been working in pre-production are being shut down and sent home. I don't know what the script issues were, but I'm pretty sure that if someone like Scott Frank can't solve them, then they're not going to get solved.
I know that M2M isn't going to get confused with that other Mars film now that they've changed the title from simply MARS to THE RED PLANET. Without having read the two scripts (and I'm working on that right now), I'd have to give De Palma and Disney the edge on the "want-to-see" scale. THE RED PLANET stars Val Kilmer, Carrie Anne-Moss, Tom Sizemore, Benjamin Bratt, and the suddenly-very-employed Terrence Stamp. There's six producers listed on the film and a whole fistful of writers. When you've got strong voices like Jorge Seralegui, Mark Canton, and Bruce Berman all listed as producer, you have to wonder who's really driving this thing. I guarantee it's not Anthony Hoffman, the film's director, who appears to be a first-timer. He's under the gun here to not come in third after the Disney film and the various James Cameron Mars projects, but I think it might be a losing battle. I'll report more after I finish reading both projects.
Speaking of Terrence Stamp, I saw another one of the many films he's appeared in recently at a screening last night, and I am still recovering from it. Of course, it's something I completely left off my look at the fall season last week, but that shouldn't come as a surprise. It's a little film, despite being directed by Steven Soderbergh fresh off his career-best work on OUT OF SIGHT. Stamp isn't a giant name, and neither is co-star Peter Fonda, even though this is his first really important work since ULEE'S GOLD. I'm writing of the fantastic new THE LIMEY, another film from this year's little indie that could, Artisan.
I was surprised to see that Edward Lachman, the film's director of photography, and editor Sarah Flack are not the same team that worked with Soderbergh on OUT OF SIGHT, since this film feels like an extension of certain ideas from that movie in some regards. This film starts with a black screen and Stamp's strangled voice spitting out, "Tell me... tell me... tell me about Jenny." Just like that, it's off and running, a simple story told in deeply fragmented style. This has got to be one of the most sophisticated uses of time I've ever seen in a film. Stamp plays Wilson, a simple English thug who's spent most of his life in jail. His daughter Jenny has just died in a car accident in LA. He doesn't believe it was an accident, and he flies in, ready to kill anyone he has to in order to find the truth. This is a film that reminded me in some ways of POINT BLANK, the John Boorman/Lee Marvin classic that was remade as PAYBACK. POINT BLANK used flashbacks and flash forwards in an almost experimental manner, but in THE LIMEY, there's something deeper at work. This is a film about a man who's become disjointed in time, for whom memory and the present aren't separate things. I know that there are memories I have that are so vivid, so important to me, that calling them up is almost like time travel. For Wilson, memory is all he has, and he keeps it wrapped around himself. POOR COW is a Ken Loach film from 1967 that featured a very young Stamp, and Soderbergh bought the rights to use clips from the film in THE LIMEY, serving as Wilson's flashbacks to his own youth. I thought it was a gimmick when I first heard about it, but seeing how it pays off here is really powerful.
The film has tons of pleasures to offer. There's some great tough-guy dialogue, and wonderful supporting turns from the always-gold Luis Guzman, Leslie Anne Warren, Nicky Katt (unrecognizable here from his work in DAZED & CONFUSED or SUBURBIA), Bill Duke (in the movie's best scene), and Melissa George. There's also a very subtle reference to EDWARD FORD, a widely-read and respected unproduced screenplay by Lem Dobbs, who wrote this film as well as Soderbergh's earlier KAFKA that made me laugh out loud even though I got stared at like an idiot in the theater. This film doesn't build to some giant action sequence, but it does build to a realistically apocalyptic ending. I fell in love with Terrence Stamp as a performer all over again watching this film. I think I may have actually found a film that will supplant "Kneel before Zod, son of Jor-El." When this hits in mid-October, find it and see if you agree.
One other film that came to mind for me while I watched THE LIMEY was the 1970 classic JOE. The film was already on my mind over the last week anyway due to the death of the film's screenwriter Norman Wexler. He's also known for his scripts for SATURDAY NIGHT FEVER and SERPICO, but as far as I'm concerned, it was JOE that made his career worth note. This is one of those movies that no one seems to remember, but I love it dearly. It features a very young Susan Sarandon as the daughter of Dennis Patrick. He's a successful guy who crosses paths with blue collar Joe, played by Peter Boyle in a role that I hold right up there with YOUNG FRANKENSTEIN as a career high for him. The two of them are drawn together by only one thing, a hatred of the counterculture. Their mutual hatred leads them to explore the lifestyle, trying to find the missing Sarandon, and it eventually leads them to an act of horrible, final violence. The film is definitely about generational fear, how the old fears the new, and about how painful that transition can be. It's also just a damn fine character study. Wexler's filmography reveals a bent for working-class characters speaking realistically, concerned with real life issues. I'd say that he was touched by genius on occasion, and his passing is duly noted.
It's not uncommon for people, artists in particular, to be touched by genius on occasion, but not every time out. I know I've bagged Michael Bay on occasion in this column or in reviews, but I will give him his props: the man knows commercials. If you've seen the new Levi's commercial featuring the invisible couple and their interrupted date, you'll know what I'm talking about. It's damn funny, and the work by Digital Domain on the ad is the finest invisibility FX work I've seen yet. There's some very sophisticated CG replacement work done, and it's all seamless. In this medium, Bay is as good as anyone working. There's other guys who were born to work in other mediums. Dave McKean, whose covers for the Neil Gaiman SANDMAN series are some of my favorite art of the last 20 years, directed a video for a new video by a Virgin artist named Buckethead, and it's a stunner. It doesn't look like anything else, and it somehow brings the signature McKean style to vivid, 3-D life.
Also in current rotation is the new Bjork video, "All Is Full Of Love," a single off the STIGMATA soundtrack. It's directed by Chris Cunningham, who I will go on record as calling a full-time genius right here and now. Between the disturbing videos for "Come To Daddy" and "Windowlicker" by Aphex Twin and the work he did for Stanley Kubrik on the unproduced AI, Cunningham has been writing quite a career for himself. His job for Kubrick was evidently learning to build robots, and now that AI isn't going to happen, this new video may provide our only film clue as to what we would have seen. In the video, Bjork is built as a pair of robots who end up entwined in a sensual embrace. It's the finest FX work I've seen this year, and I dare you to shake the image after you've seen it. I know Cunningham has been rumored to be adapting William Gibson's NEUROMANCER as his first film, but I'm in the middle of reading Neal Stephenson's masterful new CRYPTONOMICON right now, and I'd rather see what Cunningham could do if paired with a narrative genius on the level of Stephenson. I think ultimately we the audience would be the winners in that scenario, and I hope we get the opportunity to see if I'm right.
Finally, I want to close out this week's RUMBLINGS by sharing with you an object lesson I learned this week about the responsibility of what I write. This is an ongoing subject of concern here at AICN. Despite the bitter whining of a few of our competitors and the occasional TALK BACKer, we take the idea of ethical reportage very seriously. As a result, when I feel like I've done something wrong, I'm willing to share that with you.
In particular, I have had a change of heart about the level of savagery I've used in certain reviews in the past. I had the opportunity to communicate with someone whose film I had eviscerated upon release, and I was given a clear picture of what effect that review had on that person. I have to say that it gave me real pause. It's one thing when you're reviewing a movie like WILD WILD WEST that squanders massive corporate resources. I refuse to ever pull punches in a case like that, since that kind of filmmaking is exactly what I consider the worst this town has to offer. When I'm dealing with a smaller film, though, something more personal, I believe that I'll take a different approach in the future. I'm never going to softpedal what I feel about a film, but I'm also not going to pull out the big guns and attack on such a direct, visceral level. I was told that my review was "goddamned mean," and it was. That's not why we're here. My passion for film may have gotten the better of me in the past, but I believe in learning from those events. In the future, expect me to be more precise in the application of my critical tools.
After all, I'm an Evil Genius, not a Goddamned Mean one. On that note, I have some technical adjustments to make here in the Labs so that we can premiere the PRINCESS MONONOKE trailer here at AICN in the next few days. We're going to cohost the event with Nausicaa.net, and it's going to be your first chance to see how Miramax is selling this profound and beautiful masterpiece. I think the trailer rocks, and I'm betting you will, too. Until then...
"Moriarty" out.