Hola all. Massawyrm here. The following is something Harry forwarded over to me which is a general rundown of the experience someone 10 years out of the game had searching for Dungeons & Dragons at Gencon this past weekend. Being a Gencon first timer, he writes about a number of the mistakes he made fumbling through it. Here's Jest.

Why it took three days to find D&D at the World's Largest Gaming Convention Okay, so, first things first, the geek nerd biography. I played D&D. Are you done rolling your eyes and laughing? Good. For the first time in about ten years - due to the economy – I had some free time in August. I saw an ad for GenCon, which billed itself as the World's Largest Gaming Convention. I thought, well, this will be great, get away, do something geeky and nerdy for a few days and get back to the hunt for gainful employment. I arrived at the convention Friday afternoon, checked into the hotel, and drove down to the convention center. Picked up some tickets for events and thought, hey, I'm home, among my geek nerd brothers and sisters. The first thing that struck me was the bare flesh exposed by some folks of indeterminate age. I quickly learned this was called Cosplay, Costume play, which is a pastime indulged in by, uhm, young people into Anime such as Dragonball Z. Alright, so eye candy, harmless – except for the age factor. But I thought, okay, I can handle this, there are bars nearby where I can drown the creepy skin-crawly feeling that I've some how become a pedophile. Continue building your personality profile. Go on, its cool, join the mob, all the cool kids do it. Onto the Games! Found the area of the convention where Wizards of the Coast, manufacturers of Dungeons and Dragons, had staked their claim, only to discover I arrived too late for an introduction to – cue theme music – D&D 4E. Come back tomorrow. No problem, I checked out the dealer room, which in itself is an amazing place stacked almost ceiling to floor with useless stuff you don't need but absolutely have to have. I dare you, no, I double dog dare you to walk through this place during GenCon without seeing ten to fifteen things that need to come home with you. Sharper Image, Ikea and Bed, Bath and Beyond have nothing on the merchandise collected here. So, on to the next day: I wander in, tickets in hand ready to get my geek on. You can geek and nerd here, man, its okay, socially acceptable and even encouraged. I waited in line, and waited, and finally got to the front. I was in the wrong line. This was for players with some experience. I was geek, but I was ten years out of practice geek. My geek and nerd were not strong enough. They were flabby, girly man geek and nerd. So, new line, wait, get to front, I was there too early, come back at six. Gak, cough, okay, I get you, bar, cold beer, lunch, beer, successful afternoon. There was a Colts game that afternoon and the ancient geek and nerd high school tremors hit me. Geeks and Jocks do not mix. Geeks do not mix with Jocks in large numbers – at all. But the laughing and eye rolling was kept to an absolute minimum. I was shocked, aghast, this was not my beautiful memory - surprise, no pummelings, no beatings, no lynchings. Things were looking up. Convention Hall, six o'clock: I've had my libations and the Minnesota Vikings were about to catch a beating. Nothing but great things can happen from this point. I finally got into a game - and I felt like a special needs monkey. This was not D&D, at least not D&D that I remembered. The rules have been stripped down, simplified, to the level of reading is fundamental. Everyone is equal, and everyone cooperates. Barney likes this game. Where was the random violence and smashing things to little bits and taking their loot? Not here. So, as I said, my geek and nerd are ten-years-out-of-practice, flabby, girly man geek and nerd. The question fell out of my mouth, "This is D&D, right?" And they looked at me like I grew a third eye. This was a board game. There was a board. You heard me, a board, like a fold up paper board with little cardboard markers, sorta like if Parker Brothers put out a ghetto version of Monopoly. You kick open the door and begin the game. No literally, that's how it went. Move in, fight, move to next room, fight, move to final room, fight. Game over. Okay - and well - that's it. To give this game its due, its easy to pick up, you can have it down in about five minutes and master it about fifteen. It's that easy. The math has been smashed down to one addition problem, with the answer provided, in bold letters with easy to understand words. It's a simple game. It works. All they need is a box and they'll a winner on their hands. Okay, its seven o'clock, time to feed my ugly face. Food. Asked some folks, a nerd family no less, fellow geeks and nerds about grub, they pointed in the direction of the Noodle Company. We got to chatting, I asked if they played D&D 4E. The kid piped up and said it was a boring MMORG. Great - acronyms – love it. An MMORG, is a massively multi-player online roleplaying game. In shorthand, it means World of Warcraft. I've played Warcraft, laughed at the commercials and thoroughly enjoyable game. The more I thought about this over my pesto noodles – which were excellent by the way - the more I thought, damn, the kid was right. It's an MMORG, without the online, the graphics, the social interaction or the - well, it ain't Warcraft. To add insult to injury, the Vikings won. And this was one of those surreal moments that could only occur at a gaming convention. At nine o'clock, there was costume event - a zombie walk. The zombies gathered in the Indianapolis Union Station, and began their march just as the game was letting out. The sympathetic zombies tried to cheer up the disappointed Colts fans by limping about, in their Night of the Living Dead make-up, chanting, "Viking Brains." So now it was Sunday, last day, and still had nothing I could recognize as D&D. My ten-years-out-of-practice, flabby, girly man Geek and Nerd would go back into the box, and I would return home with the memory of zombies trying to cheer up disappointed Colts fans. I found a final event – Introduction to Pathfinder. Holy Geekdom, Fatman, this is where they were hiding it! There were dice! Dice bags! Miniatures! Rules written for people with a comprehension level above the eighth grade! Okay, I know, that might not be a selling point, but you get the idea. And that's why I couldn't find it – D&D wasn't called D&D anymore, it was called Pathfinder. Okay, now you have my permission to laugh at me. Go ahead, get it off your chest. Done? Feel better now? Good. This was the D&D I remembered - thinking was involved, planning, resource management, followed by bone crushing violence and looting your reward. D&D, I found you. Paizo, the publishers of Pathfinder, have done a good job of streamlining the game, not to the level of D&D 4E, but it has been trimmed, put on a diet and forced to get some exercise. It makes logical sense now. The complex calculus of previous D&D editions have been reduced to some high school math problems – which means both addition and subtraction are required. Okay, maybe that's not a selling point either, but you get the idea. The game is playable with a minimum of page flipping and rules knowledge. My ten-years-out-of-practice, flabby, girly man geek and nerd were satisfied. I played D&D, which wasn't called D&D anymore, but Pathfinder.

Well, sounds like he made a number of the classic mistakes that Gencon regulars are probably giggling about. More importantly, as a D&D player 10 years out, it sounds like he was a 2nd Edition player. If you've never played the short 4E demo games, his description isn't far off. It's designed to be able to teach anyone in about 15 minutes the basics of 4E and it can come across as pretty childish. But it also sounds like Paizo had a hell of a display this year – which doesn't surprise me in the least. Erik Mona and his boys have their shit together. Chalk this up as another ringing endorsement of PATHFINDER. Thanks Jest.
Until next time friends, smoke 'em if ya got 'em. Massawyrm


Got something for the Wyrm? Mail it here.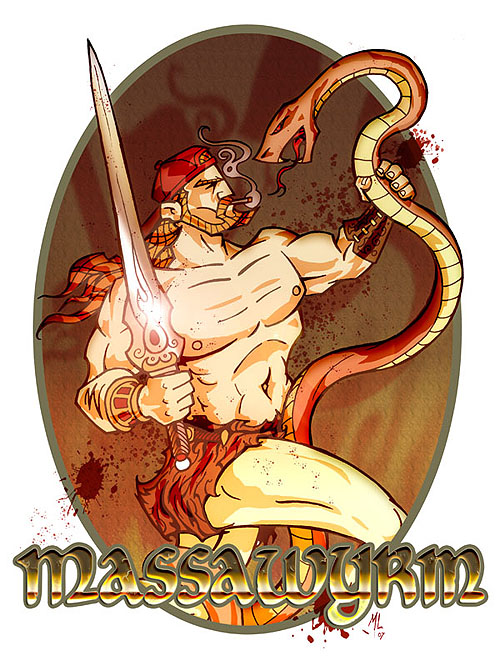 Or follow my further zany adventures on Twitter.