Hola all. Massawyrm here. It's always frustrating to write about a film like this, especially for someone like me who tries desperately to keep as much as possible out of the review so readers can enjoy discovering a film the way it was intended to be discovered: on the screen. But sometimes, in cases like this and another recent release ORPHAN, it becomes essential to let the audience know that what they are walking into is a twist film. Because in films like both of these, the twist is everything. The film lives and dies in that twist. And it is absolutely impossible to review properly without mentioning this fact. (NOTE: I will not be mentioning what exactly that twist is – just that it exists.) Now, that said, I kind of like A PERFECT GETAWAY. Kind of. I've been a fan of David Twohy's for quite some time. I love PITCH BLACK and BELOW and enjoyed THE CHRONICLES OF RIDDICK the first time around (although I loathe his director's cut.) And once again this is a film both written and directed by him. Trouble is, I understand exactly why he wanted to make this film as well as where it went wrong. The finale of this film, in fact the bulk of the third act, is incredible. It is a breathless, twisty, ruthlessly badass finale that is very worthy of your time. It is absolutely clear that Twohy's love for this material stems entirely from the third act – from the turn on up to its final moments. Unfortunately, there are two acts before it – two meandering and pedestrian acts that are trying to discreetly drop all of the requisite pieces of setup for the third act to work properly without tipping off the audience to what it is up to. And if you watch closely, you'll notice that the film lacks the skill at sleight of hand necessary to successfully keep its secret from the observant. And at one point it tips its hand and the more story-minded among you should be able to figure out what Twohy is doing. A PERFECT GETAWAY is the story of a newlywed couple who decide to take a 3-day hike to an isolated side of a Hawaiian island to visit a remote and romantic beach. Along the way they encounter three different couples and…DUN DUN DUN…the news that there has been a murder on another island – two newlyweds – and the police are seeking another couple…who may have fled to another island. Which couple are the murderers? That's the question the film wants you to ask yourself on a blood free hour or so trek through the Hawaiian wilderness. No bodies. No running for their lives. A hike. While you try to figure out what's going on. Compounding the problem is that one of the main characters is a screenwriter (Steve Zahn) and begins discussing making movies with one of the other characters (Timothy Olyphant). As they make little Hollywood storytelling in-jokes - one of which pertains to the plot of the film itself - it sets you to thinking about what is really going on; especially when nothing particularly interesting is happening onscreen. At that point it's not a very big leap to discover the twist by yourself. Fortunately, Twohy is a smart guy and the twist isn't some left-field, whack-job "oh fuck no" moment that doesn't make any sense. On the contrary, everything is perfectly supported by the breadcrumbs he's left all the way back to the first act. But that fact doesn't make it any more satisfying a twist, or even a particularly good one. HOWEVER, and this is a big god damned however, once Twohy has the twist out of his system and he's explained every last detail, the movie he really was dying to make begins. And it is out-fucking-standing. He starts pulling camera, editing and pacing tricks out of his bag. Every single injury characters suffer FUCKING HURTS. And the film becomes just plain mean, refusing to play fair. It goes from Ho-hum to HOLY FUCK in the span of a three minute flashback and it does not let up until the film's final moments. Every single breadcrumb gets picked back up and put into play and it becomes apparent that this right here was what Twohy had in his mind the whole time – he just couldn't figure out how to make the first two acts engaging enough while trying to get us there. Does the third act save the film? Absolutely. But not enough to make truly apologize for the first two. The performances range from solid to excellent with both Zahn and Olyphant stealing the show every chance they get. Gorgeously shot, we saw this digitally projected and the tropical paradise really looked incredible. All of the visual blood and gore effects hit all the right disturbing notes. And even the background cast all hit their marks. The film's only problem is the meandering pace of the beginning and the range of feeling people will have on the nature of the twist. Overall, I like it. The third act had me on the edge of my seat and occasionally reeling at some of the brutal injuries. Having just recently watched ORPHAN - a film so enamored with its own twist that it phoned in its final 15 minutes - I was really happy to see that Twohy wasn't willing to coast upon the power of surprise. But I have to admit I was pretty restless and annoyed that the film was being so coy about its mystery up until that point. It's worth checking out, but not nearly playing in the same league overall as PITCH BLACK or BELOW.
Until next time friends, smoke 'em if ya got 'em. Massawyrm


Got something for the Wyrm? Mail it here.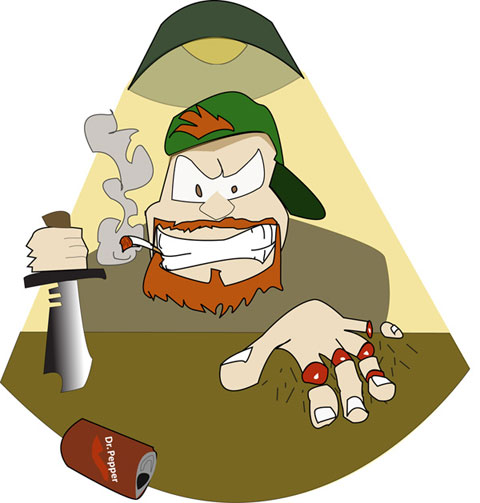 Or follow my further zany adventures on Twitter.