Hola all. Massawyrm here. For two years now I have been inviting folks over to the Casa de la Wyrm to watch one of the shittiest screeners I've ever been handed. It's not that the film was in any way shitty; far from it. It was that the screener was marred by a large translucent grey X in the middle of the screen for the entirety of the film. And despite that big annoying watermark, people sat, watched and fell in love with a delightfully over the top Russian fantasy epic by the name of WOLFHOUND. Because that's how fucking hard WOLFHOUND rocks. Two years ago Harry unwittingly screwed this film over at Fantastic Fest by programming two of his secret screenings opposite its only two (I believe stateside) performances, condemning it to only be seen by a scattered handful of people…most of whom dug the hell out of it. Since then, sadly, my lowly screener and screeners like it were the only way to see it here in the states. But this week that all changes. This week it finally sees DVD here in the states. And I couldn't be happier. First things first – WOLFHOUND is not for everyone. It is a bloody, R rated, modestly budgeted Conan send-up that borrows quite a bit from Howard's masterpiece but also is kind enough to give back. This is not a film for the elite – it is a film for those who pine for the heady days of the 80's when films like BEASTMASTER, KRULL, THE SWORD AND THE SORCERER, CONAN THE BARBARIAN and LADYHAWKE ruled the day and could be seen on the bigscreen in all their glory. This film is entirely reminiscent of that era. It is the story of Wolfhound, last of the Grey Dog tribe. In the opening scenes we watch as his father, a blacksmith, and his pregnant mother are butchered along with the rest of his village in a raid by the evil Zhadova. Wolfhound, just a boy at the time, is sold into slavery and grows up to finally free himself and take his one man revenge quest on the road, along with the help of his kickass pet bat Ragged Wing. As he trucks along, bodies piling up in his wake, he slowly collects a ragtag group of party members, each with different knowledge or skills to point Wolfy in the right direction of the magical Skeletor knockoff that Zhadova has become. Yeah. It's not the most original story. But it is excellently executed. While clearly inspired by Conan, WOLFHOUND is set in rural, rugged, Celtic Eastern Europe – with heavy druidic influences to the magical concepts and mythology. The set design is incredible; creating wondrous vistas that feel both elegantly constructed, but also very much lived in. The world is dark, dank and dangerous, but brimming with wonder and magic at every turn. And every time Wolfhound reaches back to tie his hair behind his head, WATCH OUT! Because someone is about to get a brutal ass beating, with severed limbs and bloody spurts enough to make the movie raw, but not so much as to make it a comical samurai bloodbath. Words cannot express the sheer vibrating elation I felt when I finally got this in my mailbox. It's been steadily on repeat in my computer for the last week as I've drunk in every last drop of Wolfhound-y goodness that I can wring from it. It's been a long time coming and I'm so glad I can now recommend this and share it with like minded fantasy lovers out there. The disc has no special features to speak of save a solid English dub that makes for a fun, easy way to watch it – especially if you want it on while you paint or do other things around the house. But the subtitles are also nice and clean, and probably the best way to watch it the first time around. While I cannot recommend this to everyone, anyone who has a fondness for fun, occasionally campy, sword and sandals style fantasy adventure akin to those titles mentioned above needs to seek this out at their earliest opportunity. It comes with the highest of praise and is highly recommended. Go find this and learn to love it and see why I watched it so many times on a shitty little screener I can now officially retire. Goodbye, sad little screener. Hello, badass WOLFHOUND DVD.
Until next time friends, smoke 'em if ya got 'em. Massawyrm


Got something for the Wyrm? Mail it here.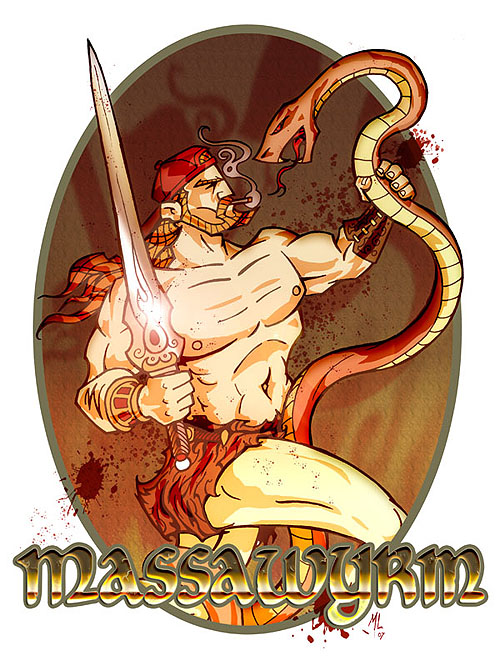 Or follow my further zany adventures on Twitter.