Hola all. Massawyrm here. It's very hard to discuss THIRST without mentioning pop-media sensation TWILIGHT. It's not that TWILIGHT has become so big that it can't be ignored, but rather because THIRST and TWILIGHT cover a lot of the same thematic material, but do it in very different ways. Watching TWILIGHT is like listening to a crappy pop band who cites the Beatles as their chief influence – but while their music is reminiscent of the Beatles, it seems to have no understanding of their music, how it was structured or what it meant. In truth, this band has never actually listened to a Beatles album. Instead, they were exposed to it through countless commercials, covers and use in films. They have never, it would appear, sat down to listen to an entire Beatles album; they've only heard snippets. And that reflects in their music. Chan-Wook Park, on the other hand, has sat down and listened to every note, understands every melody, and composes music that not only embraces what has come before it, but creates its own complex structures that increases one's appreciation of it. At this stage in the game, it is virtually impossible to make an original vampire movie. All of the themes have been exhausted and the ideas run through time and again. So encountering a "fresh" take on the genre either involves changing the vampires so much that they become utterly unrecognizable (like TWILIGHT in which the creatures are actually closer to melodramatic Fairyfolk than anything resembling a vampire) or you have to make the supernatural elements secondary and focus on telling a real, human story about characters. Guess which way Chan-Wook Park went. THIRST is the story about a dedicated priest (Kang-ho Song – The Weird from THE GOOD, THE BAD AND THE WEIRD, HOST and both of Chan-Wook's "VENGEANCE" films) who wants nothing more than to help people and thus offers his body up to science in hopes of helping find a cure for a mysterious disease that seems to target missionaries. But as he lay dying on the table of a hospital, a life saving transfusion meant to prolong his suffering in the name of science instead contains contaminated blood that turns him into a vampire. Christians see the sudden shrugging off of the disease as a miracle. The priest thinks otherwise. Upon returning home, he reconnects with an old friend and his family, among whom is the adorable urchin girl he grew up with a crush on. As the two develop a relationship, the priest's vampirism begins to come to light and he begins to explore his newfound powers and limitations. This is a love story. But a love story about two lovers slowly becoming monsters. And that's where the thematic content decidedly shies away from TWILIGHT. This isn't about love conquering all. This is about how fucking scary vampires are and what it is like for a good man to slowly turn into a beast. THIRST examines the transition from being a member of the herd to being someone who feeds upon the herd. Something better. Something different. It's about the changing perspective of what life is. And at the same time, it is the struggle of a good man trying to combat his new nature and remain the man that he was before in his old life. He matures, he gains wisdom. But he is also a terrifying creature of the night. THIS is how you make a fucking vampire movie. Chan-Wook tells the story in his signature style, with slow, melodic development of our characters, bizarre-o Eastern humor, and some scenes of startling ultra-violence to jar you back on edge. This film is at times silly and hilarious while at other times positively horrific. But at the same time, there are extended periods of heartbreak and sensuality as our two main characters, both virginal in their explorations of one another, begin to experience passion and romance for the first time in their lives. I've got to admit, I've become increasingly bored with sexuality in films as of late. With the advent of the internet, I can see what I want, when I want. Hell, you could open another window, right now, and find exactly what turns you on only to come back here after you've cleaned up and continue as if nothing had happened. So putting extended scenes of love making in a film has become repetitive, unnecessary and ultimately neutered due to community standards. Here, Chan-Wook includes some seriously extended love scenes. Only Park has done something others haven't bothered to do as of late. These scenes aren't simply meant to titillate – they're metaphor. He uses the lovemaking of these two inexperienced and passionate souls to explain to the audience the sensations of vampirism, while also expanding the scope of their characters. These two people who had never truly been alive until now serve as our gateway to understanding the experience of being a vampire. And through their relationship, we see the arc of them coming to grips with the allure and ultimately the horror of what they are becoming. The film brilliantly handles the material and tells a wonderful story without feeling the need to reinvent anything. It is deeply romantic, incredibly rich and finishes with a perfect, killer ending that succinctly sums up everyone's arcs and everything Chan-Wook has to say on the matter. It is among the finest vampire films ever made and would make a fantastic double feature with last year's LET THE RIGHT ONE IN. Vampire fans are going to dig the hell out of this, while those like myself who have tired of retread after retread of the same fucking material will find this a fresh and rewarding new trek into old territory. The films one real flaw is its length – it runs a solid 15-20 minutes longer than it should, all taken up with bits and pieces in the movie that get a slight bit tedious. Park has some scenes in which he repeats himself a bit, a common trait of his films, and you come to a point in which you just kind of want him to get on with it already. Once he establishes something, he occasionally hits us again for effect and it slows the film down a bit more than it should. One buddy remarked that he'd never before seen a film that so needed a Weinstein to come in and speed it up, but that's very much what you'll feel here – which is a shame, because everything he's repeating is great. It's just like a perfectly cooked steak 3oz too big. But overall, THIRST is a voyage into darkness well worth taking. It is a classic tune retooled by a master. While not as brutally effective as OLDBOY or his VENGEANCE films, it is far and away more memorable than I'M A CYBORG BUT THAT'S OK and is a fantastic return to form for Park. Recommended.
Until next time friends, smoke 'em if ya got 'em. Massawyrm


Got something for the Wyrm? Mail it here.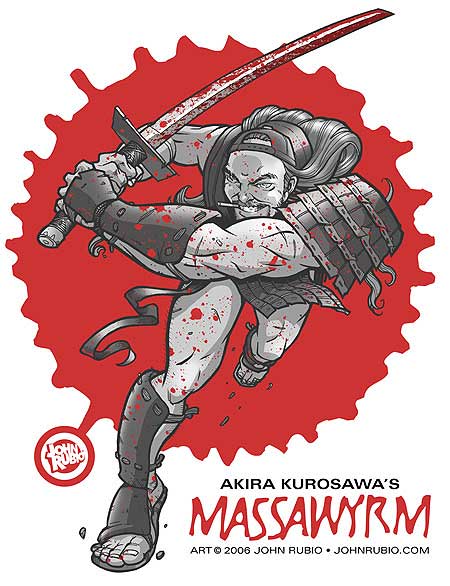 Or follow my further zany adventures on Twitter.