Comics
Capone's Art-House Round-Up with the French comedy THE GIRL FROM MONACO and superb doc HERB & DOROTHY!!!
Hey, everyone. Capone in Chicago here, with my review of a collection of films that will hopefully be making their way to you very soon in select venues that play the non-blockbusters. Enjoy...
THE GIRL FROM MONACO One of the lighter offerings from the Gene Siskel Film Center's European Union Film Festival earlier this year is now being released on a limited basis around the country. Although THE GIRL FROM MONACO may come across as silly fluff, there's a slightly darker lining around the edges that eventually takes over the film about a highly successful French attorney (Fabrice Luchini) who is called upon travel to Monaco to defend a high-profile client (the legendary Stéphane Audran) in a murder case. The case seems difficult to win, but Luchini specializes in tough cases. Still, the nature of the case and the players involved necessitate that the attorney have a bodyguard (the fantastic Roschdy Zem from DAYS OF GLORY) with him at all times. The attorney marvels at the way the bodyguard can get women to sleep with him with very little effort of conversation. Sure, the bodyguard is more handsome and younger, but he tries to advise the middle-aged attorney as best he can. When Luchini meets a stunning TV weathergirl (newcomer Louise Bourgoin) and she seems to take an interest in him, the bodyguard steps in since he too had a relationship with her two years ago. The lawyer is so smitten with this gorgeous woman that he neglects his duties on the case and slowly begins to lose his dignity along the way as well. There's no getting around the fact that any man in his right mind would be unable to resist Bourgoin's beauty or charms (she's about 90 percent leg), so Luchini in his delicate state of feeling underwhelming as a lover or a companion is an easy target. The bodyguard sees that the woman is simply using Luchini's fame to further her own career, and he does what he can to step between them. THE GIRL FROM MONACO sounds like a bad episode of "Three's Company," I realize, but there's a little more going on than hijinks. The more we learn about the bodyguard's past, the more we realize just how serious he takes his job and how far he's willing to go to protect his client. The lawyer falls further and further into a pathetic hole, knowing full well this woman is bad news but still allowing her to lead him by the scruff of his neck wherever she wants. Bourgoin is a force of nature (like a tsunami for men), and it's remarkable how her smiling, sweet face turns particularly nasty when she addresses the bodyguard when Luchini isn't around. The one thing she can't stand in the world is someone who sees her for what she is, and the bodyguard represents a threat to her future happiness. Writer-director Anne Fontaine (DRY CLEANING; NATHALIE..., HOW I KILLED MY FATHER) puts forth a strong effort in showing us the gradual transition each character makes from light to dark as the film progresses. I'm not sure I particularly liked or bought the ending of the film, but there's a certain poetic justice to the whole conclusion that most people will probably get on board with. And while the film doesn't enlighten us much on unhealthy relationships or overly exuberant employees, that's not really its intent. These are three mildly interesting characters (four if you include Audran) put in somewhat crazed circumstances and each asked to react without time for thought. The results are chaotic, somewhat shocking and unpredictable. This is still a minor effort from a consistent director, but if you find yourself in the mood for something a little French, this ought to quench your thirst.
HERB & DOROTHY If you were making art or owned an art gallery or were collecting art in New York City any time in the last 30-plus years, then odds were that you knew who Herb and Dorothy Vogel; you may have even known them personally. The Vogels were not ritzy, high-class, stuck-up art dealers looking for the next hot artist to buy low and sell high. They were art lovers who spent a portion of every paycheck on art that caught their eye. They only bought what they could afford, which often meant they were buying works from new artists, a great number of whom went on to become celebrated pop, minimalist, expressionist, and/or conceptual artists. They were by no means rich--Herb worked for the Post Office, while Dorothy worked as a librarian--and they had rules about works they purchased: they would only buy what they could afford, they would never sell a piece (they believed their collection needed to stay together), and the piece had to fit in their modest one-bedroom, rent-controlled apartment that somehow managed to hold literally thousands of pieces that would rotate from boxes to the walls and ceiling of the flat. The Vogels' (both of whom are still very much alive) passion and eye for art is the true focus of this documentary from director Megumi Sasaki. Through interviews with many of the grateful artists (including Donald Judd, Sol LeWitt, Christo and Jeanne-Claude, Richard Tuttle, Chuck Close, Lynda Benglis and Lawrence Weiner), gallery owners and museum curators, we learn that Herb and Dorothy had essentially pieced together one of the finest collections of modern art in the world in their tiny apartment crawling with cats and made all the more crowded with fish tanks filled with turtles. The film more than fulfills your curiosity just who these people are and how they had such an eye for these pieces. In many cases Herb would purchase an artist's rough draft or discarded work sketch because it was all he could afford. The couple also formed lasting friendships with many of these artists that last until this day. HERB & DOROTHY's highly satisfying final act sees the Vogels donating their entire collection to the National Gallery of Art in Washington, D.C. After turning down many lucrative offers from other museums to house their pieces, the Vogel's very strict criteria about where the collection should land is explored in fascinating detail. The story of the moving of the art could have been its own film, it's so amusing and laborious. After watching the film, I was desperate to meet this warm and caring couple who have almost never spent a day apart in nearly 50 years. They go from gallery opening to artist's studio to their jammed apartment (which they immediately began filling again with more art after the National Gallery relieved them of their collection) with a vigor that is enviable. I enjoyed every second I got to spend with these lovely people, and I loved watching how they educated themselves on art history and movements, and how they turned into the toast of the art world. You don't have to know much about art to appreciate this terrific work; and if you feel that movies today are void of interesting characters, look no further. -- Capone capone@aintitcoolmail.com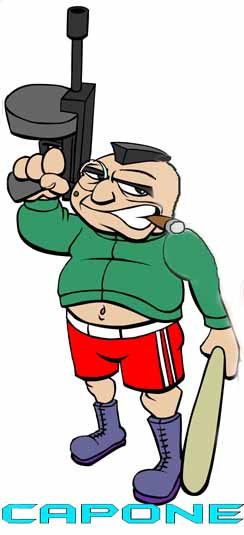 + Expand All

July 3, 2009, 9:58 a.m. CST

by NeilF

July 3, 2009, 11:43 a.m. CST

by orcus

July 4, 2009, 1:50 p.m. CST

by nolan bautista

..aint it kinda cool news..Its the glorious 4th of July..Happy Independence Day to all..