Hey folks, Harry here with a late installment of Moriarty's Rumblings from the Lab... A piece that can regularly be found on AICN on every Tuesday, unless... UNLESS Moriarty was pouring alcohol down his gullet like water into a leaky radiator at a KISS concert the night before thus leaving him hemoraging in a pool of evil vomit like a fountain in Paris. Moriarty, while being an evil genius, can be an amazing consumer of Jack Daniels and Mountain Dew. YECH! What a combination! Well, luckily he survived and here he is...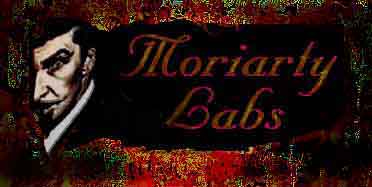 Hey, Head Geek...
"Moriarty" here.
First, a question: how adorable is Sharon Costanzo, and how freakin' addictive is the single "Steal My Sunshine" by LEN?
Second, a comment: Harry Knowles is a dishonorable fibber. Not a word of his account of our adventures on Monday was true. Total fabrication on his part. Heck, it wasn't even me at the DETROIT ROCK CITY party and premiere. I sent a clockwork replica of myself that was equipped with sophisticated monitoring devices that allowed me to observe everything from the comfort of The Moriarty Labs.
Before I give you the truth about the events and an explanation for my tardiness in posting this week's RUMBLINGS, there's a lot of other ground I want to cover, things that are on my mind.
First of all, I'm heartbroken about last weekend. I really thought there was a chance people saw IRON GIANT coming, and I guess I gave too much credit for critical reaction to overcome a lousy ad campaign. I am personally pulling for a BABE/FREE WILLY situation, where word of mouth starts to bring the film's box-office up over a period of time. I'd just like to see families actually find a good family film. So often, I hear complaints that there's nothing worthwhile for whole families to see together. I think it's pathetic that a miserable series of stupid gags like INSPECTOR GADGET is what gets rewarded in the marketplace when something truly worthy is left twisting in the wind.
I don't think the opening weekend disaster of IRON GIANT teaches us anything specific, since there's all sorts of contributing factors. I do believe the film was marketed poorly. At the premiere, I saw four mock posters that were on stands by the entrance to the party that were all better than the actual poster used. They would have been an outstanding teaser campaign. The trailer Brad Bird showed me at WBFA when I interviewed him was better than any of the actual trailers released. The studio should have let Brad finish his sound mix properly, for chrissakes.
I also think the failure is on the part of parents, and this raises a whole different set of issues. One of the reasons we're embroiled in the whole MPAA flap right now is because Valenti claims he is trying to help give parents the information they need to make a judgement about a movie. This past weekend has proven conclusively to me that parents don't give a shit. Mr. Valenti, you are serving no one any longer. If parents really did their homework and read up on the movies that are available to their children, they would have noticed the outpouring of affection for the film from most major critical outlets. They didn't, though, and that means they're not reading. They're not trying to find out why something got a particular rating. They take their kids to see things that are easily identifiable, already branded. RUGRATS or Disney... those are names they already know. TARZAN didn't make money because it was better or worse than any other Disney animated in recent memory. It made money simply because it was Disney animated.
I also think that last weekend was overstuffed. August used to be considered too late to open a "big" summer movie, but Harrison Ford has changed all that with THE FUGITIVE and AIR FORCE ONE. Now the first weekend of August is still considered a potential $100 million slot, and the enormous overall box-office of last weekend proves that the potential is there. When five good films are released on the same day, though, there's going to be blood in the water. Too bad for the charming DICK and too bad for my beloved GIANT.
Now we're faced with another weekend with some pretty good new choices as well as a film that I can't imagine being excited about, the long-delayed, retitled, much-reshot 13TH WARRIOR. I dug BOWFINGER, and you'll read my thoughts on DRC below. Enjoy these last few treats, though, everyone, because it's slim pickings from here to October. That's the month when we get THREE KINGS, FIGHT CLUB, and BEING JOHN MALKOVICH, all of which provide plenty of opportunity to get excited. The time between is what we call the "dog days," though.
Don't believe me? Check out a mere sampling of the fine fare we've got coming until then. DUDLEY DO RIGHT, MICKEY BLUE EYES, UNIVERSAL SOLDIER 2, THE MUSE, THE ASTRONAUT'S WIFE -- is there even one of those titles that makes you think, "Oh, yeah, baby... opening night!" Is there even one of those that you'd be willing to watch without the option of turning the DVD off if it sucks as bad as you suspect it will? Maybe this lull will allow the good films that are already out to do better due to word of mouth. I can only hope...
All sorts of interesting names attached to interesting projects in the last week or so. Joe Johnston for JP3? Fine by me. He's paid his dues, and he just might pull it off. He's definitely got the visual imagination to bring something fresh to the already fading franchise. Joss Whedon for X-MEN? Better than fine by me. I'm addicted to his BUFFY THE VAMPIRE SLAYER, and truly think he's come into his own as a writer over the last three years.
It's been a big day already today for Mike Binder, who has directed films like INDIAN SUMMER and BLANKMAN in the past. He was announced as a cast member in the upcoming political thriller CONTENDER opposite Jeff Bridges and Joan Allen, and he was attached as the director of Tim Allen's untitled new dark comedy about a motivational speaker who is trapped in a depressing, almost suicidal funk when offstage. Sometimes you see it all come together for one person at one time, and you have got to admire the effort that goes into a moment like that no matter what you think of someone's resume. Nice work, Binder.
I'm not surprised to see many of the core X-FILES team members starting to line up work to guarantee life after this year of the show. Morgan and Wong signed their development deal at DreamWorks this week, and I'm praying that they find the right way to channel their talents. These guys can put it together brilliantly under the right circumstances, and I'd love to see some different shades from them. Meanwhile, Rob Bowman has attached himself to something called RIPTIDE, based on a novel from the same guys who wrote THE RELIC, and it looks like Paul Attanasio is writing it. I wish I could be more excited by Attanasio being signed. As a writer of human drama, he's excellent. I still think QUIZ SHOW is one of the better scripts this decade. But as a writer of big action films or SF pictures, I don't know if his heart's really in it. His work on the adaptation of SPHERE was truly horrible, and he seems to have no feel for the genre. Here's hoping that was just a singular case, and he finds a way to bend his particular talent to the task at hand.
I am disgustipated by the results of the big SIGHT & SOUND poll to pick the greatest Hitchcock film of all time. The top ten list was compiled to coincide with this Friday's 100th anniversary of Hitch's birth, and PSYCHO came out as the favorite of those polled. Pardon me while I shake my head in disdain. PSYCHO? Please... if we're talking about technical mastery as well as personal investment, there's only one film that can seriously be discussed as the man's masterwork, and it's obviously VERTIGO. At no other point did Hitchcock come so close to revealing what really made that dark heart of his beat, and the film continues to reveal new facets of itself to me on every viewing. My other favorite of his films, REAR WINDOW, didn't even make the list, even though such flawed pictures as FRENZY and MARNIE did. It makes me seriously question how the polling process worked. To not acknowledge the other great collaboration of Hitchcock and his (in my opinion) greatest leading man, James Stewart, is just plain criminal. I think that the collaboration between the two artists may have produced my favorite work from both of them, and maybe it's because of what they brought out in each other. Nobody, not even Capra, had ever pushed Stewart so hard. He revealed parts of himself for Hitchcock that audiences didn't know existed. Anyone who's a fan of Stewart's knows that he was a different actor post WWII, as if something about that experience changed him. Directors didn't want the more complex, darker Stewart at first, though, and it wasn't until Hitchcock set him free that I think we really saw just how much war had affected him. Scottie in VERTIGO is no hero. He's not even likable in most of the film. He's fascinating, though, and I believe him. This is a guy I can buy, and I am equally able to accept the reality of REAR WINDOW. We're all voyeurs to some degree, and the film is marvelous at making us complicit in Stewart's peeping game. In the end, it doesn't matter how SIGHT & SOUND ranked the films as long as the list inspires people to enjoy some of Hitchcock's greater efforts this weekend. If at all possible, check your local revival houses and see them on the big screen. After IRON GIANT, of course.
A little while back, I reviewed the upcoming Paramount comedy SUPERSTAR for this page, and I finally got a look at the trailer for the movie the other day thanks to a link at Garth's DARK HORIZONS page. I would say that anyone who hates the trailer should stay far away from the film, because it's a pretty accurate representation of the movie. It's like WELCOME TO THE DOLLHOUSE with adults playing all the roles, and I genuinely like the film and wish it well. It's one of the best efforts I've seen yet at translating a SATURDAY NIGHT LIVE character to the bigscreen, and it's also a showcase for the singular talents of Molly Shannon. Since we often bitch about marketing departments not knowing how to sell a film, I thought I'd point out an example of a trailer that gets the tone of a picture exactly right, for better or for worse.
Speaking of trailers, did you all hear about the latest example of the MPAA acting like complete and utter mental patients? There's a TEACHING MRS. TINGLE ad for television that the MPAA will not allow because of a joke involving Mrs. Tingle's dog drinking alcohol from a spilled bottle. Barry Watson says, "If I belonged to Mrs. Tingle, I'd drink, too." The MPAA says the spot promotes teen drinking.
I wish someone at the organization actually had the balls to stand behind their decisions publicly. Instead, they continue their blanket of silence, refusing to comment on anything, on any of their choices. How much longer are the studios going to bow to the whims of this obviously malfunctioning organization? How long until they take back control of their own product? What's it going to take to realize that there has got to be a better way, and any option is preferable to this?
Not that I give studios credit for always knowing what's in their best interest. Take the whole MGM - Francis Ford Coppola thing. The rumor around town is that he's going to become more and more involved in the management of the studio, and that his recutting of SUPERNOVA is just the first step in that process. Has everyone forgotten that despite the fact that he is a great artist, he is a HORRIFICALLY bad businessman? This guy has been in personal debt of up to $100 million at a time. How in the name of all that is rational do you dig a $100 million hole for yourself? And once you've done it, why would any sane person hand you control of a studio? American Zoetrope was a nobly minded failure, as was The Director's Group before that. Coppola can be a valuable artistic consultant, but handing him the keys to the kingdom strikes me as madness, especially for a studio that's ailing as hard as MGM is right now. Leo's roar has never been fainter, and even if THE WORLD IS NOT ENOUGH does well, it still won't make up for the rest of their slate.
And over at Disney, they're proving that they can commit self-sabotage just as well as anyone else in town with their decision to recut WHO FRAMED ROGER RABBIT? for its upcoming DVD release. They're going to be sly about it and just slip it into the marketplace, hoping no one notices, but that's bullshit. Fixing the moment with Baby Herman and the girl's dress or the foul name Donald calls Daffy is just plain artistic bad sportsmanship. The film was a critical and commercial success. Leave it alone. Does Zemeckis know about the cuts, or is it being slipped by him, too? And if he does know, shame on him. That's the film you made. Leave it alone. Or if you really have to go in and take out moments that were in the original, say so. Label the DVD a "special edition" and explain that you cut material to make the film a little more squeaky-clean, more PC, and that you've lost your nerve in the intervening years. I am getting so tired of people screwing around with films that are already firmly established in the consciousness of an audience that I am ready to scream. It is disrespectful to the audience, and it's upsetting to the people who supported a film and made it a success in the first place.
I am sorry that I wasn't able to meet Kevin Mack at the Digital Domain party at the Palladium on Tuesday night, but anyone who was there can vouch for the fact that it was insanely crowded, powerfully loud, and lots of fun. I had to use a new invisibility device of mine to sneak in, but it was worth it. This was one of the many parties that will be raging here in town this week in honor of SIGGRAPH, which is well underway. As of now, I have no plans to attend the other parties, but I had to go to this one. Meeting Mack was foremost on my mind because I wanted to discuss his work on David Fincher's upcoming FIGHT CLUB. I still haven't seen the whole film, but I was recently able to view a few key sequences from the film. Anyone who stops by the Digital Domain booth at SIGGRAPH should be able to see the same amazing footage. The opening shot of the movie is a remarkable uninterrupted 95 second pullback through a human brain that reminded me of the classic opening shot of CONTACT. Knowing that Mack didn't design the brain so much as grow it, just like he grew the Autumn tree from WHAT DREAMS MAY COME, had me worked into a frenzy. I still want to sit down with this bold FX visionary and get a handle on the work he's doing, and I can't wait to see more of the wondrous sights he and Fincher are about to unleash on us.
Right now, though, I should start wrapping this up for this week, and that means setting the record straight about what really happened when Harry and I went to see DETROIT ROCK CITY. I sent my henchmen to the Westwood Marquis Hotel just after 10:00 on Monday morning, where they subdued and blindfolded Mr. Knowles. He was then brought to The Moriarty Labs, the exact location of which is still a secret even to him. We used my elaborately rigged series of hidden cameras and microphones to spy on various productions around town and we plotted out exactly how I'm going to infiltrate the set of "Wes Craven Untitled" as it shoots around town in the next month. After I knocked him back out for the trip back to his hotel, I substituted the clockwork version of myself for the real me. That's who escorted Harry from his hotel into Westwood just before 6:00 that evening.
I had to do it. I'm manic about not having my face photographed. I have too many powerful enemies. Harry and the MotoMoriarty did the whole red carpet thing, making their way past the gauntlet of photographers, and then chose seats that put them fifth row, center, where the film would be huge and blisteringly loud. From my seat in the Labs, I was able to view the whole thing as if I were there, and I have to say, the movie's a gas from one end to the other. I have fond, fond memories of the '70s, and the film manages to pay homage to that time without wallowing in it. The characters would ring true no matter when the film was set, but the period detail adds another level to the comedy for me personally.
The cast is great without exception, but I salute James DeBello, Natasha Lyonne, Eddie Furlong, Lin Shaye, and Sam Huntington as the reasons to see the movie. They're just given the advantage of the best written roles in the film. The rest of the cast, including Melanie Lynskey (truly adorable here and unrecognizable as the co-star of HEAVENLY CREATURES), Joe Flaherty, and Giuseppe Andrews, is very good, even if their roles are underwritten. It was inevitable since the film is written like a bullet, fast and furious, and there are so many characters given screen time. DeBello adds his performance as Trip to a long tradition of screen stoners played to perfection by actors like Rory Cochrane and Sean Penn, and he manages to pull off some of the film's trickiest material very, very well. Huntington is fresh faced and has many of the qualities that make Topher Grace such an appealing lead on THAT '70S SHOW. Word is that Huntington won the lead after sending two audition tapes from his home in Connecticut, and he definitely displays some nimble comic chops that should serve him well in the future. Furlong has been developing into a better comic actor over his last few films, and this, like PECKER, proves that his smile is a secret weapon. He's got a real charm that is starting to shine through on screen as he gets away from just playing sullen adolescents.
I'd also like to send a special congratulations to Adam Rifkin for finally nailing it. This is a guy who I harbored envy for over the first part of his career. He started young. I mean, most of the time, the term "young director" means the guy is between 30 and 35. Rifkin made NEVER ON TUESDAY when he was 19. When I saw that film, I felt almost vindicated in the fact that it was awful, and I didn't like his other films much more. THE CHASE was impossible for me to make it through, and THE DARK BACKWARD was the kind of failure that I tried to like but ultimately couldn't, although I did love the film's unorthodox ad campaign, centered around Blump Pork Products, and was delighted by DRC's background Blump references. As a writer for DreamWorks, I thought Adam did some nice work, with MOUSEHUNT being the standout. Although not a great movie, it is a confident feature-length version of the kind of energy that distinguished the old Termite Terrace cartoons.
So it was that I approached DETROIT ROCK CITY with a fair amount of skepticism. If you're not won over by the time the opening credit sequence is over, then you're a Grinch, and you should go be by yourself so you don't ruin the fun for the rest of us. Me, I handed myself over the film completely, and even the gags that fail didn't throw me at all. The film works so hard, and has so much fun with itself, that I just couldn't work up anything negative to say.
All of that is separate from the experience that the MotoMoriarty had at the KISS concert after the film, though, so don't confuse my enthusiasm and assume that I'm being easy on the movie. I'm not. My affection for it is genuine, and I think you'll be charmed by it if you give it a chance this weekend. As far as the KISS concert goes, it was awesome. I thought Everclear really rocked when they opened, and they got even better when Cheap Trick joined them onstage for a kick-ass rendition of "Surrender." Still, that was just a warm-up. Nothing could match the sheer bang-your-head, over-the-top fun of KISS in full makeup, up close and personal. Due to the way the party was set up, the audience at the show was able to basically press right up to the edge of the stage. There were no bad spots, but Harry and the MotoMoriarty got particularly phenomenal spots. I think I even heard the automaton sing along at the top of its mechanical lungs. "I wanna rock and roll all night... and party ev-e-ry day!" indeed.
And everyone who met and spoke to the MotoMoriarty over the course of the party was gracious and fascinating, and it was yet another lesson in just how pervasive the readership of the page has become. It's nice to know that the people we are writing about, whose work gives us such pleasure, are getting some small measure of that enjoyment back from what we do, and that there are artists and executives alike out there who genuinely get what we're doing. It's also cool as hell and absolutely surreal that I got to meet Ron Jeremy, even if it was by proxy.
Anyway... it's taken me this long to decode all the tapes and fully analyze the data that the MotoMoriarty gathered, so I apologize for missing the Tuesday morning spot. Rest assured, we'll be back on track for next week. Until then...
"Moriarty" out.