Hola all. Massawyrm here. If I had my way, I'd probably insist that most science fiction be made independently with low budgets. There's just something about a film written from the perspective that there are no expensive, showy ways out of problems. Great science fiction is the product of ideas, not special effects. BLADE RUNNER and 2001 aren't considered classics simply because of the way they looked – but because of the stories they told. And they have stayed relevant and adored for all this time because the stories are still riveting. That's not to say that big budget science fiction is bad. But there exists a fundamental financial algorithm that states: as budgets of a film increase, the intelligence needed to understand it must decrease. Spectacular, expensive vistas come not only at the price of dollar signs, but at the cost of individuality and ingenuity. Sadly, most science fiction we get these days is actually more Space Opera than true sci-fi. It is fantasy dressed up with the trappings of sci-fi. And that has merit as well. I'm a huge fan of this kind of film – but it isn't true sci-fi. Sci-fi is morality dressed up in fascinating, (almost literally) out-of-this-world situations. You look at something like PRIMER or TIMECRIMES or the first two acts of SUNSHINE. That's science fiction. And it is in that spirit that MOON was made. It is nearly impossible to write about MOON without referencing the Bruce Dern classic SILENT RUNNING. This was clearly inspired by that and wrestles with a lot of the same thematic content. It is a simple story of one man, alone in space, with only a computer/robot as a companion. Here Sam Rockwell plays a supervisor of an automated mining operation on the moon. We've discovered the energy source of the future, H3, and it's right there on the surface of the moon just waiting to be farmed by giant, hulking harvesters. But someone has to keep an eye on things. And that's Sam Rockwell. As you probably suspect however, something goes terribly wrong and Rockwell finds himself put in a life or death dilemma that pits him against his corporate overlords in a battle of life and death versus the cost effectiveness of corporate greed. The film is, quite simply, brilliant. It is a stunningly smart, carefully honed work of fiction that is so well put together that it is hard to believe that it is pretty much a one man show. Sam Rockwell is alone. It's just him. And while he gets to have conversations with his artificially intelligent Hal-like companion played by a wonderfully monotone Kevin Spacey, it is all Rockwell all the time. He is magnificent. The range of character and emotion we see in him from scene to scene is incredible. MOON is a quiet, understated film that will readily find itself placed within the modern Sci-fi canon. Look, if you read AICN on a regular basis, then odds are you have interests that involve intelligent genre fare. We're a site rooted in our love of genre. But above that, we are a site in love with well crafted films. Sure, we enjoy the living hell out of our big popcorn films – but it is films like MOON that drive us. I got the same feeling watching this as I did watching LET THE RIGHT ONE IN. It is an instant classic, the ideal that others are shooting for. It is safe to say that if you're a regular AICN reader, then this has to go on your must see list. It is a film too good, too smart and too inventive to be ignored. This is the perfect mid-summer cure for blockbusteridis. It opens in NY/LA today and then progresses wider and wider, with its big push coming to most major cities on July 10th. Check your local release date and WRITE IT DOWN. Take friends, preferably the kind you enjoy having coffee with afterwards. This is exactly the type of movie geeks like us live for. And it's here. Make sure you see it big and beautiful. Until next time friends, smoke 'em if ya got 'em. Massawyrm

Got something for the Wyrm? Mail it here.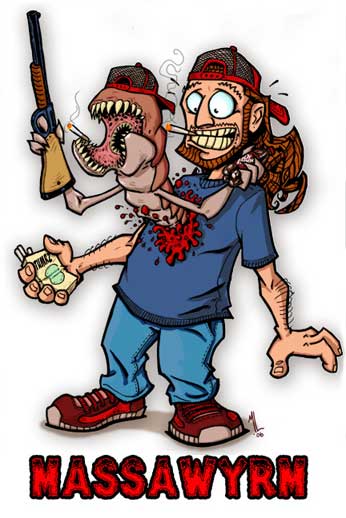 Or follow my further zany adventures on Twitter.