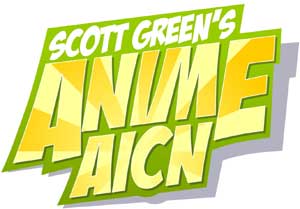 Logo handmade by
Bannister
Column by
Scott Green
First...
The Top Shelf 2.0 site is hosting Yoshihiro Tatsumi's Love's Bride

Yoshihiro Tatsumi was born in Osaka, Japan in 1935. He is a pioneering figure in the history of Japanese comics, particularly the development of "gekiga" (serious stories for adult readers), a term which he invented. His deep body of work has recently begun to appear in English editions from Drawn & Quarterly, not only in the short story collections The Push Man, Abandon the Old in Tokyo, and Good-Bye, but also in the massive autobiography A Drifting Life. His story "Love's Bride" appeared in issue #34 (30 Aug 2003) of the Japanese Ax anthology, and will be included in Top Shelf's upcoming Ax collection. Top Shelf's release of Ax (Vol 1): A Collection of Alternative Manga can be preordered here

*

Read Children of the Sea (chapter 2 recently posted) on Ikki When Ruka was younger, she saw a ghost in the water at the aquarium where her dad works. Now she feels drawn toward the aquarium and the two mysterious boys she meets there, Umi and Sora. They were raised by dugongs and hear the same strange calls from the sea as she does. Ruka's dad and the other adults who work at the aquarium are only distantly aware of what the children are experiencing as they get caught up in the mystery of the worldwide disappearance of the oceans' fish.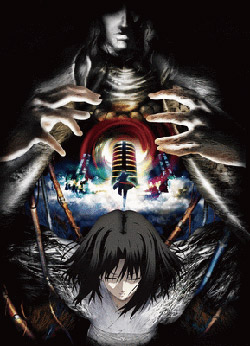 © Kinoko Nasu / KODANSHA, Aniplex, NOTES, ufotable
Anime Preview: Garden of Sinners 5 - Paradox Paradigm
There are currently no announced plans to release any of the Garden of Sinners (Kara no Kyokai) series of movies in North America, but having seen a bit, I think that it warrants a spot on the general pop-culture radar. Not having seen any of the franchise's prior entries, thanks to an AniPlex screening, I caught Garden of Sinners 5: Paradox Paradigm at Anime Boston. I don't remember the last time I saw a more exciting genre anime film. By "genre anime film," I'm qualifying my enthusiasm in that the movie is more in line with a Vampire Hunter D or Wicked City than a Satoshi Kon or Mamoru Oshii film. Like Ghost in the Shell 2: Innocence, Paradox Paradigm evokes the work of Hans Bellmer, but this film appears more concerned with a vividly painted canvas than an artistic statement. It takes the sort of spectacle of the violent, exotic supernatural that was the face of anime in North America back in the VHS days, and updates it with a current style and current tropes. Even if it isn't a new achievement in artistry, it has a kimono clad young woman who snaps the ever living hell out of some fools in an alley, radiates lethal intensions as she sardonically mutters about failing to find someone to kill, and later does an amazing House of Blue Leaves against a horde of undead apartment dwellers who toss everything from golf clubs to refrigerators at her... It has an imposing villain who's probably the best fighting game end-boss adapted for anime - who isn't actually from a fighting game... it has a bent, Girl Who Leapt Through Time structure.... exactly the sort of pageant of the somewhat warped, somewhat transgressive, "wow, that chest punch/heart grab put Mola Ram to shame!" "yikes, she just filleted that flying arm with her katana!" you'd want from an anime flick. Prior to screening the movie, the presenter warned of its violent content. This was 6:00pm at a convention that allows chaperoned younger attendees. My memory is a bit fuzzy as to whether the presenter explicitly compared the movie's content to a PG 13 or if that was just my interpretation of the preamble. Either way, I wasn't quite prepared for Garden of Sinner's opening jolt. Later at Anime Boston, I was carded to get into an 18+ panel about the works of influential horror/mystery writer Edogawa Rampo - for some perspective, Teruo Ishii's live action adaptation of Rampo's Horror of the Malformed Men is an infamously banned film. The Rampo panel ended up showing a few ero guro nansensu prints. Not to undersell the chilling brilliance of Edogawa Rampo or my esteem for the wonderfully informative panel about his work, but Paradox Paradigm was the gut punch of the weekend. The movie opens with a disjoint sequence of jarring non sequiturs and contradictions... A red haired boy in winter jacket joylessly eats a carton of ice cream as a girl in a kimono lies in the foreground... Two men drive slowly into a minor fender bender The ginger clutches his head, curled in fetal position and whimpers in the background. In the foreground, despite some violent spasming, a stoic looking man in priestly vestments maintains a granite demeanor, seemingly none too effected by having a knife stuck into his neck. A middle aged man drags a woman by the hair. The man gets a kitchen knife to the back of the neck. The woman walks into a dimly unlit room with the red headed young guy lying on a futon. She whispers "Tomoe... please die..." before plunging the knife towards the boy. Another room... this one lit, with the red head driving the knife into the prone body of the woman. "Splat" noises. Red head pulls out the woman's vitals and holds them up to his eyes. This resolves into something more coherent, but not necessarily more sensible. A vagrant looking for an empty apartment to crash in/steal from stumbles onto the scene. (This is a bit strange in and of itself given the layout of the scene in that it's a circular, multi-story apartment complex, with entrances to the units connected by a short gated walk to an exterior terrace - both a conceit and a sign of the further bizarre architecture to come). The vagrant reports his grisly discovery to the police, but when they arrive to investigate, the man who had appeared to have been murdered is live and present to give the officer a disgruntled greeting. However, the red headed young man, Tomoe Enjou, also thinks he was party to murder, and he's on the run... literally. Some peers with unfinished business from before Tomoe went on the lam catch up and corner him in a dead end. Tomoe is able to deal some severe ocular damage, but eventually he's on the ground, getting stomped in the head. Just as it looks like permanent damage is about to be dealt, a girl in a kimono intervenes, and with the dispassionate continence of someone demonstrating a rehearsed routine, she anime-fu's the toughs within an inch of their lives. The young woman, Shiki Ryogi, takes home the stray Tomoe, and the two begin a strange relationship. From what I gather, Shiki is Garden of Sinner's marquee personality. She can see death. She can cut through anything, including a living being's connection with life. There's some reference to a male aspect to the character, and that would certainly play into the movie's yin-yang motif, but that appears to be largely dealt with elsewhere. Presumably someone who's seen the first four Garden of Sinners is better acquainted with the character, but starting with Paradox Paradigm, she's an effecting presence who is ambiguous, but unambiguously dangerous. She saved Tomoe, and despite her apparent need to kill, she hasn't done away with him. It's the lion who's adopted the gazelle. That Tomoe is living based of her whims makes for an intriguingly strain relationship. Then, Paradox Paradigm presents a parallel narrative, introduced in the opening montage's auto accident. This one is more driven by the personalities and framework of Garden of Sinners. There's Mikiya Kokuto, a spectacled guy, at least a couple years older than Tomoe, who's the series' standard point of view. Authorities explicitly state that Mikiya Kokuto's a talented investigator, but he has a heart-in-the-right-place haplessness that makes him less interesting than the dangerous and endangered Tomoe. He works under Toko Aozaki, a red headed mistress of esotheric knowledge and manipulator. The movie coveys a bit about her history, and it is intriguing to learn about the damaged relationships left in the wake of her school days, but her screen presence comes from the fact that this is a hyper-competent, active adult. As with work like Cowboy Bebop, Ninja Scroll, or Ghost in the Shell, this offers the thrill of seeing someone who knows what their doing, wielding the exaggerated abilities afforded by anime. While Shiki's lethal knife-in-hand dances are the highlights of the movie, Toko Aozaki doing the mage equivalent of a Leone standoff is a close runner-up. Due to its creative heritage, I had prejudged Paradox Paradigm and was surprised by how much I enjoyed the film. The anime staff was largely a blank slate to me. Director Takayuki Hirao did some episodes of Death Note and the opening for the underrated Texhnoylze, but wasn't a prolific or recognizable figure. Script writer Masaki Hiramatsu wrote two anime that I had never heard of, and having learned about, now have little interest in further investigating. The one name on the staff that attracted my eye was composer Yuki Kajiura. Kajiura isn't Yoko Kanno, and while her work doesn't have Kanno's range, it has been a highlight of anime such as .Hack and Noir. Garden of Sinners/Kara no Kyokai was launched in 1998 as a five chapter story from author Kinoko Nasu and illustrator Takashi Takeuchi on doujin (amateur/self-published) site Takeboki. The story was then brought to doujinshi (fan manga) mega event Comiket 56, before Nasu and Takeuchi launched Type-Moon, the company responsible for successful visual novel based franchises Tsukihime and Fate/stay night. Following an audio drama CD in 2002, The Garden of Sinner light novel received a commercial printing in 2004. With the stories' popularity persisting, the movie series was launched in 2007. The idea of garage project makers gone big seems like one I'd be behind. Yet, I've never been much of a Type-Moon fan. I haven't caught the original material, but I have read manga and seen anime adaptations on Tsukihime and Fate/stay night, finding them bearable at best. Both of those works were based on eroge visual novels, and once I knew that origin, I couldn't unsee the format's imprint on the series. Events felt like they were driven by the progression of an uninteresting male lead. Even if the bedroom scenes were removed, the way that each female character was presented as a potential hook-up for that lead was still evident. As if they were Choose Your Own Adventures with the choices pulled out, I found their way of relating to the audience to be mechanical. Paradox Paradigm does not suffer from that quality. In part that's because of the movie's structural convolutions, but I'd argue that Garden of Sinners' freedom from an eroge visual novel heritage meant that it avoided being stamped with a template that tries to involve the viewer in a way that is not well suited to anime. The vitality of Paradox Paradigm certainly wasn't hurt by moving the character who mirrors the hero of Tsukihime into an interesting deuterogamist slot, in favor of a wilder star, more tragic hero. The Tomoe character type isn't exactly a newcomer to anime, but Paradox Paradigm relishes the opportunity to bend the laws of nature to tournament him. For this movie, the supernatural is not something that has been done countless times before in countless anime. It's what allows the movie to undermine objectivity and blur the lines between life and death. It's what allows Shiki to leap down a hallway, until she clashes into the glowing field cast by a Buddhist monk. The narrative tricks and visual circus are clearly from the realm of anime and pursed done with gusto. I certainly doubt that Paradox Paradigm was inspired by it, but North American viewers might find the tormented side of the movie reminiscent of something familiar from comics... In 1993, DC Comics launched the Vertigo imprint for readers that were older than the intended audience of Superman or Batman. Early titles were more adult re-imaginings of lower tier super hero characters, including Animal Man, Shade: The Changing Man, the Black Orchid, The Sandman, Swamp Thing, and Swamp Thing spin-off Hellblazer. The last of this list was a horror series featuring the dark misadventures of John Constantine, a trench coat clad Sting doppelganger who braved the supernatural as a sort of sorcerer/grifter. Classic Hellblazer stories featured the likes of Constantine contending with the spirits of friends who were damned for his sins or bargaining with the lords of hell to preserve himself from terminal lung cancer. This sort of story probably never really comprised the majority of the imprint's output, but in the mid-90's Vertigo became thought of as an imprint for stories of trench coat wizards and tortured souls. Paradox Paradigm captures this sort of grim world of flawed antiheroes who may or may not be smart and skilled enough to cling to the edge of a reality fractured precipice of damnation. Don't expect Paradox Paradigm to push the boundaries of anime. As is hoped for from an anime movie, the animation is certainly on a level above what's on TV, and in that respect, it's more than satisfying, but it's not pushing the boundaries or revitalizing the form. However... Vertigo meets Kill Bill meets anime? The gruesome spectacular is as intoxicating as it sounds. Keep an eye out for Paradox Paradigm. It's not currently on the horizon, but don't be surprised if this appealing IP shoots onto the scene.
More Insight Info Handley Case and Other Legal News
More details have arrisen concerning the obscenity conviction of Christopher Handley Via Manga Blog Wired covers the case. The case began in 2006, when customs officials intercepted and opened a package from Japan addressed to Handley. Seven books of manga inside contained cartoon drawings of minors engaged in sexually explicit acts. One book included depictions of bestiality, according to stipulations in Handley's plea deal. Frenchy Lunning, a manga expert at the Minneapolis College of Art and Design, was a consultant in the case. She says the books were from the widely available Lolicon variety — a Japanese word play on "Lolita." "This stuff is huge in Japan, in all of Asia," Lunning says. Handley, she adds, "is not a pedophile. He had no photographs of child pornography." ... "He was a prolific collector," says the lawyer. "He did not focus on this type of manga. He collected everything that was out there that he could get his hands on. I think this makes a huge difference."

*

Manga expert Matt Thorn posted then retracted correspondence from his advice to the defense.

*

Icarus' Simon Jones notes Interesting clue as to which titles lead to the charges against Handley… the counsel had asked Matt Thorn if they could get in touch with ero-mangaka Henmaru Machino. If you are not familiar with his work, they're usually quite insane, catering to the most esoteric of fetishes and grotesque imagery in all of manga. But they're also humorously absurd, astoundingly creative, and bordering on the surreal. Machino is the Magritte of the ero manga world. ICV2 quotes correspondence with Handley's mother Ogiue Maniax on the implications Mecha Mecha Media on the thought crime aspect of the case J. Brad Hicks comments on the legal representation Tom Spurgeon also expresses dismay Other Manga Blog reaction round-ups here here The Comic Book Legal Defense Fund's reaction can be read here. "Naturally, we are very disappointed by this result, but understand that in a criminal case, every defendant must make the decision that they believe serves their best interest," CBLDF Executive Director Charles Brownstein said. "Because the set of facts specific to this case were so unique, we hope that its importance as precedent will be minimal. However, we must also continue to be prepared for the possibility that other cases could arise in the future as a result." For more on the first amendment organization see their site and twitter feed Rocket Bomber on donating to the CBLDF

*

MangaBlog reports that vol. 1 of Ayano Yamane's Finder has been "indexed" in Germany. That means that it has been deemed harmful to minors and not only is its distribution restricted, it cannot be "advertised"—which means that bloggers in Germany can't even mention it, which is why they passed the news along to me. Here's the gist of the law: A board of 12 representatives consisting of 8 different social organizations (e.g. artistic and literary community, entertainment industry, youth welfare, teachers, religious groups), 3 representatives of the federal states as well as the chairwoman of the BPjM, examines the respective object. If the board, with a majority of 2/3 of the members, decides that the object has a content dangerous for young people ("jugendgefährdend"), it enters its name into the "list of youth-endangering media" ("Liste jugendgefährdender Medien"), generally referred to as the "index". Distributors of that medium are then no longer permitted to sell, rent out or even present this object in public or to broadcast it. The same goes for advertising for this object. Violations of these restrictions will be punished under German jurisdiction.

*

Futabasha has lost one of two intellectual property lawsuits regarding use of Yoshito Usui's Crayon Shin-chan in Chinese character goods. Futabasha has failed to cancel trademark registration in China's highest court.

*

More at Game Politics
Upcoming in North America
ADV Films ADV Nation reports details on ADV's re-release of CPM titles World of Narue, Now and Then Here and There and Grave of the Fireflies. ADV has received source material for World of Narue that will ensure that the video problem with the CPM release will not be present in ADV's. Janice Williams also stated at the Mania.com forums with regards to the DVD extras they have been able to include for the CPM rescues: all the extras for Now and Then Here and There, while Grave of the Fireflies will contain most of them (except perhaps the Art Gallery), and finally World of Narue will contain most of the extras (except the episode 10, 11, 12 commentaries). FUNimation FUNimation announced that Mike McFarland will be ADR director for the Evangelion 1.0 anime movie. English language Cast MISATO Allison Keith-Shipp SHINJI Spike Spencer RITSUKO Colleen Clinkenbeard IBUKI Caitlin Glass GENDO John Swasey REI Brina Palencia HYUUGA Mike McFarland FUYUTSUKI Kent Williams KENSUKE Greg Ayres TOJI Justin Cook AOBA Phil Parsons KIEL Bill Jenkins HIKARI Leah Clark KAWORU Jerry Jewell YUI Stephanie Young EVA Mike McFarland ADDITIONAL VOICES: Scott Freeman, Maeghan Albach, Charles Baker, Trina Nishimura, Wendy Powell, Carli Mosier, Bill Flynn, Duncan Brannan, John Burgmeier, Brian Mathis, Joel McDonald, Eric Vale, Chuck Huber, Scott Hinze, Juli Erickson, Kate Oxley, Alexis Tipton, Andy Mullins, Bob Carter, Johnny Bruce Lewis, Chris Burnett, Clarine Harp, Cynthia Cranz, Dana Schultes, Jasper Dutt, Jeff Johnson, Jonathan Osborne, Kristi Bingham, Kyle Hebert, Laura Bailey, Lydia Mackay, Mark Stoddard, Monica Rial, R Bruce Elliott, Sonny Strait FUNimation Entertainment will release EVANGELION 1.0: YOU ARE (NOT) ALONE in Fall 2009. FUNimation also announced that the license of Spice and Wolf Synopsis: Lawrence, a traveling merchant searching for profit, finds a naked girl with the ears and tail of a wolf asleep in his cart. Her name is Holo – a harvest goddess with an untamed beast lurking inside who longs to return to her beloved northern home. Armed with his street smarts and her animal instincts, a simple peddler and a forgotten deity begin a journey through the wild countryside. Along their path, the riches of happiness shall be reaped, even as the bankruptcy which dwells in the human heart is exposed.

The anime version Sgt. Frog (Keroro Gunso), the geek comedy staring frog-like alien invaders will premiere in North America with season 1 part 1 scheduled to be released on September 22 Robert's Anime Corner Store lists the August FUNimation releases Big Windup! Season 1 Part 1 DVD Boxed Set (Thin-Pak) Darker Than Black, Vol#6 DVD Devil May Cry Complete Collection DVD Boxed Set (Thin-Pak) Devil May Cry Complete Collection DVD Boxed Set [BluRay] Full Metal Panic the Second Raid Complete Collection DVD Boxed Set (Remastered) Full Metal Panic the Second Raid Complete Collection DVD Boxed Set (Remastered) [BluRay] Fullmetal Alchemist OVAs DVD Gunslinger Girl Season 2 DVD Boxed Set (Thin-Pak) One Piece Season 2 Part 2 DVD Boxed Set (Eps #66-78) (Uncut) Pumpkin Scissors Complete Collection DVD Boxed Set (Eps #1-24) (Thin-Pak) Romeo X Juliet Collection Part #2 DVD Boxed Set (Eps #13-24) Slayers TV Complete Series DVD Boxed Set (Slayers / Slayers Next / Slayers Try) Welcome to NHK Complete Collection DVD Boxed Set (Eps #1-24) (Thin-Pak) When They Cry: Higurashi, Complete Collection DVD Boxed Set (Thin-Pak) IDW IDW announced that G.I. JOE Movie Adaptation #1-4 by Denton Tipton and Casey Maloney will be released weekly in July 2009. Each issue will boast two cover options, the regular covers by artist Casey Maloney and the variant "teaser poster" images from the film studio itself.

Media Blasters ICV2 reports that Media Blasters will be releasing Italian monster summoner series Huntik No Starch Press

No Starch Press has released The Manga Guide to Physics The Manga Guide to Physics teaches readers how to: Apply Newton's three laws of motion to real-life problems Determine how objects will move after a collision Draw vector diagrams and simplify complex problems using trigonometry Calculate how an object's kinetic energy changes as its potential energy increases "The Manga Guides prove that readers can grasp difficult scientific and mathematical topics with just a little helping of comics, narrative, and metaphor," said No Starch Press Founder Bill Pollock. "By easing the stress of learning with an interesting story, The Manga Guide to Physics ensures that readers stick with it—they care about Megumi's struggles in both physics and in tennis. The illustrated approach makes certain that readers immediately understand Ryota's examples and literally see how physics works." An excerpt can be read here

20th Century Fox The Blu-ray blog has posted the details on the upcoming Dragonball: Evolution release. Dragonball Evolution: Z Edition will be released on July 28th for $39.99 Video: 1080p 2.35:1 AVC Audio: DTS-HD Master Audio Special Features Include: • Eight deleted scenes • Goku's Workout: Stunt Work featurette • Fox Movie Channel Presents: Making a Scene • Fox Movie channel Presents Life After Film School with Justin Chatwin • Dragonball gag reel • Brian Anthony "Worked Up" music video • Goku's Quest scavenger hunt game (BD exclusive) • Digital copy (BD exclusive) VIZ Media VIZ Media will release Detroit Metal City on June 9th for $12.99 U.S. / $15.00 CAN. Prepare to have your mortal soul devoured by the demonic Johannes Krauser II, front man for Detroit Metal City, the most outrageous death metal band on the Japanese indie rock scene! Soichi Negishi dreamed of moving to Tokyo and starting a bubblegum pop band, but now he's fronting the most scandalous and demented death metal band in Japanese rock! Deep down, Soichi still dreams of acoustic guitars and trips to Paris, but when the makeup comes on and he transforms into his alter ego, Krauser II, not even the denizens of hell are safe from his soul-devouring death metal sound. Can Soichi reconcile his sensitive inner yearnings with his wild on-stage persona – the vilest hard rocker in Japanese (and possibly world) history?

Detroit Metal City (C) Kiminori Wakasugi 2006 / HAKUSENSHA, Inc.
Anime x Games
Ghibli World expounds on Studio Ghibli's work on Level 5 Nintendo DS game Ni no Kuni: The Another World At that time Fujimaki also told Hino, "The production of Ponyo has finished and they are all free now. Now is your only chance. Do NOT miss it!" Fujimaki noted, "I thought Hino was a lucky man. It was a period in which all of the Ghibli staff was free. Miyazaki says he doesn't like video games, but Suzuki is a manager and he mustn't make his staffs free." According to Suzuki, "We usually outsource work to other studios when we are free. I was just thinking of it at that time. Fujimaki is great. He isn't just singing, but sometimes even works as an agency man." Screenshot can be seen here

*

An ad inside the Japanese Blu-ray release of Neon Genesis Evangelion indicated a Cellius Playstation 3 Evangelion game is in the work from Cellius. Cellius was founded in 2007 as a venture between Sony and Namco Bandai with 'Father of the PlayStation' Ken Kutragi as CEO. ANN notes that the Japanese download service for PlayStation 3 is offering live news coveraged voiced by Evangelion's character Misato via a voice synthesis engine from Cellius starting June 6. The Misato Katsuragi News Project (Katsuragi Misato Hodo Keikaku) software culls the daily news from real-life politics, the economy, the anime industry, and sports.

*

Box art for Astro Boy's Wii game On the Magic Box DragonBall: Tenka-ichi Dai-Boken - published by Namco Bandai for the Wii Summer 2009

DragonBall Raging Blast developed by Spike for the Xbox 360, PlayStation 3 in fall 2009 Super Robot Taisen Gauken for the Nintendo DS, Fall 2009, featuring mecha from Mazinkaiser Mazinkaiser: Death! The Great General of Darkness Shin Getter Robo: Armageddon Full Metal Panic Full Metal Panic? Fumoffu Full Metal Panic The Second Raid Mobile Suit Gundam W Endless Waltz Mobile Suit Gundam SEED Mobile Suit Gundam SEED Astray Mobile Suit Gundam SEED X Astray Martian Successor Nadesico: The prince of darkness The King of Braves GaoGaiGar The King of Braves GaoGaiGar Final Steel God Jeeg Mobile Suit Gundam SEED Destiny Overman King Gainer Mobile Suit Gundam SEED C.E.73 STARGAZER Fafner of the Azure: Dead Aggressor Gaiking Legend of Daiku-Maryu Combination Godannar!! Combination Godannar!! SECOND SEASON Dangaioh – Hyper Combat Unit Gun x Sword ZOIDS GENESIS Cyber Troopers Virtual-On Marz Super Electromagnetic Robot Com-Battler V Super Electromagnetic Machine Voltes Five Beast King GoLion Dancougar – Super Beast Machine God Project Zeorymer Blue Comet SPT Layzner Mobile Fighter G Gundam Brain Powered Detonator Orgun The game will have a platoon system, and you battle enemies in the form of 2-on-2 simulation. You can trade units and battle with friends over Wi-Fi connection. SD Gundam G Generation Wars, a Strategic Simulation for the Playstation2 and Wii

*

Atari, publisher of a number of Dragon Ball games, has announced plans to cut down on their number or projects to "improve the cash position" The company stated that "to improve the cash position" it will restructure the business and focus on what it considered "more cost-effective" mass-market and online games. "As such, the Company has cancelled projects which do not meet higher return on investment criteria and require significant working capital investments," read the company statement. MCV reports that Atari saw net losses widen to €226.1 million for FY 2008-2009, up from a €51.1 million loss the year prior.

*

Bandai Namco has planned Dragon Ball: Revenge of King Piccolo for Christmas. The game will adapt the Red Ribbon Saga and King Piccollo story from the pre-Z Dragon Ball.

*

Awesome Engine on in everything but name "Urusei Yatsura: The Role-playing Game" Teenagers From Outer Space" - also Anime as RPG campaign ideas circa 1990

*

Otaku-Related Pachinko/Slot Releases for Summer/Fall 2009 Evangelion pachinko
Event News
NY Int'l Children's Film Festival will be screening 35mm prints of Hayao Miyazaki's Castle in the Sky and Kiki's Delivery Service. CASTLE IN THE SKY Animation, Hayao Miyazaki, Japan, 1986/2000, 124 min In English - Recommended ages 8 to adult Sun, June 7, 11:00am at IFC Center Sun, June 14, 2:00pm at Symphony Space A young girl with a mysterious crystal pendant falls out of the sky and into the arms and life of young Pazu. Together they search for a floating island in the sky, site of a long-dead civilization promising enormous wealth and power to those who can unlock its secrets. Castle in the Sky is an early masterpiece of storytelling and filmmaking whose imaginative and ornately detailed vision of a decaying world in constant flux presaged Miyazaki's later films like Princess Mononoke and Spirited Away.

KIKI'S DELIVERY SERVICE Animation, Hayao Miyazaki, Japan, 1989/1999, 103 min In English - Recommended All Ages Sat, June 6, 11:00am at IFC Center Sun, June 14, 11:00am at Symphony Space From legendary Hayao Miyazaki comes the beloved story of a resourceful young witch who uses her broom to create a delivery service, only to lose her gift of flight in a moment of self-doubt. Set in a gorgeously detailed seaside village, Kiki's Delivery Service is less about witchcraft than a beautifully timeless story of a young girl leaving home to find her own way in the world. Voiced by Kirsten Dunst as Kiki, with Phil Hartman as her black cat Jiji.

*

Spirited Away will screen at Loew's Jersey in Jersey City on June 5th.

*

Manga Critic notes that Fanfare/Ponent Mon, publisher of such titles as Disappearance Diary, Japan as Viewed by 17 Creators, My Mommy Is in America and She Met Buffalo Bill, Tokyo Is My Garden, and The Walking Man will be at Museum of Comic and Cartoon Art Festival June 6th and 7th,

*

Some luminaries have announced that they panels at AnimeNEXT Ed Chavez "Vertical Books: Industry Panel" Sat June 13 1:00pm. Erica Friedman (Okazu Yuri Panel Saturday, June 13 6-7 PM.

*

Baltimore's Otakon will host a series of free dubbing workshops, offered by Bang Zoom! Entertainment, a professional dubbing studio known for their work in animation and videogames. Hosted by Tony Oliver (Rick Hunter from Robotech and Arsene Lupin III from Lupin The 3rd), the workshops will be held Friday, Saturday and Sunday at Otakon. Details will appear later in the official Otakon schedule.

*

New York - Tokyo VAMPS, the star duo project of Oblivion Dust guitarist K.A.Z and L'Arc-en-Ciel vocalist Hyde, will be touring the US this summer. July 11th, Saturday - New York NY @ The Fillmore New York at Irving Plaza July 12th, Sunday - Hartford CT @ Warped Tour / New England Dodge Music Center July 14th, Tuesday - Columbia MD @ Warped Tour / Merrlweather Post Pavilion July 16th, Thursday - Baltimore MD @ Sonar Baltimore July 19th, Sunday - Seattle WA @ The Showbox July 20th, Monday - Portland OR @ Hawthorne Theater July 25th, Saturday - San Francisco CA @ Regency Grand Ballroom July 27, Monday - Las Vegas @ Wasted Space Hard Rock Hotel ~VAMPS OFFICIAL PARTY~ July 29th, Wednesday - San Diego CA @ SOMA August 1st, Saturday - Los Angeles CA @ The Wiltern TICKET PURCHASE INFO

*

New films have been added to New York Asian Film Festival (June 19 - July 6) including VAMPIRE GIRL VERSUS FRANKENSTEIN GIRL (Japan, 2009) Directed by: Yoshihiro Nishimura & Naoyuki Tomomatsu Starring: Yukie Kawamura, Takumi Saitoh, Kanji Tsuda. With a special appearance by TOKYO GORE POLICE's Eihi Shiina JAPAN 20TH CENTURY BOYS (Japan, 2008, Yukihiko Tsutsumi, New York Premiere) 20TH CENTURY BOYS: CHAPTER TWO - THE LAST HOPE (Japan, 2009, Yukihiko Tsutsumi, New York Premiere) HOUSE (Japan, 1977, Nobuhiko Obayashi) A special screening of a restored master of Obayashi's head-spinning, unbelievably surreal and completely amazing 1977 horror movie. The only horror film you've ever seen that was written by a seven-year-old girl (literally), this is the kind of mind blower that is whispered about but rarely screened. Introduced by its devoted fans, directors Yoshihiro Nishimura and Noboru Iguchi.

*

Anime Expo will host Gurren Lann director Hiroyuki Imaishi (R.O.D., FLCL, Gunbuster 2) and character designer Atsushi Nishigori , as well as voice actor Toshiyuki Morikawa (Sephiroth, Kazuya Mishima, Ryu) Anime Expo 2009 announced Cartoon Network will host portfolio reviews at the Artist Alley of the convention held July 2-5, 2009. All artists that are interested, and are registered attendees of the convention, are eligible to sign up for a professional review of their work on Friday and Saturday between the hours of 10:00 am till noon and then 2:00 pm 4:00 pm. Reviews are done at a first come first serve basis, via sign-ups located at the Cartoon Network section of the Anime Expo® 2009 Artist Alley area within the Exhibit Hall at this year's convention. "We are so delighted to welcome Cartoon Network to our convention," states Anime Expo® 2009 Artist Alley Manager Ms. Jennifer Bennett, "to have Cartoon Network review your portfolio is a dream to many U.S. artists in the anime and manga genre."

*

MangaNEXT announced that there will not be a 2009 convention MangaNEXT is taking a break for 2009. There will be no ManganEXT 2009 convention. MangaNEXT is the first US convention completely devoted to Manga. MangaNEXT is brought to you by the same organization and group of fans that organizes AnimeNEXT. The organization and staff have decied to take a break with MangaNEXT 2009. The staff wants to put on the very best manga convention it can, and bring you, the fans, the most exciting and interesting functions it can. We have decided to take a break in 2009 to make a better convention in the future.

*

A report on Anime Hell at Anime Boston (I'm the guy with the shaved head in the bottom, right) FUNimation has their report here Collection DX on the event Otaku USA on Anime Central 2009
Upcoming in Japan
Awesome Engine started the Hate Fun summer preview (part two) Previews A new trailer for Musashi: The Dream of the Last Samurai can be seen here AIKa ZERO Gokusen live action based on the manga about a yakuza heiress turned teacher Anime Anime News Network reports that Gainax (Evangelion) studio co-founder Hiroyuki Yamaga announced that upcoming project include a special continuation of parody comedy Magical Shopping Arcade Abenobashi and an untitled work dealing with free-diving. Abenobashi follows childhood friends about to separated as they travel from one media based reality to another. Production on a full anime episode of Kotetsu no Vendetta (Iron Vendetta), based on the dojin (self-published) has been greenlit. A promo can be seen here Manga Shadow Skill creator Megumu Okada conceieved the concept for new manga Hitotsuki! - a series drawn by Ranmaru Tenma (Gensosekai Eiyuretsuden FAIR PLAYS) Sumomomo Momomo creator Shinobu Ohtaka is launching a new manga called Magi in Shonen Sunday. Live Action Mamoru Oshii has indicated that he will film a live action feature in Poland. Long running manga series Kochira Katsushikaku Kameari Kouen Mae Hashutsujo ("This is the Police Station in Front of Katsushikaku Kameari Park") aka KochiKame will be adapted into a live action drama starting SMAP's Shingo Katori A look at the adaptation of risqué comedy "Tennen Hanajiru Sayaka"
Cool Figures News
Shocker Toys will be bringing an exclusive black and white Dick Tracey action figure to San Diego Comic Con The B&W variant figure, which features Dick in his trench coat with a Tommy gun will ONLY be available on-site for a lucky few at Comic-Con. INDIE SPOTLIGHT COMIC BOOK HEROES 6" Action Figures SDCC EXCLUSIVES * Dick Tracy B&W variant figure is limited to SDCC attendees only. * Dick Tracy B&W standard figure is available at Shocker Toys Online Store and at SDCC.

Dick Tracy is also part of the upcoming Series 2 of Indie Spotlight Comic Book Heroes 6" scale action figure line. The line will feature him colorized in both the standard and variant models. Series 2, dubbed "The Tick Series" also features The Tick, Ignacia, Jack Staff and King Zombie. Collection DX on Gobot/Machine Robo's not-Optimus Staks Transport Heavy Gokin Devilman A look at upcoming Revoltech releases - including Fist of the North Star, Gurren Lagann, Evangelion and Gloomy Bear. Spice and Wolf Horo Hand Puppet - rather scary Mazinger Soul of Chogokin GX-45 ad with white gloves Speaking of Mazinger, Qees of the first giant robot to to pilot from its cockpit, and Mazinger's hermaphrodite villain Baron Ashura here Astro Bear bootleg
The Business
Anime News Network notes that manga cover prices are increasing. The volume with higher prices include Naruto volume 46 and volume 47 (at US$9.99 each) and Berserk volume 31 (at US$14.95). Viz Media gave ANN the following statement that it also provided to other media outlets: "Viz Media made the decision to stay consistent with the pricing in the marketplace for this industry, which, in some cases might be a slight increase from previous years." The Robert's Anime Corner Store blog comments $2 doesn't sound like a lot of money, but it's 20%, and that level of increase certainly cannot be characterized as 'slight'. What if gas went up 20%? Ouch. Back in the 'good old days' (that's what I refer to anytime you ask me when Anime was actually a profitable business) there were maybe 50 manga releases in a whole year, and average MSRP's ran in the $15-$20 range per volume. This was before the sensation took hold and publishers moved to the smaller Japanese book trade format and standardized pricing at basically $9.98 MSRP for main line, and $7.98 MSRP for high sell through manga. The lower pricing was possible because the sales volumes made up for it. Now it's pretty clear that as sales volumes fall back to earth due the the economy, the studios will be edging pricing back up towards the old $15 average per volume level, and these recent increases (notice they tend to be on the MOST popular, highest selling series) here and there are their way of testing the waters. Those publishing execs have long memories but little imagination. Comics Worth Reading offers annecdotal suggestions that the increase will not effect sales Manga Xanadu offers some thoughts

*

Asashi.com on the bursting of the anime bubble Drawing parallels between the asset-inflated economy in the 1980s and the excessive expectations of businesses entering what was long considered a niche industry, some insiders have likened the situation to a bubble bursting. According to the Association of Japanese Animations (AJA), an industry body formed mainly by animation production companies, the number of anime programs aired on television steadily climbed from 124 in 2000 to a peak of 306 in 2006. However, the figure dropped to 288 last year. Meanwhile, the number of new anime programs that began broadcasts last month was expected to be in the 30s, about half the 60-odd programs unveiled in April 2006. ... He added that the industry, already facing a glut of workers, could enter a phase of massive restructuring. ... "Fans realized that most of the new titles were more or less the same. They were mere repetitions of seemingly popular themes, such as nymph-like girls and robots."

*

Via ANN, the Japan Animation Creators Association (JAniCA) animation industry labor group revealed that young anime staffers in their 20s earn an average annual salary of just over 1 million yen (US$10,500), and the industry is not training a big enough talent pool for its needs. A survey of 700 animators and directors gather the following data: Staffers in their 20s earned an average annual salary of 1.1 million yen (US$11,600), and staffers in the 30s earned an average annual salary of 2.14 million yen (US$22,600). JAniCA had previously said last year that there are veteran creators in their 40s and 50s who are getting by on 3 million yen (about US$31,000) a year. JAniCA also said in 2007 that 20% to 30% of all animators earn an annual salary of 1 million yen (US$10,500).

Matt Alt records the response

*

Anime News Network reports that toy developer and producer Wiz has announced the sale of Production Reed anime studio subsidiary (Magical Princess Minky Momo, Dancougar, and Sengoku Majin GoShogun) to studio president Toshihiko Sato. Wiz holds 22,267 shares, or 50.1%, of Reed. Sato is buying these shares at 3,600 yen (about US$38.00) each for a total of 80 million yen (US$840,000)

*

TYO announced that is will merge its anime studio subsidiaries — Yumeta Company (Animation Runner Kuromi, Haruka: Beyond the Stream of Time) and Hal Film Maker — on July 1. Yumeta Company will absorb Hal Film Maker (Aria the Animation, Pretear, Kaleido Star, Princess Tutu) and change its name to TYO Animations.

*

Toei announced at their board meeting that Chairperson Tsutomu Tomari will step down as a board member an assume an advisory role. Present Hiroshi Takahashi will assume the additional role of chairperson. Senior director Kozo Morishita will be promoted to executive vice-president, and senior director Hirotaro Nishi will be promoted to senior managing director. Morishita is currently in charge of the planning and sales departments, and Nishi is in charge of the accounting and information system departments.

*

Manga artist Kei Ishizaka has criticized an 11.7-billion-yen government project to build an art facility that displays works including anime and manga, claiming the facility is a waste of taxpayers' money. "No manga lovers will appreciate original drawings displayed in frames at the cost of taxpayers," said Ishizaka at a Tuesday meeting held by the Democratic Party of Japan, which has also criticized the project. The cost of the project will be included in the fiscal 2009 supplementary budget. "I don't want my works displayed there because I feel ashamed," added the female manga artist. Ishizaka's "I'm home" won the Grand Prize at the Japan Media Arts Festival in 1999 organized by the Agency for Cultural Affairs.

*

Publishers Weekly took a look at the design by comics/manga publishers such as Tokyopop, Viz and DC not to attend the BEA book expo

*

Yaoi Press has had problems getting their coloring book printed by Docucopies due to content issues A spokesperson for the printer told Yaoi Press' Yamila Abraham: "There are a number of pages that I find disturbing and do not want to put our employee's in the same position (by) printing this book for you." ICV2 spoke to Yaoi Press' Yamila Abraham about the issue Melinda Beasi comments on the situation

*

DreamWorks Animation SKG, Inc. announced its plans to release five feature films every two years, adding an additional film every other year to its existing two picture a year release schedule on a going-forward basis. The Company also announced its upcoming slate of animated feature film releases through 2012. How to Train Your Dragon, which is based on the book of the same name by Cressida Cowell, will be released on March 26, 2010. It is being written and directed by Chris Sanders (Lilo & Stitch) and Dean DeBlois (Lilo & Stitch), produced by Bonnie Arnold (Over the Hedge, Toy Story) and will star Jay Baruchel, Gerard Butler, America Ferrera, Jonah Hill, Christopher Mintz-Plasse, Craig Ferguson, Kristen Wiig and TJ Miller. Shrek Forever After will be released on May 21, 2010. Oobermind (formerly titled Master Mind) will be released on November 5, 2010. It is being directed by Tom McGrath (Madagascar, Madagascar: Escape 2 Africa), executive produced by Ben Stiller and Stuart Cornfeld, produced by Lara Breay and Denise Nolan Cascino and will star Robert Downey Jr. and Tina Fey. Kung Fu Panda: The Kaboom of Doom will be released on June 3, 2011. The Guardians (working title), based on the forthcoming books by William Joyce, will be released on November 4, 2011. It was brought to the Company by William Joyce and Reel FX, and is being directed by Jeff Lynch in collaboration with William Joyce and produced by Christina Steinberg and Nancy Bernstein. Puss In Boots (working title) will be released on March 30, 2012. It is being directed by Chris Miller, produced by Joe Aguilar and Michelle Raimo and executive produced by Andrew Adamson, and will star Antonio Banderas as Puss In Boots and Salma Hayek as Kitty, Puss' love interest. The next Madagascar is due to be released on May 25, 2012. On November 2, 2012, the Company plans to release one of three original projects currently in pre-production at the studio. The first is The Croods (working title), which is being directed by Chris Sanders and Kirk DeMicco and produced by Kristine Belson and Jane Hartwell. The second is Truckers (working title) based on The Bromeliad Trilogy by fantasy legend Terry Pratchett and written by Simon Beaufoy. Te third is an as-yet-untitled Super Secret Ghost Project

*

The Ontario provincial government an announcement of investment of CAN$23 million ($20.5 million) into the Starz Animation Toronto 3-D cartoon studio over the next five years in an initiative create and retain local high-tech jobs. As part of its agreement with the Ontario government, Starz Animation Toronto, which opened in 2007 as a division of Burbank-based Starz Media, is to invest another CAN$130 million ($116 million) in the Toronto animation studio, also over five years. The first project from the expanded 3-D animation facility is the Miramax Films animated feature "Gnomeo & Juliet."
Digital Distribution News
"Sasa no Ha Rhapsody" ("Bamboo Leaf Rhapsody"), the eighth episode in the renewed of The Melancholy of Haruhi Suzumiya, the first original to the season , is now streaming on YouTube

*

On May 30 at 9:00pm, FUNimation begins simula-cast streaming new episodes of One Piece with episode 403 - "An Even Stronger Enemy Appears! The Battle Axe-Carrying Senfomaru" at www.onepieceofficial.com. This is one hour after its Japanese broadcast. Episode synopsis: Luffy and the Straw Hats narrowly defeat a robot that resembles one of the Seven Warlords of the Sea. But before the dust settles on the field of battle, a far more deadly foe comes looking for a fight.

*

The Anime Network is now offering ADV releases Kiba, Mezzo and Azumanga Dioh on Nokia's Ovi Service Mythical Detective Loki Ragnarok, Cyberteam in Akihabara, Full Metal Panic Season 1, Ghost Stories and Rune Soldier are now available on the Anime Network's subscription based online service

*

FUNimation Entertainment has launched its first virtual goods in the popular 3D social virtual world There.com. Members can outfit their virtual alter-ego in Fruits Basket yoga pants or tote bag or they can purchase a limited-edition autographed lithograph for their There.com home. Items from other FUNimation distributed anime series will appear in There.com later this year. Update On May 30th, FUNimation released the following statement: "As anime fans know, FUNimation Entertainment and Toei Animation had planned for the first ever online simulcast of the series 'One Piece' tonight at 9:00 pm CDT., just one hour after its premiere on Japan's Fuji Television. Unfortunately, in the last 24 hours we have determined that the FUNimation servers were compromised, even though we employ strict security standards. An unknown individual accessed and posted episode 403 online and as a direct result of this illegal act, all U.S. and Canadian fans will be deprived of access to this great anime series for the immediate future. We will make every effort to locate and prosecute the perpetrator(s) to the fullest extent of the law and will provide updates regarding this most serious matter."

*

The Anime Almanac on Manga's Role in the Digital Revolution
Anime on North American TV
The Anime Network has learned that Comcast the network will no longer be offered by Comcast.

*

Media Blasters told Anime Vice that Moribito: Guardian of the Spirit would be returning to Cartoon Network on June 13th at 1:30am eastern time, beginning with episode 1
Domo in America
Big Tent Entertainment has patterned with GoAnimate.com to create e online platform that enables people to create their own customizable animations starting Japanese mascot/viral figure Domo. A Domo specific site is up at Domo Animate Additionally, Domonation.com and Phase 4 Films Inc. are launching the "Domo Animation Challenge" offering Domo fans a unique opportunity to show-off their original animated Domo videos created using Domo Animate. Winners of the "Domo Animation Challenge" will have their creations shared with the world and featured in the upcoming Domo: Volume 1 DVD available in stores Fall 2009. Domo: Volume 1 will feature the best of Domo, bonus original Japanese episodes and commercials, and the "Domo Animation Challenge" winning videos. Entries must be received by June 14, 2009. For official contest rules and to submit entries visit: www.domonation.com.

*

Red Apple flavor Domo Slurpees will be available at 7-Eleven for six weeks starting October 1. According to Rich Collins, CEO of Big Tent Entertainment, it's Red Apple "Because Domo doesn't like apples. That way you don't have to worry about Domo stealing your Slurpee." Evan Brody, marketing manager for Slurpee and Big Gulp Brands tol Ad Week "Domo lends itself well to the store and our proprietary products and our consumers who... love crazy Japanese shit."

*

A look at Lindsay Cibos' Domo work for the Tokyopop Domo book
Non-Anime Animation
A second Doctor Who amo,ated series will hit BBC's red button service and Children's BBC this fall."Dreamland," written by Phil Ford, will feature David Tennant as the Doctor, (The Doctor's Daughter) though she is not playing Jenny, her character is called Cassie Rice; the voice of Bernice Summerfield, Lisa Bowerman (Survival); and the legendary David Warner (Tron, Time Bandits).