Cool News
AICN TABLETOP: Monster Manual 2! M:TG Planechase!
Hola all. Massawyrm here.
MONSTER MANUAL 2 Well, the muzzle is finally off and I can talk about Monster Manual 2. And hot damn what an MM2 it is. Unlike previous editions, 4E was built around a number of principles – financial, philosophical and fundamental – with a clear vision and direction for the edition right out of the gate. One of the things they learned late in 3E was that core books outsold other D&D books by a wide margin. PHB2 and DMG2 both outsold everything else released around them. And it was then that they realized how strong the branding of Monster Manual, Players Handbook and Dungeon Master Guide really was. Which is why we're seeing a rebranding of the titles to become yearly releases. In 3.5, the Monster Manual was the one core book that saw 6 incarnations (5 Monster Manuals and the Fiend Folio which kept the format with a different throwback of a name.) Problem was that by book three they were pretty much out of expanding core monsters and had to make up new monsters as they went along. Sometimes they were instant classics like MM3's Boneclaw (which made it to the 4E MM). Other times they were evil shadow squirrels. Well, This new focus has led to WotC holding back some classic monsters – monsters that many felt were part of their core D&D experience. Well much like PHB2 gave us back the Bard, Barbarian and Druid, so too does MM2 deliver scads of our old friends back to us. It is safe to say that, at least for lifelong D&D players, the new MM2 is a MUST OWN. There are so many classic, vintage monsters – so many critters that many of us have 3rd Ed pre-painted minis of – that the book is essential for those looking for the old school experience with the new ruleset. So, without further ado, I give you the old favorites you'll find in here. Ankheg, Giant Ants, Barghest, Behir, Bullywugs, Cockatrace, Couatl, Darkmantle, Devas, Metallic Dragons, Duergar, Frost Giants, Stone Giants, Bone/chain/clay and Iron Golems, Gauths, Gray Renders, Krenshar, Marut, Black Pudding, Green Slime, Remorhaz, Rust Monster, Winter Wolf, Wood Woad and Xorn. This is by no means a complete list – just the ones that I know folks have been clamoring for or will be excited to see 4E versions of. Of these the Rust Monster seems to be generating the most excitement, and they don't disappoint, giving a mechanic that is both nasty and fair. I, on the other hand, did a little dance when I saw the Frost giants finally show back up. Those who read my original review will note my serious displeasure at their exclusion from the core book. They show up here as a lvl 17 critter with a lvl 19 controller version and a lvl 20 Huge Frost Titan (elite brute). Of course the sexy cover model is going to kick up some dust. Demogorgon, everyone's favorite two-headed demon prince, is back and gets the same treatment as Orcus in MM1. He's a lvl 34 Solo with a number of underlings with which you can build an entire campaign around. Lovecraft fans will freak over the awesomeness of his lvl 32 (Solo soldier) ally DAGON. There's a collection of heroic tier underlings and several epic level bosses, but sadly no paragon tier activity. Good thing there are already a number of paragon level demons, as well as several here. My favorite new creation is something that will look VERY familiar to Warhammer 40k fans – a Nurglesque creature called a Pod Demon that spawns small versions of itself out of pussy boils and then hurls them at opponents. Gross, effective and loaded with cool, fun to play mechanics. And speaking of demons, the update of the Dretch is SPECTACULAR. 3rd ed really kind of punked this nasty minion of the abyss, leaving him not only with crappy stats but a miniature that looked more like a melting cow than a dretch. Well, now he's a lvl 2 Brute can deal 2d6+2 damage on a hit, has an aura that deals a point of damage any time a character makes a standard or move action adjacent to one (which stacks…ew), but also has a killer death effect which leaves a lingering death cloud that deals damage. They. Are. Gross. And a great, terrifying low level encounter. I'm chalking them up as one of my favorite Heroic tier monsters next to the Chillborn Zombie. The other super swank addition to the book is the 4 new beholders. An Eye of Frost to go with MM1s Eye of Flame, signaling that we probably haven't seen the end of low Paragon level Beholders, the aforementioned gauth, a lvl 25 Eye of Chaos and a super supreme epic level badass, the 29th lvl Beholder Ultimate tyrant. He's one bad dude, weighing in at 1080 hp, a 41 AC and a disintegration eye beam that has a linger 15 Ongoing damage (save ends) followed by an aftereffect of 10 Ongoing damage (save ends.) Yeah. He's a tad nasty. The HUMAN entry (all six pages of it) are filled with a staggering 14 different statblocks ranging from the comical Insane Nobel to the awesome lvl 10 Pirate Captain and his lvl 9 Pirate crew. Metallic Dragons see the same treatment as their chromatic brethren in MM1 with a few added perks. First of all, no longer restricted by alignment, each Dragon is given interesting motivations that maintain their fluff while presenting real reasons a party might come at odds with one. Secondly the five metallics are different than you might be accustomed to. They are Adamantine, Copper, Gold, Iron and Silver. Gone (until Draconomican 2 no doubt) are Brass and Bronze from the classic lineup. Not that they'll be particularly missed by most. The one thing that can be definitely said about MM2 is that there is a startling lack of new creations. While there are plenty of new variants within the ranks here, this book seems focused more upon revisiting the classic greats than it does trying to carve out its own niche with new monsters with hopes of becoming classics in their own right. It's a book filled with old friends given new stats and mechanics that will make revisiting them a thrilling and full experience. If you've played previous editions of D&D then you absolutely will want and need this book. It fills a lot of holes in the classic D&D lineup and has a new toy feel doused in nostalgia. GET THIS BOOK.
MAGIC: THE GATHERING PLANECHASE Looks like M:TG has something exciting on the horizon. WotC is releasing a new card type – oversized cards that sit in their own deck and alter the rules of the game in what appears to be the same manner of an ENCHANT WORLD. These cards are meant to represent the different shifting realities of travelling between worlds while dueling. Here's the announcement.

Today on the Magic Arcana, Wizards of the Coast announced a new product for Magic: The Gathering. Planechase is a whole new way to experience your favorite game. This multiplayer, casual format simulates planeswalking by adding a new card to the game. Through this brand new card type, players can battle each other across a variety of diverse worlds, each with its own unique effect on the game. For more details see the Arcana announcement or view below. -There will be four Planechase Game Packs released on September 4th, 2009: Elemental Thunder, Metallic Dreams, Strike Force, and Zombie Empire. -Each game pack will contain 10 all-new plane cards, a ready-to-play 60-card deck, a six-sided planar die and a Planechase strategy insert with multiplayer rules. -Each of the 60-card decks will include 8 rares, and will be composed of cards from throughout Magic's history - including a preview card from Zendikar. -The 10 oversized plane cards comprise a planar deck. They feature all-new artwork depicting some of the more exotic realms of the Magic multiverse. -Each of the cards in the 60-card decks will be black-bordered and tournament legal. This means that these cards are legal for use in any tournaments where the original printings are still legal. -Planechase release events will be held September 4-6, 2009. Watch magicthegathering.com this summer for details. -Initial Concept and Game Design: Brian Tinsman (lead), Aaron Forsythe, Peter Knudson, and Kenneth Nagle -Final Game and Deck Development: Mike Turian (lead), Dave Guskin, Peter Knudson, Scott Larabee, and Mark Purvis, with contributions from Mark L. Gottlieb -MSRP: $19.99

Curious to see how this pans out and if it will spawn a tournament type of its own, be used only in fun games or become the standard for all tournies. Looks like we'll find out come September. Alright, that's it for game writing this week. Back to movie reviewing. Until next time friends, smoke 'em if ya got 'em. Massawyrm


Got something for the Wyrm? Mail it here.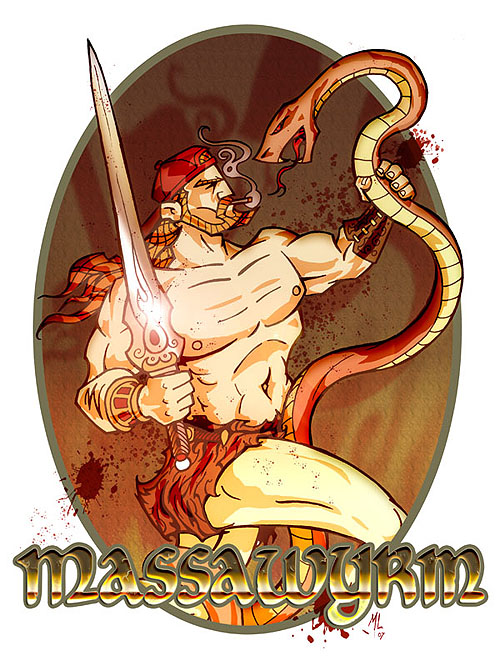 Or follow my further zany adventures on Twitter.