---
The Pull List (Click title to go directly to the review) WAR OF KINGS #3 ATOMIC ROBO VOL 3 #1 & ATOMIC ROBO FCBD SPECIAL CHICKEN WITH PLUMS OGN STAR TREK: CREW #3 MODESTY BLAISE: THE LADY KILLERS TPB IRREDEEMABLE #2 AMAZING SPIDER-MAN #593 MISERABLE DASTARDS #1-2 Big Eyes For the Cape Guy presents ASTRO BOY MOVIE PREQUEL CHEAP SHOTS!
---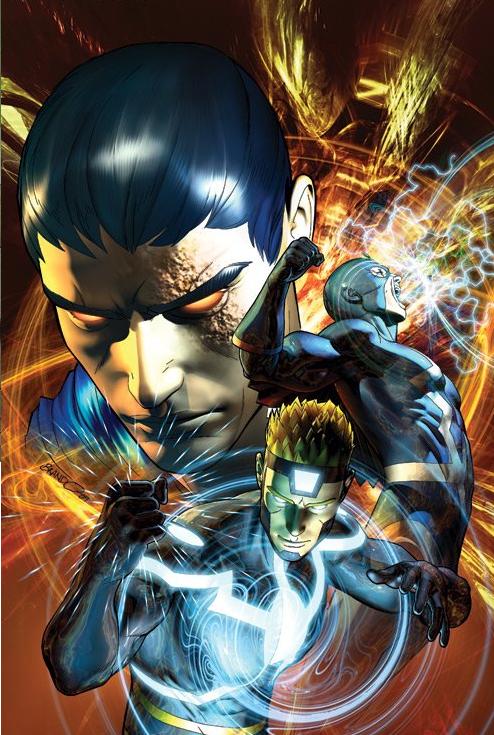 WAR OF KINGS #3 (of 6)
Writers: Dan Abnett & Andy Lanning Penciler: Paul Pelletier Inker: Rick Maygar Published by: Marvel Comics Reviewed by: BottleImp
It seems that both Marvel and DC are taking some steps backwards these days—both companies are bringing characters, plotlines and concepts from the 1970s and '80s into their current crop of titles. From DC's reintroduction of the Multiverse to Marvel's showcasing of Spider-Woman, Rocket Raccoon and other moldy oldies, it appears that both of the Big Two have decided to accept the fact that their key demographic is made of people who started reading comics in the '70s and '80s, so they might as well give their readers what they're familiar with. But here's how the Big Two differ: DC's goal seems to have been bringing back the Multiverse, with the INFINITE CRISIS miniseries geared specifically towards this end, without any plan on what purpose this regression would serve other than its own existence, whereas Marvel has been utilizing those obscure, nearly forgotten characters in order to serve some pretty kick-ass stories.
Case in point: WAR OF KINGS.
True to my word, I bought this issue after being blown away by Abnett and Lanning's NOVA and GUARDIANS OF THE GALAXY titles, and this third comic did not disappoint me. In a nutshell, we get filled in on the state of the Kree-Shi'ar war through the eyes of Gladiator (basically Superman with a kick-ass Mohawk, and royal guard to the Shi'ar Emperor) and the Inhuman Crystal (who along with the rest of the Inhumans is aligned with the Kree). Then we also get a great prison break sequence as the Guardians of the Galaxy and the Starjammers (among whose members include former X-Men Havok and Polaris) attempt to free Lilandra, the rightful Shi'ar leader, from captivity imposed by the despot Vulcan. Terrific action, interesting character development, and some pretty good jokes all rolled into one amazing package.
Regular readers of this column know that Abnett and Lanning are writing the hell out of these titles. They should also know that they are being helped by some truly gifted artists. Paul Pelletier provides wonderful artwork that may not be as flashy or as extreme as some of the fan-favorite artists, but brings the reader into the story in a way that brings me back to reading comics as a kid. I remember when the Masters of Evil trashed the Avengers Mansion, the excitement and the drama I felt reading those classic stories. WAR OF KINGS has that feeling in spades.
So a little regression can be a good thing.
When released from his Bottle, the Imp takes the form of Stephen Andrade, an artist/illustrator/pirate monkey painter from the Northeast. You can see some of his artwork athere. He's given up comics more times than he can remember. But every time he thinks he's out, they pull him back in.
---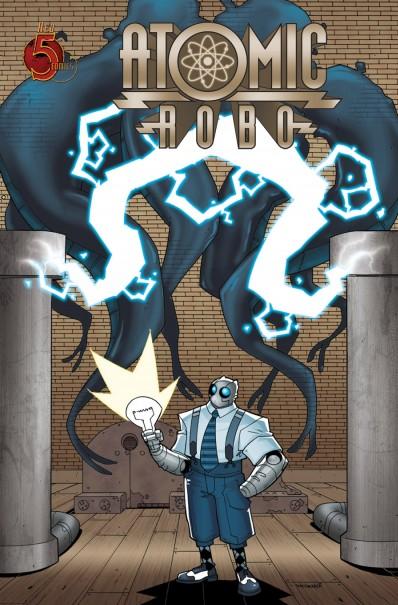 ATOMIC ROBO VOL 3 #1 & ATOMIC ROBO FCBD SPECIAL
Writer: Brian Clevinger Artist: Scott Wegener Publisher: Red 5 Comics Reviewer: Liam 'The Kid'
Note: 'The Kid' is 8 years old and has been doing reviews on his own site since August of 2008.
ATOMIC ROBO is a very cool comic book about a robot that was built by a scientist and works for the good guys. In the last story about Robo he was in the war fighting with the soldiers against the bad soldiers who built some robots of their own. Robo is a funny character and there is a lot of action with all of the war stuff.
The ATOMIC ROBO book for Free Comic Book Day was very good and had three different short stories. The Atomic Robo short story was the best one. Robo is on an island fighting a dinosaur who has a machine gun and is trying to kill him. I read the regular ATOMIC ROBO books and like them a lot. Robo is a robot who works with the army to fight bad guys and this one was a little bit different because he's fighting an evil dinosaur but I like that things were a little different. The second story in the comic was about a whole army of robots. It has nothing to do with Atomic Robo but it looked okay. I thought the last story was pretty good, too. It's about two brothers who kill monsters and I liked the battle they had with the huge monster in this issue. I think that this comic had 3 pretty good stories that show a lot of different comics that the company puts out. I think a lot of people who don't read comics would find good things to like about these characters and stories.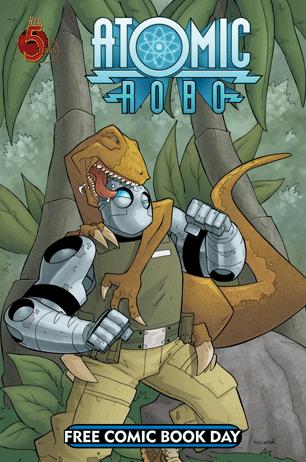 The newest Robo series takes place before all of the other comics. Robo is still studying in school in New York and he's mad because there is a lot of fun stuff you can do in New York City but he's stuck having to do school work. A couple strangers show up at his house looking for the guy who built Robo because they need his help to stop a huge monster who got loose. Robo is kind of annoyed at them and I like how the artist drew his eyes half closed to make it look like he was getting bothered by those two guys. The only bad thing about the book is that it is almost all talking and standing around. The two guys who bother Robo keep asking him for help and he doesn't really want to help him and then remembers orders that he got from before that said if these people ever show up he's supposed to kill them. One of the strangers turns into a monster at the end and starts wrecking things and Robo knows he has to go stop it but then it ends when he's getting ready to fight it.
I like how they do some silly things like put Robo in a suit and tie like he's a human even though he doesn't look anything like a human. And I like how Robo keeps talking back to the two guys who bother him. I wish there was a little less talking in the book but now that the monster is out Robo can start hunting it in the rest of the comics. I think it's cool how in the one story he was fighting with soldiers in a war and in the Free Comic he was fighting a super smart dinosaur and now he's going to be fighting monsters. I think this story can turn out to be really cool, especially once there is more action. I like that Robo fights different types of enemies. The art is really good like it always is and Robo is drawn really well. I bet this comic would make a good cartoon.
FCBD Robo Story: 10 out of 10
Vol 3 #1 Story: 7 out of 10
---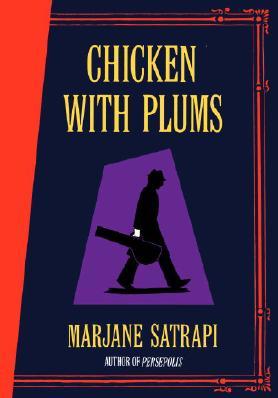 CHICKEN WITH PLUMS OGN
By Marjane Satrapi Publisher: Pantheon Reviewer: Ambush Bug
The latest graphic novel from acclaimed artist/writer Marjane Satrapi is one of those reads that resonate off the page and entices emotions that you may be surprised you have. CHICKEN WITH PLUMS is a celebration of a man's life: a man whose love of music guides the way he lives, whether that be a good thing or bad. Some say there are those who cling to life until the have accomplished everything they set out to do in life. This story begins towards the end of one man's journey as he succumbs to death a bit early and is forced to ponder the events that lead him to his death bed.
In a heated argument, Nassar's wife breaks his sitar. The act is unforgivable in Nassar's eyes. The sitar was a keepsake passed down from his teacher to him, an instrument that brought Nassar much fame. Without that specific sitar, Nassar cannot play music. And since music was his life, Nassar decides to lie down and die. The chapters of this book follow Nassar's trip towards death day by day. Nassar attempts to cope with the loss, but nothing can replace his prized instrument. This book is a celebration of how music can be an all-encompassing focal point in life. At first, we get to see the beauty of the music, but as Nassar lies down to die and we go through his life, we see a darker obsession at play. Although it takes a long while, Nassar sees that his concentration on his music has lead him to neglect his family.
Not the most uplifting of reads, but it is a story that sticks with you and makes you think about your own life. Satrapi intersperses stories of Nassar's life throughout the narrative as important people come to visit Nassar as he reclusively waits in his bed to die--despite the fact that he has no real ailments other than a broken heart. It's a selfish move, but Satrapi allows us into Nassar's head, so one can't help but sympathize with the guy. All of the stories are both heartfelt reads and also serve as fascinating glimpses into Iranian culture.
The art in this book is a testament to the statement a picture is worth a thousand words. Through simple shapes and lines, Satrapi is able to convey the most complex of emotions and scenarios. Her talent with panel placement and variety of such is unmatched. Each panel is precise and clear of its intent. The simple blacks and whites serve as metaphor for the way Satrapi looks at things. The summation of the panels equates to an exquisite storytelling experience.
I've yet to read PERSEPOLIS or see the film, but after reading CHICKEN WITH PLUMS, I find myself compelled to do so. Sure it's indie and doesn't pertain to who's coming back in BLACKEST NIGHT or who's a Skrull, but like many books outside of the big two, the money you spend on this book lasts much longer than your average $3.99 weekly ker-plunk. The story sticks. It makes you think. It makes you feel. CHICKEN WITH PLUMS is one of the reasons I'm glad there are alternative publishers out there giving life to stories that are aching to be read and felt. Don't miss this book.
Ambush Bug is Mark L. Miller, reviewer and co-editor of AICN Comics for eight years. Check out his short comic book fiction here and here published in MUSCLES & FIGHTS 3 and MUSCLES & FRIGHTS on his ComicSpace page. Bug was interviewed here and here at Cream City Comics. Look for more comics from Bug in 2009 from Bluewater Productions, including the just-announced sequel to THE TINGLER for their VINCENT PRICE PRESENTS ongoing series in stores October 2009.
---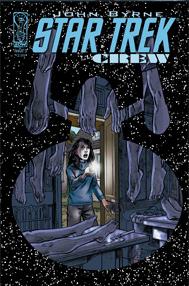 STAR TREK: CREW #3
Written by: John Byrne Art by: John Byrne Published by: IDW Publishing Review by: Baytor
I'm still trying to figure out if it's masochism or sadism that keeps me reading this series. After last month's under-whelming entry, I swore I was done with it, but I'm having a bad week and there's a perverse glee I get in ripping this apart.
Like last month, I have absolutely no problem with the artwork, as Byrne is a great fit for this concept. If anything, his efforts this time out are more impressive. Byrne's even got a nice little plot about the Crew investigating a seemingly abandoned colony that could come straight out of the original series and the plot beats are almost pitch-perfect for an homage of a 60s sci-fi show.
But the writing, my god, it's an absolute horror-show of over-exposition and telegraphed plot beats. Take the first two lines of dialogue. "Mmm…Balmy! I can see why the Captain said we wouldn't need our jackets. But what is this place? It's like we beamed into the American History Museum at the Smithsonian, not a planet ten light years from the Neutral Zone!"
For god's sake, shut the fuck up and let the reader soak up the mystery of the set-up. We don't need to hear about the fucking weather. It's uninteresting and unimportant, which is why we mock people who talk about the weather. Byrne hammers home the fact that the colony looks straight out of the 1960s for four or five pages and it's mentioned several times that this colony is close to the Neutral Zone border. Less is mother-fucking more. Don't dump this shitty, stilted, redundant dialogue on top of your beautiful pictures.
If that isn't bad enough, there's almost no plot beats that aren't dead obvious long before the reveal, such as the big revelation on page 15 which is perfectly clear on page 7 when the colonists show up. The backstory and resolution are, at least, mild surprises, but both have been done so many times before, it's more than a little familiar and cannot save the mishandled plot. This is the true tragedy of this issue, because there is absolutely nothing wrong with the plot. It's a good, old-fashioned Trek-like plot, but Byrne is like a hack-magician going through all the proper motions of the illusion while never getting the misdirection part right.
One thing I wonder about is who this book is aimed at. It's written as if the target audience was young kids, but this is all based on a character from a 40 year old failed pilot, which isn't exactly prime reading material for the average 10 year old. If it's aimed at older audiences, I can't understand why Byrne feels compelled to spell out all the clues with big, bold letters with arrows pointing at them saying "THIS IS IMPORTANT!" Does he think he's being far more clever than he's being or does he think his audience is made up of idiots?
But it's the final panel that really deserves a special bit of scorn. After 20-odd pages of exposition on top of exposition, such as the immortal line, "Androids! Extremely sophisticated humanoid robots!", he leaves an obscure piece of Star Trek trivia completely unexplained, even though it's presented as an unspoken and vital piece of dialogue. The inescapable conclusion is that Byrne is showing off his Trek knowledge, unconcerned that only the most hardcore fans (and people who hang out at his message board) will understand what that last panel means.
This is not your father's STAR TREK. Your father's STAR TREK was actually a pretty decent show that was well-written for its time. This is poorly written garbage that is obsessed with its own dis-used continuity.
---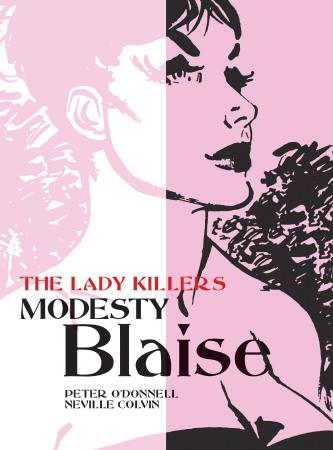 MODESTY BLAISE: THE LADY KILLERS TPB
Written by: Peter O'Donnell Art by: Neville Colvin Published by: Titan Books Reviewed by: Ryan McLelland
I only vaguely remembered the character Modesty Blaise and a quick web search showed how I remembered the book: a 1994 DC Comics adaptation drawn by Dick Giordano. Beyond that I had yet to delve into any of the adventures of the titular character--that is, until now.
Since 2004 Titan Books has been reprinting the original strips that were first printed in London's Evening Standard. Don't let MODESTY BLAISE being a newspaper strip fool you; the comic is full of intrigue, phenomenal artwork, amazing stories, and nudity to boot (gotta love the British newspapers).
Each serial has a foreword written by MODESTY BLAISE author Peter O'Donnell – who has written nearly everything Modesty since he first came up with the character. Art duties for this volume is done by Neville Colvin, who has an amazing way with inks and a style reminiscent of Howard Chaykin.
Three large stories are reprinted here along with some long-lost strips. Since I'm unfamiliar with the strip itself having long-lost strips really didn't appeal to me. The stories and artwork, though, is stunning. The artwork is really helped out by the collection being larger than your average trade paperback. The larger strips really helps bring out Colvin's artwork. O'Donnell sure has a knack for the world of espionage, and the comics read like one hell of a spy flick – with one sexy-as-hell lead character.
There's a thrill a page here in this collection. This wonderful reproduction is sure to make a quick fan of anyone who picks it up.
Ryan McLelland has worked in movies and comics journalism for the past several years before joining the @$$holes here at AICN. Ryan's comic work has already graced comic shelves with Arcana's PHILLY, WISE INTELLIGENCE, UPTOWN GIRL, and THE SENTINELS ANTHOLOGY. He rarely updates his blog but when he does it can be read at www.eyewannabe.com. The first issue of his new WISE INTELLIGENCE miniseries can be found here.
---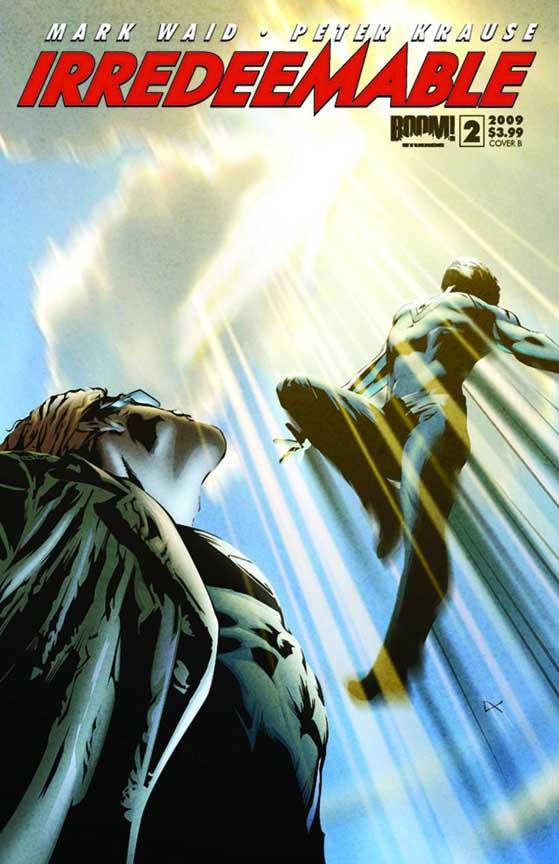 IRREDEEMABLE #2
Writer: Mark Waid Artist: Peter Krause Published by: BOOM! Studios An @$$hole 2-in-1 review by: BottleImp & Optimous Douche
BOTTLEIMP (IMP):
By now, the superhero genre has been pretty thoroughly explored. We've had seemingly endless variations on the standard spandex themes, ranging from simple permutations of powers and abilities to the more cerebral superhero deconstructions made popular in the 1980s by Alan Moore, Frank Miller and their disciples. One of the recurring themes of the superhero comic that developed out of these later works (though its roots can be traced back to Stan, Steve and Jack's groundbreaking humanization of heroes at Marvel in the '60s) is the nature of Good and Evil, and the thin line that separates them. The notion of a superhero crossing that line and becoming a supervillain is nothing new…but in IRREDEEMABLE, what is truly new and intriguing is that this change is not a result of evil sorcery, mind control, the cataclysmic destruction of one's hometown, or ersatz kryptonite whipped up by Richard Pryor. All it takes is humankind's basic flaws, magnified a thousandfold.
Let's say that you work in an office building. Your co-workers, though basically decent people, all have slightly annoying habits that start to become noticeable after awhile. After months and months of listening to people bitching about the same old problems, watching them pick their noses, and smelling the B.O. funk from that sweaty guy who has the cubicle next to you, your nerves are understandably set on edge. Then to compound matters, the copier breaks down and everyone just assumes that you'll be the one to fix it. Finally, that budget report you spent all week working on gets lost by some stupid temp and you have to pull an all-nighter to have it ready for the board in the morning. Is it any wonder that you end up pissing in the breakroom coffee pot? Or in the case of IRREDEEMABLE's Plutonian, destroying the world and everyone in it?
OPTIMOUS DOUCHE (OD):
Imp, you have once again shown that you posses more class in your pinky toe than I have in my entire body. Since Plutonian is basically Superman with blond locks, I was going to liken his meltdown to Clark Kent finding Lois Lane being cocksealed airtight by Perry White, Jimmy Olsen and Pa Kent, whilst in a corner Lex Luthor films the whole thing to sell it on iTunes...and Krypto licks peanut butter off his junk.
But you know, even if Robinson sacrifices a precious page of Science Police drama in the current SUPERMAN run to play out my scenario, Clark Kent still wouldn't lay waste to anything. He would do the same damn thing he's done when betrayed in Elseworlds and other alternate realities like ARMAGEDDON 2001: become an emo bitch (sans mascara) and sulk in solitude. That really gets to the cathartic thrill of IRREDEEMABLE--a psycho fucking Superman laying waste to the world that betrayed him. No continuity and no consequences are truly liberating for a story. It's a great concept that is then slathered in slowly building and fearful drama. Perpetually wondering if your neck is going to be snapped in the next panel makes from some damn interesting characterization. Although, I will say that Plutonian's Lois Lane seemed almost as unbalanced as he is. He reveals his secret identity and she feels so betrayed that she leaks his identity to the press, which seemed a bit of an extreme reaction. I truly hope we get some more reasons than this to explain Plutonian's unbalanced state. It would be a real shame if the world ended because no one thought to serve bitchy Lois a "when have you been a superhero, screw you for judging me" sandwich.
IMP:
You said it yourself, though-- Mark Waid is giving us a slow buildup of the tension(s) leading up to the current swath of destruction. Like we saw in issue #1, where the Plutonian's super-hearing picks up the shit-talking done by some of the average citizens whose lives he just saved. There are a lot of tiny annoyances that are building up into the world's biggest Jenga tower, and I'm guessing that Waid is going to make the readers sweat a little before he pulls out that crucial block and brings the shit-storm crashing down.
But going back to this issue, I loved the way that Waid has his Superman not deal with the leaking of his identity in a calm and rational manner, but more like an angry parent trying to scare his kids into behaving (and apparently making a little too good of a job of it). Just enhances the notion that the Plutonian feels that he is responsible for the welfare of the average citizen, and that the average citizen (like a snotty teenager) is too goddamn stupid to know what's good for him. Considering how many parents have been driven to the brink of sanity by their kids, the Plutonian's troubles and his eventual reaction seems far more plausible...maybe even inevitable.
OD:
I'm also really digging the efforts of the other super heroes in this universe to try and contain Plutonian's emotional roid-rage. They are afraid, they understand the insurmountable odds they face, and I thank all that is holy there is not a "magician" among them. No talking backwards or arcane mystical symbols coming to the rescue. Magic can be done well, but in most cases it's a lazy way out.
IMP:
Yeah, the vibe I'm getting is more like an action/thriller type of story--we have the well-balanced combination of superheroes fighting as well as searching for answers to the Plutonian problem. Reminds me of some of the smarter action films of the '80s.
OD:
In the final analysis, the book is well paced, well scripted and well drawn. Some artists need to take a note here: not all art needs to be exceptional and ground-breaking. More often than not these days, artists take such pride in trying to distinguishing themselves as original they create pretty splash pages that do nothing to drive the story. Mr. Krause, I commend you for being talented and, more importantly, sans ego.
IMP:
Hold on there--I must respectfully disagree. Though I felt like the first issue was decent art-wise, this issue was a real let-down for me. So much of the story is about human (or in this case superhuman) drama and emotion, and I just wasn't getting it from Krause's art. I agree that his pacing and page designs are good and serve the story well, but I feel that the series could benefit by having an artist who injected a little more drama into the images. At the very least, bringing someone in to ink Krause's pencils and add a little more depth to the drawings couldn't hurt. But hey, that's just my opinion.
OD:
This is what happens when I show my sensitive side. I was really trying to imply that the art was average. It wasn't so God awful that it impeded the story, or soooooo talented that I get at least 9 out of 22 pages that are splashes.
IMP:
When you get right down to it, it's Mark Waid's story that's really the driving force of this series. You could probably even have (gasp!) Rob Liefeld on art duty and I'd still buy this title. That's right, everyone, IRREDEEMABLE is THAT good.
When Optimous Douche isn't reading comics and misspelling the names of 80's icons, he "transforms" into a corporate communications guru. "What if the whole world had superpowers? Find out in the pages of Optimous' original book AVERAGE JOE. Read the first full issue on Optimous' New Blog and see original sketches by fellow @$$hole Bottleimp. If you are a publisher or can help these guys get AVERAGE JOE up, up, and on the shelves in any way, drop Optimous a line."
---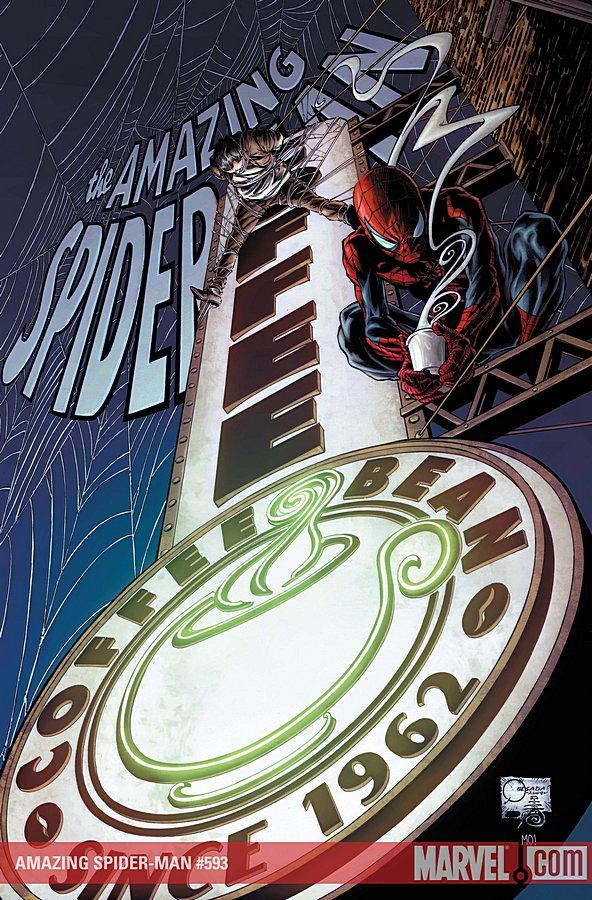 THE AMAZING SPIDER-MAN #593
Writer: Mark Waid Artist: Mike McKone Publisher: Marvel Comics Reviewer: Liam 'The Kid'
Note: 'The Kid' is 8 years old and has been doing reviews on his own site since August of 2008.
In the last comic Peter Parker went to his Aunt's home to change out of his costume because he was working as Spider-Man for several days and was starting to smell and needed to shower and wash his costume but he found out that Aunt May was dating Jameson's dad and got all grossed out. In the beginning of this comic he is in the shower all mad saying that he has to wash his brain to get that thinking out of his head. I think it's a funny idea that the person who is like his mom is in love with the dad of the person who makes him angry all the time. But Jameson does like Peter Parker, just not Spider-Man so it isn't all bad.
I really like the idea that Peter is staying as Spider-Man the whole day every day just to make Jameson angry. I don't think it's bad because when Jameson got to be mayor Spider-Man tried to make a truce with him and instead Jameson sent a SWAT team to shoot him down. Spider-Man isn't doing anything wrong. He's actually doing a good job because since he is Spider-Man all the time he is able to stop a lot more bad guys and help more people. It's just funny because Spider-Man is in the news all the time and that make Jameson really angry. I also like that the people in New York are starting to stick up for Spider-Man. I don't get why all the people would be against him since he's always out there doing good things and saving their lives so this part was really good. One of my favorite parts was when the SWAT team used a new weapon that was able to knock Spider-Man out for a bit and they were ready to arrest him but then regular people were sticking up for him and telling the SWAT team to leave him alone. I liked that. I also like on the next page that there was a loud guy talking on his cell phone and annoying all these other people on a bus so Spider-Man webbed his mouth shut. It's funny to see him use his powers like that and the people on the bus were really happy when he made that guy shut up.
In this issue Spider-Man finally gets to fight the new Vulture who is a little different from the other Vulture. The new one is red and he isn't as old as the other one and he is a lot creepier. When Spider-Man takes his mask off the Vulture has a really long and pointy nose, red glowing eyes and a face like a zombie creature and it looks like he could just bite Spider-Man's head off. I don't think Spider-Man knew how strong this guy was because the Vulture kicked his butt. He ripped up his costume and then made him fall from the sky onto the ground after spitting acid on his face. Spider-Man says he's blind on the last page but I don't think he will be. I think his powers are going to help him get better and even if he was blind his spider-sense would let him know where things were.
It's another really good Spider-Man issue with a little more fighting in this comic and it was still funny like the issue before. Spider-Man should be fighting a lot of bad guys and being funny too and this comic he was doing both. I want to see him beat the Vulture up real bad in the next issue though.
Rating: 9.5 out of 10
---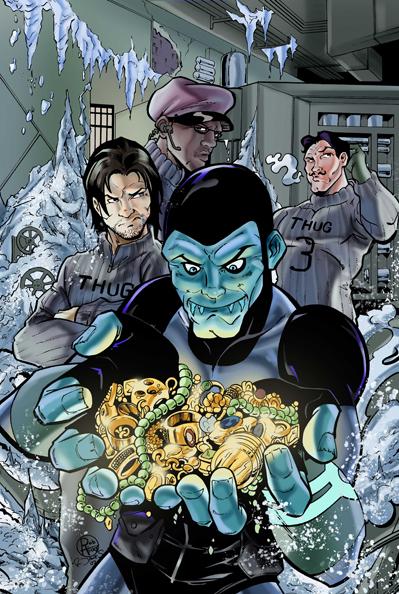 MISERABLE DASTARDS #1-2
Written by: Richard A. Hamilton Art by: Jeremy Dale and Rob Jones Published by: Dial "C" For Comics Reviewed by: Ryan McLelland
MISERABLE DASTARDS is brought to us by the fine people who created the superb blaxplotation comic RETURN OF THE SUPER PIMPS. Most likely you've never heard of that title, which means you missed out on a kick-ass comic book. Now Rich Hamilton is back with his new comic MISERABLE DASTARDS and once again is doing something new and exciting in the comic book world – a rarity.
The book describes a 'dastard' as a goon, cronie, or lackey who works in the background for some supervillain. Those guys who the Penguin would yell out to attack Batman before the BAMs and POWs rang out? Dastards!
Nic is the somewhat 'leader' of a group of Dastards who can't seem to catch a break. They aren't particularly good at taking out the good guys but it is a life they've seemed to fall into. Nic and his crew aren't bad guys by any means – they are just looking to make money at a career like most people. They do end up having to go work for guys like Smart Alec and breaking into museums.
Typical cronie work, right?
So what does Nic decide? Maybe being a dastard isn't the life he is cut out for. Maybe he IS smart enough to take his crew and make a name for themselves. So the guys break out to do their own dirty work…which leads into a whole new set of troubles.
MISERABLE DASTARDS is one of those rare comic books that never feels indy. Amazing artwork and story with great production values makes it feel more like a superhero comedy that would have come from DC in the late nineties (back when they were doing great work on titles like MAJOR BUMMER). The book is a fun book from page one and certainly make you root for the bad guys. Well, the quasi-bad guys. Though we root for them there is always the thought in the back of your mind that it's going to be certain disaster for Nic and his crew. It's a damn good comic that will keep you guessing and smiling long after you've put it down.
---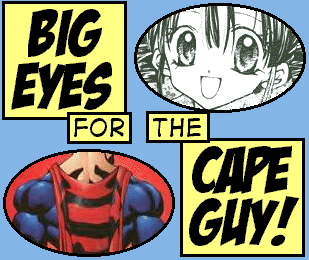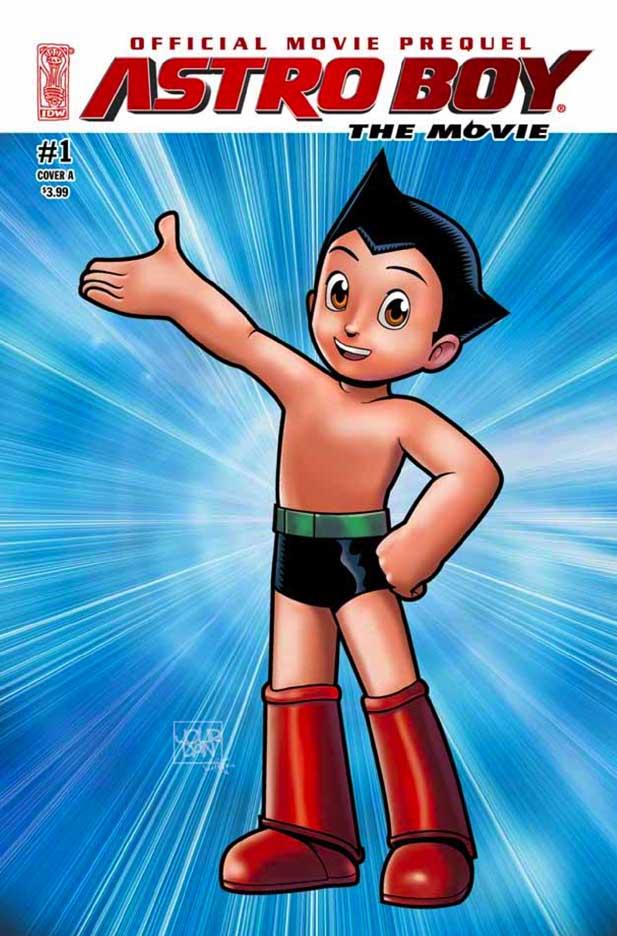 ASTRO BOY MOVIE PREQUEL: UNDERGROUND #1
Written by Scott Tipton Art by Diego Jourdan Covers by Jourdan and Ashley Wood Released by IDW Publishing Reviewer: Scott Green
ASTRO BOY is the Zeus of manga and anime. He may have been preceded by Titans in both media, but the child robot would overthrow those forbearers and lay out the governing template. Frederik L. Schodt's THE ASTRO BOY ESSAYS quotes Tezuka in saying that the early 1950's marked a "manga renaissance" ushered in by a confluence of intellectual freedom and the establishment of manga as a mass medium. With audiences looking for something fresh, like a sci-fi story informed by western animation, raised by Tezuka's brilliant storytelling, ASTRO BOY took hold. With him came Tezuka's vision for manga, including a cinematic visual approach, an expansive reach in influences and a willingness to mix heavy and light themes. A decade later, when Tezuka established Mushi Productions to create an Astro Boy anime, he similarly laid out a creative and economic model for how televised anime would be produced.
On October 23, 2009, North America will see a new incarnation of ASTRO BOY. This one is a CGI film, produced by relatively new player in the field Imagi Animation Studios (TMNT, HIGHLANDER: THE SEARCH FOR VENGEANCE). IDW's ASTRO BOY comic offers a prequel to that movie, and it appears to be written for the child who'll be in the theatre in October. Given its simplicity and the youthful perspective of its lead, if you're an adult, looking at ASTRO BOY, you'll probably need some existing curiosity about the character to get excited about this incarnation. And, for those fans of ASTRO BOY creator Osamu Tezuka's work, I recommend regarding the comic the way you might a figurine, an illustration or some other, alternative interpretation of the character outside the main canon. (If you're interested in a thoughtful, mature take on ASTRO BOY, check out
Naoki Urasawa's PLUTO
) The first quarter of "Underground" doesn't suggest that it is trying to rework the kind of story that Tezuka told in weekly installment of Shonen for the 32 page American comic standard . If you have a fascination with ASTRO BOY and his history, it is interesting to see the transformation effected by the change in format, the connection to the Imagi movie, and Scott Tipton and Diego Jourdan's approach to the character.
As noted in previous reviews, I'm no authority on what comics or manga are appropriate for children, but I imagine that Scott Tipton and Diego Jourdan's ASTRO BOY should easily fit into the role of an early comic for young readers. Its large, bright panels seem to offer an easy introduction to sequential art. Generally, if I'm giving a comic to a new reader, I prefer it to have generally uniform panel layouts, with minimal exotic departures. ASTRO BOY is far from rigidly formalized, with panels within panels, diagonal splits, and forms from one panel breaking into others. However, the size of the images offset the irregular layouts such that I don't think that an inexperienced comic reader will have trouble with ASTRO BOY.
There are a few potential concerns regarding how suitable the book might be for young audiences. In particular, I'm inclined to think some of the IDW house ads, such as ones featuring Megatron brandishing Optimus Prime's severed head on a pike or a TERMINATOR's robotic skull dominating a page, are not right for that set. It's not what you'll be seeing on a trailer ahead of an ASTRO BOY movie, nor am I sure I would have liked to see a metal skull leering at me from a comic when I was a youngster.
On a more positive note, the ASTRO BOY comic follows the tradition laid out by Tezuka in which the character is constantly reacting to his experience. The humanity in the character is evident in how he heedlessly rushes into situations, but also in the wonder and excitement he expresses. As in how Tezuka established ASTRO BOY, he's a super boy and not a super man. It's endearing to note how his reactions, needs and innocence suggest those of a child, and I think this is something to which a younger reader can connect.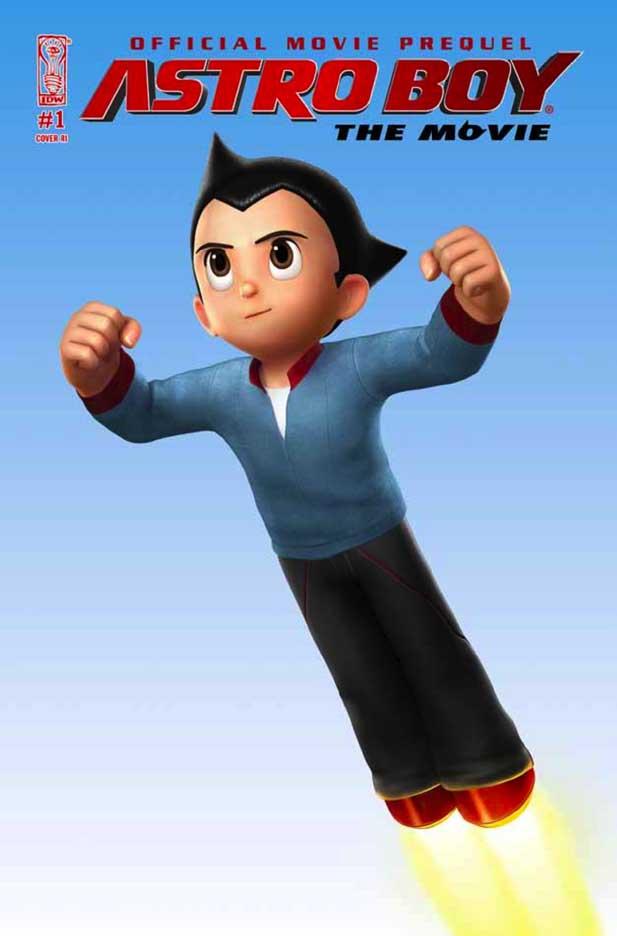 Beyond that core of ASTRO BOY's nature, the manga hits Imagi/IDW interpretation. Imagi ASTRO BOY director David Bowers
said of the movie
"It is [the origin]. I love classic super-hero origin stories. I love Richard Donner's SUPERMAN. I wanted to produce a film about ASTRO BOY that would sort of live up to the legend of ASTRO BOY and do him proud." With the primary colors of Astro's red boots and green waste band, often against blue backgrounds, the comic captures the bold exhilaration of a super boy jetting through the sky, on his way to thump a giant monster.
Color has an additional role in the comic. Presented in digital gradients, it has the look of CG animation. This puts the comic in line with the Imagi ASTRO BOY movie, but also with a prominent thread of animation running in theatres and TV. If the reader is accustomed or in favor of that look, the color style might ingratiate the comic.
Apart from the merits of Tipton and Jourdan's ASTRO BOY, an ASTRO BOY fan is bound to wonder what the comic indicates about the upcoming Imagi movie.
ASTRO BOY's origin as told by Tezuka...
In 2003, Tobio was speeding down the street in his hover car, when he lost control and crashed head long into a truck. The boy's death launches his father into a disastrous psychological arc. In the midst of a fit of grief Dr Tenma is struck with an overwhelming impulse to create a robot in the image of Tobio. The mania stays with Tenma, who commits the resources of the Ministry of Science towards realizing his dangerous vision of an advanced robotic surrogate. The results are a robot boy whose "pleasure circuits" light up as he learns and spends time with his father/creator.
"After a while Dr. Tenma's mental condition improved, and both he and Tobio seemed very happy. But Tenma realized he had made a terrible mistake in the design of his robot son. No matter how much time passed, Tobio did not grow." In response, Tenma casts out the "freak" "doll." Tobio is stripped of his clothes and sold to a circus where he is redubbed "Astro." However, at the circus, Astro is spotted by Professor Ochanomizu, who "realized 'Astro' was not an ordinary robot." Freeing Astro and promising to be 'like a father,' Ochanomizu teaches Astro to use his special abilities like flight, acute sense, and rear mounted machine guns. And so, "The robot once known as Tobio was reborn and his new name was Astro Boy".
Now for the tea-leaf reading...
Tipton and Jourdan's ASTRO BOY opens with Astro in his super hero mode, but instead of only being looked after by his adopted guardian Professor Ochanomizu (Dr. Elefun here), Tenma is overseeing Astro's heroism as well. The comic also emphasizes the father/son bond between Astro and Tenma. While Astro refers to Tenma as "dad," Tenma refers to Astro as "my boy" or "my son."
A number of departures from Tezuka's ASTRO BOY origin can be inferred from how the comic presents the relationship between Astro and Tenma. In the original, Tenma sought for Astro to replace his son, and as such, tried to raise him as a normal boy. The superheroic force for justice came under Ochanomizu/Elefun's guidance.
Tezuka's ASTRO BOY featured a number of longer narratives that might run in its weekly anthology for months. However, there was little continuity between stories, and Astro was generally unburdened by his origin or by previous adventures. In that post origin status quo, Tenma became a dark figure in the lore who fit uncomfortably into a few of Astro's exploits. Attaching a fatherly Tenma fondly looking on Astro Boy's city saving activities at least alters the time line and his idea of Astro Boy's purpose.
Speaking about Nicolas Cage's portrayal of Tenma, Doyers said "he plays Astro Boy's father and he's really funny in the role, but really serious, dark, and emotional at the same time." My speculation is that the Imagi movie's drama is going to relate to a falling out and a climactic reconciliation between Astro and Tenma. I'd bet against Tenma selling Astro to the circus, but I am foreseeing some blow-out between father and son.
I suspect that the comic prequel will be largely self contained, so it'll be a welcome surprise if it affirms or refutes this conjecture about the movie. Regardless, the ASTRO BOY comic should please young readers looking for something colorful and energetic and ASTRO BOY wonks looking for something to comb over.
Scott Green has been writing for AICN ANIME for over seven years. If you like what you see here and love anime & manga, be sure to check out his latest AICN ANIME column here.

---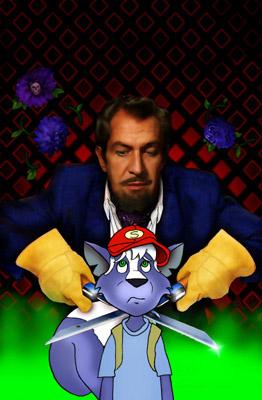 This out of the ordinary issue of VPP may be somewhat different than previous terror tales, but its consistent in the fact that it offers some of the most unique and distinct art around. This time it's the cartoonish pens and inks of Brian Hess that make this issue an artistic standout. The story, though, seemingly out of place in this series, turns quite gruesome by the end as a skunk longs to grow up and find his stink--but he's better be careful for what he wishes for. I'd never thought I'd use the term cute when it comes to a VINCENT PRICE PRESENTS comic, but that's what this one is. It was a good read too. - Bug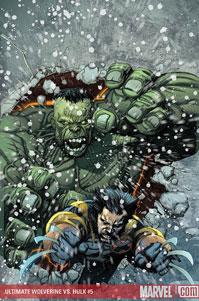 ULTIMATE WOLVERINE VS HULK #5 Marvel Comics
I haven't been reading this comic but I saw the pages where Wolverine was talking to a panda bear and wanted to pick it up. First of all, it's really, really weird that Wolverine has gone crazy and is talking to a panda bear and then fighting it. I thought it was funny that the panda is just sitting in the grass eating his leaves and Wolverine is mad because the panda says it's his spirit and Wolverine doesn't believe it. Once the panda and Wolverine start fighting Wolverine wakes up and he's just a head on a table. This comic looks like it could be a lot of silly fun like Deadpool and that's what I thought of when they showed Wolverine's talking head on a table but there isn't a lot going on in the comic. Wolverine and the Hulk aren't fighting at all in the comic and they should be because that is what the story is called. The She Hulk is in it for a little bit fighting the Hulk but it's mostly about Wolverine talking to the agent Nick Fury. Wolverine does get his head put back on at the end of the story but not much else happens. The beginning with the panda was really funny and strange but the rest of the book was a lot of talking and definitely no Hulk or Wolverine fights and there should have been. - Liam 'The Kid'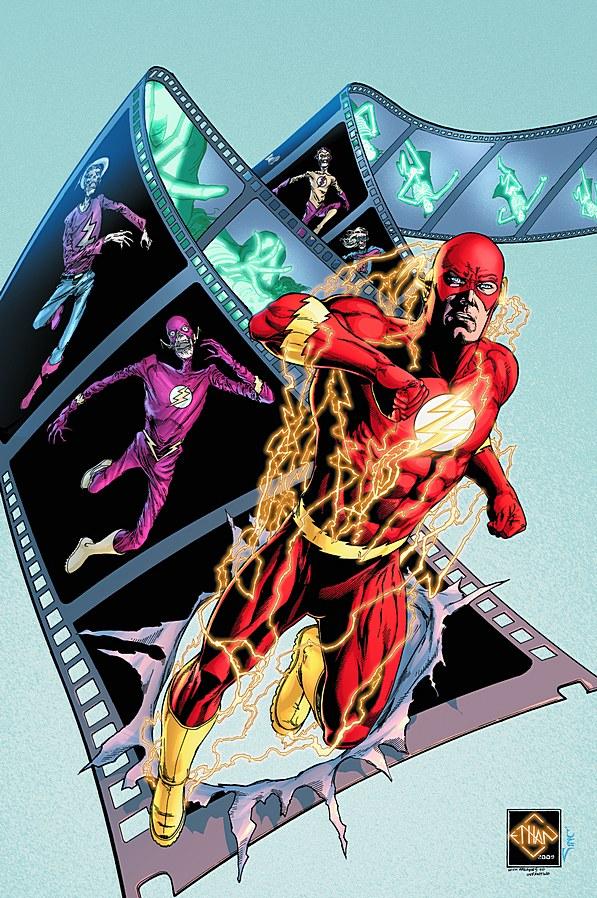 FLASH: REBIRTH #2 DC Comics
The thot plickens as clues to Barry Allen's return are revealed in this tightly woven issue. Geoff Johns has scrunched a whole lot into this one, as has artist Ethan Van Sciver. The craft put into this issue is hard to criticize, but Johns is still going to have to work hard for this Wally West fan to be won over to accept Barry's return. There are plenty of twists and turns (plus doozy at the end of this issue), but so far nothing has happened to make me prefer to follow this Flash over the one I grew up with who is still full of potential. Johns has wowed me before, so I'll never say never, but he's got his work cut out for him. But as far as issues go, this one was better than most. - Bug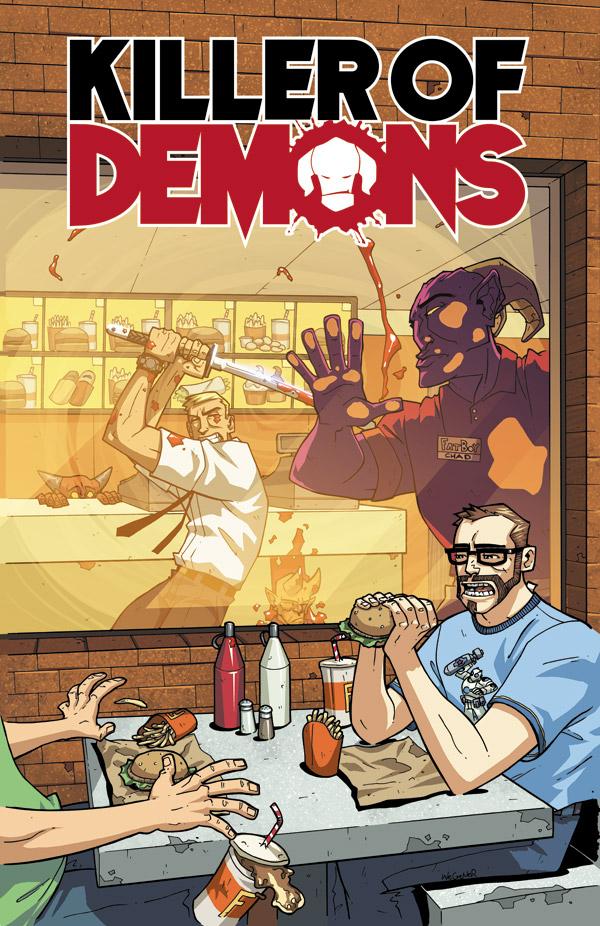 KILLER OF DEMONS #3 Image Comics
For three issues this book has been packed with pretty much nothing but blood-soaked awesome. White collar schlub is actually a bad assed Demon Killing Agent of Heaven? Hells yeah. And it's all been drawn by Scott "ATOMIC ROBO" Wegener? Double hells yeah. And it's been the proverbial (and yes, pun-tastic) "Hell of a ride". While this issue put a lot more emphasis on the action than the funny bits, it still managed to handle both admirably well. There's nothing in here quite like the "Snuffelupagus" moment in issue two, but really, nothing I've seen so far this year can hold a candle to that. Overall though, there's just so many strong elements to this book that I really hope we get more of it. Our lead, David, has been great going from "Possibly Crazy Mass Murderer" to "Badass Slayer of All Things Demon" and his Angelic sidekick Uriel has been great as his coach/comedic relief. The premise has been fun, even if it's a little "Buffy-lite", and the bloodshed and side gags have been perfectly placed and executed. And, god forbid, we've had 32 pages of content for all three $3.99 issues. Imagine that. This, this is something we need to see more of. Props to all those involved in bringing this book about, it definitely brought the goods. - Humphrey Lee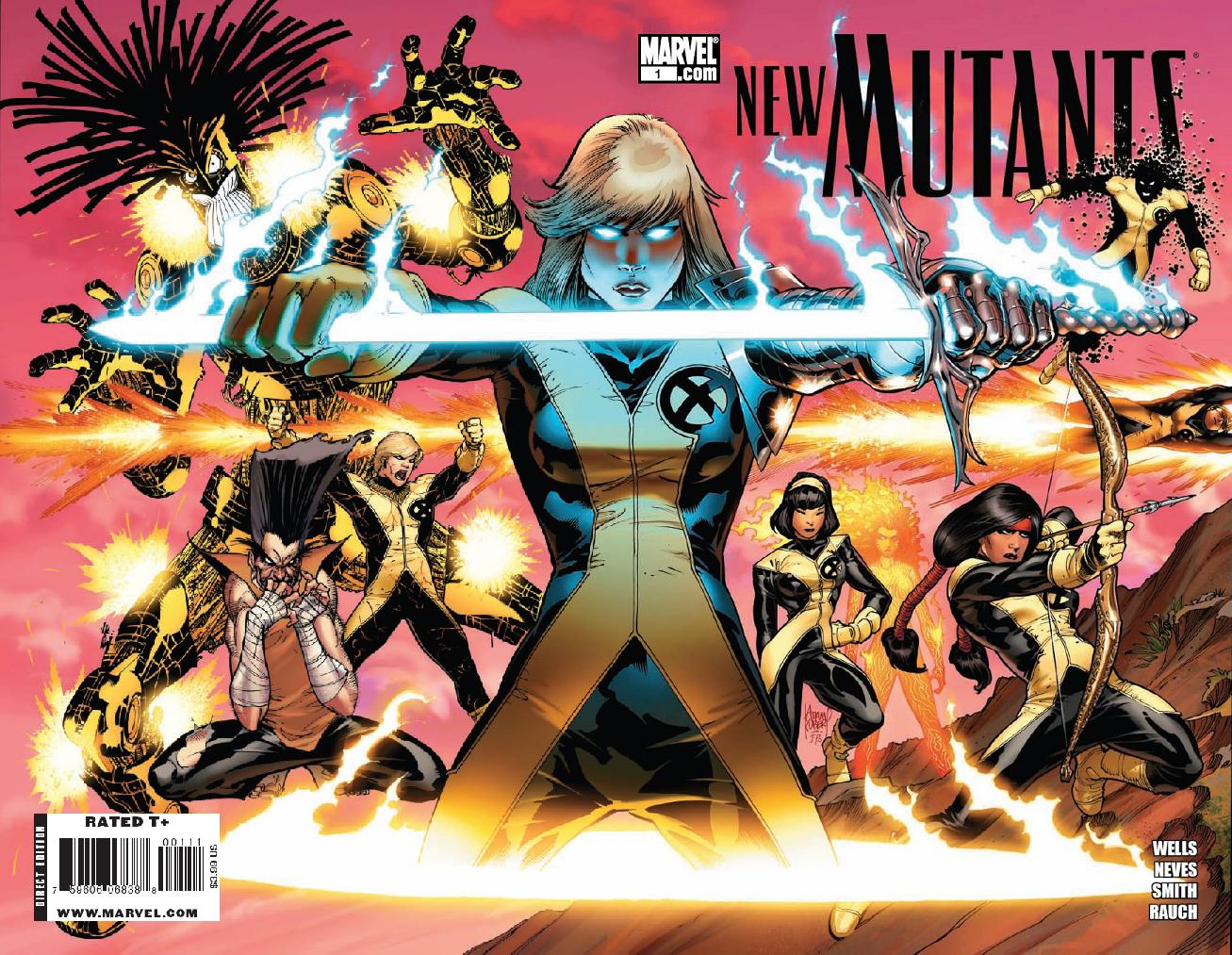 NEW MUTANTS #1 Marvel Comics
After the oversaturation of the market with all things X in the nineties and the sequentially shitty quality of X-MEN movies, I kindly bid the X-books adieu a while back and never thought I would return. Well, my friends, THIS is the comic that could have me giving a care about something X again. Zeb Wells does what he does best, embraces the big ol' Marvel U in a big low hug and squeezes until something magical happens. NEW MUTANTS is that magic. We haven't seen much of Dani or Shan yet or Rhane, 'lock, or Doug for that matter, but the back and forthings written in the pages of this book between Sam, Berto, Amara, and Illyana were fantastic. Amara and Illyana's conversation in the back of the jet concerning Amara's future was downright haunting, the bond between Berto and Sam has never been tighter, and the friendship that I formed with these young mutants all those years ago boomeranged me back to a time when comics were soooooo damn cool to me. Thank you, Zeb Wells. Thank you, Marvel. Thank you for this awesome comic! - Bug

---
Editing, compiling, imaging, coding, logos & cat-wrangling by Ambush Bug Proofs, co-edits & common sense provided by Sleazy G
---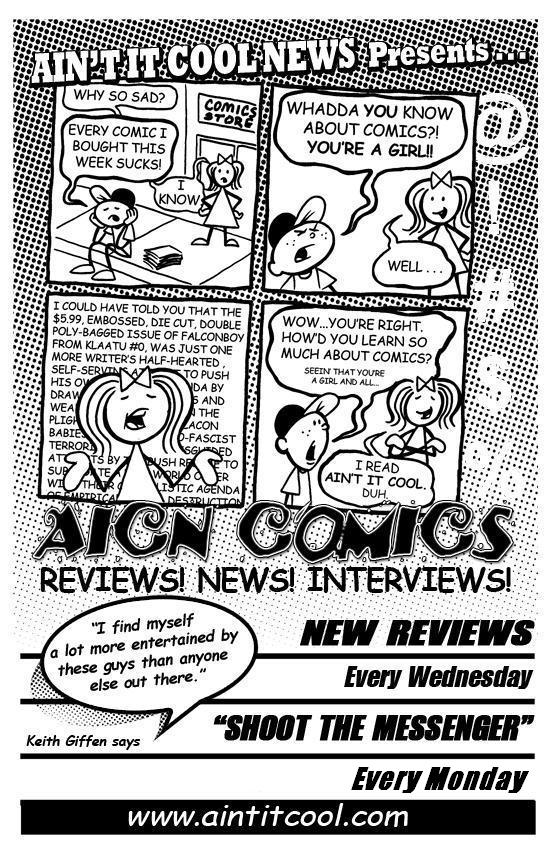 Ad by Prof. Challenger
Remember, if you have a comic book you'd like one of the @$$holes to take a look at, click on your favorite reviewer's link and drop us an email.
Check out the @$$oles' ComicSpace AICN Comics page here for an archive and more @$$y goodness.