Hey there folks, Harry here. Every now and again Moriarty and I are so completely in tune it's not even funny. I strongly echo each and every point he makes here in this column. This is the weekend you've saved you ticket money for. If you haven't seen THE BLAIR WITCH PROJECT, you should finally be able to find a screen it's showing on. But more so, find THE IRON GIANT and THE SIXTH SENSE. These two movies are both superior works of cinema, with THE IRON GIANT being one of my favorite films... period. Then, if all else fails you have MYSTERY MEN and THOMAS CROWN AFFAIR which by all reports are fun films. It's a can't lose scenario. Enjoy it. And now... here's the old man...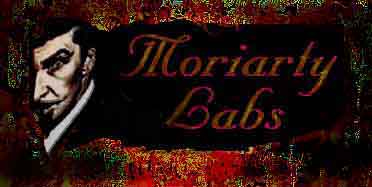 Hey, Head Geek...
"Moriarty" here.
With the single best movie weekend of the year finally upon us, I've been thinking about Steven Spielberg. It's bizarre the connections you make between films sometimes, but bear with me and let me try to explain my train of thought.
There's a couple of things that factor in. First, I was lucky enough to attend a screening earlier tonight of THE SIXTH SENSE. Earlier this weekend, I was able to attend my first real premiere, an event that I found exhilarating, moving, and ultimately exhausting.
Second, I'm nocturnal by nature. I've always done my best work in the middle of the night. I think part of that is due to the lack of distractions in those wee small hours. Not many people would call me at 2:00 in the morning... well, Harry does, but he ain't people. He's the only one I know with an even more backwards sleep schedule than me. My typical asleep-by-6:00-AM/ awake-by-2:00-PM schedule doesn't really leave much room for me to schedule morning activities. When I have to get up and do things early, I'm always left with a bit of a deranged feeling, a sense that everything's a little off. I can never find my balance, and it's during extended weekends of this derangement that I make connections like the one that ties Spielberg together with both IRON GIANT and THE SIXTH SENSE.
Let me back up a little. It was the beginning of last week when one of the henchmen scurried into my study last week holding a FedEx envelope. I tore into it and was surprised to find two cards emblazoned with the familiar IRON GIANT poster design. When I realized that I was holding invitations to the Saturday morning premiere and the party that night, I immediately panicked. I was forced to begin an aggressive schedule of self-hypnosis and herbal therapy to effectively reverse my body clock.
And so it was that I found myself standing outside the Chinese Theater in Hollywood in the harsh early morning sun this past Saturday at a remarkable (for me) 9:00 AM, taking in all the mania of a premiere, but from the inside. It was interesting to stare across the street where the bleachers had been set up. Like the bleachers, the sidewalks around us were jammed with gawkers, thousands of cameras at the ready. I'm sure they were all there looking for a glimpse of whatever celebrities showed up with their families, but I was only interested in one thing: the finished film.
For those of you new to the page, or who skipped the coverage earlier, check out my initial IRON GIANT review or my interview with the director of the picture, Brad Bird to get an idea of how unreservedly I love this film. I've been talking and writing about it all year, and each step closer to the finished print has made me more excited. The early version of the soundtrack I was sent by Rhino's Hype Priestess Cindy Laudati featured the piano demos of the score by Michael Kamen, so I still only had a rough idea of what the score would sound like. To be honest, this final step in the process was the only thing that made me nervous. I was afraid the score simply couldn't live up to the film. True, Kamen scored one of my two favorite films of all time (BRAZIL), but he's also written the kind of aural wallpaper that I find so depressingly similar in many films these days, like his AVENGERS work.
Thankfully, he's risen to the occasion with a moody, even somber composition that lends subtle support to this miraculous movie. By now, I would expect that the film's emotional power would have been somewhat muted for me. Nothing could be further from the truth, though. If anything, it seems to hit me where I live with each and every viewing. The last 20 minutes of the film just destroy me each time. Seeing the film with every scene in color, with the sound properly tweaked, and with the final editorial touches firmly in place, I am newly impressed by the picture's palette, by the power of the simple, uncluttered design, and by the remarkable use of the widescreen frame. This is my favorite film of the year so far by a wide, wide margin.
As I stumbled back out of the theater into that harsh, harsh sunlight, all around me I saw adults slipping on their sunglasses, but not to cut the glare. No, I saw fresh tears on their cheeks. Some of them were openly amazed, saying to their friends, "Wasn't that incredible? That was so much better than I expected." They had the glow of the converted, and as I moved through the crowd, listening to each of the enthusiastic reactions, all I could do was smile like someone whose secret is finally known by everyone. The crowd dispersed slowly, lingering to talk about the film, bask in it and in the conversation it inspired. I heard families starting to talk about the film's strongest themes, the humanity of the Giant, the choice we all have in who we are, and what I heard was a real dialogue between generations over some of the most basic ideas about how we live. When was the last time a movie made you feel wonderful and pushed you into a real conversation? Nothing about, "Didn't that CG shark look neat?" and nothing about "I knew the bomb wasn't in the van." Nothing about the movie directly. They were talking about themselves and each other, and they were really talking.
Later in the evening, after stopping by the Labs for an afternoon siesta, I rejoined everyone at Union Station in downtown Los Angeles for the film's premiere party. I've been to a lot of cast and crew functions, where people get together to celebrate the end of a film, but I've never been to one that was so joyous. The talented artists and technicians who brought the film to the screen all seemed to be walking on air, delighted to have worked on something so profound, so satisfying.
You see, one of the shameful truths about the animation industry (particularly with feature animation) is that most animators nurse broken hearts over the projects they've worked on. They pour real effort into lousy movie after lousy movie, hoping that moments of grace somehow show through whatever half-assed Disney clone they're currently working on, enjoying whatever small artistic victories they can. In the end, they become jaded, and it becomes just another job.
I guarantee it didn't start that way, though. For most of them, there's one defining memory that led them towards animation, some movie memory that convinced them there was real art to be made in the medium. One of my very best friends in the business is an enormously talented animator who chose his career after seeing Don Bluth's THE SECRET OF NIMH. In that film, he saw the promise of a rebirth in animation, a chance to tell stories that weren't the typical Disney fare. At that point, Disney was a fading company, considered to be a mild threat at the box-office at best, and animation just wasn't doing well in any form. SECRET OF NIMH was based on a Newberry Award winning novel and it was told with all the flair of a Disney film, but darker, willing to break some of the rules. It helped that Bluth and his team had a reputation as bad boys, rebels who had left the corporate corpse behind to strike out and reinvent the wheel. My friend studied animation in college and built a killer reel for himself. Right out of school, he worked for Nelvana in Canada. After that, he spent some time with Richard Williams in London working on ROGER RABBIT before moving on to join Don Bluth in Ireland. The Bluth he ended up working for had fallen almost immediately into a rut, and the films began to offer diminishing artistic returns. AMERICAN TAIL begat LAND BEFORE TIME begat ALL DOGS GO TO HEAVEN begat ROCK-A-DOODLE and A TROLL IN CENTRAL PARK. He didn't give up on the whole industry then, and he expanded his training to include storyboarding as well as 3D CGI modeling for live-action. He's directed for Disney TV in Korea. He's done feature work for at least five companies that would start up, make a film, and fold. He's worked on live-action films for Rhythm & Hues and Sony Imageworks. This guy has more experience than most people I know, and in all this time, on all these films, he's never been in a key position on a film that he's proud of from start to finish. Too many of the films have been insulting to the audience as well as the artists toiling to bring them to the screen. As much as it breaks his heart to work on these projects, it breaks mine to watch it happen.
At Union Station on Saturday night, though, the Red Elvises played, and the Blue Rhumbas, Red Menaces and Plasma Balls flowed as freely as the pride among those assembled. Pete Townsend and Des MacAnuff were there, looking delighted by the shape the film has taken. Vin Diesel was there, dancing with many, many fly honeys, a Giant indeed. Eli Marienthal was there with his entourage of 10 year old buddies, as hyped as any kid with a starring role under his belt would be. Darren Holmes and Scott Johnston were there, both of them ecstatic, beaming. Producer Allison Abbate was there, flush from success, her relief and happiness and satisfaction and disbelief all pouring off of her in warm waves. Most of all, Brad Bird was there, moving through the crowd, making sure that everyone shared in the thanks. This crew is a unit that should be reassembled again immediately. When something works like this, you do your damnedest to keep it together, to try and recapture that magic. As we all stood together and watched the crew reel assembled from behind the scenes video, original animation that wasn't done for the film, and actual clips of the movie, it was familial, and didn't feel like the typical "Hollywood" event to me in any way.
And how, you may rightly ask, does any of this have anything to do with Steven Spielberg? Well, aside from the literal connection that he gave Brad his first major break in the business, one can't help but think of one of Spielberg's classics E.T. when viewing this movie. After seeing it several times, I'm fully prepared to say that Bird has made the better film. This movie has something E.T. never did, and that's a moral. Now, not all films have to have morals... I think that would get old quick. When a film earns its moral center, though, by telling a story that is in essance a Buddhist prayer, a meditation on the self, it is cause to celebrate, to take note. Bird has transcended his genre, and done so with simplicity. If he'd been aiming at something "brilliant," chances are the film would be a pretentious muddle. Instead, by telling a simple story with the most emotionally direct characters in recent memory, he has surpassed the former champ of the genre.
I've also been thinking of Spielberg and, to a lesser extent, George Lucas because of how they have each directed child actors in the past. For a long time, Spielberg was known as the best director of children around. It was a cornerstone of his popularity. Think of that iconic moment in CE3K when little Carey Guffey is standing in his kitchen, watching something offscreen with those saucer eyes of his. Think of how natural, how real that child was. Well, Eli Marienthal achieves that level of perfection in IRON GIANT under the direction of Bird. To me, Hogarth Hughes sounds exactly the way I'd always imagined that Bill Watterson's Calvin would sound if he ever spoke. It's the voice of childhood, undiluted, straight from the tap. It's a voice that's still fully in touch with the world of imagination. It's the voice I hear when I listen to that piece of myself where I try to keep some fragment of childhood intact.
I can't help but think that Spielberg is going to be blown away by that work as well as the magnificent performance that M. Night Shyamalan got out of young Haley Joel Osment in the astonishing SIXTH SENSE. Earlier this year, I did a series about all the various supernatural scripts bouncing around, and I picked SIXTH SENSE as the best of the studio efforts , basically tied with A STIR OF ECHOES depending on how each was executed. I think David Koepp's going to have to go a long way to shake the memory of Shyamalan's third film from my mind. I am haunted by young Cole, by his eyes that have seen so much pain, so much hurt, without understanding any of it, and I suspect all of you will be, too.
We don't often congratulate marketing departments when they actually do their job well, so let me offer my hearty thanks to Hollywood for not screwing up SIXTH SENSE. This is a film that actually continues to surprise viewers up to the very last scene, and it would have been simple for the studio to promote every last twist and turn if they'd wanted to. Instead, they have cut a series of powerful TV spots that set the picture up but ruin nothing. It's outstanding work that deserves to be emulated by other studios with tricky movies -- are you listening, Fox-who's-about-to-release-FIGHT-CLUB?
Bruce Willis is at his finest in the film, having finally learned the power of being totally still. This is the kind of work that redefines a career, and here's hoping Bruce gets the recognition he deserves for doing something so delicate, so tricky, and pulling it off with confidence. He's the only one of the big '90s action stars (if you include Stallone and Schwarzeneggar) who actually has the chops to do anything he wants as he ages out of action. When Stallone did COPLAND, it was to intentionally rennovate his career, and not because he was drawn to the film. He tried to jump right back into $20 million action as soon as a few decent reviews rolled in. When Willis makes a smaller film, though, there's a very real sense that he makes the films because he wants to, because he likes them. He wasn't in PULP FICTION because Tarantino was hip yet; he was in the film because he knew how cool a character "Boootch" was. He didn't take NOBODY'S FOOL because he thought he would earn big money as a result; he was in it because it was a great role opposite Paul Newman at his finest. He has turned film after film into a surprise -- 12 MONKEYS, DEATH BECOMES HER (and if you can't appreciate that joke, I ain't got time to argue with you), IN COUNTRY, even the original DIE HARD. Bruce has great instincts when he puts his mind to it, and he's struck gold again.
To get the whole story on the film's remarkable writer/director, I'd say you should check out the next issue of CREATIVE SCREENWRITING magazine, where there's a cover story by Daniel Argent that offers the best look I've read so far at this gifted writer. If it's not on stands yet, it will be soon, so keep your eyes peeled. The long and short of it is that this is a guy who doesn't work in Hollywood, and who has managed to keep his independence even while making a Bruce Willis film for Disney. Neat trick, that. I haven't seen his first film, PRAYING WITH ANGER, but I did see his second feature, which he made for Miramax. It was called WIDE AWAKE, and it came and went in a flash last year. It wasn't a great film, but it was big-hearted and sincere, and it featured a solid lead performance from a kid named Joseph Cross. Even then, there were hints at how good Shyamalan was with children, but nothing could have prepared me for the power of SIXTH SENSE. Reading it, I was sure he'd never find that kid, that perfect kid he had written, but he did, and he figured out how to unlock the young actor's potential fully. If you doubt that it's the director who makes the difference, check out BOGUS with Whoopi Goldberg sometime. Osment doesn't come off anywhere near as well, and how could he? The material was weak, and he was overshadowed by two adults (Gerard "I'll Eat Anything That Moves" Depardieu was the other lead) who mugged without relent. He never stood a chance.
In this film, though, everyone strikes every note just right. Toni Collette is unrecognizable here, even if you've seen MURIEL'S WEDDING and VELVET UNDERGROUND. She's also very good, conveying love, frustration, fear, and desperation in equal measure. Olivia Williams, who I fell for so hard in RUSHMORE as the elusive Miss Cross, is just right here as Willis' wife. She's got one of the trickiest roles in the movie, and only repeat viewings will be able to determine just how well she handled key moments. I was struck by her work and can't wait to see what else she is capable of in the future.
Finally, I want to single out James Newton Howard and Tak Fujimoto for praise on the film. As composer and cinematographer on the film, they have helped Shyamalan make a film that isn't just the standard ghost story. They've made a wonderful, artful film that is simply great drama above and beyond any genre, and I hope this is a film that people are able to remember at the end of the year. It's SHAWSHANK REDEMPTION good, a qualifier I do not apply lightly.
On Sunday night, as I rested following my eventful Saturday, I was lucky enough to tune in for FX's marathon of all 13 original episodes of THE BEN STILLER SHOW, a favorite of mine from the early '90s. Watching young Ben Stiller and young Janeane Garafolo together reminded me of how incredibly good they are together in this weekend's MYSTERY MEN, one of the other sterling choices available this weekend. It's a better film than DICK, and I'm sure it's quirkier than THE THOMAS CROWN AFFAIR, the one major weekend release I haven't seen yet. Still, I'd get the two classics out of the way first. This is a film to keep in the back of your mind so that when the movie gods smile and even the late shows of IRON GIANT and SIXTH SENSE are sold out, you still have a solid gold choice as a backup.
If you happen to be in a bookstore this week, you might want to pick up Chris Gore's new THE 50 GREATEST FILMS NEVER MADE. It's an entertaining, well-researched look at several projects that almost but not quite got off the ground. I was surprised to read our own Head Geek, Harry Knowles himself, quoted in the chapter about John Turman's SILVER SURFER script. The actual Harry quote is in reference to Turman's excellent HULK draft. The book is opinionated, to say the least, so be prepared to disagree rabidly with choices or comments here and there. On the whole, though, the former FILM THREAT editor has done an excellent job of shedding lights on some deserving gems that slipped away. I'd suggest the Jodorowsky DUNE, Kubrick's AI, and Orson Welles' DON QUIXOTE for the absolutely justified follow-up.
If you end up seeing IRON GIANT this weekend, and if it happens to open at the Chinese in Hollywood, and you happen to decide to attend the late show, then I want you to feel free to walk up and introduce yourself to the Professor and his henchmen. I'm sure you'll be able to recognize me. I'll be the one surrounded by the mutants, the portly man in his 70s with the blind right eye and the wicked scar down the left cheek. I'll also make sure to wear something that anyone who read this carefully will recognize.
Here's hoping I see some of you there. Here's hoping we shatter the box-office records for all the good films coming out this Friday. Here's hoping you all enjoy everything you see as much as I have. Until then...
"Moriarty" out.