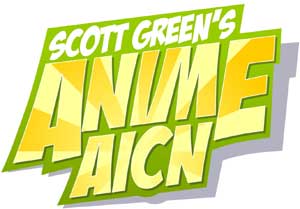 Logo handmade by
Bannister
Column by
Scott Green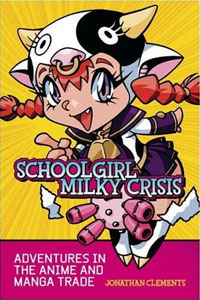 Schoolgirl Milky Crisis (n.) 1. A silly name for a generic anime show, made up to protect the innocent in Jonathan Clements' long-running insider column about the Japanese comics and cartoons business. (n.) 2. A hugely entertaining collection of nearly two decades of articles, speeches and interviews by Jonathan Clements, manga and anime translator, sometime voice actor, and co-author of The Anime Encyclopedia. Titan Books has graciously provided Ain't It Cool News five copies of anime industry insider/domain expert Jonathan Clements' Schoolgirl Milky Crisis to give away to our readers. The book features reviews, cultural commentary, insights into classic manga and anime titles, interviews and profiles of Japan's top creators, and insider stories from the anime trade, along with illustrations from Steve Kyte. If you're interested, send an email with the subject line "Schoolgirl Milky Crisis" to animecontest@gmail.com with your postal address by midnight GMT-5 on March 9th, 2009 For a taste of the Clements' work, check out his blog here.
Resource Spotlight: Schoolgirl Milky Crisis - Adventures in The Anime and Manga Trade By Jonathan Clements To be released by Titan Books February 24, 2009 Official blog can be read here
Jonathan Clements is one of the rare commentators who writes for the English speaking anime enthusiast without resorting to supposition. While the internet is steeped in people writing about anime, some of whom are quite intelligent and knowledgeable, you generally find the legitimate experts working in the ailing world of print. Like Fresh Pulp: Dispatches from the Japanese Pop Culture Front (1997-1999), from Viz's departed mature audience Pulp anthology or Fred Patten's Watching Anime, Reading Manga: 25 Years of Essays and Reviews, Clements' Schoolgirl Milky Crisis is largely a collection of essay and columns. Many of the collected columns were originally published in the now-cancelled NewType USA, and as anime-enthusiast magazines find themselves battered by a shrinking base of advertisers and harsh economic conditions, Clements work stands as an effective testament to the value of print commentary in anime. Personally, I couldn't be more pleased to have more of this work captured in a shelf-suitable bound edition. If you follow anime and manga, there are names worth knowing. Beyond banner talents, the Hayao Miyazaki's, Mamoru Oshii's and Satoshi Kon's, knowing who directed a work of anime is a useful signpost for navigating the medium. Watch the xxHoLiC movie and/or TV series , then watch Genshiken and Haré+Guu and see what you notice about the work of Tsutomu Mizushima. Now that it's on Crunchyroll, check out magic girl anime Pretty Cure and see what you think of it in light of the knowledge that it's directed by Dragon Ball's (and Air Master's) Daisuke Nishio. And there are idea-developers behind anime and manga whose names are likewise worth knowing. Don't stop at the perennially recognized ones like Masamune Shirow (Ghost in the Shell, Appleseed). Tow Ubukata grew up in Singapore and Nepal and attended Waseda University's school of political economics. As such, he brings an unconventional perspective to work like Sokyuu no Fafner and Le Chevalier d'Eon. If you know that Eiji Otsuka studied anthropology, women's folklore, the history of human sacrifice and post-war manga, you see the influence in works like Kurosagi Corpse Delivery Service and MPD Psycho. And, for the English speaking enthusiasts, there are a number of commentators worth knowing. I'd consider Jonathan Clements among these notables. In the domain of anime, he's co-authored The Anime Encyclopedia with Helen McCarthy, he served as a columnist for NewType USA and NEO, and as a go-to expert for numerous media outlets. Outside the commentator side of the business, he's translated anime and manga, as well as voiced and directed English language dubs of anime. Schoolgirl Milky Crisis collects Clements' work from NewType USA and NEO, lectures, liner notes, analysis from a few miscellaneous other sources and a few previously unpublished pieces. The fictional anime property "Schoolgirl Milky Crisis" is a bit from Clements' NewType USA columns, allowing the author to communicate insider knowledge with the names effectively redacted. It's employed in a number of the volume's chapters. "Behind the Scenes" presents a dozen columns which examine the role of various actors in the process by which anime finds its way onto an English speaking viewer's screen, from colorists to veteran directors to marketers. "Voice Acting and Translation," "Around the World" and "Legalities" give other aspects of the industry a "Schoolgirl Milky Crisis" explanation. Beyond these pieces, a similar, personal familiarity is voiced in pieces like the transcribed speech "Highbrow Skills in a Lowbrow Medium: Translating Japanese Animation." The Schoolgirl Milky Crisis voice does mix wariness and weariness. Remember that "Adventures in The Anime and Manga Trade" relates to a business and Clements is a professional. As such, the shop talk is peppered with snarkiness. Note index entries like "producer, uncontrollable flatulence of," "Oshii Mamoru, basset hound demeanor of" and "Moomins, cruelty to" and "Jones, Bridget, neurotic self regard of." While not overly acerbic, during the course of the conversations Clements is speaking about the fools encountered at points in the road from production to consumers. While it serves as the headline feature of the book, a considerable portion of the volume is not presented in this "Schoolgirl Milky Crisis" tone. A more journalistic expert voice is applied to profiles of luminaries like Akira creator Katsuhiro Otomo, surveys of topics such as Chinese animation, histories of Japanese pop media traditions like kaiju movies and Hello Kitty, and less familiar aspects of these media, such as manga anthologies dedicated to pachinko. I'm inclined to think that Schoolgirl Milky Crisis does not exactly offer a well read anime/manga enthusiast a plethora of new information. It's not a book aimed at introducing new anime, new creators or new theories. Given the dearth of writing on the subject, the original piece on animation in China is certainly a candidate for being factually informative. Alternatively, while I feel that Korean media also receives less ink than it should, the chapter on Korean film packages previously written columns, and as such, covers familiar ground (Blue Sky, Old Boy, Christmas in August). The value of Schoolgirl Milky Crisis is more about providing a framework for regarding the world of Japanese pop media than it is relating specifics. In scratching off the identities and pixilating the faces in order to tell tales, Clements has abstracted the conversation. There's a chapter in the book dedicated to "Punditry," which could be crudely referred to as the "Don't Know Shit" chapter, because it is largely Clements calling out who doesn't know what. (As an aside, the single "I don't think that's quite right" moment in reading the book ironically came in the Wrong About Anime entry. " Quentin Tarantino showed his grindhouse credentials in Kill Bill by commissioning an anime sequence from the celebrated Madhouse Studios." I thought it was Production I.G) The abstraction is highlighted in the chapter's essay "Reality Checks: Unwelcome Facts and Figures." Clements discusses what happened after he was commissioned to report on the state of the British anime and manga market, by a government affiliated organization that wanted to promote new investment. So, the company reps told the organization one thing, and Clements said that the picture was significantly less rosy than what the people with a vested interest were claiming. In other words, you could say that Clements paints the reality as less than the hype. That is useful to know, but it is not concrete. Part of the function of Schoolgirl Milky Crisis is to give fans a sense of the real picture. Without names, figures, or points of reference, the anecdotes don't offer a clear picture, but the generalities that can be gleam are still of value. Anime companies have generally recognized that their consumer base is largely comprised of tech-savvy enthusiasts. As such, they've fostered the impression of open discourse with the fan/buyer. In a new example, when ADV Films decided to release new properties in half season box sets, their statement was "after careful consideration and talking with fans, we decided to release these series as quickly and inexpensively as possible." The truth is that a fan's view into the English language anime/manga industry is often opaque. This is never more apparent than in the industry panels that are run at many anime conventions. There are a group of company representatives who go to just about every North American anime convention, and in addition to promoting the releases about which the consumers are supposed to get excited, part of their job is dissembling. Ask them about a change in their policies, or whether Japanese content producers are still looking to sell directly to North American consumers or their quantified estimates on the effect of illegal digital distribution on sales. During an explicitly anime focused panel at the more serious minded Providence Anime Conference, I asked the digital distribution question and received an anecdote concerning VHS sales on a title whose popularity never carried into the DVD/boom days of the market. In other words, the response was a decade old, threadbare response from the tape-trader days. Apart from some bold lies, I really can't blame them for keeping business matters confidential, but it is important for fans to realize that their watching these company representatives walk a tight rope between image and reality, heavily favoring the image footing. If you paid to attend an anime convention and listen to David Williams talk about how most consumers wouldn't have the equipment or savvy to watch legally, digitally distributed anime on their TV for years (stated at a point in which XBox 360 and PlayStation 3 were established in the market with this functionality) you are not being as well served as you would be reading Schoolgirl Milky Crisis. Clements' predictions of a future that is "No Format" rather than DVD or Blu-ray or some other next-gen media, as well as the consequences of an American economic bubble burst are certainly looking prescient. Beyond a masked, but blunt census of the industry, the value derived from Schoolgirl Milky Crisis is found in how Clements offers a point of reference for considering anime and manga. Clements is a sharp writer with an ability to keenly frame his subject. A simple example goes "'Motoko Kusinagi,' in combining an everyday name with that of a legendary sword, is a pseudonym as conspicuous as 'Jane Excalibur' or, for that matter 'Masamune Shirow." Bet you don't look at the heroine of Ghost in the Shell or her creator the same way after reading that insight. A more complex example is "Living Color: The Tribulations of an Anime Colorist." The crux of the piece is the impact of digital coloring on a veteran colorist. It quickly gives sharp testimony on how digital coloring has not necessarily made the process easier - now a perfectionist director can really produce specific demands, and how it has changed the thought process - colors have become numbers rather than names. Ultimately, pieces like this have the power to effect how you think about anime.
Win a Copy of the Manga Guide to Statistics or Manga Guide to Databases