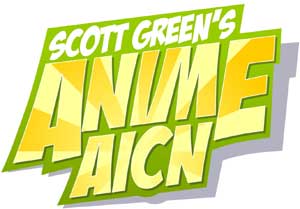 Logo handmade by
Bannister
Column by
Scott Green
Win a Copy of the Manga Guide to Statistics or Manga Guide to Databases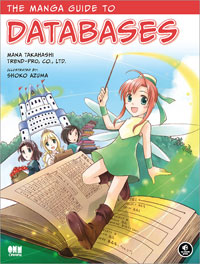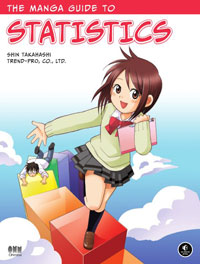 An Afro Samurai: Resurrection review should be online in the next couple of days.... Check back Monday for a new give-away....
The Business
Via Anime News Network GDH has announced pans to restructure animation studio Gonzo (Speed Grapher, Afro Samurai, Basilisk) in order to return the division to profitability within five years. As a reacting to slowing DVD sales, staff will be reduced from 130 to 30. With that limited staff, Gonzo will not be able to be the solo producer of anime. For more, see hereQA

*

Namco Bandai has announced a reorganization which will put six departments under the Bandai Visual anime branch, including the Gundam department, the high-end department, the character department, the anime department, the film department, and the music department. Satoshi Kono will be in charge of the reorganized content division. Minoru Takanashi will continue to head up the content division's development unit. Satoshi Kubo will be the chief producer of the Gundam department, while Koichi Ueyama will be the chief producer of the high-end department. Chief producers Kenji Hamada, Atsushi Yukawa, Katsuji Umezawa, and Hiroyuki Takano will head up the character, anime, film, and music departments, respectively.

*

The day for the New York Comic Con, ICV2 held a graphic novel conference. At these event, plenty of commentators were saying that the Twilight represents the biggest competition for manga's market.

*

Tina Anderson has heard from Viz that the New Original Content project is now on hold. Marc Weidenbaum, who was involved with the initiative, has left the company.

*

ICv2's Graphic Novel Conference, held the day before the New York Comic Con, estimated that the year to year sales of manga in North America drop 17% in 2008, with a 9% drop in releases from 1,513 to 1,372. For more on the white paper, see here ICV2 reports that a report from market research firm NPD Group indicates that U.S. retail toy sales dropped 3 percent from $22.32 billion in 2007 to $21.64 billion in 2008. The hardest hit categories were vehicles, youth electronics, and dolls, which saw declines of 16, 14, and 10 percent, respectively, though other categories, such as building sets and plush toys, saw increases of over 20 percent

*

comics212 collects more analysis of Diamond's imposition of a minimum order threshold for product solicitations.

*

Reading the tea leaves from New York Comic Con

*

Via Cartoon Brew, the New York Times looks at Dreamworks Animation "Our stock is woefully underpriced," he said. "This company is a flower that is just beginning to blossom." Cut to Hollywood rolling its eyes. Mr. Katzenberg, who was a co-founder of this 12-year-old animation studio and is its chief executive, is famous for hyperbole. Wall Street took him to task in 2005, saying he overhyped "Madagascar." More recently, he has heralded new 3-D effects used in his movies as a transformative moment for cinema, akin to the introduction of sound. Disney inked a distrobution deal with DreamWorks in which Disney to collect fee worth 9% of gross receipts for each DreamWorks picture it distributes and markets

*

Simon Jones spoke to Anime on DVD about the business of ero manga

*

Publishers Weekly says children's comics are poised for growth and mentioned Yotsuba

Heather Massey writes Dear Publishers: Girls Read Comics, Too Figures (and Merch) News East Bay Express on the closing of anime/Japanese pop culture artifact store Kimono My House Collection DX and An evening with the Master Sony Pictures Consumer Products and Mattel, Inc announced a new series of figures based on Ghostbusters. Mattel's "Ghostbusters" collectible line debuts with 12-inch figures in June 2009, and will be available exclusively at MattyCollector.com. Lot's of cool Macross stuff is cropping up around the 2/22/09 launch of the in-series Super Dimensional Fortress Macross Yamato products 1/60 VF-1S with SUPER and STRIKE Parts (Hikaru Ichijo) DX Chogokin VF-25S Messiah Valkyrie Ozma Custom Macross Frontier DX Chogokin Valkyries @ Tamashii Nation 2009 VF100's Messiah Alto Custom VF-25 Valkyrie @ Tamashii Nations Destroid Defender Macross Frontier Prize Items from Banpresto Enma Ai (Hell Girl) USB

Evangelion Tarot

super deformed horror figures Anime Vice expresses incredulity over the release of a new Sorcerer Hunter figure Nice Mazinger Z and Reideen Ponyo on a Cliff by the Sea boat

*

Customs... Megatron My Little Pony Dig Dug Dunnys Steam Punk Marvel BladeRunner Dunny
Digital Distribution News
Bandai Entertainment has begun streaming anime, starting with Code Geass on YouTube Five episodes are currently available. Mobile Suit Gundam 00 is scheduled to be added later.

*

FUNimation has announced that they are growing their online video service on a weekly basis. New this week: high-quality, full-length and subtitled episodes from the Japanese animated series Ouran High School Host Club, Romeo X Juliet, Shikabane Hime and Gad Guard -- some available with the option to download-to-own. Also added are English dubbed episodes of Ah! My Goddess Season 2, Full Metal Panic and the movie Vexille.

*

Naruto Shippuden ep. 95 is being offered on Joost here At the Leaf Village Naruto is busy training with Gamakichi and Gamatatsu. But when he learns that Kakashi and the others are out on a mission to locate Orochimaru's hideout, Naruto rushes to ask Tsunade if he can join the mission. Sony Music Japan will offer the eighth Naruto ending, "Bacchikoi!!! by Devparade on iTunes

*

Department of Alchemy on YouTube, Fansubs, and a Conflict of Copyright, including an interview with Interactii, one of the members of the popular fansubbing group Dattebayo Fansubs, concerning reservations about fansubbed anime being posted to YouTube Q: Can you comment on the fact that Dattebayo, while fansubbing is technically illegal, [is] asking YouTube to follow through with legal actions… Interactii: Yeah, the reason that we do that is because we believe that having some level of control over the material is very important. So if it is asked of us to stop, we can try to stop as best as possible. And YouTube is so uncontrolled in its methods of distribution and it's so accessible — it's accessibly accessible — by my viewpoint. And so our goal is just to reduce that. And it's also kind of to protect the interest of the show, because it's not good for that to be on YouTube. Anime companies don't want it, fansubbers and fansubbing groups don't want it… we're all working towards that same kind of goal.

*

Anime content streamer CrunchyRoll has become the first American/non-Japanese owned company to join to become an associate member of the Association of Japanese Animations (AJA)-the Japanese industry group consisting of animation production companies that works on issues surrounding the animation industry. Crunchyroll will join the AJA as an associate member along side other current existing associate members including CoMix Wave Films Inc., COLUMBIA MUSIC ENTERTAINMENT, Inc., THINK Corp, GENEON ENTERTAINMENT Inc., Sony PCL Inc., Sony Music Communications Inc., BANDAI CHANNEL CO., LTD., and full members consisting of such industry giants like Aniplex Inc., GAINAX Co., Ltd, GONZO K.K., SUNRISE Inc., Shogakukan-Shueisha Productions Co., LTd., STUDIO GHIBLI Co., LTd., TEZUKA PRODUCTIONS Co., Ltd., TOEI ANIMATION CO., LTD, BANDAI VISUAL Co., Ltd., PIERROT Co., Ltd., Production I.G., Inc., BONES, Inc. and MADHOUSE, Inc. Crunchyroll reportedly aims to register 40,000 paid subscribers over the next three years.
Upcoming in North America
ADV Films ADV Films now plans on releasing Princess Resurrection March 17, 2009. Anchor Boy ICV2 reports that Anchor Bay will be releasing the live action adaptation of Yusaku Hanakuma's jiu jitsu versus zombies manga Tokyo Zombie on April 1st. Tadanobu Asano and Sho Aikawa star as the principal blue collar zombie fighters.

The manga, released by Last Gasp and localized by the Same Hat! guys was reviewed here

ICV2 reports that a Blu-ray edition of the original Ghost in the Shell movie will be released in North America in August or September.

Bandai Entertainment At the New York Comic Con, Bandai indicated plans to release Mobile Suit Gundam 00 on DVD this summer. Hayate the Combat Butler, .hack//G.U. Trilogy movie, sola, and true tears will be released in July. Kozo Omori's Gundam 00 manga retelling of the anime, Koichi Tokita's Gundam 00 F side story manga and Noboru Kimura's Gundam 00 light novels will be released by the company. Three volume compilations of Eureka Seven manga are also planned. The story of Gundam 00 is set in the year is 2307 A.D. Although fossil fuels have been depleted, humanity has obtained a new source of energy to replace them, in the form of a large-scale solar power generation system based on three huge orbital elevators. However, the benefits of this system are available only to a handful of major powers and their allies. In this world of neverending conflict, a private armed organization appears, dedicated to the elimination of war through armed force. Its name is Celestial Being, and it is in possession of "Gundam" mobile suits. With these Gundams, it begins armed intervention into all acts of war. The first volume of the Gundam 00 adaptation manga is scheduled for release in August. CMX CMX titles announced at New York Comic Con include Broken Blade by Yunosuke Yoshinaga King of Debris by Yusuke Aso Lapis Lazuli Crown by Natsuna Kawase Dark Horse BERSERK VOLUME 30 Kentaro Miura (W/A) On sale July 29 b&w, 208 pages $13.95 TPB, 5 1/8" x 7 1/4"

BLADE OF THE IMMORTAL VOLUME 21: DEMON LAIR II Hiroaki Samura (W/A) On sale July 8 b&w, 232 pages $19.95 TPB, 5 3/4" x 8 1/4"

Del Rey Jason Thompson's (Manga: the Complete Guide) next project has been announced. King of RPGs, created with Victor Hao is scheduled to be released by Del Rey manga in December 2009. Thompson says My friends will also tell you that I am a huge nerd. King of RPGs is an epic shonen manga tabletop RPG parody adventure about a pure-hearted young college student and his efforts to become... THE GREATEST DUNGEON MASTER IN THE WORLD. It's a story of Mages & Monsters, collectible card game franchises, psychiatric medication, Renaissance Faires, 20-sided dice, and rampant property damage. It's a story of blood, sweat, tears, LARPing and World of Warfare, the world's most popular MMORPG. It's a story of the postapocalyptic world of TODAY, where the promises of science, democracy and progress have failed to deliver happiness, causing people to turn to... FANATICAL ROLE-PLAYING! New manga licenses include Nighthead Genesis by You Higuri - a manga adaptation of the anime thriller, released in North America by Media Blasters Four-Eyed Prince by Wataru Mizukami - shojo Only One Wish by Mia Ikumi (Tokyo Mew Mew) - shojo anthology The following novels Genshiken: Return of the Otaku Kitchen Princess: Search for the Angel Cake Books Clamp's 20th Anniversary: Tsubasa Album de Reproductions: Original Art Collection The Official XXXholic Guide Clamp in America Fanfare/Ponent Mon Fanfare/Ponent Mon showcased "My Mommy is in America and She Met Buffalo Bill" by Jean Regnaud and Émile Bravo at the New York Comic Con Fanfare's edition of "My Mommy is in America and She Met Buffalo Bill" is the first English edition of this award-winning French graphic novel. Printed in glorious full-color in a hardcover edition, this story is a touching remembrance of a 5-year old growing up in rural France in the 1970's. Jean lives with his father, his younger brother and his nanny. As he starts school, he's troubled by a mystery: Where is his mommy? As the adults around him avoid his questions, his neighbor shares a secret. She gives him postcards written to him from his mother, all sent from exotic and far-flung destinations.

Other previewed 2009 releases include Previews for 2009 releases include A Distant Neighborhood by Jiro Taniguchi Summit of the Gods by Jiro Taniguchi Korea as Seen by 12 Creators Years of the Elephant by Willy Linthout Robot 6 looks at these releases here FUNimation FUNimation Entertainment has announced the directors and cast of the 24-episode romantic action anime series Romeo x Juliet from GDH K.K. Romeo x Juliet is an epic re-imagining of the Shakespearean classic tragedy. Now set in a dreamlike Verona of the future, the medieval beauty of the original drama is captured by director Fumitoshi Oisaki and produced by Studio Gonzo (Afro Samurai and Witchblade). Line Producer: Christopher Bevins ADR Directors: J. Michael Tatum and R Bruce Elliott (in his FUNI directing debut) Script Adaptations: Taliesin Jaffe (and team) Romeo: Chris Burnett Juliet: Brina Palencia Antonio: Maxey Whitehead Cordelia: Colleen Clinkenbeard Benvolio: Sean Michael Teague Conrad: R Bruce Elliott Francisco: Eric Vale Curio: Robert McCollum Mercutio: Christopher Bevins Amelia: Larissa Wolcott William: J. Michael Tatum Hermione: Carrie Savage Tybalt: Mike McFarland Lord Montague: Sean Hennigan FUNimation Entertainment will release all 24 episodes of Romeo x Juliet in two 12 episode season sets in Spring and Summer 2009. The English language dub of 26 episode baseball anime will be directed by Christopher Bevins. The cast includes Takaya Abe Greg Ayres Ren MIHASHI Sean Michael Teague Azusa Hanai Joel McDonald Kosuke Izumi Chris Burnett Yuto Sakaeguchi Aaron Dismuke Yuichiro Tajima Todd Haberkorn Shoji Suyama Anthony Bowling Fumiki Mizutani Jean-Luc Hester Kazutoshi Oki Chris Cason Chiyo Shino'oka Cherami Leigh Maria Momoe Cynthia Cranz Tsuyoshi Shiga Chuck Huber Kyouhei Akimaru Jason Liebrecht Shuugo Kanou Jamie McGonnigal Atsushi Hatake Josh Grelle About Big Windup Most guys can't wait for baseball to start. But not Mihashi. For this kid, the crack of the bat is the sound of failure. Every summer he gets caught in a pickle between wanting to stay on the mound and watching his pitches get blasted out of the park. But each spring brings a fresh start, and this year, Mihashi's at a new school with teammates that don't know how bad he used to be. Most importantly, he's got Abe – a real superstar behind the plate. If Mihashi can learn to trust his new catcher, this could be the year he falls in love with the game all over again. FUNimation Entertainment will release the 26 episode series in two 13-episode sets later this year Right Stuf Anime producer and distributor Right Stuf, Inc. and its Nozomi Entertainment division announced the license for the fourth season of MARIA WATCHES OVER US (Maria-sama ga Miteru), which is currently airing on television in Japan. It will be the fourth of several "season box sets" planned for the North American DVD release of Maria Watches Over Us. The specific release date will be announced in the future. The first two seasons are both now available, and the Season 3 DVD Collection – which features the five-episode OVA (original video animation) and five specials that comprise the series' third season – will be available on March 24, 2009. The Maria Watches Over Us anime is based upon an ongoing series of novels – written by Oyuki Konno and illustrated by Reine Hibiki – that began in 1998 and currently spans more than 33 volumes. Short stories related to the series have been published in the shoujo (girls') magazine Cobalt, and a manga adaptation was serialized in the anthology magazine Margaret. The series' publisher, Shueisha, also produced 14 drama CDs (featuring radio-style plays). The anime adaptation of Maria-sama ga Miteru – also referred to by fans as "MariMite" – encompasses two, 13-episode TV seasons, a 5-episode OVA (original video animation) as its third season, and a fourth season, which is currently in production and airing on Japanese TV. The four seasons of Maria Watches Over Us feature animation by Studio DEEN (Fruits Basket, Gravitation, Rurouni Kenshin), direction by Yukihiro Matsushita (Blue Dragon, Sugar Sugar Rune), and scripting by Reiko Yoshida (Aria, Boys Over Flowers, Story of Saiunkoku). TOKYOPOP TOKYOPOP and Big Tent Entertainment will be working together to release the first English language Domo manga. The full-color manga will be available worldwide this September, 2009. He's been described as "a strange creature that hatched from an egg." His favorite food is a meat-and-potato stew, but he loathes apples. He communicates sotto voce with a verve that only his friends can understand. When he's nervous or stressed out, watch out--he is infamous for passing some serious gas.

Preview pages can be seen here TOKYOPOP is launching the "Sho' Me the Domo Competition." Fans can submit an original piece of art based on Domo by Friday, February 27, which could then be selected for publication in the Domo manga. For rules, see here Top Shelf Sean Michael Wilson posted a progress report on Top Shelf's release of alt manga anthology AX The anthology will feature work by the creators Osamu Kanno Yoshihiro Tatsumi Imiri Sakabashira Takao Kawasaki Ayuko Akiyama Shigehiro Okada Katsuo Kawa Nishioka Brosis Takato Yamamoto Toranosuke Shimada Yuka Goto Mimiyo Tomozawa Takashi Nemoto Yusaku Hanakuma Namie Fujieda Mitsuhiko Yoshida Kotobuki Shiriagari Shinbo Minami Shinya Komatsu Einosuke Yuichi Kiriyama Yunosuke Saito Akino Kondo Tomohiro Koizumi Shin'ichi Abe Seiko Erisawa Shigeyuki Fukumitsu Kataoka Toyo Hideyasu Moto Keizo Miyanishi Hiroji Tani Otoya Mitsuhashi Kazuichi Hanawa If you're interested in AX, be sure to check out The AX research project Vertical At the New York Comicon Con, Vertical spoke about their financial challenges and need to focus on releases with better chances at success, but they also mentioned a new investment from "major" Japanese publisher. Summer of Ubuoer by folklore horror writer Natsuhiko Kyogoku (Requiem From the Darkness) is on tap for September. Sayonara, Mr. Fatty, a weight-loss memoir by Gainax's Toshio "Otaking"" Okada is also still in the works. Viz VIZ Media will be releasing the still unnamed, upcoming working for Inu-Yasha creator Rumiko Takahashi in 2009. The unnamed manga will launch in Japanese Weekly Shonen Sunday this spring. Other coming manga releases include (scheduled for October 2009) What a wonderful world! by Inio Asano Yu-Gi-Oh! R Boys Over Flowers: Jewelry Box (epilogue to relationship manga) by Yoko Kamio (scheduled for November 2009) Gogo Monster by Taiyo Matsumoto (author of Tekkon Kinkreet) Beast Master by Kyousuke Motomi The Gentlemen's Alliance Cross artbook by Arina Tanemura (scheduled for December 2009) Jormungand by Keitaro Takahashi Butterfly, Flowers (Chou yo Hana yo) by Yuki Yoshihara Natsume's Book of Friends (Natsume Yujin-Cho) by Yuki Midorikawa (Scheduled for January 2010) Not Simple by Natsume Ono All My Darling Daughters by Fumi Yoshinaga A Same Hat! has a bit on why these should excite you here Comics212 also gives it a thumbs up Robot 6 looks at VIZ's fall plans Andrew Cunningham is critical of Viz's release strategies Taiyo Matsumoto (Black and White, the upcoming Go Go Monster) manga

*

On the video front, Viz revealed plans to release the anime version of Monster, a thriller about a genius doctor who may have sacrificed his career to save the life of a boy who grew become a monstrous serial killer, and Death Note spin-off L change the WorLd. Well Go USA The first 13 episode DVD set of Digimon Data Squad will be release in Spring 2009. Yen Press New manga licenses include Spice and Wolf (manga series, rather than light novel) by Keito Koume Yotsuba &! by Kiyohiko Azuma (volume 6 to be released in September) Crescent Moon Story by Hyouta Fujiyama Manga blog talks to Yen Press' Kurt Hassler here Many manga readers have been lamenting ADV Manga's aborted release of Kyohiko Azuma's comedy Yotsuba&! Reviewed here

Azumanga Daioh creator Kyohiko Azuma doesn't play fair. If you're into cute, Yotsuba has it bottled. But, if you're not, he constructs a wide eyed whirling dervish orphan with too much insistent energy to deny. Some history here and here.
Hollywood Adaptations
Live action Blood: The Last Vampire teaser Via Anime News Network Dragon Ball creator Akira Toriyama commented on the live action adaptation of his manga "As the original creator, I had a feeling of "Huh?" upon seeing the screenplay and the character designs, but the director, all the actors, the staff, and the rest are nothing but "ultra" high-caliber people. Maybe the right way for me and all the fans to appreciate it is as a new Dragonball of a different dimension. Perhaps, this might become a great masterpiece of power! Hey, I look forward to it!!" The live action adaptation of Dragon Ball opens in Japan on March 13, in advance of the April 8 US opening. The Japanese trailer

*

IGN reports that at the New York Comic Con's debut of Yatterman, director Takashi Miike (Ichi the Killer) mentions an interest in directing a live action Afro Samurai "We don't necessarily get all the American comics in Japan but we do get a lot of the great stuff imported," the filmmaker said through a translator when asked about what American superhero properties he might like to tackle if he could. "For example, Afro Samurai is a show that a lot of people in Japan would really like to see turned into a live-action film as well."
Event News and Reports
New York Comicon Reports/Summaries Eva Geeks report Evangelion 1.01 and Hideaki Anno's live action movies Shiki-Jitsu and Love and Pop will be screening at an all night Saturday event at the Shin-Bungeiza in the Ikebukuro area of Tokyo on February the 14th. The New York Int'l Children's Film Festival will run February 27th-March 15th. Tickets cna be purchased here Films and events include Opening Night: Mia and the Migoo France, Jacques-Rémy Girerd, 2008, 92 Min Recommended Ages: 7 To Adult (Subtitled) Nyicff Benefit Event: Film & Food! United States, Various, 2009, 70 Min Recommended Ages: All Ages Best of the Fest, Nyicff Awards, And Closing Party United States, Various, 2009, 75 Min Recommended Ages: All Ages Azur And Asmar France, Michel Ocelot, 2008, 98 Min Recommended Ages: 6 To Adult (In English)

Battle For Terra United States, Meni Tsirbas , 2008, 80 Min Recommended Ages: 7 To Adult (In English)

Circus School China, Jing/Dingding, 2006, 103 Min Recommended Ages: 12 To Adult (Subtitled) Dragon Hunters France, Qwak/Ivernel, 2008, 82 Min Recommended Ages: 5 To 12 (In English) Heart Of Fire Kenya, Luigi Falorni, 2008, 94 Min Recommended Ages: 12 To Adult (Subtitled) Hey Hey It's Esther Blueburger Australia, Cathy Randall, 2008, 103 Min Recommended Ages: 12 To Adult Secret Of Moonacre United Kingdom, Gabor Csupo, 2008, 97 Min Recommended Ages: 5 To 12 (In English) Shorts For Tots United States, Various, 2009, 65 Min Recommended Ages: 3 To 6 Short Films One United States, Various, 2009, 70 Min Recommended Ages: 5 To 10 Short Films Two United States, Various, 2009, 80 Min Recommended Ages: 8 To 14 Shorts For Teens United States, Various, 2009, 75 Min Recommended Ages: 12 To 18 Shorts: Heebie Jeebies United States, Various, 2009, 75 Min Recommended Ages: 10 To 18 Shorts: Girls' Pov United States, Various, 2009, 80 Min Recommended Ages: 10 To 18 Sita Sings The Blues United States, Nina Paley, 2007, 82 Min Recommended Ages: 9 To Adult (In English)

Son Of A Lion Pakistan, Benjamin Gilmour, 2008, 92 Min Recommended Ages: 12 To Adult (Subtitled) Tahaan India, Santosh Sivan, 2008, 105 Min Recommended Ages: 8 To Adult (Subtitled) West Of Pluto Canada, Verreault/Bernadet, 2009, 95 Min Recommended Ages: 14 To Adult (Subtitled) Pre-registration for Baltimore's Otakon Anime Expo (July 2-5, 2009 at the Los Angeles Convention Center) announced that all-girl music group MORNING MUSUME will be appearing at the convention. In coordination with this event, JapanFiles.com will release MorningMusume's digital catalog on its website, beginning with the release of the group's new single "Naichau kamo" on February 18, 2009. "Are you there, God? It's me, Manga" - panel report About.com:manga's NY Comic-Con 2009: Manga News & Quotable Quotes Selling Good Graphic Novels (& Manga) in a Bad Econom - a report from the ICV2 Graphic Novels Conference Publisher Weekly notes What Recession? Stong Fan Turnout for NYCC 2009 Astro Boy preview images and here Cinema Bend was was less than impressed Grady Hendrix on the Yatterman premiere Comic Reporter Collects Links Anime Almanac twitters and collects twitters from other anime/manga people Day 0 Day 1 Day 2 Day 3
Upcoming in Japan
Previews Higashi no Eden ~ Eden of the East (the new Production I.G anime, in addition to the TV series, an anime movie is the works) Romi Paku and Rie Kugimiya (Ed and Al Elric) are confirmed as reprises the voice roles of the anime's protagonists Tsubasa Shunraiki OVA XXXHOLiC Shunmuki OVA Anime Chi's Sweet Home, based on the seinen manga about a kitten, and relationship comedy Nogizaka Haruka no Himitsu will be getting second seasons Via Anime News Network To mark the 20th annversary of the broadcast of Dragon Ball Z, Fuji TV's Japanese network of affiliates in HD will be broadcasting a digitally remastered HD version of the classic fight anime starting on April 5th. Re-edited, re-recorded version the end them will be produced with the cast led by Son Goku's Masako Nozawa. RPG Tales of Vesperia will be adapted into an anime movie with Kanta Kamei directing According to rumor, "bishoujo violence" post apocalyptic action comedy manga Needless will be adapted into anime by Masayuki Sakoi (Kamen no Maid Guy, Strawberry Panic!). A second second series of Negima! Magister Negi Magi original anime DVDs (OADs) will be bundled with limited editions of four manga volumes. Akiyuki Shinbo will direct the animators at SHAFT as he did for the first Maho Sensei Negima! ~ Shiroki Tsubasa~ ALA ALBA OAD series. Via Gundam | News Volume 3: "Odessa, Storm of Iron!" of MS IGLOO 2, the CG animated telling of the original Mobile Suit Gundam's One Year War from the perspective of the antagnists will be released on April 24th. The theme song will be NO LIMITS 8 by Tada Manga Via Ghibli World Hayao Miyazaki will be producting a new manga called Kaze Tachinu (The Wind Rises) for scale model magazine Model Graphix. The manga, which tells the story of Zero fighter designer Horikoshi Jiro will be featured in Model Graphix issues released on February 25th and March 25th. Via Anime News Network Sunrise's cute girl sci-fi anime Sora Kake Girl (Sora o Kakeru Shojo, The Girl Who Leapt Through Space) will be spun off into two manga adaptations. Writer Kunihiko Okada and artist Kabocha already launched their Sora Kake Girl R (Sora o Kakeru Shojo R) spinoff story in the March issue of Ichijinsha's Monthly Comic Rex magazine on Monday. After her maternity leave and recovering from carpal tunnel syndrome Tomoko Ninomiya's Nodame Cantabile will return to Kiss magazine on March 10th Live Action The live action drama adaptation of Yuu Watase's young woman with robot shojo manga Absolute Boyfriend will continue in a new TV special, scheduled to air on Japanese TV this spring.
Greg Ayres Releases Statement Regarding Medical Condition
Voice actor and frequent guest/speaker at anime conventions Greg Ayres (Chrono Crusade's Chrono) released a statement regarding recently reported health concerns. "I know there has been much speculation and inquiry as to my health, and the events surrounding my hospitalization last weekend during IkkiCon in Austin, Texas. I was hospitalized after experiencing chest pains and on Saturday I suffered a mild heart attack. Thankfully, due to the hard work of the hospital staff and the medical treatment I received prior, the damage to my heart was so much less than it could have been. While I consider myself very blessed and lucky in light of all of this, there are many people that I feel the need to thank for my care over the last few days. I am forever grateful to Dr. Paul Roach, Dr. Aaron Maxwell, Dr. Joseph Elizondo, Dr. Mahmuda Begum, Dr. Charles Anderson, and the entire cardiology Staff at University Medical Center Brackenridge for the best medical care I could have possibly asked for. I can never thank Paul, Cindy-Lou, Karen, India, Kasee, Sarah, and the nursing and ER Staff of University Medical Center Brackenridge enough for the quality "day in - day out" care given to me, as well as the smiles, and words of encouragement they constantly sent my way. My family, extended "family", and friends who never left my side, did an amazing job at allowing me the ability to focus on my recovery. Finally, I have to thank the staff of IkkiCon for having the management and resources to deal with a medical emergency of this nature. Fortunately, I have been able to return home to Houston to continue my rest and recovery prescribed by all of the folks above. Sincerely, Greg Ayres
Anime x Games News
Altus has announced that they will be releasing western-themed mecha strategy RPG Super Robot Taisen OG Saga: Endless Frontier to North America, for the Nintendo DS on April 28th. As Atlus describes it We'd like to emphasize: this game is more than just the fights. This is a fully-developed, well-rounded adventure. Journey across a variety of worlds, ranging from an apocalyptic wasteland covered with the hulks of downed spaceships, to a fantastical place of fairy tales and dark magic. Join Haken Browning: gunslinger, professional bounty hunter, and amateur ladies' man-along with his motley crew of robots, were-beasts, secret agents, and busty princesses-as they delve deep into the mysteries of how their worlds came to be and face a threat that imperils the multiverse. There's so much game here, Faithful, you may just get lower back pain from the effort! With its unique combat and titillating story, this is one sci-fi action RPG sure to stick out this spring. Super Robot Taisen OG Saga: Endless Frontier busts out on April 28th with an MSRP of $34.99. On the heels of adding Obama, Street Fighter Online has added Johannes Krasuer II from Detroit Metal City

*

ICV2 reports that Pokemon USA will be working with Toys R US to place Pokemon displays with the collectable card game, video games, DVDs and toys at the entrance to store video game sections. Featured products include Pokemon Platinum for the Nintendo DS, scheduled for release March 22, and the recently released Pokemon Platinum base set for the TCG

*

The Hello Kitty & Friends CGI show and Hello Kitty MMORPG was recognized with five five Best Digital Entertainment Awards at the Hong Kong ICT Awards
Worth Checking Out...
Insight NPR's Studio 360 in Japan Faith Erin Hicks expresses her love for Naoki Urasawa's Monster Reverse Thieves on Death in Anime Anime News Network spoke to Takashi Miike at New York Comic Con Strike Witches Anime guest review on Okazu Erica Friedman on Otogi Zoshi: Heian Arc Set 1 Tim Maughan on Rideback and Sword of the Stranger Anime World Order on a favorite fight anime/manga Tough aka Shoot Fighter Tekken AniPages Daily on the Casshern Sins Every episode has been satisfying, some tremendously so. I'd come back to it after a while not too keen on it because I pretty much knew what to expect, but every single time, the quality of the production, particularly the directing, would win me over. The atmosphere is uniform, but it rarely tumbles into the monotone, largely thanks to the directing prowess of Shigeyasu Yamauchi. This strikes me as one of the rare cases when it's a uniformity of tone that works, gives the show a feeling of solidity. It's all driving forward ineluctably, like the additional few seconds of the tragedy that we're given before each episode heading towards revelation. Otaku USA on prose anthology Faust volume 1 Speaking of prose, MangaCast on NISIOISIN's Zaregoto: Book 1: The Kubikiri Cycle and a look at Ryu Murakami's Audition (source for the infamous Miike movie) Part two of the live action 20th Century Boy adaptation reviewed Yomiuri Shimbun talks Takeshi Obata and Tsugumi Oba's Death Note follow-up Bakuman According to sources in the publishing industry, more young people are aspiring to become mangaka now that the employment situation is getting worse under the economic downturn. It is difficult, however, to make a decent living only on a mangaka's income. Bakuman says the ratio of professional mangaka who are able to make ends meet through their work is 0.001 percent. In other words, as little as one in 100,000. So why do they still continue to draw manga? Why do they stick to being mangaka even at the risk of shortening their lives? Moritaka and Akito are expected to face such questions in the future. But I want to stress, if Japan is the world's largest manga nation, it is due to those people who did not give up their hope of becoming one of the "0.001 percent" even when many others burned out or fell into impoverished obscurity. and Naoki Urasawa's Billy Bat Geek Dad lists Movies for Budding Anime Geeks (all Miyazaki) Anime Academy on the awesomely strange Lupin III: Red vs Blue Behind the scenes on the Akira Blu-ray Media Via MangaBlog, 7415comics looks at The Many Face of Nana Matt Alt catches the whale mascot character for Japan's International Fishing Show 2009 Dance! Kremlin Palace! by Shintaro Kago (Chapter 8) Girl clips from Studio 4C's Street Fighter IV work Via Anime Hell OEL forefather Robert DeJesus animates the Christian Bale rant Also Bowling for Justice with Peelander Z! The awesome inanity of Princess Resurrection Godzilla: The Art of Takashi Minamimura From Yamato with Love New DMP cover design Go Nagai inspired illustration Photo's of Sunrise's studio Clockwork Machina at Comiket The opening for the anime adaptation of Osamu Tezuka's The Three Eyed Boy Super Robots ops Fan Doctor Who anime Kemonozume: Style + Substance? Then, there's the viral Kemonozume clip, if you haven't seen it Tokusatsu making the net rounds via Banpei.net Via Pink Tentacle Kamen Rider X vs Starfish Hitler Felix Ip's Kamen Rider 2 Misc Commemorating Osamu Tezuka A manga based Senryu slam on Prime Minister Taro Aso "A fan of manga, my son says he will be prime minister one day." More preview material for Tatsumi's A Drifting Life Becky Cloonan clues Robot 6 in on the plans for her OEL East Coast Rising Obama endorses panchinko Kevin McKeever (of Harmony Gold fame) blogs The popularity of current anime as gauged by 2-Ch Voice actresses sing punk, grunge, alternative, ect The Onion on Otaku culture Differing opinions of fan fiction A Godzilla comic coming up? Ghibli animated a music video Unexpected Evangelion references Yuricon's Yuriko Fan Art Contest is running through February 22nd. Right Stuf has begin running their Year of the Otaku promotion. The launch page includes a contest, with a $100 gift certificate to RightStuf.com as its grand prize, as well as the first two "featured Otaku" – the Ninja Otaku and the Kawaii Otaku. New Otaku (and more content and contests) will be added to the page throughout the year.