---
What's SHOOT THE MESSENGER?
Well, AICN COMICS: SHOOT THE MESSENGER is your weekly one stop shop for comic book -EWS. What's comic book –EWS? Well, it's our hodge podge of everything not reviews here at AICN Comics. Sure you can find out the @$$Holes' critical opinions of your favorite books every Wednesday at AICN Comics. But here, you'll find special reports such as previews, interviews, special features, and occasionally news gathered here from our online brethren at Newsarama, CBR, Wizard, etc. Sure those guys are the best at reporting news as it breaks. Click on the links for the original stories. This column cuts the crap to run down all the vital information for those of you who don't follow it as it comes in, and serves it all up with that special ingredient of @$$y goodness.
---
Hey folks, Ambush Bug here with another Q&@. This time we're chatting with Steve Pugh, who has a new miniseries from Radical Comics coming out called HOTWIRE: REQUIEM FOR THE DEAD. Check out what Mr. Pugh had to say…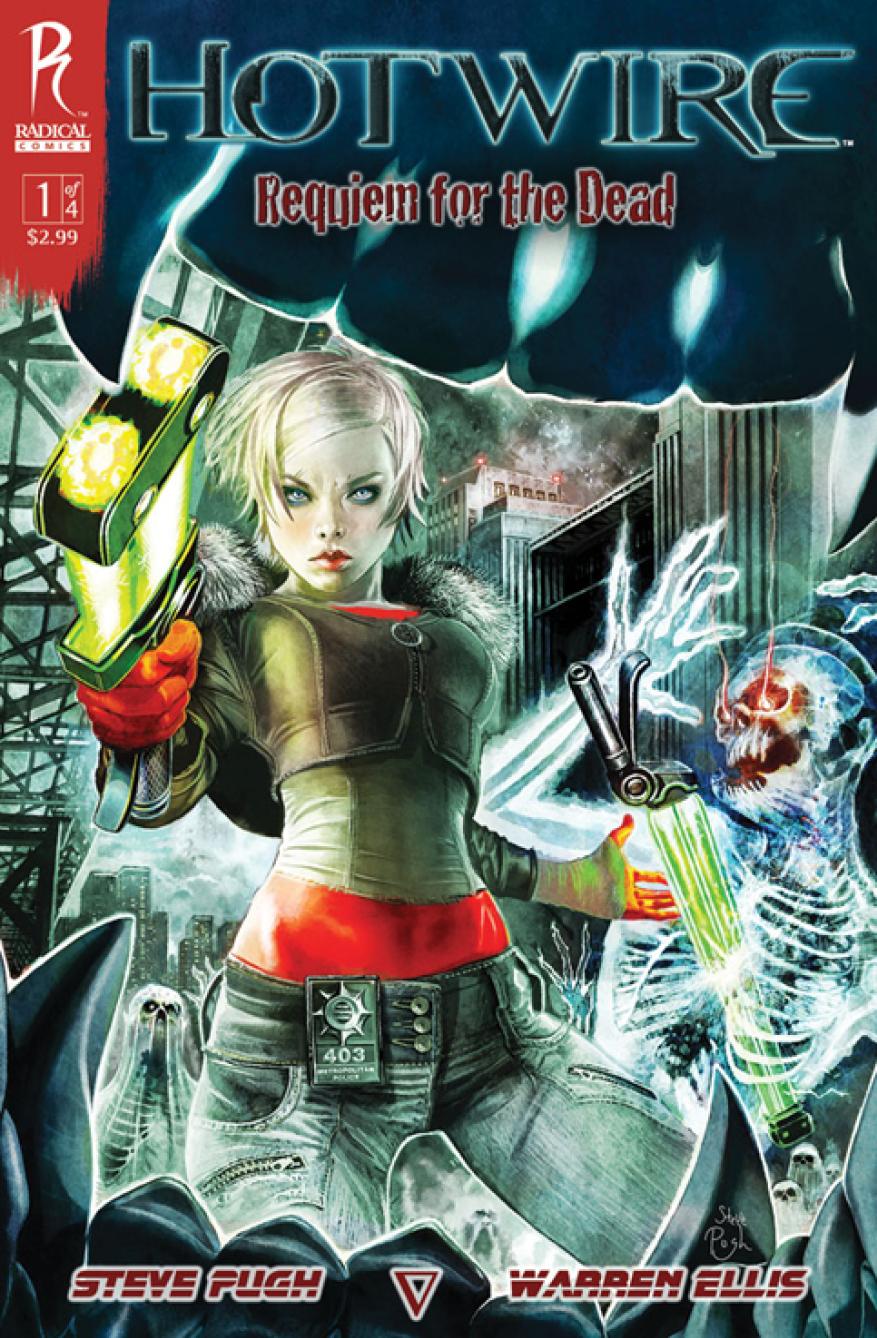 AMBUSH BUG (BUG): So tell us a little about HOTWIRE: REQUIEM FOR THE DEAD #1.
STEVE PUGH (SP):
Well, it's a science fiction near future ghost story disguised as a police procedural. The basic gimme is that ghosts exist, they've always existed, but up till now they haven't really been a problem. For some reason they've started coming out of the corners and roaming into the cities, coming out of the crevices and corners of the world. They hang around and attract and cause a low form of trouble and angst, things tend to happen around them, so a ghost crime department is set up within the metro police to deal with them. For the most part the ghosts are seen as a pest and not a real problem. Alice Hotwire is the exorcist in that department and she's head of the small necro-forensics department.
BUG: The comic is one of those genre twisters. Where there difficulties involved in blending sci fi and the supernatural?
SP:
The basic pitch was "Ghost CSI." The ghosts are in the city and the city is very recognizable, very contemporary. They haven't really changed the way that society works, they don't impact on most peoples lives. They are kind of an unseen presence for the most part. People, if they do see them, avoid eye contact. They're creeped out by them and they just stay away from them. So there's not a lot of interaction. The ghosts obviously act as a metaphor for various dispossessed and shunned minorities, immigrant populations and there's a couple of parallels with how people react to the mentally ill too, the way they look through them or past them. They also are ghosts, of course, and have various cool and weird ways of interacting with the population. There are meddling spirits that take hobos for joyrides, possess them, and make them dance. There are wandering spirits that are looking for lost loved ones. And of course there are more dangerous forces at work too; something is happening within the city that's causing the ghosts to suddenly become a huge and dangerous problem. So the way we work in science fiction is to have a very recognizable city and to overlay that with the ghosts and the futuristic technology to deal with them.
BUG: So this isn't really the far future we're talking about?
SP:
No, it's supposed to be a very recognizable environment. Desktop and laptop computers have given way to cloud computing and gadgets like the iPhone, people don't really have access to custom, open, technology, everything is sealed away in neat little "task machines" that limit your access to basic stuff. Alice grew up in a community of technologists and futurists, knowing how to program and custom build computers —she knows computers, how they work, and the shadowy stuff you can get them to do, but in this world she's no outlet for it. She's got no way to use her skills, and falls into her job as the police exorcist by accident because it's a way of getting her hands on some real technology and gain access to all the cool stuff. Necro-forensics has full access to all of this great technology, and she's really interested in taking it apart and seeing how it all works. Dealing with ghosts is almost a byproduct of her interests in getting her hands on this stuff.
BUG: It's been a long time coming for HOTWIRE to actually see print. Can you tell us a little bit about the long road the property has taken and how it ended up at Radical?
SP:
Sure--way, way back, I had just been offered a run on ANIMAL MAN at Vertigo. A lot of the artists in the UK were feeling, and contributing to the buzz of Warren (Ellis) being the next big thing, and he was just starting to get some traction in the UK. We met on the convention circuit and I said to him that if he got an offer from a publisher, I'd be up for doing artwork on it. Sure enough Warren gave me a call a while later and said "What do you want to draw?" And I said, "Uhm…motorbikes, girls, and monsters." so he wrote HOTWIRE, i drew it, and it was looking really good. But the publisher went under before it was finished.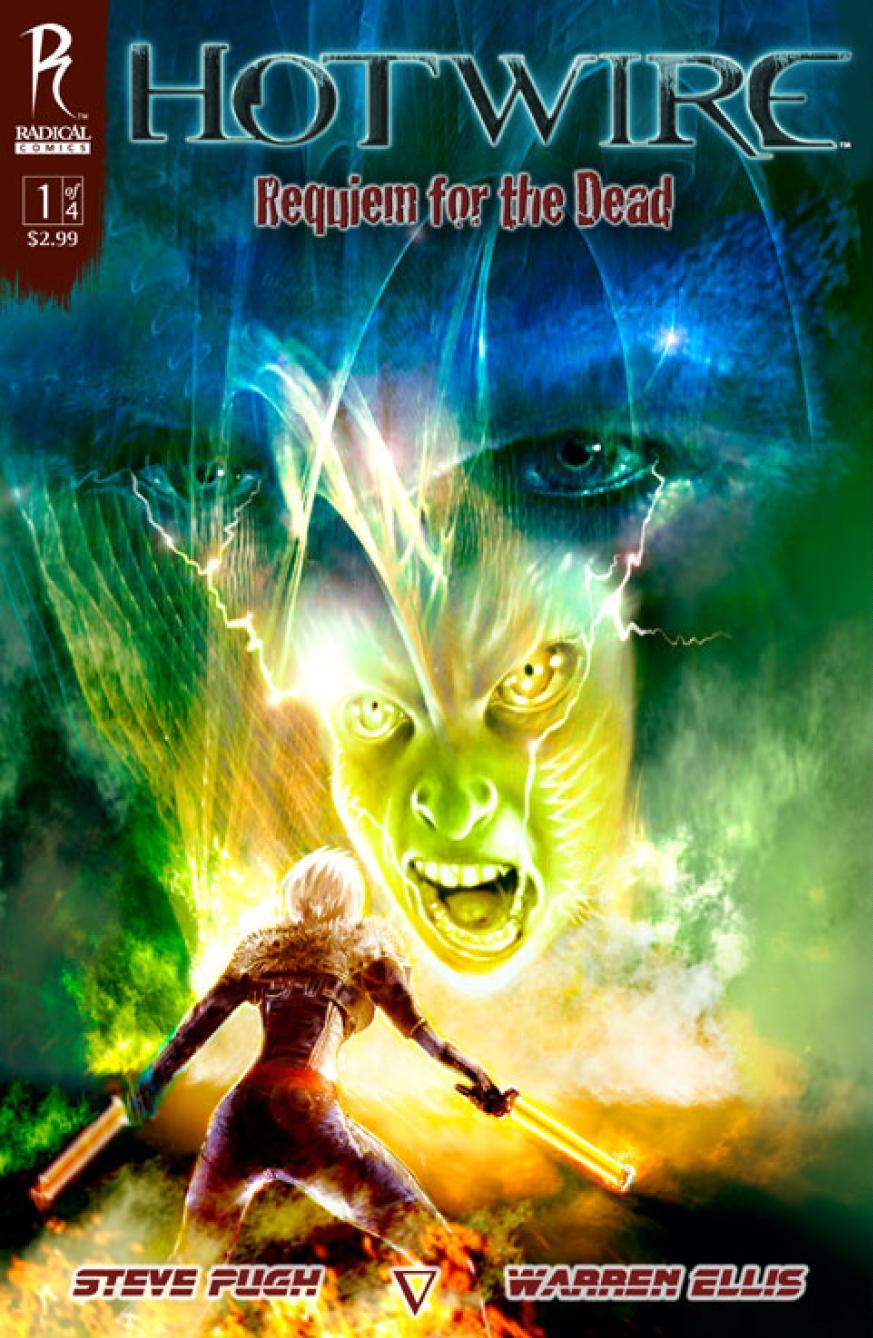 Since then, I've kept gravitating back towards the character. Trying out different looks for her, writing short stories, just as a hobby, a warm up before doing the day job. Along the way we had a few offers to reprint and finish the original story, but by that time Warren had become established and didn't want prototype/old work to come back to haunt him. So eventually the deal we struck would be that I would create a story based on the work that he did, but take the blame if it sucked!
BUG: Warren Ellis is in the credits of this issue. What part did he play in the making of HOTWIRE?
SP:
It's a difficult to divide credit exactly, there's some completely original characters and ideas in the new HOTWIRE, but there's also a lot which is very recognizable from Warren's original story. The motivations have changed for a lot of the players. Alice's situation has changed 180 degrees. In Warren's original, she was a very in command, respected agent; someone the other police officers respected, even feared. In my version, she's down-trodden and disrespected, and she can't count on the support of any of her colleagues. She's managed to alienate almost her whole department through her obnoxious and elitist attitude-most of them just want to just push her out of a window.
Alice, I hope, is an interesting character in her own right. I didn't want her to fall into the trap of having a Lara Croft, invincible, butt-kicking, karate fighting Amazon. That's not what the character is. She's an outnumbered, outgunned underdog in every way. And she's only got her smarts and some cool technology to see her through.
I also didn't want it to be one of those stories where you have a really exotic, fascinating foe and a dull flawless everyman hero. I really tried to balance it out so both sides can carry their half of the story.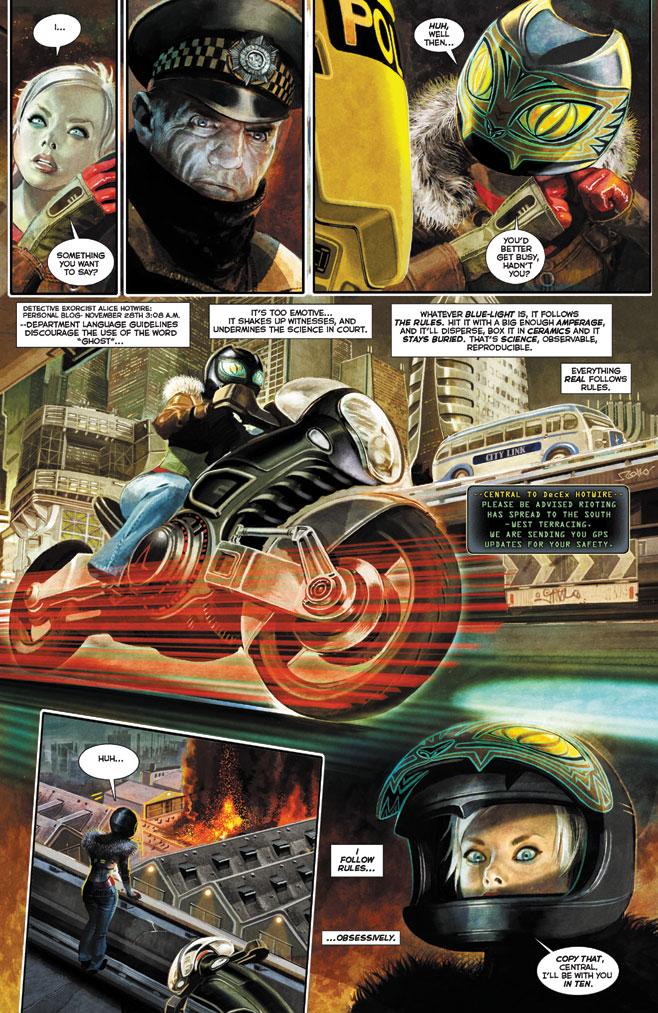 In the original, the ghosts were caused because of a disastrous scientific experiment, but I thought, "Why not just have them be actual ghosts?" it makes the story more straightforward, and that the reason why they are so prevalent now is that they are attracted to the electro-magnetic fields of the cities. Refrigerators talk to the food stores and cars talk to weather satellites, and the huge soup of wifi signals is creating a field that is energizing the ghosts, and it attracts them to the cities. It gives a naturalistic explanation of how ghosts are there, without adding unnecessary complexity to the story.
BUG: A lot of people know of you as an artist. But for this book, you put on the writing cap. What's it like wearing both hats?
SP:
Well it brings a lot of problems, but it solves a lot of problems too. I'm working for Radical and that creates a lot more flexibility than the situation at the big three companies. Instead of a written script, I was allowed to scripted out HOTWIRE in storyboards. I was able to place out the dialog and the action and the conversations all in one go, and it was a much more satisfying experience. I've always been jealous of how a writer artist like, say, Will Eisner was able to work, where there was such a close relationship between the writing and the drawing. Because no matter how close the relationship between the writer and artist, there's always a schism between how they see the story and characters unfolding. It certainly gave me a lot more confidence to do the artwork because I knew exactly what expression the characters were conveying or what their motivation was. Of course, I had to make some adjustments. I had never written something this substantial before and on a technical level I had to learn how much I could actually fit into a book. So I had to cut some scenes, but I was able to put in most of the ideas I had planned out.
BUG: Ellis is known for being a writing machine. Did he give you any writing tips while making this comic?
SP:
No, no, no. Hahaha. Warren's far too busy to go create competition (however minor) for himself.
BUG: Ha!
SP:
Actually, in the past, he's actually encouraged me to write. I did some self published stuff in the UK and he was very supportive of it.
BUG: What type of research goes into a comic like this, one steeped in so much sci fi and horror?
SP:
Research wasn't a problem, really, because I had been squirreling away ideas for HOTWIRE for years. I'm a packrat for fringe science stuff; every time I hear of a cool new chemical compound with a great name and an interesting use, or an interesting new theory, I save it and put it away as a possible springboard for a story. When I use pseudo science in HOTWIRE, I've tried to keep it from being too ridiculous. I want it to have at least the ring of truth, and avoid using words that I don't understand! Interestingly enough, Alice doesn't believe in ghosts so she's the first to call it hokum. She thinks the ghosts are some phenomenon that is yet to be explained, but that it's ridiculous to consider it to be something supernatural.
BUG: How about you? Do you believe in ghosts?
SP:
Me? Do I believe in it? uhm…do I believe in ghosts? That's a very good question. If somebody swore to me that they'd seen one, I wouldn't treat them as an idiot. But I remain skeptical. Skeptical but open minded.
BUG: OK. Fair enough. What were the influences as far as design when it comes to the technology of HOTWIRE?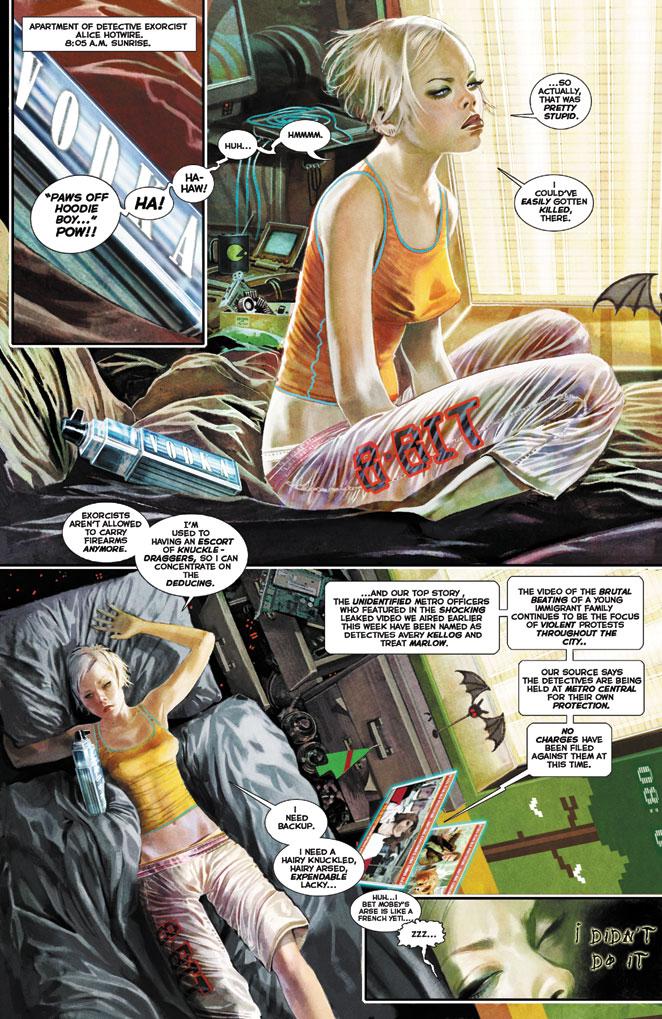 SP:
I've always been mad-fascinated by technology and design. While everyone else is watching the movie, I'm there thinking, "I LOVE the way they've articulated that robot's head!" I'm very much into how things are put together. I'm always sketching. I have little notebooks from when I was a kid. I remember when SPACE 1999 was running; I'd always have my notebook and was quickly trying to draw the guest spaceship of the week.
BUG: The art for this book is amazing. It's a bit of a departure from your past work. Can you tell us a bit about your process? How long does it take for you to create these gorgeous pages?
SP:
Way back, I'd done a strip for 2000AD with Garth Ennis called STRONTIUM DOG, and that was full color painted pages. It was kind of the prototype for the art style I use in HOTWIRE, and I've always wanted to come back to it. Originally the techniques I used were pretty crude; it was hacked together with spirit markers and coloured pencils and it took forever. If you made any kind of mistake, the whole page was in danger because it was almost impossible to make patches or big corrections invisible. So it wasn't a practical way to go, but I always had it in mind to come back to it. Recently I painted a book called SHARK-MAN which allowed me to revisit the style, and combining the old technique with all the new digital stuff I'd learned made the whole thing more practical to do. I've always been a bit of a control freak with my artwork and I was always annoyed that the originals just never looked quite as good in print as they did on the boards. I've never really been comfortable with line-work, I always wanted to work in full tones; either shades of grays or full color. I've tried digital technology that has really made this possible now.
BUG: Having worked with pretty much every big comic book company out there, do you have any stories (good or bad) regarding your time at Marvel, DC, Dark Horse, or 2000 AD you'd like to share? It seems like you've been in comics for quite a while…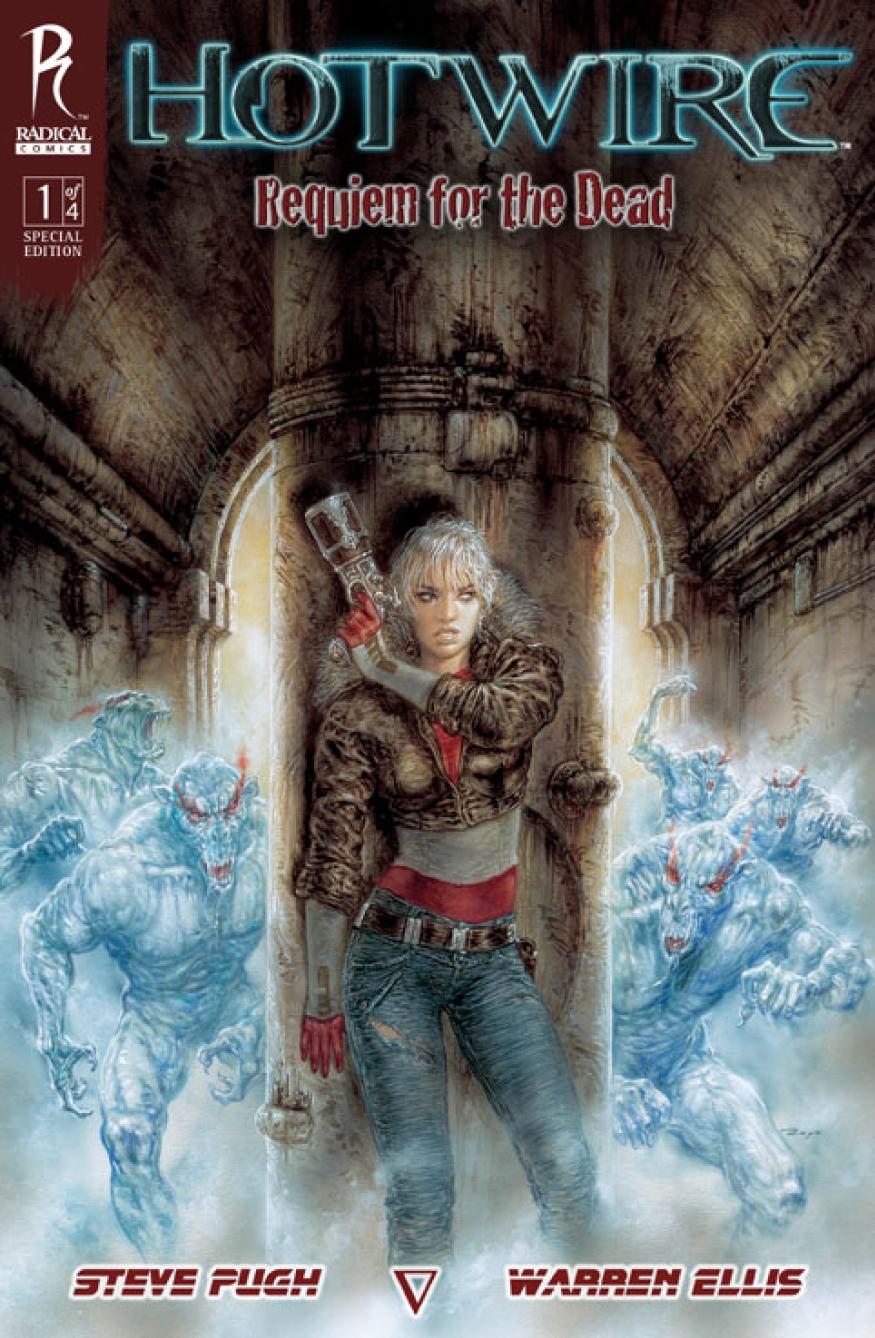 SP:
Aww, man. I saw myself described as a veteran comics creator the other day and I was so upset. I'm never gonna win best newcomer now!
BUG: Ha!
Well, it's a thrilling life in comics. You sit in a room for hours and eventually you finish a page. It's usually the writers who have all of the fun. I do know that I must have been on the hate list of all the production departments. I always inked my own stuff and I didn't really use pencils. I went straight to inks and I'd draw directly on the boards and the ink would build up and I'd use liquid paper to white it out. In the end, I would have these great big rugged boards that proved to be quite mountainous; full of ink, paste, and white-out. And production would have to sit them under their cameras and try to get a good scan off these irregular pages. They were used to beautifully slick inked pages and mine looked ratty, and very homemade, covered in parcel tape and staples! Haha. Punk pages!

BUG: Haha! Radical's known not only for its spectacular art and fresh perspectives, but also for their cross promotional work. There have been announcements regarding feature films being made for other Radical books like HERCULES, CALIBER, and FREEDOM FORMULA. Can you talk about any movie news here on AICN in regards to HOTWIRE?
SP: Well, nothing would make me happier. There's certainly nothing I can tell you about right now, but of course, Radical is pursuing outlets for film. But I'm just concentrating on getting the book done. And if something comes of it, then I'd be very, very happy.

BUG: HOTWIRE is being promoted as a miniseries. Do you have plans to return to the Alice Hotwire after this miniseries is finished?
SP: In a shot. I'd be happy to work on HOTWIRE forever. I really enjoyed it. The great thing about the premise of this book is that it's wide open for almost any kind of story. There can be sad stories, comedy stories, high adventure. It really is a big deep well to mine from.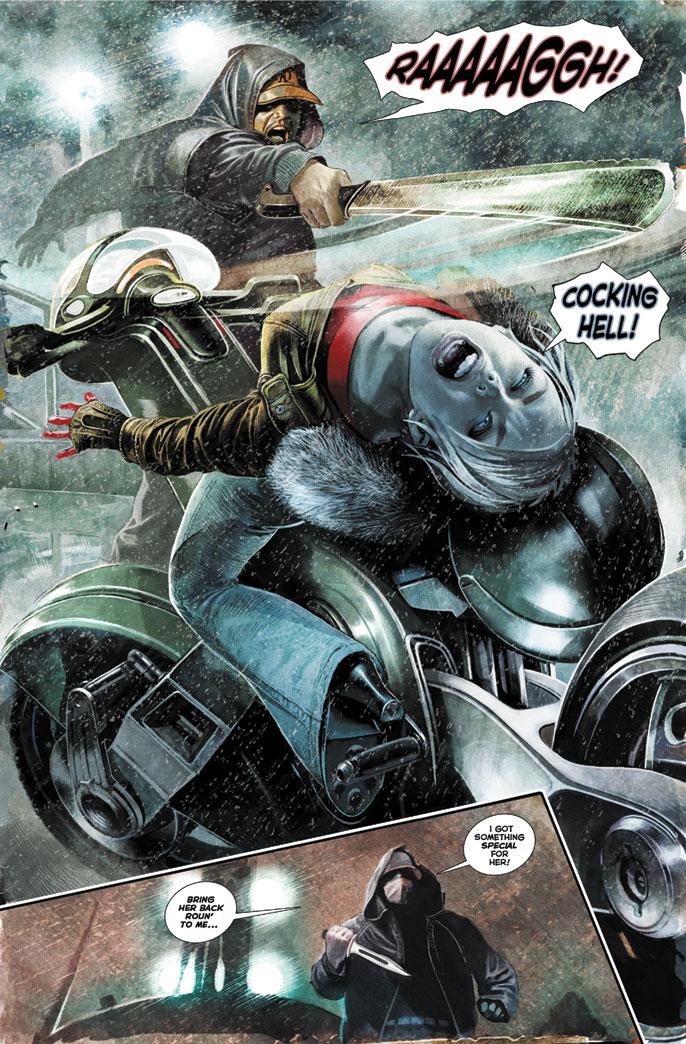 BUG: Last chance: why should everyone buy HOTWIRE?
SP: Because I'm putting everything I've got into it. This is a book that doesn't exist to just take up space on a shelf. This is a book that everyone involved feels very passionate about. It's great that it is finally being published. A lot people care about Alice and a lot of people want to see the book done right. Everyone wants to put out a really good read. Whatever happens when you buy this book, you're not going to feel gypped. It should be a lot of fun and it should be a good ride.

BUG: Well, it definitely shows everyone's put a lot of work into this one. Thank you very much for taking the time to answer the questions.
SP: No problem. Thank you!

BUG: Look for Steve Pugh's HOTWIRE: REQUIEM FOR THE DEAD #1 in stores in February.
---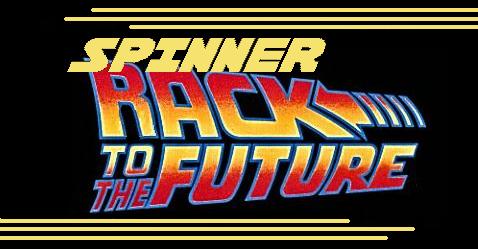 It's the Bug again back with more previews from our precognitive spinner rack. This week we have a preview from a book that we've hyped up quite a bit here at AICN: THE MIGHTY. Pete Tomasi, Keith Champagne, and Peter Snejbjerg's super hero epic is finally here and here's a final sneak peak at it before you have a chance to pick it up yourselves when it hits the stands.
THE MIGHTY bursts onto the racks this Wednesday!
---
Next up is an indie treat from NBM ComicsLit called MIJEONG. This original graphic novel is by artist BYUN Byung-Jun. It is a beautiful tragedy full of wounded characters that looks to be a visual buffet. Click on the images below to see what I mean.
This 240 pg B&W original black and white graphic novel is definitely on my list to read for Indie Jones when it comes out. Look for MIJEONG in stores in April.
---
Editing, compiling, imaging, coding, logos & cat-wrangling by Ambush Bug Proofs, co-edits & common sense provided by Sleazy G
---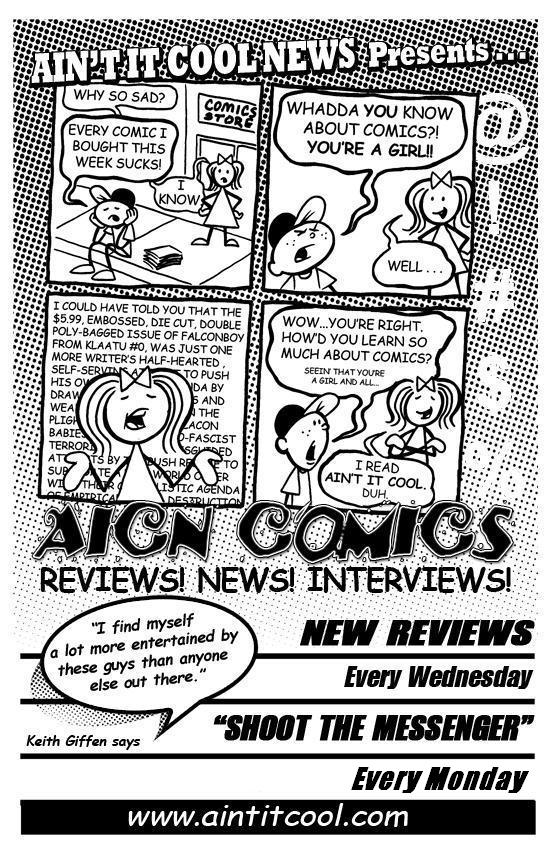 Ad by Prof. Challenger