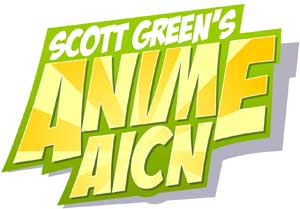 Logo handmade by
Bannister
Column by
Scott Green
Black Jack Fans, Be Sure To Check Ain't It Cool News on Monday!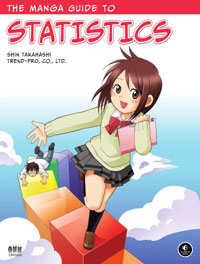 Manga Spotlight: The Manga Guide to Statistics By Shin Takahashi and Trend-Pro, Co., LTD. Released By No Starch Press
One of my prouder set of accomplishments is that I was able to complete three levels of calculus, linear algebra and statistics. In theory, I was two classes away from a math minor. Yet, apart from occasionally mentally calculating permutations, combinations or other probability, I haven't used any of the course material since I learned it. And, like the procedure for binary division, it's largely left my memory. As such, I can appreciate the entertaining refresher course offered by the Manga Guide to Statistics. The mechanism for framing the lessons is not inspired. There's far more formula than explanation, but it functions as advertised. While I wouldn't call the educational manga brilliant, it does a yeoman's job presenting how to calculate statistics in a way that's accessible to the unfamiliar or out of practice. The Manga Guide to Statistic works on the school of thought that if you (presumably a male reader) are going to watch someone doing something, you're best bet for holding your attention is to have an attractive female form to look at. In this case, it's a moe caricature of a high school girl. Basically, the notion is someone who's impressionable, outspokenly confused at the right moments, and enthusiastic, if not entirely for the right reasons. In terms of manga, it's someone who'll look cute and react in broad physical gestures, suitable to enlivening the introduction of mathematical formulas. The narrative cement for the Manga Guide to Statistics is mixed when Rui's father brings home Mr. Igarashi from the marketing department after an evening of social drinking. Rui shows some interest in the handsome Igarashi's work, so he introduces some concepts behind market research, specifically the use of sample data. Rui falls for Igarashi, and envisioning the frequent proximity of private lessons, asks her father to hire her statistics tutor. Dad is overcome with joy that his daughter is interested in his occupation, so that weekend, he brings over bespectacled, messy haired Mamoru Yamamoto. This is a guy who quickly exhibits nerd tendencies as his attention is immediately drawn to Rui's manga collection. Still, figuring that knowledge of statistics could be parlayed into a relationship with Igarashi, Rui decides to endure the "nightmare" and study with Yamamoto. I have a distaste for pandering in manga, especially with respects to moe, but in the case of The Manga Guide to Statistics, the use of a soft, non-threatening girl is so nakedly functional I have a hard time holding it against the book. The staff at Trend-Pro (scenario writer "re_kino", illustrator Iroha Inoue) has a solid handle on how to use these cartooned characters to serve up concepts and formulas. The proceedings are kept light hearted and easy to read. What it lacks is imagination. As illustrated by the Rui/Yamamoto arrangement, Trend-Pro's work does not transcend the straight forward in developing innovative vehicles for lessons or metaphors for the concepts. This can also be seen in what the manga cartoons. Lessons start with a concrete example to be discussed by Rui and Yamamoto, such as the consumer survey packaged with a manga graphic novel, test results, bowling scores or supposedly stolen pudding. From there, Yamamoto launches into his discussion of a topic such as data classification, probability or hypothesis tests. With an eye towards practical application, Takahashi does not shy away from the math, and a number of the chapters are heavy on formula. There are a few cartooned metaphors for the concepts being discussed, but, for the most part, it's rendered in a straight, formal manner: charts, graphs, calculations and so on. Instead, the visual flexibility of manga is directed at capturing Rui's mental process. There's a running gag in which Rui comments that a particular calculation is "abstract," after which she is illustrated in cubistic stylization for a panel. Another gag illustrates her reaching to master a concept by showing her as an arctic explorer, braving snow driven winds to reach her destination. Channeling this visual expressiveness towards the narrative serves to make the manga easy to read. While the information is presented in a sufficiently clear manner that there's little difficulty picking up the lessons, the medium is not used to emphasize the lessons themselves. Maybe manga could be used to create easily remembered visual metaphors for statistic concepts, but that does not appear to be the intension here. In my academic life, I found that Larry Gonick's Cartoon Guide to the Computer offered a useful handle for grasping the fundamental concepts of the subject. The Manga Guide to Statistics is not quite as clever, especially in finding the graphical vocabulary for phrasing the concepts, but it is helpful for framing the scope and methods of statistics. While it falls short of some platonic ideal of a manga guide to statics, the book does prove to be an effective introduction or refresher to the subject. I certainly found that it jogged my memory for how it's done. Beyond that, the book succeeds at what seems to be its aims. It's a light, impressively non-oppressive read, especially considering the technical nature of its subject.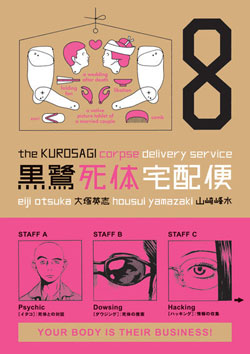 Manga Spotlight: The Kurosagi Corpse Delivery Service Volume Eight Written by Eiji Otsuka Art by Housui Yamazaki Release by Dark Horse Manga
Though volume eight is not The Kurosagi Corpse Delivery Service's strongest, it does underscore what's significant about the manga. Horror is often at its best when directed towards a social statement. Yet, I question some of what's said by horror anime and manga. For example, there are airs of social withdrawal and/or authoritarianism in a lot of the horror manga that concern revenge, the consequences of breaking taboo or hidden dangers. People are dangerous... The rules of the universe are actively malevolent... Your desires will destroy you... This manga stands in stark contrast. One look at Housui Yamazaki's illustrations of a rotting corpse is sure to dissuade any thoughts of The Kurosagi Corpse Delivery Service being sugar coated, yet the subtext to the manga is about opening your eyes to the world and becoming socially engaged. I've called The Kurosagi Corpse Delivery Service a liberal arts inspired manga, but the tone of the manga is also essentially liberal. It's a neat trick to make horror scary and not about hiding or running away, but Eiji Otsuka pulls it off with whit and irreverence. Though The Kurosagi Corpse Delivery Service remains a superlatively literate, intelligent horror manga, I don't feel that volume eight is the series' strongest. It's not a matter of narrative momentum, because while the manga has been developing an overarching plot concerning opposing forces and history catching up with the titular supernatural problem solvers, the appeal of the manga has always been the short stories featuring Eiji Otsuka's hybrids of buried cultural phenomena and current concerns, along with Housui Yamazaki's disturbing images. Volume seven may have hit a zenith with celebrity branding grafted onto plastic surgery, the ear mouse, jinmenso (a supernatural tumor with a human face) and multiple revenge plots in one particular story. I suspect Otsuka has too many interest, too many opinions and too much knowledge ever to present anything entirely simplicity. However, volume eight is something of a step back to basics. The Kurosagi Corpse Delivery Service has moved from one anthology to another a number of times during its Japanese serialization. It's been in Kadokawa Mystery and Shonen Ace (home of many manga adaptations of anime, such as Samurai Champloo and Neon Genesis Evangelion, as well as other violent manga such as MPD Psycho). It became part of Comic Charge, a manga anthology for young businessmen launched in 2007. If you've been following recent manga industry news, Comic Charge has recently been cancelled, and The Kurosagi Corpse Delivery Service, along with writer Eiji Otsuka's MPD-Psycho and Yakumo Hyakkai are slated to move to a new anthology this summer. The relevance of this history is that I strongly suspect that volume eight catches The Kurosagi Coprse Delivery Service in the wake of one of these transitions. The first story in particular has the hallmarks of an introduction for new readers. "A Cafe in a Campus Town" finds the members of The Kurosagi Corpse Delivery Service handing out fliers for what they're calling the Kurosagi CMM (Cash-Money-Makin') Club at the enrollment ceremony for the Chiyoda School of Buddhism. You could call this ploy to cast themselves as an entrepreneurial venture in order to lure in new students at the Buddhist collect "half clever", except, perspective members might be a little wary when they see that KCMMC's flyers read "Why be broke when you could stack up bills like bodies? You must have one of the following qualifications to join: 1) like or have interest in corpses. 2) Can speak with spirits. 3) Have special abilities that others do not." Still, five potential newbies are misguided enough to show up at the Kurosagi welcome party. Kursagai's scant budget puts off most of these trial members. Then, they begin meeting the members of the group. Ao Sasaki is the manager and IT specialist or "hacker". She is quick to show off her abilities by pulling up coroner's photos from a tracker accident in California. Then there's Makoto Numata, who can dowse, but only corpses. As such, he's not too impressed by a newcomer who's good at finding lost wallets. Yuji Yata can channel an alien, who speaks vulgarities through a sock puppet. Keiko Makino is an American trained embalmer, and has a sample of her work on hand. Finally, Kuro Karatsu is an itako, a priest who can call up spirits of the deceased. In response to being over-educated and underemployed, Kurosagi Corpse Delivery Service was established to transport the bodies of the deceased to where they need to be. The business is about as profitable as it sounds. So, after weirding out, grossing out or offending most of the prospective recruits, the survivors are taken to the group's familiar stomping grounds of Aokigahara Forest, where, as in previous stories, they locate the remains of a suicide victim. After some grisly illustrations from Yamazaki examine the results of leaving a corpse in a wooded area, the plot launches into a nice ghost story from Otsuka, concerning the spiritual resolution of the body's owner. I've written this description in such a way as to strip out the clues to nature of the haunting the haunting because, ultimately, it's the kind of ghost story that litters folklore. In most of The Kurosagi Corpse Delivery Service stories, this would be embellished with some esoteric anthropology or unexpected modern issues. Here, the simplicity puts the focus on the particulars of the manga: the unique characters that comprise the titular business, and the unflinchingly graphic depictions of the business' cases. It's a fine horror anthology story, but not an outstanding entry in The Kurosagi Corpse Delivery Service. Though reduced from the manga's potential, it's a moving story, with bittersweet notes of reconciliation that suit the Kurosagi Corpse Delivery Service. Few, if any, North American readers are going to start with volume eight of the manga, but if anyone did, they'd find that the story eased them into the premise. Other stories in the volume aren't Kurosagi's best either. The center piece pulls from Otsuka's acedemic study of folklore. It concerns Shigo Kekkon. As Sasaki describes it "They did it in Northeastern Japan. Similar rites existed in Okinawa... China, Taiwan, and Korea, too. You can find instances of it throughout East Asian Society. It was most prevalent in China, where a woman's death expenses are the responsibility of the family she's married off to. If you died single, there's no one to bury or mourn for you. So, by marrying her to someone's son who's died single, the son is honored with a wife... in exchange for footing the cost of his new bride's burial." Otsuka repackages Shigo Kekkon as Afterlife Marriage, marketed to the well-to-do. At the same time, the story pulls in what's happening among the economically challenged, specifically a struggling artist taking menial jobs and spending his nights in manga cafe's. The plot is informed by a deep foundation of knowledge and opinion. In a way, Otsuka's work is a bit like Masamune Shirow without cluttter or Mamoru Oshii without the hang-ups. Manga readers are accustomed to seeing this sort of knowledge with science, machinery or the specific subject of a title. For example, Gunsmith Cats is refined by Kenichi Sonoda's precise depictions of firearms and cars. Yakitate!! Japan has more about bread making than you'd ever want to know. Seeing this interest and knowledge applied to anthropology definitely distinguishes The Kurosagi Corpse Delivery Service among manga titles. The problem is that the volume does not distinguish itself among Kurosagi's more inspired stories. It does feature plenty of ghostly manifestations, which allow Yamazaki to work the sort of cinematic "J-horror" frights that are typically reserved for his solo-created sibling manga Mail. In addition to Kurosagi's physical horror, trading in disturbing notions of the body gone awry, Yamazaki works the disconcerting notion of the out of place, such as arms reaching out from the ground to trip a victim down a staircase. Yet, Otsuka doesn't seem to be fitting together elements as disparate as the ones pulled into previous stories. Shigo Kekkon seems like the kind of ceremony that he'd know about. By merely updating it, the uses as if he was simply crossing off a bullet point from a list of ideas. Simply updating it doesn't hit the high standard set by earlier Kurosagi Corpse Delivery Service stories. This isn't helped by the final story that offers Kurosagi's second narrative about babies abandoned in coin lockers (volume four offers the previous one). It's connected to traditional midwives this time, which is a new theme, but having read this the same weekend as volume three of Osamu Tezuka's Black Jack, which had its own coin locker baby story; it feels like a played premise. Again, I suspect that Otsuka might be easing into a new anthology. It's a slightly disappointing volume in a highly recommended manga.
New and Upcoming in Japan
Previews 07-Ghost Phantom ~Requiem for the Phantom~ Live Action Legend of Kamui Goemon Yatterman \ Anime Via Anime News Network Anime/manga's perennially popular investigator and thief will be meeting up in the upcoming TV anime special Lupin the Third vs Detective Conan, scheduled for March

Director Goro Taniguchi (Code Geass, Planetes, s-CRY-ed), character designer Yoshitaka Amano (Final Fantasy games, Vampire Hunter D, Angel's Egg) and Minoru Nishida (the art director of the Kill Bill Chapter 3: The Origin of O-Ren) have been attached a new TV special animated incarnation of Osamu Tezuka's Jungle Emperor (Kimba the White Lion) television anime special. The new story will be set in an artificial environment created to preserve nearly extinct species after environmental disasters. Via Anime Vice Toei and NHK will be collaborated on Malie and Galli which features a "crisp, pink-haired Gothic Lolita and a scruffy blond, blue-eyed scientist teaching science."

Manga Via Anime News Network Following a delay due to online protests concerning depictions of the series villain reading the Qur'an, Shueisha has announced that it will continue it's publication of Part 3 ("Stardust Crusaders") of the JoJo's Bizarre Adventure in a revised edition beginning February 9. Volumes 13 through 28 of the original Jump Comics edition will resume publication in the middle of February. Finally, volumes 8 through 17 of the smaller Shueisha Comic Bunko edition will also resume in the middle of February. The revised versions of the Jump Comics and Shueisha Comic Bunko editions will have a wraparound jacket band with "Kaiteiban" ("Revised Edition") printed on it. The scene in question occurred in the 2001 anime adaptation, but was not part of the original manga. Conscious of the reaction, Shueisha announced an intention to "correct" problematic images in the manga. Live Action Tokyograph reports WOWOW "Drama W" lineup for the year will start with an adaptation of Yoko Kondo's mystery manga Ani Kaeru. Kazuya Takahashi plays Koichi, the eldest child of the Noda family, who essentially had to become the head of the house after his father disappeared. One day, he also disappears, leaving behind his fiancée Makiko (Yoshino Kimura) and the rest of the family. Three years later, he comes home after a traffic accident, unable to say a word. Wondering where he was and why he left, Makiko begins a journey to retrace his steps.
Live Action Updates
Shock Till You Drop reports that Chris Nahon's (Kiss of the Dragon) live action adaptation of Production I.G's Blood: The Last Vampire in UK theaters on June 12th. BloodtheLastVampireMovie.com is now pointing to Pathe's site. The film will be distributed in North America by Universal Pictures.

*

MTV's Splash Page reports Will Smith commented on that adaptation of the Oldboy manga be developed with Steven Spielberg. "It's the thing that Steven was attracted to," Smith told MTV News. "We're working from the comic and we haven't done anything other than talk about it. So we'll see what happens, but he's not going to do anything that would be less than stunning." The manga was previously adapted by Park Chan-wook.
Hisayuki Toriumi Passes Away
Hisayuki Toriumi, known for his work at Tatsunoko, including directing Gatchaman, passed away at age 67. Toriumi assisted Mamoru Oshii on his development of the first OVA, Dallos.
Digital Distrobution
Svetlana Chmakova's popular anime convention based drama, Dramacon is now available iPhone and iPod Touch through Uclick. Volume one of Dramacon is available on the iPhone App Store in two parts at $.99(US) cents each.

*

Joosts has Naruto Shippuden: ep. 3 Connecting Hearts Believing Naruto's new jutsu is almost completed, Jiraiya heads off to investigate new information on the Akatsuki's movements. His arm now healed, Naruto returns to the village to continue his training. Return to Joost.com every Thursday to see the latest Naruto Shippuden episode from Japan!

New episodes go online Thursdays. Newsarama asks Can the iPhone Save Comic Books ... or At Least Small Press? particularly looking at Catastrophic Comics' motion comic Sparks for iPhone.
The Business
Anime News Network has summarized Keisuke Iwata, the executive in charge of TV Tokyo's AT-X animation channel and its animation division, lecture on anime's road to survival Speaking at "Anime Business Forum + 2009" event at Digital Hollywood's University of Digital Content in Tokyo, Iwata predicted "the global marketplace for Japanese animation will shrink from 2010 onward." In Iwata's view, there is no room for growth since Japanese animation has reached the saturation point in the global marketplace. Due to the worldwide recession and illegal net distribution, Iwata concluded that the North American marketplace is battered, the European marketplace is in grave condition, and the Japanese companies cannot rely on the Middle East, Asia, and other regions as potential new marketplaces. He added, "as it stands, we may have to go back to the way it was in the past — back to selling Japanese animation only to the Japanese marketplace." In order to survive in the current adverse climate, TV Tokyo is proceeding with new initiatives that include animation on American video-distribution sites.

*

Animators began buzzing on Sunday 1/25/09 that Imagi, the people behind TMNT, the upcoming Astro Boy and the future Gatchaman would be closing their animation studios due to a funding crisis. The Animation Guild Blog comments on the rumors here it appears that Imagi, maker of Astro Boy and Gatchaman, may currently be out of cash and temporarily shutting down operations. We've heard from one of Imagi's Los Angeles animators that he was called at home on Saturday, Jan. 24, and told that the studio was out of cash, and that he should not report to work on Monday. Since this is all happening over the weekend, we've been unable to get any confirmation from official studio sources. There had been reports of Imagi's struggle to secure founding, including this Forbes piece There has been some suggestion that the Imagi shutdown, at least in their Asian offices, were due to the lunar New Year. Kevin Koch, president of the Animation Guild posted on CartoonBrew The Animation Guild office has received confirmation that everyone at Imagi in Los Angeles was told not to come in to work this week. The office also got a call from Imagi US president Erin Corbett, who told us that Imagi is in a "holding pattern" until Feb. 3, when they will find out about the next round of funding. This looks like it could be a temporary hiccup, or a very bad thing. We're holding our breath and hoping it is sorted out quickly. US president of Imagi, Erin Corbet told io9 When that "bridge financing" looked like it might not materialize, the only responsible thing to do was shut down the company's U.S. offices for a week, says Corbett. Everyone, including the animators, was put on "mandatory unpaid leave," until the new round of financing comes in on Feb. 3. (Union rules require the company to let everyone go if they don't have money on hand to pay salaries.) On the status of projects So where does that leave Astro Boy? "Our number one objective is to get back on the rails," says Corbett. "We want to do everything to get Astro Boy out the door." The film is entirely storyboarded and planned out. The animation is about 50 percent rendered and completed at this point, and almost all of the film's vocal talent has already been recorded. Most importantly, the company already has enough money coming in, in February, to finish off work on Astro Boy. Meanwhile, the company is continuing to raise money for upcoming projects. Corbett wants to put out a CG Gatchaman movie in November 2010. "We're trying to do a film every year to 18 months," Corbett says. Right now, Corbett is in Chicago working on sponsorship opportunities. McDonald's and American Greetings are already involved with Astro Boy, and she's pitching additional partners like Kraft and General Mills for Gatchaman. Astro Boy tie-ins will include everything from action figures to greeting cards. While on the subject, AnimeVice notes that MTV Splash Page reports that plans for a Scarlet Johansson voice role in Astro Boy have fallen through "I had kind of sort of met on it and stuff, but I don't know where that came from," Johansson told MTV. "I had never been committed to it. I don't know what happened to it." On January 28th, Variety reported Imagi secured bridge funding. The company's U.S. proxy, Erin Corbett, said Tuesday that the company had to shut down its U.S. operations for a week because bridge financing hadn't come through on time. The coin, however, is now in place and will carry the company until funding from private equity companies arrives Tuesday. Anime News Network has their coverage here

*

Lantis (Angel Sanctuary, Kurokami) and Sunrise (Code Geass, Gundam) have been telling sites to remove screen captures and fan art of the anime producers' IP. From Sunrise's warning Regarding the use of images of Sunrise products on the Internet: On the Internet, even when not for commercial gain, or on a personal homepage, you may not use them. We receive enquiries about permission such as "It's not for profit" or "It's a personal homepage"; even in these cases you can't use them. On the Internet, even personal use constitutes "reproduction and distribution", thus you cannot use any such images. Regarding pictures or writing made yourself: Even with pictures or writing made yourself, when incorporating Sunrise products they must not be distributed on the Internet. Exceptions: On our ISP we offer 5mb user homepages, wherein you may publish what you have made yourself.

*

Comics Worth Reading had trouble finding a copy of Aria volume 4 Now, it looks like Diamond is listing that TOKYOPOP has cancelled a number of there releases. DEC084265 ARIA GN VOL 05 4 DEC084271 CAUSE OF MY TEACHER GN 4 JAN094444 DEMON FLOWERS GN VOL 05 4 JAN094443 DEMON SACRED GN VOL 01 4 SEP084286 DOT HACK SIGN MANGA NOVEL SPECIAL ED 4 JAN094447 ELEMENTAL GELADE GN VOL 11 4 DEC084256 GET BACKERS INFINITY FORTRESS GN VOL 03 4 JAN094449 INITIAL D GN VOL 34 4 JAN094445 JYU OH SEI GN VOL 03 4 JAN094448 KING OF HELL GN VOL 23 4 JAN094455 LOVE HURTS AISHIATTERU FUTARI GN 4 DEC084261 SPEED GRAPHER MANGA GN VOL 03 4 DEC084269 TACTICS GN VOL 08 4 JAN094436 THIS UGLY YET BEAUTIFUL WORLD VOL 01 4 JAN094450 TSUKUYOMI MOON PHASE GN VOL 13 4 JAN094441 VB ROSE GN VOL 06 4 That code 4 means "Cancelled by Publisher" It should be noted that these releases were solicited before TOKYOPOP's December layoffs. The cancellations may reflect new staffing and release plans. MangaBlog heard from TOKYOPOP As for Aria vol 4, it's sold out mainly because orders came in much higher than projected — without boring you to tears, we usually print enough to fill projections with enough extra stock for re-orders; occasionally, actual orders come in much higher than projections, which is the case with Aria volume 4. It's a little unusual, because by volume 4, the audience is usually established, so projections from accts are fairly accurate. (whether there will be new printing) It all depends upon demand—we do monitor our inventory very closely. I'm sure you can understand that we have to be very careful in this economic climate. Robert of Roberts Anime Concern Store weighs in on the matter here

*

December comic Sales estimates Of note, among the top sales TOP TRADES Qty Rank - Index - Price - Pub Title - Est Sales Total - Reported Est Sales 4 5.43 $7.95 VIZ Naruto v33 5,074 5,074 7 4.49 $7.95 VIZ Bleach v25 4,196 4,196 16 3.42 $19.95 DAR Blade of the Immortal v20: Demons Lair 3,196 3,196 25 2.81 $10.95 RAN Negima v20 2,626 2,626 41 2.11 $9.99 VIZ Battle Angel Alita Last Order v10 1,972 1,972 44 2.05 $7.99 VIZ Legend of Zelda v2 1,916 1,916

*

The Yomiuri Shimbun reports Fair Trade Commission report has revealed that more than 40 percent of animation production companies have been forced to accept low tenders for commissioned work. Suspecting the low payments had violated the Antimonopoly Law and a law to protect subcontractors, the commission conducted hearings with 48 companies and organizations--including TV stations and advertising agencies that order animation projects from the production companies--and called for production and other costs to be made more transparent. The commission conducted a survey of 533 animation production companies, of which 114 responded. It was the first time such a survey has been conducted as until now, the problems had not been easily exposed because many animation production companies are small. On whether they were forced to accept significantly low production tenders, in questions concerning the companies that placed orders and the way these firms conducted negotiations, 42.4 percent of responses, or 87 of 205 answers, indicated animation production companies were forced to accept the deals without sufficient discussion. Responses included such comments as, "We had to accept the schedule based on the production cost of a preposterously low budget for each animator without any consideration for holidays," and, "The commissioning company canceled the order without explanation, and did not compensate us for expenses already incurred for the production."

*

Publishers Weekly reports that DC Comics laid off staff including much-respected editor Bob Schreck. Other cuts at DC Comics were centered around the magazine business, including several at MAD magazine. Diamond Comics Distributors laid off 13 staff member, while remaining staff and management were asked to take a pay cut. ICv2 confirmed that the cut too place at Diamond's headquarters in Timonium, Maryland, and represent just over 5% of the 240 people employed at Diamond HQ. Fox layoffs have reports that the latest salvo in the war between Konami and Upper Deck for control over Yu-Gi-Oh cards in North America is that Konami has amended a lawsuit against the Vintage Sports Cards alleging that Upper Deck "distributed and currently is distributing to Vintage and others counterfeit reproductions of the Yu-Gi-Oh! TCG's 'Rare Cards.'" The allegations include counterfeiting, trademark infringement, unfair competition, copyright infringement, and breach of contract. Upper Deck is suing Konami in American courts to assert that their distribution agreements are still in effect. On December 24th, a Dutch court ruled that Konami could not terminate its contract with Upper Deck Panoceanic BV and Upper Deck International BV for exclusive distribution of the card game in Europe

*

Ed Chavez issues his report card on Dark Horse

*

NHK is launching a 24 hour English, satellite broadcast and internet. For more information, see here

*

WorldScreen.com densely packs 2009 Media Predictions on online content, mobile media and 3D More of note net addict than anime/manga fans How The Internet (And Advertisers) Killed Journalism
Cool Figures News
CollectionDX names their Toy of the Year The site also reviews a cool Astro Boy Cute Gurren Lagann

*

Figures.com reviews Toynami's Robotech Masterpiece Beta Fighter Vol. 1 - Blue Bandai's Flash Changers Goku & Super Saiyan Goku 2-Pack Very nice Mickey and Minnie Megahouse Anemone
Event News
FUNimation has posted that EVANGELION: 1.0 YOU ARE (NOT) ALONE has been selected to screen at The Santa Barbara International Film Festival as part of the East X West program. The movie will be shown Saturday, January 31 at 10:00 pm

*

EvaGeeks report that Selecta Visión will be showing the first Rebuild of Evangelion movie You are (not) alone in theaters in Madrid (Cines Golem) and Barcelona (Cine Nápoles) from January 30th to February 5th.

*

The one night NCM Fathom / Bandai Entertainment screening of BONES' samurai anime Sword of the Stranger will be held Thursday, Feb. 5th at 7:30 p.m. local time.

*

Fanfare / Ponent Mon will debut their latest releases at New York Comic-Con "My Mommy is in America and She Met Buffalo Bill" by Jean Regnaud and Émile Bravo will be available for sale at Fanfare / Ponent Mon (Booth 2347), as well as previews of the rest of the exciting new titles that are on the schedule for 2009.

Fanfare's edition of "My Mommy is in America and She Met Buffalo Bill" is the first English edition of this award-winning French graphic novel. Printed in glorious full-color in a hardcover edition, this story is a touching remembrance of a 5-year old growing up in rural France in the 1970's. Jean lives with his father, his younger brother and his nanny. As he starts school, he's troubled by a mystery: Where is his mommy? As the adults around him avoid his questions, his neighbor shares a secret. She gives him postcards written to him from his mother, all sent from exotic and far-flung destinations. Other books that will be available include Disappearance Diary by Hideo Azuma Quest for the Missing Girl by Jiro Taniguchi Japan as Seen by 17 Creators The Walking Man by Jiro Taniguchi Previews for 2009 releases include A Distant Neighborhood by Jiro Taniguchi Summit of the Gods by Jiro Taniguchi Korea as Seen by 12 Creators Years of the Elephant by Willy Linthout Spanish language editions

*

Via New York - Tokyo The JAPAN BRAND: unfolding will be shown at the Felissimo Design House January 25th - February 7th, 2009 January 25th - February 7th, 2009 Felissimo Design House 10 West 56th Street New York, NY 10019 Few countries can boast the richness of Japan's craft traditions. From textiles and woodworking to ceramics, lacquerware and the culinary arts, Japan is a land where perfection has long been inextricable from the artisan's hand. And now, from within continuity emerges innovation—as Japan Brand: Unfolding will show from January 25 through February 7 at the Felissimo Design House in midtown Manhattan. Both a cultural exhibition and a commercial fair, this unprecedented, two-week event will showcase contemporary products from 30 Japanese regions, each represented by its local chamber of commerce, where centuries-old crafts are finding fresh expression. It is a story of evolution—of the ancient pawlonia chest lending its expert joinery to modern sideboards. Of lacquerware and hand-woven textiles designed for the present, but made with a mastery inherited from the past. Celebrating artisanship, practical beauty and regional expertise, Japan Brand: Unfolding will reveal how Japan is creating new traditions as the old ones continue to unfold.

*

Canned Dogs lists Professional animators at Comic Market
New and Upcoming North American Releases
Bandai Entertainment Anime on DVD reports that Bandai Entertainment has moveed Gundam Seed Destiny Collection 2 Anime Legends Edition to 04/21/2009 release from its original 02/24/2009 release. The latest Wolf's Rain Anime Legens Perfect Collection has also moved back from its original 02/24/2009 release to 04/07/2009. The limited edition of Lucky Star Vol. #6 and Gurren Lagann Best Sound CD have been cancelled. Newly scheduled releases include 04-07-2009 Freedom Complete Collection - $39.98 Ghost Slayers Ayashi Part 2 04-21-2009 Mobile Suit Gundam 0083: Stardust Memory Anime Legends DMP

Digital Manga Publishing, Inc. announced its acquisition of the classic shojo manga ITAZURA NA KISS. Published under the DMP imprint, ITAZURA NA KISS was released as 12 omnibus volumes in Japan, and plans for the first two volumes in a 5.125" x 7.1875" format at a cost of $14.95 per volume, will begin with volume one in November, 2009, and volume two following in March, 2010. ITAZURA NA KISS VOL. 1- RATED T+ (for ages 13+), MSRP: $14.95 US, Available: November 4, 2009 ITAZURA NA KISS is the beloved and classic shojo manga following two high school students, the air-headed Kotoko and the brilliant cold genius Naoki. When Kotoko finally musters the courage to confess to the haughty Naoki, his instant rejection shocks her and she decides to forget him forever. But when circumstances force her and her father to move in with her father's close friend, she encounters an even bigger shock when she realizes her father's friend is Naoki's father, and they'll be living together from now on! Is it fate? A sign from heaven? Whatever it is, Kotoko's every attempt to impress the aloof Naoki seems to create chaos in Naoki's life, and the cracks in his cool, robot-like facade begin to show. Follow the journey of these two through life, love, and every chaotic, crazy moment in Kotoko's mission to make Naoki hers! KAORU TADA was born in 1960, and is the creator of AI SHITE KNIGHT and ITAZURA NA KISS. ITAZURA NA KISS was her most popular work in Japan, and has spawned live action dramas, been adapted for the theatrical stage, and released as an animated series. KAORU TADA died tragically at the age of 38 in 1999. eigoMANGA Natura Morta (Diamond Item Code: JAN094215; Intended Audience: 13+; Genre: Drama; MSRP: $10.95; Street Release: March 25, 2009) Wandering the streets on another sleepless night, Nikki finds the mysterious and silent Diego, and takes him home to tend his wounds. Little does she know that Diego is in the hiding from a strange and powerful woman in another realm, and the two worlds will soon collide. The Natura Morta story has many elements of vampirism and gothic themes. The story can be previewed at www.SakuraPakk.com Drawing Manga for Beginner (Diamond Item Code: JAN094214; Intended Audience: 12+; Genre: Instructional; MSRP: $19.95; Street Release: March 25, 2009) Drawing Manga for Beginners explain basic techniques of Manga drawing layouts and illustrations actually used by professional artists. This edition provides details about manga tools, how to draw characters, how to write a story, how to create background perspective, and how to apply tones. The Frog Princess (Diamond Item Code: JAN094212; Intended Audience: 13+; Genre: Romance; MSRP: $14.95; Street Release: March 25, 2009) Marine Biologist, Larissa Talcott is torn between a re-newed love relationship with attorney, Brian Liam. Brian's law firm is representing a company plotting to renovate a local pond into commercial property. Larissa is driven to stop them in order to protect the ecosystem that inhabits the pond. Will Brian and Larissa compromise their firm beliefs for the sake of their relationship? Previewed here God Drug (Diamond Item Code: JAN094213; Intended Audience: 16+; Genre: Action; MSRP: $14.95; Street Release: March 25, 2009) The C.I.A. subjected a group of low-ranking marines with experimental LSD-like hallucinogen. The experiments failed and created a being with destructive psychic abilities who was driven insane after being held in cryo-stasis for over 30 years. God Drug's official website is www.GodDrug.com Sakura Pakk Versus Rumble Pak (Diamond Item Code: DEC084011; Intended Audience: 13+; Genre: Anthology; MSRP: $29.95; Street Release: February 25, 2009) This annual graphic novel showcases the best manga stories from Sakura Pakk and Rumble Pak. The collection features stories that range from magical fantasy and historical drama to cyberpunk sci-fi and action adventure! Stories featured in this publication can be viewed on www.RumblePak.com Last Gasp Via Robot 6 This year's released include Barefoot Gen Vo. 7 & 8 by Keiji Nakazawa Best Erotic Comics 2009, edited by Greta Christina. Junko Mizuno handles the cover. $19.95 paperback, February. Right Stuf Anime producer and distributor Right Stuf, Inc./Nozomi Entertainment and Kadokawa Pictures USA have scheduled THE THIRD: THE GIRL WITH THE BLUE EYE Complete DVD Collection on April 28, 2009. The six DVD set will retail for $79.99 The 24-episode anime, also known as "The Third – Aoi Hitomi no Shoujo," is based upon a popular series of novels and short stories written by Ryou Hoshino and illustrated by Nao Goto. Spanning more than 17 volumes, the original fiction has appeared in Japan's Dragon Magazine since 1999, alongside the serialized novels that inspired the hit Full Metal Panic! and Slayers anime series. Additionally, a manga adaptation of The Third – which was released in North America by TOKYOPOP – ran in Dragon Age magazine, home to the Full Metal Panic!, Slayers and Chrono Crusade manga. XEBEC (D.N.Angel, Negima!, Fafner, Elemental Gelade) produced the animation for the TV series, which ran on Japan's WOWOW satellite channel – known for original anime programming such as Cowboy Bebop, Ergo Proxy, The Big O and Paranoia Agent – from April through October of 2006. One Girl. One Tank. No Problem. In a devastated world overrun by monstrous bugs and ravaged by outlaws, there's only one person to call when you really need a job done right: Honoka. With a sixth sense for danger, sword skills that are second to none, and a smart-aleck A.I. tank by the name of Bogie, she's ready to tackle any job and solve any problem for her clients. But while crossing the desert one night, she finds a young man alone in the wasteland. It's the first step of a journey that will challenge even Honoka's amazing skills to their very limit! Contains the complete 24-episode TV series!

THE THIRD: THE GIRL WITH THE BLUE EYE © 2006 The Third Partners Viz VIZ Media's VIZ Signature imprint has released Japanese cuisine and culture manga OISHINBO (reviewed here) Written by Tetsu Kariya and illustrated by Akira Hanasaki, OISHINBO is considered to be the epitome of food manga and defined the genre while selling more than 100 million copies in Japan since its debut in 1983. OISHINBO is rated "T" for teens and carries an SRP of $12.99 U.S./$15.00 CDN.

OISHINBO (or "The Gourmet") depicts the adventures of journalist Shiro Yamaoka, who writes for the fictional newspaper Tozai News. When the paper's top executives decide to create "The Ultimate Menu" to celebrate the paper's 100th anniversary, Yamaoka, known for his reputation as a foodie with culinary skills to match, is given the daunting assignment. With the help of his coworker Kurita, Yamaoka begins an epic saga to find unique and tasty dishes that will compose this ultimate bill of fare. The subject of the debut volume is classical Japanese cuisine, and features delicious stories on subjects like how to prepare a proper dashi (the broth that is one of the building blocks of Japanese cooking), green tea, and red snapper sashimi. Each subsequent volume of OISHINBO focuses on specific foods and culinary trends such as sake, sushi, vegetables, rice dishes, ramen, and izakaya (pub) food.

*

Viz Media announced the launch of a brand-new imprint called Haikasoru, which will publish an array of contemporary Japanese science fiction (SF) and fantasy stories for English-speaking audiences. This is the first time an imprint with a dedicated focus on Japanese SF has launched in North America. Haikasoru is scheduled to publish twelve books a year and launches in the summer of 2009 with four titles: The Lord of the Sands of Time by Issui Ogawa, All You Need Is Kill by Hiroshi Sakurazaka, ZOO by Otsuichi, and Usurper of the Sun by Housuke Nojiri. Haikasoru will be helmed by Nick Mamatas, a respected author of science fiction as well as an editor at VIZ Media. Mamatas is the author of two novels, which have been nominated for the Bram Stoker Award and Germany's Kurd Lasswitz Prize. The Lord of the Sands of Time by Issui Ogawa – Price: $13.99 U.S./CAN $16.00 Sixty-two years after human life on earth was annihilated by rampaging aliens, the enigmatic cyborg Messenger O is sent back in time with the mission to unite the humanity of past eras—during World War II and in ancient Japan, even back at the dawn of humanity—in order to defeat the alien invasion before it begins. But amidst a future shredded by war, love also waits for O. Will O save humanity only to doom himself? The Lord of the Sands of Time was nominated for the prestigious Seiun Award, the leading award for Japanese science fiction, the winners of which are selected each year by members of the Japanese National Science Fiction Convention. Available in July 2009. ALL YOU NEED IS KILL by Hiroshi Sakurazaka – Price: $13.99 U.S./CAN $16.00 When the alien Gitai invade, Keiji Kiriya is just one of many recruits shoved into a suit of battle armor called a Jacket and sent out to kill. Keiji dies on the battlefield, only to be reborn each morning to fight and die again and again. On his 158th iteration, he finally sees something different, something out of place—a female soldier known as the Full Metal Bitch. Is she the key to Keiji's escape or his final death? Available in July 2009. ZOO by Otsuichi – Price: $13.99 U.S./CAN $16.00 ZOO presents eleven stories of dark fantasy and science fiction by one of Japan's hottest authors. "The White Hut In The Forest" is the story of a man with a hole in his head and a charming home made from some strange materials. "Song of the Sunny Spot" is a rendition of the classic story of the Earth's last man...and his charming companion. And in the book's eponymous tale, a man sees his dead girlfriend's corpse decompose, one gristly Polaroid snapshot at a time. ZOO sold over 740,000 copies in Japan and was also turned into a successful Japanese film. Available in September 2009. USURPER OF THE SUN by Housuke Nojiri - Price: $15.99 U.S./CAN $18.99 When a ring appears around the sun, humanity seems doomed. One woman, a brave scientist named Aki Shiraishi, travels to the core of the solar system in a last-ditch attempt to save the world. A compelling new hard SF novel, Usurper of the Sun won a coveted Seiun Award in 2002 for Best Science Fiction Novel of the Year. Available in September 2009. Anime Vice spoke to editor Nick Mamatas here

*

Anime releases scheduled for April 2009, to be distributed in U.S and Mexico by Warner Home Video and in Canada by Allegro include: HUNTER X HUNTER DVD Box Set Volume 2 • Rated "T+" for Older Teens • MSRP: $49.95 US / $64.99 CAN • Available April 7 NARUTO UNCUT DVD Box Set Volume 13 Special Edition • Rated "T+" for Older Teens • MSRP: $69.97 US / $89.99 CAN • Available April 7 NARUTO UNCUT DVD Box Set Volume 13 Standard Edition• Rated "T+" for Older Teens • MSRP: $49.95 US / $64.99 CAN • Available April 7 DVD-only collection featuring episodes from the hit series; no cards or collectible are figure is included. DEATH NOTE DVD Box Set Volume 2 • Rated "T+" for Older Teens • MSRP: $69.97 US / $89.99 CAN • Available April 14 POKÉMON: ALL STARS Volume 19: TORCHIC • MSRP: $9.98 US / $12.99 CAN Each • Available April 21 POKÉMON: ALL STARS Volume 20: ONIX • MSRP: $9.98 US / $12.99 CAN Each • Available April 21 INUYASHA SEASON 7 DVD Box Set Deluxe Edition • Rated "T" for Teens • MSRP: 119.89 US / $149.99 CAN • Available April 28 The story of the priestess Kikyo and half-demon Inuyasha ended in tragedy. Will Inuyasha and Kagome's story have a happier ending? Each battle draws the group closer to their ultimate goal – the border of the afterlife and the final shard of the Shikon Jewel. But the last stage of their journey is the most difficult of all. In their final battle with Naraku, will the bond between Kagome and Inuyasha prove strong enough to vanquish him at last? Special Deluxe Box Set Edition comes with a Limited Edition collectible Inuyasha figure. INUYASHA SEASON 7 DVD Box Set Standard Edition • Rated "T" for Teens • MSRP: $99.94 US / $129.99 CAN • Available April 28 DVD-only collection featuring episodes from the hit series; no collectible figure is included. Walt Disney Home Video Volumes one and two of the animated X-Men that aired on Fox in the 90's will be released on April 28th. Warner Bros. Watchmen: The Complete Notion Comic will be released on DVD ($29.98) and Blu-ray ($34.99) on March 4rd

Saturday Morning Cartoon 1960's volume 1 and 1970's volume 1 will be released on May 19th. The two dvd sets retail for $26.99

Watson-Guptill Watson-Guptill will release Christopher Hart's Kids Draw Big Book of Everything Manga on February 3rd. The 256 page, 1000 color illustration book will retail for $19.95
Anime x Games
Atlus announced that Legacy of Ys: Books I and II for the Nintendo DS has been pushed back to February 24th. The classic RPG will be released with a soundtrack CD. Dragon Ball Origins for the Nintendo DS has been recalled in Australia due to age ratings concerns Black Overman Gainer XAN will be making an appearance in Super Robot Wars Z Special Disc MODE 2 Extra Stage Dynasty Warriors: Gundam 2' Screens The Magic Box has screen shots of .hack//Link Mobile Suit Gundam: Senjo no Kizuna for the PSP One Piece: Unlimited Cruise Episode 2 - Mezameru Yuusha for the Wii Kotaku's Afro Samura "Frankenreview" The Afro Samurai launch party Cultural Notes Manga creator Kazuo Umezu (Drifting Classroom, Cat Eyed Boy) won a count ruling in the case concerning his red-and-white striped house was ruining the landscape. Presiding Judge Minoru Hatakeyama denied that the house didn't fit in with its surroundings. Umezu gives comments after the ruling in his favor on Wednesday. (Mainichi) "The coloring does catch the eye of those living around it, but it can't be said it destroys the harmony of the landscape," the judge said. See Matt Alt's coverage here

*

Jeff Yang's Asian Pop in the San Francisco Chronicle looks at the on the racial issues in the casting of the live action Avatar adaptation "These are kids growing up with manga," [Derek Kirk Kim] says. "They're not only comfortable with Asian concepts, they're fascinated by them. To think that they won't come to a live-action version unless it's cast with white actors -- that's really a shockingly ignorant viewpoint. These kids aren't watching Jackie Chan movies and thinking, 'Yikes! I wish he were a white guy!'" Cartoon Brew collected information on the controversy here and here
Awards and Recognition
Kunio Kato's Tsumiki no Ie ~ La Maison en Petits Cubes (House of Small Cubes) has been nominated for an Academy of Motion Picture Arts and Sciences' Academy Award for best animated short film. An excerpt can be seen here

*

Manga University has announced that"The Manga Cookbook" (ISBN 979-4-921205-07-2) has been named to the prestigious Young Adult Library Services Association (YALSA) "Quick Picks for Reluctant Young Adult Readers" list for 2009. "This list is a true reflection of the teens we serve," said YALSA librarian Joy Millam. "Our goal was to put out a list that gives every reluctant reader a book to connect with personally." "The Manga Cookbook," written by The Manga University Culinary Institute and illustrated by award-winning manga artist Chihiro Hattori, features step-by-step instructions for preparing simple Japanese dishes using ingredients found in every Western kitchen. The book's unique approach offers readers a quick and easy way to learn how to identify and make the kinds of food they see in all their favorite manga: authentic onigiri (rice balls), yakitori (skewered chicken), oshinko (pickled vegetables), udon (Japanese noodles), okonomiyaki (Japanese-style pizza) and many others. The book also Includes sections on how to assemble bento boxed lunches and