Movie News
Massawyrm calls MILK the most important civil rights film of the decade!!!
Hola all. Massawyrm here. I wish to god they had found a better name than Milk for this film. No, I know. The name is entirely appropriate, what with it being the last name of the title character. But it's just not evocative. When I tell people "You've really got to see Milk," they just kind of stare blankly at me or giggle a little. "No, really. Milk is one of the best things you'll see all year." More strange looks. Then "Oh, is that the new Sean Penn movie?" Yes, yes it is. And it is every bit as good as you could hope for out of this kind of movie. The second FOR YOUR CONSIDERATION 70's biopic to come our way this year is one about the first openly gay elected official in the United States and his subsequent murder/assassination that made headlines for more than one reason. Harvey Milk was the first ICONIC major gay rights activist in this country and fought a war one block at a time to protect the rights and lives of his fellow homosexuals. And he did so politically with the power of voting and backroom deals with other powerful lobbies like the Teamsters Union. Sean Penn plays Harvey and does something you virtually NEVER see out of a Penn performance. He plays him likable. Not just endearing, but positively charismatic and lovable. There isn't a doubt in your mind why this man becomes a focal point for the movement in the 70's. He's amiable, funny, persistent and has a heart as big as his chest. He's also a very flawed man who occasionally gets himself deeper than he can dig himself out. And Penn delivers a knockout performance, channeling his own (sadly oft neglected onscreen) charisma into Harvey and making him every bit as epic as his legend. It is through Harvey's struggle for acceptance and a very public victory that he highlights the fight in the 70's just to be able to be gay in public – let alone be openly gay in a job. Which brings me to the single most frustrating point about this film, the fact that it was released 6 months too late. Let's see how familiar this scenario sounds to you. Taking place in 1978, a group of religious fundamentalists have lobbied to get a law on the California ballots: Proposition 6, a law allowing school districts to fire openly gay teachers. The fight gets dirty, raucous and all eyes of the country are focused upon California to see what the future held for gay America. Cough. Ahem. Yeah. That doesn't sound familiar at all. Of course this time around (just this month in fact) there was no Harvey Milk and Proposition 8 passed. And there are few films that will make you angrier about that fact than Milk. To think what might have happened if this beautiful film had been available to speak not to the bigoted masses, but to the fearful, easily manipulated folk who simply voted with the 52% majority because they hadn't heard an argument to convince them otherwise. Those are the folks that really decided that election. Not the bigots. Not the fundamentalists. The regular, average, everyday salt of the earth folk who see a gay marriage on the TV news and rather than seeing two people in love see two dykes in dude hairdos French kissing to show off their gayness to the world. They don't know what they're watching. They haven't figured it out yet. Because no one has done an adequate job of putting a very human face on the gay rights movement. Until now. Milk is the single most important gay film ever made. Look, I'll be the first to admit, gay/lesbian cinema is usually pretty bad. Once in a blue moon we get something really great that can cross over, something like Priest or Jeffrey or Hedwig and the Angry Inch or Brokeback Mountain. But all of those films are about the nature of accepting gays as who and what they are and letting them be. None of them are about accepting them truly as equals. That's what Milk is. It is that film that puts the lifestyle out in the open and asks the audience "Really? You have a problem with this?" One of Gus Van Sant's brilliant touches is that he frontloads this thing with as much in your face homosexuality as he can without ever being tasteless. While he's not throwing full frontal dudity or gay orgies at you, he does open with a romantic meeting of two men on a stairwell that leads to a pick up and them falling into bed together. Guys are kissing all over the place and if Brokeback Mountain made your toes curl uncomfortably, this is gonna make your balls crawl up into your abdomen to hide. Harvey Milk isn't just effeminate – I was able to light cigarettes off of Penn's performance sitting in the theater. But then, about 20 minutes in, Van Sant relaxes and stresses character and story over lifestyle. And the effect is perfectly brutal, destroying any aversion you might have to homosexual acts and begin to see these men as they really are. As people. More importantly, people being oppressed by the beliefs of others. It's an effect not unlike Ang Lee's approach to Brokeback Mountain in which you begin to forget that you're watching a GAY LOVE story and focus only on the fact that it is a LOVE story. And when all is said and done, Harvey has won you over and will have you wanting to march out in the streets to help secure gay rights. About a month or so too late. That's why I wish this had been out six months ago. So that people could have seen it, talked about it and mailed DVD screeners to crucial districts. "Oh, look honey! That nice Ellen Degeneres mailed us a free copy of that new Sean Penn film everyone is talking about. Let's watch it." Would it have changed the outcome? Maybe. Maybe not. But it certainly would have changed the nature of the conversation. Given people a face to visualize outside of the lesbians that want to destroy marriage on the evening news. Milk isn't just the best gay civil rights movie ever made, it is probably the best civil rights film of the decade. And all of that is before you tackle the notion of the murder, which simply brings it around to be one of the best and most important films of the year. Josh Brolin is great in a layered performance as the infamous Dan "Twinkie Defense" White. If anything I felt he was just a little underrepresented in the film. While it opens and closes with aspects of White's story, it is chiefly a film celebrating Harvey Milk's life, not his death and the media circus surrounding it. While the other elements are touched upon, White's story takes a backseat to that of Milk fighting the religious right over Prop 6. That said, Brolin delivers a heroic effort to make sure White earns every bit of screen time he is given. And while he was good, having just seen how incredible he can be in W., it was a much more down played and will probably be somewhat less noticed – especially come Oscar time when both Penn and Brolin will no doubt receive BEST ACTOR nods. The other two standout performances are Emile Hirsch who has simply stopped surprising me – he's always incredible – and James Franco who breathes more life into this role than any of his recent efforts. He's positively alive in this as if he's finally found a character that excites him. This is a Van Sant film more akin to his work in the early to mid 90's – daring, important and a must see – than his more experimental work as of late, which has been very hit or miss. Milk really is one of those TOP 5 FILMS that will appear on virtually every year end list and accrue an incredible amount of praise, nominations and awards – every last bit of it earned. This was one of those rare screenings in which every critic in town turned up and they all walked out stunned at just how incredible a film it was. Do not miss this one. And if you get the chance, take a bigoted friend. Blow his mind. Until next time friends, smoke 'em if ya got 'em. Massawyrm

Got something for the Wyrm? Mail it here.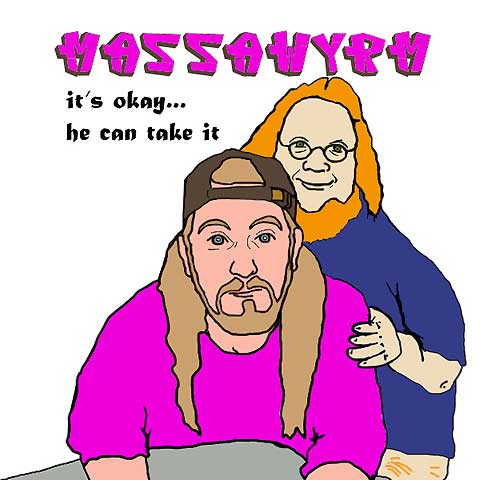 + Expand All

Nov. 26, 2008, 9:29 a.m. CST

by Droid

in the last decade? And Ghosts of Mississipi doesn't count!

Nov. 26, 2008, 9:39 a.m. CST

by The Eskimo

Nov. 26, 2008, 9:42 a.m. CST

by ArcadianDS

or a mystic. Because either you're able to see into the future and review all the movies for the next two years, or you're using far too much fanboi hyperbole in declaring this the 'best' of anything this decade.<p> So in the future, try not to review movies by comparing them to the movies that are going to be coming out in the next several years.<p> lol I said 'coming out' in a Massa talkback. HOW DARING!!

Nov. 26, 2008, 9:43 a.m. CST

by Slippy

"Guys are kissing all over the place and if Brokeback Mountain made your toes curl uncomfortably, this is gonna make your balls crawl up into your abdomen to hide. Harvey Milk isn't just effeminate – I was able to light cigarettes off of Penn's performance sitting in the theater." I almost pissed myself laughing at this statement. Fantastic job overall in your review, Massawyrm. Because of it, you have made me interested enough to go see this movie while in theaters no less, which is something I rarely do.

Nov. 26, 2008, 9:44 a.m. CST

by jim

a typo or a new word signifying male nudity? Combine "dude" with "nudity" and you get "dudity".

Nov. 26, 2008, 9:45 a.m. CST

by ArcadianDS

Sorry but didn't Dali already kinda corner the market on 'pointless movies designed to make viewers uncomfortable'?<p> If the best reason for seeing a movie is because I can make someone I dont like spending time with uncomfortable, well, guess what - THE FACT THAT HES BIGOTED AND I INVITED HIM TO THE MOVIES MAKES US BOTH PLENTY UNCOMFORTABLE IN THE FIRST PLACE.<p> Can you please just stick to reviewing board games? I want to know if painting an army of elves makes me gay, or if I should stick to orcs and goblins so that I can assert my heterosexuality on the surface of a beer stained pool table in my parent's garage.

Nov. 26, 2008, 9:46 a.m. CST

by Spandau Belly

for Transporter 4: Transported Out of The Closet

Nov. 26, 2008, 9:48 a.m. CST

by JeffManSixtyFo

HA! a movie getting people to change their minds? HA!

Nov. 26, 2008, 9:50 a.m. CST

by nycguy

I understand that many straight people aren't sure what is the correct way to refer to us. While technically accurate (gay men and women are indeed homosexual), it is a clinical term. Using this term serves to de-humanize living breathing men and women. This is why you hear people who are anti-gay constantly refer to "homosexual rights" or "homosexual marriage" or homosexual...whatever. It's meant to make us seem less than human, and it's infuriating. We are gay men and women (or lesbians), please call us that.

Nov. 26, 2008, 9:53 a.m. CST

by Spandau Belly

I went to see Brokeback Mountain on openning weekend and all these people got up and walked out after the first love scene (which is the most explicit, the rest of the movie mostly just cuddling). I guess they hadn't heard any of the buzz and showed up at the cinema that night, saw the poster and figured it was a Western or something. And for the first 20 minutes it's just dudes hearding sheep with no real hint that they're into each other if you didn't walk into the movie already knowing what it was about. But then once that love scene started, half the people got up and left, but then the remaining half left after the scene the next morning. I guess they were hoping for the Heath to beat up Jake for violating him or something and when he didn't, they realized it wasn't an I Spit On Your Grave type movie and they left too.<br><br>P.S.<br>I live in a country where gay marriage is legal, and techinically always has been.

Nov. 26, 2008, 9:53 a.m. CST

by ArcadianDS

its a term used to obscure the fact that you entire 'lifestyle' centers around poking your penis into other men's anuses.

Nov. 26, 2008, 9:56 a.m. CST

by BobParr

I don't want to watch Sean Penn playing some old Queen giving some random 70s dude a tug. That shit is gross. Give me some more Jake and Heath love. You just know Ang Lee is holding back the good stuff...not that I'm a gay or anything.

Nov. 26, 2008, 10 a.m. CST

by BobParr

We now wish to be called "Firesteins". All lesbians shall now be referred to as "Rosies". Thank you for your attention.

Nov. 26, 2008, 10:01 a.m. CST

by mach6

Are people really now going to equate being gay with civil rights? I had hoped this was all just a bad joke, but apparently, Liberals seriously believe that being gay is the same as being Black. I've got gay friends, and not a single one of them has ever been turned down for a job, had a cab pass them by, or been targeted by the cops just because they were gay. I wonder how black folks feel about the Left comparing their legitimate struggle for human rights and equality, with the need to fuck a guy in the ass without shame? <br> <br> I guess since we now have a Black president-elect, the Left needs a new minority to exploit. <br> <br> Just to keep it on-topic, I wouldn't see this no matter what the subject, because it's got Sean Penn in it. He's an insufferable tool, and hasn't made a good movie in decades.

Nov. 26, 2008, 10:06 a.m. CST

by ArcadianDS

The Ghost of Congressman Happy McFagnuts goes to Iran and prances about in a Liberache sized mink coat not finding any signs of human atrocities and finds his trip, in his own words, "unexpectedly FAAAABulous"<p> Brolin cameos as The ghost of Saddam Hussien who also turns out to be a fan of the manbits. If The Ghost and Mister Miur made your toes curl, this sequel will flat iron your pubis and make your junk look like Cher if Cher was 6 inches tall and had an elephant trunk for a face.<p> *embedded furry sig image from my DeviantART page*

Nov. 26, 2008, 10:08 a.m. CST

by Monkey Butler

I'm not too sure you know the meaning of civil rights. Marriage, welfare, healthcare and economic inequality = breach of civil rights.

Nov. 26, 2008, 10:10 a.m. CST

by crayon

And then I find out it's just about some gay white dude instead. Huh.

Nov. 26, 2008, 10:10 a.m. CST

by BobParr

I really don't give a crap if homos can marry or not. Let the people vote and decide or let legislatures create the law and get reelected or voted out based on their decisions. I just hate it when liberal courts CREATE LAWS when they don't get their own way.

Nov. 26, 2008, 10:11 a.m. CST

by Frisco

Your "explanation" of the only way that Prop 8 could have possibly passed is probably the most condescending anti-8 piece that I've read yet, and that's really saying something. Y'know, you might want to consider the remote possibility that the people who voted in favor of Prop 8 did in fact understand the issue and yet also--get this--might not be pro-8 out of a hatred for gays. I know, it's a crazy idea but the world is wacky. Check out this dude's post on the subject: http://dirtyharrysplace.com/?p=5572 . I would add a third main reason to the list at the top of his post, but the thrust of his post is spot on. Please read it.

Nov. 26, 2008, 10:15 a.m. CST

by BobParr

"Elton John is a gay and he's a very good friend of mine".

Nov. 26, 2008, 10:15 a.m. CST

by Monkey Butler

Why don't you care? That's an honest question. Gay marriage wouldn't affect me in the slightest, and wouldn't harm anyone else either, but it'd make plenty of people happy, so why should you not care that people are being denied the right to marry who they want?

Nov. 26, 2008, 10:15 a.m. CST

by DANNYGLOVERS_DICKBLOOD

Nov. 26, 2008, 10:20 a.m. CST

by ArcadianDS

If you bothered to read some of the literature that many of the anti-prop8 protest groups hand out, they not only think that homosexual marriage should be legal, but that there's no reason sibilings should not be allowed to marry.<p> So then I have to wonder - what happens after THAT? Group marriages where a batch of people figure out a way to get themselves a nice tax break if they say "yeah all 16 of us are in love and want to marry"? And dogs are very loyal - whose to say a dog owner with a dog that very clearly and visibly loves its owner, should not be allowed to marry.<p> So far, nobody has said in any of this literature, where this whole 'movement' will draw a finish line and pack up its things. It makes the whole 'homosexual marriage' look like a front piece of an entirely different agenda. Im not saying I am pro prop 8, but Im saying that those who are against it, at least the organized ones, are also in favor of some really creepy stuff if anyone bothered to spend time listening to EVERYTHING they're saying.

Nov. 26, 2008, 10:22 a.m. CST

by Le Vicious Fishus

I can see where all this is headed... Count me as pro-gay, anti-prop 8. <BR><BR>Have fun, guys.

Nov. 26, 2008, 10:24 a.m. CST

by BobParr

I just don't give a shit. I don't know why people would be so pissed if they are getting married and I don't know why gays care so much as long as they have the same legal rights through a civil union. The "It makes them happy" logic is not a good reason to rewrite laws. Why isn't paligomy (sp) legal as well? It makes them happy and it is consensual. It's a big old can of worms.

Nov. 26, 2008, 10:31 a.m. CST

by Le Vicious Fishus

By Tom Ackerman<BR><BR>From http://tinyurl.com/5zbh5j<BR><BR> November 17, 2008<BR><BR> I no longer recognize marriage. It's a new thing I'm trying.<BR><BR> Turns out it's fun.<BR><BR> Yesterday I called a woman's spouse her boyfriend.<BR><BR> She says, correcting me, "He's my husband," "Oh," I say, "I no longer recognize marriage." The impact is obvious. I tried it on a man who has been in a relationship for years, "How's your longtime companion, Jill?"<BR><BR> "She's my wife!"<BR><BR> "Yeah, well, my beliefs don't recognize marriage."<BR><BR> Fun. And instant, eyebrow-raising recognition. Suddenly the majority gets to feel what the minority feels. In a moment they feel what it's like to have their relationship downgraded, and to have a much taken-for-granted right called into question because of another's beliefs. Just replace the words husband, wife, spouse, or fiancé with boyfriend, girlfriend, special friend, or longtime companion. There is a reason we needed stronger words for more serious relationships. We know it; now they can see it.<BR><BR> A marriage is a lot of things. Culturally, it's a declaration to the community that two people are now a unit, and that unity should be respected. Legally, it's a set of rights and responsibilities. And spiritually, it's whatever your beliefs think it is.<BR><BR> That's what's so great about America. As a Constitutionally secular nation, or at least in reality a vaguely pluralistic nation, we can all have our own spiritual take on what marriage is. What's troublesome is when one group's spiritual beliefs deny the cultural and legal rights of another.<BR><BR> But, back to the point. They say their beliefs don't recognize my marriage, I say my beliefs don't recognize theirs. Simple. It may seem petty, and obviously the legal part of the cultural/legal/spiritual trilogy is flip-floppy, but it may be the cultural part that really matters.<BR><BR> People get married to be recognized as a permanent couple. To be acknowledged by friends, family, and strangers as being off the market, in a relationship, totally hooked up, yikes… it's impossible to say without saying 'married.' We wear rings to declare this! So, we can take this away. We can refuse to recognize marriage in the cultural sense. It is totally within our rights, as Americans, to follow our beliefs and recognize or not recognize what we like.<BR><BR> I guess this is a call out to all Americans with beliefs similar to mine.<BR><BR> If you believe that all people should have equal rights, and if you believe that marriage is one of the greatest destinations of a relationship, then perhaps you believe that nobody should have marriage until everybody does.<BR><BR> That's what I believe.<BR><BR>---<BR><BR>Couldn't resist.

Nov. 26, 2008, 10:31 a.m. CST

by kevinwillis.net

Massawyrm Compared it to Brokeback Boring. God, that movie was so frickin' pointless. They could have narrowed it down to Heath and Jake doing it and Anne Hathaway showing her boobs, and the entire point of the movie would be done with. It was just tedious. I watched the whole tedious, preachy, nothing of a movie. Although I rarely like Ang Lee's dramas. The Ice Storm left me cold. Ba-dum-dum. <br><br>Somehow, I get the feeling this is a much better movie--as a movie, not as a polemic--than Brokeback Mountain, which was just stupid and tedious. And Heath Ledger's I-say-everything-like-I'm-in-the-middle-of-taking-a-huge-dump-and-I'm-seriously-constipated accent grated almost immediately, and continued to through the entire, stupid, pointless movie.<br><br>I'm pretty confident Milk is about five-hundred times better than Brokeback Nothing.

Nov. 26, 2008, 10:32 a.m. CST

by reflecto

Fuck anyone who says otherwise. I'll take you all.

Nov. 26, 2008, 10:33 a.m. CST

by reflecto

NO MATTER HOW ARCH NEO-CONSERVATIVE YOU ACT ON THESE FUCKING TALKBACKS, NONE OF YOU WILL EVER BE A HARD-DRIVING, FAST-LIVING, NO BULLSHIT "MAN'S MAN" KURT RUSSELL CHARACTER, OR EVEN RODDY PIPER IN "THEY LIVE." YOU'LL JUST BE A BIGOT IN YOUR MOTHER'S BASEMENT.

Nov. 26, 2008, 10:34 a.m. CST

by kevinwillis.net

Yeah, I pitched that to my wife. It doesn't work.<br><br>Anybody who would react with deep offense is an idiot to that particular mind game is an idiot. The natural reaction would be, "Oh, aren't you so clever. Say, I know some people who aren't one-note charmless assholes, and I think I'm going to spend time with them." Sheesh.

Nov. 26, 2008, 10:34 a.m. CST

by kevinwillis.net

On those you disagree with doesn't do anything except make you seem fat, unwashed and excrutiatingly lonely.

Nov. 26, 2008, 10:35 a.m. CST

by Le Vicious Fishus

How DARE you insult the dearly departed Heath Ledger! Have you no SHAME, sir? Shave you no SHAME?!<BR><BR>I agree. BROKEBACK MOUNTAIN was a fine political statement, but it made one HELL of a boring ass movie.

Nov. 26, 2008, 10:35 a.m. CST

by jim

"next everyone will want to marry their dog, a goat, a toaster, a car" argument? Dogs, toasters, goats, cars are not human beings. They are incapable of swearing an oath, which is what the marriage ceremony is. If you are going to join the argument, try to stay away from rhetoric that simply exposes your own ignorance.

Nov. 26, 2008, 10:35 a.m. CST

by kevinwillis.net

Is a much better argument than everybody having marriage. Just saying. That should be the next proposition.

Nov. 26, 2008, 10:37 a.m. CST

by gboybama

that opposition to gay marriage comes almost exclusively from being "bigoted" or ignorant or isolated. As with most issues, there are good arguments on both sides. Anyone who doesn't know that fact hasn't been listening to their opponents very well. So, Massa, maybe it's *you* who needs to sit down and open your mind a little bit.

Nov. 26, 2008, 10:38 a.m. CST

by reflecto

Unless of course you wake up in cold sweats in the middle of the night, fearing "the state" will force you to marry a man.

Nov. 26, 2008, 10:39 a.m. CST

by drturing

There isn't a single gay or straight person I know who felt Prop 8 was an injustice that believes that siblings ought to be marrying. Fuck off with that bullshit. The rights of same sex people in love to marry has nothing to do with incest.<p> As for violations of civil rights, every single day in this country somewhere someone gets beaten up randomly for being gay. This took two seconds to google. http://www.washingtonblade.com/2008/11-21/news/localnews/13628.cfm As for why gays would want to marry, why wouldn't people want people in love to be able to aspire to a lifelong commitment? By refusing that it says that love between two people irregardless of gender is less than any others. You're saying that two people who want to devote themselves with the utmost commitment with vows in front of everyone are doing something wrong, when they are in fact saying no to promiscuity or instability. What fucking gives you're so scared of that? And nycbusyguy or whatevs, not even the term homosexual, or even gay should mean anything. It's just people, in love. If you put anyone's sex life under a microscope someone would find it weird. There isn't a man alive who hasn't jerked off to some kind of dubious thought. As a comfortable straight man I've even seen gay male porn and guess what, no reaction from me whatsoever. Not even disgust, just not turned on by it. How many of you queer haters could do the same, or are you scared of finding something out about yourselves? Is gay love the same thing anyway as gay sex? What is it about gay people that's so frightening to you all? <p> For reference, the movie was 300.

Nov. 26, 2008, 10:40 a.m. CST

by reflecto

The Terrorists Have Won & A Bald Eagle Dies.

Nov. 26, 2008, 10:41 a.m. CST

by kevinwillis.net

I'll vote for it, if it includes legalizing polygamy. Any expansion of civil rights that doesn't include making marriage available to all consenting adults based on their personal proclivities is inherently hypocritical. Either open up marriage to any configuration desired by consenting adults, or keep it one man, one woman.<br><br> BTW, gay people have always been able to get legally married. They just have to marry someone of the opposite sex.

Nov. 26, 2008, 10:42 a.m. CST

by kevinwillis.net

Doesn't mean I won't let you drink from my water fountain. But if a bald eagle does die, let's mount and stuff that sucker.

Nov. 26, 2008, 10:43 a.m. CST

by mach6

Monkey Butler writes, "I'm not too sure you know the meaning of civil rights. Marriage, welfare, healthcare and economic inequality = breach of civil rights." <br> <br> Since when are gay people denied welfare, healthcare, and economic equality? Federal law already prohibits services from engaging in sex-based discrimination, and most of my gay friends make far more money than I do. As far as marriage is concerned, there's no legitimate reason for gay people to have it--they just want it to feel "normal". Well, they're not normal--they're gay. Get used to it. <br> <br> No, there's simply no comparison to the so-called "oppression" of being gay, with that of the history of the African-American struggle for equality. The fact that Liberals are trying to misappropriate the concept of the struggle for civil rights is not only absurd, it diminishes the legitimate work that people like Malcolm X and Dr. King died for.

Nov. 26, 2008, 10:44 a.m. CST

by Nosferatu Jones

The anti-gay rants on these boards are always a hoot. Just like you never read a well-thought-out argument FOR rasicism, you'll never hear/read an intelligent argument against gays or gay marriage. Because they always drag religion into the equation.

Nov. 26, 2008, 10:44 a.m. CST

by ArcadianDS

Im not using that argument at all. Im telling you what was written on an evangalistic tract being handed out at a recent protest of prop8. Im not googling for talking points - I have that folded piece of paper in my own possession. Someone said, "you should read this to know the truth" and I took it because truth is really awesome and I like reading it.<p> It advocates polygamy and sibling unions in black and white.<p> as for the dog-owner marriage rights - all I was going for there was to get someone else to type ArcadianDS in their post. Thanks for making me feel so very special.

Nov. 26, 2008, 10:44 a.m. CST

by Le Vicious Fishus

against gay marriage. I saw a Boston University law school legal debate which aired several years ago with faculty bigwigs and star law students participating. The anti-gay marriage folks--some of whom were brilliant debaters--had their ASSES absolutely handed to them because their arguments and "evidence" were uniformly fallacious (mostly appeals to tradition). <BR><BR>The majority of the populace will come around eventually on this issue. Reason is on our side.

Nov. 26, 2008, 10:44 a.m. CST

by drturing

is taken wildly out of context, by which one could single out lines from the same book, levitiicus, that says literally that eating shellfish is an abomination before god. So why don't you start a precious proposition insitituting that, or glorifying the part in Numbers where God tells Moses to slaughter a whole village except for the virgins and divide them amongst his soldiers. Crazy fuckin shit. There's no good argument against gay marriage if it's some kind of protection of the rights of Christians, because that would mean that Muslim marriages or Shinto marriages or marriages in vegas or drew barrymore marriages would be an assault on your values, but we never see you people whining about that. <p> The fact of the matter is, 10 percent of the population is gay. One in ten. I want you homophobes to think about that today while you go about your business. There's a chacne that every tenth person you meet is.... GAY. Big fuckin deal. Shit, I'd rather that Sulu gets to be married in public and see him kiss his husband than I'd ever want to see a waingro from heat looking motherfucker jerking it to online porn of rv bukkake parties with girls holding teddy bears.

Nov. 26, 2008, 10:44 a.m. CST

by reflecto

But good luck with that Mormon fundamentalist dogma.

Nov. 26, 2008, 10:46 a.m. CST

by reflecto

As for loneliness, I can imagine polygamy is a lonely world for anyone in the household without a penis. It must be a race for the Paxil every morning, for all the wives aged 32 to 13.

Nov. 26, 2008, 10:47 a.m. CST

by ArcadianDS

sexuality isn't something I think we should be putting on display regardless of WHAT that sexuality may be. Its not appropriate in a public format. I dont care if your sucking down the tongue of a chick or a dude - its just not very classy or mature.

Nov. 26, 2008, 10:47 a.m. CST

by kevinwillis.net

I thought Heath kicked ass in the Dark Knight. But every line of dialog he delivered in Brokeback made me cringe. Jake Gyllenhaal's performance was great. Randy Quaid was awesome, even if he was just in it for a minute. Anne Hathaway taking off her top and Randy Quaid were the only two reason's I could really recommend that movie. The previews for Milk I've seen make it look, to me, like a much better movie.<br><br>And Sean Penn made my cringe just as bad as Heath Ledger in Brokeback in I Am Sam.

Nov. 26, 2008, 10:48 a.m. CST

by V'Shael

"It's an effect not unlike Ang Lee's approach to Brokeback Mountain" in which you begin to forget that you're watching a GAY LOVE story and focus only on the fact that it is a LOVE story." <p> Sorry dude, but that just never happened. That movie was all about the gay, and never let you forget it.

Nov. 26, 2008, 10:50 a.m. CST

by drturing

gay people have been deprived of the right of visiting their life term partner in hopsital care or being able to attend their death bed or even after cohabitating an entire life losing claims to shared property. that's the boring one. the more important one is that until only 40 years ago there was racial segregation in this country. 40 years ago people were not allowed in some parts of this country to share water fountains. gay people get abuse, lose jobs, are not allowed to serve in the military while being open about who they are (and come on, let's admit it straight people, we talk about how awesome it is being straight all the time. 90 percent of straight dude talk with each other is either vaguely homoerotic or focused on discussing female body parts). and more importantly, they've been denied housing, recognizance as family, and actual violence. whine all you want, the fact of the matter is that on a regular basis people across the u.s. are beaten because they happen to like to rub a part of their skin on certain types of people. no more, no less. seriously i don't understand why anyone gives such a fuck. oh and your gay friends being richer? maybe that's because the life they've had dealing with subtle oppression and signals from society that something is wrong with them has made them work harder than your pasty, knuckleheaded loaf of bread you call a fucking brain you hydrocephalic baboon.

Nov. 26, 2008, 10:50 a.m. CST

by Le Vicious Fishus

I agree. Heath was pretty bad in BROKEBACK. <BR><BR>PLEASE DO NOT EVER REFER AGAIN TO THE ABOMINATION WHICH IS I AM SAM.<BR><BR>Actually, please do. Pretty great stuff in the worst kind of way... Penn can be as bad or as good as it gets.

Nov. 26, 2008, 10:51 a.m. CST

by kevinwillis.net

In fact, it's hostile to it, these days. For the record, I think polygamists are idiots. And what is with your bigoted assumption that polygamy should be limited to a guy and a harem? What about two guys and a girl? Or three guys and three girls? Or three guys? Or ten chicks, who are all really hot, and like to give each other hot-oil pleasure massages and then video tape them?<br><br> No, your argument about "civil rights" ends when you've got yours. That's the point.<br><br>Who is actually arguing for incest, BTW? I have a hard time seeing that. Outside of the Jolie family, how many brothers and sisters actually want to get married?

Nov. 26, 2008, 10:52 a.m. CST

by Le Vicious Fishus

Um, would you be ok with two guys holding each other's hands, looking lovingly into one another's eyes, and giving the occasional mouth to mouth peck to each other? Cause I'm pretty sure most gay folks don't want to have sex in front of you.

Nov. 26, 2008, 10:52 a.m. CST

by kevinwillis.net

"Sorry dude, but that just never happened. That movie was all about the gay, and never let you forget it."<br><br> I often forget it was about anything, as I yawned and began to fall asleep out of extreme boredom. Hey, Anne Hathaway's boobs! I'm awake. Ooops, now they are gone. Back to sleep. Hey, Randy Quaid! Now he's gone. Back to sleep.

Nov. 26, 2008, 10:52 a.m. CST

by drturing

i don't know if you noticed, but walk outside and you'll see permutations of striaght sexuality beamed out all across the entire fucking planet non stop 24 - 7 - cause that shit sells. if you really think the modern mediated world is absent of sexualized imagery than you must be fucking amish. happy rumspringa, bitch.

Nov. 26, 2008, 10:53 a.m. CST

by ArcadianDS

forget the bible quotes. If someone wants to fling those around as if they somehow gave their viewpoint a solid framework, you can't stop them. Once you start googling up counter-point scriptures, you've already falling into the trap - that trap being 'lets discuss the Bible instead.'<p> Purely from a non-religious position, and from a scientific one, homosexuality is an aberration of our construction - Im not going to say its an evil evil sin or that its a very bad thing. Im saying that within the framework of nature itself, homosexuality is a tangent; it is outside of the normal process - not normal.<p> abnormal.

Nov. 26, 2008, 10:54 a.m. CST

by reflecto

Who spoke out in the black community on behalf of gay rights, and said the struggles were equal, for the rest of her life. Was she a dirty liberal? Civil rights is civil rights is civil rights, no matter if you are red, black, yellow, brown, gay or straight. It is that simple. Just because African Americans were the most recent oppressed minority does not make them the last. Nobody's civil rights, freedom to live together as citizens, to have the same couples' rights as anyone else, are up for debate. And no, our healthcare and welfare benefits are not accorded properly in terms of how we can care for our own families - which the state barely recognizes. Nor do GLBT citizens want marriage to feel "normal." They want it for the same reasons as anyone else: To love one another and be able to operate as a familial unit in the eyes of the United States. This is America, building a community is what it's all about. A common argument I have heard from some people is, "You can hide being gay, you can't hide being black/Asian/Native American/whatever, therefore you have not experienced discrimination." That is bullshit. If a family of African Americans, Asians, Native Americans, Hispanics, whatever sits down together, they still have community around the table, in the household, among each other. If a gay or lesbian person goes home to their Thanksgiving table, chances are they are surrounded by str8 family members.

Nov. 26, 2008, 10:54 a.m. CST

by ricarleite

My last name's also means Milk. Nothing wrong with that. Not gay, though. But now I feel a bit bad about my last name.

Nov. 26, 2008, 10:54 a.m. CST

by ArcadianDS

You read my title, skimmed a few words, and then farted out a post. While it probably felt like a monument to rationality and cognitive thought when you wrote it, it is unfortunately, a very very bad post. This due to the fact that it counter-points against points that nobody was making in the first place.<p> Congrats on presenting the worst strawman since Nicolas Cage.

Nov. 26, 2008, 10:55 a.m. CST

by jim

Is that special feeling better than being "FIRST!"

Nov. 26, 2008, 10:55 a.m. CST

by Le Vicious Fishus

from," two guys or two women acting like a romantic couple WOULDN'T be ok. And I'm really fucking glad I don't live where you come from.

Nov. 26, 2008, 10:56 a.m. CST

by kevinwillis.net

But he was dead set against divorce. We should pass a proposition that bans divorce. That's what Jesus would do.<br><br> He never endorsed homsexuality, either. Just to be clear. I believe it was the Apostle Paul who endorsed asexuality--avoiding women as being distracting from the Will of God--which is about as close as they came.

Nov. 26, 2008, 10:56 a.m. CST

by reflecto

It's not about "I got mine." If this was any other minority engaged in the same struggle, I'd support them too. You want to bring it down to some sad little level of making it about fetishes or sexual practice, and that's not what life, or human rights, are about - even a life different from yours. Gay and lesbian life is not a hedonist society anymore than heterosexual life.

Nov. 26, 2008, 10:57 a.m. CST

by ArcadianDS

Since we all but cinched up the whole 'Jim Crow' era of our nation's checkered history, what was she going to do - work the jewelry counter at Sears? No - she just found a new cause du jor and booked paid speaking engagements with it.<p> Also - if your name is Leche then I laugh at you hard.

Nov. 26, 2008, 10:57 a.m. CST

by Le Vicious Fishus

Please cite your "scientific sources." I'm curious to know which fringe-gay-bashing scientists are feeding you this tripe.

Nov. 26, 2008, 10:57 a.m. CST

by ArcadianDS

you've typed my name several times.<p> In a word? YES.

Nov. 26, 2008, 10:58 a.m. CST

by BobParr

Anyone who doesn't hold their view is a RACIST, SEXIST, BIGOTED, HOMOPHOBE and nothing else.

Nov. 26, 2008, 11 a.m. CST

by reflecto

Otherwise BIG GOVERNMENT STRIKES AGAIN!

Nov. 26, 2008, 11 a.m. CST

by kevinwillis.net

That's a very selective statement. Arguably, any predisposition that affects a minority of the human population is thus abnormal. Extreme sports guys are abnormal, because most people don't skydive. Feel free to make up your own. Obviously, it's a variation that serves a purpose in a strictly evolutionary sense if it has persisted and effects 10% or so of the population.

Nov. 26, 2008, 11 a.m. CST

by ArcadianDS

I dont know their names, but they're the ones who wrote every biology textbook ever published.<p> btw: when something is mainstream, its not accurate to refer to it as 'fringe' - as fringe suggests something that is outside of mainstream. The mainstream world at large has accepted that 'normal' coitus consists of the conjunction of a vagina and a penis. Those who do not agree with this sentiment - they are on the 'fringe'

Nov. 26, 2008, 11 a.m. CST

by reflecto

Nov. 26, 2008, 11:02 a.m. CST

by Le Vicious Fishus

Brilliant summation. Did you think that up all by your wittle self?<BR><BR>Thank GOD we have you kind-hearted, racially diverse, gay friendly, women-respecting and generally TOLERANT conservatives to show us the way... What would we ever do without you?

Nov. 26, 2008, 11:02 a.m. CST

by Massawyrm 1

<p>But as much as that might say what you feel, it's a hollow editorial not unlike many written in the 50's and 60's in the face of court ordered integration and civil rights. They didn't HATE blacks - they just wanted a distinction, a separation. Like the words "Civil Union" and "marriage".</p> <p>Voting away someone's access to a legal contract on the basis that it is some kind of protest vote against the court? Really? That's decidedly unAmerican. Denying someone something on the basis that the court pissed you off? And the religious angle always falls apart under any scrutiny - first of which is that religious beliefs have no in the realm of legal contracts. Which is exactly what the religious figureheads argue whenever they are forced to ignore getting behind someone trying to push something widely unpopular that is also in the Bible - like the abolition of no fault divorce or the legalization of polygamy.</p> <p>Of course, those things would never pass. Wonder why.</p>

Nov. 26, 2008, 11:03 a.m. CST

by DRACULA_WANTS_THE_AMULET

Guess who got the poster qoute....

Nov. 26, 2008, 11:05 a.m. CST

by Darth Macchio

...ok, so you don't like gay people and maybe even wish they didn't exist. Well...in the case of gay men...I wish EVERY guy on the planet was gay.<p>Why?<p>Simple: cause then every straight woman would be knocking on my door natch!<p>In all seriousness...either shit like this has no place in a state or federal context (and it fucking shouldn't) or those who are pushing religious morality need to start paying taxes (churches). The fact that we're even talking about a moral principle based on theological views is offensive to anyone who truly believes in the separation of church and state. Keep the Church out of the State and keep the State out of the Church. And now that pastors are openly coaching their members to vote in specific ways or denying them religious service due to their voting choices, then these guys need to start paying taxes and join in the political banality game like everybody else.<p>Unless, of course, Holy shit doesn't smell.

Nov. 26, 2008, 11:06 a.m. CST

by Archive

let's include My Own Private Idaho (by Gus Van Sant) and Bad Education, shall we?

Nov. 26, 2008, 11:06 a.m. CST

by Le Vicious Fishus

Please site the biology books in question and quote the passages which claim that homosexuality in nature is aberrant. You can't, can you? In fact, homosexuality exists in a plethora of nonhuman animal species. It is--literally--natural to be gay. <BR><BR>Thanks for playing, friend, but science ain't with you this time...

Nov. 26, 2008, 11:08 a.m. CST

by BGDAWES

______________ |[] | | __________ | | | Radio | | | | Shack | | | |________| | | ________ | | [ [ ] ] | \___[_[_]__]___|

Nov. 26, 2008, 11:08 a.m. CST

by ArcadianDS

Im not going to respond to your request until you can post it with an accurate representation of what I said.<p>

Nov. 26, 2008, 11:08 a.m. CST

by Deagle2

Or any of the other anti-gay marriage props recently passed? Obama and the Democrat controlled Congress could make gay marriage legal in all 50 states with little effort. Does anyone here think they actually have the balls to do it?

Nov. 26, 2008, 11:09 a.m. CST

by almostgrown

I recently married, and I didn't really want to, but it was necessary in the sense that my spouse would not allow us to live together unless we were married because her family wouldn't support it. Not living together meant we weren't able to consolidate healthcare, or have a recognized civil union of any kind. And it meant neither of us had rights to each other's health issues nor would I have any rights in regards to her kids' well being if something happened to her. my point is this...there is a still a sociological power in marriage, and it is an obvious effort at retention of power in denying marriage to a group of people.

Nov. 26, 2008, 11:09 a.m. CST

by BGDAWES

______________<br> |[] |<br> | __________ |<br> | | Radio | |<br> | | Shack | |<br> | |________| |<br> | ________ |<br> | [ [ ] ] |<br> \___[_[_]__]___|<br> <br>

Nov. 26, 2008, 11:10 a.m. CST

by BGDAWES

Nov. 26, 2008, 11:11 a.m. CST

by ArcadianDS

do you actually think they have the power to do that? Unless you're talking about a constitutional amendment, the President and Congress have no authority to mandate the legalization of homosexual marriage.

Nov. 26, 2008, 11:12 a.m. CST

by Le Vicious Fishus

Don't you fucking dare tell anyone who they can or cannot marry. And why the fuck are you so worried about who marries who anyway? Literally, what the fuck does it have to do with you or your life? <BR><BR>If you find yourself passionately disagreeing with gay marriage, maybe you should take a good look inside yourself and ask yourself why.

Nov. 26, 2008, 11:13 a.m. CST

by Raymar

When does Gus Van Sant direct a movie that convinces people that I have the right to marry a truckload of underage kids?

Nov. 26, 2008, 11:14 a.m. CST

by ArcadianDS

nice dodge, Gladiator, but I was pretty clear that I wouldn't be addressing you further until you found a way to reference the comments of others in a more honest and accurate way. That is the actual bottom line.

Nov. 26, 2008, 11:14 a.m. CST

by DRACULA_WANTS_THE_AMULET

Please don't say theres a plethora of it in other species. <P> Let me tell you why... The Bononbos monkeys are the one they always try to compare to humans. Well of course they have gay sex. That's all good and fine, and I got nothing wrong with it, but they also have Incest and they Kill and Eat each other.... We could argue till we are blue in the face about how natural that is, but in truth what those creatures are doing are purely based on instinct and primal desire. <P> I'd like to think we are different.. We shouldn't open that door bro. Theres some crazy fucking shit behind it that will make the statement look poor.

Nov. 26, 2008, 11:16 a.m. CST

by Le Vicious Fishus

You originally wrote: "Purely from a non-religious position, and from a scientific one, homosexuality is an aberration of our construction - Im not going to say its an evil evil sin or that its a very bad thing. Im saying that within the framework of nature itself, homosexuality is a tangent; it is outside of the normal process - not normal."<BR><BR>To which I asked for a citation of your sources.<BR><BR>To which you replied: "I dont know their names, but they're the ones who wrote every biology textbook ever published"<BR><BR>To which I replied the following:<BR><BR>Please site the biology books in question and quote the passages which claim that homosexuality in nature is aberrant. You can't, can you? In fact, homosexuality exists in a plethora of nonhuman animal species. It is--literally--natural to be gay. <BR><BR> Thanks for playing, friend, but science ain't with you this time...<BR><BR>---<BR><BR>Satisifed?

Nov. 26, 2008, 11:17 a.m. CST

by ArcadianDS

and aside from some worrisome spots on my left lung, all I found was this note that said, "gays are whack, yo" so there you go.<p> Let me guess, You were expecting it to say "i might be secretly gay" right?<p> That whole notion of 'people who dont like gays are actually gays' is the most asinine thing I've ever heard or read in a homofagual debate.<p> I happen to also not like tunafish. I suppose this means that deep down inside myself, I actually love tunafish so much that I just cannot get enough of it. But Im afraid I'll look like a douche at the supermarket with a cart loaded with canned tuna, so I have to say things like, "tuna sucks man amirite?!" and then glance around nervously to see if anyone has seen through my ruse.<p> yeah - its that kind of stupid.

Nov. 26, 2008, 11:17 a.m. CST

by drturing

dear god the lunacy of such... did you know that there is recorded interactions of homsexual couplings in nearly every observed species on the planet? you've never seen a gay dog? in fact, most biologists now are close to a consensus for a gay gene, which would mean that it's hardwired into people, so it isn't a "lifestyle" or a "choice". who isn't to say that my penchant for getting satisfaction of blowing a wad of semen on a preferably b sized breasts on a skinny girl with dark hair who doesn't shave her pubes would be by your definition aberrant or non mainstream, but guess what, i love it all the same! Hell, by your logic, no one should get blow jobs because it isn't natural to put penis in mouth. Well enjoy the true forced loneliness your ignorant douche.<p> if one looks at nature without the distorted prism of scripture one finds that it is remorselely indifferent to the notion of human morality or norms. You have no fucking idea what you're talking about.<p>

Nov. 26, 2008, 11:20 a.m. CST

by DRACULA_WANTS_THE_AMULET

Die!!!!!!! <P> Nooooooooooooooooooooooooooooooooooooooooooooooooooooooooooooooooooooooooo!

Nov. 26, 2008, 11:20 a.m. CST

by drturing

again, gay people want to unite, as most christians due, in devotion and the opportunity at an everlasting, monogamus bond with one person. they want to the right to the same sexless, passionless future us heteros have been enjoying for centuries. but to be serious for a moment, this whole argument that it's the same as polygamy is fucking tiring. gay people don't want to marry 12 people. in fact, what they're hoping for is the same goddamn simple right to be with the one person they love like the rest of you do. by denying them marriage you're actually instituting in their culture the fact that they can't even aspire to that.

Nov. 26, 2008, 11:22 a.m. CST

by drturing

are the jizz stains from when you were wacking it watching "touched by an angel". which is a wholly unnatural, anti biological lifestyle choice, friend-o.

Nov. 26, 2008, 11:24 a.m. CST

by Godovhellfire

Nov. 26, 2008, 11:25 a.m. CST

by Le Vicious Fishus

Check this study out (from http://tinyurl.com/zuxns):<BR><BR>University study of homophobia: <BR><BR> A study that appears to reveal a major cause of homophobia was completed at the University of Georgia in 1996. It involved 64 white men, none of whom had engaged in homosexual acts during their lifetime. Their sexual fantasies involved only women. 35 of them were rated homophobic; 29 non-homophobic. For the purpose of this study, "homophobia" was defined as a negative emotional reaction (e.g., fear, anxiety, anger, discomfort) to homosexuality. It was measured by a questionnaire called the Index of Homophobia. Each was shown three types of X rated videotapes: heterosexual, lesbian and gay. A plethysmograph measuring device (affectionately called a "peter meter") measured the circumference of their penis as a gauge of sexual arousal. <BR><BR> The two groups exhibited similar arousal when they viewed 4 minute samples taken from one heterosexual and one lesbian movie. But they responded differently to the male homosexual clip: <BR><BR> Homophobic men experienced a moderate tumescence 26% of the time and definite tumescence 54% of the time when watching the homosexual clip. <BR><BR> The researchers concluded that these data are consistent with the belief that most homophobic men have repressed homosexual desires. An alternative, but much less likely, explanation is that the homophobic men's erections were caused by anxiety during the experiment. <BR><BR> Again, Arcadian, you and science aren't seeing eye to eye.

Nov. 26, 2008, 11:27 a.m. CST

by almostgrown

marriage is not "natural". it is a human construct and humans existed for quite a long time without it in various forms of societies. in fact, some still exist that do not have the ritual of marriage as part of their customs. so, why as a society are we putting so much emphasis on who can and can't get married?

Nov. 26, 2008, 11:32 a.m. CST

by DRACULA_WANTS_THE_AMULET

Occasionally you hear someone say "We should give them there own Island" <P> Well fuck! I'd go Gay/Black/Minority right the fuck now, if it would grant me ownership over my own little island, all for me self! Give me the island. I will blow you in Blackface with a Spanish Accent.

Nov. 26, 2008, 11:32 a.m. CST

by Pdorwick

...but you guys have managed to fall below even my low standards. I'll say it once:<br><br>Homosexuals are people. They deserve every right people in whatever country you're writing from, get. Why is this so hard to understand? If conservatives are so interested in the institution of marriage they should outlaw divorce and if any of you "It's a choice" idiots would just speak once to a gay man or woman you'd quickly discover how little of a choice it is.<br><br>Grow up, the world is changing.

Nov. 26, 2008, 11:32 a.m. CST

by ArcadianDS

I knew I could get you to do that.<p> clearly I've been the victim of an agenda-driven educational system and all the biology texts I've read in my life were written by a consortium of gay-bashing scientists, can you give me some suggested reading material - specifically some biology textbooks that say, "homosexaulity is actually the normal method of intercourse within nature." I'll read it with an open mind, and then laugh at it when Im done.

Nov. 26, 2008, 11:33 a.m. CST

by ArcadianDS

Cardinals (the bird, duh) select a mate for life. And its not another dude Cardinal either.

Nov. 26, 2008, 11:35 a.m. CST

by ArcadianDS

is that having read one, you think this empowers you with the ability and authority to diagnose this in others.<p> I just read a Sears catalog and I've diagnosed you as a tool.

Nov. 26, 2008, 11:40 a.m. CST

by s00p3rm4n

Ladies, more dishing - less swishing. For fuck's sake, my monitor caught fire reading your posts... and I'm gay. "You should be putting out that fire in your monitor," you say - and yes, maybe I should. I just thought pointing out how gay you two were, and asking you for a funky three-way in the trailer-home closest to you. In other words, in either of your trailer homes. P.S. Polygamy is not the same as monogamy, and homosexuality isn't the same as incest or pedophilia or pederasty. That is why we have different words for these things! The more you know (the less you obviously understand)!

Nov. 26, 2008, 11:41 a.m. CST

by Darth Macchio

Nothing on this Earth is unnatural. Disagree? Ok, what then is your measure? To what do you compare? How do you state something as unnatural without redefining the word? You can say factually that homosexuality does not propagate the species but it is not remotely "unnatural" unless of course you've decided what the word 'natual' means all on your own. Science defines natural as the entire scope of known phenomena, anything outside of this scope is called 'super-natural'. Thus, all empirical behavior is "normal", even the most base and disgusting behavior is "normal". It may be anti-social or even dangerous or, in the case of gay relationships, not accepted by certain individuals but those are all constructs of civilization. You may disagree with science and that is fine but then if we cannot agree on a set of semantics then how can we debate what time it is much less whether or not some specific behavior is natural. It's natural for omnivores (like human beings) to eat meat yet there are hordes of people who think other people who eat meat are monstrous heartless assholes.<p>Do not equivocate "normal" with "common" as it detracts the debate into bullshit semantics and then people just have insult shouting verbal tennis-matches and it's just a big stupid mess.

Nov. 26, 2008, 11:42 a.m. CST

by DRACULA_WANTS_THE_AMULET

Oh shit this is going to be one hell of a talkback war... I need to get back under the bridge, grab myself something to eat, drink, smoke and watch this in all it's glory as a spectator. Damn everyone gets so hung up over who's genitals touch what.

Nov. 26, 2008, 11:42 a.m. CST

by reflecto

to love and marry with beastiality, child abuse and anarchy in the streets."

Nov. 26, 2008, 11:45 a.m. CST

by Lost Jarv

The bigoted assholes are out in force. Excellent. <P>I'm going to read this TB, and then once up to speed, go to war.

Nov. 26, 2008, 11:47 a.m. CST

by Le Vicious Fishus

"...are not known to form heterosexual bonds, but... do in fact form homosexual pair bonds, including sex, and often lasting for life." (http://tinyurl.com/8xbfz) I urge you to read the further evidence regarding homosexuality in the natural world. <BR><BR>Man, you keep throwin' my way, and I keep knockin' em out of the park.<BR><BR>My logical arguments--backed up with [gasp] real evidence--have been met again and again with sourceless, fallacious assertions and--most recently--juvenile name calling. I think I can happily ignore you from here on out knowing beyond a shadow of a doubt that I've intellectually beat the fuck out of you this morning. <BR><BR>Good luck in all your endeavors, bud. Be seeing you.

Nov. 26, 2008, 11:51 a.m. CST

by ArcadianDS

because you read a clinical study of homophobia on wikipedia, and you think this empowers you to go around pointing at people and saying, "yep, homophobic."<p> Thats just childish and dumb. in a word: "gay"

Nov. 26, 2008, 11:52 a.m. CST

by TerryMalloy

Funnier, better looking, better in bed... <p> Not that I'd know...

Nov. 26, 2008, 11:53 a.m. CST

by DRACULA_WANTS_THE_AMULET

Dolphins don't have opposable thumbs, and they don't kill, eat, or rape each other.. <P> Just saying guys don't point the finger at the animals for logic. It's dumb! And you all know I'm for Gay rights right. Please don't I'm the jerk. I think as long as it mutual and it doesn't hurt anyone. What's the big deal.

Nov. 26, 2008, 11:53 a.m. CST

by ArcadianDS

to suggest that one's use of profanity is oh so very fail and then subsequently use it yourself in the very same post. You cant even keep your shit straight for 8 sentences.<p> And being a copypasta machine doesn't make you any kind of intellectual. An 8 year old with downs can copypasta from wikipedia. Hell, you just proved that.<p> And you wont be seeing me because you're not taking me to a gaybar gaybar

Nov. 26, 2008, 11:54 a.m. CST

by DRACULA_WANTS_THE_AMULET

Nov. 26, 2008, 11:56 a.m. CST

by ArcadianDS

we knew what you meant. Years of no edit function has made us experts at seeing through the typos and omissions.<p> Unless you're douche fag with a pretentiously faux latin handle, in which case, typos and such are ripe fodder for counter-arguments.

Nov. 26, 2008, 11:56 a.m. CST

by Le Vicious Fishus

Man, this is all too easy. Reason and scientific evidence are all on the pro-gay side. Fear and fallacies are the only thing going for the other.

Nov. 26, 2008, 11:58 a.m. CST

by TerryMalloy

Gays are evil and have never been discriminated against. <p> I don't know where I got those silly ideas into my head.

Nov. 26, 2008, noon CST

by ArcadianDS

because google search and copy pasta isn't hard.<p> also lol @ u for not being able to stay away for longer than 23 seconds.<p> 11:47:17 AM - "Good luck in all your endeavors, bud. Be seeing you."<p>11:56:53 AM - "OH HAI IM BACK"

Nov. 26, 2008, 12:01 p.m. CST

by Lost Jarv

congratulations, bigots, lowered yourselves ridiculously even by your standards. <P>The question you have to ask yourselves (pay attention at the back)is "Why do you give a shit about 2 consenting adults getting married"<P>

Nov. 26, 2008, 12:03 p.m. CST

by thegreatwhatzit

It invokes the teary-eyed Sally Struthers pitch for African charities; the intent was noble but the rhetoric and performance is gauged as unbridled camp. Hyberbole just isn't good journalism; it's akin to an annoying guy on a bus who turns up the volume on his own agenda. Or the Cliff Clavin-type dude who boards a plane, sits next to you and you--to circumvent conversation--pretend that you're asleep the entire trip. If you like the film, don't throw superfluous adjectuves at it ("beautiful film", WTF. CITIZEN KANE is near perfection but it deserves analysis, not "beautiful"). Sean Penn's films have tanked at the box office (his ALL THE KING'S MEN was bedlam, what with British actors playing below-the-Dixie-line rednecks). Penn is milking this film (sorry) for controversy, hoping to translate "provocative" into cash. Sorry to be cynical but he'll be schilling this film all over talk shows ("I watched newsreels of Harvey and was fascinated--and what's wrong with California, what's up with those people?" [cue for audience applause]). I believe in equal rights for everybody, whether the issue is ethnic or sexual orientation. But stop tossing around this neophyte, slack-jawed scribble--it's not unlike a monkey slinging shit at zoo attendants.

Nov. 26, 2008, 12:03 p.m. CST

by ArcadianDS

woah bro you and I dont agree on this? I gotta seriously refocus now, cuz I like and respect you. In fact, if ever I was to turn to the abnormal (i.e. ABNORMAL) side, you'd be my go-to guy/girl (i.e. GUY/GIRL). Because you have a square head on your soft supple shoulders and your blood doesn't smell like dirty pennies so I think that means its clean.

Nov. 26, 2008, 12:05 p.m. CST

by skimn

From Adam Sandler and Kevin James?

Nov. 26, 2008, 12:06 p.m. CST

by ArcadianDS

anyone who has been around knows that 80% of what I did here was just keeping the gears of the talkback greased and moving. I dont approve of homosexuality, but I don't go out of my way to prohibit or infringe against it. I've made a personal decision in this matter, and I keep that decision exactly that: personal.<p> Those who still want to seriously try to debate me on this topic probably need to just take a moment, realize they got rolled, and then let it go. If I have to, I'll whip out my "DANNYGLOVERS_DICKBLOOD Approved" card.

Nov. 26, 2008, 12:06 p.m. CST

by TerryMalloy

You know what you need? <p> A warm glass of semen to wash out all the filth coming out of your mouth. <p> You naughty boy ;)

Nov. 26, 2008, 12:08 p.m. CST

by almostgrown

are not the same thing Arcadian, that is why divorce exists. I know of very few humans that mate for life, whether gay or straight.

Nov. 26, 2008, 12:08 p.m. CST

by TerryMalloy

Make sure to have a side of cock'N'Balls at Arby, Arcadian.

Nov. 26, 2008, 12:09 p.m. CST

by ArcadianDS

Im not going to say yes and Im not going to say no. Im simply going to suggest that it would spoil my lunch and then let you draw your own conclusions. Wars done, so Im all about the harmony now. Catered lunch today, so Im stoked.

Nov. 26, 2008, 12:10 p.m. CST

by TerryMalloy

Nov. 26, 2008, 12:15 p.m. CST

by TerryMalloy

You are secretly a queen-loving, well-groomed fey intellectual with a dash of humor.

Nov. 26, 2008, 12:18 p.m. CST

by Le Vicious Fishus

Nov. 26, 2008, 12:24 p.m. CST

by TerryMalloy

Nov. 26, 2008, 12:29 p.m. CST

by TerryMalloy

Nov. 26, 2008, 12:36 p.m. CST

by My Mom Is A Whore

It's good for your bones.<p>I like the fact that Hollywood is doing a pro-milk film. More people should drink it. Fuck soya.<p>I also like the fact that Sean Penn plays a bottle of milk in this. If I was a brilliant actor, I'd sometimes want to just say "Fuck it" and play a bottle of milk too.

Nov. 26, 2008, 12:37 p.m. CST

by DarthCorleone

...to respond to all the insensitive assholes on this thread.

Nov. 26, 2008, 12:40 p.m. CST

by Drunken Rage

Nov. 26, 2008, 12:41 p.m. CST

by Le Vicious Fishus

Nov. 26, 2008, 12:42 p.m. CST

by thot

Pretty funny how condescending and bigoted so many "anti-bigot" bigots are! Also ironic how absolutist they can become when it comes to condemning other absolutists.

Nov. 26, 2008, 12:42 p.m. CST

by Come_ON

I love how people keep crying "If only this movie had come out a few weeks earlier" Prop 8 would have still passed, possibly by an even larger margin because the people voting 'yes' wouldn't have seen the movie and just be even more motivated to vote due to Hollywood trying to shove this down their throats. Pun INTENDED

Nov. 26, 2008, 12:44 p.m. CST

by Le Vicious Fishus

Hilariously ironic post. Thanks for that cool glass of lemonade.

Nov. 26, 2008, 12:45 p.m. CST

by TerryMalloy

because bigots aren't nearly as good looking or cool as we are. We are, if you will, absolutely perfect. <p> And I defy you to prove me wrong.

Nov. 26, 2008, 12:47 p.m. CST

by skimn

So is it the physical act, the concept, or the individual? Because they are all of the same.

Nov. 26, 2008, 12:55 p.m. CST

by Sick Fixx

I want the rights to practice my lifestyle openly in public, at work, etc. That's what will be next when you allow people to practice something private in a public setting. Homosexuals should have the right to join together and marry, just not in a Christian ceremony. You can't make a Christian wedding something it is not, expect a Christian preacher to bless something he is not to bless. Let them have some other kind of wedding, just not a Christian one with blessings, readings of passages and all that.

Nov. 26, 2008, 12:56 p.m. CST

by Le Vicious Fishus

I asked the same question--to ludicrous result--earlier in the TB myself. The anti-gay marriage folks should mind their own fucking business. IMHO.

Nov. 26, 2008, 12:57 p.m. CST

by odo19

are calling us intolerant for calling them out on their bigoted ignorant and hate-filled bullshit. Somehow because we want equality for every human being and find the idea of people being discriminated against to be disgraceful we're the bad guys!! Kindly fuck off with that horseshit, please.

Nov. 26, 2008, 12:58 p.m. CST

by Wheel99

Why not. It worked for South Park Bigger longer and uncut.

Nov. 26, 2008, 12:58 p.m. CST

by ChocolateJesus

Reality is subjective. Every being should be allowed to do whatever that being desires unless it does harm to another being. That's the only way to live. Anything else is bullshit. If you hate gay people, I don't think that automatically makes you a repressed homosexual. I think it means you've got some evil in you. And it means you're holding the whole species to whatever tainted standards you have lying around your skull.

Nov. 26, 2008, 12:59 p.m. CST

by Wheel99

because I will be hanging out with Hugo Chavez when it's in the theaters.

Nov. 26, 2008, 12:59 p.m. CST

by Le Vicious Fishus

But you are right that gay folks should have the right to marry just as churches should have the right to deny performing gay weddings. Incidentally, no one is advocating forcing churches (either individual or denominational) to perform gay weddings.

Nov. 26, 2008, 1 p.m. CST

by Monkey Butler

Funny how it's acceptable to say something like that, but not acceptable to say "I don't approve of black people". Bigotry's bigotry, right?

Nov. 26, 2008, 1:04 p.m. CST

by Darth Macchio

...it is America and you've got a right to hate who you want. But you can keep the personal stuff out of the Government if you please. Separation of church and state and all that...oh and try to resist beating the shit out of someone for stuff like this...either gay people or non-gay people who support them and even people who hate gay people but don't engage in violence. Altho that giant asshole who protests funerals with signs while people are grieving...that guy needs his ass kicked but other than him and his unthinking ilk, peace out brothers and sisters! Even for those who feel hate for you in their hearts....it is their burden to carry after all...hate is VERY heavy. Kumbaya mutherfuckers!

Nov. 26, 2008, 1:06 p.m. CST

by DANNYGLOVERS_DICKBLOOD

..should try sucking on a dick at least once in their life. If its just one time, it doesn't make you gay. Who knows, you make like it and end up dropping that fat ass hideous wife of yours for some cute 25 year old dude with a tight body that works at the book store.

Nov. 26, 2008, 1:08 p.m. CST

by DarthCorleone

I'll thank you then. I've been tackling this debate elsewhere for the last few weeks online and am so tired of the vapid arguments of the "Yes on 8" crowd. I'm finding it difficult to resist the urge to jump into the hostile territory of that "Dirty Harry" link posted above.

Nov. 26, 2008, 1:16 p.m. CST

by The Eskimo

pointless arguement...rights vs religion...no possible resolution...there will be blood...

Nov. 26, 2008, 1:20 p.m. CST

by WaitingforAvengers

I thought marriage pre-dated Jesus?

Nov. 26, 2008, 1:22 p.m. CST

by The Eskimo

...then your not really sucking a dick, just putting a condom in your mouth. And who hasn't done that? Really?

Nov. 26, 2008, 1:23 p.m. CST

by TerryMalloy

Gays aren't advocating for the right to fellate each other in public, you fool. The right to marry doesn't give heteros the right to do the missionary in times square. <p> And churches wouldn't have had to marry gays if Prop 8 passed. <p> Now please bend over.

Nov. 26, 2008, 1:23 p.m. CST

by uberman

it is clear that Harvey Milk was a strong advocate for Peoples Temple and Jim Jones during his political career, including the tumultuous year leading up to the Jonestown tragedy. Milk spoke at the Temple often, wrote personal letters to Jim Jones, contacted other elected officials on the Temple's behalf, and used space in his weekly column to support the works of the Temple, even after the negative New West article went to press. Milk appeared in the pages of the Peoples Forum, the Temple newspaper, and received over fifty letters of sympathy from the residents of Jonestown when his lover, Jack Lira, killed himself in September 1978. It is readily apparent from the letters and historical memorabilia that Milk and the Temple enjoyed a mutually supportive relationship until their concurrent deaths. Why then is the relationship such a secret, even taboo to discuss? The only biography of Milk to date, The Mayor of Castro Street, by Randy Shilts, downplays the Milk/Temple relationship, even going so far as to paint Milk as one of the countless people who cruelly ridiculed and ostracized the surviving Temple members and their supporters. Like most historians, Shilts opted for an image of an expedient politician, instead of truthfully portraying how Milk worked with Peoples Temple until the end of his life. Enough time has passed since Milk's brutal murder to reanalyze this relationship, to explore how and why Harvey Milk supported Peoples Temple. As people who hold Milk in high esteem, we should honestly and openly explore and reevaluate what we know about Peoples Temple, to see what it was about the church that appealed to Milk. Whether it was its pro-gay public persona, its support for embattled gay teachers, its opposition to anti-gay ballot measures, its active opposition to racism and sexism, the multiple stories throughout the pages of the Peoples Forum denouncing violence against gays and lesbians, or simply its acceptance of him and its continued support for his political campaigns – whatever the reason – Harvey Milk irrefutably supported Peoples Temple. It may be understandable why in November 1978 the supporters of Milk would attempt to distance the newly martyred supervisor from the still-unfolding horrors of Jonestown. However, we as witnesses, historians, researchers and writers have an obligation to tell future generations the whole truth, as we understand it, to record as much documentation as possible and let the biases and subsequent interpretations transform over time. As Dr. Susan Stryker states in the curator's statement of the Milk exhibit, "While I wanted to respect Harvey Milk's legacy, I also wanted to suggest that in venerating him, we risk obscuring a great deal of other equally compelling gay, lesbian, bisexual and transgender history."

Nov. 26, 2008, 1:35 p.m. CST

by Damien Chowder

Campaigning for a bit of peace?

Nov. 26, 2008, 1:36 p.m. CST

by Dmann

The whole issue isnt gay, it isnt polygamy, polyamory or whatever. Its the simple right, the LIBERTY to not lose your job, to have tax, insurance, etc benefits, and to flat out not be discriminated against over something thats none of anyone elses business. I don't care if you are gay, or polygamous, really, doesn't have one bit of effect on me, unless you're my friend or family member, in which case, if you're really happy, good on you. Otherwise, don't give a crap. Why should I give a crap who you kiss. Come to work, pay your rent, pay your taxes, and live your damn life as a gay, straight, bisexual, transgender, polygamous, non sexual roommate, or some other category of people who could use the tax and other benefits of a family designation. How do any of those things effect me?

Nov. 26, 2008, 1:44 p.m. CST

by DANNYGLOVERS_DICKBLOOD

Nov. 26, 2008, 1:44 p.m. CST

by The Eskimo

...but I want the same rights as married people dammit! Oh wait...

Nov. 26, 2008, 1:46 p.m. CST

by DANNYGLOVERS_DICKBLOOD

Nov. 26, 2008, 1:46 p.m. CST

by Rand92

I personally do not understand being gay. It is not a religious thing for me, I just think it goes against the most basic law of nature...to survive. You cannot survive as a species without procreation and that doesn't work with same-sex couplings. Sure, I know that there are many wonderful advances in science where gays and lesbians can have children without the pesky nuisance of sex with the opposite gender, but really, that's not what nature intended. That being said, I have gay friends. I have no problem with them and I do not discuss my personal views with them. Please spare me the holier-than-thou speeches about me being a bigot. I am not. I do not believe in being gay, but I am not a bigot because of that. And there is a difference between being anti-gay and being anti-black. There is a huge difference I feel bad for those who cannot see it through their PC blinders. You want to be a gay activist, fine. Don't tell me I have to see things the same way you do or you are just as bad as those who really do hate gays. Just because you think you are taking the moral high ground does not mean you can be every bit as bad as the true bigots. Remember that when you invade churches and march on the streets and give people a hard time for not sharing your views.

Nov. 26, 2008, 1:46 p.m. CST

by The Eskimo

He's pretty likeable. Or Ryan Philipe.

Nov. 26, 2008, 1:48 p.m. CST

by DANNYGLOVERS_DICKBLOOD

They fuck everything else in sight; married women, dogs, cats, young children, multiple young children, young married children.....

Nov. 26, 2008, 1:50 p.m. CST

by DANNYGLOVERS_DICKBLOOD

There is no difference between being anti-gay and anti-black. It is judging people on something they cannot change. Once you accept the fact that being gay is not a choice, you will understand that looking down on them for something they have no control over is no different than looking down on someone for the color of their skin.

Nov. 26, 2008, 1:55 p.m. CST

by Rand92

I have read material that supports both sides of that argument. A lot of what I came away with is that you are correct, that being gay is not necessarily choice, but it is also not normal. And when I say normal, I mean that something physically or psychologically developed differently. They have no control over that at this point, but I still see being anti-gay as different from being anti-black. I do know where you are coming from though.

Nov. 26, 2008, 1:58 p.m. CST

by Le Vicious Fishus

You seem to be misunderstanding something basic here: no one cares if you personally don't understand being gay or don't want to be gay. I'm with you, brother. I happen to be very straight, and I have zero understanding of what it means to be gay.<BR><BR>HOWEVER, my (many( gay friends should have a right to marry any other person, including a person of the same sex, and a gay, married couple should be afforded the same legal rights and privileges that straight, married couples have. It's not about whether YOU are straight or gay. It's about basic civil rights. Just because being gay doesn't float your boat--hell, even if gay folks personally give you the creeps (which is another personal issue entirely), it shouldn't mean you don't want everyone to be able to marry the person they fall in love with--regardless of gender--and be regarded as an American citizen (and, in fact, a human being). <BR><BR>Can't we agree on that point at least?

Nov. 26, 2008, 2:04 p.m. CST

by skimn

So then what is YOUR definition of normal? You seem to accept that homosexuality is genetic in nature, so it is one's choice as much as eye or hair color. But you deem it not normal, or do you mean not acceptable?

Nov. 26, 2008, 2:11 p.m. CST

by Oozman

Civilization discriminates against uncivilized behavior. In a democratic republic, we the people (through our right to vote) get to decide what behavior qualifies as "civilized". You can parse "homosexuality" as a biological condition all you want (OK - it's objectively a flaw the inhibits the correct functioning of the reproductive system), but the public policy issue boils down to the question of whether homosexual BEHAVIOR is to endorsed and treated as "normal" in our public institutions. Repeat after me: "Without heterosexual behavior, SOCIETY DOES NOT EXIST." "Without homosexual behavior..."? Clearly not coequal and not "normal".

Nov. 26, 2008, 2:12 p.m. CST

by skimn

are different, explain that to the parents of Matthew Sheperd. Please.

Nov. 26, 2008, 2:13 p.m. CST

by rainbowtrout1265

is Let the Right One In. Now it's sanitized by casting a girl as a 12 year old boy, but at it's heart it's a gay movie. And this kind of review of Milk...which is nothing but a scold of Pro-Prop 8 voters and people who believe marriage is between one man and one woman, will just turn off most moviegoers. If gays are looking to change hearts and minds, then this film and the cranky reviews won't do the job.

Nov. 26, 2008, 2:17 p.m. CST

by skimn

Open gay sex in our city streets? What if a gay couple are abstinent? Do you think thats not possible?<p>and "it's objectively a flaw the inhibits the correct functioning of the reproductive system"...what the fuck are you talking about??!!!

Nov. 26, 2008, 2:19 p.m. CST

by Gelfin

Left-handedness is approximately as common as homosexuality. Something "developed differently" and so forth. When deciding whether or not you are willing to say it is "normal" that some people are left-handed, you are unavoidably making a moral judgment about left-handedness.<br> <br> "Normal" is a word. Left-handedness is a fact, and no word you apply to it changes that fact. If you choose to deny the word "normal" to left-handed people (in the process tacitly asserting that left-handedness is morally inferior to right-handedness), is it therefore all right for 50%+1 people to amend their Constitution to declare that a legal signature is defined as a legible mark made with the right hand?

Nov. 26, 2008, 2:20 p.m. CST

by Droid

Rand92 can't wait for the day when his son shows signs of swaying towards the cock so he can march him down to the local GP and get that gay vaccine the governments been working on.

Nov. 26, 2008, 2:24 p.m. CST

by hst666

Really? Do you really believe being gay is about anal sex. You really should not advertise your ignorance and stupidity so loudly.

Nov. 26, 2008, 2:25 p.m. CST

by Oozman

Public institutions: (a) marriage: contract between state and two (and only two) non-related, adult members of the opposite sex (4 kinds of discrimination) (b) state-funded educational institutions that also try to normalize the flaw of homosexuality (c) civil unions and and any other laws referencing sexual orientation. Biological homosexuality is a hlaw: BIO 101, chapter 1, "the form of a system follows its function." The proper functioning of the reproductive system objectively involves attraction to members of the opposite sex, without which the reproductive act is not bloody likely. Is any of the above really that complicated to understand?

Nov. 26, 2008, 2:26 p.m. CST

by bacci40

before jonestown, the peoples temple did much to serve the community...most of their members were minorities and the poor...jones was a great con artist...he didnt just fool milk, he fooled alot of elected officials...so step off already

Nov. 26, 2008, 2:27 p.m. CST

by jimmay

"Homosexuality is abnormal, an abberation, it doesn't lead to propagation of the species, so it's unnatural." -By this logic, marriages which don't result in propagation, those where one member or the other is infertile, should be abolished. Frigid or barren? Sorry, life of solitude for you. <p> "But the bible is against homosexuality." -The inadequacies of the Leviticus passages (all of which except the part slurring gays have been abandoned as archaic hygiene laws) are well documented, and biblical scholars disagree as to what the story of Sodom and Gamorrah actually signifies, whether the reisdents of said towns were damned for being gay, just sexually libidinous overall, or for being assholes in general. <p> "Christian churches shouldn't be forced to perform gay marriage ceremonies." -Who's asking them to? Does a church have to perform a wedding for anyone if they don't want? No. Easily one of the lamest anti-gay marriage arguments out there, but thanks for playing. <p> "If we let gay marriage happen, we have to let people marry pets, underage children, pieces of furniture and video game consoles." -The slippery slope argument. Indeed, where will we ever draw the line? Certainly not at two consenting adults, God forfend. <p> "Gay marriage goes beyond just asking for tolerance, and demands approval of "lifestyles" I don't agree with." Good one, sparky. This argument belies the insistence that homosexuality can be tolerated, but only if gay people live in shame and secrecy, hiding their relationships and feelings from the world and forever resigned to the empty blackness of the social closet. Sounds great, I can't believe gays don't take this option readily. AFter all, who wants to be yourself and respected as yourself in society? That certainly isn't a tenet of being a member of society or anything. The "don't ask don't tell" form of dealing with the issue. <p> "But this is democracy in action; the will of the people is clear." Nice sentiment, but the same argument was made for slavery, segregation, restriction of voting rights, etc. The will of the people isn't always in line with democratic principles, and infamously fascist states have arisen from popular vote. <p> Bottom line: Proposition 8 represents a dangerous precedent. Voting to take away someone else's previously granted rights is an ugly and desperate action, all the more so because gay marriage was legal in California for a while, and nothing measurably bad became of it. There was no threat here, and no amount of justification can obfuscate that those that voted for the measure did so to make themselves less threatened by something that didn't harm them in any real form.

Nov. 26, 2008, 2:28 p.m. CST

by hst666

Why should people get to vote and decide. Can we hold a vote to prevent Jews from having children? Can we hold a vote to prevent asians from holding public office? You cannot seriously oppose gay marriage and not be a bigot. I have never heard one rational non-bigoted argument from the opposition to gay marriage

Nov. 26, 2008, 2:29 p.m. CST

by 2sdaychicken

You goota draw the line somewhere...

Nov. 26, 2008, 2:29 p.m. CST

by hst666

Please list one reason to support prop 8 that is not bigoted.

Nov. 26, 2008, 2:30 p.m. CST

by skimn

10 percent of the population. Statistics that date back to early Kinsey studies. I seriously doubt that homosexuals are going to bring procreation to a halt, and bring the end of times.

Nov. 26, 2008, 2:30 p.m. CST

by uberman

I'm looking forward to it. I am also curious to see how or if they deal with Milk and Moscones use of the Peoples Temple and Jim Jones. The fact that they all died so violently and within days of eachother is just incredibly creepy. I doubt the movie will touch on that, but I always like a good Gus Van Sant movie ever since RIVERS EDGE.

Nov. 26, 2008, 2:34 p.m. CST

by hst666

Again, please state one non-bigoted, non BS-slippery slope argument for prop 8.

Nov. 26, 2008, 2:35 p.m. CST

by The Eskimo

I am in the middle about this whole issue, so don't get the wrong idea...but I want to pose a question to those of you anti-gay marriage: What if me and my straight best friend were roommates for a number of years, and it would be benificial to us to partner our assets (being serious here...no snickering) so that we could get a break on taxes, legally leave the house or other belongings to each other upon death, have power of attorney in case of medical emergency, and, who knows, maybe after many years of living together, maybe wanting to adopt and raise a needy child or something. Is that even possible? If so, would that be so wrong or out there? I mean, I have many good guy friends that I love like family, and there are some benefits to civil unions whether you pogo sticking each other or not...right?

Nov. 26, 2008, 2:40 p.m. CST

by hst666

I somewhat agree with you on your polygamy statement. The gay community on their rights currently and I do not believe they want to be burdened with arguing for something which affects an even smaller percentage of adults. But, I believe if more than 2 consenting adults want to enter into a marriage relationship they should be allowed to. <p><p> However, there are some new problems that arise. Benefits generally will probably be limited to one spouse, for example.

Nov. 26, 2008, 2:40 p.m. CST

by Le Vicious Fishus

Amen. Furthermore, we could DEAL with a little lessening in the fucking world population (10% less sounds pretty good). World is too full of fucking people to begin with... And the fewer closeted gay men/women marrying women/men and having miserable children--some of which who may end up being closeted too--in an unhappy home the better. <BR><BR>Again, what's it to you if two men or two women get married to each other? Who does it hurt? You? Der Homeland? I just for the life of me can't understand why you're people are so passionately anti-gay. Forget your irrational and fallacious justifications as to why you personally think gay folks are abnormal. Why. Do. You. Care. Who. Marries. Who? <BR><BR>Christ! Fucking "judge not less ye be judged!"

Nov. 26, 2008, 2:40 p.m. CST

by DANNYGLOVERS_DICKBLOOD

And if we can vote on who does and doesn't get to enjoy the same Civil Rights, than we should also be able to vote to put dumb fucks like yourself to sleep, like a dog. <p>I would rather my child grown up in a world of married gays, than spend five minutes in a classroom with your brain-dead kid. <P>Kindly fuck off.

Nov. 26, 2008, 2:47 p.m. CST

by jimmay

That Marriage Manifesto is absurdly brilliant. Puts the inquantifiable value of socially recognized marriage in perfect perspective. A keen rejoinder to the argument that gays should take their forty acres and a mule--civil unions--and be happy about it. Good find.

Nov. 26, 2008, 2:47 p.m. CST

by Oozman

Not 10%, more like 2%: http://tinyurl.com/5kyvfj It is not bigotry to evaluate and judge a behavioral act. It is a necessary ingredient for civilization. There are plenty of polyamorists who passionately argue that "couple" is a bigoted term. As a thought exercise, think of a healthy adult, consenting homosexual couple that you approve of their behavior. Now add a detail that they are brothers. I imagine that both you and I would agree that's "wrong" and not allowing them to marry is "OK". But, what characterizes the "wrongness" exactly? Break it down for us. Are they sexually confused? Are they perverting something that is meant for some other nobler purpose beyond mere gratification? If you can honestly attempt an answer to that question, you will understand 70-80% of why a rational, non-bigoted person can simply disagree with homosexual BEHAVIOR.

Nov. 26, 2008, 2:49 p.m. CST

by Le Vicious Fishus

if living in a society that openly abhors and persecutes gay folks as subhuman monstrosities is so important to you, why don't you move to Iran or Pakistan or Yemen or the handful of other "civilized" countries where they will fucking execute you for being gay?

Nov. 26, 2008, 2:52 p.m. CST

by Le Vicious Fishus

You're fucking kidding me right? The Traditional Values Coalition? Nice, unbiased source there, bud.<BR><BR>So you believe that two people of the same sex can't be in love? Are you yourself married or in a relationship? Why exactly is this issue so important to you? For me, it's a matter of civil rights. I happen to have a couple of dear friends that happen to be gay and happen to be engaged to be married. Their happiness matters to me. What is YOUR agenda?

Nov. 26, 2008, 2:54 p.m. CST

by skimn

BUTTFUCKING BUTTFUCKING BUTTFUCKING BUTTFUCKING BUTTFUCKING BUTTFUCKING BLOWJOBS BLOWJOBS BLOWJOBS BLOWJOBS BUTTFUCKING BUTTFUCKING BUTTFUCKING HANDJOBS HANDJOBS HANDJOBS HANDJOBS HANDJOBS PUSSY PUSSY LAPPING PUSSY LAPPING PUSSY LAPPING PUSSY LAPPING PUSSY LAPPING LAPPING HANDJOBS HANDJOBS BLOWJOBS PUSSY LAPPING BLOWJOBS BLOWJOBS PUSSY LAPPING <p>I seriously think a lot of people define homosexuality in just that way.

Nov. 26, 2008, 2:56 p.m. CST

by crazybubba

we ALL had the FREEDOM to pursue happiness as we see fit as long as we aren't hurting anyone else.

Nov. 26, 2008, 2:58 p.m. CST

by landrvr1

Nov. 26, 2008, 3 p.m. CST

by landrvr1

Should you choose to do so.

Nov. 26, 2008, 3:02 p.m. CST

by Oozman

Feel free to Google around on the 2% vs 10% question. I want people to be happy and to be free to pursue their own definition of happiness. If that pursuit steers them in the direction of a legislature, then I get to weigh in. I do not want my "state" to sanction behavior with which I disagree sending a message that WRONG = RIGHT. We obviously have big disagreements about what is wrong and right, but the legislature is the appropriate place to settle that when it comes down to behavioral issues (i.e. this is not about non-behavioral characteristic like race and ethnicity). You call it a slippery slope, but I see it as a dangerous precedent to push sexual behavior or any other behavior into the realm of sacred civil rights. Without hyperbole, it undermines the basic foundations of civilization.

Nov. 26, 2008, 3:05 p.m. CST

by almostgrown

I'm lefthanded, and I don't want children. I was even snipped before getting married to prevent my wife from getting preggers, to prevent possible health complications for her, so that makes me abnormal and flawed per the arguments above? Does that mean I shouldn't have been allowed to get married?

Nov. 26, 2008, 3:09 p.m. CST

by Oozman

Marriage is not exclusively about procreation, but procreation, I would argue, is the most important reason why we have the institution of marriage. It provides an state-sanctioned mechanism that guarantees (or attempts to) the presence of a legally responsible male and female adult (called a mother and father) until the child reaches adulthood. Homosexual marriages that involve children effectively sanction intentional motherlessness and fatherlessness. May I have a chance to vote against that, please?

Nov. 26, 2008, 3:15 p.m. CST

by CreasyBear

filter out all who would not consider a movie about gay rights to be the way they want to spend their $8 and 2 hrs. Now of that remaining group -- the people Massa hopes could have seen this -- filter out all of them, because if the gay stuff didn't keep them away, the extremely liberal and unashamedly caustic Sean Penn will certainly shut out the rest. Seriously, do you think that on a Venn diagram, the Fox News fans circle and the Sean Penn fans circle would overlap at all? Not that the director would have wanted to try to hire Kirk Cameron for the role of Milk, but still. This is one of those movies that is meant to preach to the choir, and that's it.

Nov. 26, 2008, 3:16 p.m. CST

by Massawyrm 1

<p>is a common one. The idea that prejudicing against BEHAVIOR is somehow entirely different than Prejudicing against RACE. This argument falls completely to shreds when one argues that prejudicing against someone's religion is NOT bigotry by that same standard. It IS Bigotry to make decisions and legal precidents about someone based upon their religion, be it Christian, Muslim or otherwise. This is BEHAVIOR. His position also presupposes that homosexuality is a choice and not a predetermined biological or psychological state, like race, eye color or intelligence level - something science has yet to back anyone up on.</p> <p>While he is right in his argument that the legislature is the place to take the argument, his argument is too faulty to stand on its own.</p> <p>I stand by my original statements. Not everyone who voted for Prop 8 was a bigot or a religious fundamentalist. But many of them were.</p>

Nov. 26, 2008, 3:16 p.m. CST

by purplepurple

a fish cannot sign a marriage contract hah As far as Im concerned consensual adults can do whatever the hell they want in their time. If that means a guy wants to marry another guy, go ahead and be happy, it doenst affect me or my family in the slightest

Nov. 26, 2008, 3:21 p.m. CST

by almostgrown

my sister in law who has 3 children from 3 different fathers and who pretty much abandoned 2 out of the 3 kids to be raised by other family members gets the state sanctioned stamp of approval for marriage and parenting while my brother in law who has a good job and is more family oriented than my sister in law shouldn't be allowed to marry someone he loves just because he is gay?

Nov. 26, 2008, 3:22 p.m. CST

by shut_the_fuck_up_Donnie

Is your shit for real? After reading through the talkback I at first assumed your posts were satirical, but you really mean the retarded shit you're saying, don't you? How can you dissaprove of a group of people for being born outside of the majority which is by your definition "un-natural"? Do you also dissaprove of people who are born blind? or with red hair? Because by your standards they are equally "un-natural".

Nov. 26, 2008, 3:25 p.m. CST

by skimn

To quote you: "We obviously have big disagreements about what is wrong and right, but the legislature is the appropriate place to settle that(< I totally agree...You lose me here>) when it comes down to behavioral issues "

Nov. 26, 2008, 3:26 p.m. CST

by DOGSOUP

No matter what they are or who the love. Fuck Malevolent people, no matter what they are or who they fuck.

Nov. 26, 2008, 3:29 p.m. CST

by BobParr

Of course this is a preaching to the choir movie. That is how Oscars are won. It seems that every role Sean Penn does now is Oscar bait.

Nov. 26, 2008, 3:29 p.m. CST

by The Eskimo

<p>...that two men or women... straight or gay...don't have the ability to form a mutually beneficial social contract that, in the eyes of the law, hold one another responsible for the well being of the pair.</p> <p>It's no different than any business partnership...just that it's a partnership in life...which is the biggest business of all.</P> <p>This arguement should NOT be about homosexual marriage, it should be about the right to choose your own path in life as long as it doesn't directly and detrimentally effect the lives of those around you. Otherwise known as privacy nd the persuit of happiness. It is actually rather unfortunate that homosexuality has become the poster child for this movement because of the irrelavant religious and prejudicial overtones it brings to an otherwise simple human rights issue.</P><p> Civil Unions and marriage are the exact same thing, and anyone who says the difference is that marriage is between a man and a women is using very flawed logic and needs to take another look at exactly what they are basing their opinion on.</p>

Nov. 26, 2008, 3:31 p.m. CST

by BobParr

But not the Bull-Dikes!! They already took over softball.

Nov. 26, 2008, 3:32 p.m. CST

by Raymar

didn't address Oozman's incest point...

Nov. 26, 2008, 3:32 p.m. CST

by Le Vicious Fishus

Nov. 26, 2008, 3:34 p.m. CST

by King_Midas

So many right-wingers are always talking about the "activist liberal courts" or saying "hey, we voted against it, it's not a civil rights issue". The United State is not a straight democracy (one person, one vote) and was never intended as such. It's a representative democracy and one with a constitution – a document that most Americans are rather proud of. The very point of its existence is to protect the civil rights and liberties of everyone (and especially of minority groups who may not be represented in the voting majority). <p> It's not a difficult concept – democracy does not equal mob rule. Laws are made by duly elected legislatures and initiatives are passed by a majority of voters all the time that get stricken down by courts as unconstitutional. A majority of the population did not believe in interracial marriages in the 30's. A majority of the population did not believe black people should be able to vote in the 60's. It doesn't really matter what a majority of people want or believe – the courts have always been more progressive and aggressive in recognizing the inherent rights granted by the constitution of all citizens (irrespective of unpopular beliefs or lifestyles). Sometimes it takes the general population a few decades to catch up but it's inevitable – our society progresses and this model has served us very well for 200+ years. Whine all you want wingers – history has shown you are fighting a losing battle and gay marriage will be legal in this country someday. <p> Also, please stop with the slippery slope argument of "then we'll have to allow incest, child brides, and bestiality". These sorts of straw-men arguments just make you like more of an idiot. Do you really think you can compare two loving adults who have consented to commit to an enduring relationship with a pervert marrying a child or an animal that is by any definition incapable of making the same rational decisions about their life as an adult human? Seriously???

Nov. 26, 2008, 3:35 p.m. CST

by Oozman

Prejudice is usually reserved for situations in which you assume someone is going to BEHAVE a certain way based on something like race and so you pre-judge the PERSON ahead of time. What I describe is a judgment of the behavior itself (no "pre" about it). I believe that homosexual BEHAVIOR, like any other behavior, is ultimately subject to the FREE WILL and therefore CHOICE of an individual, although clearly the CONDITION of homosexuality, which I believe is not a choice (but still a flaw) < 2% of the time, predisposes a person toward such behavior. In the realm of public policy, the condition is ultimately irrelevant to me, as it is the question of behavior that advocates demand be normalized - which is a legitimate and appropriate debate for a democratic forum - not at the whim of a judge. We seem to sort of agree there.

Nov. 26, 2008, 3:37 p.m. CST

by The Eskimo

Dude, don't ask a rhetorical question and then follow it up with "Seriously?" or "Really?" That gets you into trouble on this site I have found...:) Anyway, great points!

Nov. 26, 2008, 3:38 p.m. CST

by rbatty024

that gay marriage should be taken up in the legislature and not the courts. My guess is that none of these people have actually read the Constitution of the states whose Supreme Courts have held gay marriage as legal. If the Constitution of these states (ratified by a legislature) do in fact guarantee equality, then what does it matter if the Supreme Court is holding the legislature to their own commitment?

Nov. 26, 2008, 3:42 p.m. CST

by DANNYGLOVERS_DICKBLOOD

So uhhh...what the fuck happened in the other Milk thread? Is that really them? Are they high on acid and assholes, or is it hackers?

Nov. 26, 2008, 3:42 p.m. CST

by King_Midas

Ha, ha. Thanks for the tip. I'm just baffled by the "I can marry my dog" argument that inevitably comes up in any gay marriage discusssion. It's unbelieveable.

Nov. 26, 2008, 3:43 p.m. CST

by Le Vicious Fishus

those fuckers who forced us to swallow desegregation and interracial marriage and female rights and such. Goddamn 'em... <BR><BR>Well, they sure as hell know how to deal with them goddamned fairies in the middle east. <BR><BR>Yemen here I come...

Nov. 26, 2008, 3:43 p.m. CST

by Massawyrm 1

That's because most people have repeated time and again the fact that this is a slippery slope argument. And it argues something that doesn't apply to the discussion: family members, regardless of sexual relation, are already afforded most, if not all the rights that are granted through the legal contract of marriage. Oozman is playing a shellgame trying to defend his own disgust with a sexual act and likening it with one with a significantly lower instance rate that is considered abhorrent by most in this culture rather than discussing the limitation of rights of a significantly large group of people.

Nov. 26, 2008, 3:46 p.m. CST

by Massawyrm 1

That was just the boys fucking around at 4 in the morning. Really wish I could have gotten in on that too...

Nov. 26, 2008, 3:48 p.m. CST

by jimmay

That tired, smelly canard. A little civics lesson for all the "Activist judges!" crowd: Laws in our society are passed either by popular vote or by our representatives in Congress, the Oval Office, or the state house. These laws are then interpreted by judges as to their execution and application and, ultimately, when they are challenged, whether they are constitutional or not. What you call "activism" is simply judges doing their goddamn jobs. "Judicial activism" is meaningless pap, a sophistic attempt to denigrate judicial decisions you don't agree with as somehow being conducted outside their jurisdiction or outside their job duties.

Nov. 26, 2008, 3:53 p.m. CST

by Le Vicious Fishus

Nov. 26, 2008, 3:54 p.m. CST

by rbatty024

If you have a problem with a decision made by a court then make an argument using the statutes and cases involved, but don't be lazy about it and play the "activist judges" card because all it really means is that you don't like the outcome but don't understand the law behind it.

Nov. 26, 2008, 3:54 p.m. CST

by King_Midas

Exactly, it's only an activist judge if they perceive the judgment as favoring a liberal point of view. Allowing things like torture, the suspension of habeas-corpus, and the indefinite detention of, well, anyone (even American citizens) without trial or indeed even charges (going against not only The Constitution but centuries of precedent and common sense), that's all good. "That's a strict constructionist for ya! Yee-haw!"

Nov. 26, 2008, 3:56 p.m. CST

by DANNYGLOVERS_DICKBLOOD

Nov. 26, 2008, 3:56 p.m. CST

by Massawyrm 1

While I mostly agree with where you're going, I disagree with where you end up. There is a difference between a judge finding flaw with the law as it applies to the system and wanting to alter a law because of their personal beliefs. "Activist Judges" refers to the latter, but has far too often been used inappropriately as a slight to judges who do as you have discussed. But a judge who strikes down a law based upon his own beliefs (for the greater good or not) is no less a burden on the system than one who throws the book at a black man to help keep "those people" off the streets and make his city a better place. Judicial activism exists. Unfortunately so does crying wolf.

Nov. 26, 2008, 4:04 p.m. CST

by King_Midas

Yes, but personal beliefs or not, if there is a constitutional basis (or even an historical precedent) for those beliefs, it's not activism. Take for example the Massachusetts Supreme Court – they were right on when they allowed gay marriage even though the legislature and voters had only authorized civil unions. They didn't hide behind the state constitution and say, "well, there needs to be a constitutional amendment to explicitly authorize this." <p> When it comes to protecting the rights of minority groups – you rarely will get an amendment or even a majority vote (precisely because it's a minority concern). The court was smart enough to recognize that we've tried separate but equal in the country and it doesn't work. Equality is guaranteed – therefore gay marriage must be allowed. A lot of wingers point to this as the most egregious example of judicial activism overriding the will of the people, but really, they just did their job.

Nov. 26, 2008, 4:05 p.m. CST

by Stuntcock Mike

Man, what the hell are they all doing up at 4am on a school night? We all needs our sleep.

Nov. 26, 2008, 4:09 p.m. CST

by Fa Fa Fooey

I keep hearing people say there isn't, but the board easily confirms otherwise.

Nov. 26, 2008, 4:13 p.m. CST

by Le Vicious Fishus

but a thriving "anti-gay agenda" as well--clearly. But while the best pro-gay arguments are based on reason and tolerance, all of the anti-gay arguments are based on fallacies and fear (or some combination thereof).

Nov. 26, 2008, 4:17 p.m. CST

by Emperor_was_a_jerk

Nobody cares what you think about homosexuality or gay marriage. This is a movie. Ether watch it, or don't. I think it looks good so I will see it. Then I will watch an Indiana Jones movie. MOVIES kids...

Nov. 26, 2008, 4:23 p.m. CST

by Le Vicious Fishus

Obviously you've never experienced the joys and horrors of TB fever...

Nov. 26, 2008, 4:27 p.m. CST

by Alonzo Mosely

Don't allow gay marriages, but allow civil unions. Allow civil unions to be treated as legally equal to marriage in terms of filing taxes, next of kin etc etc Gays get their rights, anti-gays can sleep happily knowing there are no gay marriages... We can get back to movies about giant gay robots fighting giant heterosexual mutated bears...

Nov. 26, 2008, 4:28 p.m. CST

by jimmay

I disagree. Personal beliefs inevitably enter in some fashion in judicial reviews to some extent with any case. They aren't supposed to, but the blessed thing about the constitution is how frustratingly vague and ambiguous it is on some maters. If a judge applies too much of their own agenda into a ruling, the great thing is that it can, and usually is, appealed. This is what the whole appelate process is designed for, so a bad legal decision doesn't necessarily have to stand. local rulings can be appealed to state, state can go to federal district, and if the fed district ruling still sucks (or is perceived to suck) than, if they'll hear it, you can go all the way to the Supreme Court. This is the process whereby bad rulings from bad judges are rectified. <p> Speaking of the Supreme Court and bad judges, a perfect example is Anton Scalia. Here's a judge with a legacy of pursuing his militant conservative beliefs whether there's a constitutional basis for them or not. In a recent ruling on the Bush Administration's detention of "illegal combatants (TM)" at Guantanamo , his public, on the record, legal dissenting opinion actually stated that the ruling allowing detainees the right to challenge their incarceration "will almost certainly cause more Americans to be killed." -Here's a Supreme Court justice not even mentioning whether something is constitutional or not but instead, playing the fear card, threatening that it will effectively kill Americans. Even in this case I wouldn't say he's being "judicially activist." He's doing his job, just really, really badly, and I thank God we have nine other, better judges, even Alito, to override his brazen incompetence.

Nov. 26, 2008, 4:30 p.m. CST

by WhinyNegativeBitch

...As queer. Gay. Fag. Poof. Dyke (for my lesbian friends) and once in awhile I call my boss Buttlord. I live in Sydney, and nowdays the "issue" of homosexuality simply doesn't mean anything. Every year when the Mardi Gra's are on you get 5-10 nutters who like to stand around yelling jesus shit, but no one pays them any attention. It's actually hard for me to believe that in any civilised western country there are still people who actually oppose homosexuality as an activity. I can understand not wanting to fuck or be fucked by a dude, but to seriously take issue with what SOMEONE else does in his bedroom makes me think of you as slightly less than worthy of membership into educated society. In terms of it being a civil rights issue...Well, it is. There is no other way to describe it. Is it the same as the african american civil rights issue? No. Not at all. But what difference should that make. It's still fucking wrong to deny homosexuals every right afforded to heterosexuals. The only area I disgree with the pink brigade on, and this has gotten me into some heated and loud arguements with gay friends, is the right to marry in a church. To me, the church being its own private entity has every right to tell you to fuck off. But the state not recognising your marriage while still pocketing your tax money...er...very wrong. I see people whining that legalising homo marriage could open the doors to siblings marriage or polygamy. So what? What business is it of yours?

Nov. 26, 2008, 4:34 p.m. CST

by Nosferatu Jones

Look at all of the well-thought out and well-written defenses of gays and gay marriage posted above...<p>...then compare with the juvenile, hateful and just plain lunked-headed arguments against them. I'm not sure whether or not people "choose" to be gay... but a lot of petty little jerks on these boards certainly choose to be stoooooopid.

Nov. 26, 2008, 4:40 p.m. CST

by BadMrWonka

paraphrased from the stranger:<p>suppose a man and a woman go to the courthouse. they say, "we are not in love, we do not have sex, we will never have children, we have sex with other people, we are not going to live together, we are not going to file joint tax returns. we want to get married."<p>what's the response? "sure, got 55 bucks?"<p>suppose a gay couple go to the same courthouse and say, "we are in a devoted relationship, and have been for 10 years. we have an adopted child together, we are monogamous, we file joint tax returns. can we get married?" <p> nope, you're gay!<p>what of that first scenario "sanctifies" marriage, as opponent of gay marriage love to talk about. gay marriage undermines the sanctity of marriage? really? look at that first LEGAL scenario and tell me that marriage has value still. if people are devoted to each other and in love and want to be married, THAT sanctifies marriage.

Nov. 26, 2008, 4:41 p.m. CST

by Le Vicious Fishus

jimmay:<BR><BR>Well stated. Agreed on all points. A judge is meant to use their own... well, judgment in a case, and our system of government allows for appeals--at times to the highest court in the land. Massa is wrong that there is such a thing as an "activist judge" on either side of the aisle. Don't fuck with my judicial branch, Massa.<BR><BR> WhinyNegativeBitch :<BR><BR>Agreed on all points, including a church absolutely having the right not to perform gay weddings. This isn't about religion--it's about the law. And the slippery slope fallacy (whether polygamy, incest or bestiality) is such an irrational, laughable (and insulting) argument which deserves zero serious debate.

Nov. 26, 2008, 4:49 p.m. CST

by Damien Chowder

Beast lovers are also people. No double standards please. It's for all or nothing.

Nov. 26, 2008, 4:49 p.m. CST

by Massawyrm 1

I respectfully disagree and point out that there are...8...other judges...half of them batshit crazy.

Nov. 26, 2008, 4:52 p.m. CST

by Massawyrm 1

When you can prove the sentience of the other consenting partner in that arrangement, I'll introduce you to the 10th shadow member of the Supreme Court. (just messing with you Jimmay =P)

Nov. 26, 2008, 4:52 p.m. CST

by jimmay

And I have reservations about the others, but nobody outdoes the crazy of Scalia.

Nov. 26, 2008, 4:56 p.m. CST

by jimmay

Please do us a favor and google the term "slippery slope logical fallacy." Then think about what you've said good and hard.

Nov. 26, 2008, 4:57 p.m. CST

by Massawyrm 1

Scalia is a BRILLIANT Jurist who takes his brain out and replaces it with pages from Leviticus whenever his religion is factored into the equation. God I wish he had the pair to be the constructionist he is when his beliefs are involved as he is when they are not.

Nov. 26, 2008, 5 p.m. CST

by Mike Hunt

Who gets the Best Picture Oscar? A movie bashing George W. Bush OR a movie celebrating gays, complete with male nudity?

Nov. 26, 2008, 5:02 p.m. CST

by Le Vicious Fishus

Ok, I'll grant you: that IS a pretty funny point.

Nov. 26, 2008, 5:06 p.m. CST

by shut_the_fuck_up_Donnie

Its too late, the slippery slope already started when they allowed people of different races to marry in america. Its a 10 storey waterslide straight into legalized goat-fucking from there. Stupid liberals, don't they get it?

Nov. 26, 2008, 5:06 p.m. CST

by Chief Joseph

Show me a science textbook that says an anus is designed to be penetrated by a penis. Hell, find me a proctologist that says anal intercourse is a healthy practice.<br> There are plenty of "rational arguments" against engaging in gay sex, but I suppose you'd rather just believe the rhetoric about gay marriage opponents being "bigots" than listen. (You people throw that word around like Tom Cruise does; it's losing its impact.) BTW, the "bigots" seem to be in the majority.<br><br> It also amuses me that the pro-gay marriage people are the same ones that want to register illegal immigrants--- most of whom are extremely Catholic.<br> Also the gay population is actually 1~2%. Some of these people WERE born this way, but some people also choose to be. (Remember Anne Heche?)<br><br> Finally, yes the "marry a dog or mailbox" arguments are indeed pathetic, but I noticed no one addresses the issue of polygamist or incestuous marriages of consenting adults. Please explain why a same sex marriage is good, but those things are bad? And remember 1.) Polygamy goes back thousands of years and is still acceptable in the Muslim world 2.) Incest occurs often in nature, more than homosexuality.<br><br> I'm sorry I got sucked into this stupid argument, but I absolutely agree with the guy above that said that you need to either legalize it all, or keep it as is.

Nov. 26, 2008, 5:07 p.m. CST

by Farley Flavors

The ads that Prop 8 supporters flooded the airwaves with were very effective in swaying the opinions of those who were on the fence about how to vote. In a nutshell, they said two things: 1) that if Prop 8 failed churches would be forced to perform gay marriages or lose their tax-exempt status, and 2) that if Prop 8 failed children would be required to be taught about gay marriage in a non-negative light. The sad part, of course, is that these things simply arent true. First, extreme deference to religious beliefs and practices has always been granted to churches, and there is no non-hysterical, non-alarmist reason to believe that would change in the face of gay marriage. For example, certain Catholic churches refuse to conduct marriage ceremonies for people who have previously been married and divorced. So even though civil law allows divorce, these churches are not required to marry divorced persons. (On a side note, I am a gay man and have literally hundreds of other gay friends and co-workers. I have never met a single gay person who believes that churches should be forced by law to conduct gay weddings. The idea that gays are covertly trying to require religions to change their beliefs is one of the most insidious and outrageous myths from the anti-gay marriage crowd. There are plenty of churches already that will happily marry gay couples, and why would any couple want to get married in a church that doesn't respect their union?) Regarding what children are taught in schools, the Prop 8 ads dragged out 2 parents from Massachusettes to say that they tried to remove their child from a lesson about gay marriage and were legally denied that right. Well, not to point out the obvious, but MASSACHUSETTES IS NOT CALIFORNIA and their laws don't apply in California. In my opinion it sounds like MA needs to get that flaw fixed. California law already permits parents to remove their children from any lesson that they find objectionable. Did you hear about the class of young kids who went on a school field trip to their teacher's lesbian wedding? I bet you didn't hear that the parents of 2 kids in the class did not want their kids to attend and so they sat in with another class that day. They were not required to attend the lesbian wedding because California law protects parents' rights already. The anti-Prop 8 folks didn't address these facts at all. If the CA Supreme Court does not overturn Prop 8 and a repeal is eventually put on the ballot in the future (which it will be), the pro-gay marriage side needs to hammer home these facts to make sure reasonable fence-sitters don't fall prey to the blatantly false assertions from the other side.

Nov. 26, 2008, 5:09 p.m. CST

by jimmay

It simply wasn't that great of a movie. I'll wager the "fab five" nominated will be: Slumdog Millionaire, Milk, Nixon/Frost, Australia (whether it deserves it or not) and the Curious Case of Benjamin Button. So, Mike Hunt, a better joke might be "Who gets the Best Picture Oscar? A movie bashing Richard Nixon OR a movie celebrating gays, complete with male nudity?"

Nov. 26, 2008, 5:10 p.m. CST

by shut_the_fuck_up_Donnie

-"Show me a science textbook that says an anus is designed to be penetrated by a penis." So you're against anal sex, not homosexuality. There's hell of a lot of happily married straight couples who should never have been allowed to marry then.

Nov. 26, 2008, 5:11 p.m. CST

by Massawyrm 1

<p>1) not all gay sex involves anal penetration. There is actually a schism in the gay community over this point.</p> <p>1) Polygamy and Incest HAVE been discussed at length. Scroll up. Both are a minefield for both sides.</p>

Nov. 26, 2008, 5:13 p.m. CST

by shut_the_fuck_up_Donnie

Show me a textbook that says a hand was designed to stroke a penis.

Nov. 26, 2008, 5:13 p.m. CST

by Gelfin

"Show me a science textbook that says an anus is designed to be penetrated by a penis." Show me a science textbook that says an anus is _designed_ at all.

Nov. 26, 2008, 5:14 p.m. CST

by skimn

Must be nice to live in a world of absolutes.

Nov. 26, 2008, 5:15 p.m. CST

by shut_the_fuck_up_Donnie

OK then, masturbation is obviously gotta stop throughout the nation then. Time for Prop 9!

Nov. 26, 2008, 5:19 p.m. CST

by Le Vicious Fishus

So... anal sex should be outlawed? There'll be a lot of straight couples who'll be pretty upset by that. Also, not all gay couple have anal sex [gasp].<BR><BR>I'm a libertarian and a gay rights/marriage proponent, so I guess not all of your pro-gay rights opponents fit the definition you think they do.<BR><BR>The gay population makes up anywhere from 2-7%. Studies disagree on this point. At any rate, these quibbles about population percentages are irrelevant. A minority population is a minority population. There's no statistical "cut off" point for civil rights.<BR><BR>My question back to you regarding polygamy and incest is this: why would either of these be in any way related to gay marriage any more than straight marriage is? Personally, I could care less if someone marries fifty wives (shudder) or their sister, but I think, again, these issues are beside the point and used by the anti-gay folks to muddy the water. Try making that argument in a court of law, and see how thoroughly and quickly it gets blown out of the water.<BR><BR>"Legalize it all or keep it as is." Man, that's an INCREDIBLY fallacious argument. No wiggle room. Must be nice living in a world with no shades of gray.<BR><BR>Since you've bitten, I'll bite back. Why do you care if a man marries another man or a woman marries another woman? What business is it of yours? Why do you give a shit about why someone else is right or wrong in falling in love with someone of the same sex and wanting to be afforded the same rights as their hetero counterparts?

Nov. 26, 2008, 5:19 p.m. CST

by chewyou812

Nov. 26, 2008, 5:23 p.m. CST

by Le Vicious Fishus

Thanks for participating in your own TB--significantly! I know you guys are busy, but it's pretty cool when one of you jump in the fray for more than just a post or two.

Nov. 26, 2008, 5:26 p.m. CST

by jimmay

Gun control: Everyone should be able to have and carry guns: children, criminals, mentally unstable, everyone or no one. <p> The environment: either all pollution and environmental damage should be legal or none. Either we let factories dump sludge in the ocean and medical waste be tossed anywhere they want, or all cars need to be outlawed as weapons of mass pollution. <p> Pornography: Either we allow bestial and underage porn, rape porn and snuff films, or we ban any book, movie, or piece of art that indicates anything remotely sexual. <p> Murder: Either we take murder off the lawbooks or we take away the right to self-defense and disband our military.

Nov. 26, 2008, 5:26 p.m. CST

by Farley Flavors

Okay, I'll bite: what the hell does anal sex have to do with whether or not gay should be allowed to get married?? Is that your primary objection? Many gay men do not choose to engage in anal sex, while many straight couples do. Plus, what about lesbians? I know of no reason, either from personal interactions with gay women or scientific literature, to suggest that anal sex is higher among lesbians...so can they get married in your opinion? Regarding incest and polygamy, from a legal standpoint if something is going to be outlawed you have to show that it is in the state's interest to outlaw that thing and that it is necessary to outlaw that thing in order to serve the state's interest. Under those conditions it isn't hard to find reasons why outlawing polygamy (conflicts regarding property and spousal rights) and incest (higher likelihood of genetic mutation if they reproduce) serve the state's interest. It is much harder to find such a reason for outlawing gay marriage. And please don't drag out the tired "Civilization can't survive without heterosexual procreation" argument. The US is in no danger of a dangerous decrease in population anytime soon, and allowing gays to marry isn't going to make straights stop having kids.

Nov. 26, 2008, 5:35 p.m. CST

by skiff

There are some very fucked up people on the site.It is so good to see The MOST hated an vilified group in society standing up for themselves.

Nov. 26, 2008, 5:52 p.m. CST

by noiretblanc

really gay dudes and really butch lesbians can't find something to be attracted to about each other. it would work out on various levels!

Nov. 26, 2008, 6:17 p.m. CST

by The Eskimo

I personally don't see why polygamy and inscetious marriages ARE illeagal...prostitution too for that matter. And smoking pot...and, well, anything else that doesn't effect anyone else directly. <p>In fact, if some of the above mentioned WERE legal, it would be a lot easier to regulate or tackle certain negative issues that might arise, like driving while high, or genetic testing to see, if you did indeed want to marry your sister, whether the probablities of her giving birth to an X-Man are high.</p> As it stands now, we just lump it all together, and sweep it under the rug.

If some freely and willingly thinks that selling their body for money is a good career move, who the hell am I to stop them! I say more power too them!!

Unless it's a guy, in which case that would be gross...

Nov. 26, 2008, 6:27 p.m. CST

by landrvr1

Who's up for a lick or two? No poking, though. I'm just not that kind of girl. At least not on the first date....

Nov. 26, 2008, 6:35 p.m. CST

by landrvr1

All the assholes who scream the loudest against homos usually have the Complete Judy Garland Collection boxset sitting on their top shelf?

Nov. 26, 2008, 6:42 p.m. CST

by The Eskimo

Cause they can't handle the truth...that they go to sleep at night and dream about burgling man balls...

Nov. 26, 2008, 6:42 p.m. CST

by The Eskimo

...but burgling is equally as funny.

Nov. 26, 2008, 6:46 p.m. CST

by Damien Chowder

Nov. 26, 2008, 6:50 p.m. CST

by landrvr1

WTF? Why is it that we never get hi-def pics and video from the space shuttle? Why is it that everytime you see footage - even the recent space walk/tool bag crap - it's like a bad Nokia cellphone vid? WTF?? How can you have a perfect environment for shooting video and stills, but all I ever see seems to look like ass? Mmmm. Ass.

Nov. 26, 2008, 7:02 p.m. CST

by ebonic_plague

..."Do what ya like" until you violate the rights of another person. That's pretty much it. <p> Unless you can PROVE gay marriage would directly affect your quality of life, SHUT THE FUCK UP about vague and meaningless notions of "sanctity" and "unnatural," and go form your own little Neo-Amish sect to shelter yourselves and your idiot spawn from any challenge to your irrational prejudice from the rest of the evolving world. The only thing that amazes me more than the astonishing selfish behavior of anti-gay jackasses is that rational people (ie- people who DON'T assume they have the right to tell others how to live, based SOLELY on archaic myth or ridiculous straw man assumptions) actually still bother to waste breath arguing against some perceived "right" to engage in this kind of blatantly intolerant douchebaggery. You want to talk tolerance? The fact that gay people still deign to engage in this "debate" and try to reason with you morons, rather than just spitting in your face and walking away, is proof of the tolerance of the gay-rights movement. <p> I'm not gay myself, but if some self righteous asshole tried to condescendingly tell me and the person I love that we have no right to spend our lives together under the same protection of the law as any other two consenting adults because he didn't think my idea of love was "natural," he would first be wiping warm sinus loog out of his eyes, and any repeated attempts at "debate" would end with me activating his dental plan. FUCK THAT SHIT. Some things are not open to compromise or debate, and the right to pursue personal happiness in all forms (until it specifically infringes on the rights of another person) is one of those things. The end.

Nov. 26, 2008, 8:19 p.m. CST

by Nosferatu Jones

...but I'm sure they absolutely LOVE their collection of "double-penetration" porn.

Nov. 26, 2008, 8:26 p.m. CST

by Strelnikov!

Earlier when someone brought up marrying an animal you said that's different because an animal isn't sentient. (Actually not true, but I get what you mean.) But as long as we're redefining marriage, who are you to say what marriage is and is not? How is it fair to redefine marriage for homosexuals, but not for a man who wants to marry four women? Or an inanimate object. When you say "That's stupid, that's not what marriage is!" you're using the EXACT same argument as those who are against Gay marriage. You dismiss opponents of Gay marriage as being either bigots, religious nuts or homophobes. I appose it because it is unfair to the other special interest groups. I beg you to tell me how I'm wrong.

Nov. 26, 2008, 9:03 p.m. CST

by kaspianwithak

Can we talk about the movie again?

Nov. 26, 2008, 9:22 p.m. CST

by IndustryKiller!

That's right all caps. If you prevent someone who cannot help the way theyw ere born from obtaining a basic human right you're a fucking bigot. I don't care what your invisible man in the sky says (btw Im not an athiest, Im just sayin...) we are all human being and that is what should be important to you and that is who you should be looking out for.

Nov. 26, 2008, 9:32 p.m. CST

by IndustryKiller!

Gay marriage is inevitable. It's going to happen, it's just too obviously the right thing to do. I don't know how many times these status quo loving fucks can lose a fight before they just give it a rest with the ignorance. Not only will gay marriage become the law of the land, but your children will look back at your behavior and wonder what in the hell was wrong with you, provided you havent inundated them with mindless hate. And as always you will be on the wrong side of history.

Nov. 26, 2008, 9:42 p.m. CST

by theBigE

Where's the spoiler warning, Massa? <p> Oops, I talked about the movie review. Is that allowed here?

Nov. 26, 2008, 9:46 p.m. CST

by theBigE

Like the prop or not, too many people out there don't like being told they're a bigot if they disagree. That's intolerance. Look in the mirror, dude. Call everyone names if you want, if it makes you feel better.

Nov. 26, 2008, 9:52 p.m. CST

by A-COD

It comes out in a week, has War Zone screened yet? I am not the least bit interested in Milk, I can't imagine many readers here are either.

Nov. 26, 2008, 10:20 p.m. CST

by IndustryKiller!

Apparently people might feel bad that their bigoted behavior might be called out as bigoted, it might upset them, and therefore telling them is intolerance. Wow, that is one incredible black hole of logic. Well sorry chief if you feel that taking a stance and pointing out obvious ignorance is insulting to the ignorant, but someone has to do it eventually and thank God we finally are. I don't call people a bigot becaue they disagree with me, dislike gay marriage all you want I dont fucking care, I call them a bigot when they act to take others rights away, which is what everyone who voted yes on Prop 8 did. And if you are one of them you are a bigot. By definition. Period. That's not my opinion, it's a fact, look it up in the dictionary if you don't like the way I put it. There is not a single, I repeat NOT ONE, practical argument against gay marriage other than God doesnt like it and sorry but that dog wont hunt because none of us know a fucking thing about God. And if he doesnt like it let him come down here and say it himself, until then Im on humanity's side. And believe me Prop 8 passing had nothing to do with people feeling insulted, but if hypothetically it did then it just makes the people in favor even bigger assholes for selling out their fellow man because their feelings were hurt.

Nov. 26, 2008, 10:27 p.m. CST

by Mier1

I'm not interested in this movie either but I realize these piss-ants on this movie site have to review it. Still, this is either a choice or it's genetic. A gene that causes an attraction that refuses to procreate is obviously defective. A choice is something wholly different. I wonder if they're doing the genome project and they find the "gay" gene tag will abortions of "gay" babies go up. Also, will a gene therapy be developed to reverse the effects.

Nov. 26, 2008, 11:02 p.m. CST

by samuraiyao

People don't like the fact that gays can't reproduce, but on the flip side of that your gay neighbor is willing to adopt and take full responsibility of caring for your unwanted child you didn't want in the first place...

Nov. 26, 2008, 11:02 p.m. CST

by theBigE

I've seen your posts on here before, and arguing on the internet is like teaching a pig to dance, but... <p> Of course, there are logical arguments against gay marriage that don't involve God. You just don't like them. As a debate coach, I try to make students realize there are two logical sides to every argument, even if you disagree with the other side. Knowledge of the other side is a weapon in your arsenal. Dismissing the other side completely indicates you do not have a strong case yourself. <p>I might not agree with Scientology, but I understand its followers have some logical reasons to follow that belief. I might not agree with Capital Punishment, but I understand those who support it have some logical reasons to do so. To label anyone who disagrees with you and your position as a bigot is counterproductive for your argument every time, as it diminishes whatever argument you might have. <p> If a person's argument against gay marriage is "gay people are gross and icky" then, yes, perhaps they are bigoted. But there are other arguments, and you wish not to address them. Why is there a human right to marry whomever you choose? None of us in this country, nor any civilized society, have EVER had that right. I don't, and you don't. You wish to broaden the definition of marriage to include more than what traditional society has accepted until recently. Others disagree, so they must be bigots, right?

Nov. 26, 2008, 11:09 p.m. CST

by Balcony Fool

...of pretentious, judgmental, closed-minded assholes trying to shove gay marriage down the throats of those who oppose it. <P> If I have to hear "why does it bother you?" or "give me a single good reason" one more time, I'm gong to start beating people with reason sticks. This is America, folks. You remember, America? People here don't have to give you a reason why they believe the way they do. As long as they're working within the legal and/or legislative system, they can believe whatever crazy-ass thing they want to believe. Got that? They don't have to justify it to you. You're nobody, and your standards of justice are meaningless.<P> Are any of you self-aware enough to notice that you're doing as much name-calling as the homophobes? Or that you're, gosh, trying to force your own morality on a group of people who don't agree with it? You wouldn't do that, would you? <P> Sure you would. Because you're the "good guys," and you're forcing others to live by your rules *for their own good.* One day, when they grow up, they'll understand, and thank you for your efforts, right?<P> Not quite. The fact is that, as much as you want to separate church and state, and dismiss religious arguments as "bigoted" or "unreasonable," a big ol' majority of people in this country (including--hey!--gay people) are kinda partial to their religion, and use it as a moral divining rod. You don't have to like it, and you don't have to agree, but it is what it is, and they've got just as much right to use the legislative system as you do. (Here's the kicker: they have the right to hold their beliefs and use the legislative system to enforce those beliefs without being condescended to or called names. Y'know, just like you.)<P> Me, personally, I'm all for gay marriage. I understand the arguments against it, but in the end, I think the pros outweigh the cons. So, if/when the issue hits the ballot in my state, I'll vote "yea," but I'll do so without belittling those who vote "nay." I'm not so fucking full of myself and drunk on my own self-importance to believe that people who disagree with me aren't just wrong, they're stupid and evil.<P> For fuck's sake.

Nov. 26, 2008, 11:12 p.m. CST

by Le Vicious Fishus

are fallacious. Please cite one--just ONE--that is not.

Nov. 26, 2008, 11:15 p.m. CST

by Balcony Fool

theBigE just made my point better than I did, and without all the anger and cursing.

Nov. 26, 2008, 11:23 p.m. CST

by Reno

The same people that are everywhere shoving OBAMA (who's against gay marriage) in everyone's face and telling them to "deal with it" are trying to overturn another decision made by voters. Who the hell are you to lecture about civil rights when you are trying to take away a decision democratically made by voters? Now, light up another torch and chase down some white guy Mormons in Utah because you don't have the guts to confront the Black and Hispanic voters in Cali whose votes put Prop 8 over, you oh-so-brave activists you.

Nov. 26, 2008, 11:24 p.m. CST

by BadMrWonka

the thing you have to understand is that even if YOU don't see the issue as a civil rights issue, many people do. so to them, speaking against it is pure and simple bigotry.<p>before you get on your angry horse again, just listen to me for a second. suppose someone was trying to make it illegal for black people to vote, or marry white people, or drink from the same water fountain as white people. many people supported that segregation, and the people who were against it, called them bigots. because, you know, they WERE bigots. you certainly wouldn't have a problem with someone being called a bigot that supports racism and segregation, right?<p>so if you want to deny gay people the same basic right as heterosexual people, many see that as akin to denying black people the same rights as whites, or women the same rights as men. <p>so if you don't like the word bigot, then we'll invent a new word, I don't care. but homosexuality is the last safe outlet for bigotry. and people who want to deny them basic rights (and marriage is one of those in america) will one day be looked upon the way we look at the people who opposed desegregation and women's suffrage. <p>you're on the wrong side of history. so maybe it's time to worry less about what names you're being called, and more about why homosexuality is so threatening to you.

Nov. 26, 2008, 11:24 p.m. CST

by Le Vicious Fishus

If you read the TB carefully, you'll see that the reasoned arguments almost always belong to the pro-gay marriage folks and all the fallacious, fearful arguments belong to the anti-gay marriage folks. <BR><BR>And, yeah--it *does* fucking matter why any uninvolved individual is so fucking concerned as to whether two men or two women can be considered married under the law with the same rights and privileges as straight married couples. <BR><BR>So, yeah--I'll ask it again (despite your toothless warnings, Balcony): why are you anti-gay folks so passionately concerned about whether two people are able to marry or not? What are you so worried about? Does it hurt or affect you in any way? What business is it of yours? Maybe you should fucking concern yourselves with your own problems. <BR><BR>And for the record: I don't think anti-gay folks are "stupid and evil." I'm legitimately bewildered, though, as to why they're so concerned about an issue that has ABSOLUTELY NOTHING TO DO WITH THEM. Get it?

Nov. 26, 2008, 11:26 p.m. CST

by Reno

Too bad so many will use it to shove their politics in people's faces killing any chance the movie has to speak for itself.

Nov. 26, 2008, 11:30 p.m. CST

by Le Vicious Fishus

by the judicial branch of our great government. Because of this check on the sometimes unconstitutional will of the majority, we have been rewarded with desegregation, interracial marriage, and equal rights for women. <BR><BR>Gay marriage is next. You may not like it, but you're on the wrong side of history (and the Constitution) if you don't, friends. Prop 8 will be struck down.

Nov. 26, 2008, 11:30 p.m. CST

by IndustryKiller!

Let's hear this highly logical argument against gay marriage. I find it odd you talked about it without actually making it. Let's hear it, by all means, why don't you give me a single negative effect on society. Do me a favor and start in my home states of Connecticut (my actual home state) and Massachusetts (which I grew up on the border of and spend a great deal of time) the two states in the union with gay marriage. Go ahead BigE and put your money where your mouth is.

Nov. 26, 2008, 11:31 p.m. CST

by Le Vicious Fishus

Look at the title of the article. Did you seriously think this TB wouldn't get political? <BR><BR>Also, what's keeping you from talking about the movie yourself. Start a thread. Maybe somebody'll respond.

Nov. 26, 2008, 11:37 p.m. CST

by the_frog

In the era of prop 8 when chips are already on shoulders. YOU ARE SHITTING ME.

Nov. 26, 2008, 11:38 p.m. CST

by IndustryKiller!

And as for your "Anyone who speaks against another for their bigotry is self important" (Im paraphrasing but that's certainly the gist of it) commentary I'll turn it over to my friend Edmund Burke: "All that is necessary for the triumph of evil is that good men do nothing." As for us "forcing others to live by our rules" thats just complete and utter bullshit. No on is forcing anyone to do anything they dont want to, just allowing those that arent allowed to be allowed. It doesn't infringe on a single American right. You don't like gay marriage then continue not to like it, no one is asking you to. Your argument holds no water whatsoever.

Nov. 26, 2008, 11:42 p.m. CST

by Rand92

<p>I used a poor word choice by using "normal". The point I was getting at and tried to get across in my original post was that being gay, whatever the cause, goes against a very basic law of nature -- survival. Whether you look at it from a religious point of view or a scientific one, I do not think humans were meant to be gay since procreation does not work that way.</p> <p>I honestly do not care what gay people do. Marry, don't marry, I just do not care. I have not taken a stand on the civil rights merits of gay marriage because I just do not know how to lean on that one. I made a point about not understanding being gay and not believing in it. I do not want that being used against me to call me a bigot. Ask my gay friends if I am a bigot or treat them any differently.</p>

Nov. 26, 2008, 11:43 p.m. CST

by IndustryKiller!

There was just an anti prop 8 march through minority neighborhoods the other day here in LA. Do some research Reno.

Nov. 26, 2008, 11:44 p.m. CST

by Balcony Fool

Where did either of you get the impression that I'm "threatened" by homosexuality, or "anti-gay," or bothered in any way by gay marriage? <P> I'm pro gay marriage. My closest friend and mentor for the last 20 years is gay. I'm not "on the wrong side of history." I'm just not a self-important asshole.

Nov. 26, 2008, 11:47 p.m. CST

by IndustryKiller!

Nature is a funny thing, one Im not sure you know a whole lot about.

Nov. 26, 2008, 11:47 p.m. CST

by TerryMalloy

That's the real reason most people have a problem with gay marriage. Let's face it.

Nov. 26, 2008, 11:49 p.m. CST

by IndustryKiller!

Being indignant on NOT taking a stand sure keeps you from being a cowardly asshole Balcony....sure does.

Nov. 26, 2008, 11:50 p.m. CST

by Balcony Fool

Am I supposed to be taking you seriously? How about actually reading a post before you rebut it? That way, it won't look like you're regurgitating prefabricated talking points (as opposed to actually engaging the argument). Just a tip.<P> I'll put it in caps for you this time: <P> I AM FOR GAY MARRIAGE.<P> Clear 'nuff?

Nov. 26, 2008, 11:51 p.m. CST

by Rand92

I think you contradict yourself a bit. You say that no one is forcing anyone to do anything they do not want to do, but yo also insinuate that those who oppose gay marriage rights are "evil" and then say their arguments hold no water. Also, you might want to take a look at what some of the more extreme gay rights groups do to protest their treatment. Going in to a church and disrupting a service does not endear most people to their cause. Neither does trying to suppress any anti-gay voices. Many of these groups force themselves and their ideas onto people who ideologically differ with them. They want people to respect their right to gay marriage, but don't want to accept that some people are going to disagree. I know a lot of good people who do not believe gays should get government breaks from marriage. That's their right and their arguments can hold just as much water if you take the time to listen and respect where they are coming from.

Nov. 26, 2008, 11:52 p.m. CST

by IndustryKiller!

Im merely commenting on your indignant idleness. I know you would fight for it when its perfectly convenient for you to in the privacy of a booth. *CLAP* *CLAP* *CLAP*

Nov. 26, 2008, 11:53 p.m. CST

by TerryMalloy

You said: "They have the right to hold their beliefs and use the legislative system to enforce those beliefs without being condescended to or called names." <p> They DO have the right to hold beliefs and use the legislative system but do NOT have a right to not be called names. Just sayin'.

Nov. 26, 2008, 11:54 p.m. CST

by Rand92

Of course animals can be gay. That still does not change the fact that neither the animals' nor humans' bodies are meant to work that way. If being gay was every bit as natural (from a biological standpoint) then animals and humans could have children either way.

Nov. 26, 2008, 11:55 p.m. CST

by Le Vicious Fishus

I was partially responding to your assertion that "pretentious, judgmental, closed-minded assholes [are] trying to shove gay marriage down the throats of those who oppose it." And I stated that *those that oppose gay marriage* were "on the wrong side of history" (i.e., not you). <BR><BR>Never stated you were "threatened" either. I think that was meant from Wonka for Big E.<BR><BR>How about you stop putting words in my mouth? You may not be "a self-important asshole" (like you apparently think I and others like me are) but your reading comprehension skills could use a little help.

Nov. 26, 2008, 11:57 p.m. CST

by TerryMalloy

op Ten Reasons to Make Gay Marriage Illegal <p> 01) Being gay is not natural. Real Americans always reject unnatural things like eyeglasses, polyester, and air conditioning. <p> 02) Gay marriage will encourage people to be gay, in the same way that hanging around tall people will make you tall. <p> 03) Legalizing gay marriage will open the door to all kinds of crazy behavior. People may even wish to marry their pets because a dog has legal standing and can sign a marriage contract. <p> 04) Straight marriage has been around a long time and hasn't changed at all like many of the principles on which this great country was founded; women are still property, blacks still can't marry whites, and divorce is still illegal. <p> 05) Straight marriage will be less meaningful if gay marriage were allowed; the sanctity of marriages like Britney Spears' 55-hour just-for-fun marriage would be destroyed. <p> 06) Straight marriages are valid because they produce children. Gay couples, infertile couples, and old people shouldn't be allowed to marry because our orphanages aren't full yet, and the world needs more children. <p> 07) Obviously gay parents will raise gay children, since straight parents only raise straight children. <p> 08) Gay marriage is not supported by religion. In a theocracy like ours, the values of one religion are imposed on the entire country. That's why we have only one religion in America. <p> 09) Children can never succeed without a male and a female role model at home. That's why we as a society expressly forbid single parents to raise children. <p> 10) Gay marriage will change the foundation of society; we could never adapt to new social norms. Just like we haven't adapted to cars, the service-sector economy, or longer life spans.

Nov. 26, 2008, 11:59 p.m. CST

by IndustryKiller!

First of all if there is such a strong argument against gay marriage then fucking make it and stop talking about others making it. That's just a general note to everyone. Secondly if the gay community was forcing their views on anybody then that would mean they are trying to force churches to marry them, which is just stone cold not happening. Churches would have every right to NOT participate in Gay marriage. You want to personally ignore gay marriage then be my guest, that's your right. The protesting at Mormon churches just your basic protesting of a bigoted force who has been protesting themselves with very little in the way of a fight at their own doorstep. No one is trying to shut them down or take anything away from them, just give them a taste of their own medicine.

Nov. 27, 2008, 12:01 a.m. CST

by TerryMalloy

is that which produces children?

Nov. 27, 2008, 12:01 a.m. CST

by IndustryKiller!

If it's all about producing children then those people are also genetically flawed and shouldnt be allowed to marry. Human life has more to do with just surviving Bucko. Otherwise no one would ever die for a cause.

Nov. 27, 2008, 12:03 a.m. CST

by Le Vicious Fishus

Nov. 27, 2008, 12:05 a.m. CST

by Le Vicious Fishus

In fact, we could take a lot more than that worldwide. Too many fucking people on this planet as it is...

Nov. 27, 2008, 12:06 a.m. CST

by YouAreAllMyBastardChildren

So they scream, wail and rage until they get their way...until their next want/wish. Repeat. All of this could've been stopped a long time ago if only someone would've stood strong in the face of the tantrums and just said "NO".<p>It is a strange world, my little bastards. The "hatred" of the "hated" far exceeds the "hate" they feel "hated" upon with.

Nov. 27, 2008, 12:06 a.m. CST

by Balcony Fool

You addressed "you anti-gay people" in between two comments written specifically to me. Forgive me for reading myself as included in "you anti-gay people", but you see how I might make the mistake, no? <P> At any rate, my point remains: the people who disagree with gay marriage don't owe you or me or anybody else an explanation for their beliefs.

Nov. 27, 2008, 12:07 a.m. CST

by TerryMalloy

and my grandmother's leg? <p> Come to think of it, why do I hump fire hydrants and my grandmother's leg? <p> Genetic flaw? <p> Perhaps.

Nov. 27, 2008, 12:08 a.m. CST

by Balcony Fool

Fair enough -- people don't have a right not to be called names.

Nov. 27, 2008, 12:09 a.m. CST

by TerryMalloy

If they tell them they can't adopt children.

Nov. 27, 2008, 12:10 a.m. CST

by Le Vicious Fishus

should have no bearing on this society's laws if deemed unconstitutional. We'll see how this all pans out.

Nov. 27, 2008, 12:10 a.m. CST

by TerryMalloy

You have to give some sort of reason, explanation.

Nov. 27, 2008, 12:12 a.m. CST

by Balcony Fool

This is the last post of yours I'll respond to, since unlike some other folks here, you're clearly just talking out of your ass. <P> You never said I was against gay marriage? What was this:<P> "You don't like gay marriage then continue not to like it, no one is asking you to. Your argument holds no water whatsoever." <P> That was in a post addressed specifically to me, dipstick.

Nov. 27, 2008, 12:14 a.m. CST

by Rand92

<p>I did not start out this discussion to make a point about whether gay marriage is moral or not. However, I will tell you why some people are against it and you can take from it what you will.</p> <p>First, the reason that opposing gay marriage is different that opposing blacks marrying whites or who gets to vote, or who gets to eat or drink where is a very simple one. Money. It comes down to that. Many people fight against gay marriage because it affects them financially as well as ideologically. Why should those who oppose gay marriage have to have their tax dollars spent to give them government rights? Until a system gets put in place where only taxes from gay couples goes to paying for those benefits that marries couples get then you are going to have more opposition. I could give a rat's ass about gays marrying. I do not want to have to pay for their benefits when they engage in a lifestyle I disagree with. They can do whatever they want as long as I am not paying for it. This is what a lot of people think. Their religious beliefs carry a lot of weight and they do not want to support gay marriage in any way. You may not agree with it, but it is a valid argument.</p> <p>I also just have to say that comment about me not believing in any sex act that does not produce children is a stretch. The point was and will ever be that being gay goes against most creature's most basic survival instinct. Terry, I think you know that not every sex act is done with the intent of producing children.

Nov. 27, 2008, 12:16 a.m. CST

by TerryMalloy

1) Marriage is an institution between one man and one woman. <p> 2) Same-sex couples aren't the optimum environment in which to raise children. <p> 3) Gay relationships are immoral. <p> 4)Marriages are for procreation and ensuring the continuation of the species. <p> 5) Same-sex marriage would threaten the institution of marriage. <p> 6) Marriage is traditionally a heterosexual institution. <p> 7)Same-sex marriage is an untried social experiment. <p> 8) Same-sex marriage would start us down a "slippery slope" towards legalized incest, bestial marriage, polygamy and all kinds of other horrible consequences. <p> 9) Granting gays the right to marry is a "special" right. <p> 10) Gay marriage would mean forcing businesses to provide benefits to same-sex couples on the same basis as opposite-sex couples. <p> 11) Gay marriage would force churches to marry gay couples when they have a moral objection to doing so. <p> REAL REASONS 1) Just not comfortable with the idea. <p> 2) It offends everything religion stands for. <p> 3)Marriage is a sacred institution. <p> 4) Gay sex is unnatural. <p> 5) Making love to another man betrays everything that is masculine. <p> Got this from some website but I left out all the counter-arguments... Enjoy IndustryKiller!

Nov. 27, 2008, 12:17 a.m. CST

by IndustryKiller!

Saying if YOU (the royal you) don't like gay marriage then YOU (the royal you) are more than welcome to have that opinion. Admittedly I could have made that more clear, but now I think its pretty crystal. Respond to my posts or not my friend, it's really none of my concern. You were the one getting pissy about your belief of NOT speaking up at all, so it seems within your character.

Nov. 27, 2008, 12:21 a.m. CST

by Rev. Slappy

Wasn't Bryan Singer's version supposed to be called "The Mayor of Castro Street?" That's a good title.

Nov. 27, 2008, 12:23 a.m. CST

by TerryMalloy

There's a hell of a lot of things the government does that I oppose morally and financially, but I still have to pay taxes. Not a valid argument. The IRS will back me up. <p> If I mischaracterized what you said, my bad. But you did say "That still does not change the fact that neither the animals' nor humans' bodies are meant to work that way. If being gay was every bit as natural (from a biological standpoint) then animals and humans could have children either way." So it does seem to be, from your statement, that you are equating natural with producing children. <p> It doesn't go against any of my instincts when my girlfriend gives me a blowjob, by the way. If your point is that from an evolutionary biological PERSPECTIVE, the only point of life and sex is to reproduce, then I would agree with you. <p> But animals wouldn't know that and many humans would disagree with you.

Nov. 27, 2008, 12:26 a.m. CST

by TerryMalloy

Nov. 27, 2008, 12:28 a.m. CST

by TerryMalloy

I'm assuming you wouldn't agree with a lot of straight, married couples lifestyle. But you still give them benefits. <p> That argument holds no water.

Nov. 27, 2008, 12:29 a.m. CST

by IndustryKiller!

In no particular order A. Massachusetts proves that nothing happens to the fabric of society when Gays marry. B. Happy healthy children are raised every day by gay parents in stable households and by single parents. C. Gay couples do deserve the rights of same sex couples since they are human beings just the same in consensual relationships that don't hurt anyone else. D. We have a separation of church and state in this country that luckily keeps religion from dictating how we run things here. F. As for beastiality, an animal can't sign a marriage document. Incest, gay unions are not likely to produce malformed offspring nor will it promote the indoctrination of children. As for polygamy, it wouldnt be the end of the world if it was ratified but I'm open to hearing statistical arguments against it, though i doubt I'll hear any. Warren Jeffs wasnt tried primarily on polygamy, but forcing children into sex, which was the product of a religious sect gone haywire, not necessarily polygamy itself. E. We do things every day that don't occur in nature at all and we don't outlaw those things, homosexuality happens in nature regularly.

Nov. 27, 2008, 12:30 a.m. CST

by IndustryKiller!

is a typo. Im a shit typist and I admit it. Just in case any smartass felt like bringing that up.

Nov. 27, 2008, 12:33 a.m. CST

by Rand92

<p>You are 100 percent correct about there being many things are government does that people morally and financially disagree with. The war in Iraq is a perfect example. Am I correct in assuming that you would be okay with protesting the war based on your personal views? Would it matter to you if the soldiers wanted to go? Would it matter how many people disagreed with you? I am guessing probably not. I see no difference between the validity of opposing one thing as the other. We all have our right to protest and then, in the end, we either go with the majority or we leave or keep fighting.</p> <p>Yes, by natural I going with a purely biological perspective. If God or nature wanted homosexuality to be every bit the norm as heterosexuality then we'd all be asexual beings. Our parts are meant to work in a certain combination and I also believe that our sexual urges are meant to work the same way. Hetero keeps the species going and that is the only "natural" I was going for.

Nov. 27, 2008, 12:35 a.m. CST

by Balcony Fool

Okay, first: my apologies for getting more heated than necessary and calling names. Stupid and childish.<P> Second: my apologies for saying I wouldn't respond to any more of your posts. Shutting down a dialogue out of frustration is no way to work.<P> Third: I haven't anywhere said anything about "NOT speaking up at all." Where did you come up with that, please?<P> Fourth: Those who want to force gay marriage through by anything other than a ballot measure most assuredly *are* forcing their beliefs on others. We can argue all day long about whether they're right to do so, but that's a separate debate. As it stands, a good number of folks prefer living in a traditional society where gay marriages are not recognized by the state. By altering that society without giving them a vote, we are imposing our beliefs on them. This isn't that hard to understand. Five: Just because I don't approve of being a dick to people who disagree with you, it doesn't mean I'm advocating silence. Rather, I advocate education, discussion, and reform. Telling the opposition that they're bigots, their religion is stupid, and equating them with Nazis isn't going to change anyone's mind.

Nov. 27, 2008, 12:37 a.m. CST

by Rand92

But I will concede your point. If you were simply against the lifestyle then the argument holds water. BTW, that is not my argument. I hold no opinion of gay marriage. I just paraphrased arguments of people I talked to. When you combine the financial with the religious is where you get the opposition.

Nov. 27, 2008, 12:37 a.m. CST

by TerryMalloy

No, no, no. You're saying you disagree with gay marriage because you have to pay them benefits. My point is you already pay for heterosexual couples who are living lifestyles you don't agree with. And are you out protesting that? No, you're not. <p> Ipso facto, ad nauseum E. Pluribus Unum your argument makes no sense.

Nov. 27, 2008, 12:37 a.m. CST

by IndustryKiller!

Since it's wrong if it doesn't reproduce and all. Look homosexuality may not be as common in nature as heterosexuality, but it still happens all the time. Ergo it is natural. If you think that nature wouldnt condone it then homosexual creatures would have died out by now, but nature keeps producing them no matter who likes it or not.

Nov. 27, 2008, 12:38 a.m. CST

by TerryMalloy

Nov. 27, 2008, 12:40 a.m. CST

by IndustryKiller!

Time has proven this. If we did that then black people would still be drinking from different water fountains in many states. Ballot initiatives are no way to promote equality.

Nov. 27, 2008, 12:40 a.m. CST

by TerryMalloy

It has no point to make about anything. It's very beautiful and majestic and complex, but it has no point.

Nov. 27, 2008, 12:43 a.m. CST

by TerryMalloy

I just can't stand the smokescreen of "traditional marriage" coming from some people. They should just say, "I don't agree with homosexuality, and I don't want to see it legitimized". Then there doesn't have to be this inane debate and we can all try to win people to our side.

Nov. 27, 2008, 12:44 a.m. CST

by IndustryKiller!

It's a completely bi sexual species of primate. Nature has no bias man.

Nov. 27, 2008, 12:49 a.m. CST

by Rand92

<p>Industrykiller, I am not talking about every sexual act. I think I posted that one already. I also never said anything about making anything illegal.</p> <p>Terry, I never said anything about my stance on gay marriage. I believe I posted at least twice that I have no position. I got accused of making no argument so I made the argument of people that I talk to. Lifestyle combined with a strong religious belief lead people to think that by helping to pay for gay marriage benefits they are condoning the act. These people choose to take a stand on this and let other things go. Do you take a stand against everything you disagree with or do you pick your battles based on how strongly you feel?

Nov. 27, 2008, 12:50 a.m. CST

by TerryMalloy

A little catty, but hey, nobody's perfect.

Nov. 27, 2008, 12:54 a.m. CST

by TerryMalloy

I retractedo my posto. My bad. <p> On the taxation issue, I take no stand except hiring an accountant to make me spend as little as possible.

Nov. 27, 2008, 12:56 a.m. CST

by Rand92

Also, bisexuality makes more sense from an survival point of view than homosexuality. I think nature does have a bias, but like you said, it is not sentient. It doesn't control everything. Why then after all these thousands of years has the human body not evolved so that an offspring can be produced no matter what sexual orientation they happen to be? Sex acts are fun and you can do whatever you want. That does not change the most important purpose of sex to reproduce the species.

Nov. 27, 2008, 12:57 a.m. CST

by TerryMalloy

that when they go see movies they are financially supporting the immoral lifestyles of all the actors they see onscreen? And that they are also paying to execute people on death row? And paying for bombs that kill innocent people? And paying for an infinite amount of other things that they wouldn't agree with? <p> It doesn't make any sense to me.

Nov. 27, 2008, 12:58 a.m. CST

by Rand92

I don't have much to give anyway

Nov. 27, 2008, 12:58 a.m. CST

by TerryMalloy

I'm pregnant with a butt baby. <p> It's yours...

Nov. 27, 2008, 1:01 a.m. CST

by TerryMalloy

A number of theories anyway. But what is the point you are trying to make?

Nov. 27, 2008, 1:02 a.m. CST

by YouAreAllMyBastardChildren

why people continue to go back and forth and back and forth and back and forth and back and forth. But, please, my little bastards, continue. You convince no one.

Nov. 27, 2008, 1:02 a.m. CST

by IndustryKiller!

Why has the human body not evolved enough to weed out homosexuality? We don't know, but there is a natural precedent for it, therefore it's natural. It could be a natural way of curbing overpopulation, which for humanity is very necessary since we are our own worst enemy, if you want to put a scientific slant on it. The point is neither one of us, or anyone really, knows for sure. But since it is a fact of life they deserve all the same basic rights we do. And just because it is unique when you play the numbers game, doesn't mean it's bizarre or at all unnatural.

Nov. 27, 2008, 1:04 a.m. CST

by TerryMalloy

Why did you walk out on mom and me? WHY????????

Nov. 27, 2008, 1:05 a.m. CST

by TerryMalloy

Nov. 27, 2008, 1:05 a.m. CST

by TerryMalloy

Nov. 27, 2008, 1:08 a.m. CST

by Rand92

<p>I never said anyone should be denied any rights. You could be right about why some people are gay, Industrykiller. I still chose to stick with my beliefs on the biology portion. We have so many other ways to curb the population such as disease. But I am not going to say your point is invalid since there is no way to know.</p> <p>BTW, Terry, I was enjoying the debate until the butt baby comment. Not sure where you were trying to go with that.</p> <p>anyway I am off to sleep. Enjoy the discussions.</p>

Nov. 27, 2008, 1:09 a.m. CST

by TerryMalloy

Nov. 27, 2008, 1:11 a.m. CST

by TerryMalloy

Nov. 27, 2008, 1:15 a.m. CST

by YouAreAllMyBastardChildren

I found it quite humorous, my little talkbacking bastard. *Obviously the use of "bastard" here is a term of endearment.*

Nov. 27, 2008, 1:45 a.m. CST

by DANNYGLOVERS_DICKBLOOD

I'm only going if I get full frontal.

Nov. 27, 2008, 1:47 a.m. CST

by lucasdefender

The Liberal Agenda somehow, for the most part, controls the media. California is the home of Hollywood and is probably the primary source, and strength, of liberal values. In the name of freedom and equal rights, the liberal community will have me answering to their standards the same way a fashist would his own.They could care less what the majority believes or feels or has passion for. The only worldview that matters is their own because they are open-minded? Not only will they silence the voice of the majority but will force us to agree with theirs. And if you think I am being overly-dramatic, well,maybe I am. Or maybe I'm not. Have you heard of the bull-crap that happened to E-harmony online dating? They recently lost a major lawsuit because they were not offering services for single gay men and women. They have been ordered to "correct" their system. What if I placed a lawsuit against a gay club because they cater more specifically to the gay community? Would that be fair? Would I win the suit? Probably not. The majority have not declared that one may not live their life the way they want to. Only that one would not Force us how to view and live ours. The people decide the laws and not a judge or group of them. If my beliefs lose to the majority I will not like it. However, fairness would have me accept it. Otherwise we are not a democracy at all. Any freedom we possess then subject to the whims of the elite. Hoping only that they will somehow not forget about us, the majority, before our voice is all together vanished.

Nov. 27, 2008, 1:47 a.m. CST

by lucasdefender

The Liberal Agenda somehow, for the most part, controls the media. California is the home of Hollywood and is probably the primary source, and strength, of liberal values. In the name of freedom and equal rights, the liberal community will have me answering to their standards the same way a fashist would his own.They could care less what the majority believes or feels or has passion for. The only worldview that matters is their own because they are open-minded? Not only will they silence the voice of the majority but will force us to agree with theirs. And if you think I am being overly-dramatic, well,maybe I am. Or maybe I'm not. Have you heard of the bull-crap that happened to E-harmony online dating? They recently lost a major lawsuit because they were not offering services for single gay men and women. They have been ordered to "correct" their system. What if I placed a lawsuit against a gay club because they cater more specifically to the gay community? Would that be fair? Would I win the suit? Probably not. The majority have not declared that one may not live their life the way they want to. Only that one would not Force us how to view and live ours. The people decide the laws and not a judge or group of them. If my beliefs lose to the majority I will not like it. However, fairness would have me accept it. Otherwise we are not a democracy at all. Any freedom we possess then subject to the whims of the elite. Hoping only that they will somehow not forget about us, the majority, before our voice is all together vanished.

Nov. 27, 2008, 1:54 a.m. CST

by IndustryKiller!

Can we have a ballot initiative in which I get to vote on YOUR marital options. Not anyone else, just you. That would be "fair" according to your logic. And then we'll see where we can go from there. The moment that happens I'll say its fair for you to vote on gay marriage, until then its totally bullshit. Let me ask you another question, do you think the Civil Rights movement was a bad thing because it wasnt decided by a majority? Im seriously asking.

Nov. 27, 2008, 1:58 a.m. CST

by IndustryKiller!

e-harmony settled that case, meaning they willingly put up a gay option. They could have fought it but they knew the would get bad press even if they won so they took the more business savvy option. Blame their want for money, not the gays.

Nov. 27, 2008, 1:59 a.m. CST

by bender7

These points have probably already been countered logically already but of for the record: >< 1) Marriage is an institution that has changed and evolved since the dawn of time amongst all cultures with rules and restrictions that change significantly over periods of time. >< 2) This is an invalid argument as it is stating something that is not supported by anything other than fearful hatemongering. >< 3) Gay relationships are immoral only according to a two thousand year old book that has been edited and changed by various religious and political leaders to suit their own purposes. The same book also states that a man should be stoned to death if they plant a two different crops side by side >< 4) Sexual intercourse that results in sperm fertilizing a womans egg cell is for procreation of the species, not marriage. And given the six billion people already on earth and overpopulation is a worldwide concern it is not a valid reason to stop people having rights. Also when a person becomes their gay sperm does not become sterile, so in the case of a massive population decrease, procreation is still a possibility even by some chance that all males are homosexual >< 5) This is an unspecific argument that cannot be countered unless specific reasons are given that would 'threaten' an institution that has survived since most of civilisation >< 6) See points 1,2 and 3 >< 7) This argument is invalid as the only change between current same sex couples and legalised same sex couples is legal recognition of a union. There would be little social change and none that would effect major world factors such as economy, political relations, environmental factors, etc >< 8) Homosexuality has nothing to do with incest, bestial marriage or polygamy and as such any connection to these practices are invalid >< 9) It is not a special right; given it is the exact same right given to heterosexuals. >< 10) This is a semi-retarded point that someone may have picked up when someone watched I Now Pronounce You Chuck and Larry or something? The implication of marriage rights to same sex couples would be an incredibly minor issue that would have little or no financial consequences >< 11) Marriage does not have to be performed at church and in fact has little to do (or at least should have little to do) with religion. It is a legal recognition of a union

Nov. 27, 2008, 2:05 a.m. CST

by OptimusCrime

I find hot women getting it on with each other sexually arousing. I think two guys doing it is gross. Anybody with me?

Nov. 27, 2008, 2:15 a.m. CST

by lucasdefender

"If my beliefs lose to the majority I will not like it. However, fairness would have me accept it." And I will add to that. The majority can and do very well make bad decisions at times. However, if I am burned or feel injustice reigns in the majority, I should try to fix it with a just means. Blatantly - disregarding - the - majority, under the guise of anything is a flat out assault on democracy (something I strongly believe in) and an abuse of power. And it is just maddening to me that you cannot see this. Now, E-harmony did whatever it did. But that does not change the fact that they were being unjustly taken to court does it?

Nov. 27, 2008, 2:29 a.m. CST

by necgray

1) Learn to spell fascist before you throw the word around. <p> 2) The phrase is "couldn't care less", not "could care less". The former implies that they care so little it would be impossible to care less. Which is what you really mean. <p> 3) Catering to a community and outright disregarding a minority are not the same thing. If you walked into a gay bar, by law they have to serve you. So you would lose your lawsuit. Unless the bar specifically said to you, "Sorry, we don't serve heterosexuals here." Which is what E-harmony was doing. Which is what the legal community calls "discrimination". <p> 4) Like most opponents of gay marriage, you fail to see what your stance truly means. By denying homosexuals the right to marriage, you are actively pursuing repression. Whereas legalization of gay marriage represses NOBODY. It doesn't affect heterosexuals AT ALL. At worst, it potentially offends you. So the POV that truly skirts the line of fascism is your own. <p> 5) Your view of California as a predominantly "liberal" state is woefully inaccurate and typically misinformed. Their governor is a conservative Republican. A large portion of the state's population is Latin American, who typically skew conservative due to a religious upbringing. Likewise, the African-American community in California is largely religious. While I agree that Hollywood is predominantly liberal, I think you overestimate its influence on the state as a whole. <p> 6) Many people who supported Prop 8 did so out of anger with the mayor of San Francisco, who called a press conference to brag about the legalization of same-sex marriage. <p> I could go on, but I think I've made my point.

Nov. 27, 2008, 2:40 a.m. CST

by necgray

the actual definition of "democracy". The Greek roots and all that. Which pre-date Christianity, I might add. I think you'll find Aristotle particularly enlightening.

Nov. 27, 2008, 2:41 a.m. CST

by necgray

Nov. 27, 2008, 2:56 a.m. CST

by IndustryKiller!

The gay community is doing everything within a court of law, from peaceful protests to court appeals. And if you wanna talk about majorities voting on minority rights then first answer my question about civil rights that you not so artfully dodged. As for e-harmony they wouldnt let a person register with their site simply because they were gay. This was not a church or religious institution but a dating website so they are well within their rights to take it to court under anti discrimination laws. A restaurant can't not let asian people through its doors so why should a dating site be any different with homosexuals? It was completely worth taking to court and e-harmony, rather than have their day in court which they were completely within their rights to do, chose the monetarily safer option.

Nov. 27, 2008, 2:59 a.m. CST

by IndustryKiller!

Seriously Lucasdefender. You talk about fairness. WHy cant I vote on your marriage dude? WOuldnt that be fair?

Nov. 27, 2008, 3:18 a.m. CST

by DarthChimay

To those who say, "Well, we'll let the majority decide on whether or not gays can marry," you should look up the notion of the tyranny of the majority, as put forth by John Stuart Mill. The basic idea is that letting the majority rule is a bad thing in a democracy as they become a de facto tyranny. The founding fathers knew of this idea and implemented it into the constitution; that's why we have a court system. That's why it's so difficult to pass a constitutional amendment. Freedom is not letting other people decide what's best for you; it's you deciding what's best for you. The one caveat there is that what's best for you better not be hurting someone else. From a purely legal standpoint, the proposition doesn't have a leg to stand on; it is blatantly unconstitutional. And remember, in the state of California, there doesn't need to be an overwhelming majority to pass a state amendment; in this case, only 52% supported the proposition. That's a little over half. I don't know about you, but I don't want half the people I know telling me what I can and can't do.

Nov. 27, 2008, 3:18 a.m. CST

by necgray

If individual marriages were subject to a democratic process, there'd be a HELL of a lot more single people, I guarantee! My parents sure as hell wouldn't have gotten married, my grandparents didn't like either of their choices...

Nov. 27, 2008, 3:27 a.m. CST

by lucasdefender

1)You definitely succeeded at making me feel a tad embarrassed by my failure to spell fascist-now corrected thank you. However, I do not think that I am not allowed to use the word or "throw it around" if I misspell it, do you? 2)While I do agree that "couldn't care less" has a bigger, more dramatic meaning to it, I do not think that this excludes using "could care less" from being acceptable. 3)Your first two points are silly and needless to the discusiion. For, in my passion, it was not my intention to demonstrate flawless spelling or grammar(and I do suck at these more or less). Rather, I hoped to make my point and think I did for the most part. 4)If the majority feels that gay marriage should not be recognized the same as heterosexual marriage, they have the right to make that call. 5)We repress all kinds of things in our culture all the time, and are glad for it. I repress bad breath with bubble gum happily. Calling something repression does not make it f.a.s.c.i.s.t. Webster's dictionary: fascism- " a governmental system led by a dictator having total power,forcibly supressing opposition and criticism " 6)To say that legalizing gay marriage does not affect heterosexuals is false. Obviously there will be changes, negative for some, in California with gay marriage legal. 7)To reference California's governer as proof that the state is not liberal is folly on an intense level. Work at a California prison and then check out the Texas prisons and see the distinction. 8)Why were people angry with the mayor of San Francisco? Do you suppose it was because he flaunted the fact that democracy did not decide to legalize gay marriage? That he got his way in spite of, not with the voters?

Nov. 27, 2008, 3:34 a.m. CST

by lucasdefender

Nov. 27, 2008, 3:36 a.m. CST

by lucasdefender

Dont throw crap around that.... you ...... spell fascist right you non-smart person.

Nov. 27, 2008, 3:40 a.m. CST

by IndustryKiller!

And I can prove it. Like I said I'm from Connecticut and grew up in a town on the border of Mass. Those are the two states in the union with legalized gay marriage. Why don't you tell me, in my own home, how I, as a straight person, have been affected in the fucking slightest by gay marriage. because I can tell you right this second that I havent. So really, why don't you tell me, how I have been affected AT ALL negatively. And no being angry because my religion tells me I should be doesn't count. That isnt a tangible effect. Tell me how I, in my own home, where all my immediately family and best friends are right now, tell me how they have been affected negatively. I can tell you now they would line up to tell you it's bullshit.

Nov. 27, 2008, 3:44 a.m. CST

by IndustryKiller!

I have to watch my gay friends be hurt by this sick discriminatory law. I have to watch them get treated openly like second class citizens. I had give up time two weeks ago to March with them in downtown LA at a rally. Why don't you tell me what your even perceived negative effects are.

Nov. 27, 2008, 3:47 a.m. CST

by lucasdefender

If gay marriage is legal and viewed the same as traditional marriage then my children in school will be taught the same, will they not? If the state teaches that 1+1=2, the same will be taught in schools. It is an irrefutable fact.

Nov. 27, 2008, 3:48 a.m. CST

by IndustryKiller!

They don't like the gay lifestyle because they think it's sick or morally wrong. There is literally no other reason to oppose it as evidenced by a single persons inability to come up with one in this talkback. Well that is just too bad. Your ignorance is not good enough to make others feel like lesser citizens. Gay marriage is inevitable so you might as well give up right now. its going to happen and history is going to judge you the same way it does racists in the 60's.

Nov. 27, 2008, 3:50 a.m. CST

by IndustryKiller!

They don't teach that in schools. Sorry champ. Find me the syllabus with marriage on it. Lets see it.

Nov. 27, 2008, 4 a.m. CST

by IndustryKiller!

Because that's really what it boils down to. WHy don't you and others like you just admit that it's why you oppose their marriages? Because you know its rank and file bigotry. And I dont care how many gay friends you have, until you are willing tot ell them to their faces that you don't think they should have the right to marry you don't get to call them your friends. And if you would say that then with friends like you who needs enemies? I cant imagine calling anyone my friend who wouldnt stand up for my basic rights in life.

Nov. 27, 2008, 4:45 a.m. CST

by DRACULA_WANTS_THE_AMULET

"I Am Sam" ????? Everyone Knows You Never Go "FULL"

Nov. 27, 2008, 5:09 a.m. CST

by Lost Jarv

For the record- Fascist= far RIGHT totalitarian dictatorship. <P>I despise this liberal fascist dogma. It's disingenuous horseshit, and only constructed so that religious conservatives can seperate themselves from a truly evil regime. <P>This is not hard, and no matter how much you fudge history to fit your warped definition, you will never succeed. <P>If you want a far left totalitarian regime, the word you are looking for is communist.

Nov. 27, 2008, 5:10 a.m. CST

by rebelpigs

Yeah, you are, you know its true, you all secretly want it and no matter how much you tell yourself you dont, it wont change it.

Nov. 27, 2008, 5:12 a.m. CST

by Lost Jarv

supporting Proposition 8. <P>There isn't one. Again, I ask the question: "Why do you give a fuck if 2 consenting adults want to marry?"<P>Note I used "2 consenting adults" not a fucking harem, or an adult and a child, animal or household appliance. <P>You really need to take a long look at yourselves. <P>Dreadful people.

Nov. 27, 2008, 5:18 a.m. CST

by Lost Jarv

To quote Ghandi "Even in a minority of one the truth is still the truth" <P>The majority is NOT always right. <P>Furthermore, your repression argument is truly, truly reprehensible. It is thinking like that that has lead to some utterly dreadful regimes.

Nov. 27, 2008, 5:24 a.m. CST

by DRACULA_WANTS_THE_AMULET

and chick flicks, and women trying to control and change me, and long empty chats over the phone where I have to fight to think of shit to say to the bitch. When I'd rather be surfing the net, watching tv, or working. I hated girls since day one bro. <P> Remember the "Come Play House with us and Barbie.." Arrrghh fuck that "War, and Shoot out an fist against flesh, and racing and stunting on bikes and remote controlled shit and building forts" <P> I never liked Girls. I just like what I can do with them. <P> Guys don't do that for me cause well. I'm a guy. I own the same shit and it's boring. <P> I guess I'm A sexual. That what I really am. I don't want kids or a wife or anyone really. I hate everyone equally! It ain't about your skin or what you believe in, or who you fuck, or where you come from. You just piss me off cause you are you! Not that I want you just like me. I think I want no one on earth and all the cool shit. If i woke up tomorrow and every last human on this earth was dirt and dust and I was the only one still walking.. I'd be totally cool with it.

Nov. 27, 2008, 5:44 a.m. CST

by masteryoda007

zzzzzzzz zzzzzzz Wake me up before you go go

Nov. 27, 2008, 6:04 a.m. CST

by JackRabbitSlim

Lets get beyond the "it smacks of cheesy pop psch 101" bit and take it to its logical conclusion. <p> Correct me if I'm wrong, but that theory essentially boils down to the "thou protest too much." and if that's the case - the person who rants and raves how much they despise bible-thumping bigots - are they in fact harboring deep-seated bigoted thoughts that embarrass them and late at night furtively look at those pictures of white-bearded prophets in their illustrated Good Book they have secreted under the bed and feel the need to overcompensate for these lapses? If not - why not? Why is that a one way street?

Nov. 27, 2008, 7:01 a.m. CST

by Droid

I know it's been a slow news week, but c'mon!<p>And to the fuckwits who are saying "This is America"<p>Fuck you! It's the fucking internet you blinkered shitheads!<p>That is all.

Nov. 27, 2008, 7:07 a.m. CST

by IAmMrMonkey!

Wait a minute, we're still having arguments about gay rights? And whether gays are 'normal'. Jesus fucking christ. Can't wait for the year 2048 when hopefully people will stop judging other people by how they live and realise that most prejudices are out-dated and useless.

Nov. 27, 2008, 7:33 a.m. CST

by DocPazuzu

...maybe that's because the life they've had dealing with subtle oppression and signals from society that something is wrong with them has made them work harder than your pasty, knuckleheaded loaf of bread you call a fucking brain you hydrocephalic baboon." <p> drturing FTW!

Nov. 27, 2008, 8:08 a.m. CST

by Droid

It's been getting very good reviews. I'd like to hear the opinion of a fellow talkbacker who isn't a never nude.<p>No touching!

Nov. 27, 2008, 8:11 a.m. CST

by InActionMan

My movie is called "Oscar Bait". <P> It is the story of a blind,retarded, freed slave, communist, homosexual, ex-patriot that converts to Judaism and dies in a Nazi concentration camp. <P> Guaranteed Sweep. And my lead will go the "full retard". <P> I'm pretty socially liberal and support gay marriage but, Hollywood has become so predictable. Push one of the right "liberal buttons" and everyone in Hollywood starts screaming Oscar.

Nov. 27, 2008, 8:18 a.m. CST

by Lost Jarv

I think I've seen that. <P>It was shit.

Nov. 27, 2008, 8:33 a.m. CST

by DocPazuzu

...tried to condescendingly tell me and the person I love that we have no right to spend our lives together under the same protection of the law as any other two consenting adults because he didn't think my idea of love was "natural," he would first be wiping warm sinus loog out of his eyes, and any repeated attempts at "debate" would end with me activating his dental plan." <p> Gold, ebonic_plague!

Nov. 27, 2008, 8:50 a.m. CST

by Lost Jarv

an urban myth has it that Anal Sex between heterosexual couples in the UK is a crime. (Sodomy)<P>I think that, to be utterly fair and impartial, this draconian measure should come off the books. In return gay marriage should be legal. <P>And yes, this post is being written tongue in cheek. Except the bit about sodomy. I think that's true. It's certainly stupid enough.

Nov. 27, 2008, 8:52 a.m. CST

by rebelpigs

and the right circumstances and persuasion and I'll guarantee you he'll bite the pillow, (I speak from experience).

Nov. 27, 2008, 9:36 a.m. CST

by Energoncube

It's the fact states recognize any kind of marriage period. The word "marriage" should be defined strictly from a community point of view be it religious or secular. From a legal point of view ALL unions should be considered civil unions. That is if were to truly have a separation of church and state. So you can call a civil union whatever you want. Since states wouldn't recognize marriage, and it would be more in line with the constitution.

Nov. 27, 2008, 9:44 a.m. CST

by Jodet

And he loves me. I want to call him my spouse. But we don't have equal rights! I love two women and three other men. The six of us tried to get a marriage license and were turned down! We don't have equal rights! My sister and I tried to get married but they wouldn't let us! We don't have equal rights! Get over it.

Nov. 27, 2008, 9:49 a.m. CST

by A-COD

Until Batman and Robin. Now I'm against them.

Nov. 27, 2008, 9:49 a.m. CST

by Droid

The only crime is not getting any!<P>HA HA... ha... ha...<p>I'm sure I've just lifted that from some movie.

Nov. 27, 2008, 10:08 a.m. CST

by loodabagel

Why is there Fox news? Why does Rupert Murdoch also own youtube and myspace? Why are there innumerable Christian religious TV channels, but no channels devoted to that Jewish faith, even though "the Jews run everything." Why did Air America fold so quickly? And why is homosexuality genetic? It's unconstitutional to outlaw gay marriage, ya jerks. And yes, I'm sure the wolrd will end when gay people can be happy together and all of your gay neighbors will start having sex on your front lawn and make their adopted kid watch while some of their other gay friends rape you while singing an awful rendition of your favorite Toby Keith song, forever ruining it for you. Oh, and they'll also steal your truck and use it to run over priests. Man, you guys are all a bunch of prejudiced, un-American, hate-mongering, bible-thumping, morally retarded, war-mongering, child-molesting, endangered species killing, forest burning, ocean polluting, water poisoning, holocaust denying, muslim hating, jew fearing, date raping assholes. That is all.

Nov. 27, 2008, 10:09 a.m. CST

by TerryMalloy

So far you have put forth two arguments against gay marriage. <p> 1) The majority has decided and any change by the courts flaunts the will of the people and is therefore invalid. <p> 2) If gay marriage is allowed, they will teach my children that homosexuality is morally ok. <p> Your first point has already been utterly demolished. But for the sake of argument, let's say it's actually valid. What then are you going to do when the majority of Americans support gay marriage? <p> As for your second point, no. In sex ed, I was taught nothing about marriage. I was taught about anatomy and contraception. Most religious people have a problem with pre-marital sex too, but that doesn't mean the schools are advocating for children to go out and have it. Which leads us to abstinence only programs which of course are extremely ineffective. <p> Bottom line, if you want to teach your child being gay is wrong, you can. (But good luck if your child is gay). <p> Who the hell looks up to their sixth grade science teacher for sexual knowledge anyways.

Nov. 27, 2008, 10:43 a.m. CST

by Sappers Forward

Penn went full retard...look at the rolls he's stuck with now.

Nov. 27, 2008, 10:46 a.m. CST

by RogueWarrior65

Regarding Prop 8, the simple fact of the matter is EVERYONE in the state who is eligible to vote had a chance to vote on it. EVERYONE knew what it was about unless you've been living in the woods for the past year. The people voted on it. THAT is democracy. This wasn't a "this party versus that party" issue. Democracy is NOT some judge or couple of judges deciding that the vote isn't what the people really wanted. It's not a couple of career politicians voting FOR you here pretending they know the will of the people. Everyone had an equal chance to voice their opinion. I don't care who poured how many millions of dollars into advertising which is all it was. You ALL had a chance to voice your opinion. Bitching about who did what to whom is irrelevant. If you don't like it then it's your responsibility to change it by the same mechanism. If those who lost this vote choose to use some judge or some group of legislators to change the outcome, you will lose ALL credibility next time you want something.

Nov. 27, 2008, 10:49 a.m. CST

by micturatingbenjamin

Today, I want to thank Massawyrm for writing about a gay rights movie, and here's the micturating one's stand on this stuff. I'm not for or against gay rights, mainly because your dick or pussy gets to do what YOU tell it to do. When your dick acts like it's in an Anime, wriggling around and seeking out ass or your vagina flaps around the room like a veal launched off of a catapult and seeking out other ladies to scissor grind with, you then are a specific minority in this country... It's a /choice/ to fuck a guy in the ass, bend a girl over and ram her with a dildo. No one compels you to do these things, and just because you LIKE chocolate cake with semen filling, doesn't make you a minority in any way but statistical. Sorry, gay guys, you're born with a proclivity to fuck dudes, just as you're born with a penchant to either like or hate Brussels sprouts. You're not born with a dick in your ass and a chip on your shoulder. Just because you have a tendency to be fabulous, impeccably groomed, and catty while watching Six Feet Under, doesn't make you anything but a bit of an annoying prick sometimes, and moreover no more or less equal than me or mine.<p>Okay, now, because I feel that fucking people is a choice, whomever you choose to fuck, shouldn't I have some knee-jerk reaction to two guys wanting to pair off and get benefits that a typical married couple get? Shouldn't I be quoting scripture and pointing out the flaws in their spirit that will send them to damnation with a smug and self-satisfied air? No. Because unlike my friends and brothers and sisters in the church, I understand that lesson of Christ that tells us NOT to judge. I am not the one making or enforcing rules around here on behalf of God.<p>The fact is, mainstream America believes the word 'Marriage' means something very specific, and very religious. The truth is that marriage has been treated like an industry rather than a solemn vow of committing to your partner, and that the term is being used to call any pairing of two humans. But, the truth exists without parity, because the mainstream doesn't think that people who act outside their religious beliefs should be wed in the way that they were wed.<p>So, I think that the government should recognize all unions, hetero and gay, as 'civil unions' and the only people defining marriage are those people pairing off...Like it says in the Constitution, let's keep the Church out of our Government party, and our Government party out of our Churches. Or, let's make everyone in my church have TWO tithes...one tenth to God, and one tenth to Uncle Sam.<p>So, gays, I'm starting a throttle version doggy-style only sector of society. Let's really talk minority, here, I want guys who prefer the throttle method of thumb in the butt to be called throttle-sexuals and demand equal rights under the law! We should have a voice on the radio, and a face on television, we should be represented, or our rights will be trampled! We should have a parade with guys throttling chicks heinies with their gnarled thumbs like Little Jack Horner, big ass floats made of flowers of thumbs slowly penetrating ruby starfruits for all on Flatbush to see! All I'm asking for is a little equality.<p>Okay, sarcasm over, my prayer on Thanksgiving will be for every single fuckwit hater out there, calling gays out and condemning them with their stupid bullshit insecurities, that they are blessed like Dick Cheney is blessed; with a gay son or daughter. Or, better, a gay brother or sister. Tis the season for most of our gay friends to come out of the closet over drunken Thanksgiving dinner after all. I'm the older brother of a gay kid. So, fuck you, haters. If I had you in front of me, I'd step on your fucking stupid throats and morally correct you like your daddys should have done.<p>With love, Micturatingbenjamin.

Nov. 27, 2008, 10:55 a.m. CST

by micturatingbenjamin

Okay, falling just outside of the decade mark by two or three years:<p>Amistad<p>Malcolm X<p>Glory<p>There's more, I'm sure.

Nov. 27, 2008, 11:03 a.m. CST

by BringingSexyBack

Alcohol and straight porn!!!

Nov. 27, 2008, 11:05 a.m. CST

by Droid

Amistad (1997)<p>Malcolm X (1992)<p>Glory (1989)<p>I can't for the life of me think of a "civil rights" type flick in the last 10 years.

Nov. 27, 2008, 11:07 a.m. CST

by TerryMalloy

It had an interesting talkback when all the white supremacists showed up.

Nov. 27, 2008, 11:13 a.m. CST

by Droid

But Denzel does love those type of flicks. I suppose Remember the Titans kinda touched on it, but it's terrible so it doesn't really count.

Nov. 27, 2008, 11:16 a.m. CST

by necgray

So your "you had a chance to vote" bullshit is just that: bullshit. Happily, I live in MA, where homosexuals enjoy the right that no reasonable human being should deny them. Unless you have a bible for a brain. In which case, how many Wiccans have you stoned to death?

Nov. 27, 2008, 11:19 a.m. CST

by JungAtHeart

The argument I continually hear from anti-gay movement is that my sexual preference is a choice. Therefore it's morally wrong. The implication is that if there wasn't a moral sanction against homosexuality then everyone would be gay. Is that true? Would all of you straight boys be sucking dick and taking it up the ass if society said that it was okay? Come on, boys. Don't be shy. It must be very tempting if you have to create laws to prohibit it. I think the real moral argument here is the question: Is it morally just to deny anyone there basic rights as a human being? History has shown us that people resist (fear) change. We fought a civil war because many people saw nothing wrong with slavery. They saw no moral implications in owning another person and denying them basic human rights. By the way, most of those slave owners were also Christian. Yikes! What would Jesus do? As a society, we can't leave people's basic rights up to a vote of the majority. Because many times, the majority operates out of fear and hatred. I believe that we all deserve the same basic inalienable rights. It's guaranteed by our Constitution. Feel free to believe what you want about homosexuality. That's your right. But don't deny me my rights because of your religious beliefs. That's not what America is all about.

Nov. 27, 2008, 11:21 a.m. CST

by IndustryKiller!

You DO NOT put the rights of a minority int he hands of a majority. You don't do that. That isn't democracy. Democracies protect its people from tyranny. I don't get to vote ony our marriage do i? Now I have a serious question for you. Do you think the civil rights movement was a good thing? Do you think black people should have equal rights? Well guess what, the AMerican people didnt get to vote on that. A people were being treated unfairly, and our democratic government acted on their behalf. So enough with this bullshit, it holds no water.

Nov. 27, 2008, 11:34 a.m. CST

by BringingSexyBack

Nov. 27, 2008, 11:36 a.m. CST

by BringingSexyBack

It was about human rights.

Nov. 27, 2008, 11:44 a.m. CST

by necgray

I'm not with family on Thanksgiving, so why not? <p> I pointed out your spelling and grammar errors for a reason. It wasn't to chastise you or seem smarter. It was because your "passion" was clear by those errors. My point was that anti-gay-marriage folks TEND to be more about the feeling, less about the thinking. More about passion than reason. You say you made your point, but when all your point is pathos with no logos, I don't think you DO actually "make a point". All you do is vent your spleen. <p> As long as you're talking about "the right to make that call" and "democracy", can you explain how it's unfair for a judicial committee to overturn a law as unconstitutional? As far as I know, it's the judicial committee's "right to make that call". A judicial committee that was established in California's "democracy". <p> Um, YOU brought up the word "fascist", not me. So I was just playing in your sandbox. And your glib counter-argument about gum "repressing" bad breath is childish at best. <p> Would you like to explain to me HOW, exactly, California would change for the worse if gay marriage were legal? It WAS legal for several months before Prop 8 and I don't recall the state economy collapsing or wild orgies in the streets of every city. I'm a little fuzzy on the whole "good-bad" thing. <p> What the hell does California's penal system vs Texas' penal system have to do with ANYTHING? I'm talking about the Governor of the state. A man who DIRECTLY influences law. A man who vetoed measures to legalize gay marriage (sounds like the argument against the judicial committee, funny that...). And you're coming to me with the penal system? Is this a "hey, look over there, it's Elvis"-style distraction? <p> They were angry with the mayor because his statement was: "Gay marriage is here. You'd all better get used to it." People generally don't like being told what they had "better" do or not do. Most people would likely have let the legalization go if not for having their personal buttons pushed. Which, again, is at the crux of this issue. People's personal buttons. Not logic or rationality or reasonable discourse. PERSONAL bullshit. How you FEEL about homosexuality. What your PERSONAL belief structure tells you is right or wrong. From a purely logical POV, denying homosexuals the right to marriage makes NO SENSE WHATSOEVER. If one of you Prop 8 supporting geniuses cares to make an appeal to reason in favor of banning gay marriage, have at it.

Nov. 27, 2008, 11:45 a.m. CST

by BringingSexyBack

We need a gay President next.

Nov. 27, 2008, 11:47 a.m. CST

by BringingSexyBack

I think that would be acceptable to all straights.

Nov. 27, 2008, 11:49 a.m. CST

by Le Vicious Fishus

a chunk of the anti-gay folks do indeed secretly wish that desegregation had never occurred (among many other disturbing things). I grew up amongst these right-wing extremists (including many members of my own family members) in the deep South (USA), so I understand and am imminently aware of what these sorry sacks of shit say to each other about black folks (and gay folks) behind closed doors. Publicly, they'll tell you that gay rights is a completely different issue, but privately they're still extremely resentful of desegregation and blame it for crime in this country getting so out of hand (i.e., the blacks used to know their place before the civil rights movement). These hard-liners will NEVER accept gay marriage and will always hate gay folks as much or more than they hate black folks.

Nov. 27, 2008, 11:49 a.m. CST

by BringingSexyBack

That's the root of the issue.

Nov. 27, 2008, 11:52 a.m. CST

by BringingSexyBack

We need a worldwide ban on guns.

Nov. 27, 2008, 11:55 a.m. CST

by BringingSexyBack

against Mormonism? Do it!!!! It must be stopped!!

Nov. 27, 2008, 11:56 a.m. CST

by necgray

Not up the ass. I have hemorrhoids. But I also have an incredibly weak gag reflex. So maybe on the lollygagging. But probably not. Many of the reasons I like women have to do with their NOT being men. No offense to your preference, I just don't think our sex is particularly attractive. I submit to you: the scrotum.

Nov. 27, 2008, 12:01 p.m. CST

by BringingSexyBack

with 200 year old sparkling anuses.

Nov. 27, 2008, 12:02 p.m. CST

by BringingSexyBack

I smell pie baking ... gobble gobble!

Nov. 27, 2008, 12:02 p.m. CST

by necgray

Why not? I like it. "Gaylifornia". It has a nice ring to it. We can rename Massachussettes ASSachussettes. Arizona can be Arizodownonya. Hawaii can be Hawailovedick.

Nov. 27, 2008, 12:04 p.m. CST

by Droid

I'm straight, and here are the effects this issue has on my life.<p>...<p>...<p>Holy shit! There are NONE!<p>Get it you ignorant fucks!<p>Who are you to tell other people what they can and cannot do?<p>Seriously, if someone tried to tell me I couldn't marry my fiancee for ANY fucking reason they'd find out how hard it is to pick up their teeth with broken fingers.

Nov. 27, 2008, 12:04 p.m. CST

by BringingSexyBack

Nov. 27, 2008, 12:05 p.m. CST

by BringingSexyBack

Nov. 27, 2008, 12:06 p.m. CST

by BringingSexyBack

Nov. 27, 2008, 12:07 p.m. CST

by BringingSexyBack

Nov. 27, 2008, 12:08 p.m. CST

by BringingSexyBack

I admit it. Some of them are HOT Latina/os.

Nov. 27, 2008, 12:09 p.m. CST

by Droid

Don't bother responding. Keep posting your "funny" state names.

Nov. 27, 2008, 12:09 p.m. CST

by Mr. Zeddemore

One last time. Gay people should be allowed to marry and experience the same chances of getting divorced as everyone else. Let's not stop them from having a chance at agonising misery.

Nov. 27, 2008, 12:09 p.m. CST

by BringingSexyBack

Nov. 27, 2008, 12:11 p.m. CST

by Mr. Zeddemore

Not Funky Mormom Porn, hopefully!

Nov. 27, 2008, 12:11 p.m. CST

by BringingSexyBack

I'm just playing. No offense intended.

Nov. 27, 2008, 12:13 p.m. CST

by BringingSexyBack

Nov. 27, 2008, 12:14 p.m. CST

by necgray

Nov. 27, 2008, 12:14 p.m. CST

by necgray

Nov. 27, 2008, 12:15 p.m. CST

by BringingSexyBack

but I have seen lots of nun porn, and I imagine some similarity between thw two ...

Nov. 27, 2008, 12:16 p.m. CST

by necgray

okay. no more. I promise.

Nov. 27, 2008, 12:16 p.m. CST

by Mr. Zeddemore

Nov. 27, 2008, 12:20 p.m. CST

by BringingSexyBack

Nov. 27, 2008, 12:21 p.m. CST

by BringingSexyBack

3 terrorists killed. I hope they shot them in the eyeballs.

Nov. 27, 2008, 12:51 p.m. CST

by IndustryKiller!

He is a man who died for a cause that was not fashionable at the time. And this talkback is a monument to how important a guy he was and how we may not even be scratching the surface of what his life will ultimately mean to millions of people. Thank you Harvey.

Nov. 27, 2008, 1:05 p.m. CST

by loodabagel

Also, gay people are cool, Harvey Milk is cool and gay people should be allowed to marry. The end.

Nov. 27, 2008, 1:10 p.m. CST

by Balcony Fool

Y'all seem to be under the misapprehension that legalizing gay marriage doesn't affect it's opponents. IT DOES. It simply doesn't affect them in a way that you find valid or reasonable. <P> Legalizing gay marriage means social recognition and acceptance of a lifestyle that many people find objectionable. How does that affect these people?<P> Look up a few statistics about the number of "evangelical Christian" young people who now co-habitate before marriage, or who see nothing inappropriate about premarital sex and multiple sexual partners. Thirty-five years ago, such notions were just gaining acceptance in mainstream America, and were unheard of in "Christian" circles. Today, it's a very different story. <P> The same can be said for issues like abortion, homosexuality, even ecumenicalism. All these issues have far greater acceptance among young churchgoers today than they have in years past. Why? Because "society," represented by news media, pop culture, literature, etc., embraced these issues a couple decades ago, and today's parents cannot counteract the tidal wave of culture on their children. The times, they are a-changin'. <P> Now, then, we can argue all day long that these are good developments, but that's beside the issue (and it's an argument that can't be won anyway--"good" is a relative term). The issue is that loads of folks don't want to raise their children in a society where "good is called evil, and evil is called good." They believe it will confuse their children, and/or cause them to be deceived, in the same way that has happened with these other issues.<P> That doesn't make them "bigots" or "ignorant" or "evil." It simply means they have a different worldview. As agents of tolerance, some of us would do well to remember that.<P> IndustryKiller pretty much summed up the weakness of the forced-morality argument when he said, "You don't like homosexuality? Well, that's just too bad." <P> Very tolerant, indeed.

Nov. 27, 2008, 1:37 p.m. CST

by Johnny Smith

Nov. 27, 2008, 1:40 p.m. CST

by IndustryKiller!

I'm sure someone was saying this same exact thing during the civil rights movement. I dont see how you can see a personal distaste for a lifestyle that harms nobody whatsoever as a valid argument. These people crafted their rationale not from any real world applications, but from the word of an invisible hypothetical creator. And he is hypothetical. I'm not an athiest, just stating the facts. That is not, never has been, and never will be a valid reason to deny anyone rights. Their belief in it doesn't make it any more true than it has been proven. And Yes, if these people want to deny a peaceful lifestyle any kind of equality than it is, in fact, too bad. I would say the same thing about any creed, color, or lifestyle in the world. You are free to feel however you want to feel, but you can't deny rights. I find many lifestyles objectionable, but I wouldnt rob them of anything that doesnt infringe on anyone or anything else, nor should anyone do the same to me. And saying their argument is valid because of a "feeling" is just ridiculous and if you promote intolerance, you are, by definition, a bigot..

Nov. 27, 2008, 1:43 p.m. CST

by IndustryKiller!

The times they are a changin. And whether these people like it or not, we live in a more tolerant society. Gay marriage is an inevitable step, it may even happen within an Obama presidency. Maybe not, but you never know. He says hes against gay marriage because its political suicide right now to do anything else. But I think its pretty thinly veiled. I would doubt if Obama is even that religious. After all since he was elected he has gone to the gyme every Sunday, not church. It's a good thing, a fundamentalist President has proven itself over time to be counterproductive to society, fiscally and otherwise.

Nov. 27, 2008, 1:46 p.m. CST

by necgray

Legalizing gay marriage does NOT mean social recognition and acceptance. It's not a legal precedent for changing anyone's attitude. It doesn't require that homosexuality be taught in school. As someone else rightfully pointed out, HETERO marriage was never taught to anyone in school. The whole idea that legalizing gay marriage means teaching it in schools or exposing your precious children to the gay lifestyle is RIDICULOUS!!! Again, as someone else pointed out, homosexual couples are still going to indulge in public displays of affection, if that's the kind of couple they are. Do these people think that suddenly every TV station across the country is going to start a new news segment called "Today's Gay Wedding"?

Nov. 27, 2008, 1:48 p.m. CST

by shut_the_fuck_up_Donnie

So your argument for denying homosexuals the right of marriage is that it will confuse young christians? Oh. . well, then. Ok, I'm sure all the homosexuals in the world will understand.

Nov. 27, 2008, 1:57 p.m. CST

by WickedMonster

I saw an episode of LAW & ORDER where there is a guy of 20 or so years who "likes" his step-brother. And he is emotionally destroyed over it because he knows its wrong. But he says he can't help it. He is "born" that way. He asks for help, some form of rehab to control his desires, but there is no such thing. <p>I was quite disturbed watching this episode. How can someone control what he thinks is in-built in him or her? Is pedophilia a genetic choice like what homosexuality is alleged to be, a "born" trait? What if people who have been classified to have uncontrollable attraction to kids ask for rights to marry underage kids because they are born that way? Is this where we are heading?

Nov. 27, 2008, 2:12 p.m. CST

by shut_the_fuck_up_Donnie

"How can someone control what he thinks is in-built in him or her? Is pedophilia a genetic choice like what homosexuality is alleged to be, a "born" trait? What if people who have been classified to have uncontrollable attraction to kids ask for rights to marry underage kids because they are born that way? Is this where we are heading?" ---- Answer: NO. Of course not! Recognizing a loving relationship between two grown adults, who happen to be the same sex, is not "heading towards" allowing pedophiles to marry children, because children are children and they cannot give consent nor do they have the ability to truly understand something like love and relationships at young ages. This is the same reason we don't allow 2 year olds to marry each other. Or goats or dogs to marry each other. Why can't all you "Slippery Slope"ers understand that?.

Nov. 27, 2008, 2:16 p.m. CST

by shut_the_fuck_up_Donnie

What it comes down to is that gay marriage in no way is harming or taking advantage of the ignorance of any party that is involved. Pedophilia, beastiality, and all other slipper slope arguements, however, differ in this detail.

Nov. 27, 2008, 2:17 p.m. CST

by IndustryKiller!

Kids cannot make the decision to have sex or marry someone. They don't have the emotional capacity or life experience to make a decision like that. Pedophelia takes advantage of someone who doesnt have the capacity to defend themselves. Give me a break. Gay marriage would be between two consenting adults, just like straight marriage.

Nov. 27, 2008, 2:27 p.m. CST

by Balcony Fool

I'm for gay marriage, goofball.

Nov. 27, 2008, 2:32 p.m. CST

by Balcony Fool

Every moral code is a construct. You're basing the very idea of "rights" (which are, in fact, "hypothetical") on a "feeling" of your own (i.e., that everyone should have the right to do as they wish, provided it hurts nobody else). I happen to agree, but we must be honest with ourselves if we want to be taken seriously. We've no more "legitimate" reasons for feeling the way we do than anyone else. What it boils down to is that it, well, seems right to us. You cross the line, unfortunately, when you tell those who don't share your feeling, "too bad."

Nov. 27, 2008, 2:38 p.m. CST

by Balcony Fool

I haven't said anything about teaching about gay lifestyles in school, so I haven't the foggiest idea what you're referring to, there.<P> If you're unable to recognize that legalizing gay marriage legitimizes the lifestyle, and therefore normalizes it to a generation who never knew otherwise, we really don't have anything to talk about.

Nov. 27, 2008, 2:43 p.m. CST

by DRACULA_WANTS_THE_AMULET

That's 11 years ago so lets look at what's come out in the past 10. theres certainly more than I'm listing.<P> The Rosa Park's story<P> Get On the Bus<P> The Killing Yard<P> The Rising Place<P> Fight For Freedom<P> Journey to Little Rock: The Untold Story of Minnijean Brown Trickey<P> Maggie Growls<P> Lest We Forget<P> Life Or Liberty<P> women Organize!<P> <P> Gay Films- Boys Don't Cry.<P> The Matthew Shepard Story.<P> Brokeback Mountain.<P> Beautiful Thing <P> Shelter<P> Shortbus<P> Yoshi and Yagher<P> Mysterious Skin<P> Headwig<P> TransAmerica<P> Gods and Monsters- One of my favorites<P> Rent<P> People keep saying stupid shit like if this film came out before this election, that it would have greatly affected the vote on Prop 8. Look... Anyone who needs a film to correct their moral foundations is not someone you really want involved in the decision making process. <P> I agree that the biggest issue here was not doing the foot work on Prop 8. <P>You have tons of wealthy and powerful, and dare i say publicly admired and loved Gay People in this world- They should have paid for ads on TV and in the Newspapers and held events that protested against it. They should have started a group that called every ones house in that state to inform them. <P> They didn't do it!!! <P>The majority voted. I'm sorry that it went the way it did. Keep fighting and good fight, and fight harder next time! Thats all you can do. <P>You can talk about the infallible rights the people of this country deserve, but the truth of the matter is that each group who has it earned it. <P>That "Earning" it bit is tossed into your ring now. Earn these rights! Fight for them, Stand up and fucking represent, Inform and Destroy Misconception/Ignorance across the board. Do it!

Nov. 27, 2008, 2:46 p.m. CST

by BringingSexyBack

That's the weakest argument I've ever read. Bristol Palin didn't get herself knocked up because of homos - she got knocked up because of an overbearingly righteous and religious zealot household. Try not to infect our society with that disorder.

Nov. 27, 2008, 2:46 p.m. CST

by IndustryKiller!

Yeah technically everything we do is because of feelings, or a series of constructs we have developed over time. I think we are adult enough to recognize what this situation is without eliciting philisophy 101 or outright existentialism. There is a fact that remains here, a minority of people is being denied a basic human right. I stand for something that will allow people happiness and rob it tangibly from no one whatsoever. That is a fact. I will fight for these people to have it. And I will tell the people who stand int eh way of this right "too bad" just like I would any group that stands for ignorance. Moreover, I'm willing to bet just because fundamentalist Muslims find American life objectionable that you wouldn't allow them to vote on our rights now would you? By your logic they should be able to. You cannot deny someone equality just because your religion calls for it, not legally at least. That is against the constitution of the United States of America.

Nov. 27, 2008, 2:48 p.m. CST

by BringingSexyBack

I'd like to choose my next wife from an ultrasound monitor.

Nov. 27, 2008, 2:51 p.m. CST

by BringingSexyBack

Nov. 27, 2008, 2:56 p.m. CST

by Mr. Zeddemore

I'm Catholic, and the last thing I'd do is tell someone what not to do with their life. A system of faith does not make you better than anyone, and it sure as Hell doesn't give you a right to deny people what is rightfully theirs.

Nov. 27, 2008, 2:58 p.m. CST

by Mr. Zeddemore

You cradle-snatching Werewolf mother...

Nov. 27, 2008, 3:05 p.m. CST

by BringingSexyBack

Saving me the agony of seeing it. It was as horrible as all the stories I've heard. Rabid young girls screaming at the sight of Edward, creaming the theater floor with their youthful moistness ... also she said it was basically a TV movie on the bigscreen.

Nov. 27, 2008, 3:11 p.m. CST

by Mr. Zeddemore

Damn, now I want to see it. With a pint of beer. And keep drinking pints till it stops being awful.

Nov. 27, 2008, 3:11 p.m. CST

by Mr. Zeddemore

Black Dyanmite is where it's at.

Nov. 27, 2008, 3:14 p.m. CST

by GreatOne4

Anyone can get married - it just cannot be to someone of the same gender. That's what marriage is: 2 people of opposite genders forming a union. Why? Because from their union begats children, and we want to provide the best environment for raising children - with their mother and father joined together. This is a little something that has been around since the dawn of human civilization, and until the last 10-15 years any discussion of this type was deemed ludicrous. <p>If people who engage in a sexual behavior - and what we're really talking about here is the legitimization of a sexual behavior - there are already numerous ways to legally do that: Powers of Attorney, Health Care Powers of Attorney, and Wills pretty much create all of the same legal protections given through marriage (and much cheaper than marriage). <p> What the push for "gay marriage" is about is for people who engage in a sexual behavior that for 99% of human existence has been deemed an abnormal behavior to feel good about themselves. Sorry, but I'm not for upending our social order for that. <P>And this attempt to equate this to what blacks went through is, quite frankly, disgusting. Blacks obviously feel the same way. Being a racial minority incorporates a whole host of cultural practices in addition to appearance. What is special about engaging in homosexual behavior, other than the fact that we're talking about a behavior? That's why there is a very slippery slope that will open the door to polygamy, inter-familial marriage, and wiping away the age of consent laws (I wont' go so far as inter-species relationship, but the argument is not far-fetched). Look at any of the crappy legal decisions that have opened the door for "gay marriage", throw in polygamy in its place, and tell me where the argument falls apart.

Nov. 27, 2008, 3:18 p.m. CST

by Mr. Zeddemore

You obviously have no idea of the disgusting persecution of homosexuals that was still going on up to the 1990s (in Britain at least.)

Nov. 27, 2008, 3:18 p.m. CST

by GreatOne4

He wasn't killed because of his behavior, but because he refused to give Dan White his job back after White resigned, then had second thoughts. When Milk refused, White got pissed and shot him.

Nov. 27, 2008, 3:23 p.m. CST

by micturatingbenjamin

Quote: I'm not an athiest, just stating the facts. That is not, never has been, and never will be a valid reason to deny anyone rights.<p>Denying a murderer the right to walk free is denying him his rights.<p>Denying a felon the right to vote is pretty good as well as both a deterrent, and a societal help.

Nov. 27, 2008, 3:24 p.m. CST

by GreatOne4

But let's distinguish between two things: Law enforcement vs. idiot vigilantes. People can pass laws criminalizing behavior. There is a legislative process through we can go to change these laws. I have no problems with the "anti-sodomy" laws being enacted.<p>On the other hand, I have a huge problem with anyone getting personally attacked for any reason. Everyone should always feel free from attack and persecution because of their belief and (legalized) behavior. I find the history of attacks against gays and lesbians in this country repugnant.

Nov. 27, 2008, 3:32 p.m. CST

by necgray

How else would you categorize "raise their children in a society"? Doesn't education play a large role in that? You also seem to have selective reading on, since you act like you have no idea what I'm talking about and yet there are PLENTY of posts in this TB that talk EXACTLY about teaching homosexuality in school. <p> And that's some almost clever wording, "unable to recognize". Well, given that I disagree with you entirely on the point, it's difficult to "recognize" what you propose as fact. It is NOT fact. I don't believe that legalization of gay marriage has any significant effect on how homosexuality is viewed in a social context. People who are uncomfortable with homosexuality will remain so regardless of what one law, ONE LAW REGARDING MARRIAGE, states.

Nov. 27, 2008, 3:32 p.m. CST

by FastEddie8139

You might want to get in the WABAC machine and check with the ancient Greeks, Romans, Persians and the medieval societies that followed them as to whether or not gay sex is "a sexual behavior that for 99% of human existence has been deemed an abnormal behavior." If we're limiting marriage to people of the opposite sex because they can beget children and so that each child can have a mother and father, then why do we permit infertile heterosexual people to marry and why don't we forcibly remove children from single-parent homes? I do love the "slippery slope" argument though. I just wish somebody would explain to me how to get from allowing consenting adults to freely and consciously enter into a marital union to allowing adults to marry children and pets. Children and pets are legally unable to give consent. Legalizing gay marriage isn't going to change that.

Nov. 27, 2008, 3:42 p.m. CST

by necgray

Do you actually know anything about history? Cuz the Greeks, you know, the guys who largely founded the principles by which we live? Notorious for engaging in homosexual behavior. Do you know anything about law, either? What the push for gay marriage is about is putting a law on the books that allows homosexual couples to marry. IT IS NOT ABOUT LEGITIMIZING SEXUAL BEHAVOIR!!! That is what you and people like you are reading into it. Gay people don't give a flying fuck if you like what they do or not! They're not asking your permission to be fucking gay! They want to be legally recognized as a married couple! They're not asking for the government to break down church doors and make pastors marry them at gunpoint! How you fail to see your own resistance to this very simple, very basic, very NOT AFFECTING YOU PERSONALLY desire to marry as persecution and attack is, to me, repugnant.

Nov. 27, 2008, 3:44 p.m. CST

by shut_the_fuck_up_Donnie

calling homosexuality a "behaviour" is like calling 'blindness' or 'having red hair' a "behaviour". Homosexuality is a biological condition that you are born with, like having blue eyes. Although I guess people like you don't really agree with SCIENCE, do you?

Nov. 27, 2008, 3:49 p.m. CST

by shut_the_fuck_up_Donnie

"Anyone can get married - it just cannot be to someone of the same gender." -------God I love that argument: "you homosexuals are completely free to get married, you just have to go against your very nature and marry into a false sham of a marriage with someone you are biologically incapable of being attracted to. So where's the problem?" It really shows the sanctity of marriage when you'd be happier with these sham loveless marriages than with a truly loving marriage between two people of the same gender.

Nov. 27, 2008, 3:53 p.m. CST

by noiretblanc

Nov. 27, 2008, 3:55 p.m. CST

by Mr. Zeddemore

It's not even about Science. If you believe in a God that loves everyone equally and is responsible for all life... then how can you consider homosexuality an abnormality?

Nov. 27, 2008, 3:59 p.m. CST

by a rolling stone

weak minds will always fear the unknown. If you don't know any facts about homosexuals, if you don't know any homosexuals, then you fear them because they are unknown to you.

Nov. 27, 2008, 4:04 p.m. CST

by Johnny Smith

...out of boredom at Los Alamos when they just couldn't get that whole "atom-splitting" thing right yet. Think about it for awhile.

Nov. 27, 2008, 4:15 p.m. CST

by IndustryKiller!

So Im gonna ask you the same question Ive asked just about everyone on your side of the fence. You said gay marriage would "upend society" Im from New England, born and raised, in COnnecticut in a town that borders Massachusetts. All of my best friends and immediate family live there. Why dont you tell me how gay marriage has upended anything int eh two states in the union with gay marriage. Please explain it to me. I want to know how in practice its changed society int eh least other than a minority now has equal rights. Go ahead I dare you to enlighten me about my own home.

Nov. 27, 2008, 4:21 p.m. CST

by IndustryKiller!

I was raised by a single mother. By the time I was born my parent were already divorced. Given that should I have been taken from my mother and raised in a two parent household? There are thousands of children from all over who would walk over a desert of glass to be raised in a loving homosexual household rather than rot in the foster system. I know people, and Im sure you do to, raised in just about every kind of environment and the ones raised by two parent are just as fucked up as everyone else believe you me. it's about unconditional love and a solid support system that teaches you confidence, empathy, about a greater world other than yourself. If you have any care whatsoever for what is best for children you would welcome gay marriage and adoption.

Nov. 27, 2008, 4:27 p.m. CST

by Droid

It always comes down to sex with you fuckwits. Just because you've been brow beaten from birth to believe that sex is fucking shameful and that it's only function is for reproduction, doesn't mean everyone else is as brainwashed as you.<p>If two men/women in love feel they would like to express that love by signing a contract that affects no one but themselves, it is of no concern of yours.<p>You're like the old bitch across the street tut-tutting at the fucking neighbours. And you know why she's tut-tutting? Because deep down all she really wants is a tongue in her twat and a dildo up her ass.

Nov. 27, 2008, 4:30 p.m. CST

by IndustryKiller!

Let the record show. First of all how the hell do you equate taking rights away from gays to taking them away for murderers? We take rights from murderers because they robbed someone else of their life, if I need to explain how that is different than being gay then seek help and seek it fast. Secondly I was talking about religion as a reason for denying rights in that quote, what the hell does that have to do with locking up a murderer? We dont lock up killers because the bible tells us to, we lock them up as punishment for a crime against their fellow man and because they may be a harm to others. As for taking away a felons right to vote being a deterrent, I would love to meet the guy who was about to kill his wife or knock of a liquor store who went "Fuck you know what, this next senate race is too important for me to miss it."

Nov. 27, 2008, 4:39 p.m. CST

by purplepurple

In 20 years people will look back and be ashamed of Prop 8 just like segregation is now a shameful part of our history. The world changes and evolves and thank god for that

Nov. 27, 2008, 5:26 p.m. CST

by shut_the_fuck_up_Donnie

Polygamy is a structure within the realm of heterosexuality. It is a social structure for the marriage of many individuals. Gay marriage is the marriage of two individuals who love each other and share an emotional connection. Therefore gay marriage is exactly the same structure as "regular" marriage, whereas Polygamy is in an entirely different category.

Nov. 27, 2008, 6:05 p.m. CST

by TerryMalloy

Gay marriage legitimizes homosexual behavior legally in the eyes of the state. <p> If we allow gay people to marry, we can't pretend it's dirty and secret and illegal anymore. <p> FYI In the culture war, it's too late. <p> You lost. <p> But guess what? <p> IT DOESN'T MATTER! If your child is not gay, they aren't going to be gay. And if they ARE and you convince them that is wrong, you will make them HATE THEMSELVES for the rest of their lives... <p> ...forcing them to either live a lie, join the priesthood, or stand up to you and own who they are. <p> But finally, Balcony admitted what is the only reason for people being against homosexual marriage. Because they find homosexuality to be immoral. <p> Sorry, but that doesn't hold up in the court of law.

Nov. 27, 2008, 6:08 p.m. CST

by TerryMalloy

It was a business deal! We've moved beyond that!

Nov. 27, 2008, 6:32 p.m. CST

by JamesT

As Spock would say. Fascinating. African American voters in California voted overwhelmingly for Prop 8, writing anti-gay discrimination into California's constitution and banning same-sex marriage in that state. Seventy percent of African American voters approved Prop 8, according to exit polls, compared to 53% of Latino voters, 49% of white voters, 49% of Asian voters.

Nov. 27, 2008, 6:46 p.m. CST

by GreatOne4

The Greeks, Romans, and Persians did not consider homosexual behavior as normal sexual behavior. In fact, it only appeared at the end of these great civilizations, and are a marker for the downfall of the moral social order which held the fabric of these societies together. When a society begins to allow licentious behavior, as we are now doing, the end is coming. I look at it primarily because the allowance of this behavior marks the breakdown of the family unit, and a selfish, hedonistic approach to life. We see that now.

Nov. 27, 2008, 6:46 p.m. CST

by GreatOne4

As stated earlier, these societies did not normalize the behavior. Regarding the law, when you make something legal, you are bringing with it the mark of societal legitimacy. Otherwise, why are you pushing for marriage so hard - you already can easily obtain the same legal protections that are given a husband and wife. And you must not be reading the papers - people are getting sued right and left over their refusal to accommodate people engaging in this behavior. E-Harmony, for example. And it does affect me personally. This radical social change is contributing to the breakdown of the moral fabric of our society, which affects us all.

Nov. 27, 2008, 6:47 p.m. CST

by GreatOne4

Despite repeated attempts to find a genetic cause for homosexual behavior, scientists are no where closer than they were 10-15 years ago when the false studies came out. From all available evidence (best source would be the work of Dr. Charles Socarides), homosexual behavior is a developmental behavioral disorder. Numerous factors can go into its cause. Homosexual behavior used to be classified as a mental disorder, as I'm sure you're aware, but was taken off the list not because of any psychological study, but because of political pressure. And your statements regarding homosexuality and polygamy are obviously correct regarding structure, but still are both detrimental to society.

Nov. 27, 2008, 6:48 p.m. CST

by GreatOne4

I think we would do best to work on preventing people from getting divorced and living out-of-wedlock, then giving into personal desires. This whole argument is focused on selfish desire for social recognition vs. what's best for society. Even if it seems that rolling back the clock would be difficult at best, throwing our hands up in the air and starting to mainstream previously deemed deviant behavior is much, much worse.

Nov. 27, 2008, 7:47 p.m. CST

by IndustryKiller!

You also didnt answer my question. How has homosexual marriage negatively affected Massachusetts? Tell me please. And as for homosexuality in Greek culture, it was normal behavior far before the downfall of their civilization, I dont know what history books you are reading. The Spartans regularly engaged in homosexual behavior. ALexander the Great had gay lovers. Some of the great philosophers of the age had male lovers. As for the mental aspects of it, why dont you ask any psychologist or developmental scientist working today not in the conservative biosphere if its a mental disorder. Charles Socarides work is now largely considered a joke. I mean gayness caused by a controlling mother? Thats laughable quack psychology. He also believed you could "recover" from it, something proven time and time again to be bullshit, just ask Ted Haggard. By all means though, keep believing these easily discredited lies if your bigotry makes you feel better.

Nov. 27, 2008, 7:49 p.m. CST

by IndustryKiller!

They didnt lose any court case. They made a business decision and settled to avoid bad press. no one forced them to do anything. I really hope e-harmony becomes a conservative battle cry because if that's the best they can do they are fucked.

Nov. 27, 2008, 8:11 p.m. CST

by Johnny Smith

What's all this bullshit about? It's okay if a man sticks his dick in a woman's pooper, but if a man stick shis dick in another man's pooper, the sky has fallen? Okay. A man cannot have consensual anal sex with another man, but it's totally cool for a man to dress up like a banana, take a shit in a woman's mouth and cum on her chest? What sort of fucked-up double standard is that? And besides that, there's this single parenting debate. If single parenting is wrong, you've just put a lot of people involved with artificial insemination out of work, and a lot of college kids are going to starve because they can't beat it into a cup.

Nov. 27, 2008, 8:41 p.m. CST

by Newmark

Hey, if you legalize gay marriages, why not also incestual ones? If two brothers want to get married, why not? Or two sisters? They're CONSENSUAL ADULTS, right? And they can't procreate anyway, right? Then, how about a brother with a vasectomy and his sister? Why can't they be together? Who are you to deny their love? My point is: where do you draw the fucking line?

Nov. 27, 2008, 8:42 p.m. CST

by Skyway Moaters

They aren't after your sphincter, OK? Get the fuck over it already...

Nov. 27, 2008, 8:56 p.m. CST

by Johnny Smith

Elton John said you should draw the line at goats.

Nov. 27, 2008, 9:54 p.m. CST

by thebearovingian

RADIO w/ Cuba Gooding Jr. is the most important civil rights movie of this decade! Well...maybe X2. Or The Village. OR V For Vendetta. OR that Charlize Theron flick where she's a female miner who sues for equal pay or something (North Country?). I'm definitely on the right track.

Nov. 27, 2008, 9:57 p.m. CST

by Balcony Fool

You said: " But finally, Balcony admitted what is the only reason for people being against homosexual marriage. Because they find homosexuality to be immoral."<P> I don't think that's ever been in question. Of course that's why people are against homosexuality.<P> As for your very succinct, "Sorry, but that doesn't hold up in a court of law," I have to wonder what society you've been living in. We legislate morality every day in this country. Some people don't find theft immoral, but most people do, so it's illegal. Some people don't find polygamy immoral, but most do, so it's illegal. Some people don't see anything immoral about rigging an election, but most do, so... you get my point.<P> Society's notions about what is and isn't moral form the framework of a lawful society. If we find a particular injustice within our lawful society, we should work to right that wrong--but trampling over others in the name of "progress" isn't an admirable way to go about it.<P> Finally, your assertion that marriage "was a business deal" indicates that you've got no grasp of how most people understand the concept of marriage. Once again, the fact that you hold the institution in no high regard is fairly irrelevant to those who do. Different worldviews. If you want others to respect yours, you'll have to respect theirs too. Sucks, eh?

Nov. 27, 2008, 10 p.m. CST

by Johnny Smith

...was Jimmy James on NewsRadio. And I'm pretty sure he's a fictional character.

Nov. 27, 2008, 10:01 p.m. CST

by Johnny Smith

...when will Spider-Marriage be re-legalized in the Marvel Universe? We demand the overturning of Proposition Brand New Day! We demand justice!

Nov. 27, 2008, 10:35 p.m. CST

by Horseflesh

You wouldn't be Arcadian Del Sol who used to post on Lum The Mad, would you?

Nov. 27, 2008, 11:05 p.m. CST

by necgray

You and your bible or your conservative "values" or whatever it is that makes you so blindingly bigoted can take a flying fuck. Reasoning with zealots, religious or social, is an empty exercise. I'd rather go jerk off to gay porn. And I'm not even fucking gay, but right now straight people are pissing me off.

Nov. 27, 2008, 11:10 p.m. CST

by TerryMalloy

Wrong. We don't legislate what is ok or not ok for people to do in the bedroom. Many people find pre-marital sex immoral, but you don't see anybody getting arrested. Consensual gay sex is not a crime against anyone. Any ethicist is going to be hard pressed to come up with an argument describing how homosexuality is immoral (aside from looking into the Bible). But feel free to give it a shot. <p> And in point of fact, I think the IDEAL of marriage is one of the most beautiful, sacred things we have left in society. Our society IS too hedonistic, I'll give GreatOne that. Hedonistic and materialistic. But a married gay couple committed to each other in a loving way is neither hedonistic or materialistic. <p> My point is that the TRADITION of marriage has left us with a legacy of ashes. Adultery, divorce, a cavalier attitude to commitment. Broken families. It riles me up. But the courts and the government have no right to interfere. We need to promote true family values to our children and lead by example. Hetero marriage is nothing to brag about. <p> And in my opinion, the gay community will greatly benefit morally from being able to marry. The often leveled charge of promiscuity has a certain element of truth, and marriage could potentially reduce this.

Nov. 27, 2008, 11:11 p.m. CST

by necgray

Yes, laws legislate largely moral decisions, but there are always practical, non-moral applications of these same laws. Stealing isn't illegal JUST because it's considered "immoral", but because from a practical POV allowing people to steal would lead to an awful lot of chaos. Polygamy is a moral consideration, true, but it's also a PRACTICAL consideration. If a man has more than one wife, it causes a lot of practical headache, particularly for work benefits. There are NO practical drawbacks to legalized gay marriage. NONE. So yes, it IS legislating purely on morality. Which is, not to put too fine a point on it, a fucking load of fetid donkey shit.

Nov. 27, 2008, 11:13 p.m. CST

by necgray

It's getting late, I'm soaked to the bone with turkey enzymes, and you anti-gay people are infuriating. That's all I got left. fuck fuck fuck fuck fuck fuck fuck fuck fuck fuck.

Nov. 27, 2008, 11:17 p.m. CST

by BringingSexyBack

Nov. 27, 2008, 11:22 p.m. CST

by BringingSexyBack

Nov. 27, 2008, 11:22 p.m. CST

by BringingSexyBack

http://www.huffingtonpost.com/2008/11/25/ann-coulters-jaw-wired-sh_n_146248.html <p> wIRED SHUT.

Nov. 27, 2008, 11:42 p.m. CST

by mrfan

always fall back on the bible as the "true word." It also says that one shouldn't judge others. Leave that to the big G yet many people think they can do that themselves. Funny how it always bites them on the ass. Hypocrites.

Nov. 27, 2008, 11:46 p.m. CST

by Johnny Smith

...that says I can own slaves as long as they aren't my own skin color? How many of you homophobes can I get for 20 bucks?

Nov. 28, 2008, 12:14 a.m. CST

by samuraiyao

Anybody can hate, there is no technique or a way around it, no thesis and no justification... I can hate too, I hate children...

Nov. 28, 2008, 12:30 a.m. CST

by Chief Joseph

http://www.snopes.com/politics/sexuality/harveymilk.asp

Nov. 28, 2008, 12:32 a.m. CST

by Johnny Smith

I hate everyone who isn't D.B. Sweeney. I'm considering therapy.

Nov. 28, 2008, 1:06 a.m. CST

by TerryMalloy

All lies would be punished, all forms of infidelity, premarital sex, lust, orgies, atheism, witchcraft, contraceptives, divorce, foul language, idol worshipping, disobedience to parents, coveting, observing the Sabbath, etc. would all be punishable by law. They aren't because we aren't living in a theocracy

Nov. 28, 2008, 1:15 a.m. CST

by TerryMalloy

Marriage was a business deal. Women were property.

Nov. 28, 2008, 1:49 a.m. CST

by lucasdefender

Gosh. To equate gay marriage with the black cultures struggle for equal rights is just stupid. Also, you can say over and over and over that the following argument is illegitimate. Whatever. It is not. Is it really that hard to see that legalizing gay marriage changes the whole friggin infrastructure of family? Seriously. Ok, so you think the change is an acceptable one. Fine. Think that all you want. But do not be a liar and say that it would not have any effect on family and what is deemed worthy and most obviously healthy in regards to family. And please,be willing to admit for the love, that if gay marriage is deemed acceptable, yes, even the same as traditional marriage, than one must by the same argument allow and legalize any kind of marriage between "consenting adults." A father and his daughter. Mother and son. Grandpa and grandchild. Cousins. Polygamy. Why? Because you have no basis and therefore no argument. Who decided that two adults were the only ones allowed to share in the right to marry? Who? Bigot.Dou know just how capable every minor really is to be mature inside and out? Who are you to tell them what to do? Why does maturity decide who can marry? COULD SOMEBODY PLEASE TELL ME ON WHAT THEY BASE THERE AUTHORITY ON REGARDING THIS ISSUE OR ANY ISSUE? And please do not waste my time and say that it is based on civil law because you already threw that away by saying that the people should not be the ones deciding the law. Please tell me, if the majority is not to create and uphold the law, then who?! Oh, and by the way, if gay marriage were passed I would be sad because I believe it would erode away at the family. But I would have to deal with it because the majority decided and my voice no longer reflectedor properly representedmy culture. If I did not like it then I could always try to change it by the same means with which it was established in the first place. WITH A FRIGGIN VOTE!!!! Admit it. George Lucas is amazing.

Nov. 28, 2008, 3:06 a.m. CST

by Lost Jarv

actually, the greeks (by which I assume you mean Athenians) had a cuture of homosexuality. Sparta and Thebes also did. <P>Don't talk bollocks

Nov. 28, 2008, 3:21 a.m. CST

by IndustryKiller!

"Who decided that two adults were the only ones allowed to share in the right to marry? Who? Bigot.Dou know just how capable every minor really is to be mature inside and out? Who are you to tell them what to do? Why does maturity decide who can marry? COULD SOMEBODY PLEASE TELL ME ON WHAT THEY BASE THERE AUTHORITY ON REGARDING THIS ISSUE OR ANY ISSUE?" <P> Right from the horses mouth. BTW Lucas all your questions have already been addressed on this talkback and since you were late tot he party its up to you to go back and read them. But im pretty sure after that last post its the end of your credibility so you might wanna just bounce.

Nov. 28, 2008, 3:29 a.m. CST

by Lost Jarv

pathetic. <P>That's such a load of mince that can be trotted out to defend practically any piece of dreadful prejudice.

Nov. 28, 2008, 4 a.m. CST

by Lost Jarv

it would have an effect on what is deemed (and how offensively small minded are you?)"worthy and most obviously healthy in regards to family" <P>You bigoted redneck fuck

Nov. 28, 2008, 4:01 a.m. CST

by IndustryKiller!

Like when they say "liberal fascist", which is a contradiction in terms, or when homophobes call people defending homosexuality bigots. It;s gotta be one of the most despicable indefensible political stabbing points of modern times. Its absurd and sick. not that it matter now that they have no one left on their side in Washington. I suppose its all water under the bridge now that Liberalism has won.

Nov. 28, 2008, 4:02 a.m. CST

by IndustryKiller!

Nov. 28, 2008, 4:13 a.m. CST

by Lost Jarv

Liberalism has not "won" anything. As long as politicians keep pandering in an attempt to grab the centre ground they will still push morally conservative things.

Nov. 28, 2008, 7:16 a.m. CST

by Grammaton Cleric Binks

in the paper it said Milk was shot to death by the former city supervisor. Ironic that is was right around the date of this column. I don't know if anyone mentioned it already. I'm not going to go back and read all the comments to find out.

Nov. 28, 2008, 7:59 a.m. CST

by Tai_Pan

Calling someone a "bigot" in a political context is worthless. When you are asked to vote, you are asked to put forth *your* opinion on the matter. Do the not-so-hard thinking required and ask yourself whether you personally have any political issues which you are inflexible on. If you find any such issue, then by implication you, Massa, are a bigot. I find it REALLY INSULTING that you pigenhole everyone for prop 8 as either bigot of 'fearful, easily manipulated folk." I'm sure you could care less that I'm offended, but I'd hope you at least were concerned about proving yourself an idiot.

Nov. 28, 2008, 8:13 a.m. CST

by Wee Willie

Work in an office and be in the room when a gay guy leaves the meeting... Discrimination ensues.

Nov. 28, 2008, 8:27 a.m. CST

by Tai_Pan

That's a cute post, but ultimately the argument is a failure. That's a fine example of someone *trying* to be abrasive. I don't support gay marriage, and I personally don't recognize it as such. On the other hand, when I have Tiffany and Jen over (who said their vows back in May) I don't exactly make a point of bringing up the fact I don't take their "marriage" seriously. I don't feel it necessary to throw labels in their faces, but then again I don't really have to watch to keep from stepping on toes either. What the post you quoted did was respond to those who OPENLY AND DELIBERATELY UNDERMINE a relationship. Shockingly, some people can carry a conversation without referring to their friends by use of labels. This may be a diffciult concept for some (those with lots of "causes" curiously tend be histrionic).

Nov. 28, 2008, 8:38 a.m. CST

by Lost Jarv

Why do you give a shit if 2 consenting adults want to get married and have the same rights as married heterosexual couples. <P>Why do you want to prevent them from doing this?

Nov. 28, 2008, 8:41 a.m. CST

by TerryMalloy

Because under your logic, because we have straight marriage then it obviously follows that straight incest is also allowed

Nov. 28, 2008, 8:41 a.m. CST

by Lost Jarv

Your extremely well worded weasel of a post shows that. <P>Bigotry is bigotry, whether you choose to tell your friends (as if they exist) that you think their marriage/ commitment to each other is a sham or not. <P>I'm starting to seriously dislike the right wing. And I'm not even on the left.

Nov. 28, 2008, 8:42 a.m. CST

by Lost Jarv

nice one- straight incest must clearly be legal. <P>What if you want to marry your toaster?

Nov. 28, 2008, 8:47 a.m. CST

by BringingSexyBack

Anyone can get married there.

Nov. 28, 2008, 8:48 a.m. CST

by BringingSexyBack

Nov. 28, 2008, 8:59 a.m. CST

by Tai_Pan

"As for violations of civil rights, every single day in this country somewhere someone gets beaten up randomly for being gay." That has little to do with civil rights. Every single day, someone is beaten for being black. White, too. And that happens despite the fact that government and society recognizes their civil rights. Shockingly (shocking, I say!) some people don't give 2 shits about the dictates of society and still treat people poorly based upon their membership in a particular classs (or some personal factor for which the class distinction becomes a disguise for). Giving gays 'civil rights" won't affect that factor. Now unto drtuting's next bit of bad logic: "As for why gays would want to marry, why wouldn't people want people in love to be able to aspire to a lifelong commitment?" BZZZT. Not every lifelong commitment is a marriage. There's no public backlash against lifelong commitments; the opposition is not a generalized thing, but a specific concept (marriage). Next: "By refusing that it says that love between two people irregardless of gender is less than any others." ???????????????????? "What fucking gives you're so scared of that?" Not everyone who is against gay marriage is acting out of fear. Let's be honest. Among other reasons: Some are acting out of hate and/or prerjudice. Some act out of devotion to a religious practice that forbids SUPPORT of homosexuality (though it seems to be politically popular to drop your own religious beliefs to suppport someone else's personal beliefs). Some don't agree conceptually with marriage based on the perception that marriage is a cultural institution for the promotion of families (that DOES NOT necessarily mean they don't think homosexuals can raise children <though that class exists>. That means that for some, marriage is about reproduction and family unity; in biological terms- assuring the family genes and family norms/traditions are preserved. Gay marriage has little to do with these things, as the marriage (between sssi) will produce no offspring and the relationship-in the name of acceptance- often adopts new values, relationships, concepts which are threatening or at least new and therefore nontraditional which conflict with the aforementioned family norms/traditions). Next bit of bad argumentation: "If you put anyone's sex life under a microscope someone would find it weird. There isn't a man alive who hasn't jerked off to some kind of dubious thought" no one is asking the government or society to recognize or endorse jerkoff fantasies, either. That's not a particularly respectful comparison to gay relationships or the concept at hand. This isn't about coming down on the thoughts people have in their heads. If it was, Prop 8 would have failed. Next (and WORST) bit of argumentation: "How many of you queer haters could do the same, or are you scared of finding something out about yourselves?" Not everyone who opposes gay marriage is a "queer hater."

Nov. 28, 2008, 9:05 a.m. CST

by Lost Jarv

Tai Pan- So, by your deeply bigoted rationale, infertile couples should not be allowed to get married. <p>That rubbish has been despatched repeatedly here. <p>There is no good argument in favour of not allowing gays to get married. <P>If gays want a civil ceremony, and as a result have the same rights as heterosexuals then they should be allowed. Churches should also not be forced to perform homosexual ceremonies. Why anyone is against this is a complete fucking mystery to me.

Nov. 28, 2008, 9:06 a.m. CST

by Tai_Pan

"I saw a Boston University law school legal debate which aired several years ago with faculty bigwigs and star law students participating. The anti-gay marriage folks--some of whom were brilliant debaters--had their ASSES absolutely handed to them" Great for those debaters, but your conclusion is very poorly made. That you saw one side lose in a lawschool debate doesn't exactly translate into a slam-dunk victory for the other side's logic. Sometimes the debaters suck (that's 2 1/2 years of debate talking) no matter how "good" the argument is. You're a long way from proving that those against gay marriage don't have ANY good arguments.

Nov. 28, 2008, 9:07 a.m. CST

by BringingSexyBack

Nov. 28, 2008, 9:07 a.m. CST

by Lost Jarv

Male, Female or hermaphrodite?

Nov. 28, 2008, 9:09 a.m. CST

by BringingSexyBack

< p > (without the spaces) gives you paragraph breaks. Maybe if you spent less time hating on gays and more on HTML you would know that!!!!!!!

Nov. 28, 2008, 9:10 a.m. CST

by BringingSexyBack

Cuz they used paragraph breaks and you could read their posts.

Nov. 28, 2008, 9:11 a.m. CST

by Lost Jarv

Nov. 28, 2008, 9:13 a.m. CST

by BringingSexyBack

She's been the forbidden fruit all my life. Sigh ...

Nov. 28, 2008, 9:14 a.m. CST

by Lost Jarv

It's not just legal. It's compulsory. <P>Just not male ones.

Nov. 28, 2008, 9:17 a.m. CST

by mrfan

Let gays have a civil ceremony. What is so bad about that? Many gay couples have been together longer than some married straight couples. Many gay couples will last longer than straight couples. So far after reading all these posts I haven't read one legitimate reason as to why gays shouldn't be married. Come on bigots. You can do better than that.

Nov. 28, 2008, 9:22 a.m. CST

by Lost Jarv

Every day I read something new about apathy- and yet there is this fucking movement to restrict people's rights that actually motivated and won. <P>Fucking ridiculous. Imagine if these complete arseholes weren't so fucking busy obsessing about what consenting adults got up to in the bedroom. Shit could get done.

Nov. 28, 2008, 9:27 a.m. CST

by TerryMalloy

Actually, gay marriage will make that fabric colorful and well designed. And super, super, soft.

Nov. 28, 2008, 9:32 a.m. CST

by BringingSexyBack

At least we're not in Mumbai. Damn ...

Nov. 28, 2008, 9:35 a.m. CST

by TerryMalloy

Focus on living up to your own ideal rather than trying to forbid someone else from trying to live up to it.

Nov. 28, 2008, 9:37 a.m. CST

by BringingSexyBack

Proof that religion is refuge for the wicked.

Nov. 28, 2008, 9:40 a.m. CST

by BringingSexyBack

Watch your back son!!!!!!

Nov. 28, 2008, 9:40 a.m. CST

by Lost Jarv

in favour of Proposition 8. <P>Come on, bigots, where is it?

Nov. 28, 2008, 9:41 a.m. CST

by BringingSexyBack

Watch Maury or Springer for proof.

Nov. 28, 2008, 9:42 a.m. CST

by Tai_Pan

Christian scripture specifically says that Kosher law is no longer important. The same is not true of sexual practices. Christianity also says nothing about slaughtering people or taking virgins. Contrary to the belief of some, Christianity doesn't adopt every practice outlined or endorsed in the Jewish texts prior to the Christian gospel. So your argument fails on that point. It also fails on the point about the marriages of people of different faiths (Christianity allows Christians to be married to non-Christians). It helps if you do some research.

Nov. 28, 2008, 9:45 a.m. CST

by Lost Jarv

We've been bombed for years.

Nov. 28, 2008, 9:47 a.m. CST

by BringingSexyBack

or play Wii ... <P> I'd rather play Wii.

Nov. 28, 2008, 9:48 a.m. CST

by TerryMalloy

The argument is being gay is immoral and I can't support or legitimize the behavior. Of course, there are a number of flaws in this way of thinking (see above) but it's the argument.

Nov. 28, 2008, 9:52 a.m. CST

by Balcony Fool

"Wrong. We don't legislate what is ok or not ok for people to do in the bedroom."<P> Last I checked, this debate had nothing to do with people do in the bedroom. It's about what they do at the courthouse.

Nov. 28, 2008, 9:52 a.m. CST

by Droid

but what is the justifiable reasoning for it?

Nov. 28, 2008, 9:54 a.m. CST

by Lost Jarv

no argument in favour. Instead of deconstructing what you believe is fallacious in Dr Turing's argument, try actually providing one yourself.<P>I strongly suspect it is going to come down to ingrained bigotry

Nov. 28, 2008, 9:57 a.m. CST

by Balcony Fool

Nobody's obligated to give you a reason why they oppose gay marriage, particularly if you get to decide whether it's "good" or not. I have a pretty good idea that there aren't any reasons that would pass muster with you.<P> If you want a legitimate reason why people opppose gay marriage, just scroll up -- I outlined it pretty clearly. Whether or not you feel it's "good" enough is irrelevant.

Nov. 28, 2008, 9:57 a.m. CST

by TerryMalloy

Don't do this to me. And it absolutely has to do with what people do in the bedroom. absolutely

Nov. 28, 2008, 9:57 a.m. CST

by Lost Jarv

that one is clearly rubbish. No-one is asking them to support/ legitimise it. They just have to mind their own business. Furthermore, define "immoral". This is a nebulous and subjective term amd evolves with time.

Nov. 28, 2008, 10 a.m. CST

by Lost Jarv

don't fool yourself. <P>As soon as you start talking about morality you lose all credibility

Nov. 28, 2008, 10:03 a.m. CST

by Le Vicious Fishus

Nice when someone comes in late to a debate and starts throwing stones at a participant who is no longer present to riposte in turn. Very brave of you.<BR><BR>Your arguments are--not surprisingly--unintelligible. The first one you directed at me, in fact, had no context at all, so I won't respond to it till you clarify.<BR><BR>My point about the law school debate was this: there was not one--not one--argument on the anti-gay marriage side that wasn't either a transparent straw man, a slippery slope or an appeal to tradition fallacy (all of which were called out for what they were). Reason and tolerance will always eventually win out over fear and fallacies. <BR><BR>Gay marriage is truly and demonstrably a civil rights issue, and--just as with desegregation--the country's judicial system will generally rule that not allowing gay marriage is unconstitutional, time and again. In twenty years, the majority of the population will look back and shudder at this discrimination, just as they look back on segregation days. <BR><BR>But I'm curious. What are your arguments against gay marriage? And here are some other questions for you:<BR><BR>Why do you care whether two consenting adults get married? How does this negatively effect you one way or the other? I happen to have two dear, old friends that are both male, in love, and are in fact engaged to each other. They are both in their mid to late 30s and have been a couple for over a decade. Why the fuck should they not be allowed to be married under the law with all the rights and privileges of a heterosexual married couple? If you answer any of my questions directly (and rationally), please answer that one.

Nov. 28, 2008, 10:07 a.m. CST

by Lost Jarv

"It's against my religion". Well, fair enough- how about a civil ceremony with the same rights as heteros? <P>"My children will be taught about it and may catch gayness" Erm? No. When were you taught about Marriage at school? And you can't catch gayness. <P>"It's unnatural"- ok. Bigot. <P>"It undermines marriage as an institution"- No it doesn't. Anyway heterosexuals have been busy doing that for ages <P>"it's immoral"- No it isn't. Define Morality before setting up this Aunt Sally, then we'll argue <P>"Marriage is about children"- No it isn't. See childless couples. <P>"The majority is for it"- so fucking what. The majority is not always right. <P>There is not one legitimate reason for stopping homos getting hitched.

Nov. 28, 2008, 10:07 a.m. CST

by TerryMalloy

Or law or bill to hold up to the constitution you better have a reason or it will be struck down. And yes, all those people in Arkansas do own an explanation to the adopted children of gay parents who will be taken away from them. "oh sorry, kiddo, I don't have to give you a reason.". Just wipe your hands free Pontius Pilate. And since you didn't respond back to any of the substance of what I said previously Balcony, your argument about legislating morality holds no water

Nov. 28, 2008, 10:07 a.m. CST

by BringingSexyBack

Do not fuck with him. I say this with all due respect.

Nov. 28, 2008, 10:08 a.m. CST

by Tai_Pan

"Why do you give a shit if 2 consenting adults want to get married and have the same rights as married heterosexual couples. Why do you want to prevent them from doing this?" I don't give a shit about what 2 consenting adults do, and I'm completely uninterested in preventing their behavior. When I'm asked about whether or not I want to allow it, I'm going to answer no because that belief conflicts with my own. I'm not out picketing, I'm not beating anyone up, I don't go around injecting myself into other people's business telling them not to marry for whatever reason. BUT I'M NOT GOING TO SUPPORT IT, EITHER. That's what so many people don't understand. Some people aren't begging for gay marriage to be outlawed, but don't support it either. When a person or institution asks if I want gay marriage legalized, my answer is no. Live your life and do what you want to do, but don't cry to me because I won't endorse what you do. Sadly, I'm going to vote my conscience, and i'm sorry that this affects some in a way that they feel is oppressive, but I have to vote my conscience the same as they will vote theirs. There's a difference between tolerance and acceptance. Lost Jarv, I do have good friends who were married out of state (my home state does not recognize gay marriage). And please, use logicical reasoning next time you respond: it's difficult to argue with someone whose logic seems to hinge solely upon namecalling.

Nov. 28, 2008, 10:09 a.m. CST

by Lost Jarv

"It's the slippery slope to people marrying hamsters" <P>Why? Incest, for example- must already be legal if it's heterosexual by that reasoning. But each case is different and has different measures. Gay Marriage does not mean that someone is going to turn up at a courthouse and demand the right to marry his fucking volvo.

Nov. 28, 2008, 10:11 a.m. CST

by Le Vicious Fishus

Incidentally, Balcony is about as pro-gay marriage as I am anti-gay marriage.

Nov. 28, 2008, 10:14 a.m. CST

by Tai_Pan

And don't misrepresent my opinion. I never said gay couples shouldn't marry because they cannot reproduce. If you were paying attention or had an ounce of reading comprehension, you'd see that I was listing reasons why some people oppose gay marriage. I NEVER SAID I ENDORSED THAT LOGIC.

Nov. 28, 2008, 10:14 a.m. CST

by Lost Jarv

You are not. <P>Look- the point is, you seem to care that a portion of society wants to have the same rights as you. <P>They don't want better rights, they don't want to make you be gay, it isn't a revolution. They want the same rights. <P>So I ask again, why do you support measures that prevent this? <P>And you have presumably been asked, and voted to prevent it- therefore you are actively, for no good reason, repressing a minority. <P>If I was asked to vote, I'd vote in favour of allowing gay marriage. But that's because it doesn't affect me (at all), and I can't think of one legitimate reason to be against it. <P>I stand by what I said: you are a hypocritical bigot.

Nov. 28, 2008, 10:15 a.m. CST

by Lost Jarv

But I've seen it used many times here.

Nov. 28, 2008, 10:19 a.m. CST

by Lost Jarv

of state. Just like the Grand Wizard of the Buttfuck Kentucky branch of the Klan has a black best friend.<P>Me- I don't know a gay couple. Not one. I know a few individual gays, but not a couple. I don't care either. All I am is disgusted at the behaviour of these self-righteous and self-appointed guardians of morality. Ironically, I think they are being pretty fucking immoral.

Nov. 28, 2008, 10:22 a.m. CST

by TerryMalloy

Goodbye all. Keep up the good fight

Nov. 28, 2008, 10:23 a.m. CST

by Lost Jarv

I thought someone was going to say that to me. You don't have to be gay to recognise an obvious social injustice. <P>I'm really, really disgusted at you on the right.

Nov. 28, 2008, 10:30 a.m. CST

by Tai_Pan

It's less personal than you think. Bad argumentation deserves to be shot down. I'm more interested in the glaring inaccuracies and bad logic than I am in making sure someone knows they are getting called out. If they are still paying attention, then they can respond. If not, they shouldn't feel too bad that they were criticised for posting largely inaccurate premises. <p>LVF: I don't know what you found to be difficult about my criticism. You asserted that there was no good argument against gay marriage and gave the debate you saw as proof/evidence, whichever. I said that made poor evidence. You also gave an example of someone intentionally trying to goad someone by not recognizing their marriage, and I responded by saying that you can be respectful of a "married" couple and carry on a friendship without endorsing/recognizing their marriage and without drawing attention to the fact that you don't endorse/recognize that marriage. That's why I said the argument fails.

Nov. 28, 2008, 10:31 a.m. CST

by Balcony Fool

I am absolutely, 100% for gay marriage. It's not an issue in my state at the moment, but when it becomes one, I will vote in favor of it.<P> What I'm trying to do in this TB is point out the blatant hypocrisy of fascist moral crusaders -- who exist, btw, on both sides of the issue. It's easy to dismiss genuine bigots who get freaked out by homosexuality. There's no need to expose them, as their bigotry and ignorance exposes itself.<P> It's much easier, on the other hand, to overlook the hypocrisy that's been on display here: agents of "tolerance and progress" dismissing those who disagree with them, calling their opponents "stupid" and "evil," cheerfully asserting that they don't give a shit what anyone else thinks, comparing their opponents to racists and Nazis (two arguments so absurd I haven't even bothered to address them).<P> I hope gay people win the right to marry, as I believe they deserve it. But bullshit is bullshit, however it dresses. Fascism is fascism, no matter how "noble" the cause. We'll win this battle in the end, but I'd rather not lose my soul in the process, thanks.

Nov. 28, 2008, 10:37 a.m. CST

by Le Vicious Fishus

Be specific. Incidentally, I've cited tons of specific examples of arguments pro and con throughout this TB. Go back and read them. Not going to repeat myself.<BR><BR>BTW, any friend of mine that didn't respect or "recognize" my marriage/relationship with my wife would be quickly cast aside. What a shitty "friend."

Nov. 28, 2008, 10:38 a.m. CST

by GreatOne4

Homosexual behavior took place amongst soldiers when they were on military campaigns (which lasted months and years), or took place between older men and younger boys (i.e., pederasty). They didn't get together to form a family. They didn't hold themselves out as "married" or "bonded". And, most importantly, it was not held out as equal to normal relationships.

Nov. 28, 2008, 10:45 a.m. CST

by Tai_Pan

I didn't mention that I have gay friends as some sort of validation or to argue from authority. I mentioned it because the argument LVF posted is deceptive. I know damn well you can speak to someone whose marriage you don't recognize without being abrasive (either intentionally abrasive or otherwise). Your criticism completely ignored that fact, not that I'm surprised, as ignorance has been the hallmark of your replies to what I posted. <p>"Look- the point is, you seem to care that a portion of society wants to have the same rights as you." Then you got the wrong impression. I mentioned earlier that I don't have a proactive objection to gay marriage. My objection isn't about rights; if anything that is incidental to my concern. Also, why do you ask what my reasoning for objecting is with one breath and with the next say I have no good reason? That's undeniably dismissing my opinion before you have even heard it or attempted to understand it. And how am I being hypocritical? At least I understand why you might think I'm a bigot (even though I maintain I am not), but I hardly think you've given reason to claim I am a bigot.

Nov. 28, 2008, 10:57 a.m. CST

by Tai_Pan

"BTW, any friend of mine that didn't respect or "recognize" my marriage/relationship with my wife would be quickly cast aside. What a shitty 'friend.'" So friendship hinges upon unconditional acceptance and approval of everything about a person, or just the facets you've cherrypicked? Are you speaking out of both sides of your mouth, or do you simply have no friends? Feel free to explain if that isn't the case. Personally, I don't "cast aside" friends who disagree with me. Sounds a bit intolerant.

Nov. 28, 2008, 11:24 a.m. CST

by Lost Jarv

There is a name for what you are up to: <P>Sophistry. <P>1)You DO have a proactive (despicable word- but that's another rant) objection. You're just lying. This is nothing to do with going on marches or whatever. I'm assuming you voted for proposition 8- if you don't have any active objection then why did you take the oppressive measure? You could have left it blank. <P>2)The reason I posted "waiting for reasons" followed by the dismissal, is that I want to see if you have a valid one. You, clearly, don't. <P>3)Ignorance is not my hallmark, but hostility is. Especially when dealing with groundless bigotry. <P>4)If these "people" that are allegedly your friends exist, and you judge them like that then you are a shitty friend. And yes, I am aware of the irony of judging you. <p>5)You are not arguing from a position. What you are doing is eloquently weaving posts with less substance than helium. You are disguising hatred as "reasonableness". <P>Give me your reason for opposing gay marriage. I am not unreasonable (see the stand corrected post above). I will weigh and measure your reason, but I warn you now- my tolerance level is set to "very fucking low".

Nov. 28, 2008, 11:28 a.m. CST

by Le Vicious Fishus

Ok, Tai. You and I obviously define friendship quite differently. Of course I disagree with friends on any number of issues, but whether you believe two friends deserve the respect and rights that comes with legal MARRIAGE is *not* a minor "disagreement," and you know it. Would your gay, married friends be happy to know that you don't believe in mutual visitation rights in the event that one of them was hospitalized in critical condition? Just one example of the many rights you would deny your friends. Again, any friend that didn't respect my marriage and all it implies would be naturally cast aside. BTW, are *you* married? How would you feel about a "friend" who you knew didn't take your marriage seriously? Be reasonable, Tai.

Nov. 28, 2008, 11:28 a.m. CST

by Lost Jarv

This is tiresome. There are plenty of examples from Greek literature that not only condone gay behaviour, actively advocate it. <P>Where do you think the word "Sapphic" comes from?

Nov. 28, 2008, 11:36 a.m. CST

by Lost Jarv

Judging your "friends" like that is repellent. The attitude that says "your marriage isn't as good as mine" is repellent. <P>Tai Pan is either lying about the existance of these 2 magic lesbians that can be wheeled out to try to counteract accusations of bigotry or is a complete asshole with no understanding of the concept of friendship. I suspect the former. <P>Mind you, Nowadays it's easier to be gay than own up to being on AICN (this is a joke, for you humourless right wing fucks out there).

Nov. 28, 2008, 11:36 a.m. CST

by Le Vicious Fishus

Ok, Tai. You and I obviously define friendship quite differently. Of course I disagree with friends on any number of issues, but whether you believe two friends deserve the respect and rights that comes with legal MARRIAGE is *not* a minor "disagreement," and you know it. Would your gay, married friends be happy to know that you don't believe in mutual visitation rights in the event that one of them was hospitalized in critical condition? Just one example of the many rights you would deny your friends. Again, any friend that didn't respect my marriage and all it implies would be naturally cast aside. BTW, are *you* married? How would you feel about a "friend" who you knew didn't take your marriage seriously? Be reasonable, Tai.

Nov. 28, 2008, 11:40 a.m. CST

by Lost Jarv

Because despite appearances, I honestly don't care. Fucking hell, it doesn't make a blind bit of difference to my life- and I wish that my country (THe UK) would just bite the fucking bullet and legalise civil unions.<P>I do care about bigotry though, and that's why I keep posting.

Nov. 28, 2008, 11:41 a.m. CST

by Le Vicious Fishus

Ok, Tai. You and I obviously define friendship quite differently. Of course I disagree with friends on any number of issues, but whether you believe two friends deserve the respect and rights that comes with legal MARRIAGE is *not* a minor "disagreement," and you know it. Would your gay, married friends be happy to know that you don't believe in mutual visitation rights in the event that one of them was hospitalized in critical condition? Just one example of the many rights you would deny your friends. Again, any friend that didn't respect my marriage and all it implies would be naturally cast aside. BTW, are *you* married? How would you feel about a "friend" who you knew didn't take your marriage seriously? Be reasonable, Tai.

Nov. 28, 2008, 11:45 a.m. CST

by Orionsangels

It pisses off most straight guys to see gay men holding hands in public. Because it represents the opposite of what makes them feel so good. It reprsents going in a direction that they weren't brought up to believe in, plus it doesn't arouse them. So it instantly becomes the enemy. When straight friends get together. It's even worse, because each friend is trying to show up the other, on just how antigay they are.

Nov. 28, 2008, 11:46 a.m. CST

by Le Vicious Fishus

Nov. 28, 2008, 11:48 a.m. CST

by Lost Jarv

LVF is having technical difficulties.

Nov. 28, 2008, 11:50 a.m. CST

by Lost Jarv

I don't think that's true, but I don't have any unreconstructed knuckle dragging cretins as friends. <P>If it is true then that's fucking sad in the 21st century.

Nov. 28, 2008, 11:50 a.m. CST

by offscauta

Are you joking about the UK legalising civil unions? They've been legal for about two years now.

Nov. 28, 2008, 11:52 a.m. CST

by Lost Jarv

Nov. 28, 2008, 11:54 a.m. CST

by Lost Jarv

as the country. <P>The only reason it was legalised here was so Mandelson could take his boyfriend off the pay roll and make him a housewife

Nov. 28, 2008, 11:57 a.m. CST

by tootle

Sorry, I can't bring myself to read the review, massawyrm, because I'm too busy laughing at the headline.

Nov. 28, 2008, 12:01 p.m. CST

by Mr. Zeddemore

I FUCKING HATE the attitude of chaps who go out and act like jack the lads. They can fuck right off with that, there's nothing endearing about being sexist, mysoginistic and vulgar.

Nov. 28, 2008, 12:41 p.m. CST

by Tai_Pan

"You DO have a proactiveobjection. You're just lying." I'm not lying. I don't elect officials to oppress the gay minority, and gay marriage is no litmus test for me when I vote for a candidate. But when lawmakers ask me for my opinion on this issue, I'm going to say no to gay marriage. There's nothing "pro active" to it. And I am not judging my friends. My opinion of them is not affected by their sexual preference. I simply draw the line at acknowleding their perceived marital status as legitimate. That's a value judgment, but it doesn't mean I think less of them in some capacity. I don't judge any of my other friends based on their marital status. I don't feel it necessary to have to classify everyone by a stupid title or membership in a class. I'm not rubbing it in anyone's face. I know they'd be offended if I told them I don't believe in gay marriage, so I don't mention it. It's not being dishonest, or unfriendly, I simply don't wish to offend. I don't see any problem in wanting to keep a friendship and not comprimse my personal beliefs. <p> "Especially when dealing with groundless bigotry." Still calling my opinion groundless when you claim to not know why I believe as I do? What label would you normally attach to that: prejudice, assumption, idiocy...

Nov. 28, 2008, 12:50 p.m. CST

by IndustryKiller!

It's not bigotry because someone feels that it isnt bigotry is only reality in your head. Here is a fact. If you dont believe homosexuals deserve the same basic rights as straight people that is bigotry. There isnt a debate here. look up bigotry in the fucking dictionary. That CLEARLY falls under the category. People fighting against human rights because they dont personally like a lifestyle that hurts no one is bigotry. THese people disliking of a lifestyle does not make it something other than that. You are arguing something factually incorrect simply to play devils advocate. Do you get this way on all topics in which one side is fighting for a just cause (one which grants all people equality is a just cause. period) or is it only gay rights. Would you apply this same logic to aparteid in South Africa? I mean after all Im sure the colonialists there found the african lifestyle disagreeable same as many find gay lifestyles here. To say they have a right to deny equality is a sick thing.

Nov. 28, 2008, 12:51 p.m. CST

by Orionsangels

Because in my younger days. I was one of those guys. I've changed since then, but still know guys like that.

Nov. 28, 2008, 12:51 p.m. CST

by Tai_Pan

"whether you believe two friends deserve the respect and rights that comes with legal MARRIAGE is *not* a minor 'disagreement,'" I understand your point, I simply don't think that's enough to disregard a friendship; particulalry when I've already mentioned that I don't bring this to my friend's attention. I know they'd be hurt and probably insulted, but I'd like to think that if someone explains that they still care for you as a person despite diagreeing with even a major aspect of that person's life, they can still maintain a friendship. Would you find it excessive if someone stopped being friends with you after you admitted you did not believe in their particular faith? There are many issues people care for quite personally. Which ones should we abandon our friends over due to disagreement? And I don't have to be for gay marriage in order to suport a relaxtion of hospital visitation rights, so don't bother with that feeble arguement. And since you asked, I'm not married, but I do have friends who dislike the person I date. No plans yet to cast them aside.

Nov. 28, 2008, 12:53 p.m. CST

by Mr. Zeddemore

I think we've all been like that, but most of us had the common sense to realise how pathetic it was.

Nov. 28, 2008, 12:58 p.m. CST

by IndustryKiller!

to vote on gay marriages. Homosexuals are a minority which are still largely misunderstood in AMerican society. In this talkback alone people have tried to compare homosexuality, getting destroyed every time I might add, to mental illness and murder. There is simply too much blind ignorance to put that on a ballot. Its why anti discrimination laws in the 60's were never ona ballot. ANd if you did vote for prop 8 you participated in bigotry. You voted to deny a class of people equal footing on a subject that would hurt no one whatsoever. Now you sound liek a conservative, maybe you are maybe you arent, lets just assume for the sake of argument you are. I dont find conservative ideal agreeable, I actually have personal reasons for that unlike most people who dislike homosexuals who have never hurt tehir lives in any capacity, but if it ever hit a ballot taking away a conservatives right to marry in a million years I wouldnt vote for that. Its wrong to deny rights. period.

Nov. 28, 2008, 1:01 p.m. CST

by Tai_Pan

By your definition, bigotry would be not allowing 2 five-year-olds to get married. Bigotry would also describe someone who opposed a 40 year old marrying a five-year-old. <p> This is somewhat of a separate issue, but the fact is that the law DOES legislate morality, and always has. If you think it shouldn't, then please tell me why someone shouldn't be allowed to dropkick baby puppies or fry a kitten on a barbecue grill. They have no legal rights, and are the property of their owners under that hypothetical. We outlaw prostitution, we adjust tax rates to help the poor, there's a lot of legislation out there having less to do with protecting legal rights (far from it in many cases) and more to do with advancing a particular moral goal. Don't get too preachy with those bigotry claims before you examine your own moral intolerances.

Nov. 28, 2008, 1:06 p.m. CST

by IndustryKiller!

We dont allow puppy dropkicking and subjugation of two year olds into marriage because you are robbing another living being of its basic rights to life. Prostitution spreads disease and adjustable tax rates prop up the economy which cant run on rich people alone if those people want to stay rich. Is this the best you got? Really?

Nov. 28, 2008, 1:12 p.m. CST

by Balcony Fool

All good points you make in your last post addressed to me, but you've put the cart before the horse. First you have to demonstrate that marriage is a "basic right," and that's a much trickier proposition. The only people arguing over whether gay people should have "basic rights" are the ones who frame the debate in such terms.<P> In other words, it's quite possible for an opponent of gay marriage to agree that gay people should have "basic rights."

Nov. 28, 2008, 1:13 p.m. CST

by Tai_Pan

You're denied plenty of rights. Rights are routinely taken. This is allowed because it is done with due process. Your right to your money is taken when the government forces you to pay taxes. Your right to free speech is taken when a city ordinace prohibits yelling "FIRE!" in a crowded theater. Your right to bear arms is restricted when you walk on a campus. Of course, society does these things to pay for roads and schools, keep children from getting shot, and to stop people from being trampled, but the fact that a reason exists is less important than the fact that restrictions on rights are widely-accepted. From there, the only thing to consider *is* the why and the where we draw the line. As you can see, there's no teeth to your basic assertion that denial of rights is fundamentally wrong. It happens all the time for various reasons in accordance with due process.

Nov. 28, 2008, 1:20 p.m. CST

by Balcony Fool

IndustryKiller said: "Do you get this way on all topics in which one side is fighting for a just cause (one which grants all people equality is a just cause. period) or is it only gay rights."<P> Industry, you've practically answered for me in the way you've phrased your question. You see yourself as fighting for justice, and everyone else as fighting for injustice. It appears to be a rather black and white world in which you live. Unfortunately, reality is a bit more complicated. <P> None of us would accept a movie that portrays the villain as evil, just for the sake of being evil. Even bad movies have evolved beyond that simplistic worldview. People are complex. They legitimately understand the world differently from one another. Very, very few people *want* to do something evil, unjust, or unfair. By framing yourself as the "just" cause, and your opponents as the enemy, you do nothing to further understanding, tolerance, or social harmony. You're simply trying to raise the more forceful hand. It might work, but it doesn't make our situation any better.<P> To answer your question more directly, yes, I do tend to play devil's advocate even (especially!) toward causes with which I agree. Why wouldn't I? I'm after truth, not propaganda, and if a position is worth taking, it's worth taking honestly, fairly, and without malice.

Nov. 28, 2008, 1:22 p.m. CST

by Tai_Pan

Actually, those puppies have no legal rights. Even if that was the case, feel free to explain to me how such a protection has anything but a moral basis. I won't be holding my breath for your explanation, because there is no explanation. The examples I listed are laws based on morality; it's something this country has always done and is still doing. You also are apparently ignorant to the fact that the government is constantly citing aid for the poor as reason for passing economic legislation. <p>If you think that economic legislation *only* serves to prop up the overall economic health of the country then I assure you you are severely misinformed. It is simply impossible to stick your ehad in the sand over this issue, but since people wish to try, I'll simply say it louder: SOCIETY LEGISLATES MORALITY. There's no winning argument otherwise. It's fact.

Nov. 28, 2008, 1:22 p.m. CST

by IndustryKiller!

Yelling fire in a crowded room could hurt others, paying taxes keeps our country out of a state of anarchy (paying for basic social services needed to live peacefully, which would hurt others. Now you say "the fact that a reason exists is less important..." Is ee what you did there. You more or less acknowledged that your points are ridiculous because they are all in favor of keeping people safe from egregious harm, then you try to brush it aside as if it doesnt count. That dog wont hunt. The fact that everything you mentioned is for some kind of greater good and in order to keep other from being denied their rights is VITALLY important. What rights would gay marriage rob anyone of? Who would be unsafe if gays were to marry. There is not a single tangible reason you can offer me. I welcome you to try. But remember Massachusetts has had gay marriage for five years and there has been nothing but a positive impact since, I should know its where Im from.

Nov. 28, 2008, 1:25 p.m. CST

by IndustryKiller!

If I drop kick a puppy then I go to jail or at least get fined. Its called animal cruelty. Robbing another being of its right to live a healthy life isnt a moral issue, its imperative to keep society going.

Nov. 28, 2008, 1:36 p.m. CST

by IndustryKiller!

People in favor of gay marriage are fighting so that a group of people can have a right that affects no one else. THis is no different whatsoever than civil rights in the sixties. Its all about equality. If you think equality is not a social justice then by all means make your argument for it. Moreover, agree or not, make your case for gay marriage being an injustice if you want to continue this line of rationale. <P>As for marriage being a basic right, certainly there have been things that set that as a precedent. not the least of which being when barring interracial marriage was abolished in 1967. Also convicted felons are allowed to marry, ask Ted Bundy. There is no precedent for denying two consenting heterosexual adults the right to marry. If it has never been denied to a straight couple then denying it to a gay couple is discrimination.

Nov. 28, 2008, 1:59 p.m. CST

by tonytodd

Seriously, it takes an unbelievable amount of brainwashing and propaganda to make people believe that two dudes making out and boning each other is anything other than sick, demented and disgusting. That is people's natural reaction to homosexuality. This movie is nothing more than the latest multi-million dollar piece of propaganda.

Nov. 28, 2008, 2:20 p.m. CST

by Balcony Fool

you're just incapable of seeing anything beyond the end of your own nose, aren't you?<P> 1) "People in favor of gay marriage are fighting that a group of people can have a right that affects no on else." <P> This is *your perception,* but it is *not* a fact. Altering the structure of a civil institution affects everyone within that society to whatever extent it matters to them. In this case, for some people, it creates an environment that they find objectionable. The fact that you don't find that effect relevant doesn't make it disappear. <P> 2) "This is no different whatsoever than civil rights in the sixties."<P> I've been ignoring this argument thus far because it's so utterly ludicrous (and a shameless attempt to frame the debate in heroic terms), but I'll go ahead and point out the obvious. Being black is not a lifestyle choice; marrying a member of your sex is. You're closer to the mark when you talk about interracial marriage--that's a tack that will serve us much better.<P> 3) "It's all about equality."<P> To reiterate a point that you've thus far ignored, it's only about equality for those who frame the debate in such terms. No matter how hard you close your eyes or how far you stick your fingers in your ears, there are other facets of this debate, e.g., the redefinition of marriage, and all the moral, legal, and societal implications that entails. <P> 4) "Make your case for gay marriage being an injustice if you want to continue this line of rationale."<P> Huh? I don't know anyone who's calling gay marriage "an injustice." If they're out there, I'll agree with you that they're wrong.<P> 5) "If it has never been denied to a straight couple then denying it to a gay couple is discrimination."<P> Correct, it is discrimination, as in "recognition and understanding of the difference between one thing and another." Not all discrimination is immoral, and some is necessary. <P> I'm enjoying the back and forth of this debate, and in the end, we're both on the wrong side, but as long as you paint yourself as the hero and all opponents as the villains, I'm going to take exception to your approach. I'm also a bit astounded (and impressed?) by the amount of hubris it takes to so taken with your own POV as to vilify all others. It's breathtaking, really.

Nov. 28, 2008, 2:22 p.m. CST

by Balcony Fool

... I said "we're both on the wrong side," when I meant "we're both on the *same* side."<P> Mea culpa.

Nov. 28, 2008, 2:25 p.m. CST

by Tai_Pan

You still haven't even attempted to show that laws protecting animals aren't morally motivated. And how exactly is it that laws keeping people from dropkicking puppies is the thread that keeps society going? That's a load of bullshit. And you seem to ignore that we routinely deprive "living beings" of life to feed the country. Your arguments are really shoddy. Dogs don't have constituitional rights (or civil rights), despite what you seem to think. Therefore, I could kill one and deprive no one of their rights (refuting what you said about my examples all being for greater societal good). But we outlaw such acts on a moral basis, much like the other examples which you chose to ignore.

Nov. 28, 2008, 3:16 p.m. CST

by IndustryKiller!

to Balcony, then what is the point of all this? I've explained why its bigotry and you've said over and over again that it isnt simply because the anti gay marriage folks dont like it. not liking something is not grounds for denying equality. And if that is your only reason for denying something then you are a bigot. The American court system agrees on that point. "Because I dont like it" has never been ground for any sort of discriminatory debate, whether you personally take it into account or not, the AMerican government doesn't, hence why we get to have this debate at all. <P> As for homosexuality being a lifestyle choice, it seems your true colors show a bit int hat statement. It isnt a choice. These people dont wake up one morning and decide to be gay. They are that way and cannot reverse it any more than black people can reverse their skin color. What they are fighting for is something every single one of their straight peers has a right to, the only distinction is sexuality, which isnt a choice. Ergo its identical to civil rights. just because the difference isnt immediately obvious to the eye doesn't make it different. <P> How is this debate NOT about equality? Legally, if I were gay, my love for my partner would be less equal than a straight persons. Thats a fact. I am not privy to the same rights. As for "societal implications" I would love to know what they are. please site how the societal dynamic of Massachusetts has changed at all for straight couples. Ditto with moral implications. Invoking religious opposition as a moral implication doesnt hold because God isnt here personally telling us what he will and will not accept, its all speculative at best. Its a guess by people who are talking about something they cant possibly understand. <P> Tell me how descrimination between gay and straight couples is necessary. For what greater good? I cant wait to hear that argument. Not that you think it is, but since you brought it up Im assuming you can defend it with practical reasons.

Nov. 28, 2008, 3:21 p.m. CST

by IndustryKiller!

Black people int he 60's werent fighting for the right to simply be black. They already were black, as they were constantly reminded. They were fighting for equal societal rights. one of which was the right to marry a white person, which was not allowed in many places. That was one thing that was seen as a basic right and which conservative America thought would be detrimental to society. The courts ruled that this fear was unjustified and interracial marriage was integrated into the fabric of society everywhere. The situation is beyond similar to civil rights.Not only that but there is a legal precedent for this sort of thing.

Nov. 28, 2008, 3:44 p.m. CST

by TheGhostWhoLurks

Seriously... your desperate need to show your PC bonafides by humping all things homosexual, while at the same time swearing to your 100% heterosexual manliness, makes your reviews of any of these films pretty much worthless. Why even waste our time?

Nov. 28, 2008, 4 p.m. CST

by shut_the_fuck_up_Donnie

Are you trying to say that anyone who can enjoy a movie with a homosexual character can't be heterosexual? Does that mean I can't enjoy pulp fiction anymore because Sammy Jackson is black and I am white. SHit, I'm gonna have to clean out my DVD collection.

Nov. 28, 2008, 4:02 p.m. CST

by shut_the_fuck_up_Donnie

Am I misreading something or did BalconyFool in his last post imply that the legalization of inter-racial marriages in the sixties was a bad thing and gay marriage would be repeating the same mistake?

Nov. 28, 2008, 4:05 p.m. CST

by Mr. Zeddemore

Gay or straight, idiocy is just ugly.

Nov. 28, 2008, 4:13 p.m. CST

by Tai_Pan

Before I begin, let me state that I am a law student. "How is this debate NOT about equality? Legally, if I were gay, my love for my partner would be less equal than a straight persons." Rights are for people, not concepts. Otherwise, you could just as easily say that since the government won't recognize your love for a toaster, your love has been denied equal rights. As such, society makes determinations about behaviors it wishes to accept or exclude. If you were truly interested in unfettered rights, you'd let a consenting man have sex with a consenting child. But I will asume that you don't, and that you actually are ignoring that which you know to be true: society routinely infringes upon rights through due process and inevitably legislates morality, for better or for worse. The only question is where you draw the line. I am quite confident that you'll draw it in a place that denies someone's rights. And when you, do, I'll simply point out that your values are separate from mine, and that society is ultimately the arbiter that decides which of our values are upheld.

Nov. 28, 2008, 4:26 p.m. CST

by Balcony Fool

You're not arguing with the points I'm making, you're reinterpreting them and arguing with the mutation (this is called a "straw man").<P> For example, I didn't say homosexuality is a lifestyle choice (it isn't), I said gay marriage is a lifestyle choice (it is -- just like heterosexual marriage). Argue with what I've said, not with what you wish I said, or what you've heard other people say. <P> Obviously, I don't think discrimination between gay and straight couples is necessary, nor do I think it serves a greater good. I do, however, understand the rationale of those who *do* feel that way. See? It's possible to understand those you don't agree with! :) The argument goes like this:<P> There are a lot of people who feel that the breakdown of the traditional family unit is responsible for a lot of social ills, including higher instances of violent crime, alcoholism and substance abuse, unwanted pregnancy (which itself leads to abuse and poverty), etc. There are statistics and studies that can be dragged out to support this idea. (NOTE: I'm not referring to gay unions directly causing these ills; rather, they are correlated with the breakdown of the traditional family.) Civic legitimization of alternative lifestyles serves to remove the stigma associated with those lifestyles, which (they believe) encourages further breakdown of the traditional family unit. <P> That's one angle. Of course, you may add the fact that a lot of these people also think gayness is yucky, and its inherent immorality is the root cause of these social ills, but that argument is beside the point. Anyone who brings it up (on either side of the issue) is shooting themselves in the foot, because in our society, we don't typically legislate on those grounds. (Although we have in the past; there are still states where things like adultery and sodomy are technically illegal.)<P> So there ya go. I think that argument isn't very strong, because we live in such an open society already that "marriage" is really just a semantic distinction. Now that certain states allow gay marriage, we should soon have studies indicating the negative impact on traditional arrangements is negligible. At that point, the anti-gay-marriage crowd will have a harder time making their case. They'll pretty much be left with the "redefinition" argument, which has its merits, but won't be enough, I don't think.

Nov. 28, 2008, 4:27 p.m. CST

by Balcony Fool

You're misreading something.

Nov. 28, 2008, 4:32 p.m. CST

by DougMcKenzie

Is the exact same as stopping people on the street and telling them what colour they have to paint their kitchen... even thou you will never ever see their house. Plain and simple... why try to stop something that has absolutely no effect on YOU or harms anybody in any way whatsoever?

Nov. 28, 2008, 4:34 p.m. CST

by Balcony Fool

"Black people int he 60's werent fighting for the right to simply be black." Correct, and gay people in the 00's aren't fighting for the right to be gay. They are fighting to make the state recognize their lifestyle choice. Black people in the 60's were fighting for much, much more than the lifestyle choice of marrying whites. To diminish their struggle to that single issue and compare it today's struggle, where gays are denied no physical or legal opportunity *other* than marriage, is kinda shitty, IMHO.

Nov. 28, 2008, 4:38 p.m. CST

by GreatOne4

We do not ascribe "rights" to behaviors, only to people. Blacks are blacks. Germans are Germans. Women are women. Those are immutable traits of people, not behaviors, and thus are afforded protected status.<p>Homosexual behavior is just that - a behavior. There is no culture (i.e., practices, foods, clothes, music, etc.) associated with it.

Nov. 28, 2008, 4:42 p.m. CST

by shut_the_fuck_up_Donnie

"Rights are for people, not concepts. Otherwise, you could just as easily say that since the government won't recognize your love for a toaster, your love has been denied equal rights." <P> So you're saying gay people should have the same rights to toasters and not the same rights as heterosexual human beings. I'm not even being sarcastic, is that really your point or did you misspeak (or mistype)?

Nov. 28, 2008, 4:48 p.m. CST

by shut_the_fuck_up_Donnie

"Black people in the 60's were fighting for much, much more than the lifestyle choice of marrying whites. To diminish their struggle to that single issue and compare it today's struggle, where gays are denied no physical or legal opportunity *other* than marriage, is kinda shitty" <P> So robbing gays of the same rights interracial couples got a couple decades ago is fine because its the *only* right they are being denied. Each minority has to have 2 rights denied to it before it can have any of them rectified?

Nov. 28, 2008, 4:48 p.m. CST

by GreatOne4

Is pointing out to exceptions and trying to make them the rule. No one is claiming that homosexual behavior was created in the early 1900s. The issue is that homosexual behavior was not widespread, accepted behavior. It wasn't. Pointing out instances where it occurs does not make it part of the accepted culture. And the point at which it was the most widespread was at the end of the Empire, when moral decay helped rot society from within. Same thing later happened to the Romans. Hopefully that won't happen a 3rd time.

Nov. 28, 2008, 4:53 p.m. CST

by Balcony Fool

"So robbing gays of the same rights interracial couples got a couple decades ago is fine because its the *only* right they are being denied."<P> Uh, no. I simply said the two struggles are not comparable. Just a few posts ago, I noted that the interracial marriage rights are a good tack to take, specifically because it's the only comparable element from the civil rights movement.<P> I swear, some of you people...

Nov. 28, 2008, 4:55 p.m. CST

by GreatOne4

People who engage in homosexual behavior have the same rights that I have. They even have the right to marry, but since marriage is between a man and a woman, those people are removing themselves from being capable of exercising that right.<p>And your argument against interracial marriage is specious, because the primary purpose of marriage is for the raising and rearing of children. Obviously an interracial couple has the ability to raise and rear children.

Nov. 28, 2008, 4:58 p.m. CST

by Tai_Pan

"So you're saying gay people should have the same rights to toasters and not the same rights as heterosexual human beings. I'm not even being sarcastic, is that really your point or did you misspeak (or mistype)?" Neither. I intended to point out that only people are afforded rights. Concepts don't have rights. Thus, the statement "straight love isn't as equal as gay love" is fundamentally flawed.

Nov. 28, 2008, 4:59 p.m. CST

by shut_the_fuck_up_Donnie

Homosexuals ARE homosexuals. its not a behaviour, its who they are, just like all your examples before. Do you truly believe homosexuals are really hetero deep down and they're all just pretending to be (or behaving like) they are in love with their partners, maybe because they prefer a life of persecution or something?

Nov. 28, 2008, 5:07 p.m. CST

by shut_the_fuck_up_Donnie

"I simply said the two struggles are not comparable. Just a few posts ago, I noted that the interracial marriage rights are a good tack to take, specifically because it's the only comparable element from the civil rights movement." <P> I really don't understand your argument. You admit that its directly comparable in that regard to the civil rights movement: that the 1 right gays are fighting for now is one of the many that black people were fighting for in the 60's. And you seem to be fine with that right being given to black people in the 60s but not to the current minority looking for that right. I don't get it: you portray the civil rights movement of the 60s as a great thing, say that gay marriage is a directly comparable thing to that one segment of this great civil rights movement of the 60s, and then that gay marriage, however, is not a good thing. I don't get it.

Nov. 28, 2008, 5:12 p.m. CST

by Mr. Zeddemore

Um, what? No, the reason to marry isn't just to have kids. That's ridiculous. You marry because you care about another adult deeply and want to celebrate the committment.

Nov. 28, 2008, 5:29 p.m. CST

by shut_the_fuck_up_Donnie

"And your argument against interracial marriage is specious, because the primary purpose of marriage is for the raising and rearing of children. Obviously an interracial couple has the ability to raise and rear children." <P> There are so many things wrong with your post, where to start? <P> 1. Primary reason for marriage?!! Seriously, so you agree with the following: "infertile couples shouldn't be allowed to marry" "If a gay may has an experimental operation to allow him to rear children, its fine for him to marry his partner then" "Heterosexual couples who find each other late in life should not be allowed to marry because they cannot have children" "loveless marriages are great as long as you bring children into the fold" <P> 2. You seem to imply that a homosexual couple cannot raise a child. That's rediculous. <P> 3. "gays have the same rights as everyone else because they can enter a heterosexual marriage" - another rediculous statement, because they do not have the same right, which is to enter into a marriage with the person that they love and want to spend the rest of their life with. Your argument would be like saying women had the same rights as men before they got the vote because they were free to fraudulently portray themselves as men, and then vote. It isn't really equal rights when you have to conform to the majority to get them.

Nov. 28, 2008, 7:03 p.m. CST

by Le Vicious Fishus

Top Ten Reasons Gay Marriage Should Be Illegal<BR><BR> 01) Being gay is not natural. Real Americans always reject unnatural things like eyeglasses, polyester, and air conditioning.<BR><BR> 02) Gay marriage will encourage people to be gay, in the same way that hanging around tall people will make you tall.<BR><BR> 03) Legalizing gay marriage will open the door to all kinds of crazy behavior. People may even wish to marry their pets because a dog has legal standing and can sign a marriage contract.<BR><BR> 04) Straight marriage has been around a long time and hasn't changed at all like many of the principles on which this great country was founded; women are still property, blacks still can't marry whites, and divorce is still illegal.<BR><BR> 05) Straight marriage will be less meaningful if gay marriage were allowed; the sanctity of marriages like Britney Spears' 55-hour just-for-fun marriage would be destroyed.<BR><BR> 06) Straight marriages are valid because they produce children. Gay couples, infertile couples, and old people shouldn't be allowed to marry because our orphanages aren't full yet, and the world needs more children.<BR><BR> 07) Obviously gay parents will raise gay children, since straight parents only raise straight children.<BR><BR> 08) Gay marriage is not supported by religion. In a theocracy like ours, the values of one religion are imposed on the entire country. That's why we have only one religion in America.<BR><BR> 09) Children can never succeed without a male and a female role model at home. That's why we as a society expressly forbid single parents to raise children.<BR><BR> 10) Gay marriage will change the foundation of society; we could never adapt to new social norms. Just like we haven't adapted to cars, the service-sector economy, or longer life spans. <BR><BR>Let's get it on.

Nov. 28, 2008, 7:25 p.m. CST

by IndustryKiller!

I agree entirely with your last post. I dont see where else to go from here. I dont think Im arguing a mutation so much as our semantics seems to regularly cross themselves through the translation of an internet post. im sure if we were standing face to face we would understand each other much more clearly. The fact that people equate the breakdown of society with the breakdown of the nuclear family does not mean that they are right, that is merely an assumption, and one that is probably flat wrong at that. the breakdown of the family unit has MUCH more to do with socio-economic standards than it does standards of marriage. Look at inner cities for proof of that. In fact gay marriage would only allow more kids who would otherwise rot in the foster system to be adopted by loving stable parents that, gay or not, would still have to get themselves through the strenuous adoption process. Besides by that logic we should just not let people divorce.

Nov. 28, 2008, 7:28 p.m. CST

by IndustryKiller!

Earlier you said homosexuality only came to the Greeks at the end of their reign. People proved this to be false. Then you said well gays were never allowed to marry in greek society. This is true, they werent allowed to marry, even at the end of their society, which would make your earlier claim that homosexuality was the harbinger of their doom even more ridiculous. Seriously man read a fucking book.

Nov. 28, 2008, 7:34 p.m. CST

by IndustryKiller!

Its just not as widesread. Blacks fought for their rights on a case by case basis. its not like after one legislative day they were allowed to attend the same schools, drink from the same fountains, and marry whites. They did it individually over a period of time. Just like gays are doing now. Just because marriage happens to be the final taboo doesnt mean that it isnt the same. They had to fight to teach in schools in the 70's and be boy scout instructors in the 90's. THis is merely the end of a very large, very long ongoing struggle. Its identical to civil rights only with sexuality instead of skin color. You have yet to explain how its different. Marriage is no different a lifestyle choice than what school you are allowed to attend or where on the bus you sit.

Nov. 28, 2008, 7:41 p.m. CST

by IndustryKiller!

I take taht back. Gays have also been barred from adopting children in many states. Which is even more egregious than a lack of marriage considering in flies in the face of what is best for kids. Yet another way that Gay rights is a civil right.

Nov. 28, 2008, 8 p.m. CST

by BringingSexyBack

All because of $400 LCD TVs. Fucking tragic.

Nov. 28, 2008, 8:48 p.m. CST

by buffywrestling

Seriously, I can take the fact that you are grossed out about gay sex more than I can handle these long drawn out arguements trying to prove how "logical" you are being. You are on the defensive. Overwhelmingly on the defensive. And believe me, there will come a day when your defense won't matter any more. It just won't mean a thing. That fact probably makes you uncomfortable. Deal.

Nov. 28, 2008, 9:23 p.m. CST

by necgray

Just shut up. You're like the guy who wants to argue semantics with his friends at a rally. "I say, fellows, I agree with our point, but nobody will ever take us seriously if we continue to shout slogans in rhyme. And our syntax is all wrong." So IndustryKiller is overly zealous. Okay. So what? You claim to support the right to gay marriage, throw your oh-so-superior two cents in. If you think you have the more tolerant stance on the side of pro-gay-marriage, let's hear it. Or just say that you're against it. You don't help the cause by constantly and continuously arguing with the people ON YOUR OWN SIDE. If you think IndustryKiller is being a douche, fine. Say so, then move on and support the side you supposedly support. Otherwise join the line on the other side.

Nov. 28, 2008, 9:48 p.m. CST

by IndustryKiller!

where you have to wait until ten years after the fact and history is set in stone before you can invoke the word bigotry? Really have we become that sensitive as a society? Thats really the only "overzealous" thing I've said. I get that your speaking in hypotheticals necgray, this is addressed more to Balcony. If homophobes aren't bigots then what exactly do you call that brand of lifestyle fear? And moreover WHY cant you call them bigots? Thats just another example of making a distinction between homosexuals and other classically oppressed groups of people and is yet more evidence of how bad homophobia still is. If you dont classify it as bigotry then you get guys like Balcony who will argue bullshit semantics like a fucking high school kid all day long. Id rather remain on the offensive and keep guys like that on the defense. I mean what exactly IS a bigot then and are there only certain groups that you can rail against to be considered one? Please enlighten me.

Nov. 28, 2008, 9:54 p.m. CST

by buffywrestling

I love people who try to argue by first agreeing with you then interject a "However.." or a "But...". You have a contrary position, just say it - don't pretend to try to understand to make us think your are being REASONABLE. You are taking up a contrary position - OWN your fucking opinion. "I think..." or "I feel..." . Quit being fucking pussies and own up.

Nov. 28, 2008, 10:03 p.m. CST

by buffywrestling

than chicks, I'm thinking. It's a vulnurable thing. Or maybe an ego thing. And any girl who has had sex with a guy knows you can "top" from the "bottom".

Nov. 28, 2008, 10:09 p.m. CST

by lucasdefender

The way you CHOSE to interpret my post is astounding. Dude, dude. Really? No, you can't be serious. Read my post again silly one who calls people names. I was saying, that based on YOUR logic, nobody could "disciminate" against any kind of marriage. Let the record stand that I not only stand against any form of pedophelia, I condemn it. I also stand against gay marriage and any type of marriage that involves anyone besides an unrelated male and female. Period. But thanks for one of the most offensive accusations I have ever heard! Be zealous with knowledge and fairness please.

Nov. 28, 2008, 10:15 p.m. CST

by Le Vicious Fishus

Shit, I'm all for legalizing marijuana. HOWEVER, I'm not some self-righteous dick (like all of you) who actually tries to make arguments for legalizing marijuana. I'll never be that pretentious and self-important. In fact, I'll instead post innumerable times on this TB making the case AGAINST legalizing marijuana and questioning the veracity of those who argue for legalization whilst occasionally reminding everyone that I am--in fact--above the fray since I am in actuality FOR not AGAINST legalization!<BR><BR>Incredible. With friends like these...

Nov. 28, 2008, 10:28 p.m. CST

by Le Vicious Fishus

As I continuously remind you, my close friends are a gay, married couple who I just love to death, and I am STILL firmly against gay marriage. I'd never tell these dear friends, of course. It'd hurt their feelings if they knew I think their relationship is a blasphemous joke which is a symptom of their mental illness/defective brains. I'd never let them know that I don't believe they should be afforded visitation or financial rights like every other married couple in the country. What's wrong with that? <BR><BR>How is that different from a friend not agreeing with another friend's religion?<BR><BR>How is that different from a friend not liking another friend's girlfriend?<BR><BR>I swear, you pro-gay nuts are so INTOLERANT and CLOSED MINDED.<BR><BR>Fucking bigot-bigots.

Nov. 28, 2008, 11:47 p.m. CST

by IndustryKiller!

Brilliant man. When you break it down like that you see how ridiculous these guys sound.

Nov. 28, 2008, 11:49 p.m. CST

by IndustryKiller!

Because, like Greatone, I think you do protest too much. I used your own words, dont get pissed at me, just get help before you do something stupid.

Nov. 29, 2008, 12:32 a.m. CST

by andrew coleman

If you have anal sex with your gf, wife, plastic sex doll and are against gay marriage: You're full of shit. I see it simply as this if I one day found out that everybody can buy a house but me because I'm *blank* I'd be pissed. Think about nerds what happens if someone said you can't own DVD's because the Bible said so or because so in the closet homosexuals said you couldn't... You'd be pissed right? Yes you would. It's easy as this let them do it. It doesn't hurt anyone else and it helps get more taxes it's pretty easy debate actually.

Nov. 29, 2008, 3:27 a.m. CST

by buffywrestling

they don't just come out and say they are uncomfortable? And it's not even girl/girl sex - they love to think of chicks licking corned beef - It's the boys. With their dicks. In a poop place. Admit. If you say you admit it, I swear I won't call you a bigot or a homophobe. Is it because you don't want people to call you a bigot or a homophobe, right? There is this stigma - this LABLE - that you will be judged by others. <p> I wonder what that must feel like.....

Nov. 29, 2008, 5:36 a.m. CST

by vintagecrow

...instead of flaming each other and resorting to name calling? The world really is sliding. I could really careless if two guys or girls want to go out and make their commitment legal. But, if wanting a piece of paper to solidify your love, whether you are hetrosexual or homosexual, then basically you might want to see if that said love isn't a tad insecure that you would want a legal document that makes it difficult in case one wants to seperate. Also equating the pro gay right movement to the civil right movement of blacks is over the top and over romanticizing. Sorry it is, in my opinion. =)

Nov. 29, 2008, 10:36 a.m. CST

by Le Vicious Fishus

Yours is an uninformed opinion if you don't understand the rights and privileges that are afforded heterosexual married couples. Marriage is in part a legal affirmation of a commitment, not a "piece of paper" for those insecure about their romantic relationship. Read the substantive postings on this TB pro and con. If you cut through the bullshit, you'll see the basic arguments laid out.

Nov. 29, 2008, 11:16 a.m. CST

by Tai_Pan

Yes, go ahead and answer the questions. I'm not intolerant or closed minded. You, on the other hand, are the only one between the two of us who has made sweeping indictments of another group (intentionally rude and inflamatory indictments at that).<p> I also have good friends who are part of the Mormon church, and I don't feel it necessary to tell them I think their religious beliefs are ridiculous. That's not so far removed from the topic at hand. You simply can't dismiss that some people place just as high a value on their religion as they do their marriage (that's probably part of the reason why you erroneously and arrogantly claim that everyone against gay marriage is intolerant/closed minded). <p>Actually, LVF, the more you talk the more *you* start to sound like a bigot: a person obstinately or *intolerantly devoted* to his or her own opinions and prejudices ; especially : one who regards or treats the members of a group (as a racial or ethnic group) with *hatred* and intolerance

Nov. 29, 2008, 11:57 a.m. CST

by IndustryKiller!

"Someone is calling me a bigot?? I'm going to call THEM a bigot, that will show them." It didnt work when conservatives tried to calls Liberal Fascists (maybe every conservative should take a "What is a fascist" class) and it wont work now. COnservatives are the ones trying to deny homosexuals rights, we are trying to take NOTHING from you. Your lives wont change one bit. Despite the fact that Balcony thinks your feelings of resentment are enough to deny equality, they arent. Never have been. That's not me tahts our countries court system. Welcome to America. Lashing out like a child and just throwing a name back at us doesn't make it any more true that LVF is a bigot than it makes you not one. He's not denying you rights. Stop denying rights and you'll stop being a bigot. But of course I dont have to tell you, you already know all this, it's merely a thin attempt to hide a position you know is wrong.

Nov. 29, 2008, 2:02 p.m. CST

by Le Vicious Fishus

Nov. 29, 2008, 2:03 p.m. CST

by Le Vicious Fishus

More later when I have a bit of time.<BR><BR>Bigotly,<BR>Le Vicious Fishus

Nov. 29, 2008, 2:21 p.m. CST

by Balcony Fool

"The fact that people equate the breakdown of society with the breakdown of the nuclear family does not mean that they are right, that is merely an assumption, and one that is probably flat wrong at that. the breakdown of the family unit has MUCH more to do with socio-economic standards than it does standards of marriage."<P> Agree, absolutely. You've hit the nail on the head, and highlighted a problem we should be more concerned with anyway.

Nov. 29, 2008, 2:35 p.m. CST

by Balcony Fool

"This is merely the end of a very large, very long ongoing struggle. Its identical to civil rights only with sexuality instead of skin color."<P> I'm sorry, I simply disagree (though I do think this struggle is just as important).<P> "You have yet to explain how its different."<P> Well, it seems self-evident. Right now, the legalization of gay marriage would not change the practical day-to-day business of living their lives. It would give 'em warm fuzzies, sure, and it would save them the trouble of having to fill out a few extra forms here and there, but in practical terms, the legalization of gay marriage will be a "moral victory." (Incidentally, the victory of prop 8 was also nothing more than a moral victory.)<P> The elimination of Jim Crow laws was a practical victory, as well as a moral one. Ask a few older black folks if it changed the day-to-day business of their lives. It's a different sort of struggle, that's all. <P>

Nov. 29, 2008, 2:52 p.m. CST

by Balcony Fool

"You claim to support the right to gay marriage, throw your oh-so-superior two cents in."<P> Yeah, you're right, nec. I shouldn't get two cents, should I? Or if I do, I should just use 'em to tell my opponents to "shut up." 'Cause that creates progress. <P> "If you think you have the more tolerant stance on the side of pro-gay-marriage, let's hear it."<P> I've been saying it for three days, nec. It goes like this: I understand the arguments made by opponents of gay marriage, but I think those arguments don't hold up to real scrutiny. Therefore, let's continue to educate the public about our viewpoint and work through the system to change things. A ballot-measure is preferable, because (like it or not) people in this country really, really like the idea of democracy, and it's an indication of actual progress. (If you'd like to see how effective a "court ruling" can be, note that we're *still* fighting the abortion issue, thirty-odd years later.)<P> "You don't help the cause by constantly and continuously arguing with the people ON YOUR OWN SIDE."<P> Not arguing with their position, I'm arguing with their stance and tactics, which I believe are counterproductive to the cause. Calling people names, telling them their opinion doesn't matter, and attempting to steamroll over their objections DOES NOT create meaningful change. It creates misunderstanding, anger, resentment, and culture wars.<P> Your preference seems to be the Leeroy Jenkins approach, and good luck with that.

Nov. 29, 2008, 2:58 p.m. CST

by Balcony Fool

"I love people who try to argue by first agreeing with you then interject a "However.." or a "But...". You have a contrary position, just say it"<P> Hi, welcome to the world beyond black hats and white hats. Careful, though, it can be kinda confusing. Hey, you ever seen Kurosawa's "Rashomon"? Aw, nevermind, you wouldn't like it.<P> "don't pretend to try to understand to make us think your are being REASONABLE."<P> Yeah, what fucking good would *that* be?

Nov. 29, 2008, 3:25 p.m. CST

by Skyway Moaters

...standard of logical debate, the statement: "everyone against gay marriage is intolerant/closed minded" is a true statement. Not one of the posters apposed to gay marriage on this TB has given a single valid reason to be against it. As Lost Jarv has repeatedly questioned: How does it affect you or any other proponent of heterosexual marriage as the only valid definition of "Marriage", in any way. <p> The reason people keep opposing your views is that you, and all of the other "heterosexual marriage only" proponents have, as-to-far, offered a valid social, religious, or other, argument against gay marriage. <p> I will therefore ask you all once again: WHY, specifically, are you against it?

Nov. 29, 2008, 3:30 p.m. CST

by Skyway Moaters

... "that you, and all of the other "heterosexual marriage only" proponents have *NOT*, as-to-far, offered a valid social, religious, or other, argument against gay marriage."

Nov. 29, 2008, 4:31 p.m. CST

by Novaman5000

That you do not take your friends' marriage seriously but do not tell them that. So just because you don't insult them to their faces, it's ok? I guarantee that if you told the two of them that you thought their marriage was a joke, that'd be two less people you could count as "friends".<p> Don't pretend as though, simply because you keep your bigoted, arrogant and self-important views to yourself, that it makes them - or you - valid.

Nov. 29, 2008, 4:35 p.m. CST

by Novaman5000

If you are against gay's having equal rights, you are a bigot. You can try to justify it however you'd like. You can claim that you have gay friends or that really it's just about the term "marriage", but at the end of the day, you want to deny a group of Americans rights that every other American has, and that's bigotry.<p> Side note: You find your mormon friends' beliefs "ridiculous"... Would you approve of a constitutional ammendment limiting how your mormon friends practiced their beliefs?<p> I fucking bet you would not, but that's just my humble guess.

Nov. 29, 2008, 5:01 p.m. CST

by Tai_Pan

"'Someone is calling me a bigot?? I'm going to call THEM a bigot, that will show them." It didnt work when..." If you had the slightest understanding of elementary logic, you'd know that your statement is grossly inaccurate (not only that, but it would be rather simple for me to deflect it right back by saying you ignore criticism: something I haven't done, as I've at least explained why I don't feel I'm a bigot. LVF has made no attempt whatsoever to explain how his/her behavior is devoid of bigotry).<p> "That's not me tahts our countries court system" Sorry, but I'm a law student. If you want to cite legal precedent, then I'll listen. Until then, I'll assume you don't know what you are talking about. <p> "Stop denying rights and you'll stop being a bigot." You're an idiot. I've shown repeatedly that this country routinely denies rights for societal interest. Your argument is bunk. Let's put you on the block for a second and see whether you are a bigot under your own terms: Would you deny a 38-year-old man to have sex with a child if the child and parents both consented. Get ready tb: another bigot prepares for arrival.

Nov. 29, 2008, 5:09 p.m. CST

by Novaman5000

Is the same thing as allowing an illegal pedophilic relationship to take place? <p>Regardless of parental consent being present or not, the child is still not of legal age to have a relationship with an adult male, so the relationship should be denied. That's like saying a child can kill someone if his parents say it's ok. The action is still illegal. Guardian consent does not trump the law.

Nov. 29, 2008, 5:16 p.m. CST

by Tai_Pan

"by any standard of logical debate, the statement: "everyone against gay marriage is intolerant/closed minded" is a true statement. Not true. First, that's a subjective standard (as is your assertion about whether or not the reasons listed are "valid."). Keep that in mind. Second, your definition of intolerant/closed minded seems overly broad. I can accept that two gay individuals want to be together, and have no aims towards breaking any such relationship. I can accept those individuals into my home, treat them with kindness and fairness and love, but why am I to be expected to vote against my own values just to appease someone else's sense of fairness? I don't think that's intolerant in the slightest. And your claim about me being closed-minded is very weak. You haven't presented any information to show that I've refused to consider the thought of voting for gay marriage and the effects thereof.<p> "How does it affect you or any other proponent of heterosexual marriage as the only valid definition of "Marriage", in any way?" It's the same as the puppy hypothetical. That doesn't have to affect me personally or any other person for that matter to find some objection. I realize that's not exactly what you wanted to hear, but that's a part of my actual objection.... not that there *isn't* an argument for disallowing gays to marry. I'm not concerned about this ramification personally, but there would be an economic impact on the country by allowing gay marriage. I only mention that because you seem to have the perception that no one has any good argument against gay marriage in the Libertarian sense; that simply isn't true.

Nov. 29, 2008, 5:19 p.m. CST

by Balcony Fool

As I mentioned earlier, one of the most important people in my life is a guy who came out to me about ten years ago. He's an amazing human being, someone I've looked up to since I was a kid, and someone who has selflessly mentored me over many, many years. When he fell on hard times, he came to live with me, and when I went through a divorce, he gave me his sofa for as long as I needed it.<P> And you know what? He's the guy who taught me -- a brash, reactionary, judgmental jackass -- to stop demonizing people who disagree with me, to try to understand why they feel the way they do, and to realize that most people are trying to do the right thing, no matter how wrong I think they are. He holds no grudges, and he's a much, much bigger man than those who hate him for what he is. Aw, fuck it, I'll go sappy: he's my hero. He's my big, gay hero.<P> It took me a long time to learn how to see people that way, and I'm grateful to my friend for giving me that gift. And I really don't give a flying fuck whether you believe he exists or not. The world is far more complex than the black-and-white lens through which you see it. <P> I believe our society will be better off when gay marriage is legalized, and I'll do whatever's in my power to help make it happen. But I believe it's even more desperately important for people in our society to stop vilifying and belittling one another.<P> I'm not asking my fellow advocates to compromise their convictions, or to stand by passively. I'm asking them to stand righteously against injustice, so we can look ourselves in the mirror when it's over, so we can win the battle without becoming the bad guys.

Nov. 29, 2008, 5:24 p.m. CST

by Tai_Pan

"So denying a legal age, consenting adult couple marriage is the same thing as allowing an illegal pedophillic relationship to take place." <p> Gee, Nova, you really stepped into that trap. First of all, gay marriage is currently illegal in my state the same as Adult with child sex. Legally, no different. Next, you made the assumption that the child/adult sex would be illegal. That's exactly the point. You're apparently an advocate for legal gay marriage. I simply asked why we shouldn't allow consenting children to have sex with consenting adults. It seems like you made a value judgment. A MORAL judgment most likely; same as so many of those who oppose gay marriage.<p>Of course, if we want to go by your standard we can stop the debate the same way you did with child/adult sex: gay marriage is an illegal action/ Homosexual consent does not trump the law.

Nov. 29, 2008, 5:31 p.m. CST

by Balcony Fool

can't believe you fell for that. :P

Nov. 29, 2008, 5:33 p.m. CST

by Skyway Moaters

...present a single logical argument as to why you are apposed to gay marriage.

Nov. 29, 2008, 5:44 p.m. CST

by IndustryKiller!

Let's say someone in the 60's found that black and white marriage was an abomination. Didn't like the idea of the "races mixing". Saw it as the degradation of society. Was that a valid reason to not let blacks and whites marry? And if you don't, why is your point of view any more valid? Now dont give me a lecture about how this isnt civil rights or blah blah blah, Im not trying to get into a debate about that, just answer the question directly and clearly.

Nov. 29, 2008, 5:51 p.m. CST

by Balcony Fool

Let it go, man. Various legitimate reasons have been given. The fact that you don't think they're good enough is an indicator of differing worldviews, not an indicator that the arguments are invalid.<P> The redefinition argument is an easy starting point. Answer this:<P> Why don't we start legally referring to pets as "children," with all the same rights and responsibilities go along with parenting? After all, there's no practical difference between a pet and a child, except that one is human, and the other isn't. Please give me a "valid" reason why we shouldn't do this.

Nov. 29, 2008, 5:59 p.m. CST

by IndustryKiller!

Forcing a child to have sex is beyond morally wrong, that child CANNOT make that decision and it will more than likely ruin their life. It robs the child of its rights, inarguably. It damages the childs psyche which could have massive reprocussions down the line not only for the child but society. It would promote that child to possibly act in self destructive ways later in life and possibly harm others. It takes away that childs "inalienable rights" that are mentioned in the constitution, but you already know that, you're a law student *smirks and rolls eyes*. Acts like harming children or acting sexually without the consent of others would cause an anarchy state which would jeopardize our safety. It's easily as practical as it is moral. How the fuck is this comparable to gay rights?

Nov. 29, 2008, 6:06 p.m. CST

by IndustryKiller!

I cannot understand why you would think it was. Its just not the way AMerica operates when it comes to doling out rights to its citizens. Maybe in hardcore Muslim Sharia Law it is but not in America where we have a separation of church (cause thats really what this morality as about I think we can agree) and state. And I think Im right in assuming we are talking about the United States here considering no one is talking about gay rights anywhere else. <P> look man I know you dont agree with some peoples methods, thats fine I get that argument whether I agree or not, but that doesnt mean we are wrong. People against gay marriage fit the definition of a bigot. They ARE bigots. If "because I dont like their lifestyle" is a good enough reason to condemn people then why are people like KKK Klansmen and Nazis so awful? After all they just dont like the black and jewish lifestyle. Now Im not saying the anti gay movement is akin to that level of evil but the germ of hate is certainly the same. Maybe calling them out on it only further alienates them into their beliefs but its for me to decide how I want to add to the discourse. And Im not saying anything factually incorect.

Nov. 29, 2008, 6:10 p.m. CST

by IndustryKiller!

Gay marriage is not recognized, it isnt "illegal". It cant be done in the first place. You dont get thrown in the clink for throwing a gay wedding, the state just doesnt give you your tax breaks and whatnot. Its COMPLETELY different than pedophelia, which carries a huge jail penalty. But by all means keep slyly comparing gay marriage to pedophelia, bigot.

Nov. 29, 2008, 6:14 p.m. CST

by Balcony Fool

I don't believe I've ever said "I don't like it" is a valid reason. You keep mentioning it, though, so perhaps I said something in haste and am overlooking it?<P> Opponents of gay marriage typically believe one or both of the following two things:<P> 1) It will be harmful to society as a whole <P> 2) It will unfairly redefine the legal status held in precedent by existing married couples<P> Is there an element of "I don't like it" involved for most opponents of gay marriage? Undoubtedly. But you'd be hard-pressed to find any serious person making that argument.

Nov. 29, 2008, 6:14 p.m. CST

by IndustryKiller!

Please, with your working knowledge of the tax system, explain to me in detail how the economy would be negatively impacted. Please use examples from my home state of Massachusetts to further your point.

Nov. 29, 2008, 6:16 p.m. CST

by IndustryKiller!

How would either of those negative things occur. One again please use examples from my home state of Massachusetts to back those points up. And yes I know YOU arent arguing them, but since we are playing devils advocate here.

Nov. 29, 2008, 6:45 p.m. CST

by Leafar the Lost

First off, I would vote in favor of gay marriage. I have no problem with two men or women being allowed to get a marriage license. It would have no effect on my marriage. Gays should have the same right to be as unhappy as the rest of us married folks. Right now there is nothing legally binding them to their partners. They can end their relationships whenever they want without having to deal with marriage counceling and divorce lawyers. That, my friends, is unamerican!!! Second, I will not see this movie. Massawyrm's review makes it sound too "gay" for me, and I would feel very uncomfortable in a dark room full of gay guys and their ugly girlfriends. Not that there is anything wrong with that...

Nov. 29, 2008, 7:03 p.m. CST

by Skyway Moaters

Nov. 29, 2008, 7:11 p.m. CST

by Skyway Moaters

What I am looking for is an anti-gay-marriage argument that conforms to the the tenants of classical debate. IE: One that relies on empiricism vs hearsay; IE: How does it detrimentally affect social order, heterosexual marriage, child rearing, or religious integrity? I have seen no evidence of any such argument in this TB thus far.

Nov. 29, 2008, 7:52 p.m. CST

by Thunderbolt Ross

Then you don't have to deal with all these religious freaks bugging out about gay marriage. The quasi-Vulcan homophobes on here are a small percentage of those that object, and maybe they'll shut the fuck up too.<p>Civil unions through the state for gay and straight; marriages given at the discretion of each church and the state legally recognizes marriages performed by churches as civil unions. Done and done. All you closet bigots can move on to the next waste of energy.

Nov. 29, 2008, 7:57 p.m. CST

by Thunderbolt Ross

Can't you guys tell! Fuckin' told ya! Kiss your paychecks goodbye, comrades!

Nov. 29, 2008, 7:58 p.m. CST

by Balcony Fool

"Civil unions through the state for gay and straight; marriages given at the discretion of each church and the state legally recognizes marriages performed by churches as civil unions. Done and done."<P> That's actually a great idea.

Nov. 29, 2008, 8:01 p.m. CST

by Skyway Moaters

... I mean, the constituency is here isn't necessarily the brightest, but give us a little credit! Sarcasm perhaps?

Nov. 29, 2008, 8:03 p.m. CST

by necgray

All I've seen you do for three days is argue with people on the same side of the issue about their tactics and semantics. I haven't once seen you actually make an argument FOR the right of gay marriage. You say you'd rather spend time "educating" about "our viewpoint", but all I've seen you do is knock on IndustryKiller and a couple of others. Where was the education in that? And yes, I said "shut up" because I got sick and fucking tired of reading post after post of you saying "no, really, seriously, I'm on your side" out of one side of your mouth while out of the other you continue to argue with people with whom you claim to agree! I guess you can't imagine how fucking frustrating that can be, given how beautifully level-headed you are. What a shining example of perfect humanity. Jesus H Jumped Up Christ, get over yourself. I appreciate that you want the debate to be reasonable on both sides of the fence. I agree, that's the way to go. But I ALSO think you do more harm than good by riling up the already clearly riled. As Capt. Dudley Smith once said, "It's best to stay away from a man once his blood is up."

Nov. 29, 2008, 8:03 p.m. CST

by Skyway Moaters

Nov. 29, 2008, 8:07 p.m. CST

by Skyway Moaters

What about my request for an empirical argument?

Nov. 29, 2008, 8:11 p.m. CST

by Skyway Moaters

...is apparently closer to the truth...

Nov. 29, 2008, 8:34 p.m. CST

by Tai_Pan

"Let's say someone in the 60's found that black and white marriage was an abomination. Didn't like the idea of the "races mixing". Saw it as the degradation of society. " Now we're talking. I personally don't believe in racial segregation (don't everyone flock to me for an explanation of why). I'm not going to vote for it because I don't feel it promolates healthy development in society. The reasoning I used to acheieve that conclusion is different from my reasoning for voting against gay marriage, so you'll find no analogue. As for the person in the hypothetical, they are free to vote as they please, and all I can do is possibly try to convince them otherwise and if all else fails hope my position wins in an election. What's the other option? Stiffle his opinion by not allowing him to vote? <p>"Forcing a child to have sex is beyond morally wrong, that child CANNOT make that decision and it will more than likely ruin their life." Gee, Industry, way to force your morality into the situation. You stupidly blundered into that trap as well. Let's say the kid is sixteen and a 40-year-old offers her $2,000 to suck his dick. DOn't try and tell me that no 16-year-old who can't reasonably conclude that they want to engage in such an act. It can be a reasonable conclusion if we assume for a minute that the law no longer forbids it. You also can't blanketly assume the child is going to be forever damaged by such a decision. YOU JUST MADE A MORAL DECISION. You oppressor, you. How dare you try and inject your morality onto consenting individuals. What if they kid is 17 years old, two days away from her eighteenth birthday. Gee, look at that: not only do we legislate morality in this country, but it's often arbitrary at that. <p>Not that long ago this country was marrying off 14-year-olds to old men. Morality changed, so ddid the law. I wonder what this country's great-great-grandmothers thought about your theory that having sex with a child caused damage to society. If you were so obsessively concerned with your little ramification-theory you'd outlaw fatty foods that are jacking up healthcare costs by making the country into a nation of fat-asses. Get over it AMERICA LEGISLATES MORALITY, AND HAS ALWAYS DONE SO. Your little excuse for outlawing child sex for non-moral reasons is a sham. You know damn well the real reason sex with children is outlawed. It's morality. And if you advocate giving false excuses for making law, then I say you are dishonest and a hypocrite. At least be honest in this discussion, Industry.<p> BTW, industry: get a law dictionary. Illegal simply means "forbidden by law." (Black's Law Dictionary). You clearly don't know what your talking about. Gay marriage is forbidden in my state, therefore it is illegal. I wish I could say I was surprised you couldn't grasp that very modest concept.<p> Also, Mass. is a poor example. They are receiving an influx of revenue BECAUSE the other states have outlawed gay marriage. It doesn't take a rocket scientist to figure out that this makes Mass. a travel spot for gay couples around the country wanting to get married. On the other hand, if gay marriage were legal nationwide, you potentially have millions of people receiving tax benefits from marriage which DOES AFFECT the rest of the country as it affects government ability to use resources. That argument doesn't concern me, as it has nothing to do with my personal reasons for voting against gay marriage, but the point still stands.

Nov. 29, 2008, 9 p.m. CST

by Skyway Moaters

... . as well as a tool? <P> What I am looking for is an anti-gay-marriage argument that conforms to the the tenants of classical debate. IE: One that relies on empiricism vs hearsay; IE: How does it detrimentally affect social order, heterosexual marriage, child rearing, or religious integrity? I have seen no evidence of any such argument in this TB thus far.

Nov. 29, 2008, 9:06 p.m. CST

by Balcony Fool

Settle down or I'll turn this car right around, mister. <P> Yep, I tossed off a single line to Thunderbolt, just like I'm tossing off a couple lines to you right now. I'll respond to your other post later, when I've got some time to kill.

Nov. 29, 2008, 9:17 p.m. CST

by Skyway Moaters

Nov. 29, 2008, 9:21 p.m. CST

by Skyway Moaters

*Intim*I*dated* Yes, I suck at typing...

Nov. 29, 2008, 9:21 p.m. CST

by Balcony Fool

Nov. 29, 2008, 9:30 p.m. CST

by Skyway Moaters

You seem like a decent guy. Are you against clit-lickers and butt-fuckers enjoying the same rights as the rest of us so-called heterosexuals?

Nov. 29, 2008, 9:40 p.m. CST

by Balcony Fool

...sorry about that. Do grown-ups call people "tools" nowadays?<P> I keed, I keed!<P> To answer your last question, nope. I'm all for gay marriage. (But clit-lickers and butt-fuckers... doesn't that describe *every* male?) :D

Nov. 29, 2008, 9:43 p.m. CST

by Skyway Moaters

Nov. 29, 2008, 9:46 p.m. CST

by Skyway Moaters

... A tool is a tool. Just as a fool is a fool; generation regardless...

Nov. 29, 2008, 9:51 p.m. CST

by thegreatwhatzit

Once again, more press indulgence, more fawning and more pandering...not unlike the previous election which even "Time" admitted was "incredibly bias." I voted for Obama but damn if I'm thoroughly familiar with his qualifications (as usual, I voted for the lesser of two chuckleheads). Should gay marriage be legalized? Hell, yeah. But I don't need a movie to pontificate the point. The inevitable Oscar nominations were predictable, even before MILK debuted. This evokes a period when white folks thought it was trendy to watch Sidney Poitier movies. Condescension is just as corrupt as bigotry. And, one more thing, Sean Penn is an asshole.

Nov. 29, 2008, 9:54 p.m. CST

by Skyway Moaters

I apparently misinterpreted your original response directed in my direction. NOW ANSWER UP TAI_PAN!

Nov. 29, 2008, 9:57 p.m. CST

by Skyway Moaters

... a bit cynical? I feel your pain bro, but why the vitriol?

Nov. 29, 2008, 10:10 p.m. CST

by thegreatwhatzit

It's been a tough weekend.

Nov. 29, 2008, 10:20 p.m. CST

by Tai_Pan

I'm not interested in discussing my personal reasons for voting against gay marriage. It's no more helpful than discussing why I'm against adults having sex with children.

Nov. 29, 2008, 10:22 p.m. CST

by IndustryKiller!

As for Tai Ill deal with you later when I have more time, but you took my point about pedophelia WAAAAAYYY out of context. I go on to explain right after that why banning pedophelia is a practical application for the safety of every man, woman, and child from sexual aggression that would create a state of anarchy. Respond to my WHOLE POST if you are going to respond.

Nov. 29, 2008, 10:24 p.m. CST

by Skyway Moaters

You obviously have no valid argument to make if your mind equates gay marriage with having sex with children.

Nov. 29, 2008, 10:39 p.m. CST

by Balcony Fool

Just feeling a bit fatigued with this debate at the moment. I'm sure I'll get jackass-quotient recharged overnight and probably hit you back in the morning.

Nov. 29, 2008, 10:56 p.m. CST

by Skyway Moaters

... of simple rhyming actually... "Fool-Tool" get it? Go on and refute Tai_Pan you big strong Chelloveck!

Nov. 29, 2008, 11:09 p.m. CST

by Skyway Moaters

...how long you been on these boards anyway? I seem to remember you from about 2002 or so(?)

Nov. 30, 2008, 2:37 a.m. CST

by Novaman5000

Nov. 30, 2008, 2:48 a.m. CST

by Novaman5000

First off, there are absolutely different levels of things being illegal. Gay marriage is illegal in your state, fine, but do you mean to tell me that someone who tried to get a gay marriage would be prosecuted under the law? Would there be jailtime involved for those who performed secret gay marriages? Both gay marriages and pedophilia may be illegal, but one is far more extreme and judged far more harshly. We're talking misdemeanors (if that) versus felonies here.<p> Secondly, I didn't assume child/adult sex was illegal. I know it is. Which state allows such a thing to take place? None of them. In no place in America is sex with a child legal. It's not an assumption if you know it to be fact. Yes, of course, morally i believe sex with a child to be wrong, but in this case it doesn't even have to be a moral judgement. It's a legal one regardless of my thoughts on the subject.<p> But set that aside for a minute and lets talk about legality. Children having sex with adults is illegal for a very simple reason. Children, even if they give consent, are not old enough to understand what they are consenting to. It's that simple. They're not mature or responsible enough to make adult decisions. This is why we have driving ages, voting ages, drinking ages, etc.<p> A sexual relationship between two, consenting, ADULTS is a very different matter and two compare the two is a desperate attempt to make gay marriage immoral by association.

Nov. 30, 2008, 9:38 a.m. CST

by Leafar the Lost

To the idiot conservatives who called Obama a socialist, lets assume everything you have said is true. Under Obama you will actually have paychecks that will have higher taxes. Under a McCain presidency you would have had lower taxes, but no paycheck! You would have had less government regulation of your business, but you would have lost your business! Wake the fuck up!

Nov. 30, 2008, 10:53 a.m. CST

by Tai_Pan

"You obviously have no valid argument to make if your mind equates gay marriage with having sex with children." <p> When did I say my mind equates gay amrriage with having sex with children. Don't distort my argument. That's dishonest on your part. I said that society codifies morality, and used the child sex scenario as an easily understandable example. It's a simple analogy because at this point in time, children having sex with adults is morally reprehensible to the lowest common demoninator (except for perverts in NAMBLA and other ssimilarly themed organizations). Prohibition of such acts are clearly morally based and some of the dictates are quite arbitrary. No one is begging for these moral laws to be removed because society has long since decided that it wishes to legislate morality. <p> For clarity' sake, let me repeat myself: NEVER ONCE did I say that I feel homosexuality is on the same footing as those who advocate having sex with children. If the only way you feel you can advance your point is by attacking me with falsehoods, then I'd say you are probably a dishonest person or at least lacking in comprehension and reasoning skills.

Nov. 30, 2008, 11:34 a.m. CST

by Tai_Pan

"First off, there are absolutely different levels of things being illegal. " That says nothing about my assertion that gay marriage is illegal.<p>"but do you mean to tell me that someone who tried to get a gay marriage would be prosecuted under the law? " If you had any reading comprehension, you'd see quite plainly that I never implied that. As I've mentioned several times now, I'm a law student, and that's not how the law works. Your problem is that you are unfamiliar with the legal system. If you try to apply to the government for something illegal, you'll simply be told "No. That's illegal." Thus, if I want to build a liquor store across from a school (generally, such stores are prohibited by law when in close proximity to a school), I can apply for a license without fear of going to jail. This is *VERY* simple and common knowledge. That your mind goes straight to the idea that I was implying someone would go to jail indicates to me that you know very little about the law and that such ignorance probably exaggerates your outrage over gay marriage being illegal.<p>"Would there be jailtime involved for those who performed secret gay marriages?" Come on, people. We can do better than this. At least make an attemmpt to understand the laws that govern your own country.<p>"Secondly, I didn't assume child/adult sex was illegal. I know it is. Which state allows such a thing to take place?" Yes, you made an assumption. I gave a hypothetical. You can't take for granted a premise that doesn't exist in the hypothetical: *that's called an assumption.*<p>"Yes, of course, morally i believe sex with a child to be wrong, but in this case it doesn't even have to be a moral judgement. It's a legal one regardless of my thoughts on the subject." C'mon. I already pointed out that gay marriage is illegal. If your psychology is to dismiss a subject based on whether or not the law allows it, then you may as well stop arguing over gay marriage in states that prohibit it.<p>"Children having sex with adults is illegal for a very simple reason. Children, even if they give consent, are not old enough to understand what they are consenting to." So would you agree that we should allow sex between children and adults IF children could understand what was happening? That's an answer I can't wait for you to give. How do you feel about a 45-year-old having sex with a 13-year-old who has had several years of sex education? Let's say it's a 14yo. Let's say the child is 15. Let's say the child is 16. Let's say the child is 17. Let's say the child is two days away from turning 18. Let's say the child is 18. Oops! Did we cross the make-believe line and suddenly comprehension of what sex is magically occured? Let's say the person is 19 and missed out on that magical delivery of comprehensiion. Should we make it illegal for immature adults to have sex? Do you get the point? <p>Better still, who is to say that a child cannot understand what sex implies? Are you really going to tell me that a 15yo is incapable of rationally considering the implications? Are you going to tell me that an 11yo child who is offered $2000 to perform a sex act (for argument sake, let's say a sex act that cannot result in physical harm) cannot decide that it is in her/his best interest to do so? Why is this different from any other act prohibited to minors unless the parents consent? Parents generally are allowed to make a variety of decisions for their children. Why can't parents decide whether or not to allow their kids to perform fellatio on old guys? OH YEAH, IT'S BECAUSE SOCIETY FINDS THAT SORT OF SHIT DISGUSTING AND MORALLY REPREHENSIBLE. This is hardly a contest. The motivation to outlaw such things is quite clear.<p>"This is why we have driving ages, voting ages, drinking ages, etc." You mean arbitrary infringements on someone's rights? Yeah, I agree.<p>A sexual relationship between two, consenting, ADULTS is a very different matter and two compare the two is a desperate attempt to make gay marriage immoral by association." Shame on you, as well. Comparing rationales is not the same as comparing substance. You desperately need to learn the difference. I grow tired of batting away these stupid and ill-reasoned attacks, so do me a favor and use your brain before replying.

Nov. 30, 2008, 12:18 p.m. CST

by Le Vicious Fishus

<BR><BR>"First of all, gay marriage is currently illegal in my state the same as Adult with child sex. Legally, no different. Next, you made the assumption that the child/adult sex would be illegal. That's exactly the point. You're apparently an advocate for legal gay marriage. I simply asked why we shouldn't allow consenting children to have sex with consenting adults. It seems like you made a value judgment. A MORAL judgment most likely; same as so many of those who oppose gay marriage." <BR><BR>Gay marriage and pedophilia are apples and oranges and you know it. One is a crime and one is arguably a constitutional right. <BR><BR>And as for your deceptive example of a 16 year old girl and a 40 year old getting it on, there's a big fucking difference between an adult having sex with a sexually mature teenager and an adult having sex with a prepubescent child. Of course, by using an example of someone so near the age of consent (and in most states 16 would fit the definition) you sought to salvage your flawed premise that the outlawing gay marriage between two consenting adults is no different than state laws regarding pedophilia. <BR><BR>Philip Jenkins, a professor of history and religious studies at Pennsylvania State University, has this to say on the topic of pedophilia and sex with older teens: <BR><BR>"Having sex with a 16- or 17-year-old boy or girl may be phenomenally stupid and wrong in many ways immoral [and] an abuse of authority but it's very different from pedophilia, which is the exploitation of prepubescent children. In most of these cases with older teenagers, there's some degree of consent, and in most jurisdictions they're legal." As a law student, I would think you'd know better than to equate pedophilia with murky age of consent issues. The two are not in any way equal, nor can your semantical gymnastics make them equal. <BR><BR> "As for the person in the hypothetical, they are free to vote as they please, and all I can do is possibly try to convince them otherwise and if all else fails hope my position wins in an election. What's the other option? Stiffle his opinion by not allowing him to vote?"<BR><BR>If we're talking about a constitutional violation of an individual's rights--which I posit we are--it's not up to the general electorate at all any more than desegregation or interracial marriage were. The voting public CAN vote for legislation, of course, and the court can strike it right down if it's deemed unconstitutional. Moreover, I fully expect most courts to do just that with Prop 8 and other such unconstitutional legislation. There is ample legal precedent for this. After all, just this past spring the mostly conservative California Supreme Court struck down two previous state laws that had limited marriage to unions between a man and a woman. And guess what? They drew on a ruling from 60 some odd years back which struck down the state's ban on... INTERRACIAL MARRIAGE. Again--this is no "activist judge" acting on "their agenda." Most of these justices are conservative. Denying marriage rights to individual's based on their sexual orientation is demonstrably unconstitutional. That's why I'm certain that legalized gay marriage will become a reality on a federal level within our lifetimes. <BR><BR>Incidentally, are you going into constitutional law by chance? You strike me as both a fairly intelligent and a fairly naive fellow, Tai. I hope you're also fairly young so that you have a chance to grow out of this bias against the civil rights of gay folks. I'm not being condescending here--I speak from experience. I've always considered myself a fiscally right leaning libertarian, and I used to be dead set against gay rights for many of the reasons you've enumerated. I personally thought gay sex (specifically between men) was both aberrant and disgusting, and I was convinced it was a behavior that could be corrected. This was more than a decade ago, and living my life (especially my time living in NYC)--and getting to know a few marvelous gay friends since then--has made me see the error of my past viewpoints. Although the thought of sex with a man is still entirely unappealing to me, I now understand that many gay men feel just as repulsed by the idea of sex with a woman (and the same applies to lesbians in reverse). At any rate, I digress, but I truly hope that rationality and experience will eventually change your mind on this issue as it did mine.

Nov. 30, 2008, 1:23 p.m. CST

by Skyway Moaters

You said: "I'm not interested in discussing my personal reasons for voting against gay marriage. It's no more helpful than discussing why I'm against adults having sex with children." <p> Shall we just ask the other posters here how they would interpret that statement? <p> You have no argument against gay marriage, you're merely a bigot who doesn't want others engaging in behavior that you don't approve of.

Nov. 30, 2008, 1:34 p.m. CST

by Skyway Moaters

Nov. 30, 2008, 2:06 p.m. CST

by Tai_Pan

"Gay marriage and pedophilia are apples and oranges and you know it." LVF, if you'd pay attention to what I wrote you'd see what the correlation was: I pointed out that they are both outlawed on moral grounds. That's apples and apples.<p>"And as for your deceptive example of a 16 year old girl and a 40 year old getting it on, there's a big fucking difference between an adult having sex with a sexually mature teenager and an adult having sex with a prepubescent child. " A 16yo is not a prepubescent (at least healthy, normally developing 16yo are not). And it also helps to give *evidence* for your reasoning instead of simply making an unsupported claim.<p> "Of course, by using an example of someone so near the age of consent (and in most states 16 would fit the definition) you sought to salvage your flawed premise" Actually, I mentioned children as young as 11. Do me a favor and *read* what I write before posting.<p>"As a law student, I would think you'd know better than to equate pedophilia with murky age of consent issues. " Hey brainless, I never used the term pedophile/pedophilia. And as I've mentioned several times before, I have not limited my examples to those 16 or older. Stop trying to put words in my mouth. Start taking notes, as your short term memory apparently is very poor.<p>"If we're talking about a constitutional violation of an individual's rights--which I posit we are--it's not up to the general electorate at all any more than desegregation or interracial marriage were." Actually, the general populace is free to tell the government what they consider to be a constitutional right or not. THAT'S HOW WE GOT THOSE RIGHTS IN THE FIRST PLACE. <p>"Denying marriage rights to individual's based on their sexual orientation is demonstrably unconstitutional. " No it isn't. It hinges on a variety of perceptions. (For instance: one can easily claim that marriage as a legal concept is intended for a man and a woman, and that there is no discrimination in denying a gay marriage any more than there is discrimination in not allowing a white man to recieve a state-funded loan intended for african-american students. As suhc, until states adopt a definition of marriage as otherwise, no constitutional violation exists. The law is all about statutory phrasing.).<p>"Incidentally, are you going into constitutional law by chance? " I have no intention to practice law.<p>"I've always considered myself a fiscally right leaning libertarian" I'm a communitarian. That's about as far away as you can get from libertarian.

Nov. 30, 2008, 2:17 p.m. CST

by Tai_Pan

"Shall we just ask the other posters here how they would interpret that statement? You have no argument against gay marriage, you're merely a bigot who doesn't want others engaging in behavior that you don't approve of." I have no problem with people commenting on how they interpreted what I said. That's not to say that I don't find the comments annoying, or wrong (often amazingly so). My argument against gay marriage is fairly straight forward. I believe society has a right to tell the government what actions it wishes to prohibit or allow the same as the courts have authority to make a decision as to whether or not that mandate legally conforms to other laws created by society. Thus far, both the courts and society are in agreement. That being said, I always hope that people consider the greater good as well as the wishes of others and weigh those considerations against their own interests, beliefs, and morality before making a judgment. In that light, my conclusion is that I decided to vote against allowing gay marriage.

Nov. 30, 2008, 2:40 p.m. CST

by Skyway Moaters

... you are "un-debatable". You have yet to a offer a reason WHY you think gay marriage should be illegal. You just keep trotting out the same meaningless rhetoric about "the will of society". <p> Mark my words, unless you fail to survive the next 10 years or so you will see the federal "legalization" of same sex marriages in your lifetime because the ban on them is UNCONSTITUTIONAL and the movment to recognize them is gaining momentum every day. <p> You've made no logical argument against gay marriage at this point in this civil rights struggle; what will your argument against them be when it becomes federal law? <P> Done with you now, have a nice homophobic life.

Nov. 30, 2008, 3:08 p.m. CST

by Tai_Pan

"You have yet to a offer a reason WHY you think gay marriage should be illegal. You just keep trotting out the same meaningless rhetoric about 'the will of society'." I could just as easily say your rhetoric is meaningless as well, but that wouldn't be true either. I find quite a bit of meaning to the prospect that society decides what rights are, what is considered a right, which rights are to be protected, and what circumstances call for encroachment upon those rights. My guess is that the founding fathers and a great deal of political and philosophical thinkers are going to agree with me on that point.<p>"You've made no logical argument against gay marriage " That's simply untrue. At least afford me the credit of logic. I have no intention of denying that there is a logical reason for *allowing* gay marriage; I simply see this as a situation of competing interests."Mark my words, unless you fail to survive the next 10 years or so you will see the federal "legalization" of same sex marriages in your lifetime because the ban on them is UNCONSTITUTIONAL and the movment to recognize them is gaining momentum every day. what will your argument against them be when it becomes federal law?" Perceived inevitability has nothing to do with my own conscience and reasoning. <p>"Done with you now, have a nice homophobic life." You have no basis for calling me a homophobe. I have no fear, contempt or hatred of homosexuals. If you choose to act like a child and leave a discussion by throwing insults then I welcome your departure as you seemingly have nothing left to say of value.

Nov. 30, 2008, 3:20 p.m. CST

by Skyway Moaters

... Just one more: I didn't realize that in addition to being a homophobic self important creep, that you are also a brilliant comedian! HA HA HA HA HA HA HA HA HA HA HA HA HA HA! Yes Tai, I'm laughing AT you, not WITH you. <p> Buh-by...

Nov. 30, 2008, 4:27 p.m. CST

by Le Vicious Fishus

Now look who's resorting to name calling. LOL! <BR><BR>"Actually, the general populace is free to tell the government what they consider to be a constitutional right or not. THAT'S HOW WE GOT THOSE RIGHTS IN THE FIRST PLACE. "<BR><BR>Wow. And you call ME brainless? So the entire population of this country got together in the lead up to the American Revolution and decided what was constitutional and what was not? Damn. I thought those founding fathers were involved. You must've really aced civics, Tai. A+ student I'm sure.<BR><BR>As for your assertion that limiting marriage to the union between man and woman, we'll see what the high courts have to say (and I'm glad to say you're on the wrong side of the argument if recent rulings are any indication).<BR><BR>Have a nice day, kid!

Nov. 30, 2008, 6:16 p.m. CST

by Le Vicious Fishus

[Tai_Pan opens a sweet bungalow's front door and stalks into a simple dining room, his two, gay, married female friends seated at a utilitarian dinner table.]<BR><BR>GAY FRIEND 1 (jumping up and giving Tai a big bear hug): Hey there, squirt! How you been?<BR><BR>TAI (cringing a little at the hug--in monotone): Oh, I've been better.<BR><BR>GAY FRIEND 2 (leaning back in her chair, smirking): Aw. Girl trouble again, squirt?<BR><BR> TAI (sitting down): Nah. It's these morons on aintitcool.com--you know? The talkbackers? They are SUCH idiots--trying to contend with me on my own turf: issues of the law.<BR><BR>GAY FRIEND 1 (chuckling): Oh, squirt. You're such a big baby! Did you tell them you're a... (stifling laughter) law student.<BR><BR>GF2 (eyes rolling): Oh please, honey. Don't open that can of worms up again.<BR><BR>TAI (testily): What? I AM a law student.<BR><BR>GF2: Ok ok, Tai. Don't get your panties in a wad. We know you're taking that mail order law course. We DO both kind of think you should do something a little more practical though... like getting your GED... finally. <BR><BR>TAI (pissed): It is most certainly NOT a mail order course. TVI is a legitimate law school. It's just more convenient for me to take the course online.<BR><BR>GF1 (mischievously whipping out a Mac laptop): Hmmm. What DOES TVI stand for I wonder? (GF2 chortles gamely)<BR><BR>GF2 (harshly): Stop, baby! You're hurting squirt's feelings. You don't want him to start crying again.<BR><BR>TAI (alarmed): Um, did I say TVI? I meant... um.<BR><BR>GF1 (her face becoming serious as she looks at the google results--glares up at TVI): The Traditional Values Institute, Tai? Are you fucking kidding me?<BR><BR>GF2 (shocked): No way! They're big supporters of Prop fucking 8, aren't they?<BR><BR>GF1 (tensely as she continues browsing): What kind of law are you studying exactly, Tai?<BR><BR>TAI (sitting down at the table at last, he sighs deeply): Look. I wasn't going to say anything, but this TVI course is really just the beginning of my career as a... as a spokesman for, um, traditional values. I mean, I'm a communitarian, right?<BR><BR>GF2 (getting a bit outraged): But, squirt--you know that these guys are anti-gay marriage, don't you?<BR><BR>GF1 (cutting in, looking up from computer): You little bitch. I just found a SHITLOAD of AICN TB messages you wrote--all of em against gay marriage.<BR><BR>GF2 (blowing her top): WHAT!!?<BR><BR>TAI (holding his hands up defensively): Hey hey! Look: it's like, you don't like my girlfriend much do you?<BR><BR>GF1 (growling): You don't HAVE a girlfriend, Tai. And this one here is NOT a girlfriend--she's my WIFE. We made a lifelong commitment and deserve equal rights for that just like you would if yo