---
The Pull List (Click title to go directly to the review) SANDMAN: THE DREAM HUNTERS #1 INVINCIBLE IRON MAN #7 TERRA #1 ADAM: LEGEND OF THE BLUE MARVEL #1 JUSTICE SOCIETY OF AMERICA #20 Big Eyes For the Cape Guy presents BATTLE ROYALE: ULTIMATE EDITION V1 Big Eyes For the Cape Guy presents NAOKI URASAWA'S 20th CENTURY BOYS V1 Big Eyes For the Cape Guy presents SOUL CHASER BETTY V1 Indie Jones presents… CHEAP SHOTS!
---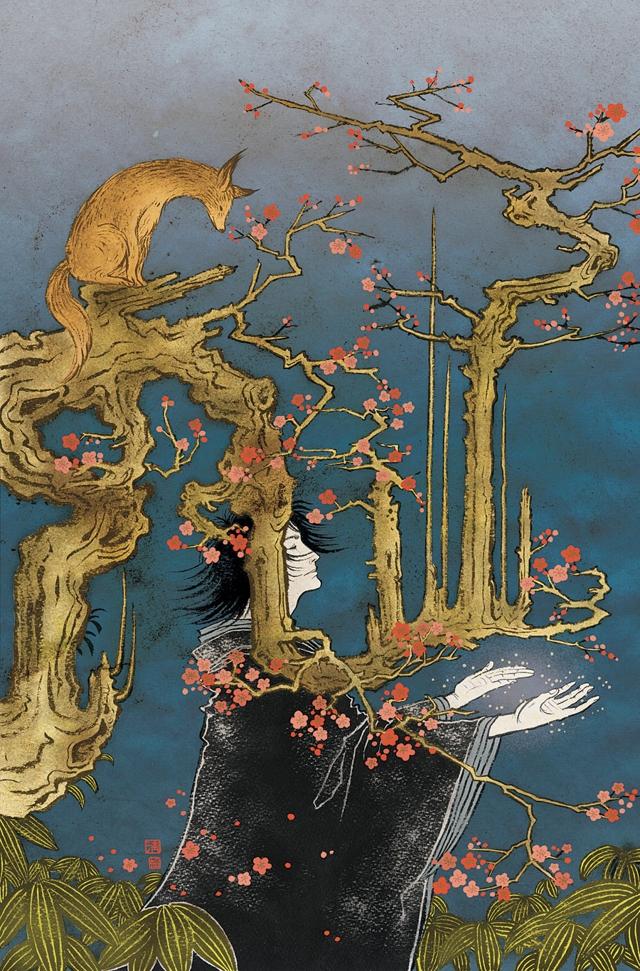 THE SANDMAN: THE DREAM HUNTERS #1
Story by Neil Gaiman Adaptation & art by P. Craig Russell Published by DC/Vertigo Reviewed by Stones Throw
I never read that DREAM HUNTERS book Neil Gaiman did with Yoshitaka Amano. Probably too many words. Read all of SANDMAN, though. And that ENDLESS NIGHTS graphic novel that came out a few years ago. Damn, that's a good book.
First of all, let me get this out of the way: In my opinion, THE SANDMAN was a good comic book. Like, better than Wizard Top Ten good. My entry point was volume three, PRELUDES & NOCTURNES, a run of four single issue stories showing some of the Lord of Dreams' day-to-day work, including freeing a muse stolen by an idea-bereft British writer and an encounter between his sister Death and Miss Metamorpho (or whatever that element girl is called). That's the one that contains the World Fantasy Award-winning "A Midsummer Night's Dream". Really, I think that's the best place to start. The first sixteen issues are good, but still not anything on what comes after. I can only imagine what it was like to be reading a comic with that kind of quality and commitment monthly for almost ten years.
I think there's only two comic book runs that are strong enough for me to often find myself thinking about them in a non-comic book context. One is Alan Moore's SWAMP THING. Whenever I'm far enough from roads the Parliament of Trees and all that starts to crop up in my mind. Can't think what the other one would be. Nah, it's SANDMAN. There's so many topics and themes covered it's hard not to find yourself thinking of the book from time to time. Plus dreams are a pretty good subject matter for a monthly fiction comic. With the leaves falling from the trees lately, I've been re-reading SEASON OF MISTS, in which Lucifer sets up Morpheus by gifting him the key to Hell, making him the target of everyone from a skinny, hat-wearing Odin to the Lords of Chaos and Order.
Well, Neil Gaiman's graduated up to THE ETERNALS and schticky Elseworlds series for Marvel, so he didn't want to be anywhere near the 20th anniversary party. Remember P. Craig Russell, though? He used to hang around Morpheus a bit. Drew one of the best single issues for #50, "Ramadan", and inked "Season of Mists" with Kelley Jones. Also did the Death story for ENDLESS NIGHTS. He knows his way around the character.
You don't want to miss his art here. The guy really is one of the biggest talents we've got in the comic book industry. I imagine this adaptation of the folk tale-style original story has more in common with his opera adaptations. It's pretty amazing how the guy can pay fitting tribute to Arabian Nights and Middle Eastern mythology in "Ramadan", gothic European stuff in that Death story and then Japanese folk tales here while keeping the same distinctive style throughout.
Story-wise, I was reminded of "A Dream of a Thousand Cats" from PRELUDES & NOCTURNES. Our favorite mopey dream king makes an appearance as a giant black fox in the dream of a fox who's fallen in love with a cursed monk.
I look forward to the next issue and the hunting of dreams! Though I suspect it might read better in trade.
---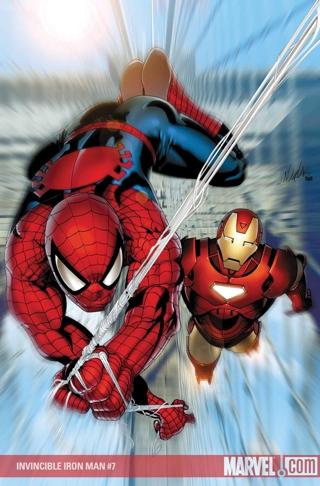 INVINCIBLE IRON MAN #7
Writer: Matt Fraction Artist: Salvador Larroca Publisher: Marvel Comics Reviewer: The Ambush-able Ambush Bug
At first glance, INVINCIBLE IRON MAN #7 is a fun read with a somewhat meaningful message about tragedy, survival, survivor's guilt, and making it through a crisis. Sure, Matt Fraction handles these sobering topics well in this Spider-Man/Iron Man team-up. Fraction has proven to be a good writer. He's shown a good range writing THE ORDER, PUNISHER WAR ZONE, the THOR specials, and INVINCIBLE IRON MAN. I look forward to reading any book by Fraction and usually do so pretty early on after coming home from my weekly comic book shopping spree.
But after I read this book I had a nagging feeling that wouldn't go away. After a second looky-loo, I realized the reason why there were bees in my bonnet was because Fraction went and reopened the can o' worms that is the Spider-Man conundrum and did a shitty job with it to boot. Fraction gives a good show that he has a good firm hold on what the relationship between Stark and Parker was, but upon further inspection this book just doesn't stand up to current continuity and even goes so far as to betray the continuity of its own story. Let me try to explain.
Cave dwellers, come out from under that rock and let me catch you up. Spider-Man stupidly unmasked on national television and let the world know that he was Peter Parker in the much publicized CIVIL WAR. After Marvel promised YEARS AND YEARS of stories featuring an unmasked Webslinger, less than a year later they quickly realized the corner they painted themselves into and introduced a very unpopular storyline involving Mephisto, Mary Jane, a bullet riddled Aunt May, and a magic reset button. At the end of that storyline and after an uncharacteristic deal with the devil (A devil/THE devil…I'll let you guys continue this debate in the talkbacks), everyone, including Peter Parker and Mary Jane, forgot that Peter revealed to the world that he was Spidey (although some believe that Mary Jane retained this information). Cue BRAND NEW DAY, Marvel's Spidey relaunch which cancelled all of the Spidey titles save AMAZING and upped the distribution of the title to 3 times a month. It also lobbed Peter Parker back to a simpler time before he married Mary Jane. So far, I've really liked this relaunch, mainly because it hasn't looked back at the shitstorm that spawned it. Instead the creators behind BND have smartly chosen to put out solidly written and drawn stories. Sales indicate that this is somewhat successful and I have to agree that Spidey is the best he's been written in years.
Cue Matt Fraction to burst that bubble. First and foremost, Fraction seems like he likes Spidey. Hell, this issue is more of a Spider-Man story than it is about Iron Man. But since it's a team-up issue, I guess it is alright to give a little face time to the guest star (which would be much more justified if this were a Shroud team-up or a Howard the Duck team-up, and not a character who has a thrice monthly book and appears in ten other books a month). Fraction handles the concept of Spidey very well. He gets the humor. He gets the interactions with co-workers at the newsroom. He gets Parkers awkward excuses as to why he is late. He gets Peter Parker. Maybe we'll see Fraction on AMAZING some day. I'd probably buy that book...
…just as long as he stays away from pre-BRAND NEW DAY continuity, that is.
Here Fraction dances over the land mine field and makes more than one misstep. In this issue, somehow Peter's new boss, Ben Urich, knows he used to work for Stark. Stark seems to remember working with Spider-Man, but doesn't appear to know who Peter is. So…if the world knows Peter used to work for Stark and it's still in continuity that Spider-Man worked for Stark in the Avengers, why…how…what…? I guess the question is, since when did everyone know Pete used to work for Stark, and wouldn't that raise a lot of questions with Stark himself who knows he employed Spider-Man in the Avengers? What kind of idiots can't put two and two together and figure out Pete is Spider-Man?!?! Stark, the smartest man in the world, that's who. And if Peter means the monologue he spews at Iron Man when urged to give up his secret identity again, why would he tell anyone he used to work for Stark in the first place? And if Peter doesn't remember revealing his secret identity to the world and the danger it caused to his loved ones after the big reveal, why does he so adamantly stand against it without the knowledge of the damage such an act would do to his loved ones? What makes THIS Peter Parker so much more insightful than the one Mark Millar manipulated to fit into his CIVIL WAR story? I mean…guh-fuck! I just can't wrap my brain around it. It's shit like this that makes me want to drop comics and take up something easy to figure out like trigonometry or astrophysics.
If the last paragraph made your head hurt, you're not alone. Halfway through the second read after realizing the mess Fraction just spewed forth, I shut off that lobe that houses reason in my head until the end of the book and tried to enjoy the ride. Which is what Fraction will say if asked about this and what Quesada would scoff at if taken to task with the mantra "You shouldn't take comics so seriously…", but shouldn't these comics make some kind of sense? Shouldn't Fraction have a firm hold of such a sensitive subject before barreling in with such a story? And why open this barrel of monkeys in the first place when everyone working on ASM is doing his damnedest to forget OMD ever happened?
This is a fun book. If you forget any knowledge you have of Spider-Man, ONE MORE DAY, CIVIL WAR, BRAND NEW DAY, Iron Man, NEW AVENGERS, and maybe check a little part of your own soul at the door, that is.
Ambush Bug is Mark L. Miller, reviewer and co-editor of AICN Comics for over seven years. Check out a five page preview of his short story published in MUSCLES & FIGHTS 3 (AVAILABLE NOW at Muscles & Fights.com.) on his ComicSpace page. Bug was recently interviewed here and here at Cream City Comics about indie comics, his own artistic process, the comics industry, and other shades of bullsquat. Look for Bug's follow-up this Fall in MUSCLES & FRIGHTS!
---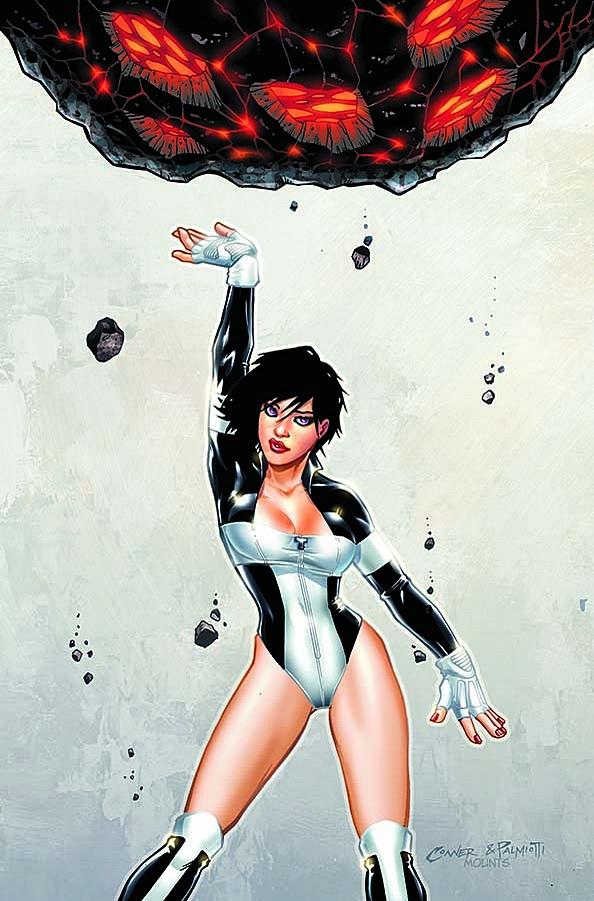 TERRA #1 (of 4)
Writer: Justin Gray & Jimmy Palmiotti Artists: Amanda Conner & Jimmy Palmiotti (co-inker) Publisher: DC Comics Reviewer: Prof. Challenger
What a pleasant little diversion.
This is a season in which I find myself basically uninterested in any super-hero stuff published by the two major publishers that does not include the names Johns, Abnett, or Lanning in the writer credit. So I count it as a nice surprise to find the writers of the hard-hitting and well-written JONAH HEX series presenting me with a first issue about a well-developed girl super-hero that is charming as hell.
I don't have a clue if this version of Terra has made the rounds in the DCU recently, or if this is her "introduction," but all the parts are in place to make her an attractive addition to the DC pantheon. She's young, attractive, and already comfortably confident and skilled in her earth-moving abilities. As the story begins, Terra is already involved in a fistfight with a subterranean bu-fugly monster as she attempts to save some miners stuck underground with their oxygen running out.
Sometimes the hardest thing about creating a "new" super-hero in a crowded super-hero universe is conceiving of a mission or "point" to her existence. In this case, Terra is established in this issue with some sort of a mission as sort of super-liason between us surface dwellers and the endless parade of alien-like civilizations that exist under the surface and within the center of Earth. I strongly suspect, without doing the research necessary to disprove myself, that the races shown in this issue have appeared before in some long-forgotten DC stories from MY GREATEST ADVENTURE or somesuch. If that's Gray and Palmiotti's idea to incorporate these forgotten civilizations into the TERRA comic then I fully expect "Cave" Carson cannot be too far from the scene. As it is, though, for this first issue our two guy writers brought in Power Girl and Dr. Midnite from the JSA.
Beautiful. Tying in Terra, whose personal struggle involves a sense that she may or may not be who she thinks she is with Power Girl, who has also recently come to terms with a similar personal dilemma, is just plain…beautiful…and smart economic storytelling. Power Girl could easily serve a role as "big sister" and mentor to this new Terra. Gray and Palmiotti have yet to disappoint me since they rotated off of the HAWKMAN series and their light-hearted mix of humor and drama in this comic continued their successful work as a writing team.
Really, this is not ground-breaking stuff (pun intended), but it is good. And in light of my feelings about most stuff out there right now, I hasten to say VERY good – and this is only regarding the writing side.
Amanda Conner is hands down one of a rare breed in the industry today that I find I can't take my eyes off of. *cough* Her ART that is. Perfectly laid out pages and panels that carry the story flawlessly from start to finish. Stylized and sensual, her women (Terra and PG especially) just exude modern powerful sexiness without looking like bimbos posing for the latest low-rent porn site. Conner has a sense of costume design that belies her own femininity in that Terra's "costume" looks real and functional at the same time that it has the standard familiar fantasy element that makes a super-hero costume work best only in comics.
Artistically, everything works here for me from the logo design on the cover to the page-to-page storytelling, character designs, coloring, and lettering. This is really fine work and one I will also have no qualms at all about passing on to my own 11 year-old daughter.
Prof. Challenger is illustrator and "Renaissance Man" Keith Howell who is married with two kids, a dog and a cat. Headquartered in the Republic of Texas, he has a glorious ability to annoy people, the strength of ten men, and sometimes updates his website at profchallenger.com.
---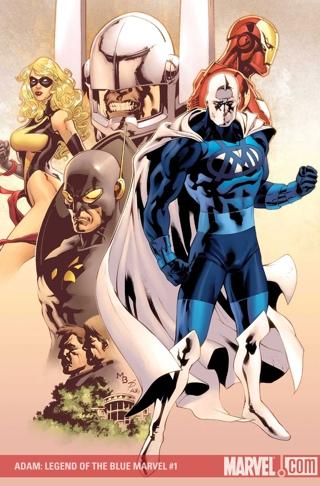 ADAM: LEGEND OF THE BLUE MARVEL #1 (of 6)
Writer: Kevin Grevioux Penciller: Mat Broome Published by: Marvel Reviewed by: BottleImp
I have a confession to make—I picked up this comic book fully intending to dislike it. Why? Because I read the blurb for this series on Marvel's website, and it went something along the lines of "a supervillain terrorizing the city, the Avengers powerless to stop, the only one who could beat him was the Blue Marvel who has vanished and been forgotten, etc. etc." Frankly, this setup seemed WAAAY too similar to the original SENTRY miniseries (before Marvel decided to ruin the character by bringing him into their regular continuity), and I was fully prepared to give Marvel a written reaming for cannibalizing their own stories. But then I read the issue (as I like to do before writing reviews, just in the offhand chance that my knee-jerk reaction is miraculously incorrect) and found a story that is not only NOT a rip-off, but is genuinely intriguing.
Here's the gist: the Blue Marvel, America's premier superhero of 1962…is black.
If that doesn't sound like a big deal to you, just think about the election that we just had. You know how everyone talked about what a momentous event that was in our history? Think about how much more powerful that moment would have been had it occurred during the height of the civil rights movement, when black people weren't even allowed to drink from the same water fountain as whites. That's the time of the Blue Marvel, and Grevioux writes a sober, all-too-realistic reason for why he was forgotten. There's no conspiracy or crazed-supervillain plot that makes him hang up his cape—only the U.S. government wanting to avoid a race war. Good, thought-provoking stuff.
Art-wise, this issue is so-so. Broome's artwork is like a slightly-stylized Brian Hitch, which isn't a bad thing, but his action sequences tend to be a little awkward—sometimes the sound effect lettering is the only thing that makes it clear that one character punches another, and there are a few pages where too much space is devoted to big figure "pin-ups" and the real narrative action is crammed into smaller panels. My only other beef with Broome is that he clearly did very little research for the time period of the story. Aside from a couple of cars and one or two halfway-decent likenesses of JFK, you don't get a feeling that this is 1962 (the worst offenders are the "extras" in the background—especially their very un-60s hairstyles).
Nitpicking aside, I'm glad that this comic book seems to be seriously addressing the issue of race. I hope that the series continues to do so in an intelligent manner, and manages to avoid descending into negative racial stereotypes (my personal favorite example of comics trying to be socially relevant and failing miserably is that cover of JUSTICE LEAGUE OF AMERICA where Black Lightning calls the JLA a bunch of "jive turkeys"…classic). In any case, I'm looking forward to the next issue, and I'll recommend this series to anyone who is looking for a little social relevance in their monthly reading.
When released from his Bottle, the Imp takes the form of Stephen Andrade, an artist/illustrator/pirate monkey painter from the Northeast who's given up comics more times than he can remember. But every time he thinks he's out, they pull him back in.
---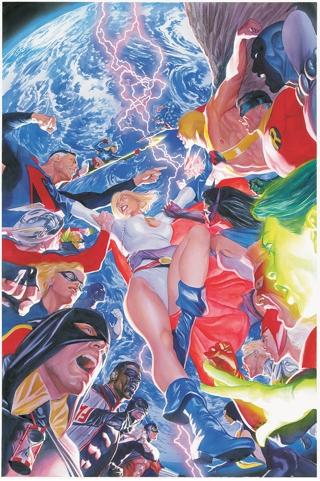 JUSTICE SOCIETY OF AMERICA #20
Writer: Geoff Johns Artist: Dale Eaglesham Publisher: DC Comics Reviewer: Optimous Douche
Prior to the resuscitation of the KINGDOM COME parallel earth in JSA, this title suffered from what I liked to call "serious lack of focus." The first problem was the Special Olympics nature of the voluminous roster. Pretty much anyone with a cape could show up at the front door and Alan Scott would add extra leaves to the meeting table to accommodate them. Not every hero can be a winner, nor should they be allowed a place amongst the most august heroes of the comic medium. Granted the title would falter if it had to be carried solely on the arthritic backs of the golden Age heroes, but for a time I was expecting Jay Garrick to start inducting bicyclists simply because they wear spandex.
With the introduction of Superman from Earth-22 and his famous nemesis Magog the title has once again found a purpose, stopping the endless recruiting drive and focusing instead on saving the planet. Unfortunately, in the transition JSA has lost a quintessential element to any successful comic – action. This was not a bad issue; Johns' ability to humanize dialogue would make it virtually impossible for him to write a "bad" comic, but on the same token he has not carried over his inexorable ability to marry both heart and action within the finite 22 page publishing constraints of comic books.
I'll be the first to allow for heavy exposition in a series, especially when trying to follow up what some consider one of the most celebrated stories in comics. Johns had a great deal of heavy lifting to accomplish to get those readers that had never traversed the pages of KINGDOM COME up to speed, reintroduce the once decimated multiverse, and find a purpose for "Sabrina the nospacewhenshespeaks witch" and Baby Douchecat. I was truly OK with three issues of Gog basically walking because I knew by his shit eating grin it would only be a matter of time before he would overstep his bounds and a Godlike battle royale would ensue. Sadly, I hate to say that I'm still waiting. As a matter of fact, we have not seen purple hide nor horny head of Gog for several months since the story shifted focus to Earth-2 and Power Girl trying to find her place in the dark cold multiverse.
I was sure that this issue would be an infinite fest of ass kickery. You had two Justice Societies from different earths, a vast misunderstanding, and two roided out Power Girls. In the first few pages the Societies throw down, but it never feels big enough for this huge collection of power. One of the problems is that most of the fighting takes place in a library--never a hotbed of action--and secondly the grievances are resolved just way too soon.
Again, this was not a bad issue, but this storyline is starting to get very long in tooth. Two highlights worth noting though were the Guantanamo style interrogation carried out by Earth-2's Robin and Huntress while trying to figure out why there are two Power Girls, and Starman's explanation for why there are two Power Girls. As much as I prefer Starman being bat-shit crazy, I will forgive his lapse into sanity as he serves up one of the best explanations of the multiverse to date.
When Optimous Douche isn't reading comics and misspelling the names of 80's icons, he "transforms" into a corporate communications guru. Optimous is looking for artistry help, critical feedback and a little industry insight to get his original book AVERAGE JOE up, up and on the shelves. What if the entire world had super powers? Find out in the blog section of Optimous' MySpace page to see some preview pages and leave comments.
---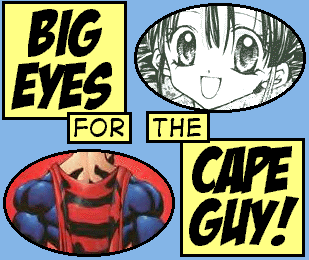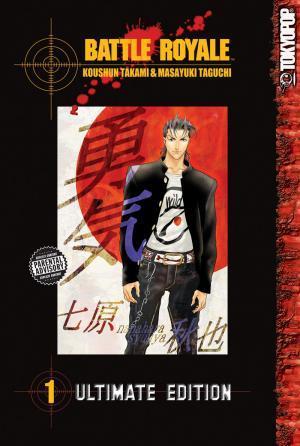 BATTLE ROYALE: ULTIMATE EDITION VOL 1
Written by Koushun Takam and Masayuki Taguchi Illustrated by Masayuki Taguchi Published by Tokyopop Reviewed by Ryan McLelland
My first introduction to BATTLE ROYALE was through the first film. A couple years back I became a Beat Takeshi fan with my introduction to "Zatoichi", and I began to make my way through anything I could get my grubby mitts on. "Battle Royale" was one of my true favorites and while it certainly wasn't a 'Beat Takeshi film' it certainly made up for it with the plot and action.
The plot of the original manga is an exact mirror and with Tokyopop's massive Ultimate Edition we all get a huge chunk of the story. A 632 page for $24.95 is not a bad way to spend a couple of days in my opinion, and BATTLE ROYALE brings all the mindless violence, sex, and nudity I want in a comic.
For those not in the know, the plot is in a future Japan (is anything ever in the present?) where entire classes of young students are sent to an island for an awesome television show. Its LORD OF THE FLIES meet SURVIVOR – except the only way you are getting off this island is to be the last one standing. Students are let loose on this island with a weapon and sent off to kill their fellow students. Alliances are quickly formed only to quickly dissipate as best friends quickly have to come to terms with knowing one of them could have to kill the other. The incredible story does leave little for the imagination. Kids kill each other violently and some use their bodies as weapons of their own – especially the gals over their dumb male counterparts.
Additionally, the best part of this amazing collection is not the presentation or the artwork. It seriously has to be my main man Keith Giffen being onboard. Giffen's contribution is the English adaptation of the original script and Giffen's touches are felt through this massive book. It's hard to mess with a legend and Giffen lifts this book up to a classic status.
All in all it is hard to beat BATTLE ROYALE: ULTIMATE EDITION VOLUME 1. With three of these now available it is well worth the price and will have you guessing on who will survive until the end.
Ryan McLelland has worked in movies and comics journalism for the past several years before joining the @$$holes here at AICN. Ryan's comic work has already graced comic shelves with Arcana's PHILLY, WISE INTELLIGENCE, UPTOWN GIRL, and THE SENTINELS ANTHOLOGY. He rarely updates his blog but when he does it can be read at www.eyewannabe.com
---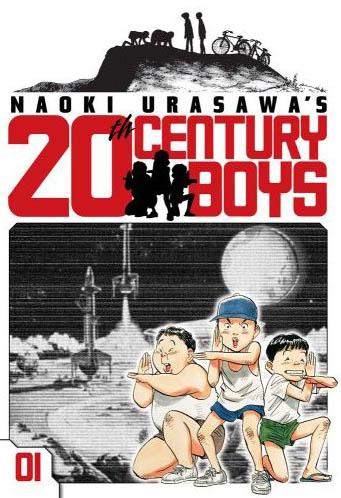 MANGA PREVIEW: NAOKI URASAWA'S 20th CENTURY BOYS Vol 1
By Naoki Urasawa To be released by VIZ Media, February 17, 2009 Reviewer: Scott Green
20th CENTURY BOYS is the perfect title to discuss now that
Bat-Manga! The Secret History of Batman in Japan
is in the mind of many. There are streams of pop culture detritus carried forward through the passage of time such as shonen manga, movie posters, hit songs...for many, this media mass sits idly in the back of the mind, or increasingly, on an iPod. Some enthusiasts try to catalog and preserve it. For other fanatics, it becomes a John Nash obsession to piece together the significance that may emerge when connecting points in this constellation of ephemera.
Suppose your CD collection, the comics that got thrown out, and secret plans that you sketched out with your friends in grade school were the clues to unraveling a conspiracy that threatened the future of humanity...it's "High Fidelity" meets "It".
Naoki Urasawa, best known in North America for his morality thriller MONSTER, is a masterful author of serialized stories. If manga had a Charles Dickens, it would be Urasawa.
On an arbitrary page of 20th CENTRY BOYS...two police detectives are interviewing a young-ish man carrying out the trash. He's a bit gawky looking and animated, but attention is also drawn to the fact that he's doing his errands with an infant strapped to his back. Informed that a whole family is missing, the young man's heart skips a beat. After expressing his dismay, the cops tell him to keep his voice down. Then, the young man's eyes narrow and his hunch from carrying the heavy bag of trash turns into a slouch as he realizes that the head of the missing household had run up a tab with his business.
Between the detailed context of the retail space in the background, the cartooned expressiveness of the young man, and the subtle differences expressed strictly through illustration between the rigid, fastidiously dressed younger cop, and slightly larger around the middle, crew cut and a tie is sufficient veteran, Urasawa creates a credible, breathing scene. At a glance it feels right. The impression is real people in a real place. Broken down, the alignment of small, precise design decisions in the illustration and dialog creating that reality is nothing short of amazing. As one of these interactions flows into the next, these resolutely human characters quickly begin conveying genuine thrills, humor and depth. As the stories of these people twist and turn, Urasawa's work becomes full value manga that is convoluted in the most engrossing possible way.
The evolution of these dynamic characters is written chapter by chapter and volume by volume. Consequently the impression of following the manga as it develops is not necessarily the same as the impression formed by looking at the series in retrospect. For that reason, I'm going to try to cover the introduction to 20th CENTURY BOYS as if I had only read the first volume. Maybe I'll speak to the larger series at a later point, but, I feel that blocking off everything but the opening chapters is a worthwhile way of approaching Urasawa's provocative commencement.
In 1973, Kenji Endo thought he'd at least change the world around him. He'd bring about a sort of revolution by hijacking the school's speaker system to broadcast T-Rex's 20th CENTURY BOY rather than Paul Mauriat's LOVE IS BLUE.
At the dawn of the 21st Century, the United Nation assembly is recognizing that after two World Wars and a nuclear armed cold war, humanity almost succumbed to an unexpected threat at the dawn of the new millennium. A round of applause greets the footsteps of "those who saved humanity from certain extinction."
In 1969, Kenji, and a group of friends who tended to be short, fat, bug eyed, frog faced or evil looking sit in a field, planning out a fort where they'd hide from bullies, listen to the radio, read manga, and thumb through the occasional nudie mag.
In 1979, Kenji sat against a brick wall, the only guy still strumming "Jumpin' Jack Flash", and talked would-be bands.
The present is 1997. He's the last bachelor in his more or less incommunicado circle of friends. He's running what was the family's liquor store, which he converted to a franchise convenience store, much to his mother's dismay. His sister abandoned her baby daughter and disappeared, so that infant is strapped to Kenji's back, again much to his mother's dismay. The news of the world isn't good, with Africa suffering an unknown plague. Local news isn't particularly good either, with police coming by to ask Kenji if he has any information regarding the mysterious disappearance of a local professor, who went missing along with his family. More personally crushing news is yet to come, because Kenji is about to learn that his boyhood friend Donkey committed suicide by leaping from an upper floor of the high school where he taught science.
This is not the rock and roll life that Kenji wanted for himself, but he's committed to fulfilling his responsibilities, especially raising his niece. While he had enough to handle between the struggling store and the infant, Donkey's death does not sit right with Kenji, nor does the fact that Donkey and the missing professor had a student in common. Everywhere he turns, atoms of his youthful activities seem to be blown over the mystery. In particular, the emblem of his boyhood association, a hand with outstretched index finger in the center of an eye, seems imprinted on these events. Out of Kenji's sight, "Friend" is amassing cultish followers through a combination of stag magic and self help dogma very reminiscent of the proclamations of a group of young boys planning their heroic futures.
One of the final scenes of 20th CENTURY BOYS' first volume captures a woman griping to her friend about what sounds like an irksomely horny boyfriend. The punch line is a bit obvious. She's actually not talking about a guy. It's a dog, used in her work as a customs officer. 20th CENTURY BOYS is evidently a mystery concerning the person from or reflection of Kenji's past that is tied to the disappearance of his neighbor, Donkey's suicide and, presumably, the millennial threat that's been foreshadowed. So far, there have been a few pieces to a jigsaw puzzle and a fuzzy image of the box. One provoked question has to be, to what extent does (nearly) ending the volume on the silly dog-boyfriend misdirection intentionally tip 20th CENTURY BOYS' hand to misdirections yet to come?
Urasawa's MONSTER offered a mystery of similar dimensions to 20th CENTURY BOYS. In addition to the psychology behind the "who did it for what reason?", the manga provoked moral questions, starting whether all lives are equal and the responsibility incurred by saving the life of a monster. In the case of 20th Century Boys, its psychological facet borders on questions of semiotics. In one page, ex-guitarist Kenji holds his hand out to show off his no longer calloused fingers. The next page maps the gesture to a millenarian speaker, stretching out his arms for a crowd's ovation. Is it dramatic irony, justified by the plot, or suggestive of some meaning of the gesture? Morality is always a button-pusher, and it's not surprising that MONSTER attracted talks of a Hollywood adaptation. Symbols? That's very manga (which is built on a language of symbols from the panels markers and word balloons to speed lines), very geeky (refer to Genshiken - the Society for the Study of Modern Visual Culture's erotic image apologia), and in a way, very current (does anything generate more symbols and cartooned images than a presidential election?)
Beyond that question, 20th CENTURY BOYS offers something distinctively adult. While there has always been a solid concept of realism in Urasawa's work, from Yawara! A Fashionable Judo Girl (an unbeatable judo Olympic hopeful in a sports, dramatic comedy) to Master Keaton (a bit Indiana Jones, a bit James Bond, featuring a SAS master sergeant turned Lloyd's of London investigator) to Monster (a genius doctor in a fugitive scenario), Urasawa's heroes have been hyper-competent. Kenji contrasts that lineage of heroes by never excelling. He never made it as a guitarist. He's struggling as a small business owner.
A couple of qualities fundamentally set Kenji apart from an everyman. Kenji doesn't seem to be the guy who is secretly special. No one seems poised to tap him on the shoulder and tell him that he's secretly gifted with the ability to save the world. Yet, he is special, or a least significant. As a child, he drew up secret fellowships, ray guns, alien invasions, and city toppling giant robots. In some way, his Ultaman and Tetsujin 28 inspired imagination became the blueprint for future danger.
Beyond that, Kenji is neither a head-strong adventurer nor a reluctant hero. Some might grouse at the possibilities of running a convenience store and the burden of raising a sibling's children. In the manga, Kenji gets plenty of "how are you going to find a wife when you're carrying around a child grief." Yet, while this character can't really do something like other Urasawa heroes, his fierce determination to fulfill what he believes to be his responsibilities puts him on a level with those characters.
Piecing together this complex composition.... Kenji doesn't have the ability to be the One, yet for some reason, he's tied to something cataclysmic. At the same time, he's demonstrated that he's willing to fulfill a needed role. In a sense, he's the guy willing to take responsibility for his moment in history... a perfect sentiment for our time.
Scott Green has been writing for AICN ANIME for close to seven years. If you like what you see here and love anime & manga, be sure to check out his latest AICN ANIME column here.
---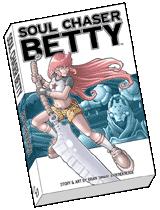 SOUL CHASER BETTY VOL 1
SOUL CHASER BETTY is a great collection of the webcomic of the same name. An American Manga by Brian Babenderede (who seems to have an awesome last name which I'd probably kill trying to pronounce) the book is made for the trade paperback format, as webcomics really start to hurt my eyes after awhile. The book is top-notch from start to finish, truly deserving of a TPB, and packed full of extras. Of course, having some hottie teenager with a big-ass sword fighting baddies in short shorts is a tremendous plus.
The book centers on Betty, who is sent off to the sticks for the summer to live with her grandmother. Driving to the home Betty sees some mysterious fellow, ends up getting her taxi driver killed, winds up in dreamland, wakes up in the hospital, and ends up back at Grandma's casa full of Ouija boards and skull candleholders.
It's not too long before Betty ends up in dreamland once again, fending off the hooded bad soul-sucker aptly named Reaver, and meeting the other six chasers who believe Betty is the replacement of a teammate the crew just lost. So Betty is now in a strange town in East Jabip trying to make friends with the locals, learn about her mysterious powers, try to make nice-nice with the Soul Chaser crew, and kick some bad guy butt. Doesn't sound too bad at all for a summer vacation.
Babendererde, who goes by the easier name of Bman, has crafted an incredible tale full of humor, great writing, and an incredible artistic style. It's an engrossing read from start-to-finish and brought me straight away to the Internet to continue reading SOUL CHASER BETTY. The series finds a better home in the trade paperback format and I so welcome future volumes of the series. It's one indy Manga book that is well worth the pick-up.
---
Hey folks, Ambush Bug here, once again bringing you a bag full of obscure treasures in this week's Indie Jones. A journey into a strange land, a mystery set in the future, a mystery laced with magic, and the story of a would-be wrestler. Free your mind of the Big Two shackles and enjoy…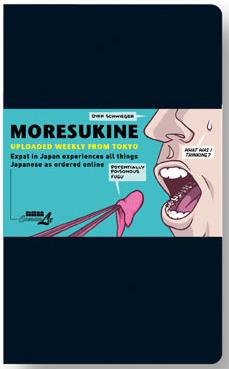 Dirk Schwieger made the most of his trip to Japan. He invited readers of his blog to ask him to do anything in order to experience the Japanese culture. He had to do everything and anything people asked him to do whether he liked it or not. Accomplishing all of these tasks, Schwieger made a graphic novel of sorts chronicling all of his weird requested adventures. The results are pretty amazing. This is the type of book I would want to bring with me if I were to travel to Japan. Sure you'd want to see the normal sights and sounds, but if you're looking for the coolest of the cool shit to do in Japan, this is the book you'll need to carry with you. Schwieger serves as his readers' guinea pig experiencing everything from exotic foods to sex hotels to amazing art exhibits. Travelogues like this are hard to come by. It is a personal journey, written and drawn with care, yet accomplished without a care of self injury. MORESUKINE is a genuine slice of life book; it's just that this slice happens to be about the Japanese culture. I would love to see more travel journals of this sort exploring other cultures or maybe even see this book to inspire other traveling artists and writers to follow suit. Schwieger even promotes this sentiment by asking his fellow artist friends to write/draw their experiences with someone from Japanese culture in a section towards the back of this book. Reading this book is the perfect peek at the obscurities of a foreign culture as perceived by an absolute outsider. Schwieger's art is loose, but does a great job of capturing authentic imagery from the Japanese culture. I especially like the way he draws the chaos and confusion that occurs during a Japanese earthquake. Packaged as an actual MORESUKINE or Japanese travel notebook, this book's simple cover is deceptive. Inside is so much more. This was one rich experience in comic book form.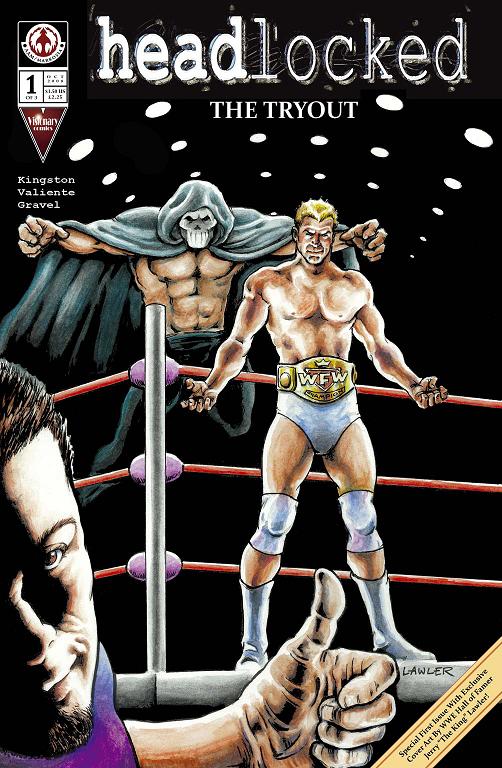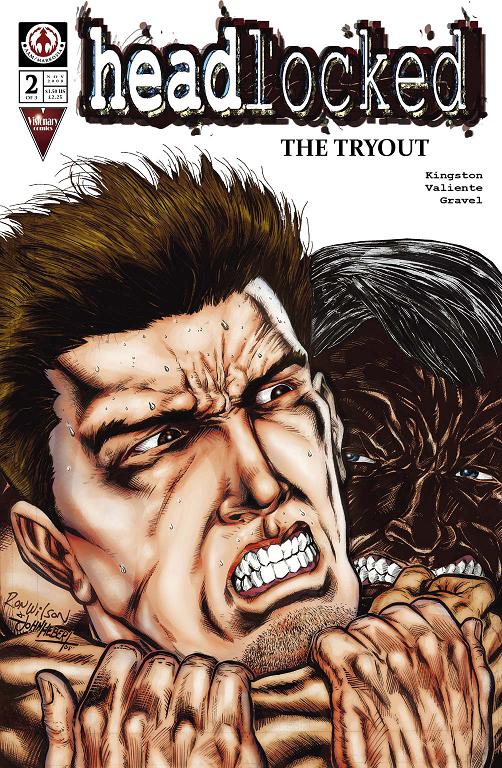 Sure, it might be fake and all a show, a soap opera on steroids with clothing that would make a drag queen blush, but there's something cool about Professional Wrestling. Much like superhero comics, there are histories and origins at play in Professional Wrestling: bad guys and good guys; stories of morality, inspiration, and intrigue. Ever wonder what it takes to make it as one of the big name wrestlers? Well, this book answers all of your questions. Writer Michael Kingston does a nice job of following one would be wrestler with dreams of stardom as he sweats his way through wrestling try outs. It's a fun twist on your typical underdog story, set to a backdrop that, whether you like it or not, is a major facet in entertainment these days. Randy Valiente does a capable job of making the odds seem tough and the characters gritty and real. Valiente shies away from overblown proportions, thankfully, and gives us a much more authentic version of what one needs to go through in order to be a Pro Wrestler. The artist also does a good job of drawing some pretty complicated wrestling moves with ease. If you like wrestling, this is a comic you'll want to seek out.
I came across THE DRESDEN FILES: WELCOME TO THE JUNGLE with absolutely no prior knowledge of the Sci Fi Channel show or the books. Sorry, I just can't know everything. But I still gave this noir-wizardry tale a shot. In many ways, this book reminds me of Clive Barker's underrated gem LORD OF ILLUSIONS, since both mix magic and the detective genres pretty seamlessly. I like the idea of a hard knocks gumshoe taking on minotaurs, zombies, and witches with magic and mysticism and it works very well here. I don't know if Jim Butcher is doing a consistent adaptation of his Harry Dresden character (I'd assume so, since he wrote the books), but he's writing an entertaining one. Paired with the fine detailings of artist Ardian Syaf and the beautiful alternate covers of Chris McGrath, this is a nicely packaged story with a character that I'd like to see more of, no matter what the medium.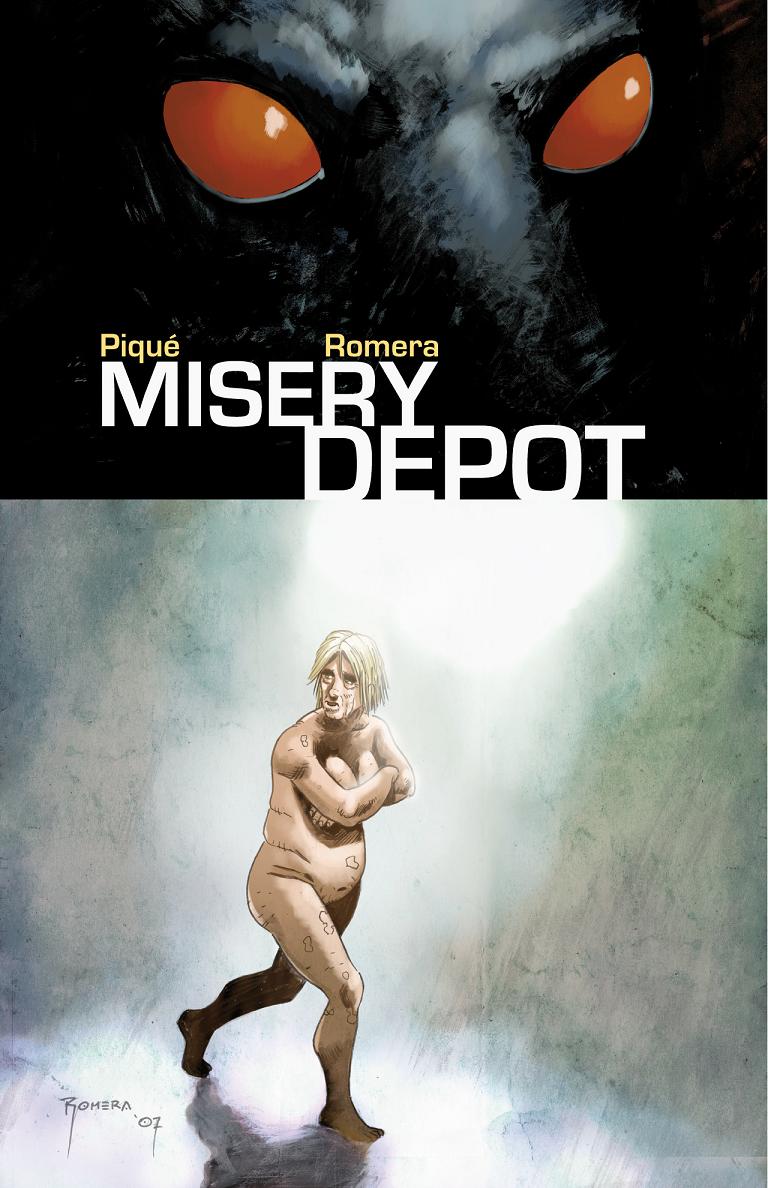 Not one of the most uplifting reads, but that doesn't mean it's not good. I really liked this book for various reasons. Mostly because the main character isn't a buxom beauty, but an elderly woman trying to understand the world she has woken up in. I also love the way this mystery unfolds and slaps you in the face with a shocker of an ending. Writer Hermes Pique does a great job of setting up a mysterious circumstance and keeping mum about the reveal until the very end. At the same time, upon second reading, the story takes on a very different tone, which makes for an even more fulfilling reading experience. There's an awful lot of elderly nudity for artist Juan Romera to draw, but the nudity is not gratuitous; it simply adds to the palpable feeling of dread that seeps into and around every inch of this book. This is a really intriguing debut--a one-shot that leaves quite a mark after the last page is turned.
If you have an indie book that you'd like featured in Indie Jones, send an email to your favorite @$$Hole.
---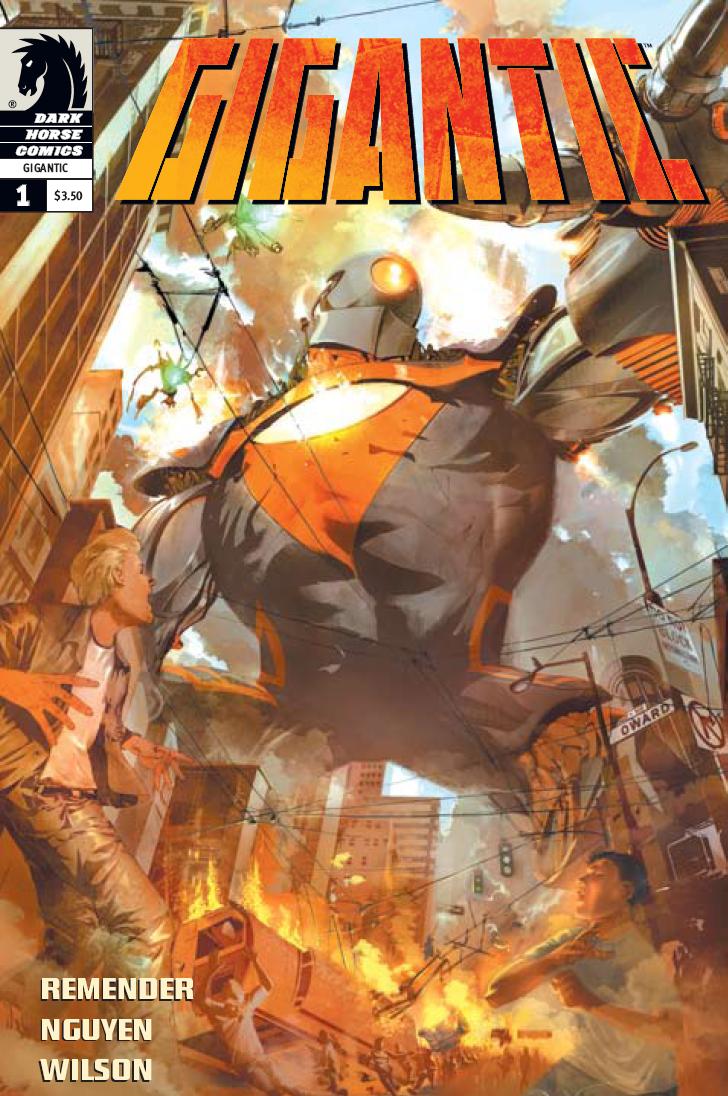 GIGANTIC #1 Dark Horse Comics
I know enough about Rick Remender to always check out a book he has to offer when I see it on the shelves. His books always have the right amount of action and kooky comic book science. It may not always make sense, but it's always one helluva fun read. GIGANTIC hangs on a really cool premise: that the Earth and its inhabitants were created solely for the entertainment for the entire galaxy. So when giant robots appear out of the blue in San Francisco, races of aliens shriek in fanboy glee at the carnage they are watching on their television-like screens. "Best episode ever" indeed. Like I said, Remender continues his streak of bringin' the fun back to funny books. With nice art by Eric Nguyen, who draws giant robots just as cool as he does alien races. –
Bug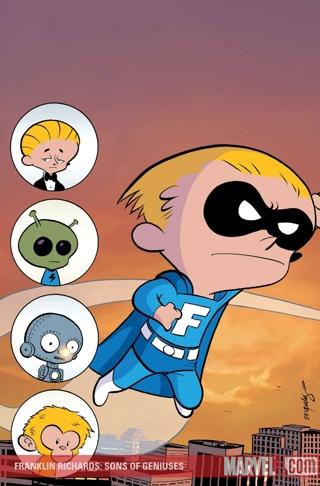 FRANKLIN RICHARDS: SONS OF GENIUSES! One Shot Marvel Comics
I picked this up on a whim, thinking that it looked like it might be fun. Though artist/co-writer Chris Eliopoulous is clearly influenced by the fantastic "Calvin & Hobbes" comic strip (both in drawing style and character interaction), he and scripter Mark Sumerak can't match the wit, design sensibility, or sheer creative energy of Bill Watterson. What could have been an outrageous comic romp is instead a bit of innocuous fluff. To make matters worse, I brought this up to the register without first checking the price. This comic would have been a bit of light fun for, say, two bucks. But at $3.99, I got ripped off big time. -
Imp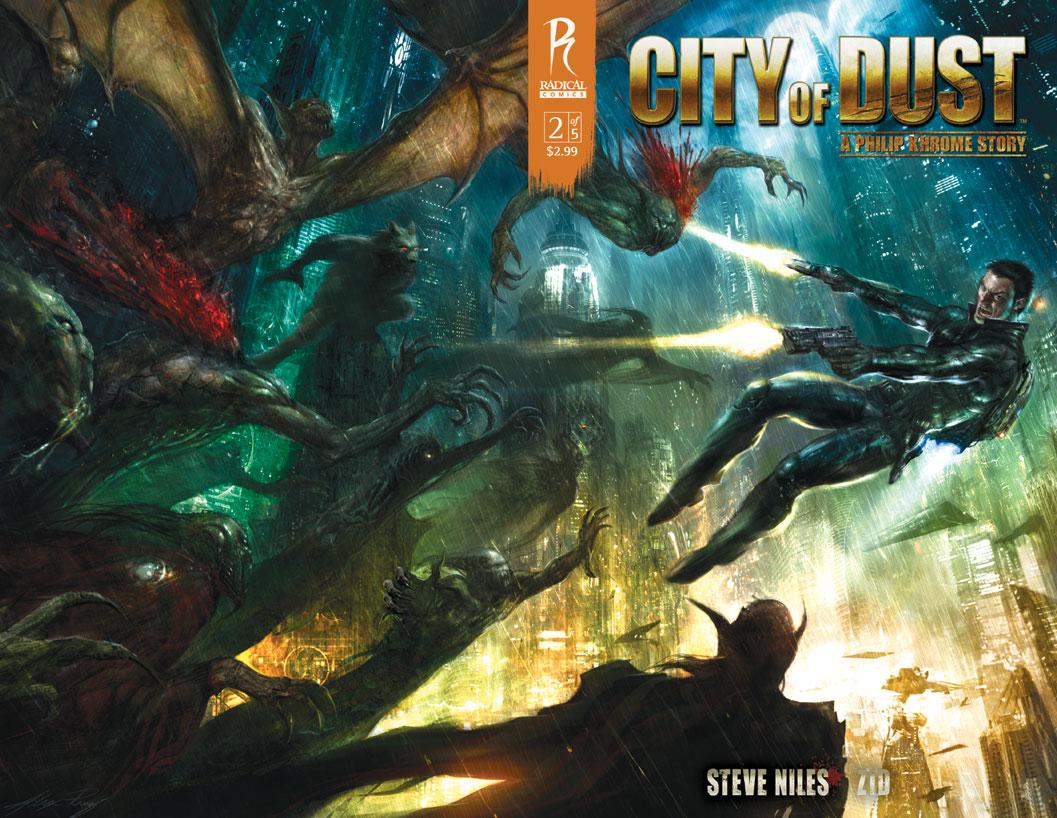 CITY OF DUST #2 Radical Comics
In stores today, the unholy coupling of sci fi and horror continues in issue two of CITY OF DUST. Detective Khrome is questioned. Another body is found. And the evil behind it all rears their butt-fugly heads. Gorehounds waiting for Steve Niles' trademark grue will be satiated in this issue, which ends on a very messy note. Setting the horror in a future where books, religion, and superstitious thinking is abolished makes this both an original and utterly thrilling book to read. Beautiful panel work by Zed make this one of the best Niles reads in years and probably the best book Radical has published to date. –
Bug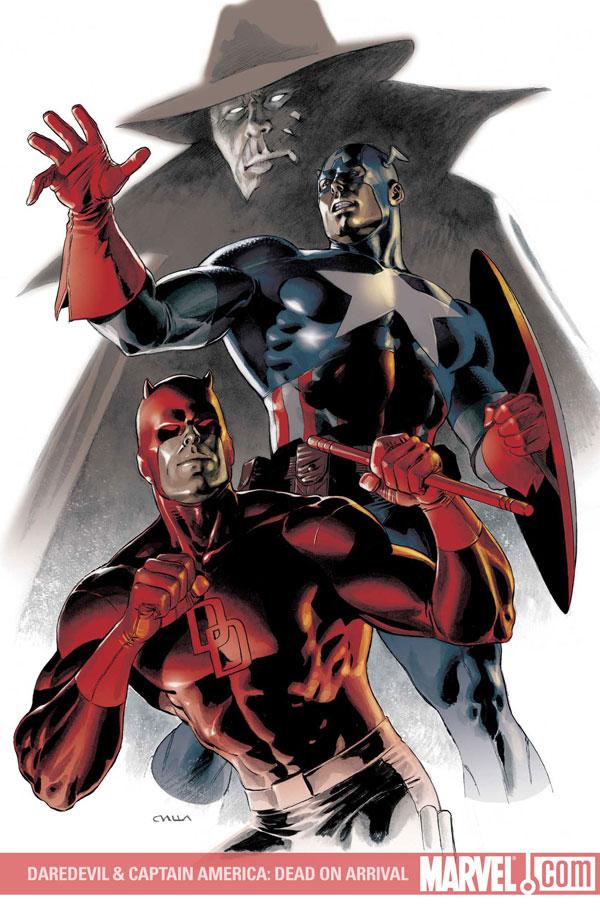 DAREDEVIL & CAPTAIN AMERICA: DEAD ON ARRIVAL #1 Marvel Comics
Man, this was the best Marvel book I've read in quite a long time. Our man across the pond, Stones Throw, reviewed this a while back, but it seems it took a while before it got here to the states. This book looks to have been distributed by Marvel overseas, but turns out it's got a leg up in the quality department over most current American Marvel Comics. Want to know what the best thing about this book? The fact that it's refreshingly uncomplicated. No crossovers. No history to bog it down. No reference to the current status quo (it's Steve Rogers Cap and a not too angsty Daredevil starring in this one folks). Sure, I like Bru's versions of both characters, but there was something altogether cleansing to read this book. It made me long for comics that weren't so mired in either their own continuity or the ego of the writer who is trying to make his own memorable stamp on the character. It's just solid storytelling by Tito Faraci and beautiful art by Claudio Villa. Plus it's adapted by Larry Hama, who's not too shabby either. Get these creators stateside and have them make more comics like this one.
Sure this one was fresh as a daisy to me, but you know what was not so fresh? The frikkin $4.99 price tag! C'mon, Marvel, last I heard there was a gas shortage, not a comic shortage. Knock off the price hikes. I fell for it this time mainly because I didn't really look at the price when I bought it, but I'm going to be sure to look at it next time and all your price hikes are going to do is sell less copies of books to this Bug. The book was good, but not 5 bucks good. I'd rather have had a Subway. -
Bug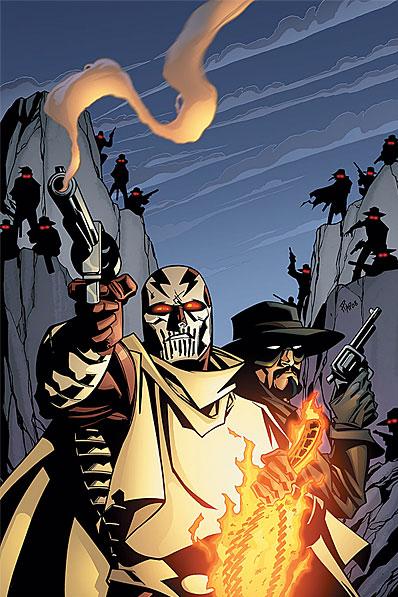 EL DIABLO #3 DC Comics
Sure there are elements of THE SPECTRE and GHOST RIDER, but there's room for another Spirit of Vengeance in comics. Writer Jai Nitz is having a blast showcasing all of El Diablo's powers. The action scenes are as intense as the interactions with a former Avenging Spirit named Lazarus are interesting. Plus this one's got art by Phil Hester, who draws an ebony horse walking on the ceiling and exploding through a Mack truck like no other. This book's a lot of fun and it's a shame we're not hearing more chatter about it. -
Bug
---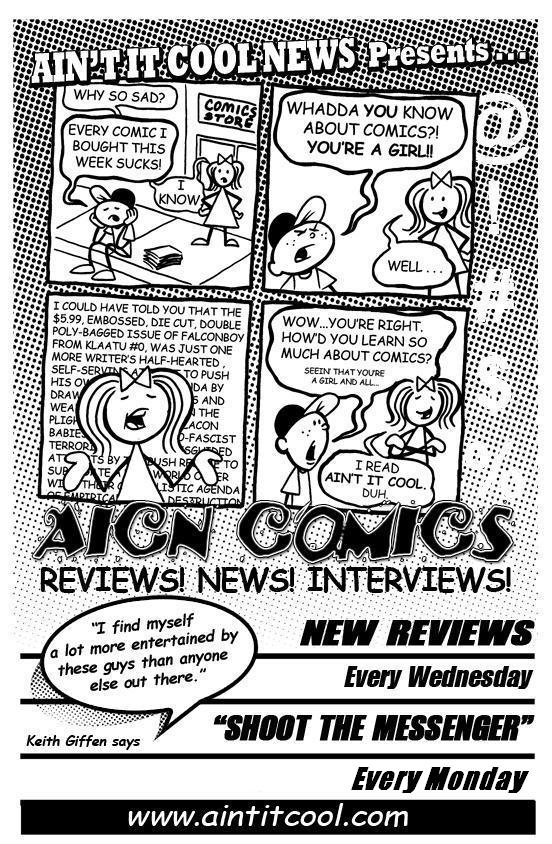 Ad by Prof. Challenger
Remember, if you have a comic book you'd like one of the @$$holes to take a look at, click on your favorite reviewer's link and drop us an email.