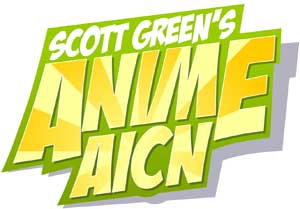 Logo handmade by
Bannister
Column by
Scott Green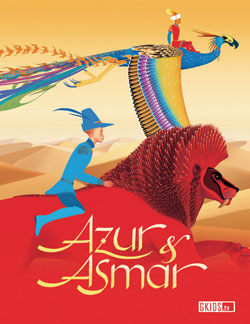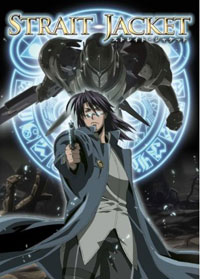 Anime Spotlight: Strait Jacket Released by Manga Entertainment
That Strait Jacket stands out among newly produced anime is indicative of how the medium has evolve since the days in which its North American reputation was shaded by violent horror titles. If you miss those times, Strait Jacket might be worth a look. Back when VHS was the primary format for acquiring anime in North America, the original, Japanese outlet for that anime's distribution was worth noting. There was televised anime. There was original video animation (OVA) work that had a higher per-episode budget than the televised anime, as well as more leeway for sex and violence. Then, there was theatrical anime, which had a higher budged than the OVAs. Most of the splattery horror or sci-fi, VHS anime that you'd find on the shelves of your local Blockbuster were either OVAs (Vampire Hunter D, MD Geist, Devil Hunter Yoko, Violence Jack) or movies (Wicked City, Demon City Shinjuku). By the time that DVDs were taking off in the North American anime boom, this distinction lost much of its relevance. OVA and movies were and are still being produced, but televised anime eclipsed them as the primary outlet for anime production, with the other forms becoming tricky financial propositions. The OVA model, which was a strong option in the economic boom time of the 80's, fell out of favor, more often used as promotions and tie-ins than a primary channel for anime distribution. At the same time, late night time slots and satellite carriage gave televised series new options for mature content, resulting in works like Gantz, Elfen Lied and Berserk. Strait Jacket is a now, uncommon horror/action OVA. Like some of those VHS tapes on the Blockbuster shelf, the three episode OVA has been edited into a 76 minute "movie." Though there is a noticeable amount of blood involved, it is not really invested in hammering on prurient interests and it's not as graphic as the OVAs that long standing or well versed anime fans might remember, such AD Police, Angel Cop, or maybe even 3x3 Eyes. However, it does have the OVA virtue of being concise. While it leaves avenues for future stories, unlike most anime releases, it offers a beginning, middle and end in one volume (for $19.97). Strait Jacket is based on a light novel, and that prose background offered the anime a deep foundation of world creation from which to draw. The novel in question was written by Scrapped Princess' Ichiro Sakaki. In both Scrapped Princess and Strait Jacket, Sakaki has used strange concepts to re-create familiar genres. In a way, the two titles function as inverses of each other. Scrapped Princess was sci-fi facilitating fantasy. Strait Jacket is magic as the background for noir... Think Mamoru Oshii's Kerberos panzer cops if they were dragon slayers rather than fascists. In the context of Strait Jacket, magic was scientifically discovered in 1899, and subsequently harnessed for practical uses from manufacturing to medical treatment to military armament. In practice, the resulting society does not function too differently from our own. The exception being, that the demons that power the machinery of the magic-tech are capable of cursing the unwary and transforming them into monsters, requiring the armed intervention of Tactical Sorcerists. In theory, these folks show up when the monsters attack. Protected by magic armor Molds, they use spells, firearms and a combination of the two to slay the demonic threats. Frequently "horror" anime is simply defined by the presence of the genres typical threats. In other words, the heroes fight zombies or vampires. When it isn't restricted in this manner, horror almost becomes interchangeable with tragedy. In this case it is the personal cost of the work that the Sorcerists and their society view as necessary. This is a relevant concern, in that it maps to the question of what happens when a soldier believes in their mission, but finds that that mission forces them to take action that their conscience can't reconcile? Unfortunately, there is a lot conceptually about Strait Jacket that does not hold up to scrutiny. The magic/science premise should pass just about any anime fan's capacity for suspension of disbelief, especially considering the attention to the mechanisms of its process. The problem is that many of the actions on screen are scripted to drive the story rather than to make sense. For example, the banality of evil is one thing, but some of the risk-reward scenarios that crop up during the course of the anime are staggering. Throughout Strait Jacket, the anime is caught with its hands in its pockets, opened to be socked in the jaw by any watching would-be MST3Ker. Humorously irreverent anime critics, such as Fast Karate for the Gentleman would find a cornucopia of material in Strait Jacket. Strait Jacket was directed by Shinji Ushiro. Ushiro has no other locatable anime credits, suggesting that the name is a pseudonym for another creator or the joint name for a group of animators. It's production house, Feel, does have other credits in which they were the primary animators. There is the mecha show Jinki:Extend, and plenty of bishojo or moe titles focused on cute girls (D.C. ~Da Capo~, Kiss×sis, Casted Away - Airan Island). This does not seem like a particularly stellar collection of talent. Look at Strait Jacket's cover illustration. That's not supposed to be a tiny gun. In fact, on the back cover, it looks huge. The movie opens with a 20 second silent still shot of what is apparently pieces of metal armor suspended by chains. This is one of the few moments the animator's intentions are questionable. Far more often, the anime gets right to the pounding and proclaiming. Whether it is framing the perspective in such a way as to produce tiny or gargantuan objects, being strangely oblique or being unnaturally obvious, Strait Jacket stumbles onto a lot of directorial wonkiness. Thinking of anime that is worse than Strait Jacket is not challenging. It's not offensive. While it's by no means well animated, the problems are far from crippling. At the same time, it would not have taken a trip back to the drawing boards to have made a far better anime from this material. Besides shoring up some of basic competency, its battles between oozing, fleshy Akira monsters and armored men with modern military capabilities could have been more dynamic than just blood streaks and explosions. It could have toned down the characters and made them more credibly human. If you're looking for a one-and-done horror action anime, if you've seen the old OVAs or can't deal with older titles, then Strait Jacket is a viable option.
Gainax announced that the next entry in the Rebirth of Evangelion animated movie cycle, Evangelion: 2.0 You Can (Not) Advance, is scheduled for theatrical release in early summer 2009. The first film, Evangelion: 1.0 You Are [Not] Alone, opened in September 2007. EvaGeeks.org notes that the Official Website promises * Asuka and Evangelion Unit-02 * New Evangelions (as seen from the preview at the end of 1.0) * New Visuals and "Shocking" new story * "Added items previously unknown to anyone"

*

Via Awesome Engine, the trailer for the second part of the live action trilogy adaptation of 20th Century Boys

*

According to Canned Dogs, the Dragon Ball Z 35 minute anime short produced for Jump Super Anime Tour will be entirely written by franchise creator Akira Toriyama, and feature the debut of the younger brother of villain/anti-hero Vegita. The story takes place 2 years after Majin Buu storyline.

*

Via Anime News Network Staff has been announced for the anime adaptation of Guin Saga, the 120+ pulp fantasy novel series created as an inspiration for Kentaro Miura's Berserk. Atsushi Wakabayashi, the character designer for the Yu Yu Hakusho anime and concept designer for 12 Kingsdoms will step into the role of director for the Satelight produced Guin Saga adapation. Nobuo Uematsu, best known for his work on Final Fantasy will composer the anime's music. Shoji Yonemura (the anime versions of Berserk and Death Note) will handle the anime's series composition and screenplay.

Capcom announced that Production I.G will be creating an anime based on the game Sengoku Basara (Devil Kings), with a new scenario by game supervisor Hiroyuki Kobayashi. Itsuro Kawasaki (Tsubasa RESERVoir CHRoNiCLE The Movie: Princess of the Birdcage Kingdom, Yumedamaya Kidan) is directing the anime, and Yasuyuki Muto (Persona -trinity soul-, Basilisk) is supervising the scripts. Tooru Ookubo (Blood+, Seirei no Moribito) serves as both the character designer and chief animation director. Kazuya Nakai, Souichiro Hoshi, and Norio Wakamoto will reprise their game roles as the Warring States Period figures Date Masamune, Sanada Yukimura, and Oda Nobunaga, respectively. Kouta Hirano concluded horror action manga Hellsing in the November issue (released on September 30) of Shonengahosha's Young King Ours in favor of launched a title early 2009. The same Young King Ours issue has also announced that Fumino Hayashi, the manga artist of Neon Genesis Evangelion: Angelic Days and Terra e… ~Aoki Kobo no Kiss~, will launch a new title called Kami no Dice in the December issue (on sale on October 30). Naoki Urasawa (20th Century Boys, Monster, Yawara) will launch the Billy Bat manga series in the next issue of Morning, on October 16. Manga manga look at a "lost American hero" from comics of the 1940's. Emma creator Kaoru Mori announced that her next manga series will start in the inaugural issue of Enterbrain's Fellows! magazine on October 14. The historical manga, tentatively titled Amiru, will be set on the Silk Road. Sunrise will be producing an animated adaptation of Dall-Young Lim and Sung-woo Park's supernatural fight manga Black God, released in North America by Yen Press Tsuneo Kobayashi (Emma: A Victorian Romance, Glass no Kamen, The Twelve Kingdoms) will be directing off scripts supervised by Reiko Yoshida (The Story of Saiunkoku, Jyu Oh Sei, Mushi-Uta). Hiroyuki Nishimura (Deltora Quest, Ys II) is designing the characters and overseeing the animation. Noriko Shitaya (Air Gear, Fate/stay night) will play Kuro, and Daisuke Namikawa (Arc the Lad, Gantz, Black Lagoon) will play Keita. The other cast members include Sayaka Ohara, Yukari Tamura, and Jouji Nakata.

*

Production I.G in collaboration with Fuji Television Network announced the production of a new full length computer graphic animation feature film entitled "Hottarake no Shima - Haruka to Maho no Kagami" (tentative English title: "Oblivion Island: Haruka and the Magic Mirror") The movie will be distributed in Japan by Toho Co., Ltd. and the Japanese theatrical release is slated for summer 2009. WORLD VIEW - Your favourite teddy bear. That model kit that took so long to complete. The picture book you used to read over and over again. The shining stone you found that day in the park. Where do all your childhood's treasures go when you grow up? In this story, we meet fantastic creatures that gather all these little objects that fall into oblivion as they are forgotten by their owners when they step into adulthood. These creatures sneak into our world from a different dimension, and unseen by humans, they take all the ditched and forgotten "treasures" into their world. Here, they use their booty to build their own city, a fairy-tale like place called...Oblivion Island! STORY - Haruka is a teenager like many. Her mother left this world when she was a kid, and her father took after her ever since. The movie opens with Haruka visiting the Inari Shrine in Musashino, in the outskirts of Tokyo. With her greatest surprise, she sees a "fox" (or 'something'looking like one) carrying a toy plane. But as she goes after the funny animal, she finds herself on... Oblivion Island! Here, Haruka encounters the teddy bear she used to play with when she was a kid. And suddenly, other memories from her childhood come to her mind. But humans are not supposed to be on Oblivion Island, and the Baron, who rules that world, has put an eye on that unexpected intruder. From here, the story bends dramatically into an unpredictable direction at increasing and uncontrolled speed... Will Haruka find her memories, and a way to get out from the island? SCREENPLAY: Hirotaka Adachi and Shinsuke Sato Probably better known by his alias Otsuichi, Hirotaka Ando is a hugely popular novelist whose works have often been transposed into comics and live action movies, for which he personally wrote the screenplays, such as "Goth" (2002, 3rd Mystery Grand Prize winner), "Waiting in the Darkness" (2002) and "Zoo" (2003). Born in Fukuoka in 1978, he made his professional debut when he was only 17. He's reportedly a big fan of Studio Ghibli's movies. DIRECTOR: Shinsuke Sato Born in Hiroshima Prefecture in 1970, Sato is a film director, scriptwriter and video game creator. He graduated from the Musashino Art University, like Satoshi Kon and Ryu Murakami. His directorial debut "Ryonai Genshuku" (Dorm Austerity) was awarded with the Grand Prix at the Pia Film Festival 1994. Notably works include, "Princess Blade" (2001, director and scriptwriter), "Spring Snow" (2005, scriptwriter) and manga-based "Sand Chronicles" (2008, director and scriptwriter), all of them live-action movies. Oblivion Island is his highly anticipated debut in animation. Naoyoshi Shiotani (director of SICAF 2008 Grand Prize winning "Tokyo Marble Chocolate") is joining the production team, too.

© 2009 Fuji Television Network•Production I.G
About.com:Manga as recently reported on Digital Manga Publishing's restructuring that saw the layoff or departure of five employees, including company representative Rachel Livingston, who had planned prior to the announcement. DMP also plans to slow their release schedule from twelve volumes a month to seven. Details on the distributors upcoming plans can be seen here. Christopher Butcher add some historic context to the DMP discussion here

*

Marvin Gleicher, co - founder and former CEO of Worldwide Operations for Manga Entertainment Inc, has launched Marvin Media LLC to develop, produce and license animated films to the international marketplace. Gleicher joins Japanese animation director Keiichi Sato (Karas, Wolf's Rain, The Big O, Giant Robo) Screenwriter: Manabu Ishikawa (Fullmetal Alchemist, Mo No No Ke) Hisashi Oguchi (Bells & Whistles/ Tokyo) as producer for feature, Floating Moon, an original environmentally aware sci-fi based on Paul Kanter story due early 2010. For Island Def Jam Music Group, Gleicher is producing an animated TV comedy "High Def" 26 eps X 30 minutes due late 2009. Gleicher will attend this October's MIPCOM to license these two properties and looking for additional properties to produce.

*

eigoMANGA announced a magazine distribution agreement with Ingram Periodicals Inc. The agreement places eigoMANGA's line of comic books such as their flagship title 'Rumble Pak' in independent and mass-market bookstores nation-wide. Ingram Periodicals is a direct-to-retail magazine distributor to major bookstore chains, independent, and specialty retailers, including Barnes & Noble and Hastings. Ingram Periodicals distributes to more than 9,000 retail stores. ToonZone covers the New York Anime Festival's State of the Anime IndustryJapanamerica panel coverage ), About.com:Manga covers the state of the manga industry in two parts. Anime News Network Editor in Chief Christopher McDonald moderated the panel, which included Michael Gombos, Director of Licensing for Dark Horse, Kurt Hassler, Co-Publishing Director for Yen Press, and Ali Kokmen, Marketing Manager for Del Rey Manga. Christopher Butcher has expressed some reservations concerning statements made during the panel, particularly that an inference by Michael Gombos of Dark Horse that VIZ regards publishing the manga antthology Shonen Jump as an advertising expence.

*

Steven Grant Publishers Weekly, and Rivkah (Steady Beat) weigh in on DC's decision to cancel the Minx line of graphic novels, designed to capitalize on the success of shoujo maga.

*

Anime News Network has listed anime tat will be showcased at the "the world's audiovisual content market,"MIPCOM The American production company 4Kids Entertainment will be presenting the 79 episodes of Dinosaur King and its Yokuryu Densetsu sequel as well as the 52 planned episodes of Yu-Gi-Oh! 5D'. The Japanese animation company TMS Entertainment will showcase Card Live-R (Live On Cardliver Kakeru, 51 eps.), ItaKiss (Itazura na Kiss, 25 eps.), Scarecrowman (26 eps.), Mini Moo Moo (Mameushi-kun, 26 eps.), and Zenryoku Rabbits (Zenryoku Usagi, 26 eps.). Since Card Live-R and Scarecrowman are still airing in Japan, these pre-show notes for MIPCOM are the first public indications of the planned lengths for these programs. Japan's Toei Animation will showcase its family and action titles, including Master Hamsters (Hatarakids My Ham Gumi, 50 eps.), My Three Daughters (Uchi no 3 Shimai, 50 eps.), the upcoming Asataro, The Onion Samurai! (Negibozu no Asataro, pictured at right) television series, Happy Lucky Bikkuriman (46 eps.), and Dragon Ball Z (291 eps.). My Three Daughters is still airing in Japan.
Upcoming NYTFGP2008 Festival Part One screenings include:

Image © Three Arrows Entertainment BLOODY SNAKE UNDER THE SUN - 10/14 (Tues) - 7pm - Anthology Film Archives - 122min. BLOODY SNAKE UNDER THE SUN, directed by Yu Nakai,was screened in 2007 Tokyo Film Festival. This film is set in beautiful Okinawa with exotic music and illustrates the tensions of the era between the United States military and the street gangs of post-WWII Japan. The screening will be followed by an appearance by lead actor/model Shogen. It is being premiered internationally for the first time.

Image ©2007 "The Chasing World" production committee THE CHASING WORLD 10/8 (Wed) - 7pm - Tribeca Cinemas - 98min. THE CHASING WORLD is based on the Yusuke Yamada novel "RIARU ONIGOKKO/Tag for Real" which tells the action-packed story of a surreal game of tag in which those who are tagged die-thoroughly dystopic and better than "Logan's Run." Directed by Issey Shibata-U.S. Premiere.

Image © Epic Records Japan Inc. CORAZON DE MELON 9/28 (Sun) - 6pm - NYU Cantor - 112min. CORAZON DE MELON revolves around a woman's search for a very special melon for her ailing boyfriend (who's actually faking sick). Starring Japanese pop sensation T.M.Revolution and actress Waka Inoue, it's a cute yet tragic love story about the pursuit of love. Directed by Makoto Tanaka-International Premiere.

Image © M6 Trance Picture Works DEATH OF DOMOMATA - 10/9 (Thurs) - 7pm - Tribeca Cinemas - 80min. DEATH OF DOMOMATA focuses on a rehab facility in which junkie girls put on an annual play around Christmas, forming the basis for a "play within a play" environment. The story slowly melds with the reality of these girls' situation, blurring the lines of the play with reality. "No choice but to die young." There will be a video message from the director Shutaro Oku and the actresses - international premiere.

Image © Genuis Party GENUIS PARTY 10/12 (Sun) - 2pm - Anthology Film Archives - 102min. GENIUS PARTY is a collection of seven short animated films from Studio 4.C-the people who put out "The Animatrix." They call it "Genius Party" for a reason.Directed by Atsuko Fukushima, Shoji Kawamori, Shinji Kimura, Yoji Fukuyama, Hideki Futamura, Masaaki Yuasa, Shinichiro Watanabe - New York Premiere. GENIUS PARTY BEYOND is expected to be screened at the NYTFGP2008 Festival Part Two.

Image © 2007 "Kamachop" Production Committee KAMACHOP 10/16 (Thurs) - 7pm - Tribeca Cinemas - 80min. KAMACHOP is director Anji Matsumoto's feature film debut. The film was made with a $6,000 budget and shows us the world of two young, baseball uniform wearing ghosts who've taken up residence in a Tokyo hotel room. Based off the "Myth of Sisyphus," this film promises to be philosophical and fun. Appearance by Matsumoto to follow screening - International Premiere.

*

New York-Tokyo has also announced that as Part 14 of the "Nippon Eiga" Series, ana will be presenting the East Coast premier to the 2007 Sanjuro on Wednesday, October 15th, 2008 Doors Open 6:15pm, Screening starts 7:00pm The ImaginAsian: 239 East 59th Street, NYC RSVP to http://www.newyork-tokyo.com/wp/sanjuro This is a remake of Akira Kurosawa and Toshiro Mifune's SANJURO (1962). Originally, SANJURO was the first title ever in the motion picture history of Japan. This remake was planned and realized from the master-works of director Kurosawa. "This is a dream and this is a challenge! Of what today's Japanese filmmakers can do in return to a favor for our seniors" the executive producer of this recast, Haruki Kadokawa, who acquired the rights to this film SANJURO, as well as to another Kurosawa title YOJIMBO, proudly proclaimed when he made an announcement of this project. To helm this challenging remake, one of the most acclaimed Japanese directors of today, Yoshimitsu Morita ("Lost paradise" "The Family Game" "Kitchen") was appointed. "I always wanted to revive SANJURO and make a film about him with today's actors and actresses in Japan." he said. The producer and director could not find anybody more suitable than Yuji Oda ("Bayside Shakedown" "Whiteout") for the role of Sanjuro in their edition. Now with all new filmmakers, cast, and crew set in place, the entertainment Samurai action, based on the original script written by the legendary trio, Akira Kurosawa, Ryuzo Kikushima and Hideo Oguni, for the 1962 Kurosawa version, SANJURO is back on the big screen.

*

Production I.G has announced Naoyoshi Shiotani's bittersweet romantic comedy Tokyo Marble Chocolate (2007) will make its North American premiere at the 37th Festival du Nouveau Cinema, held in Montreal, Canada from October 8 to 19, 2008. Screening schedule: Date: October 11, 2008 (Sat) Time: 15:20 Place: Ex-Centris - Le Parallèle Date: October 15, 2008 (Wed) Time: 17:45 pm Place: Ex-Centris - Cassavetes

*

Otaku USA notes that in addition to its Somerville Massashusetts event October.18.08 7pm - 7am, Anime After Dark will run a 10 film event in Monterey, CA November 28-30.08

*

VIZ Media has announced a special one-night-only movie event - BLEACH THE MOVIE: MEMORIES OF NOBODY on Monday, October 20th across Canada. BLEACH THE MOVIE will screen at select Cineplex Entertainment and Empire Theatres locations across Canada on Monday, October 20, 2008. For more information, advance tickets and a complete list of participating theatres go to, www.cineplex.com or www.empiretheatres.com/bleach. BLEACH THE MOVIE: MEMORIES OF NOBODY begins as unidentified beings known as "Blanks" start popping up. They are soon followed by a Soul Reaper named Senna who makes them disappear. Puzzled by these unknown beings and the even more mysterious girl, Ichigo and Rukia set out to learn more, but uncover an evil plot when a menacing clan tries to kidnap Senna. Banished from the Soul Society long ago, the clan's leader has sent sending the World of the Living and the Soul Society on a collision course, and Senna seems to be the key to his diabolical plot for revenge. Can Ichigo and his fellow Soul Reapers save the two worlds from annihilation?
Crunchyroll has announced the open pricing for ROMANov Higa's 3D CG animation title CATBLUE DYNAMITE Crunchyroll members will receive free CATBLUE DYNAMITE ears for their avatars for joining the Catblue Group online. By contributing in the open pricing for this award winning anime, fans will be able to help finance future episodes of the title. Title Synopsis: Set in a stylized version of the 1970s, CATBLUE DYNAMITE is an action adventure about Blue (Anna Kunnecke), a principled mercenary who is half-human, half-cat and all female. When two drug couriers get mixed up in gang warfare over a mysteriously important Frank Sinatra tape they unknowingly received from their boss, Blue uses her feline attributes, her ability to shoot a gun with her tail, and her connections with the afterlife to save the day. (3DCG Animation, Action. 42 minutes) Open Pricing ­ High Resolution and Ad Free Streaming $0.01 to $1.99 - PC HD download only $2.00 to $4.99 - PC HD download, iPod and PSP formats $5.00 or more - PC HD download, iPod and PSP formats, free Catblue Dynamite Sword Cast Blue - Anna Kunnecke John Doe - Dominic Allen Bill - Herbert Q. Kendrick Robert - Matt Lagan M - Ruthann Morizumi Staff Director and Writer - Romanov Higa Executive Producers - Ben Kato, Hiroaki Ikegami Producers - Hiroaki Hayashi, Masato Saie Character Design - Romanov Higa Music - ping pong musik Background Image Art- KODAMA Background Modeling - Fumikazu Sato, Hidenori Tanaka, Kei Nakabayashi,Kuniomi Ito Car Chase Sequence - Tetsuya Watanabe CG Edit Romanov Higa Character Animation - Romanov Higa Character Modeling - Romanov Higa, Tact Aoki Computer Graphics - Fumikazu Sato, Hidenori Tanaka, Kaisei Kishi, Kei Nakabayashi, Kuniomi Ito, NAGI (assistant), Romanov Higa, Tact Aoki, Tetsuya Watanabe Lighting - Romanov Higa Motion Actor Junya Iwamoto, Naoyasu Achi (support), Tomoya Nishimura, Wataru Koga, Yoshio Miyaki Plop Modeling - Kei Nakabayashi, Tact Aoki Post Effect - Romanov Higa Rendering Setting - NAGI Scene Setting - Romanov Higa Sound director - Kazuhiro Senda Vehicle Modeling - Kaisei Kishi, Kei Nakabayashi Volume Effect - Kei Nakabayashi

*

Online media distributor Cunchyroll, and GDH announced that LINEBARRELS OF IRON will be streamed and available for download-to-own simultaneously as each episode is launched on Japanese television weekly starting with episode one (1) on October 3, 2008 at 12:45 pm PST. Pricing: Streaming: Free. Download-to-own: $1.99/episode only for PC $2.99/episode for PC, iPod, PSP Title Synopsis: Fourteen-year-old Kouichi Hayase's life has always been a mediocre one, if not dismal. However, those days of being bullied by classmates and escaping to a fantasy of being a hero are put to an end when a certain "accident" bestows on him a girl and a gigantic humanoid robot called "LINEBARREL." The extraordinary power that Kouichi obtains puts him and everything around him on a sudden rollercoaster ride of battles, intrigues and friendship! During the course of his adventure, the boy starts to learn what life has to offer; he meets new friends, bids farewell to the old ones, but most of all he now has considerable responsibilities and is forced to confront the world around him. Voices Kouichi Hayase - Tetsuya Kakihara Emi Kizaki - Mamiko Noto Hisataka Katou - Jun Fukuyama Reiji Moritsugu - Yuuichi Nakamura Satoru Yamashita - Miyuki Sawashiro Shizuna Endou - Kana Ueda Izuna Endou - Rie Kugimiya Risako Niiyama - Noriko Shitaya Yui Ogawa - Sayaka Ohara Kunio Ishigami - Johji Nakata Staff Creative Producer - Goro Taniguchi Writer - Kiyoko Yoshimura Scripts & Special Settings - Shigeru Morita Character Designs - Hisashi Hirai SFX Director - Ichiro Itano Mecha Designs - sutomu Suzuki Sound Director - Masafumi Mima Director - - Masamitsu Hidaka Animation Production - GONZO

*

FUNimation Entertainment has partnered with Joost to bring its catalog of full-length, legal anime video content to the online social video service. Starting in November, FUNimation Entertainment will launch its video channel on Joost with a sampling of shows from its wide-ranging library of anime, including: Basilisk Black Blood Brothers (also available in the original Japanese with English subtitles) Blue Gender Galaxy Railways Kiddy Grade MoonPhase (also available in the original Japanese with English subtitles) Mr. Stain Mushi-Shi Peach Girl Rumbling Hearts (also available in the original Japanese with English subtitles) School Rumble Slayers Suzuka xxxHOLiC More programming will be added monthly and will be available for free, in-browser viewing to Joost.com users in North America. "Joost recognizes that there exists a varied entertainment landscape and a thirst for unique content," said Gen Fukunaga, president and CEO at FUNimation Entertainment. "Partnering with them offers us the opportunity to provide the content fans are already looking for, legally, while also reaching new audiences." Fukunaga adds, "We understand that entertainment fans across the board want web-based free on-demand programming. In the anime industry, FUNimation is leading that charge with our online syndication strategy based on strong relationships with partners such as Joost."

*

LuvLuv Press, the josei (women's manga) imprint of Aurora Publishing, will have their titles available for purchase and viewing on NETCOMICS' site starting early October 2008. Readers will see the first release in October, and the following releases will come one per month. Following with NETCOMICS' format, readers will be able to see a free preview of the first chapter of any particular title's first release. Since LuvLuv Press' current releases are one-shots, all of them will have free previews. The first release will be Voices of Love, by Kanae Hazuki ­ LuvLuv Press' debut concering collection of five romantic, hot and sexy stories about modern women and the men they love. All of the stories depict romantic and physical relationships with nothing held back. The next release is Real Love by Mitsuki Oda. Twins Shu and Shun have no luck in love until Shu gets reacquainted with her former lover, Naomichi. While their past love fell apart, could it be that a relationship like the one they shared is what they have been looking for all along? Third will be Love for Dessert by Hana Aoi, another collection of shorts, the title story is about Rei, a cheerful and happy-go-lucky girl who loves sweets, and her grumpy co-worker Kazune, who doesn't like whipped cream until he kisses it off her. Recently released in July, the next release from Luv Luv to NETCOMICS will be Pretty Poison by Yutta Narukami, centering around Riyako, whose dreams of the perfect marriage are shattered when her ex cheats on her. Heartbroken, she has a one night stand with a young man, only to realize he has a connection to her ex. Vulnerable yet suspicious, she can't help but to fall victim to his poison. September brings the paper release of Make Love & Peace by Takane Yonetani, the first LuvLuv Press multi-volume series, which will quickly follow on NETCOMICS. College student Ayame's boyfriend is the handsome detective Koichi. After a destined meeting and the spark between them, life in the force causes constant trouble. While all they want is some peaceŠ what they get is some hot & spicy love! November brings the paper format of Sounds of Love by Rin Tanaka, another multi-volume series by LuvLuv Press. Music has always been a powerful source of stimulation, and for Kyoichiro, a hot new pianist, his manager Kazune creates the perfect sounds of love for him. With Kyoichiro's arrogance, she can't help but to feel like his erotic playthingŠ but is that the truth? Sounds of Love is an erotic romance that will stimulate your senses with the rhythm of passion.

*

Well regarded American mecha-war anime Exo-Squad is now playing on Hulu
Three new video of Atari's Dragon Ball Z: Origins Trailers for the Nintendo DS have gone online. The game is scheduled to be released November 14.

*

Plenty of Afro Samurai media is coming out of the Tokyo Game Show Kotaku's Afro Samurai's Cutting Screens (also stage performance) 1up's Hands On

*

1up's hands-on with Tatsunoko vs. Capcom (Wii) Tatsunoko Vs. Capcom takes the famous-in-Japan stable of Tatsunoko characters (Gatchaman -- originally designed by Yoshitaka Amano --, Casshan, and others you've never heard of) and pits them against a roster of popular Capcom game characters from Street Fighter all the way to Mega Man. Done up "Versus" style, in the fashion of their other Vs games like Marvel Vs. Capcom, and SNK Vs. Capcom, Tatsunoko Vs. Capcom dispenses with the 2D sprites of yesteryear and goes for a 3D character on 2D backgrounds approach, coming up roses with fast, fluid animation not possible with traditional hand-drawn sprites. Roll and Jun the Swan have been revealed Schoolgirl uniform fans, Sakura Kasugano will be showing up in Street Fighter IV Screen shots of Hokuto no Ken (Fist of the North Star): Raoh Gaiden ~ Ten no Haoh for the PSP Otaku USA on Dragon Ball Z: Burst Limit Naruto Ultimate Ninja Storm screen shots The King of Fighters XII hands on. Design can be seen here Not quite anime related, but the remixed classical Japanese art of Oboro Muramasa Youtouden looks amazing
Organic Hobby, Inc will release Masamune Shirow figure series #01 – "Hyakkisho Shion" in November with a SRP of $95.00. "Masamune Shirow figure series #01 - Hyakkisho Shion" is based on an Erotic art book created and illustrated by the internationally renowned manga artist, Masamune Shirow. He is best known for the manga Ghost in the Shell, which has since been turned into three anime movies, two anime TV series and several video games. Shirow is also popular for creating erotic art. "Hyakkisho Shion" is a 9" tall PVC figure and comes in a window box. [Limited to 600 pcs].

*

Shocker Toys has announced that its line of figures based on Independent comic book characters are now available and shipping in December 2008. Pre-orders are being taken at www.shockertoys.com , www.bigbadtoystore.com or Diamond Comics. Indie Spotlight Comic Book Heroes: Series 1 Series 1 (Maxx Series) features Jim Valentino's ShadowHawk, Rob Schrab's Scud the disposable assassin, Terry Moore's Katchoo of 'Strangers in Paradise', David Mack's Kabuki and MTV's The Maxx in 8". Made of sturdy plastics and hyper-articulated joints, these figures can be posed in many ways. Each comes with extra hands, accessories, comics or posters and an Isz from the Maxx's world. Collect all 7 figures and their UPC's to mail away for a Mr. Gone figure, the sinister dark enemy of The Maxx. For more information, see here

Series 2: The Tick, Dick Tracy, Ignacia (WildGuard), Jack Staff and Zombie King (Deadworld) The mail away for this line will be the Tick's sidekick Arthur. Also featured in the series will be posters, comics, great accessories and Tick themed accessories spread out through each figure in the assortment.

*

An English language site for The Robot Spirits has launched Bandai's venture into high-precision robot figures for the adult market began 10years ago. ROBOT SPIRITS represents a culmination of this technology. High-precision 12cm figures are rendered with careful attention using the latest 3D CAD technology. Solid, smooth and soft materials are combined to create an unprecedented level of detail and realistic finish. The result is nothing less than a new standard in robot figures.

*

Super7 will be showcasing painted vinyl toy art show featuring the work of Lash, aka Richard Montanari Jr Saturday, October 11, 7pm Pacific

*

In other merch news, Dark Horse Comics announced the company's participation in the Jones Limited program at soda maker, Jones Soda Co. As part of this program, fans of comics and soda alike will be able to purchase collectible-themed bottles featuring some of their favorite Dark Horse characters and art. One hundred numbered and limited six-pack bottles will be available just in time for Halloween on October 7th. The program will launch with Eric Powell's The Goon, and the iconic thirteen-year-old Emily the Strange, and will only be available at www.myjones.com. The Goon will be available on October 7 and Emily the Strange limited-edition bottles will arrive on October 14th.

*

Neat CollectionDX coverage includes Hot Toys Movie Masterpiece Ironman Mark 1 Figumate Gurren Lagann trading figures Voyager-class Autobot Optimus Prime (Earth Mode) Motoslave + Priss from Bubblegum Crisis VF-1D Valkyrie Trainer / Orbot from Macross Bandai VF-25S Messiah Valkyrie Ozma Type 1/72 Kit Conan Four Vehicle Model Kit Set (designed by Hayao Miyazaki) Oddities

Godzookie plus Real Artwork Series Godilla 1954 Solid Poster Art Mothman Vs. Flatwoods (check out the warning label) Ultra Seven... Monchhichi? From the Matsumoto-verse (Star Blazers/Battleship Yamato, Captain Harlock) Aoshima / Miracle House Shin Seiki Gokin Queen Emeraldas Space Battleship Yamato Mechanical Collection Box Galaxy Express 999 Toynami Prize items 1/1 Scale High Performance Gravity Saber Speaking of accessories Tiger Mask From elsewhere... Danny Choo runs down Nendoroid

How a Girl Figures on Wave's Wonfes 1/8 Sniper Yoko One Coin Indiana Jones Mini Figures made by Kotobukiya

Cool Japanese Toys spotlights Takara's Web Diver Pegasion LEGO... samurai Kuromi G&K Aeureon MkIII mecha Mecha Bay Zero Steampunk Return of the Jedi action figures
Bandai Entertainment Bandai Entertainment Inc. announced at New York Anime Festival today that it has acquired the North American publishing rights for the Kotaro Mori illustratedGurren Lagann manga published in Japan by ASCII MEDIA WORKS. Two volumes have been released currently in Japan of the serialized installments which continue to be published, so more volumes are planned. The manga release date is slated for 2009 with more details to follow.

*

ICV2 reports Del Rey has acquired the rights to produce a second graphic novel based on Dean Koontz's Odd Thomas character. The upcoming release will follow the format of the first, with an original story by Dean Koontz, set in the time period prior to the events in the first Odd Thomas prose novel and be illustrated by Queenie Chan.

*

Go! Comi Manga publisher Go! Comi made two new license announcements, "Get the Moon" and "Bran Doll", this past weekend at Yaoi-Con. Both titles are by "The Devil Within" creator Ryo Takagi. "Get the Moon" tells the story of Getto, and his complex relationship with Moon – a handsome android created by his father! Getto's sibling rivalry with Moon is inflamed by the fact that his father clearly prefers his android creation over his human one. As Getto and Moon fight for their "father's" approval, will their relationship turn to hate – or love? "Bran Doll" details the misadventures of the hapless Fen, who signs up for his country's Special Defense Force, only to find himself enrolled in the Special DOLL Force instead! Now Fen must hunt down and retrieve a collection of precious, missing bran dolls (that's right – bran dolls, the kind they use in voodoo) that have been scattered to the four corners of the world. Unfortunately for Fen (but fortunately for the reader) he has four beautiful men to accompany him on his quests! Go! Comi will release 'Bran Doll' in June 2009; 'Get the Moon' will be published in October 2009 Yen Press has launched info pages for the manga that they announced at the New York Anime Festival HERO TALES: Juushin Enbu, the latest work from Hiromu Arakawa, creator of Fullmetal Alchemist, with story by Huang Jin Zhou. Hero Tales is the story of Taitou, a boy who discovers his destiny among the warriors of the stars. SPICE AND WOLF, a novel series by Isuna Hasekura. A harvest goddess in the form of a beautiful wolf girl joins a young merchant when she is rejected by the local townsfolk and persecuted by the controlling religious faction. WELCOME TO WAKABA-SOH by Chako Abeno, creator of Sola. A high school boy's loyalty is challenged when he finds himself in a dorm full of beautiful girls, all competing for his affection. 13TH BOY by SangEun Lee. Hee-So has tried to find lasting love with twelve boyfriends, only to have it fall apart time and again. Will number thirteen be the lucky one? SUGARHOLIC by GooGoo Gong. When a country bumpkin travels to the city, she finds her heart divided between a handsome millionaire and an old classmate turned rock st
Star Trek actor/nerd icon Wil Wheaton announced voice a role for the English audio dub of Naruto. So I worked on Naruto today. I don't think I can say what character I voiced, or what the story was about, but I'm going to be in more than one episode, and it'll start in about a month. I'm recording again on Friday, and I'll ask then if I'm allowed to give up any details. ... I had a lot of fun, though, and it was really satisfying to work in a genre that I've wanted to be a part of for a long time. If you count Macross, Robotech, and Battle of the Planets, I've been watching Anime since I was a little kid. If you're more of a purist, I've been watching since I got Akira on a fifth-generation VHS bootleg at a con when I was 14. (Funny-but-true story: my friends and I watched that tape over and over again, but since the original Japanese dialog wasn't subtitled, we had no idea what the story was. We built one of our own that we thought was pretty good, but turns out was completely wrong.)

*

Kristen Bell and Matt Lucas have joined the cast of IMAGI Studios' CG-animated motion picture Astro Boy. Previously announced cast were Nicolas Cage, Donald Sutherland, Nathan Lane, Bill Nighy and Eugene Levy with Freddie Highmore in the title role. Astro Boy, slated for domestic release on October 23, 2009, is being distributed worldwide by Summit Entertainment except for IMAGI's reserved territories of Japan, Hong Kong and China.

*

Bandai Entertainment's blog confirmed that as of episode 17, Bridget Hoffman has replaced Hynden Walch in the role of Gurren Lagann's Nia.
Manga Entertainment and Bandai Entertainment will release the 26 episode Ghost in the Shell Stand Alone Complex Season 1: The Complete Box Set in a thin Amaray case case on October 14th for $49.97 DrMaster DrMaster Publications has announced the release of the new fantasy-action manga Nephylym vol. 1 by Rei Kusakabe, Mamoru the Shadow Protector vol. 2, the comedy manga series by Sai Madara, and The Four Constables-Secret of the Delirium Dagger vol. 2, the kung fu action-packed, brilliantly colored manhua series by Andy Seto and Tony Wong. Nephylym vol. 1, Mamoru the Shadow Protector vol. 2, and The Four Constables-Secret of the Delirium Dagger vol. 2 are ALL AVAILABLE NOW. Nephylym vol. 1 and Mamoru the Shadow Protector vol. 2 are each priced at $9.95. The Four Constables-Secret of the Delirium Dagger vol. 2 is fully-colored and will be priced at $13.95. From DrMaster's descriptions: Nephylym vol. 1 Shun has a unique power to electrically charge metal materials. A mysterious winged angel-like being named Air picks up on his powers and chooses him to become her partner, thus enhancing Shun's powers. Shun soon finds out that his classmate Sanari (the class hottie), also has a winged angel partner of her own, named Blissful. She explains to Shun that these beings are called Nephylym, and they choose suitable humans to be their "Answerers" to help them purify evil elements (Noirs). Together with Sanari and Tsukasa (Shun's rival in love and an Answerer as well), they battle alongside their Nephylym against Noir that possess human beings.

Mamoru the Shadow Protector vol. 2 Mamoru Kagemori is a dull high school boy who's not handsome, athletic, or intelligent. But he is actually the eldest son of the 400-year-old Ninja clan specializing in protecting their neighbors, the Konnyakus. And the object of Mamoru's protection is none other than their only daughter, Yuna Konnyaku, a natural born accident-prone troublemaker. When Yuna enters an idol contest and makes it to the finals, despite her hilariously bizarre performance, Mamoru has to go all out with his ninja skills in order to fend off perverted judges and crazed fans! But if Yuna becomes an idol will Mamoru still be able to protect her?

The Four Constables-Secret of the Delirium Dagger vol. 2 Emotionless and Yuan-Shan Lan are engulfed in an intense battle, when they discover a spy with evil intentions… While Iron Fist and Cold Blooded fight for their lives as they get closer to finding the evil mastermind behind all the vicious killings. Who is he? And what machinations does he have planned? The plot thickens as more secrets are revealed… You don't want miss out on all the kung fu fighting action!

*

FUNimation Via Anime on DVD 12-02 Negima Box Set (Viridian Collection) - $49.98 Negima Season 2 Part 1- $59.98 12-09 Mushishi Box Set $69.98 12-16 Claymore Vol. #2 School Rumble Season 2 Part 2 - $59.98 12-23 Save Me! Lollipop Box Set - $39.98 Tsubasa Vol. #10 12/30 Glass Fleet box Set $59.98 FUNimation distributed Geneon titles 12-02 Kyo Kara Maoh! Season 2 Vol. #9 Story of Saiunkoku Part 2 - $59.98 12-09 Rozen Maiden Traumend Vol. #3 12-16 Black Lagoon Season 1 Box Set - $49.98 12-23 When They Cry Vol. #6 Sojitz (former ADV) titles 12-02 Air Gear Box Set $69.98 Le Chevalier D'Eon Box Set $69.98 12-09 Tokyo Majin Season 1 Part 1 $59.98 12-16 Red Garden Complete Collection Part 1 &49.98 Red Garden Complete Collection Part 2 $49.98 12-23 Xenosaga Box Set $49.98 A FUNimation representative posted on Anime News Network's forum that Hello anime fans, We do understand your concern regarding the future releases of these two series in which you have already invested so much time and emotion. I won't bore you with the long explanation as to how we came to the decision we did as to how to package these series nor rattle off the many factors that led to that decision. That being said, we have taken your comments to heart and here's what we are going to do: in addition to the box sets we will ALSO release Red Garden Volumes 4 and 5, Pumpkin Scissors v.5, and NHK v.5. They will be available through The Right Stuf in December -- though street dates have not yet been finalized. Volume 6 for all three of these series will be available at a later date, still to be determined, and will also be available via The Right Stuf.

*

Media Blasters has announced that the September 30th releaseof Tweeny Witches The Adventures, the continuation to Tweeny Witches, has been canceled. The title will be re-scheduled for a January 2009 release street date to be determined. The street date for the Tweeny Witches Collection scheduled to street on 12/2/2008 will remain the same.

*

VIZ Media Via Anime on DVD 1-06 Blue Dragon Vol. #3 Naruto Vol. #31 1-20 Bleach Vol. #14 1-27 Naruto Vol. #32

*

VIZ had readied a number of themed releases for Halloween From the publisher's descriptions: CAT EYED BOY • Rated "T+" for Older Teens Cat Eyed Boy is a half—human, half—monster child whose mostly human appearance bans him from the demon world. He lives hidden in the shadows of the human world, hated by humans and demons alike. Wherever he goes, awful events occur as the humans and demons interact. In 11 stories of revenge and retribution full of disturbing images, Cat Eyed Boy acts as a trickster, saving the innocent and helping the wicked receive the punishment that fate metes out. The first volume contains four stories and the first part of a fifth and longer story. CAT EYED BOY was created by Kazuo Umezu, the undisputed master of Japanese horror manga and creator of the critically acclaimed DRIFTING CLASSROOM (also published by VIZ Media). Cat Eyed Boy offers up a concoction of dark vignettes dripping with the macabre and the absurd.

COWA! • Rated "A" for All Ages A spooktacular manga story famed creator Akira Toriyama (DRAGONBALL, BLUE DRAGON) that is suitable for all ages. COWA! introduces readers to Paifu, a half-vampire half-werekoala, who is always getting into trouble with his best buddy, José the ghost. But when the Monster Flu sweeps through town, the fun and games are over. If the monsters don't get the medicine soon, everyone will die! With all the adults sick, it's up to the kids to save the day!

NIGHTMARE INSPECTOR: YUMEKUI KENBUN • Rated "T" for Teens For those who suffer nightmares, help awaits at the Silver Star Tea House, where patrons can order much more than just Darjeeling. Hiruko is a special kind of private investigator, he's a dream eater, and he'll rid you of your darkest vision – for a price. Each chapter of NIGHMARE INSPECTOR is a self—contained story that offers a glimpse of mankind's folly and gradually reveals a little more about Hiruko and his dark past. A popular new series with a gothic edge, NIGHTMARE INSPECTOR was published in Japan by Square Enix, the publisher of the first manga series from Shin Mashiba. Fan—buzz has abounded on this series and comparisons have been made to Neil Gaiman's Sandman and DC's classic House of Mystery/House of Secrets.

ROSARIO + VAMPIRE • Rated "T+" for Older Teens All-around average teenager Tsukune can't get accepted to any high school save one, but on his first day, he finds the rest of the student body doesn't appear average in the least. Best of all, the cutest girl on campus can't wait to fling her arms around his neck! Wait a sec', are those her teeth around his neck too? Tsukune's going to have one heck of a hickey when he gets home from Monster High! But does he have a chance in hell of raising his grades at a school where the turf war isn't between the jocks and the nerds but between vampires and the werewolves? Find out in the new series from Akihisa Ikeda.

VAMPIRE KNIGHT • Rated "T+" for Older Teens Cross Academy is attended by two groups of students: the Day Class and the Night Class. At twilight, when the students of the Day Class return to their dorm, they cross paths with the Night Class on their way to school. Yuki Cross and Zero Kiryu are the Guardians of the school, protecting the Day Class from the Academy's dark secret: the Night Class is full of vampires!

DEATH NOTE LIVE ACTION DVD • Based on the hit supernatural action mystery manga series written by Tsugumi Ohba and illustrated by Takeshi Obata, the DEATH NOTE live action feature film was released in Japan in 2006 and mirrors the manga's story of Light Yagami, an ace student with great prospects who is bored out of his mind. All of that changes when he finds the Death Note, a notebook dropped by a rogue Shinigami death god named Ryuk. Any human whose name is written in the notebook dies, and now Light has vowed to use the power of the Death Note to rid the world of evil. But when criminals mysteriously begin dropping dead, the authorities send the legendary detective L to investigate, and he is soon hot on the trail of Light, who must now reevaluate his one noble goal. Both Light and L believe themselves to be on the side of justice, and the two match wits trying to show exactly which of them is "good" and which of them is "evil."

*

Cheang Pou-soi's (DOG BITE DOG) live action adaptation of Shamo will be released in North America by Tai Seng on November 25th.